Read the first part of Christine's journey here.
"The first few days after my right arm was fused was not just shocking but the pain was extraordinary. My wrist was destroyed and the bones in my wrist had been eaten away by the undiagnosed infection. My wrist bones had broken and fallen into a pile at the base of my hand. My new surgeon excavated the mess of bones and replaced them with cadaver bones, bone grafts, and in a later surgery, a cadaver Achilles tendon was rolled up and inserted in my wrist to cushion the pain. In total to date, I have had nine arm surgeries because of the medical malpractice and bullish surgeon.
I had flown up to New York City to meet with my new surgeon for my 6-week check-up after the fusion. He was a kind man who opened his office and his schedule for me because he felt such distress that I had been so badly treated by another physician. He sat me down and said that the first lesson you learn in medical school is 'do no harm.' The second is always rule out infection. My first doctor did neither.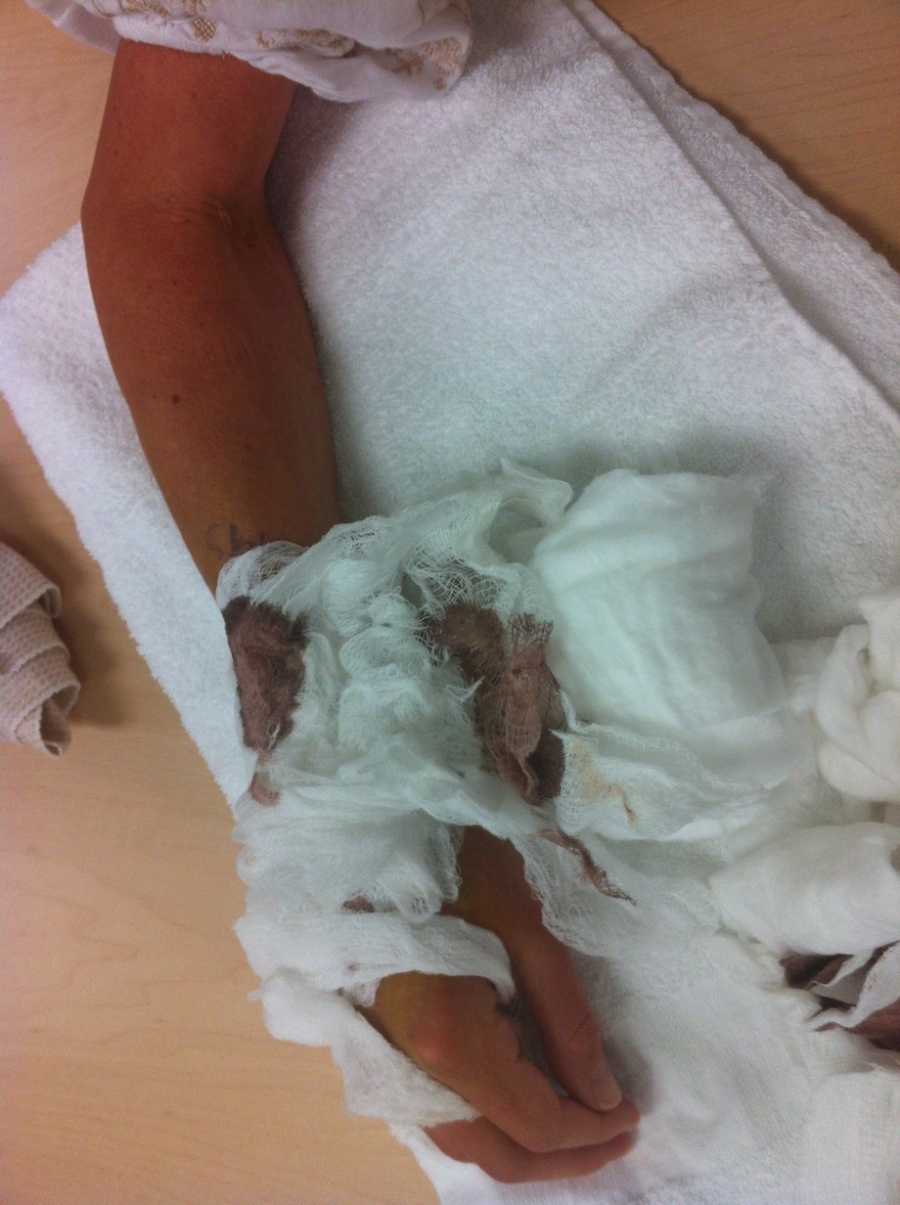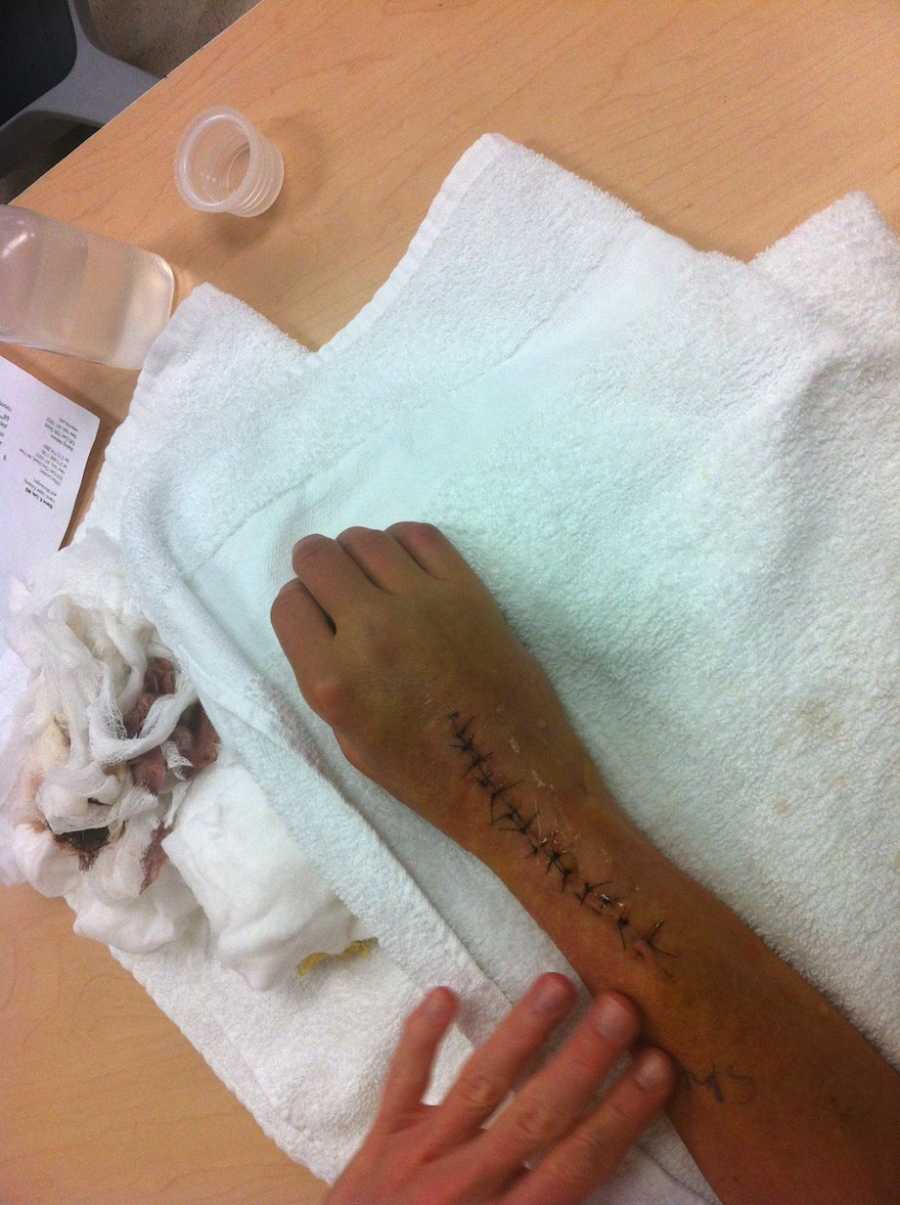 When I was in the hotel in NYC for my 6-week check-up, I still had a cast on my arm that went from my fingers to my shoulder. I literally could do nothing by myself. I was helped into the hotel shower and I tried to wash my body with the massive cast. For months the only way I could wash my body was to pour liquid soap on my shoulder with my casted arm hanging out of the shower and let the water and liquid soap wash down my body. The hotel did not have liquid soap so I tried to wash my chest and body with a bar of soap. Just as soon as I brushed over my left breast with the bar of soap, I felt a lump. I started to shake. I was young and had no family history of cancer so I tried to convince myself it couldn't be cancer. It just couldn't happen after all I had been through. I hadn't even figured out how to live life with a fused arm, much less be faced with another illness. It wasn't possible, I kept telling myself but realistically, I knew that I was in trouble, big trouble.
The day after I felt that lump, I flew home to Dallas and called my gynecologist. He and I had decided a few months before that I would skip my mammogram because of the casts. Since I was not at risk with age or history, I was good to postpone it. That decision changed my life.
I went to the breast specialist the following day and he assured me that the lump didn't feel like a cancerous mass but it was probably a cyst. To make sure, we would do a sonogram. I thanked him and walked back to the sonogram technician feeling lighter. I felt tremendous relief. After the sonogram, I went back into a room and waited for the breast specialist. He came in with a troublesome look and touched my knee and said, 'We need to do a biopsy.' I started to shake and I asked him to get my husband. My husband walked in and saw my face and immediately said, 'What's wrong?'
They sent me home and told me I would have to come back the next day for the biopsy. When we walked outside to the car, I started screaming. I stood next to our car, afraid I would fall over while I screamed, 'NOT ME!' over and over again in broad daylight. My husband ushered me into the car and I sobbed the whole way home as I watched other people living life, unchained to the pain I was going through and the fear of what was to come.
When I got home, I did my best to be upbeat for my children. I didn't tell my friends or my mom, who had just lost her best friend to breast cancer. My mom still couldn't talk about her friend without sobbing. I kept all the fear inside and it almost suffocated me. It was then I had the first thought if I was diagnosed with cancer, I would take my life. The bullying from the arm doctor was emotionally scarring. The arm debacle was life-changing, the physical pain was too much, and adding cancer to that was unfathomable. Plus, my self-esteem was rocked. I felt I was a burden to my friends and family. I really believed they would be better off without me. I was a liability, not an asset. Well, that's what I believed. I had never felt such despair and fear. My normal life had disappeared and I knew it would never come back. My carefree, happy life was gone, so I thought.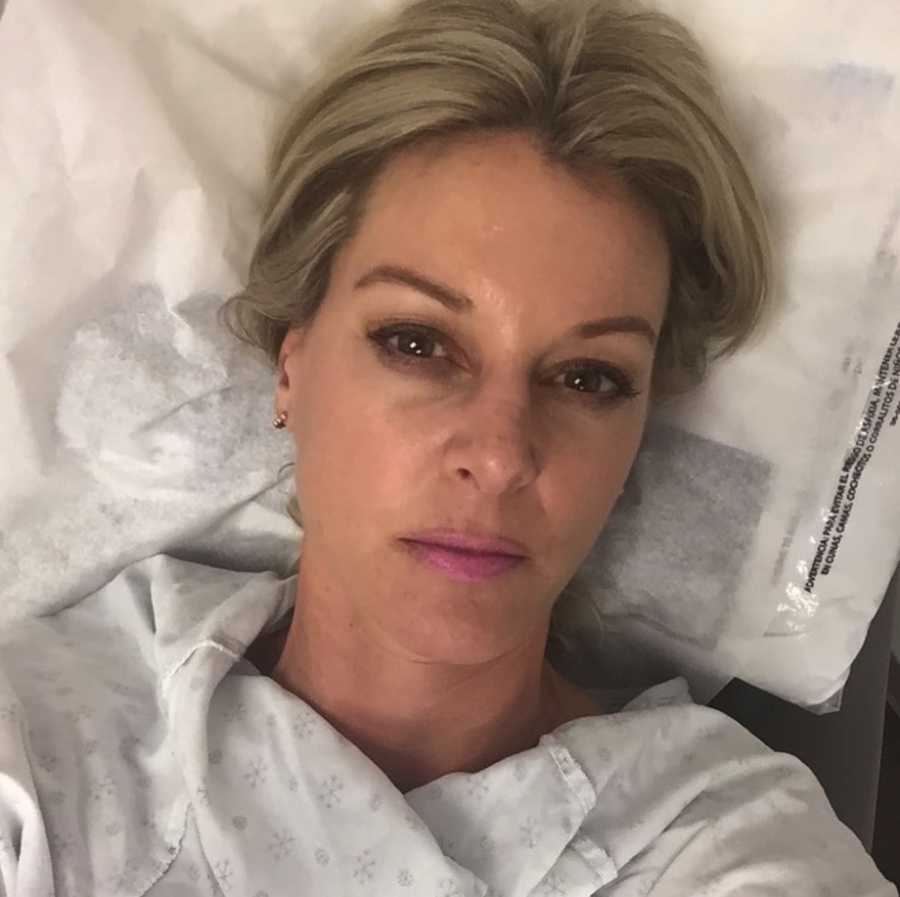 Three days later, I was home alone in my bedroom, looking for my husband. It was around 9 a.m. and I knew he had taken our son to school but should be home by now. I still couldn't dress myself because of my cast and underneath the cast, the bone grafts were fragile. If they moved, it would be bad. I was extremely careful. On the edge of my bed, I saw my phone and it was ringing. It was a number in our area code but not a familiar number. I knew who it was, though.
I picked it up with as much courage as I could muster. When I said hello and heard the doctor, not his nurse, I knew it was the worst news. The doctor told me over the phone I had breast cancer. I asked him one question, 'Am I going to die?' He didn't answer.
I don't remember that day very well. But over the next few weeks, I remember telling friends and family it was time I quit and gave them a better life without having to constantly care for me. I told them, 'You'll be better off without me.' I truly believed it. I also had no faith in doctors at this point so having to go meet an oncologist now and start chemotherapy seemed too much to bear.
When I did go see an oncologist, he told me I would be doing 28 rounds of chemo. The hits kept coming. My cancer was aggressive and it had to be stopped with a lot of chemotherapy and surgeries. To date, I have had nine surgeries on my breasts, in addition to the nine surgeries on my arm.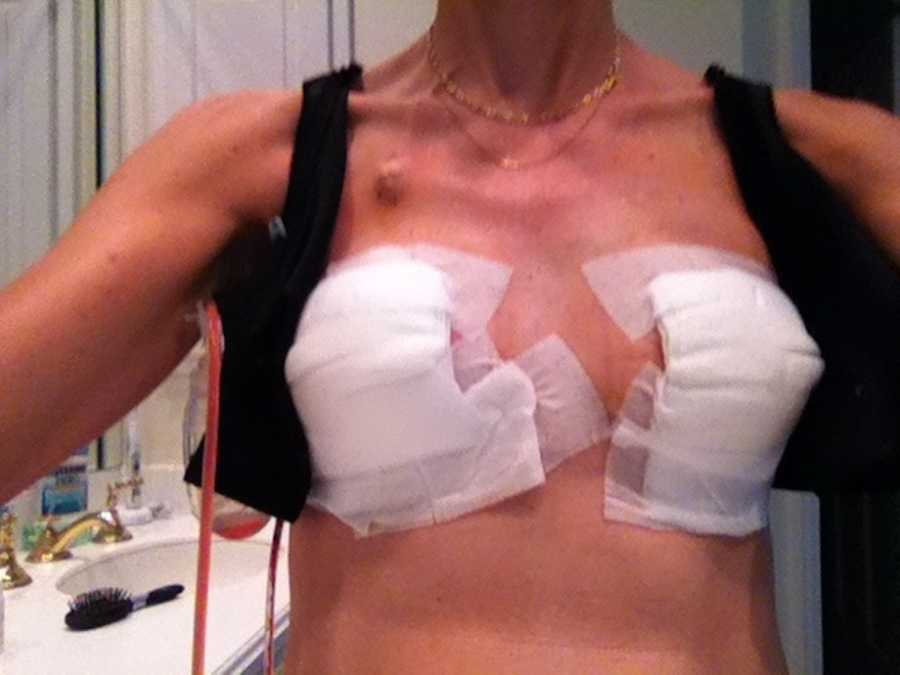 Luckily, my friends and family stepped in and convinced me my life was worth saving and they would never leave my side. They also reminded me God would never forsake me and my story could help so many once we got through chemo. It was my job to keep going.
I had my doubts but my self-worth started to shift. My friends and family showed up. Because they did, day after day and week after week, I started to get my self-esteem back. I started to believe in myself once I saw the mountain of women who believed in me. I started to trust in God's mercy. My friends gave up their time, their lives, and their resources to take care of me and my children. They showed up and never quit on me. Faith and friendship kept me going.
Chemotherapy was postponed to start on Halloween, even though I had been diagnosed on October 1st. The doctors explained to me it was because of the bone grafts in my arm. The chemo would dissolve and destroy them if we didn't wait until they were completely fused into my arm. When I was allowed to start, I was petrified of the effects chemo would have on me and terrified to go. My body was already so depleted from the past year of arm trauma. I was underweight and sickly and that was a scary way to start chemotherapy. I was so petrified to show up for chemo I had my face painted like a princess.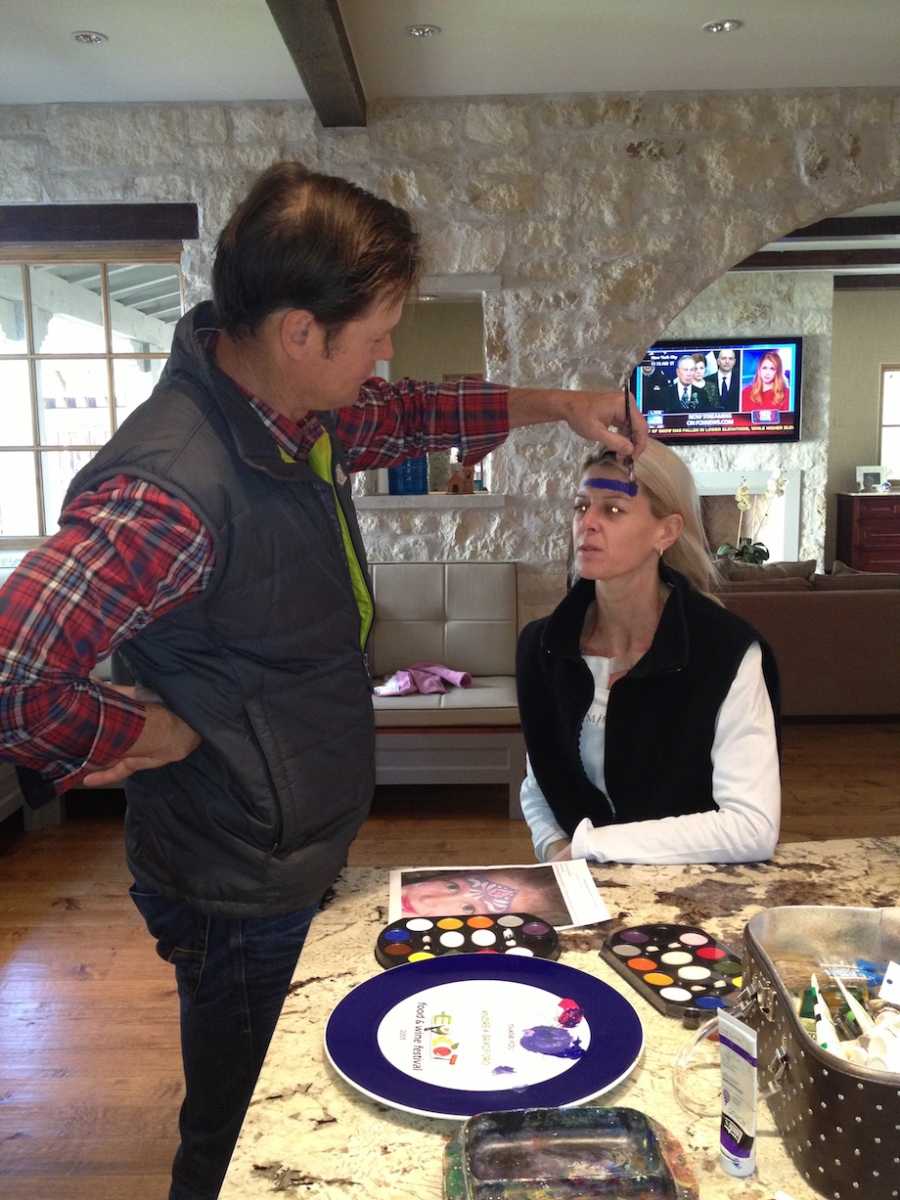 I thought if my face was painted, nobody could see me. Plus, it was Halloween. I felt like a child, afraid of facing anyone or anything. That day was so hard. The nurse I was assigned to made fun of my face painting and I got incredibly sick.
Months went by and chemo got harder and harder. But the harder it got, the more people showed up for me. I went through 15 months of chemotherapy. There were many nights I would go to sleep worried I would not wake up the next morning.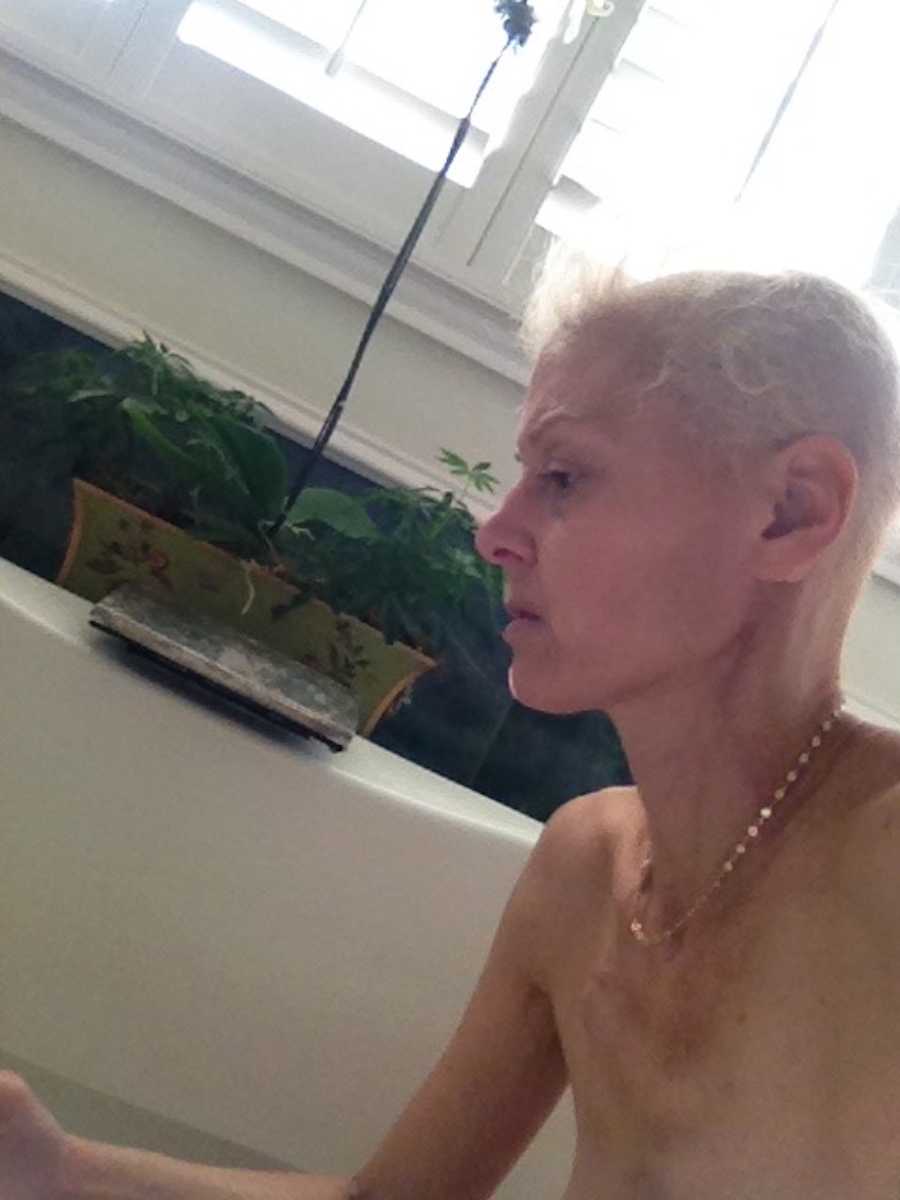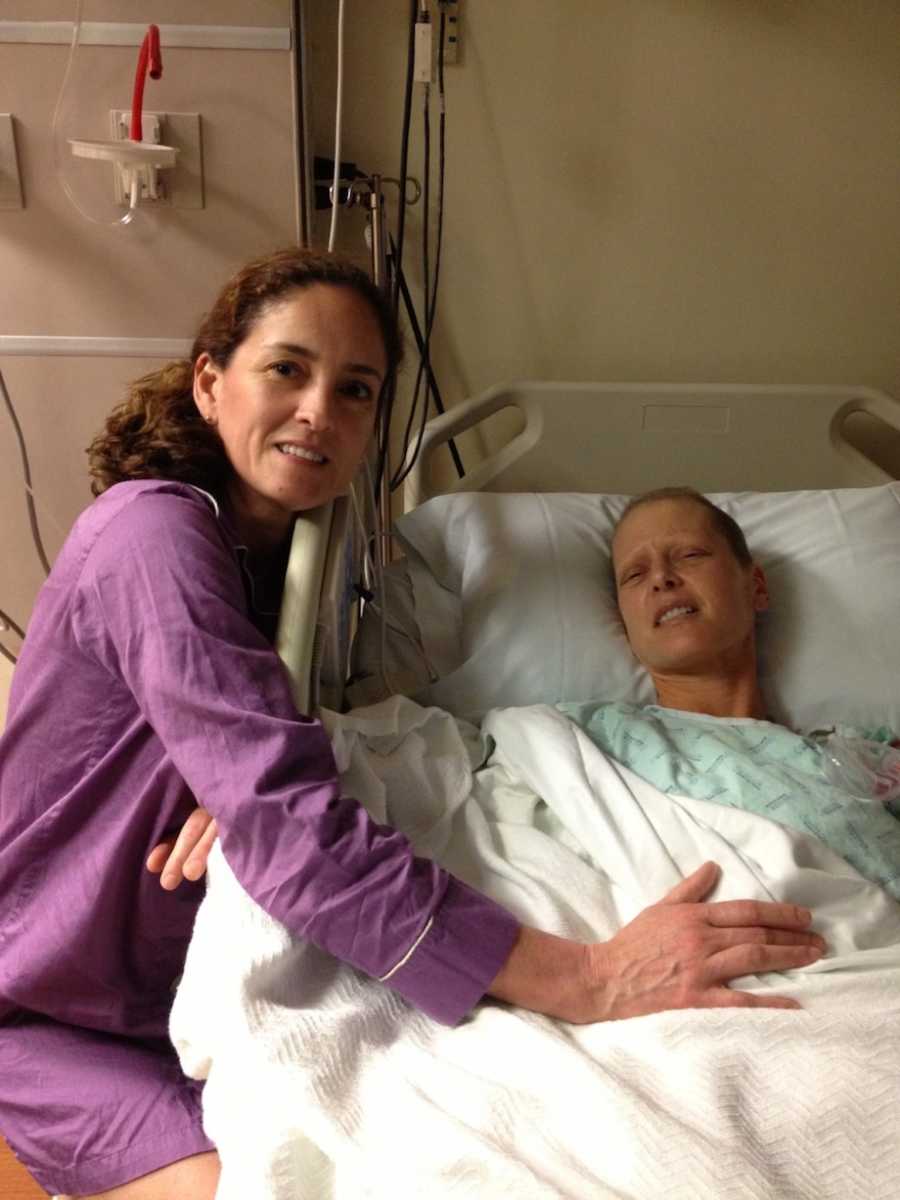 There truly is no measure of how many lives can be changed if we show up for each other. My friends and family proved it. The truth is, pain can have a real purpose in others' lives if we are vulnerable enough to share it. My life and my pain is a testament to the God who made me and to the people God placed in my life to carry me until I could carry myself. We are meant to love and give back. My friends and family showed me how and now I have the privilege of doing it.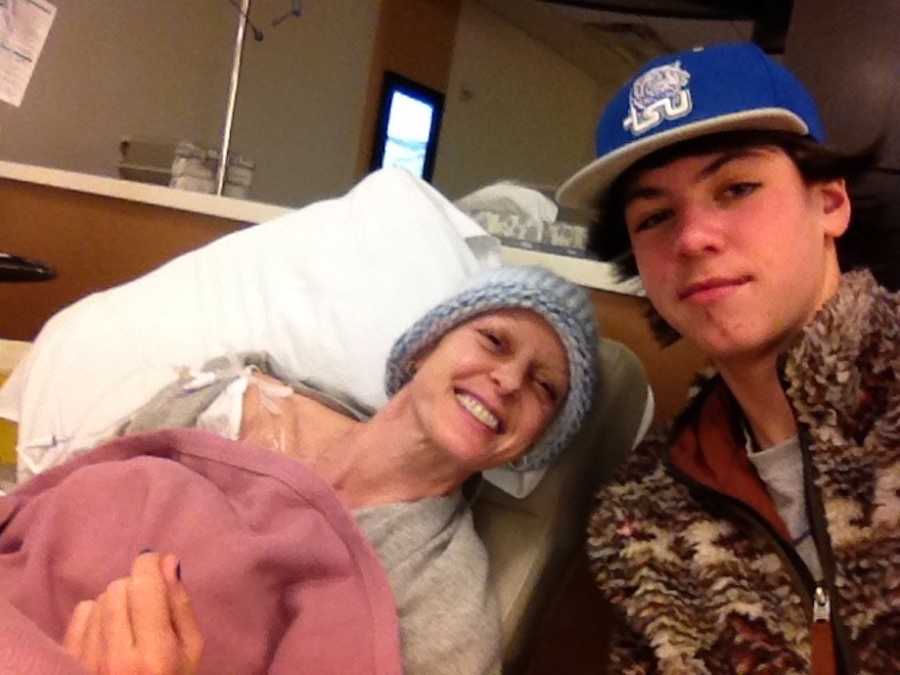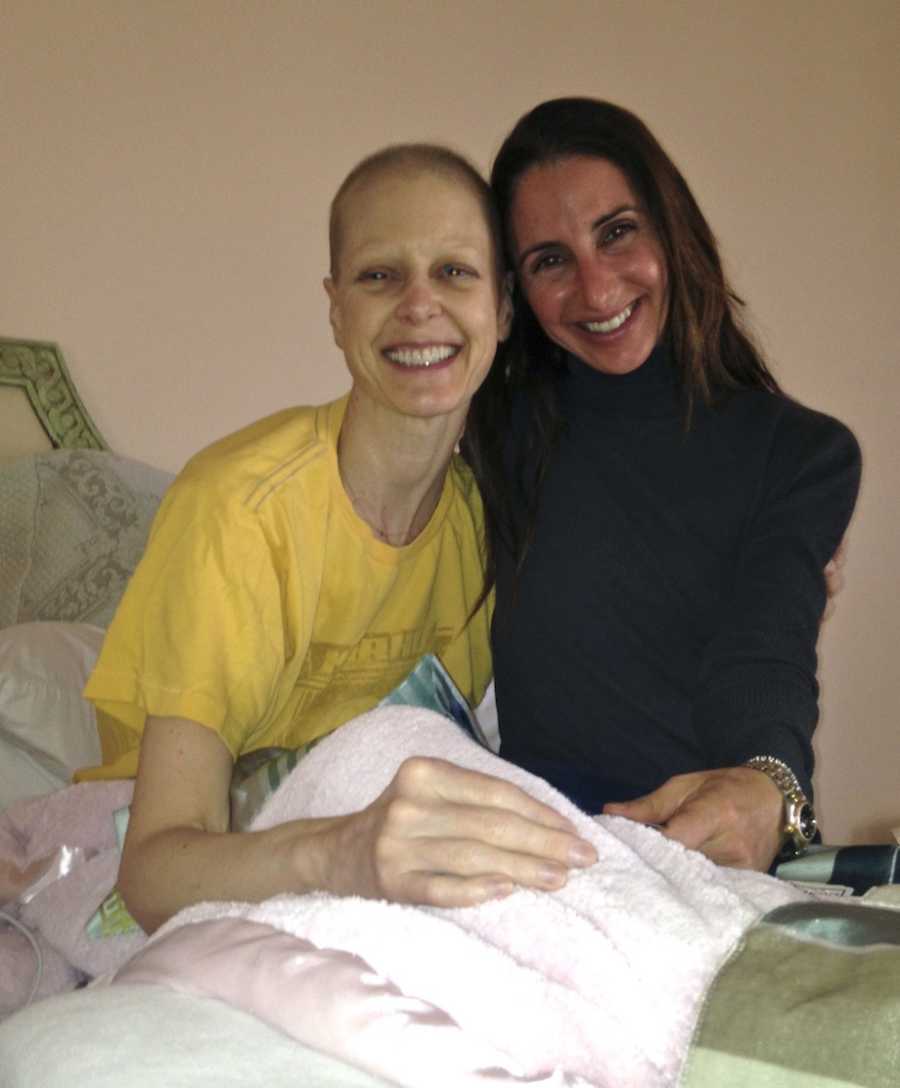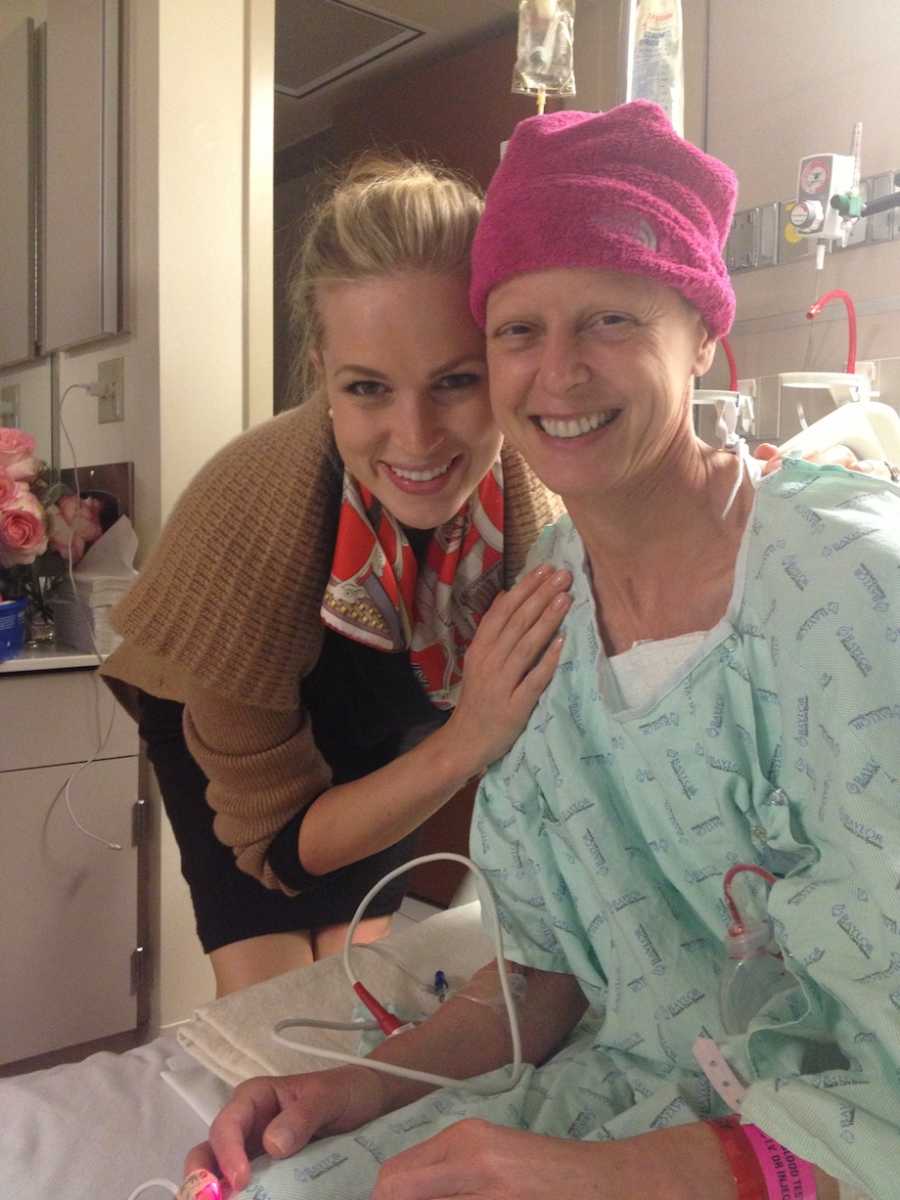 To date, I am 6 years cancer-free. I have become a bestselling author for the fictional memoir I wrote, called Walk Beside Me, and there is a screenplay which has been written about my book in the early stages of becoming a film, God willing. I have shared my story to help others remember how critical community, faith, friendship, and self-esteem are in maintaining a healthy life. Had my lack of self-esteem not been changed, I wouldn't be here today to inspire and help others. Often, we are not given the story we want but we are handed the story of hope God wants us to share."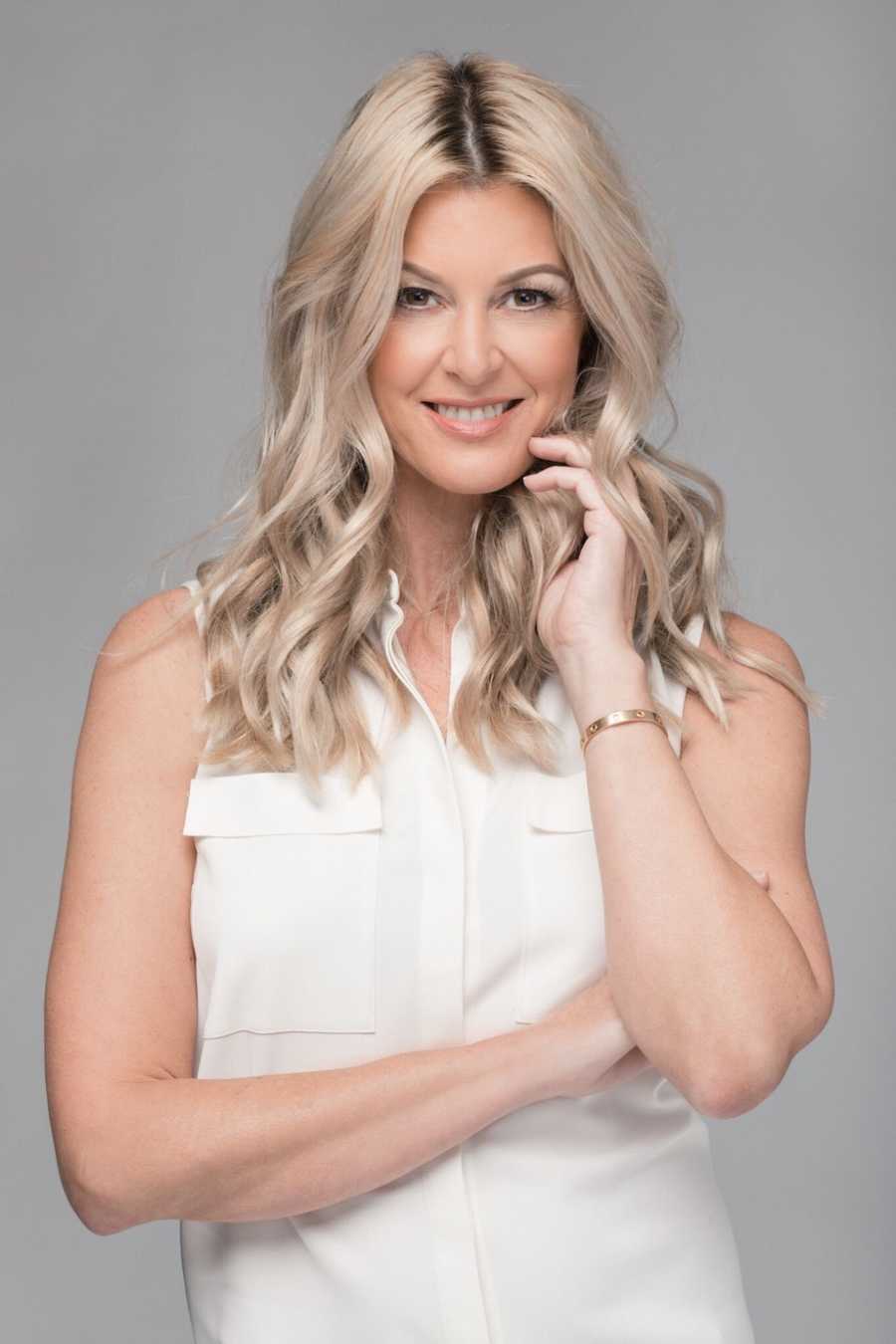 This story was submitted to Love What Matters by Christine Handy, bestselling author of Walk Beside Me. You can follow their journey on Instagram and their website. Submit your own story here. Be sure to subscribe to our free email newsletter for our best stories, and YouTube for our best videos.
Read more from Christine here:
'You're fine. You're just a hysterical housewife.' A piece of metal oozed out of my wrist. I questioned myself.': Woman misdiagnosed and bullied by doctor, 'When you are bullied, it makes you question your own voice'
Read more touching stories like this: 
'Kerri, get a grip!' the doctor said. I could only take Tylenol after surgery. I was sure I was going to die.': Woman with arthrogryposis muscle disorder says 'nothing is impossible with a fighter's soul'
'I stepped onto the bus and felt a 'release.' A warm sensation and then a POP. I lost my balance, my eyes closed shut.': Woman beats breast cancer after losing her mother
'It hurts,' she'd cry telling me. I noticed a significant change in my daughter's posture. My mother's intuition told me to seek a 2nd opinion.': 12-year-old girl endures 8-hour surgery for scoliosis, 'This girl's strength amazes me'
Please SHARE this story on Facebook to encourage others to cherish every moment and love what matters most.