Becky Gacono of Annville, Pennsylvania, chronicles her mother's dementia journey each week for Love What Matters. This week she describes the overwhelming heartache her father feels with everything he's lost to his wife's horrible disease.
Forgotten Names
"We are desperately trying to define a new normal for all of us but the one that is ever present and all consuming is the sadness, which is exhausting. It feels as though we are being lowered into a hole ever so slowly presuming it was a tunnel with a light at the other end. It appears we were wrong.
On the best of days we see a tiny sliver of mom but for most of the 24 hours of her day she spends it staring, sleeping, or playing, rubbing or breaking things they put in front of her to 'play' with. Occasionally she will utter a few words but rarely do they make sense. She no longer smiles when she sees us. She doesn't look up when we say her name. She doesn't ask for Carl.
My sister Mary Ann, brother Kris and I haven't heard her say our name for about 2 years now. But Carl – her husband – that is a name she has used and knew consistently – until now. I know how I felt when she was singing Happy Birthday to me and they sang 'Becky' and she said, 'Who is she?' We continued our lunch and we laughed a bit, and then I went home and cried.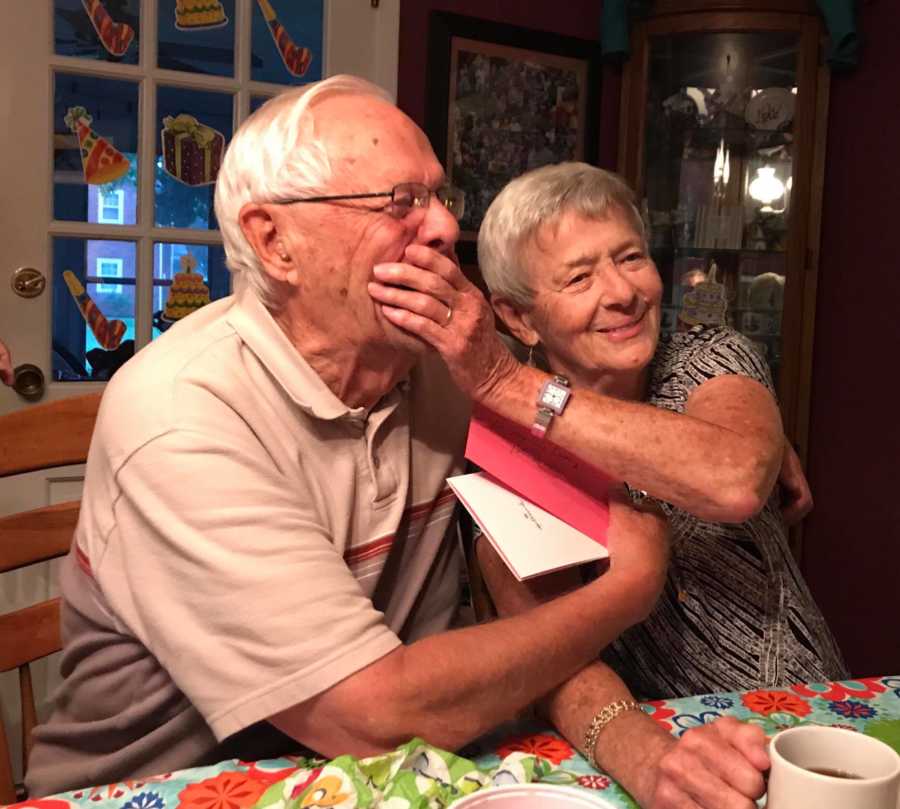 Not saying Carl is so much more. It is the last thread of mom we all hung on to. She needed him. She called him. She looked for him. She missed him. For the past nine years he was her strength, her protector, her everything, until he wasn't. In the long journey of this horrible illness her severe downfall came on quickly. Two months ago she was still there. Maybe not how anyone that didn't know her would describe her, but to us, she was there.
We all knew this day was coming. We have seen pictures and read stories. Nothing, absolutely nothing, prepared us for this stage and the affect it would have on Dad. He has been struggling at their new assisted living home and we understand why. He is there 24/7. We visit for an hour or two and go about our lives. He does not. He misses mom terribly. As he says, 'She no longer needs me.'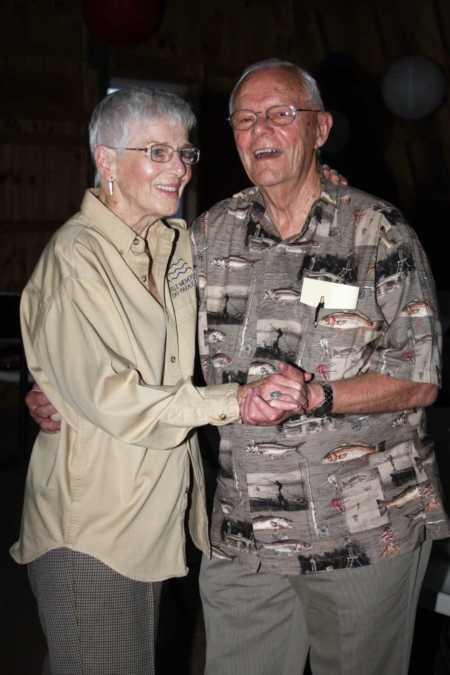 Impact Of Loss
Here is the list of what he has lost in the last 2 months: His wife, his home, his car, his freedom, his family.
All of those things may seem like an exaggeration but in his mind, none of them are. He feels the loss of every one of them. No matter how often we visit. No matter how often we pick him up to take him places. No matter how grateful he is for the good care mom gets – he has lost everything.
Last week he started calling Mary Ann at 4 a.m. He was extremely agitated. We had an office meeting that morning and the calls continued. He sounded almost panicked. Finally around 1:00 in the afternoon he told us we have to come get him – NOW! Mary Ann and I headed out talking about what we were going to say if he insisted on going home, to their house. If he wants to go home, he needs care. How are we going to get that set up quickly? So many questions are running through our minds. When we get there, he meets us at the front door. We go into the sitting area and the father we know and love is someone almost unrecognizable to either of us.
He starts by saying he has to get out of here. It is in a frustrated, almost angry voice. Mary Ann tries to calm him down saying we know how hard it is for him. He finds whatever she is saying condescending and has no plan to listen to any of it. He stands up and says he is leaving, and he won't bother us again. Then he says it – 'If you don't get me out of here I am going to lose my mind!' and he means it. He is having an emotional and mental breakdown.
We tell him we'll take him back to his home (their home). We let the director of the home know that we are taking him with us and Mary Ann and I go back to their room to gather his things. Are we taking enough for a day, for a week? We have no idea. We figure we can come back if he decides to stay. We say goodbye to mom as she sat watching us pack up dad's things. And then clear as day she says, 'Are you leaving me here alone? Where's Carl?' Mary Ann and I look at each other. We are trying not to cry. She has not said a clear sentence for so long, and now, it's this one. But she knows. She knows something is happening and for a moment she was able to say what was going on in her head.
Dad is waiting for us outside on the porch and we are afraid he will start walking home if we don't get out to him soon. We tell mom she won't be alone. We kiss her and tell her we love her and now we are struggling to not join dad in his breakdown as we leave her in their room.
We get in the car and dad is quiet. We drive him home and get him inside. We took their sofa to the assisted living home when we moved them so we need a chair or something. My brother heads to my sister's to pick up a recliner. We sit with dad. He is sobbing uncontrollably. He is grieving but he knows it's not over yet. It is a grief that is becoming his new normal. Watching him go through this is an all encompassing sadness we weren't prepared for. We expected sadness in the loss of mom piece by piece. We never knew the sadness it would bring us watching dad lose her.
He wanders around the house then sits in the living room. He is calm, but we know his home is no longer his home. He never wanted to be there alone. He wants his wife to come home but knows she never will.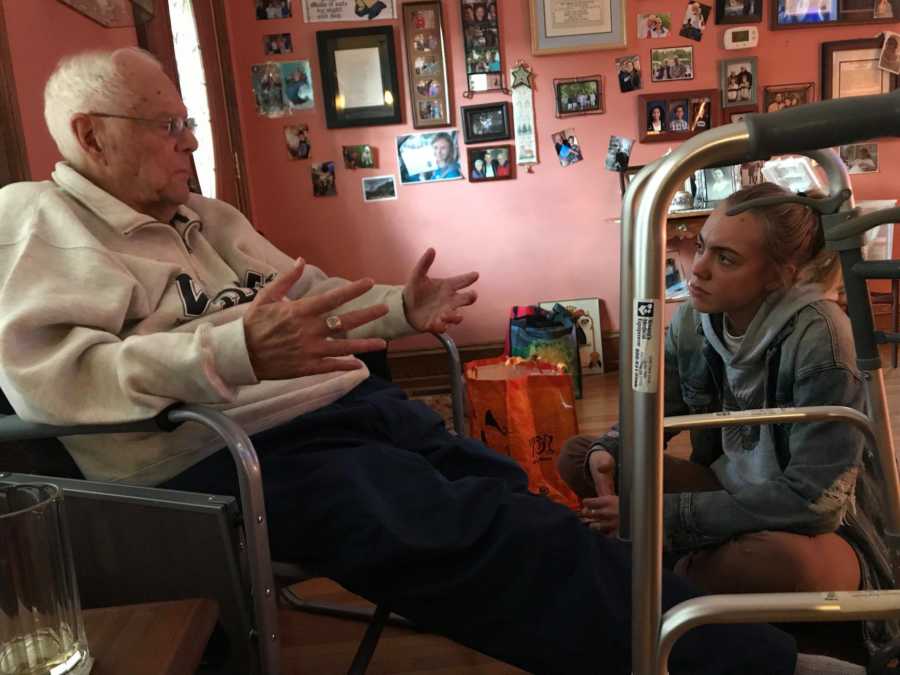 We take turns with him. At night time I head back to get him ready for bed. He keeps thanking us for everything. He keeps saying, 'I love your mom.' I want to leave so I can cry. I don't want him to see me crying. There is enough crying in the house for one day. He goes to get in bed on his side and I pull his covers up over him. He lays there alone. I am not prepared at all for the look on his face as he lays there in the middle of their bed without her.
I say goodnight and leave their room so I can finally go have my own breakdown.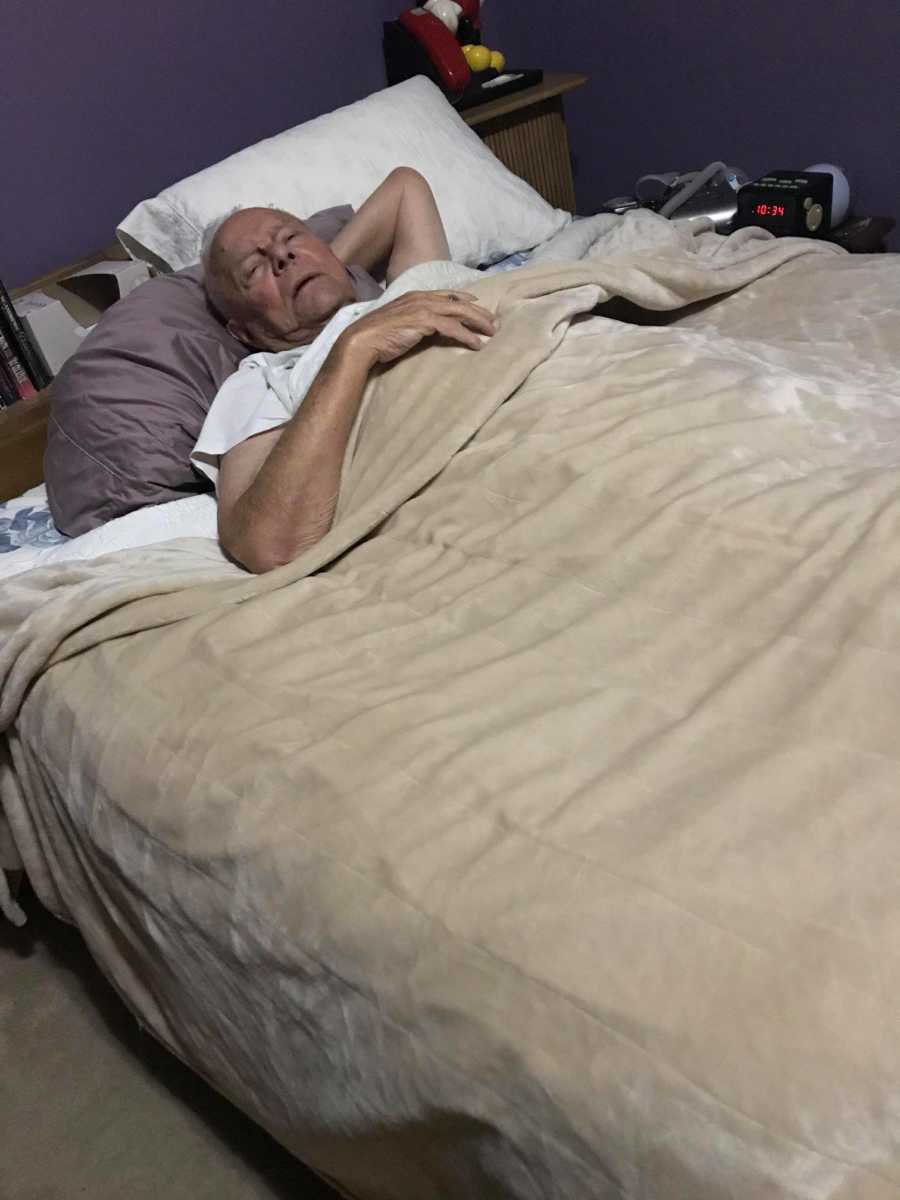 Together Again
Dad is up by 6 a.m. and ready to go see mom. His voice is back to normal. He is upbeat. He wants to take all his things back and stay with mom. He doesn't want to stay at their home without her. We load him and all his stuff back in the car and head back for him to be with his Mary Jane – the love of his life.
He is so happy to be back in their room with her. He sits next to her on the sofa and tells her how much he loves her. He kisses her and holds her hand. She is staring off into the distance. He kisses her again and says he's glad to be back home with her.
Our new normal is doing our best to get through one day at a time."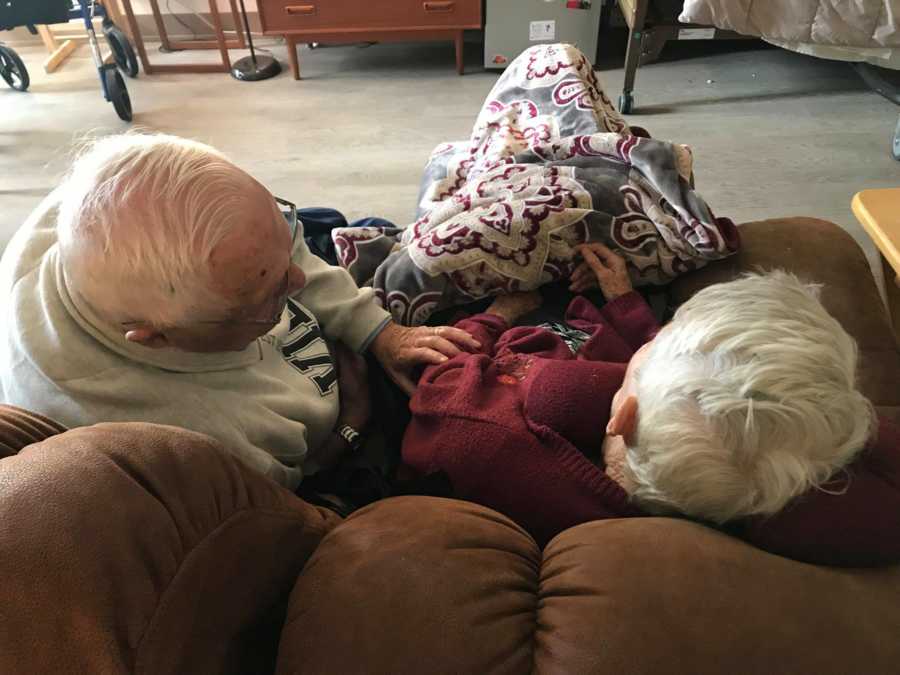 This story was submitted to Love What Matters by Becky Gacono of Annville, Pennsylvania. She is chronicling her mother's dementia journey on their Facebook page, Our Journey Through Our Mom's Dementia. Submit your own story here, and be sure to subscribe to our best love stories in our free newsletter here.
Do you know someone who could benefit from this story? SHARE on Facebook to let them know a community of support is available.