"It's always been the thread for me. The thread of what connects us all; the thread that fascinates and motivates me.
Lately, (or maybe always) but lately, everyone seems so polarized, so far apart in their respective 'sides.'
It breaks my heart.
My books have all derived from such heart break in a way. One from Columbine, one from a dying little boy who made a wish to be known throughout the world and one from Christianity being so often misrepresented.
Empathy can easily become anxiety's cruel cousin if not protected. I know both emotions well.
After the brutal attack in New Zealand, my empathy bordered on panic. So, I took a small step of action.
I followed the thread.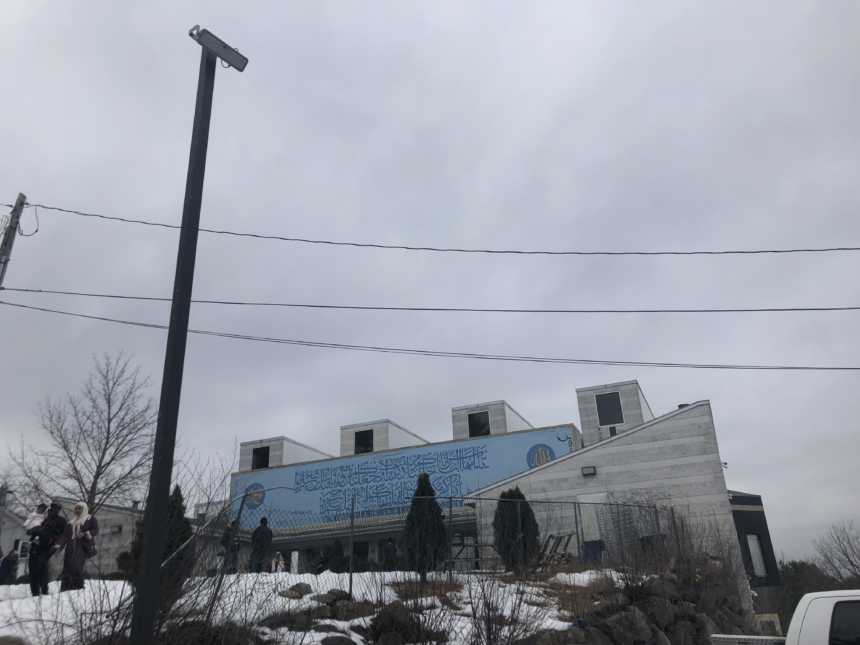 There was a call to proverbial arms by Christian leaders asking to stand in solidarity and sister/ brotherhood with our Muslim neighbors after the horrid mosque murders.
I listened.
I made a simple sign.
5 words.
'Pray differently, grieve the same.'
I had to google 'mosque near me' and found there was one a mere 20 miles away.
I almost didn't go in.
I knew no one.
All of the women had head-coverings and I didn't. I parked my car and prayed it was the right thing to do.
It was Khutbah prayer time – and I clearly was new.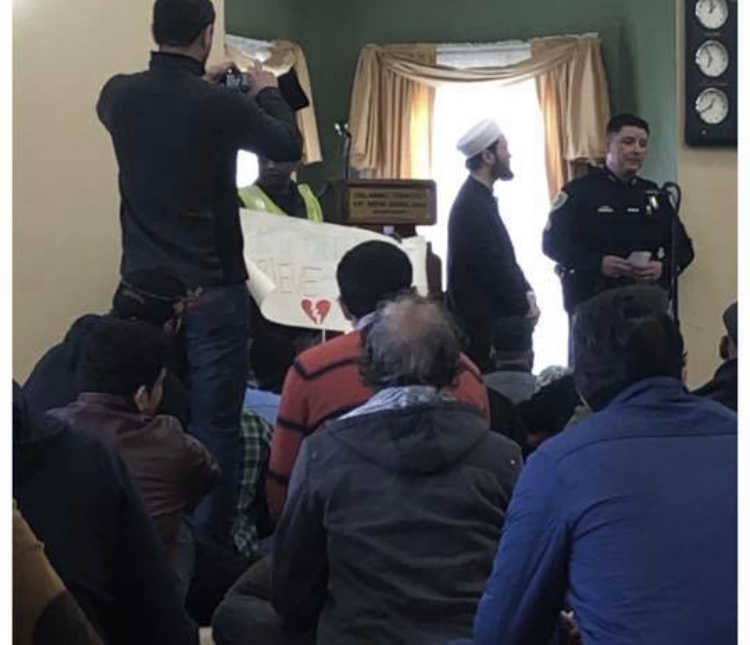 I stepped out of the car with my rolled sign and walked toward the doors of unfamiliar mosque where I was greeted by a man who looked official, but kind.
Tentatively, and with a teary catch in my throat, I asked 'May I leave this sign as an offering?' as I planned to leave quietly.
Instead I was hugged, thanked and invited into the ladies portion of the large coed prayer room.
I removed my shoes. I took in new sights and scents and though all grieving over New Zealand's tragedy, saw soft smiles.
I listened as a visiting Rabbi said we are all cousins under Abraham, a Christian Pastor shared his sorrows and a local officer promised his and the departments' best protection, then heard their call to prayer.
Little ones looked at my uncovered blonde head and peeked under long lashes at the new lady with the sign, smiling while crying.
The greeter asked may he have my sign so the Imam could hold it up.
And then my new friend, the self-described 'old woman' who kissed the ground and bent knees in grief and worship, saw my tears and stood to bring me a water.
She took concern on me and brought me and another non-Muslim newcomer a water.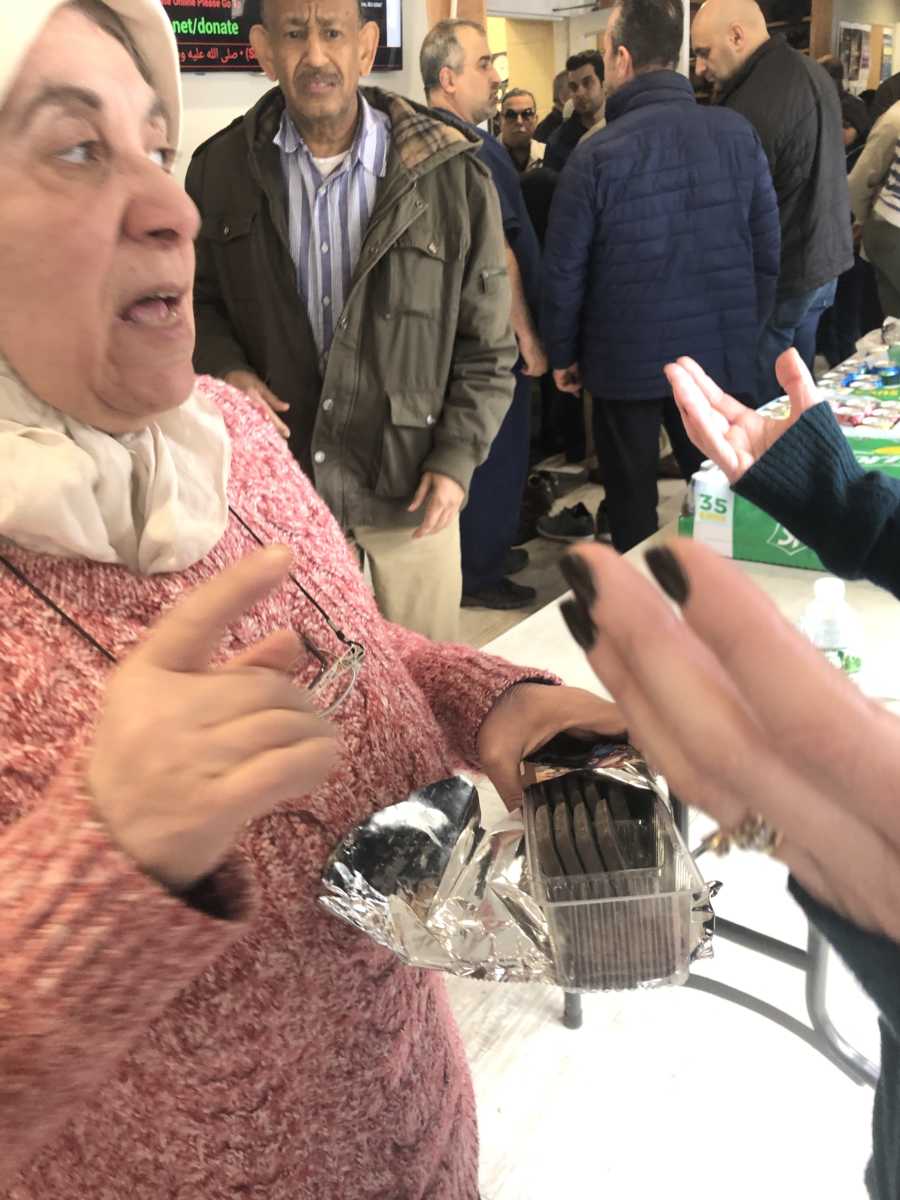 These strangers thanked me for showing up.
Literally all I did was show up…
…with a sign of 5 words and red-colored broken heart.
I tell you this not to show what I did for them, but what they did for me.
My water bringing seat mate asked me. 'Are you a Muslim?' I said … 'No, ma'am, Christian.' To which she said – we are all the same.'
I went in a stranger with a sign and came out with a friend; hopefully for life.
Also – she gave me Girl Scout cookies, the key to my heart.
Find your local mosque or Islamic center and make a sign. Ask if you can give it as an offering of condolences.
Show love wins and hate loses.
Follow the thread or weave your own.
Oh, and if your new friends offer you Girl Scout cookies, that's just a bonus."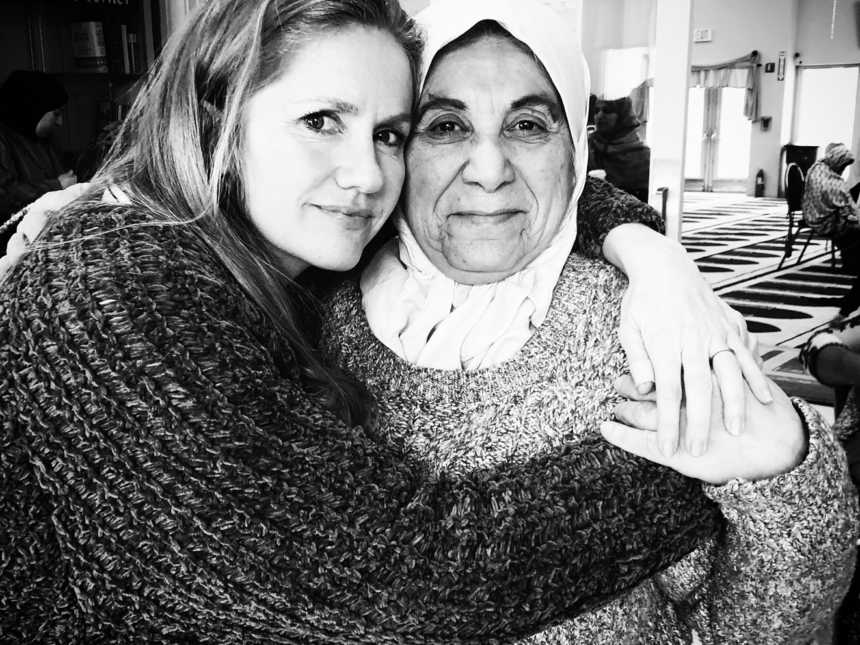 This story was submitted to Love What Matters by Nicole Cannella of Boston, Massachusetts. You can follow her journey on Instagram. Submit your own story here, and subscribe to our best stories in our free newsletter here.
Read a beautiful story of a woman converting to Islam:
'There was an envelope in the mail for me. 'It's a picture of you with a shawl around your head. Why are you wearing that?' My stomach turned. I was scared to tell her.'
Help us show the world that compassion is contagious. SHARE this beautiful story on Facebook with your friends and family.