"There's the heartbeat, everything looks good! I think this baby is going to be healthy and be just fine! Congratulations!"
That's what we heard at our 12 week appointment with our daughter, Aly Joy. We'd already experienced two miscarriages in 2 years, with a healthy pregnancy and beautiful little girl, Ruby, between those. Our first miscarriage came 2 months after we were married. It was heartbreaking and we never got to see the baby. We waited the recommended month after I quit bleeding to have sex. Then immediately got pregnant with our sweet Ruby. I had been told many times that it's common to miscarry your first child, to not worry about it happening again, I would be okay. Still, the first few weeks pregnant with Ruby were filled with worry. Every tinge, every time I went to the bathroom, every moment I couldn't feel her made me nervous. Yet every time we went to our check ups, she was great and so was I.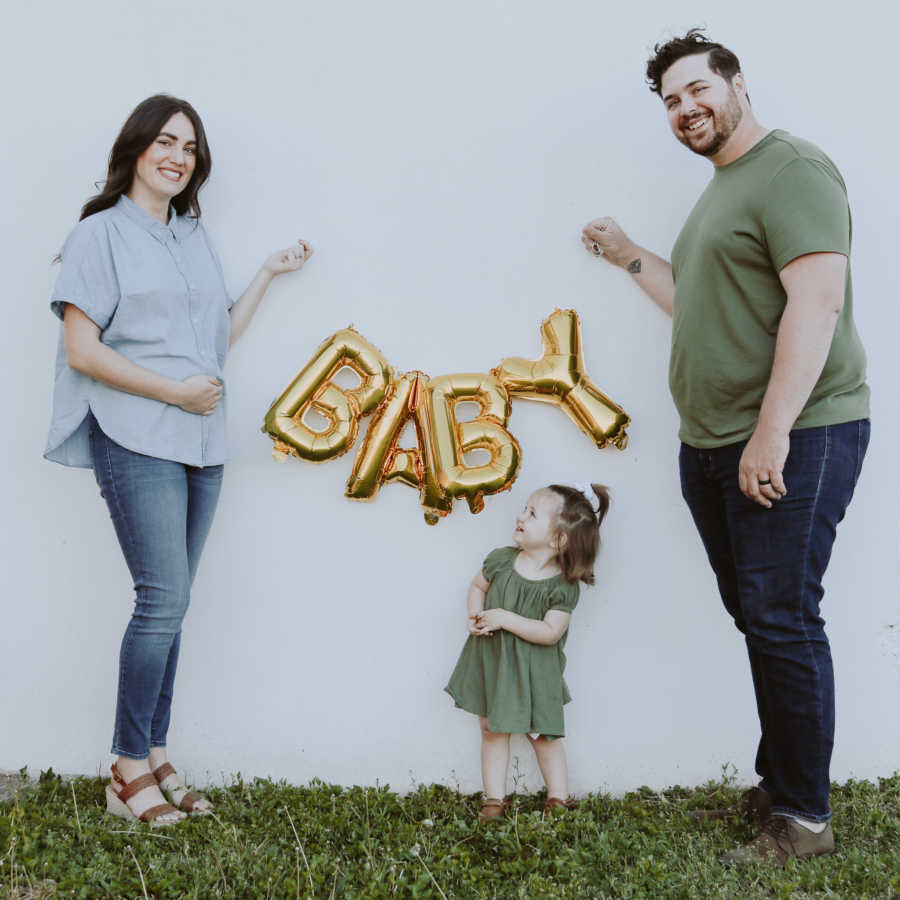 It became easier to just celebrate all that was happening now! Our first child here on earth! We wanted to wait for Ruby to be about one year old before trying to conceive again. Two months after she turned one, we were pregnant! We were filled with excitement and joy from day one. Two weeks later, we had our first check up. We couldn't wait to see baby and hear the heartbeat. Then the NP turned the monitor towards us, 'Let me show you what I'm seeing. Here's baby, but there's no heartbeat. You should be 8 weeks pregnant, but it looks like baby stopped growing around 6 weeks and may or may not have ever had a heartbeat.'
Instant heartbreak and tears. We were completely shocked. I knew miscarrying the first pregnancy was 'normal', but not this one! I didn't even consider it happening to us again since we'd had Ruby. That went on to be the longest month of our lives to date. We waited a week to see if my body would terminate on it's own. Nothing. We went back to double check on baby. Nothing, no heartbeat or growth. Waited another week for my body to terminate. Nothing. Then another, nothing. It became clear that we had to make a choice to take a pill that would clean out my uterus (very painful and bloody) or go in for a D&C procedure where I would be under anesthesia.
At this point my husband Alex and I were so mentally exhausted that we didn't think we could handle the pain and trauma of going the pill route, so we scheduled the D&C. I was out for the whole procedure and we went back home that same night, no longer pregnant. Two days later we decided to get out of the house for dinner. While eating, I started experiencing intense contractions. My uterus was shrinking back down. We ended up heading home. The whole drive I was clutching the door handle, bent over in pain. Then we got home and I stayed in the fetal position for about an hour until the contractions finally stopped. I got in the bathtub and just cried. So much pain of another miscarriage, the final realization that this pregnancy was completely over, thoughts of 'maybe something is wrong with me, will I ever have another healthy pregnancy again?'
One thing my doctor told us while prepping for surgery was that women are most fertile after a pregnancy and after a miscarriage and that if I wanted to get pregnant right away, we could start trying again as soon as we felt ready. Knowing my history of miscarriage and the fact that we had a healthy pregnancy with Ruby immediately following our first miscarriage, I thought 'maybe we should just go for it!' I didn't want to wait a long time just to experience another miscarriage. I was praying for the same turn out as last time.
Normally my cycles are very irregular, but the D&C procedure helped my cycle be consistent enough for us to track my ovulation. We decided to have fun with it. We'd never been able to specifically 'try' before. All three pregnancies just happened. We downloaded an app and got down to business! The first month went by… I got my period. RATS! But that meant we could keep tracking. The second month went by… RATS! We kept trying. I would do all the things that are supposed to help you successfully get pregnant! Certain positions, laying on my back for 15 minutes afterwards, having sex every other day so the sperm has more gusto, if you know what I mean. The third month came… another negative pregnancy test, but my period never showed up. I thought, 'no my cycle is going to be off again and we won't be able to track anymore.' A week went by and I took two more tests and again, two more negatives. Still no period.
Two weeks went by and Alex and I were going to a wedding. Afterwards, I kept thinking I wanted to take just one more pregnancy test. Maybe I'd feel better and then we could give it a rest for a bit. Alex stopped at Dollar Tree for a test for me. I take so many tests, I have to go with the cheap ones or we'd go broke. As soon as we got home I went straight to the bathroom, peed in a cup, used the syringe, and dropped three drops on the stick. Three minutes passed so slowly! 'Okay, just look at it. It's probably going to be negative so just take a deep breath and double check.' I slowly looked down. Two lines! A positive test! I ran into the other room crying tears of joy! 'Alex, there are TWO lines!' I remember the shocked look on his face so well. We just held each other there in the laundry room, crying and praying. We moved to the couch and immediately prayed, 'God, this child is yours. We promise to love and care for it as long as you allow. Please be with us during this pregnancy. We love you.'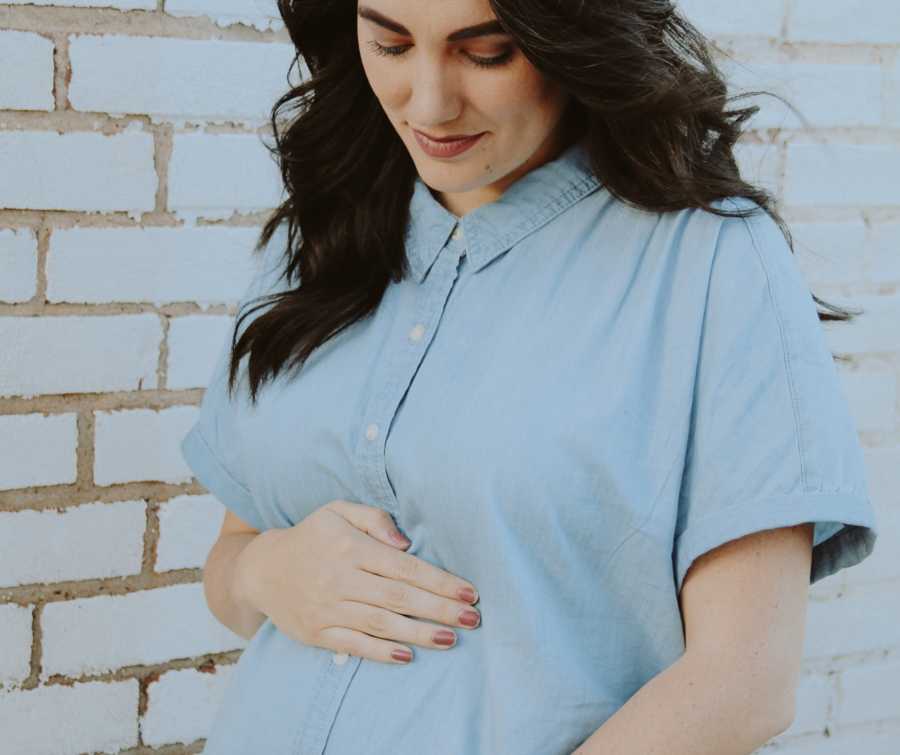 Because of my previous miscarriages, my doctor said to come in that same week so we can check on things. There it was, the heartbeat so strong and beautiful. Our fourth child! Only 6 little weeks old. The doctor scheduled appointments every week until week 10. Every week, I got so nervous right before we saw baby, but each week, baby was bigger and stronger and that heartbeat was still so wonderful. Now we're back to the beginning of this story, week 12. 'There's the heartbeat again, everything looks good! I think this baby is going to be healthy and be just fine! Congratulations!' We were finally able to breathe a sigh of relief. We'd made it to the 'safe zone' as they say. With each week, we were more confident and excited to welcome this baby home. At our 16 week appointment, we tried to see the gender, but baby had it's legs crossed and wouldn't show us. The doctor guessed one gender, and the nurse guessed the other. We would have to wait. Now we were 18 weeks and one of our close friends, Audra, works with ultrasounds. She was able to bring one home with her so we could take longer to wait for baby to move around and get a good look. I laid on her couch with my husband holding my feet! We were so excited and ready to find out! Audra looked for about 30 minutes, and baby still had it's legs crossed. She got one pretty good look, but only felt about 90% sure. 'Do you want to know what I think?' she asked. 'YES!' we answered. 'It's a GIRL!' She even wrote 'Daddy's Girl' on the picture she took of baby. We were surprised! We had thought it was a boy, but we were thrilled. Audra looked again, and again baby had her legs crossed. She was still sure it was a girl though. We decided to go back in 3 days to get that other 10% positive result. After about 15 minutes, Audra packed up the ultrasound machine and I cleaned the jelly off of my tummy in the bathroom.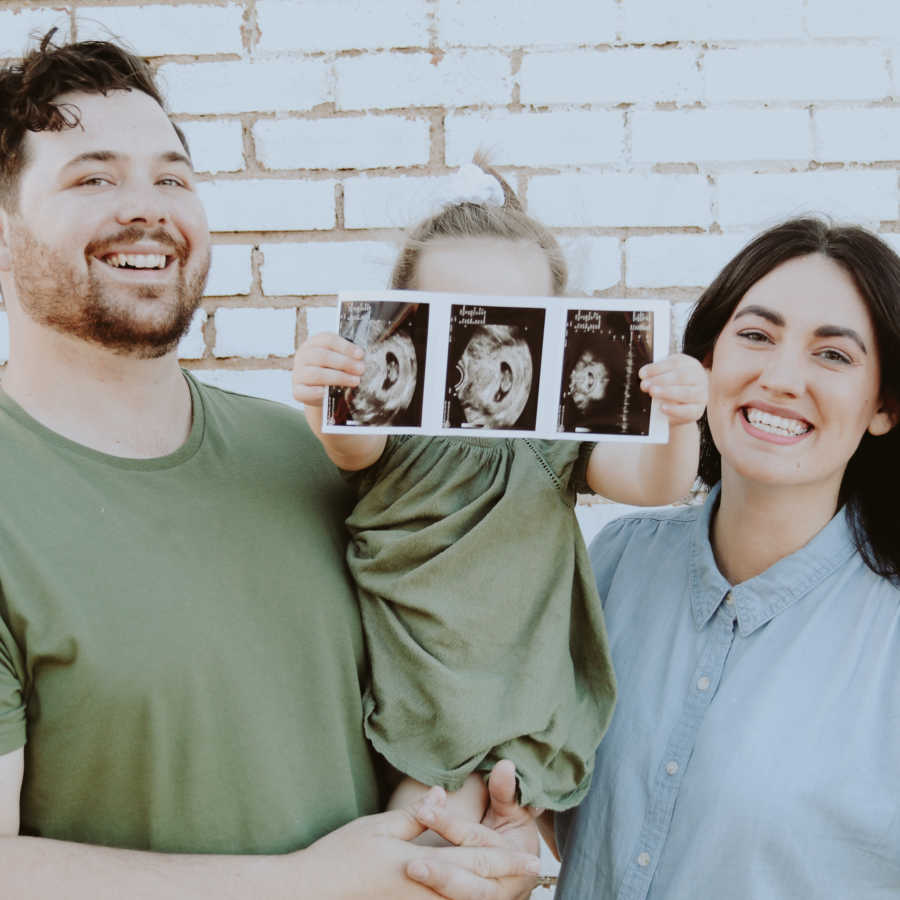 When I came out, the room felt weird. Audra's husband, Kyle, and Alex had come in from outside. Audra wasn't in the room though. Kyle sent his kids to their rooms. Something inside me sank. I didn't know what it was but I knew something was very wrong. Alex and I sat on the couch, then Audra came back in there with us and her husband. She was in tears and pacing the floor.
She slowly turned and looked at us, with her hands on her face she whispered out, 'I can't find a heartbeat, I'm so sorry, I'm so sorry.' Alex froze with his arm around me, I fell over on his lap and cried out. 'Do you want me to look again? I'll look again, I can check it again!' So I laid back down. Alex watched the screen, but I couldn't do it. Audra pointed to where the heartbeat should be and there was nothing. All I could say was, 'What are we supposed to do? What are going to do now?' They offered to keep Ruby for us. We made the silent drive home. Kyle works with me at our church and we told him he could tell our pastor. Our pastor's wife came over and prayed with us. We called our parents and asked them to pray for a miracle. What was left of the night was filled with tears and questions. The next morning we went to the ER and they did an ultrasound there to check our baby girl again. Still no heartbeat. My doctor called me on the phone, 'I'm so sorry for your loss. I hate that they sent you to the ER, I wish we could've just done this in my office so I could be there. The ultrasound does show no heartbeat. At this point you can choose to a D&C procedure, where you would be put out for the duration and you wouldn't see the baby. Or I can induce you and you can deliver your baby and see it and hold it if you'd want to do that. It's your choice. Come to my office at 8 a.m. tomorrow and we can discuss everything. Again, I'm so sorry.'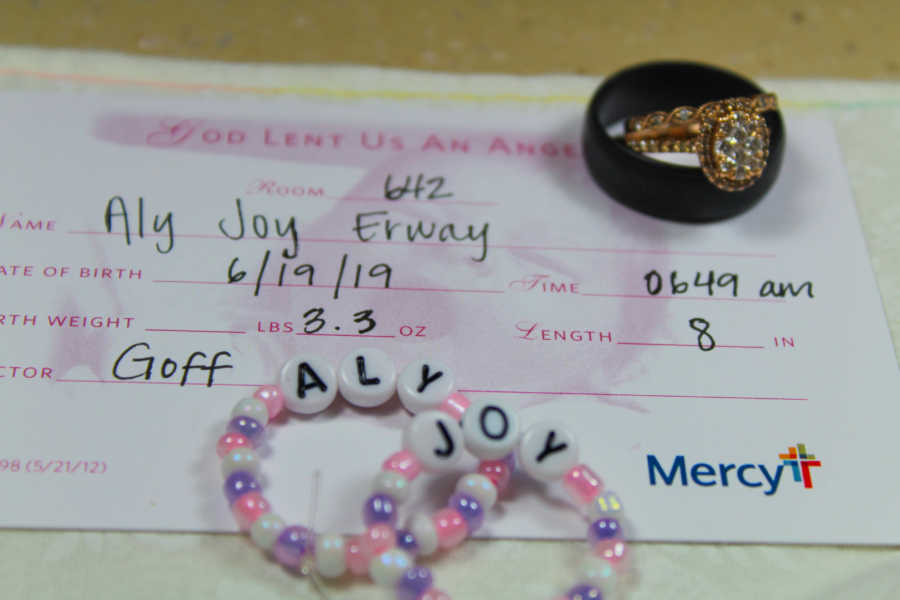 I so badly wanted to hold my baby girl, so we chose to be induced the next day. We checked in on the labor & delivery floor. I was in tears already, seeing women full term ready to deliver, wishing that was me. After they induced, I started having contractions. I ended up passing out on the toilet during one of the contractions. They got me back to the bed. I was crawling all over the bed in pain from labor. They gave me pain medicine to get me relief and rest. I sat on the edge of the bed. As I was moving back to lay down, I pushed on the bed with the heels of my feet and I felt something. Baby girl had come out and was on the bed under me, the nurses picked her up, cut the cord and took her to the table to weigh and measure her. I was pretty out of it all because of the pain medicine. When I woke back up, she was in my arms and Alex was holding my hand. I kept going in and out of being awake.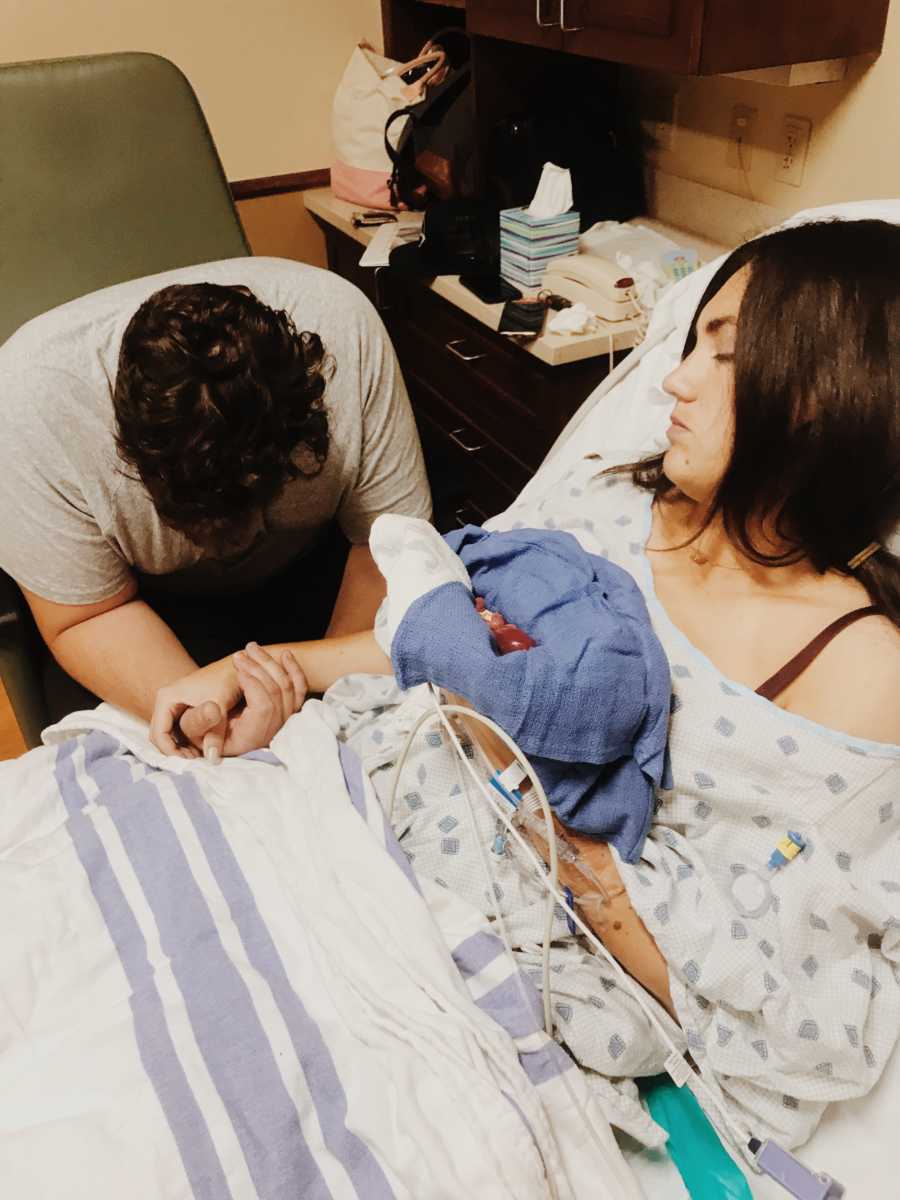 There are pictures of family holding her, or standing by me, that I don't even remember happening. Later in the day, I was finally able to be alert. I held our precious 3 ounce daughter. I could see every single detail of her tiny red body and I loved them all. My favorite thing was her lips. They looked like mine. We decided on her name, Aly Joy! She would have the same initials as my husband, just like Ruby has my initials. And though she wasn't with us very long, she still brought so much joy to our family even in the middle of the grief. The reason her legs were crossed every time we looked for her gender was because the umbilical cord had gotten wrapped around her leg and neck in a figure 8, so every time she would move her leg, the cord would tighten around her neck, which was the cause of her death. Otherwise, Aly was a healthy baby girl. It was hard to deliver her. It was painful, and the whole time I was praying for it to be different, but if I had to make the choice to do that again for Aly, I would. Getting to hold her, smell her, lay by her, get to know her in some small way are moments I will cling to until I see her again in Heaven. I would give anything to have gotten those moments with our other two babies, Henly, and Elly. My husband and I both recorded messages to Aly Joy as we held her. I haven't been able to rewatch those even to this day, but I'm glad we have them, and I know I'll get there.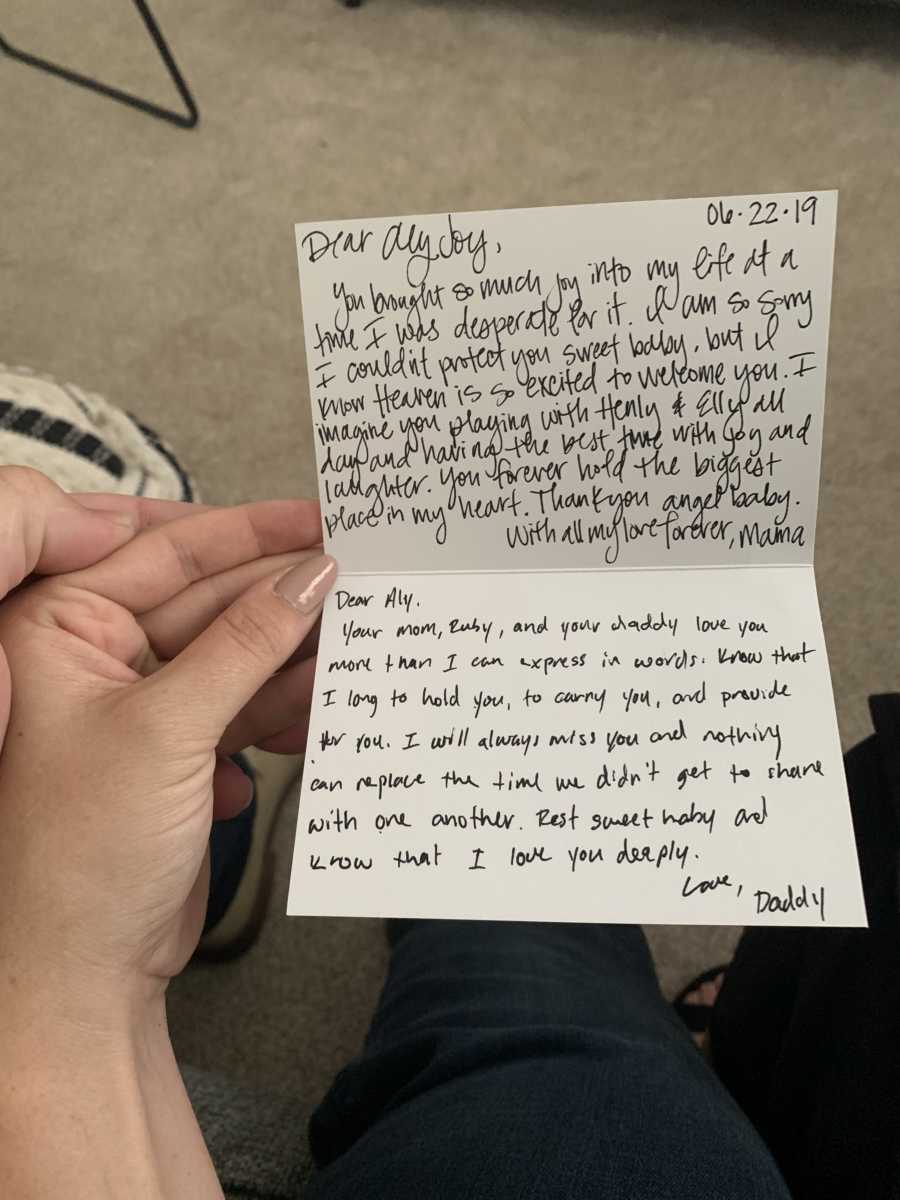 We did have a funeral service for Aly. Sweet Ruby met her baby 'seester," as she calls her, at the funeral home. Even at Ruby's young age of nearly 2, she wasn't scared. She loved her and wanted to hold her and show her everything. She still will get her picture, carry it around her room, and show her her toys and how to play with things.
The day of the funeral came with a strange peace. It wasn't the story we wanted, but somehow God was moving in the midst of it. We'd already dedicated Aly Joy to Him, and we trusted Him with her. We did our part and loved her and cared for her like we said we would. Her time for Heaven was just sooner than we wanted.  I think the hardest part of the day of the funeral was placing Aly in the grave with my husband, and watching him cover her with dirt. Alex broke down with the last drop of dirt. I walked over and held him as we both accepted our current reality. Though God is there, and there is a comforting peace, it doesn't take the pain of the grief away or the thoughts of what could have been. Trusting God doesn't mean that you can't 'feel; what's happening to you. Like I said, it wasn't the story we wanted, but it is our story. And we get to decide what we do with it.
Instagram often gets a bad rap for drama or shallowness, but I believe you get what you look for. With our first miscarriage, we experienced so much darkness and loneliness because no one knew. We walked through it pretty alone. With our second miscarriage, we let people in, and it made a huge difference. Not that it makes the pain hurt any less, but having people to lean on, getting messages of encouragement, knowing that others are praying with you and for you was something that we desperately needed. So from that point on, I'd been very open about our miscarriages on Instagram. I want my page to be one of hope. People can know they aren't alone, that if you've had miscarriages, you don't have to walk through that in darkness. Though it's hard to put myself back in those moments and think about what happened, it's been worth it because I've received more messages than I can count of women I've never met reaching out to me to thank me for sharing, for making them not feel alone, for giving them some type of hope that they will be okay. Henly, Elly, and Aly Joy are three joys of my life that are unique. I treasure them and hold them close even though they aren't with us here on earth anymore. I'm thankful for my story, that I get to tell it and shed light on something people haven't always liked to talk about. If you are a part of the 1 in 4 women, know that there's nothing 'wrong' with us, you haven't failed yourself or your baby, you are not alone in your grief. I love you, mama, and we will come out stronger and more empowered than before. We still grieve, we're still healing, and we can do it together.
P.S. We are expecting baby #5 – May 2020!"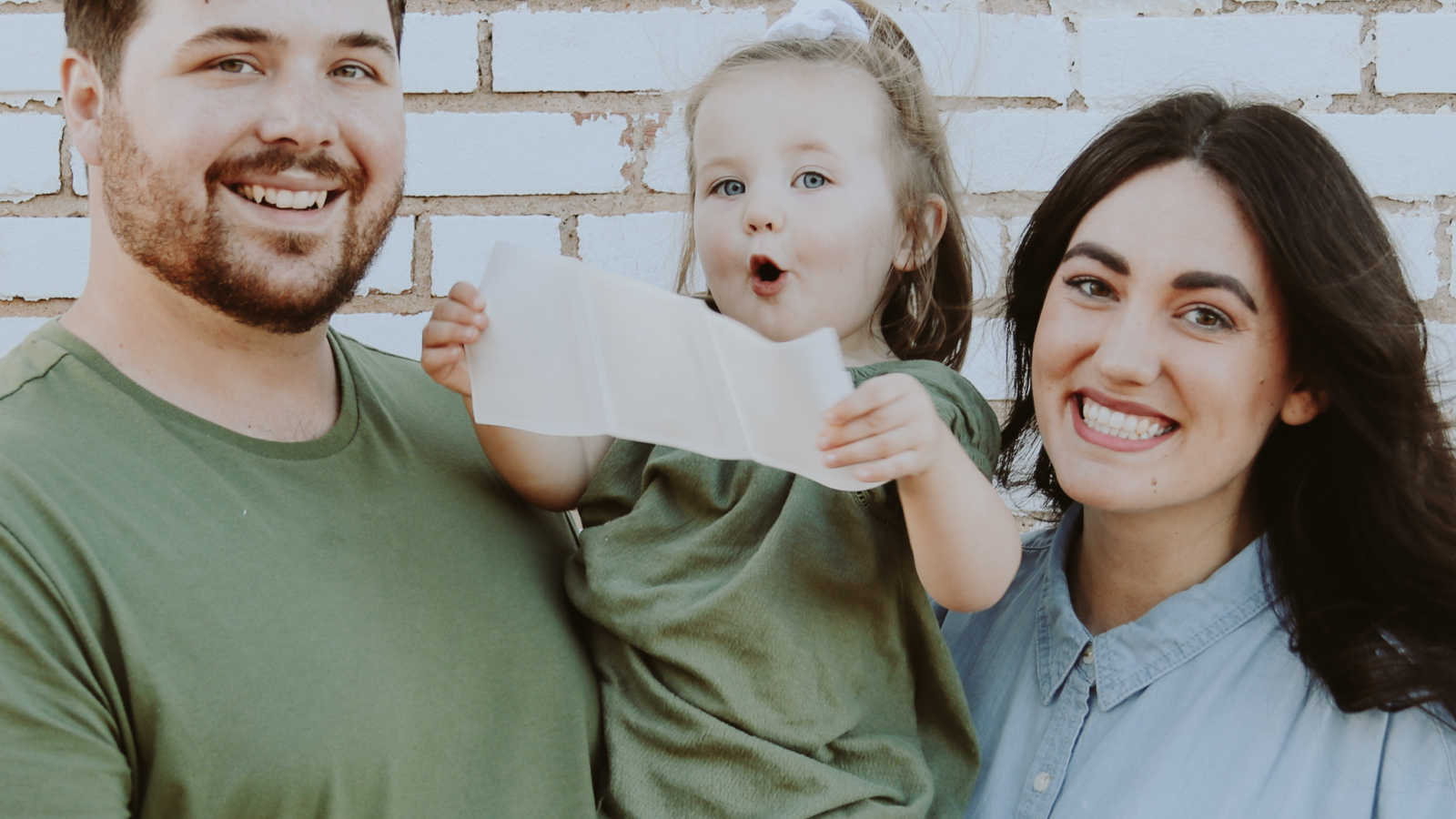 This story was submitted to Love What Matters by Bekah Erway. You can follow their journey on Instagram. Do you have a similar experience? We'd like to hear your important journey. Submit your own story here. Be sure to subscribe to our free email newsletter for our best stories, and YouTube for our best videos.
Read more amazing stories about families' fertility journeys here:
'We will love you no matter what, even if you decide not to stick around.' I was scared of losing her. I finally reached my breaking point.': Gay mom suffers postpartum anxiety after struggling with infertility, 'I desperately wanted to be understood'
'You're only 19 weeks, it's too early.' I was scared to hold him. But THAT was love at first sight.': Woman's baby born still after years of infertility, 'he has changed my life, even when he is not here'
Provide hope for someone struggling. SHARE this story on Facebook and Instagram to let them know a community of support is available.