"June 13, 2015 was my wedding day.
Just like every little girl growing up, I imagined my father-daughter dance being perfect. When Heartland's song 'I loved her first' was released, I knew right then and there. That was the song for my dad.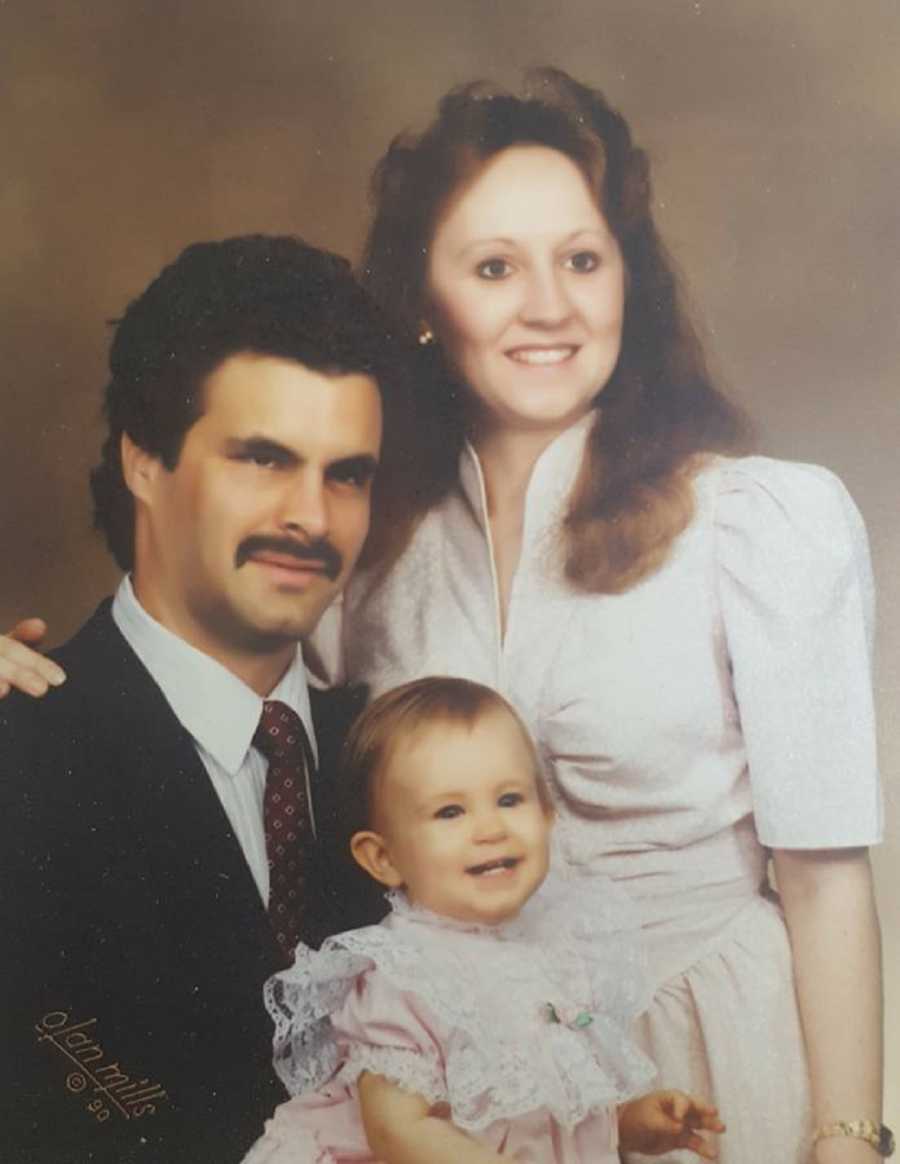 I grew up and had my big day. Perfect dress, marrying my best friend, and all my close friends and family gathered to celebrate. Then, came the moment: the father-daughter dance.
My dad and I danced to the words of 'I loved her first.' But, here's the thing. My dad is deaf. He couldn't hear the words. The words, I chose specifically for him to dance, with me, in my white dress. He cried while we danced. Not tears of joy. But, tears of sadness and disappointment. Instead of listening, we talked and laughed. Those words became background noise.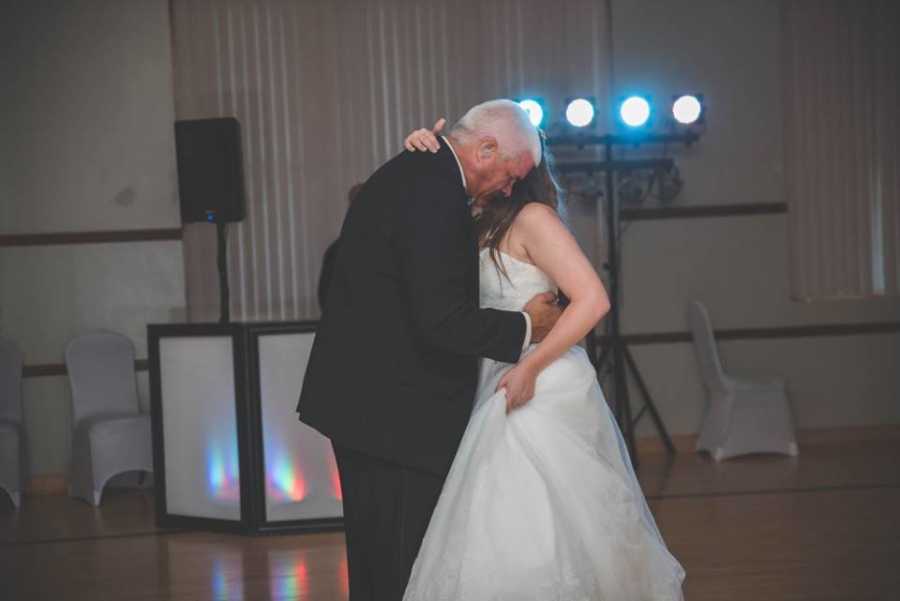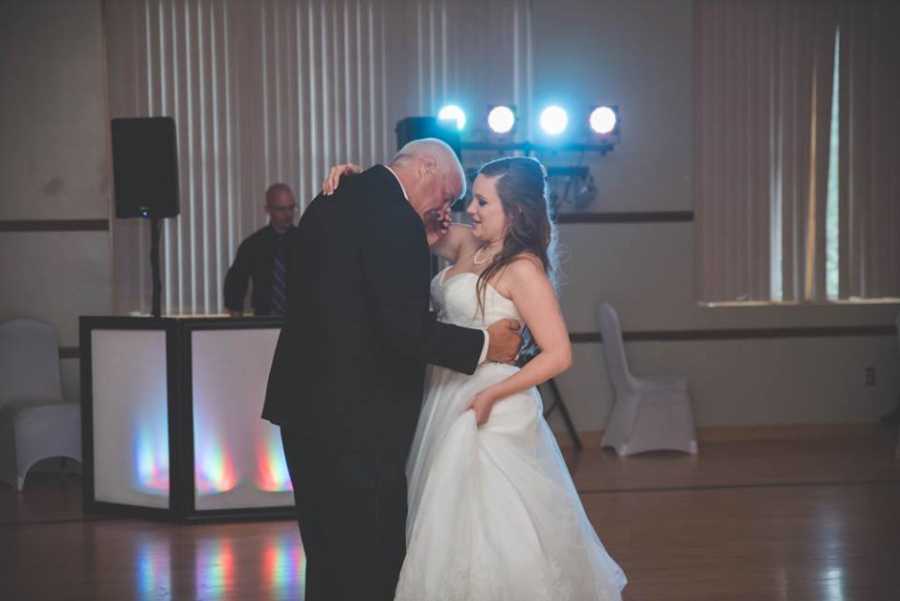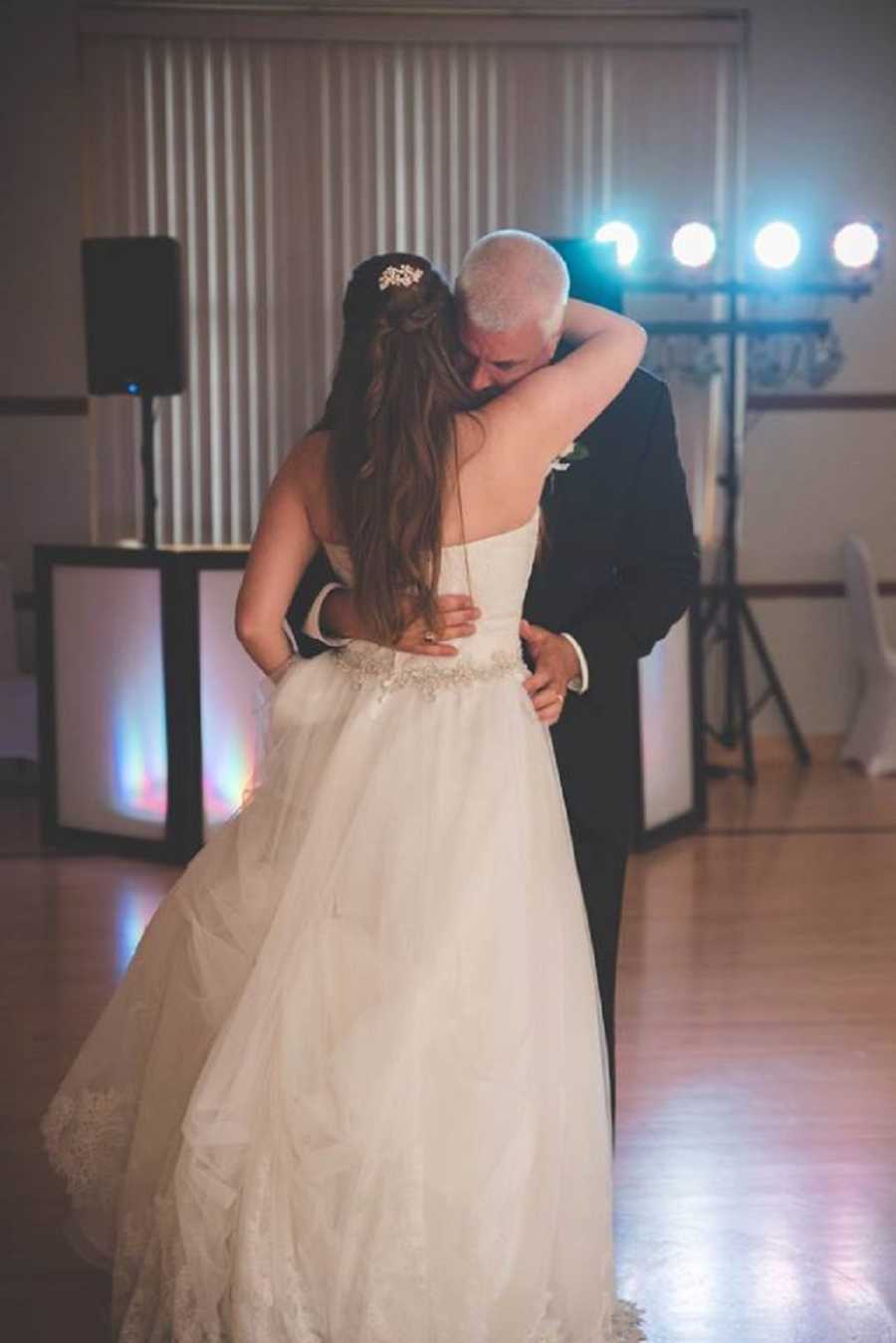 You see, my family is pretty extraordinary. My grandma was one of 11 children. Six of them, including my grandma, has hearing loss or deafness. One of my sisters and I are hearing impaired, as well. I'm deaf in my right ear and have severe hearing loss in my left ear. We have a defective x-linked chromosome. Typically, the males become hearing impaired in their childhood and females become hearing impaired in adulthood. Except, my sister and me. We began losing our hearing as children.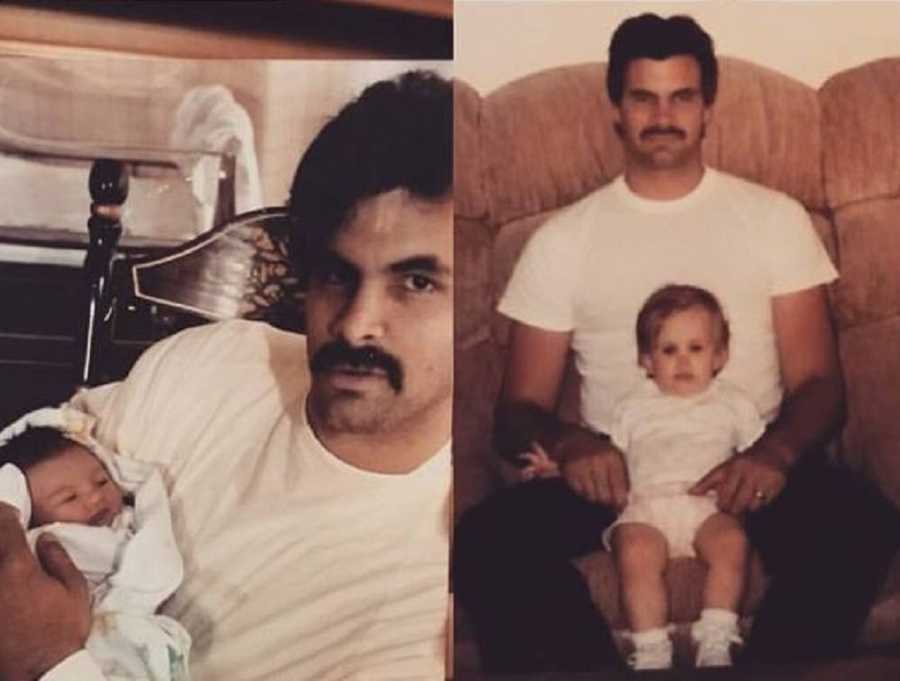 One month after our father-daughter dance, my dad had his first cochlear implant surgery.
After recovery, my dad had his cochlear implant activation. The big day where they turn on his implant. The day he can finally hear. You see videos of babies hearing for the first time – their eyes light up, they get so excited, and everyone cries tears of joy. My dad anxiously waited to hear. Once they turned it on… my mom, two sisters, and I said the words: 'I love you.' Words he never heard his children say.
But my dad broke down and cried. He cried, because he couldn't hear. My dad expected to hear the words so clearly. Hearing and understanding speech like every other person. My dad had a long road of re-teaching his brain to hear again. Over time however, my dad was able to hear crickets, birds chirping, and Rice Krispies popping in a bowl of milk. All those beautiful sounds you take for granted, he could finally enjoy.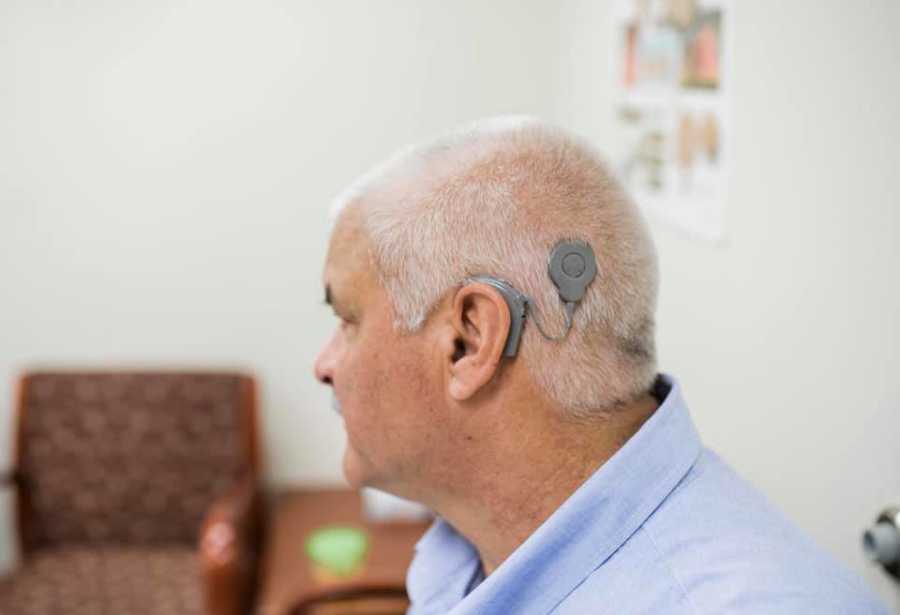 October 2017, I went on to have my son, Harrison.
He was perfect: blonde hair, blue eyes, two dimples, the world's most expressive eyebrows. Then, came time for the newborn hearing test. I was nervous beyond belief. But my son passed the test. He didn't have hearing loss. However, we had to continue to monitor him closely. One month later, he had another testing, and he passed!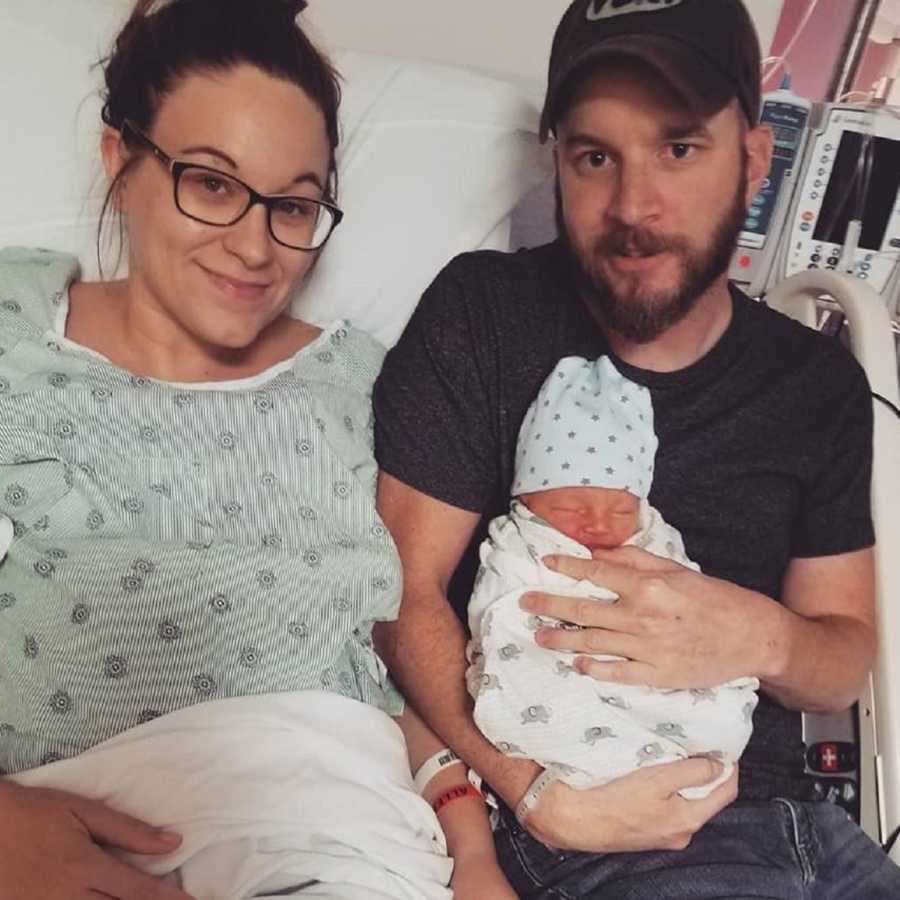 Eventually, we went home with our son. Quickly, I realized the struggle of having a newborn baby and having severe/profound hearing loss. I couldn't hear and wake up when my son would cry in the middle of the night. I depended on my husband to wake me up every time. I could be sitting in the living room, and I wouldn't be able to hear my son cry when he woke up from his nap. Then, in a blink of an eye, my son began saying sounds, babbles, and eventually, his first words. I struggled understanding what sounds and words were. I became depressed. I couldn't hear my son cry, talk, and laugh. Just like my dad, I relied on my spouse.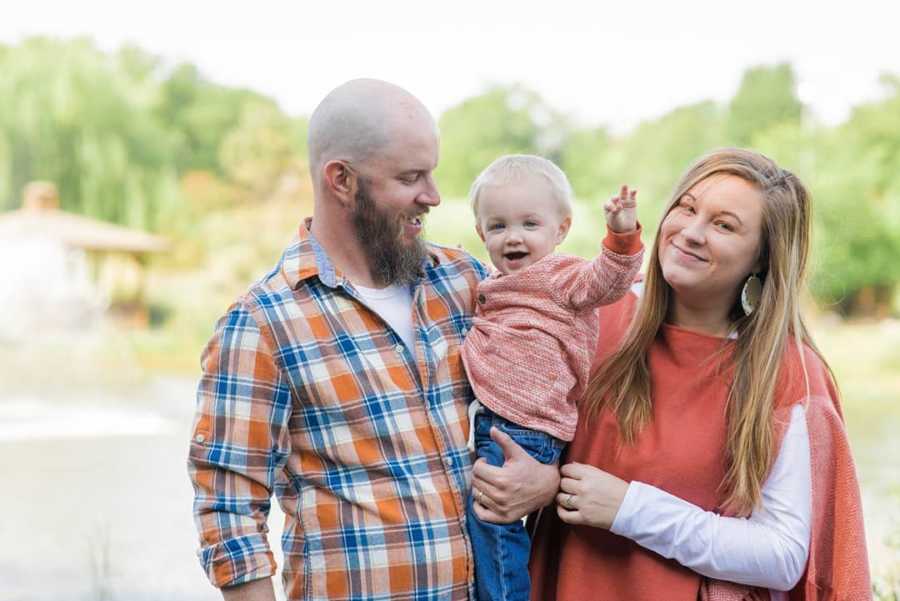 May 2018, my dad had his second cochlear implant surgery and activation.
My dad was ready to hear. He was excited knowing the possibilities. Once they turned it on, my dad heard my son cry. My dad could hear! My dad wasn't going to miss out on any more of those moments with my son, his grandson.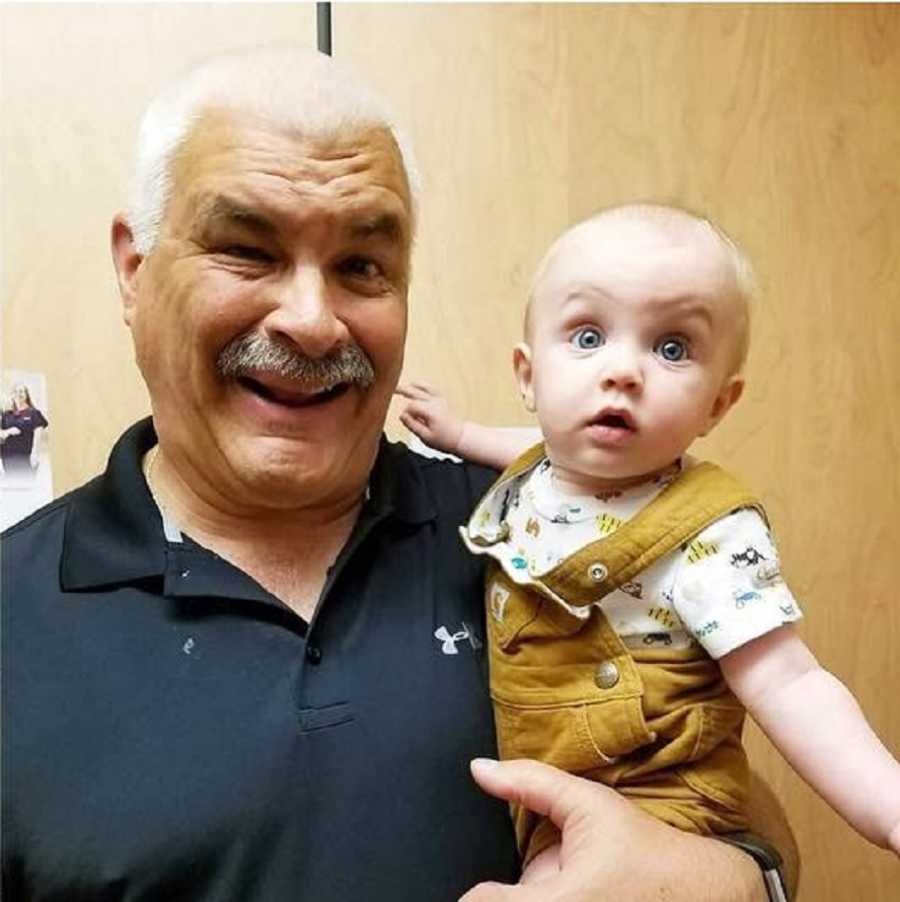 After that, I made the decision to seek a cochlear implant myself. I didn't want to miss out on anymore moments with my son. That dance: his mother-son dance. I wanted to be able to hear the words one day. The words my son chose for his mother.
November 2018, I had my first cochlear implant surgery – like father, like daughter. The surgery that was going to change my life.
I thought seeing my dad go through two surgeries would calm my nerves, but nope, I was a hot mess. Fears of the unknown.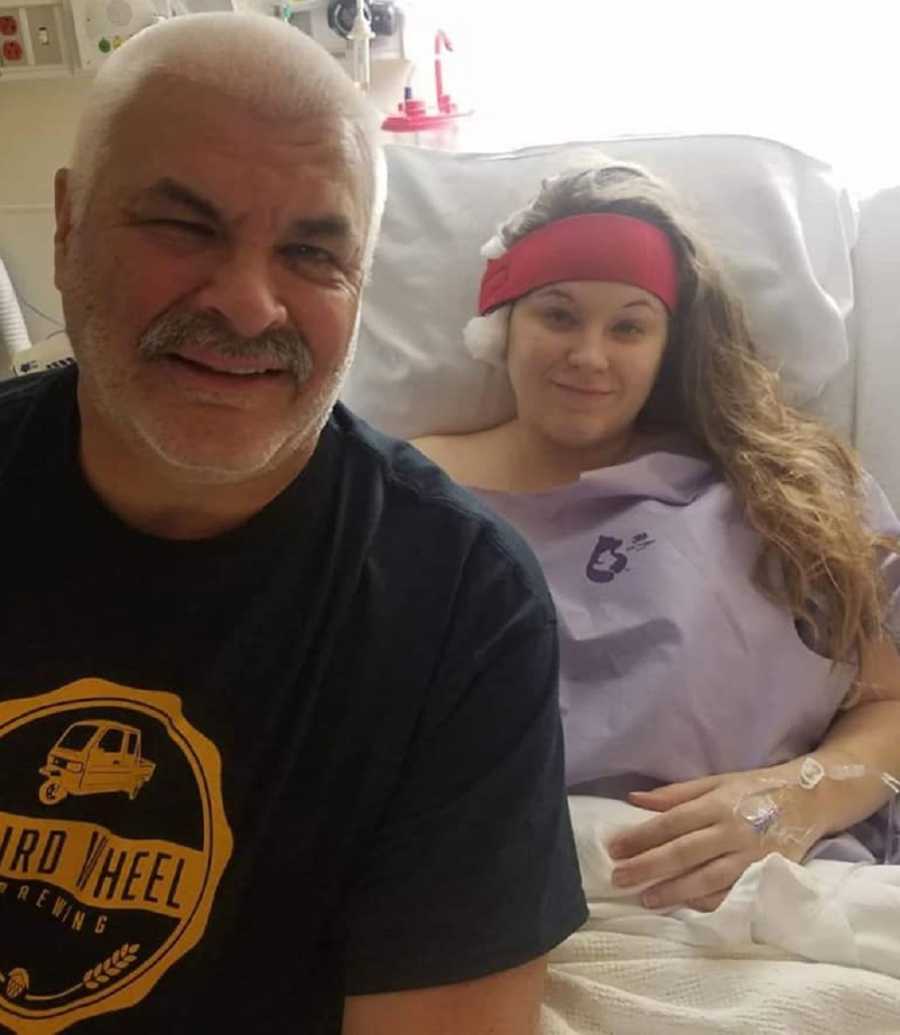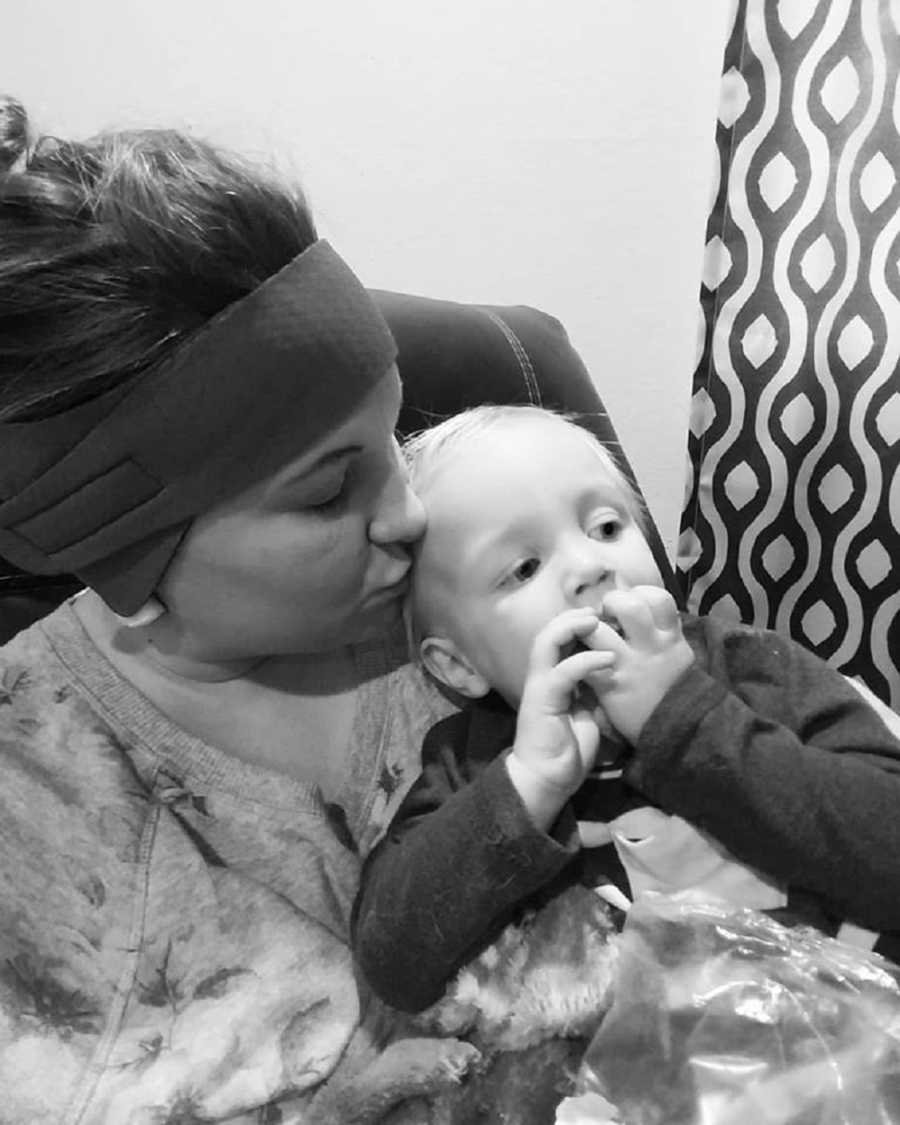 My activation day, November 28, 2019, was my big day. The day I get to hear my son! I set my hearing expectation low and I'm glad I did. The first week everything sounded like static. The first sound I was able to truly hear was in my classroom (I'm a teacher), and I was about to lose my mind! This sound was beyond annoying. I couldn't figure it out. I looked around the classroom trying to make sense of this awful noise for five minutes. Finally, I realized… it was the clock ticking! Something so simple, but so amazing to hear.
The second week everything and everyone sounded like robots, but I began to hear and understand speech. The next few weeks everyone sounded like Mickey Mouse. And, now, everyone just sounds high-pitched. I've learned having a cochlear implant and training your brain is a journey. You just don't have the surgery, get turned on, and hear 'normal' again. With lots of training, I can hear my students. And, most importantly, I can hear my son. I can hear him cry, say 'mama,' play musical instruments, 'rawr' like a dinosaur, clap and shout 'hurray' while singing 'If You're Happy and You Know It,' and hear him splash in the pool during swim lessons.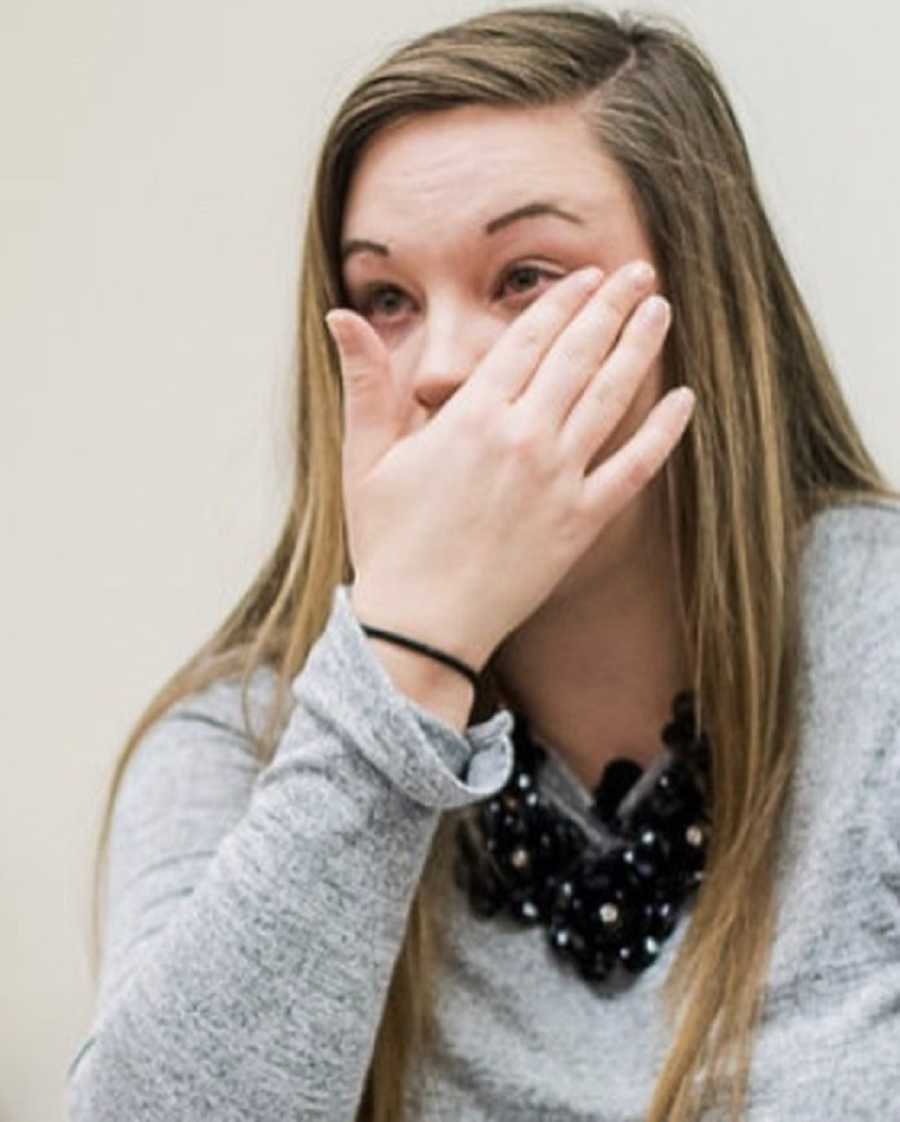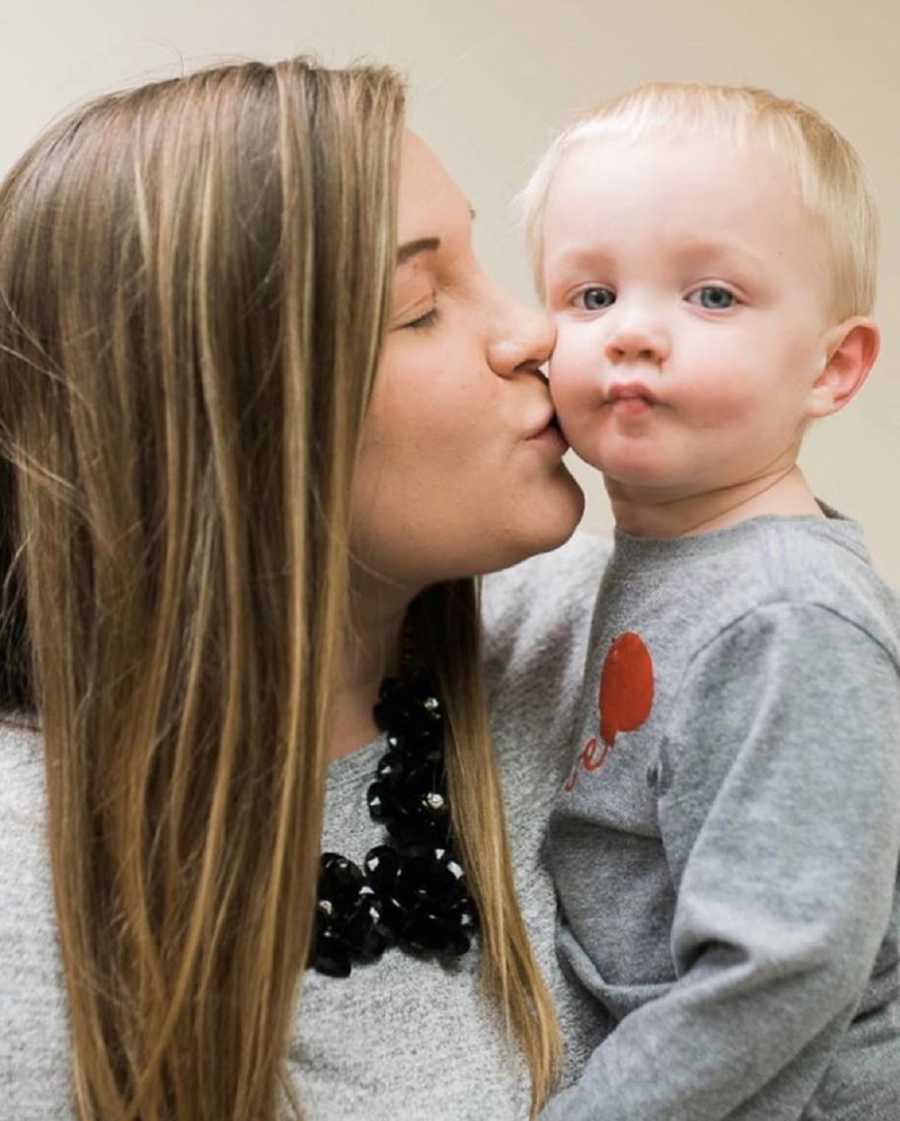 On February 14, 2019, my dad, mom, husband, son, and I headed from St. Louis to Nashville to attend the 2019 Cochlear Celebration. On February 16, 2019, my dad did hear the words. He heard the words to our song. We re-enacted our father-daughter dance in front of over a thousand cochlear implant recipients and their supporters.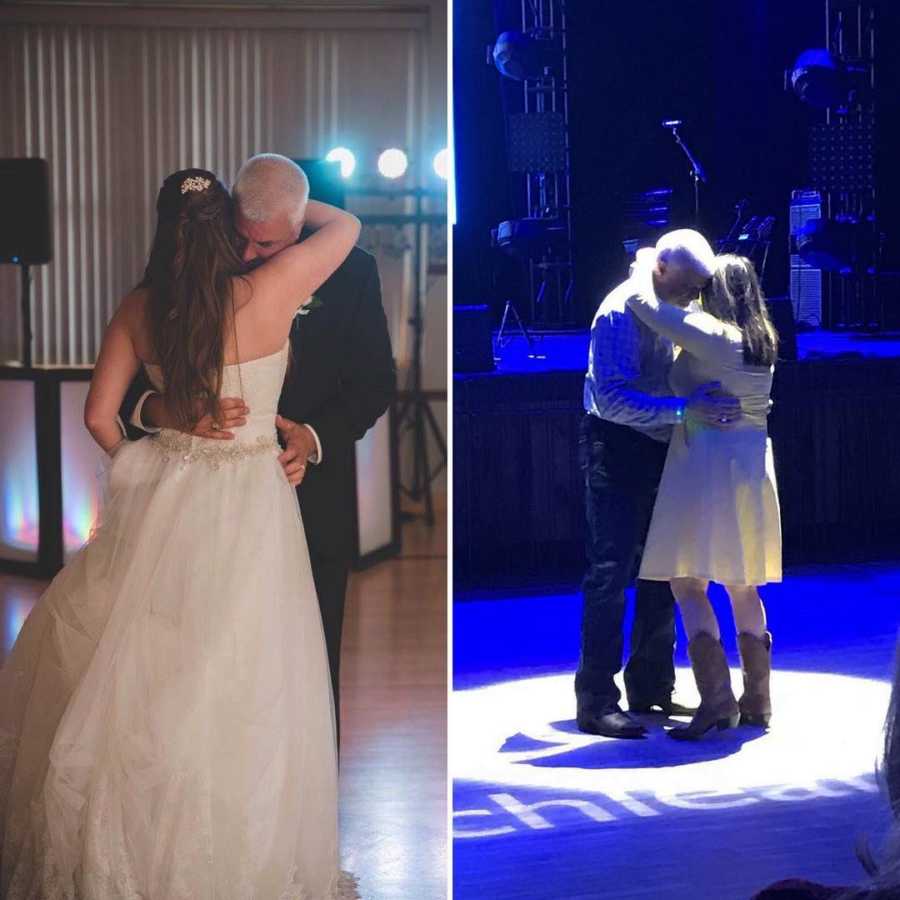 Thanks to Cochlear Americas and their amazing technology, my dad was able to finally hear the words to our father-daughter dance. I cried the entire time. In between wiping my tears, I asked my dad, 'Can you hear the words?' He said, 'Yes, yes I can.' Three and a half years later, my dad could hear the words I picked out for him.
And, one day, I'll be able to hear the words to my son's mother-son dance. It was a moment I'll never forget: dancing with my dad and him being able to hear the words I chose for him. There wasn't a dry eye to be seen that evening.
I loved you first, Dad."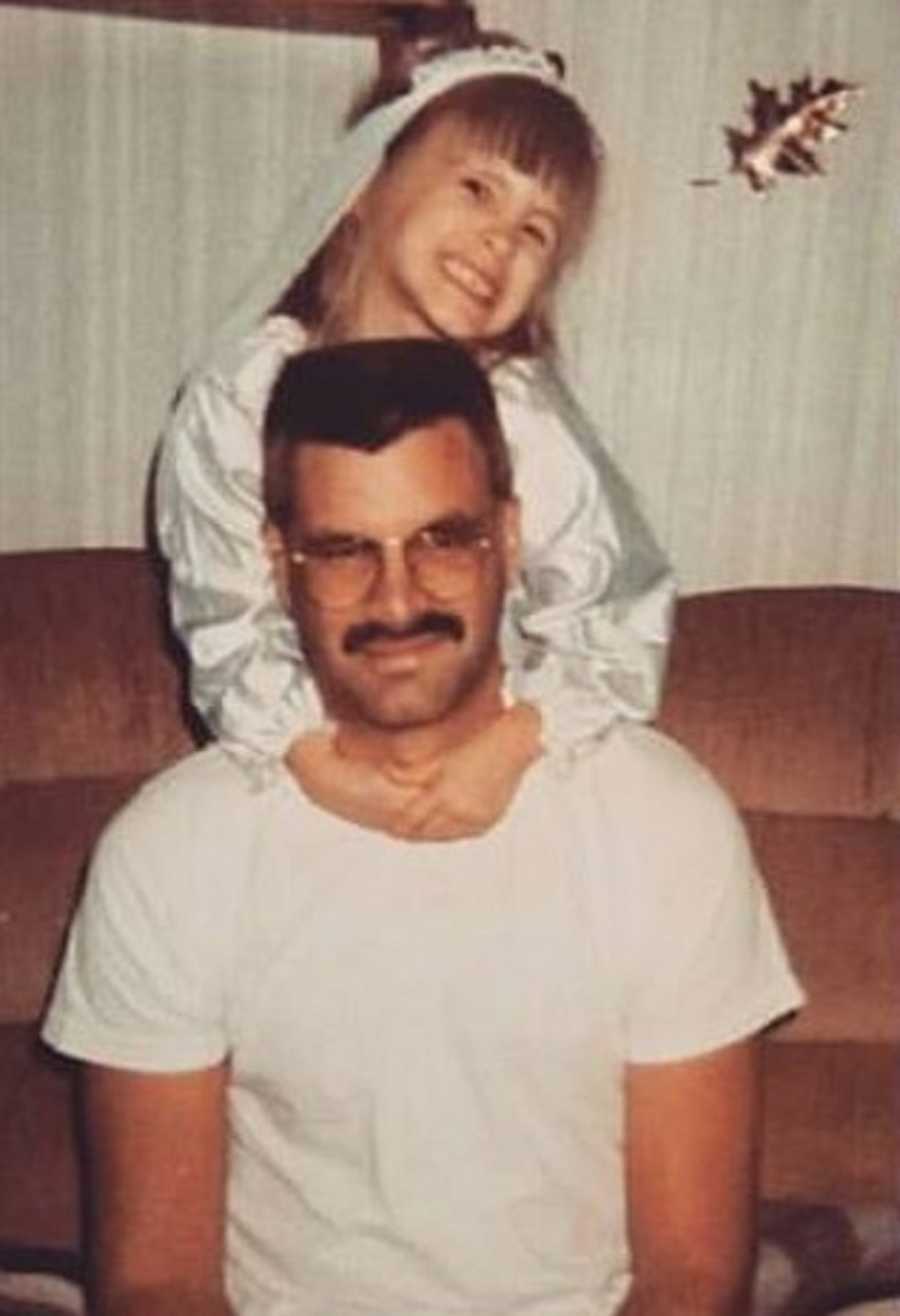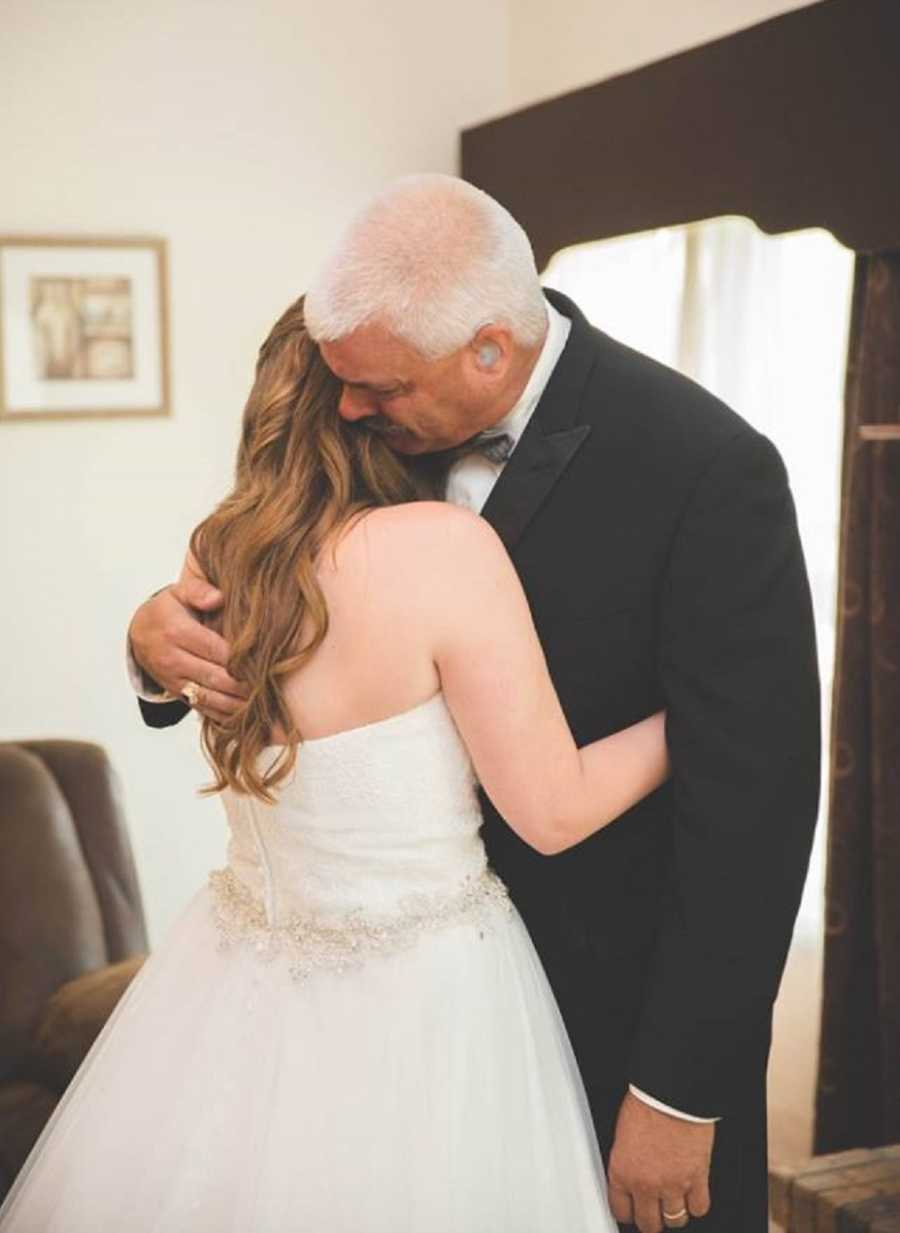 This story was submitted to Love What Matters by Danielle Sawyer. Be sure to subscribe to our free email newsletter.
Read more powerful stories like this:
'People joke about having an out-of-body experience, but it truly was.' Brothers surprise bride with father-daughter dance from dad in heaven to Michael Bolton song, he responds
'We decided if Dad couldn't be at the wedding, we'd take the wedding to Dad. The moment he saw me, I will never forget. There were A LOT of tears.'
Provide beauty and strength for others. SHARE this story on Facebook with your friends and family.