"This story is about my journey to motherhood. The war zone my hubby and I entered trying to get the family we dreamed of.  And the village of people who came together to make it happen through surrogacy.
In December 2014 I welcomed my first child – a daughter named Teagan Caroline! I got pregnant with no issues and had a great pregnancy. I had no idea just how lucky I was. This would be the last and only child I would ever be able to carry myself.
Ten days after her birth I was laying in bed and I looked over at my husband and said my heart hurts. Like it physically HURTS. He took me to the ER where I was diagnosed with preeclampsia. Yes, you can apparently get it up to 6 weeks after giving birth! My blood pressure was so high I was at risk of having a seizure, a stroke and/or a heart attack. I was kept in the hospital for 2 days on an IV drip of magnesium before being sent home on medications to keep my blood pressure in check.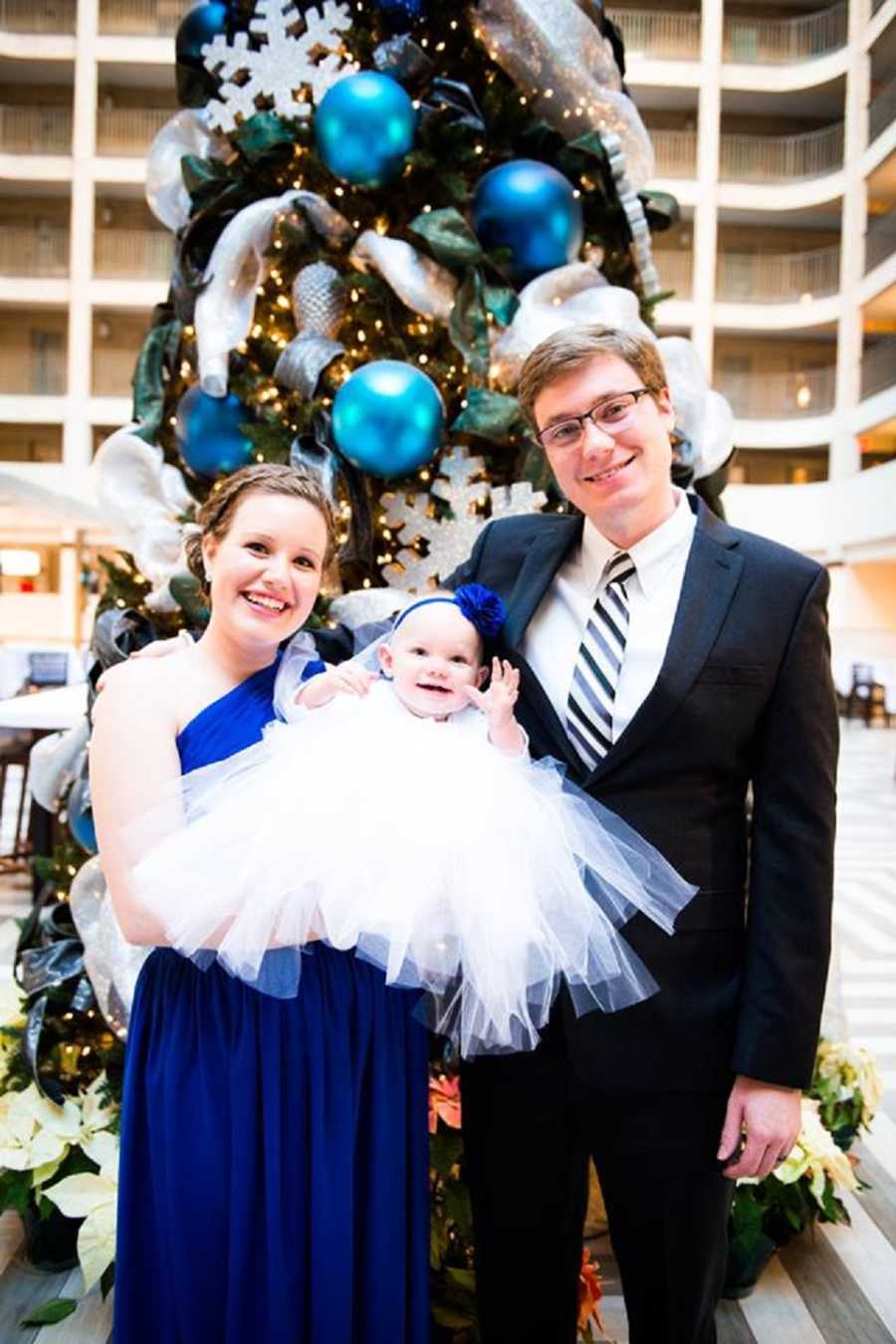 Around the time Teagan turned a year and a half we knew we wanted to expand our family. The prospect was terrifying. We moved back home, across the country, to be near family and assembled a high-risk team of OBGYN's. They gave their blessing that I could get pregnant again, but that I would be monitored much more closely this time.
I got pregnant within 2 months. By 5 weeks pregnant it became very CLEAR that my body was not going to tolerate the pregnancy. I became terribly ill. This time I was in the hospital diagnosed with Hyperemesis Gravidarum (HG) – yes what Kate Middleton had. HG is essentially an allergic reaction to the pregnancy hormone or morning sickness on steroids. Imagine the worst stomach flu of your life – lasting MONTHS. That is the HORROR that is HG. By 8 weeks pregnant I had been in the ER for IVs 3 times due to dehydration and starvation. One in three babies do not survive a mom having HG – I lost the baby shortly thereafter. Both preeclampsia and HG have high recurrence rates – I was told if I tried to be pregnant again there was a significant chance I would have HG again and the severity would be worse.
All of our dreams, our timeline for our family, a sibling for Teagan – it was all GONE in an instant. It was simply too dangerous for us to get pregnant again. I was consumed by grief in that moment. Grief trumps all other emotions, and infertility – well – is literally ALL grief. (There was grief in the baby that came but only for a few short weeks/months. There was grief in the vision and the timeline that would no longer be, in the plans that would never happen. In our child who wouldn't get to have a sibling.)
And because no one talks about it, I had literally NO idea how to cope or what to do next.
After living in this new reality for a couple months I got sick of feeling like I didn't have control over my own life.  Someone was missing from our family and it was my job to get them here, dang it! End of story. THIS WAS NOT THE END (Can you hear the literal mama bear roar!?)
So I dove into researching surrogacy and I found an amazing blog. The writer of the blog had created a national Facebook page for people like me to match with potential surrogates! On a whim I joined the Facebook group and posted a picture of Teagan. I simply wrote, 'This little girl needs her brother or sister. Can anyone help?'
And you know what?
Someone replied. Her name was Brandi. And the craziest thing was she lived only 35 minutes from me. Chills. I still get chills typing that.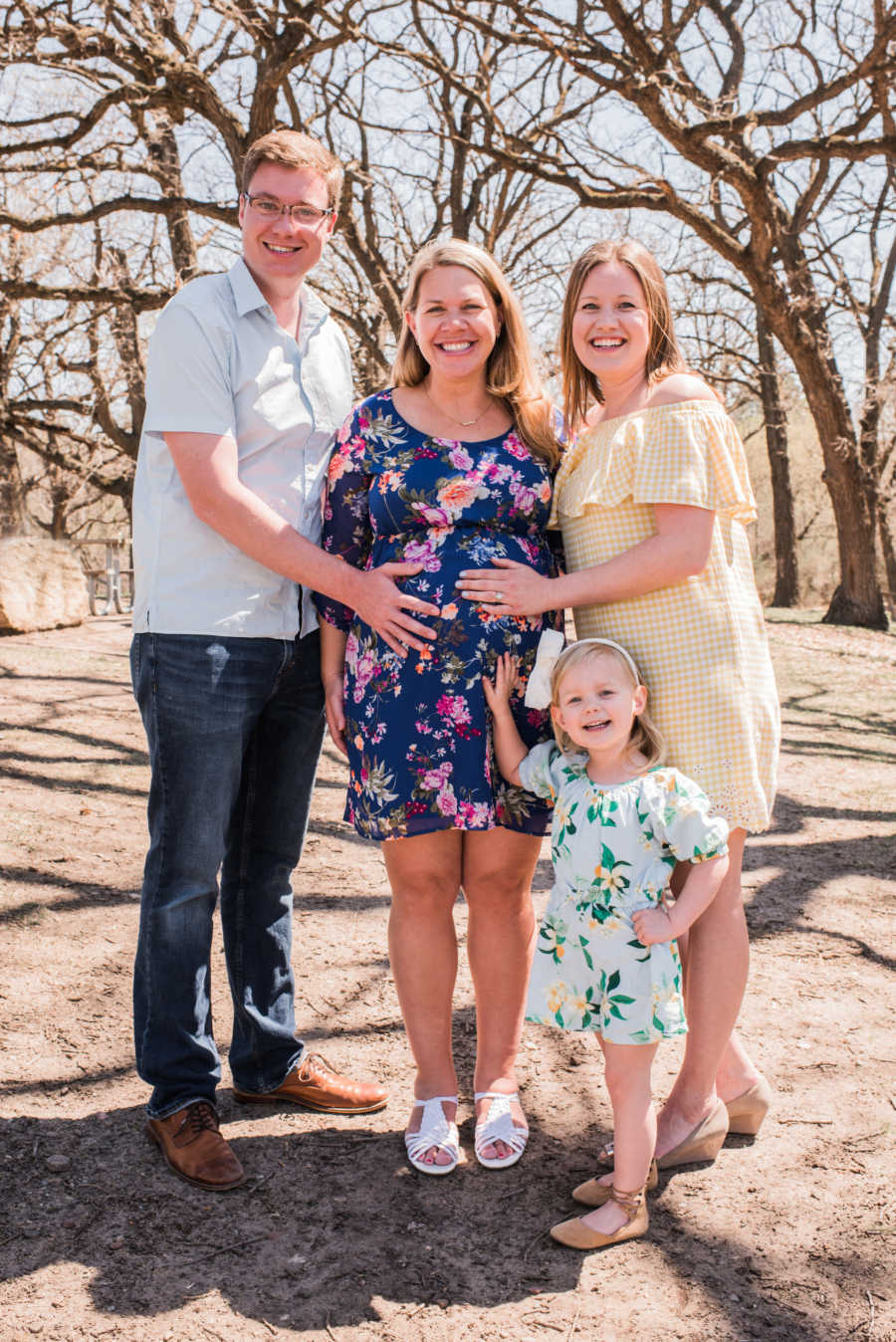 We started talking on the phone for hours at a time. Brandi was a mom of 4 kids, a pre-school teacher even, with a dream of over a decade to be a surrogate for the right family. The right family just hadn't come along…
About a month later we decided the families should meet in person  – the ultimate blind date! And guess what?! It went great! We ALL totally hit it off. Within minutes the adults were chopping some apples prepping dinner and the kids were off playing upstairs. It felt like we had known them forever…
(I lovingly refer to Brandi as my unicorn. In my darkest chapter she raised her hand and said, 'I will help. I'll make your mission impossible – possible. She is my miracle. She is magical. And her family? We refer to them as the unicorn squad, because in our journey we have 5 kiddos between the 2 of us on this crazy ride!)
After that meeting, Brandi and I declared that we were a match and this was a go. Now all we had to do was figure out how this whole surrogacy thing worked. We both had no idea what we were doing. Oh, the adventure…
For our best stories, subscribe to our free email newsletter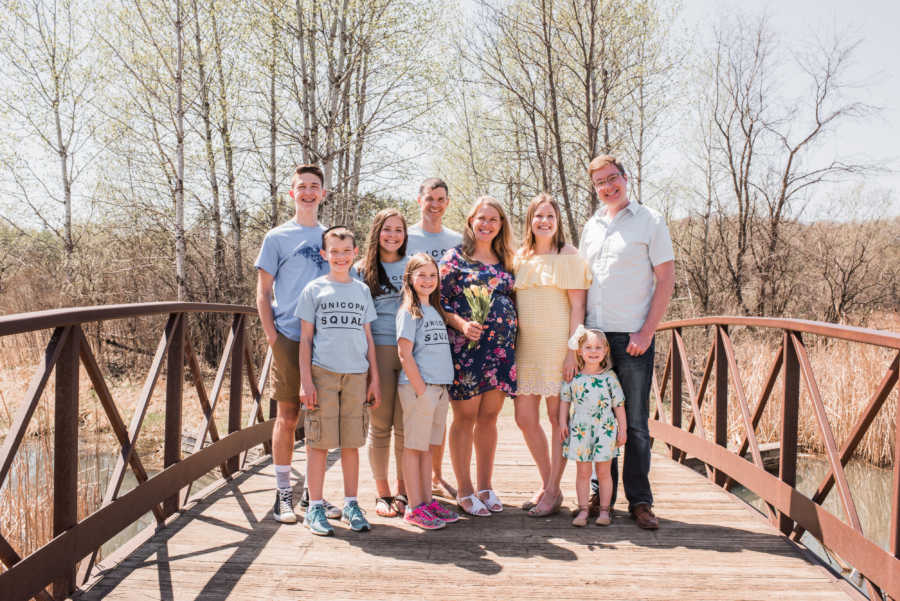 We quickly found out we needed FDA medical clearance, attorneys and a contract made up, and to pass a state mandated psychological exam. OH BOY. But in the end, we passed. PHEW!
Next we had to make some embryos through IVF. (This baby is 100% biologically ours. The baby has no genetic link to Brandi.) It took us 2 separate rounds of IVF and 100 needles, but we got ONE good embryo. ONE. AHHH! No pressure.
And after some test results came back we found out it was …A BABY BOY! He was frozen for a month while Brandi got her body ready with injections and on September 29th we transferred him into Brandi's uterus. He was given a 65% chance.
Four days after the embryo transfer Brandi called me on video chat from her bathroom holding up a pregnancy test yelling, 'Tory I see a line! WE ARE PREGNANT.' I think I went into shock if I am totally honest. This had actually worked?!?! Blood tests a week later confirmed she was indeed pregnant with our baby boy!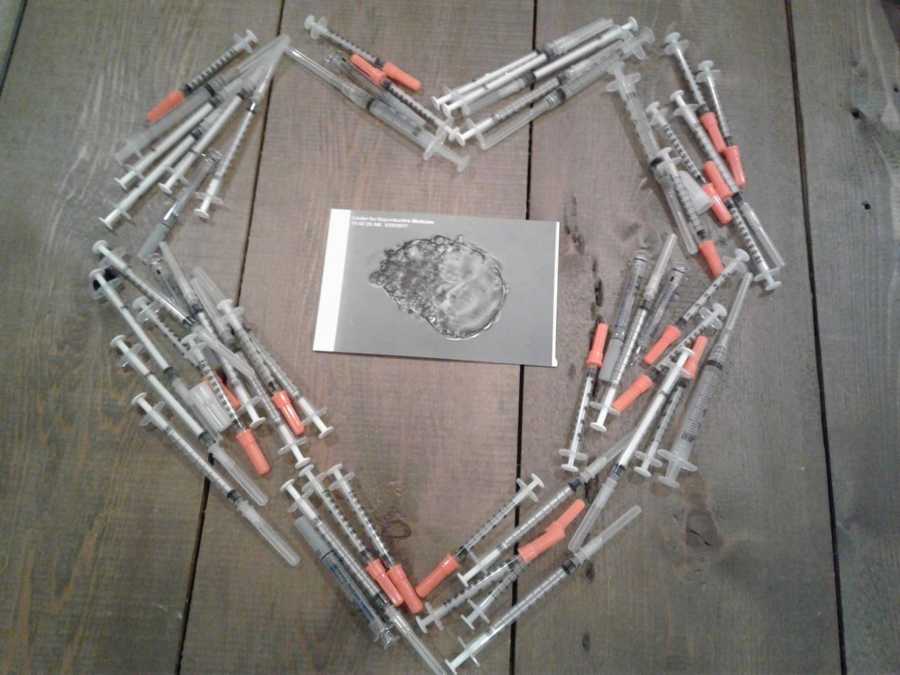 Today Brandi is 35 weeks pregnant with our SON and we are blogging throughout the pregnancy if you would like to follow along at, 'Our Bun, Brandi's Oven.' He is due on Father's Day – June 17, 2018.
Our son has a name already – Teagan picked it out by herself (yes, we let the 3-year-old name him). She picked the name Tommy, which also happens to be the name of his grandfather. The ultimate Father's Day gift.
My story is Tommy's story. It's about 2 families intertwining in the name of love and life – Tommy's Unicorn Squad. It's about the GOOD in the world amongst the darkness. It's about magic… and one very special unicorn who gave me hope again."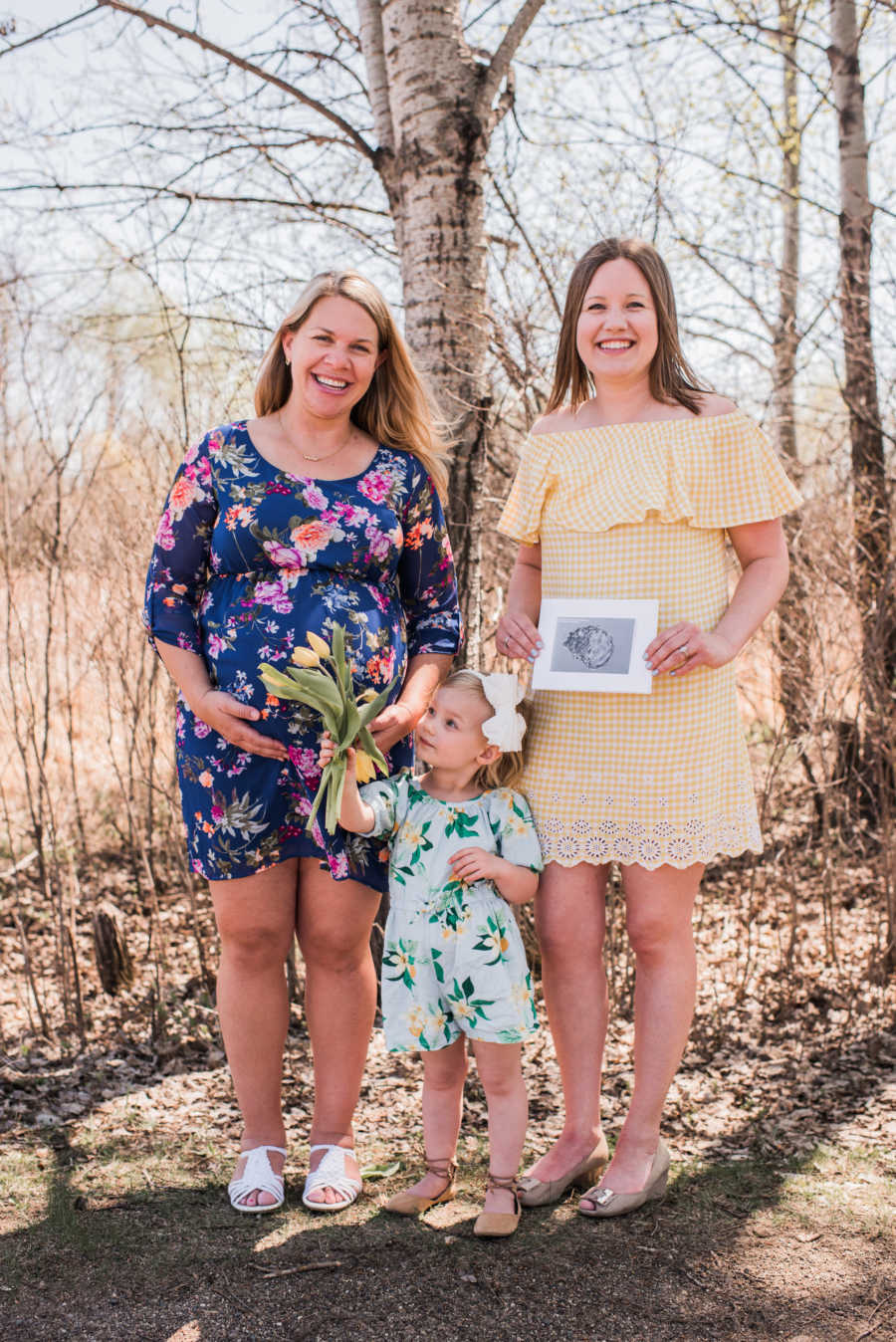 This story was submitted to Love What Matters by Victoria Daudelin of  'Our Bun, Brandi's Oven.' Submit your own story here, and subscribe to our best stories in our free newsletter here.
Do you know someone who could benefit from this story? SHARE on Facebook to make them aware there is a community of support available.