"You know those once-in-a-lifetime moments where things stand still and you etch every detail in your mind to hold on to forever?
The one I remember most vividly is on August 1, 2014, when the chapel doors opened, and I was about to walk to my groom with my father by my side. The look on his face with his eyes locked on mine, every other person seemed to fade away. I will never forget that look, it is etched into my mind.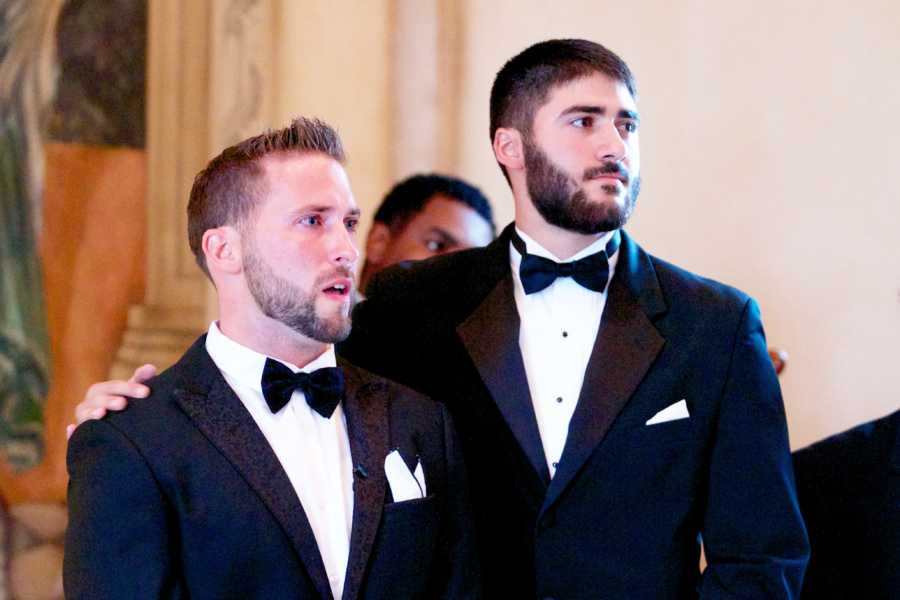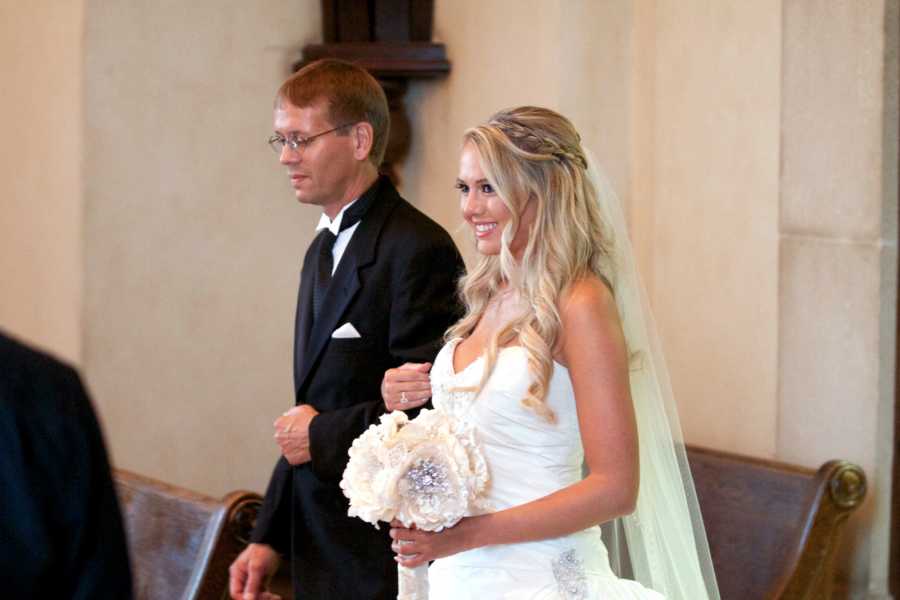 I knew when we started trying to conceive I wanted to capture his face, just like that, when I told him we were pregnant – so our future child could forever have that memory too.
Kaleb has always wanted to be a dad, he talked about kids while we were engaged and for years after getting married. I wasn't ready, I wanted a career, a house, a plan. I am not sure why all of that mattered so much to me. I already had the most important thing to begin a family, a man who loved me, and a man who without a doubt would be a great father.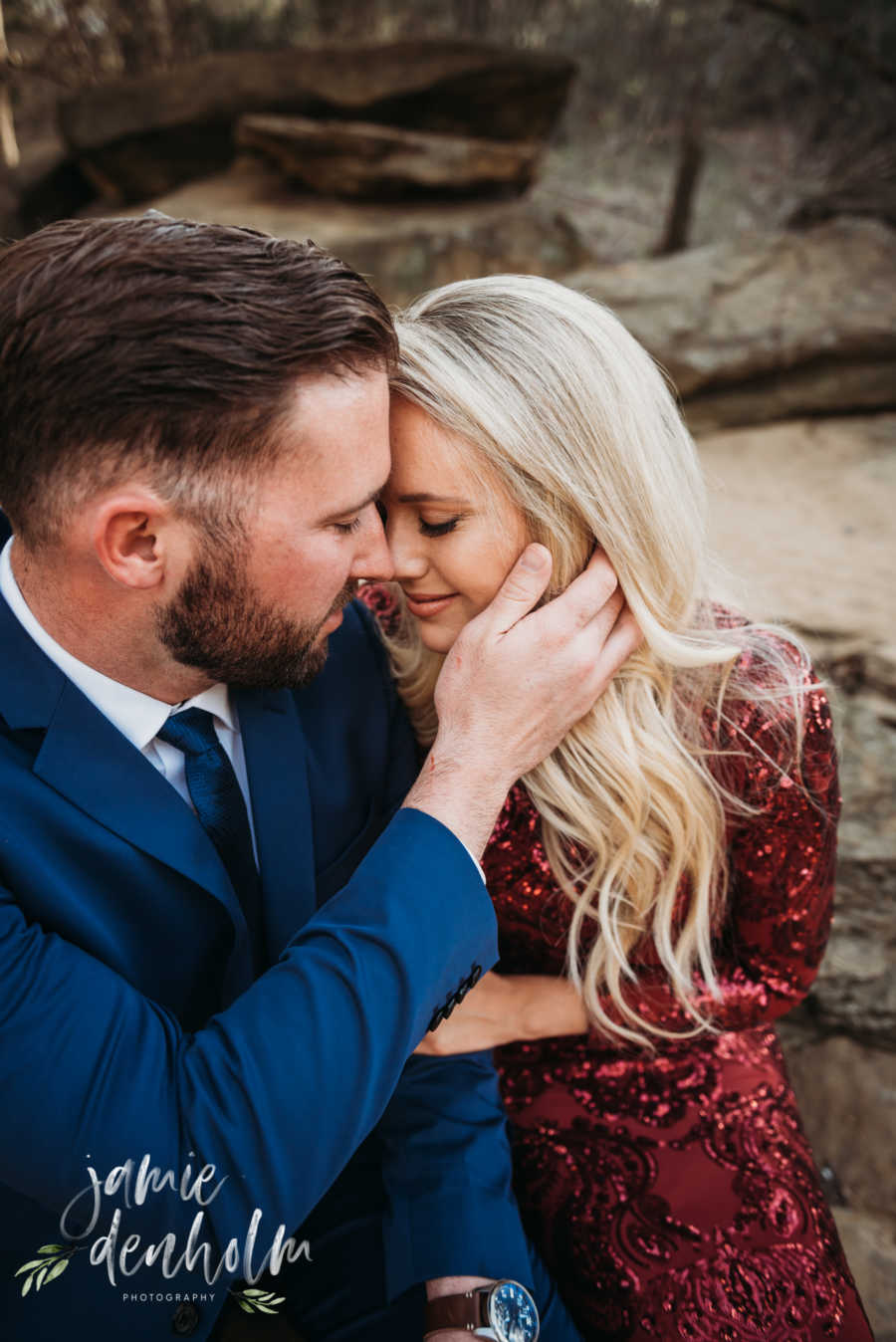 While starting our journey trying to conceive I began looking for a photographer who was different, one that captured raw, real, life un-posed moments, like the ones we so dearly hold on to in our minds. That's when I found Jamie Denholm Photography, so I lurked for a while checking out her page, and when the test turned positive, I decided to reach out. There is something so vulnerable about sharing this news with a person you have never met, but I knew I needed to so we could plot the perfect reveal.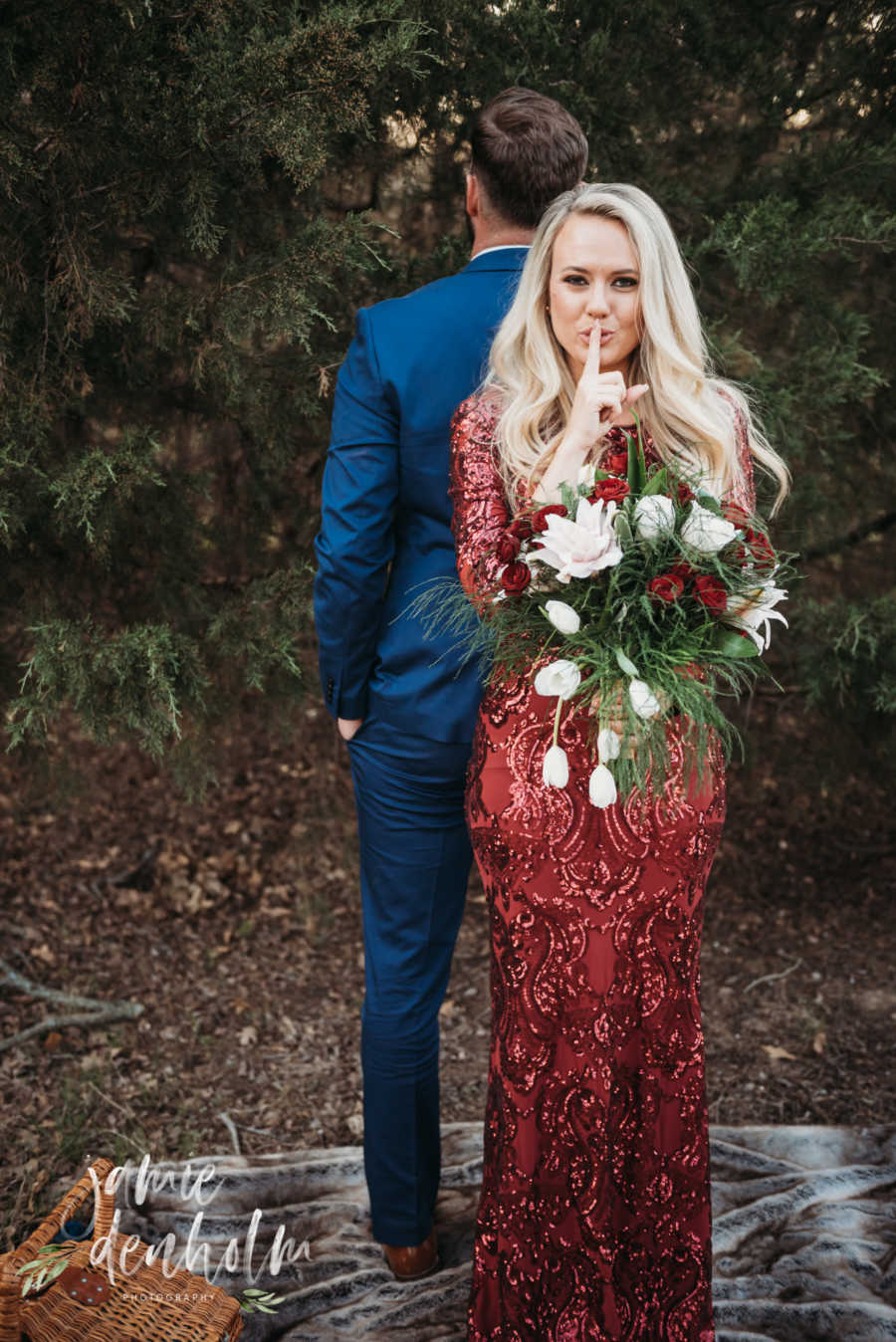 I wondered how I would get through the next few days keeping this secret from my husband. I must have taken 10 pregnancy tests hoping the line would get darker. It did, and each day it became more real. I slept next to my husband for 4 nights harboring the biggest secret I have ever kept in my life. The day finally came. Our photographer created the perfect announcement board and brought it with her. I stuck one of the many hidden pregnancy tests in a bouquet of flowers, and we were off.
I was so thrilled Kaleb was willing to do a random photoshoot on a scorching hot day in Texas in a full suit with no complaints. I guess he is just used to my antics by now. Little did I know I picked an important day – the Texas Longhorns were playing in the NCAA tournament. So here we are, right before the reveal, and Kaleb is live streaming the game on his phone, que the romance. Marriage is such a compromise. I was willing to let it go the first half of the photoshoot. I knew I would get his attention off the game very soon. He twirled me around, picked me up, carried me through streaming creek water, and took the perfect photos, all while checking the score.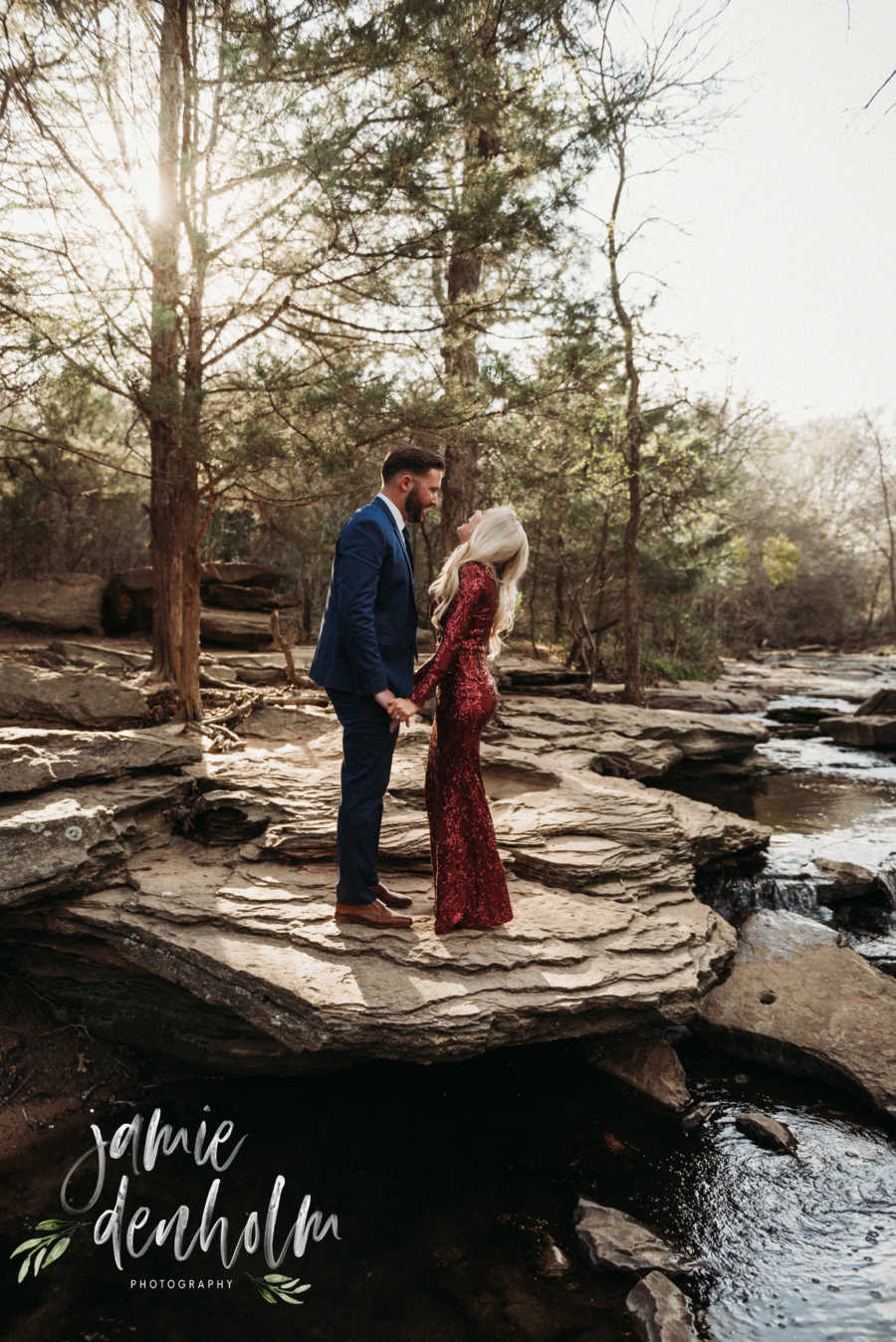 The moment came when I signaled to Jamie I was ready to tell my husband the news. We picked the perfect spot, and got ready for the reaction. I told Kaleb something was in my bouquet for him. Confused, he slowly reached in and pulled out the test, and just stared. My heart was racing, and of course I shed a few tears which he calmly wiped away and finally said, 'wow.'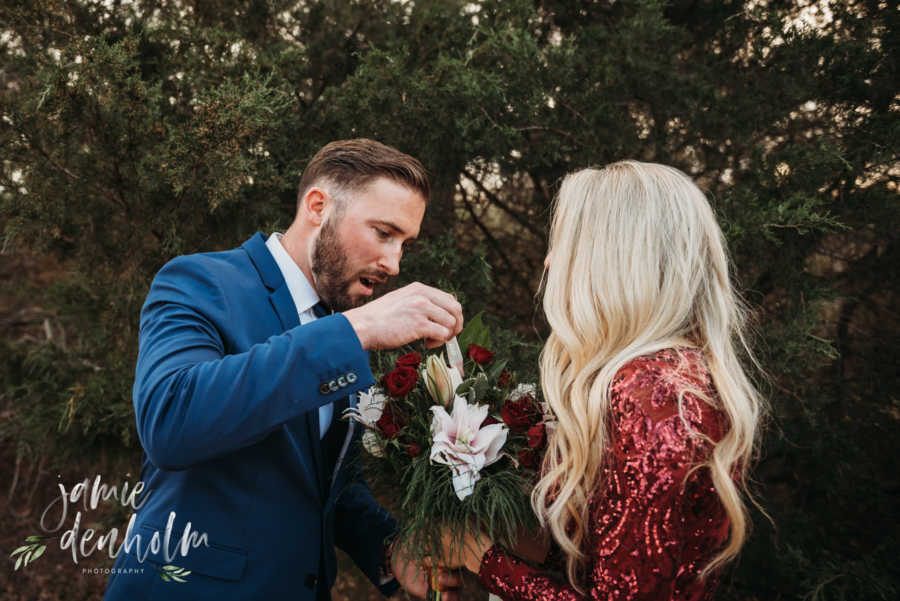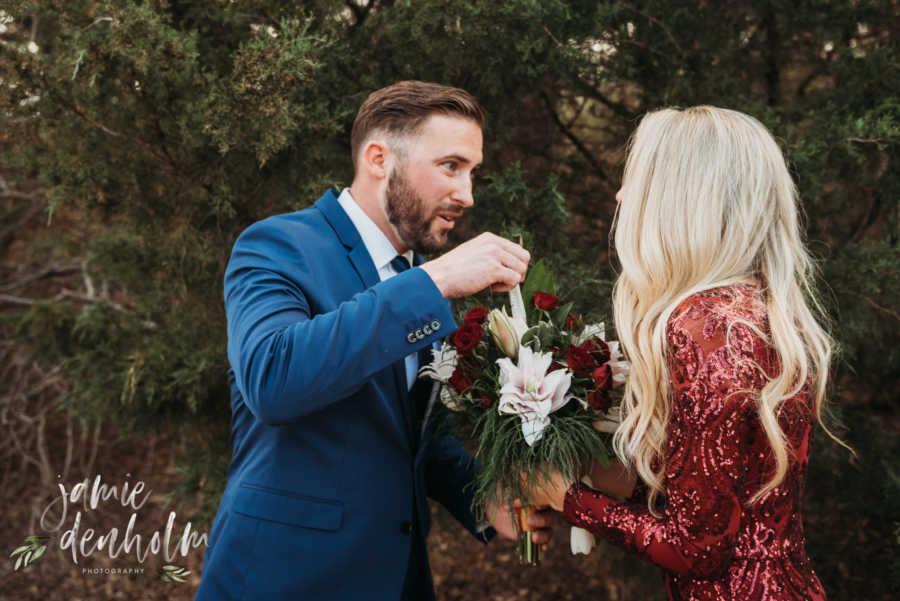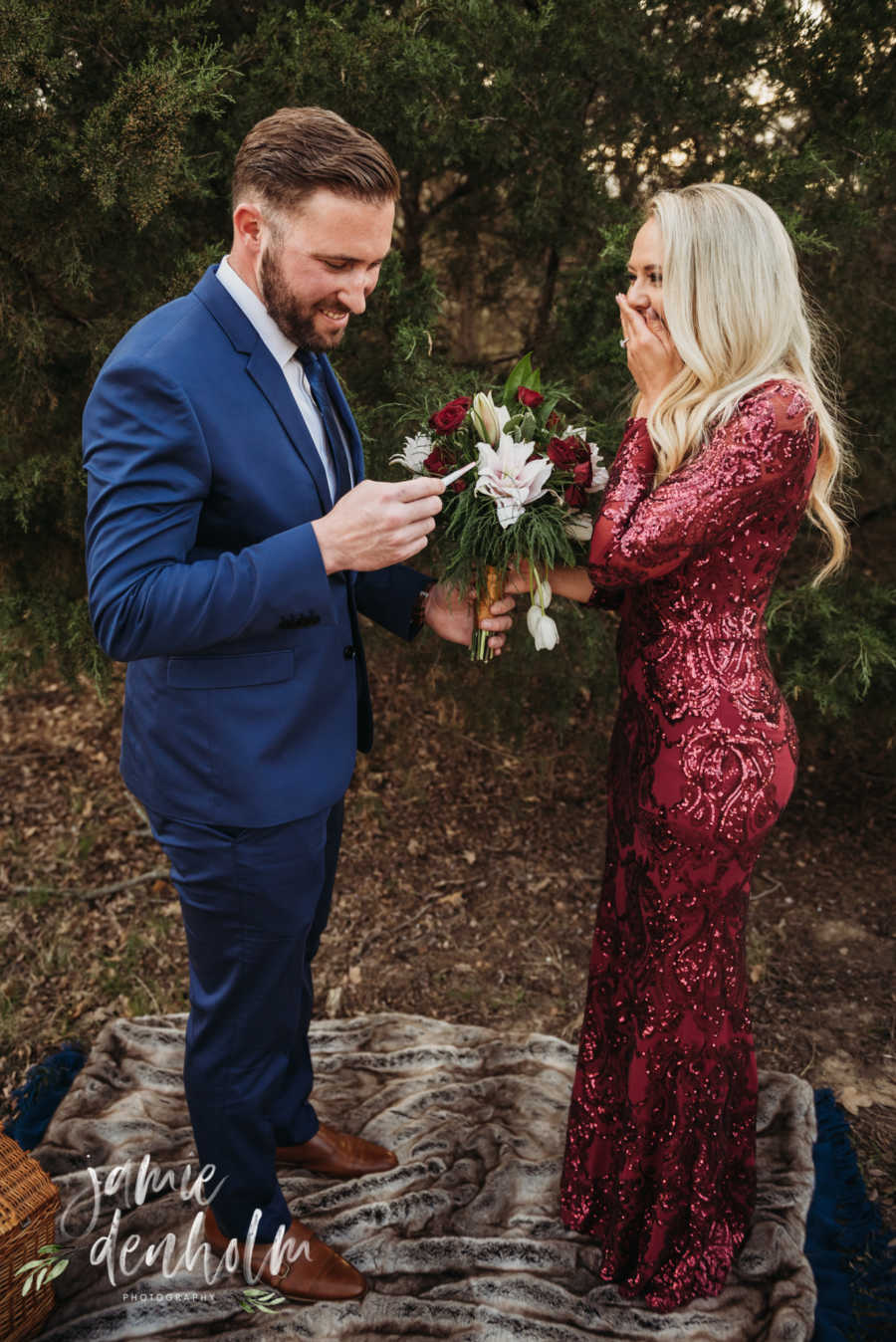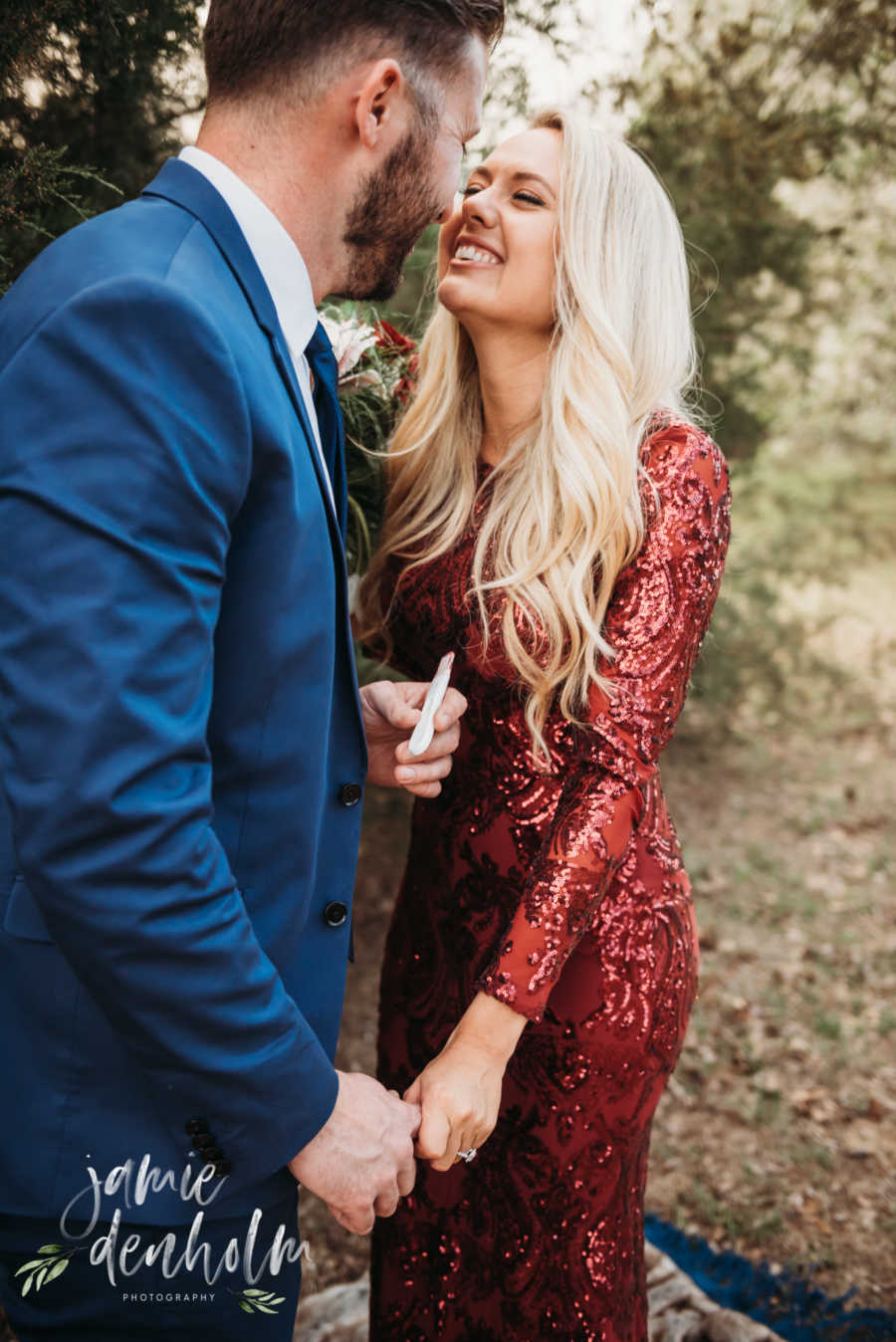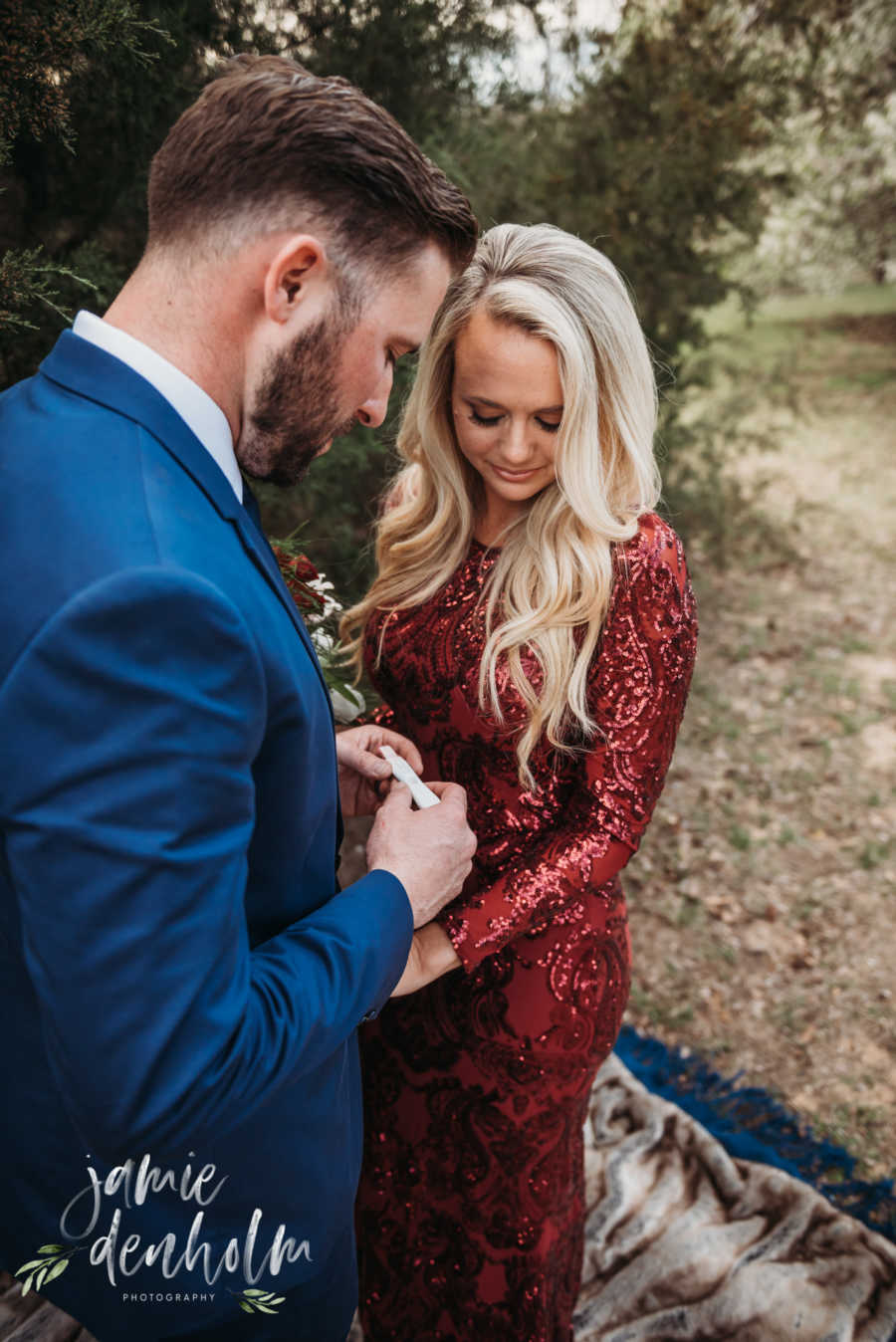 I don't remember the rest of the words he spoke, I just remember the look on his face. Just like our wedding day. You see, there are so many moments in life that stay with you forever. Some are devastating, and some are happy. We don't always get to pick those moments, they just happen. I chose to save this moment so our little girl will have a memory etched into her mind. She will forever know the joy on her father's face when he first learned he was going to be a dad."
From podcasts to video shows, parenting resources to happy tears – join the Love What Matters community and subscribe on YouTube.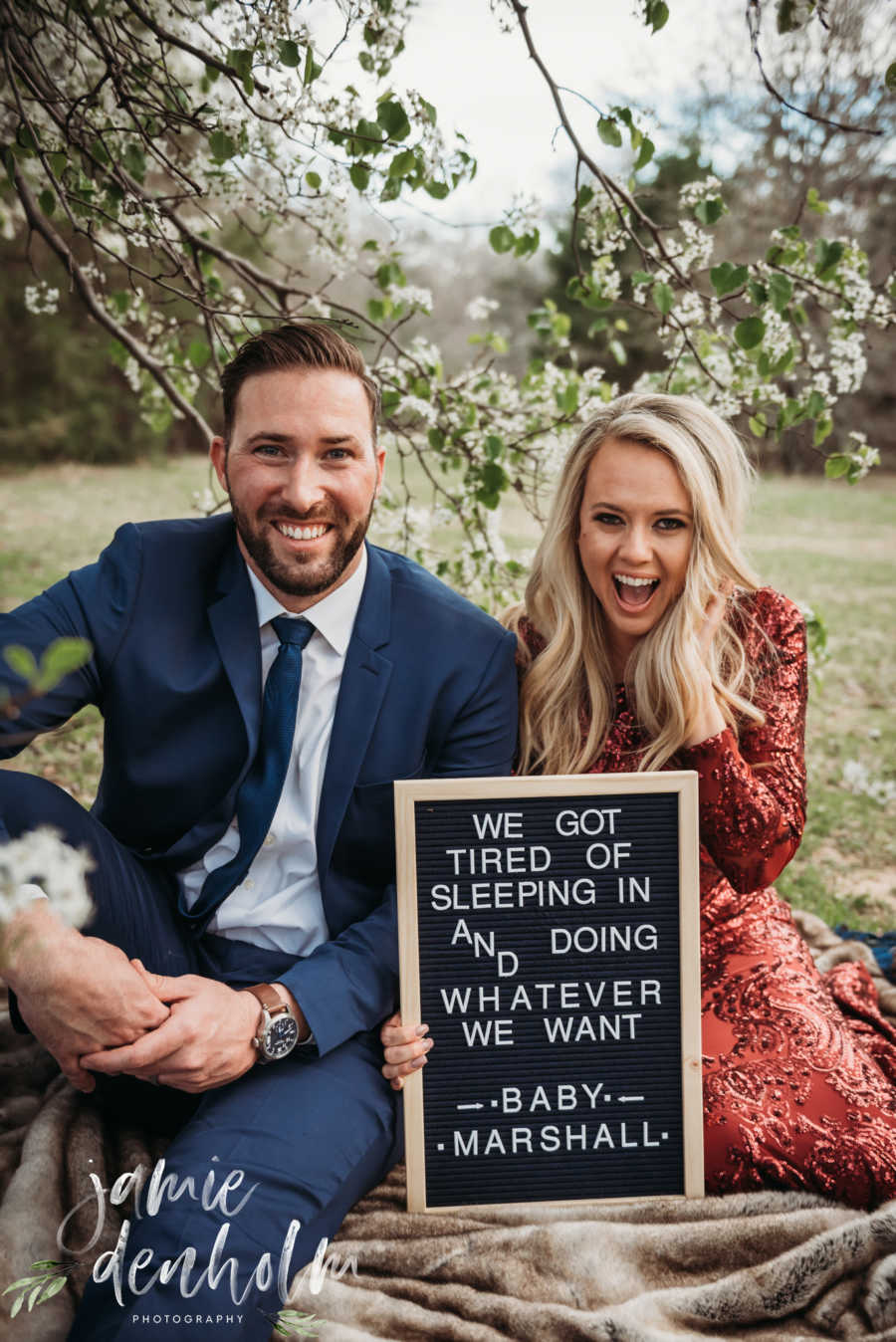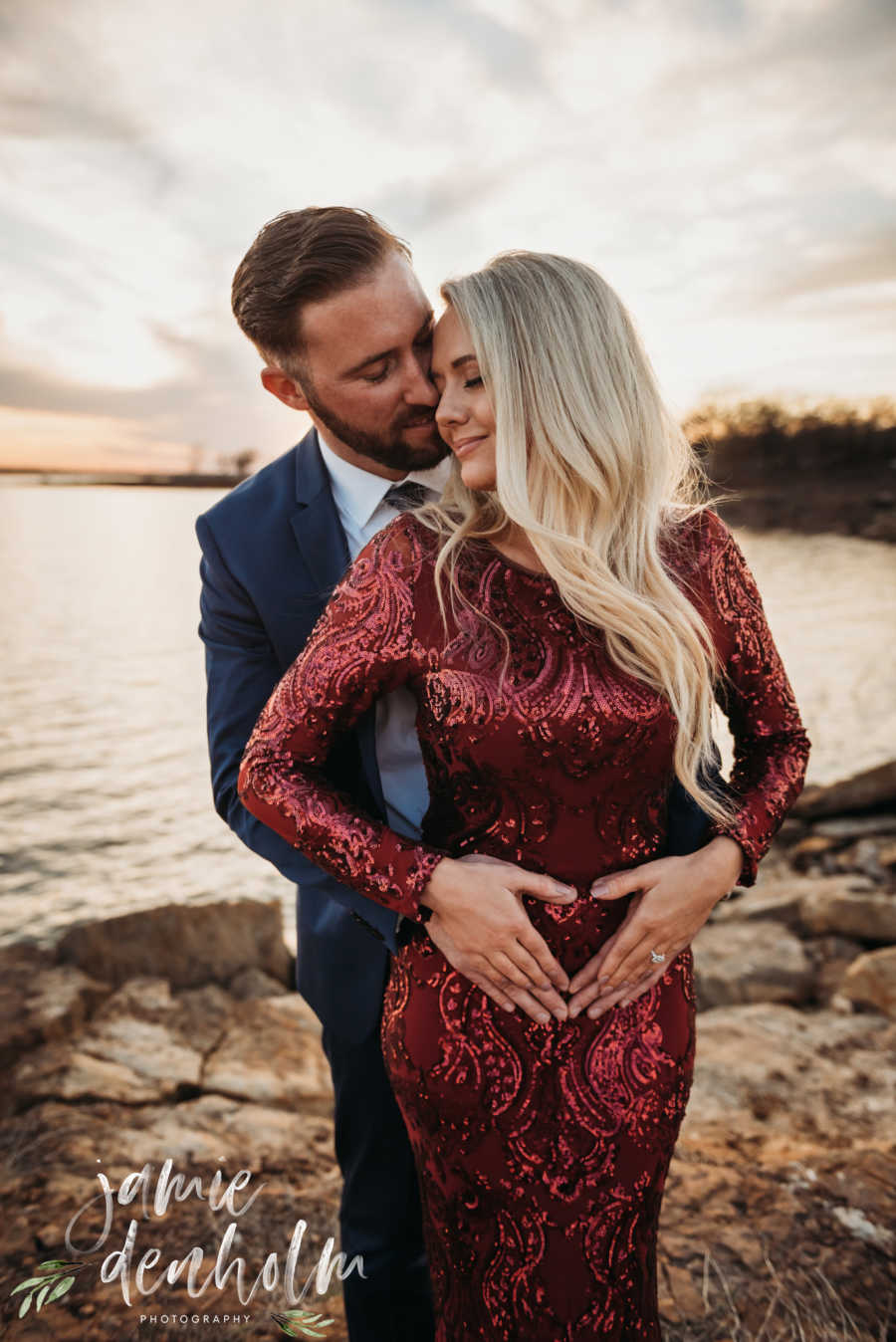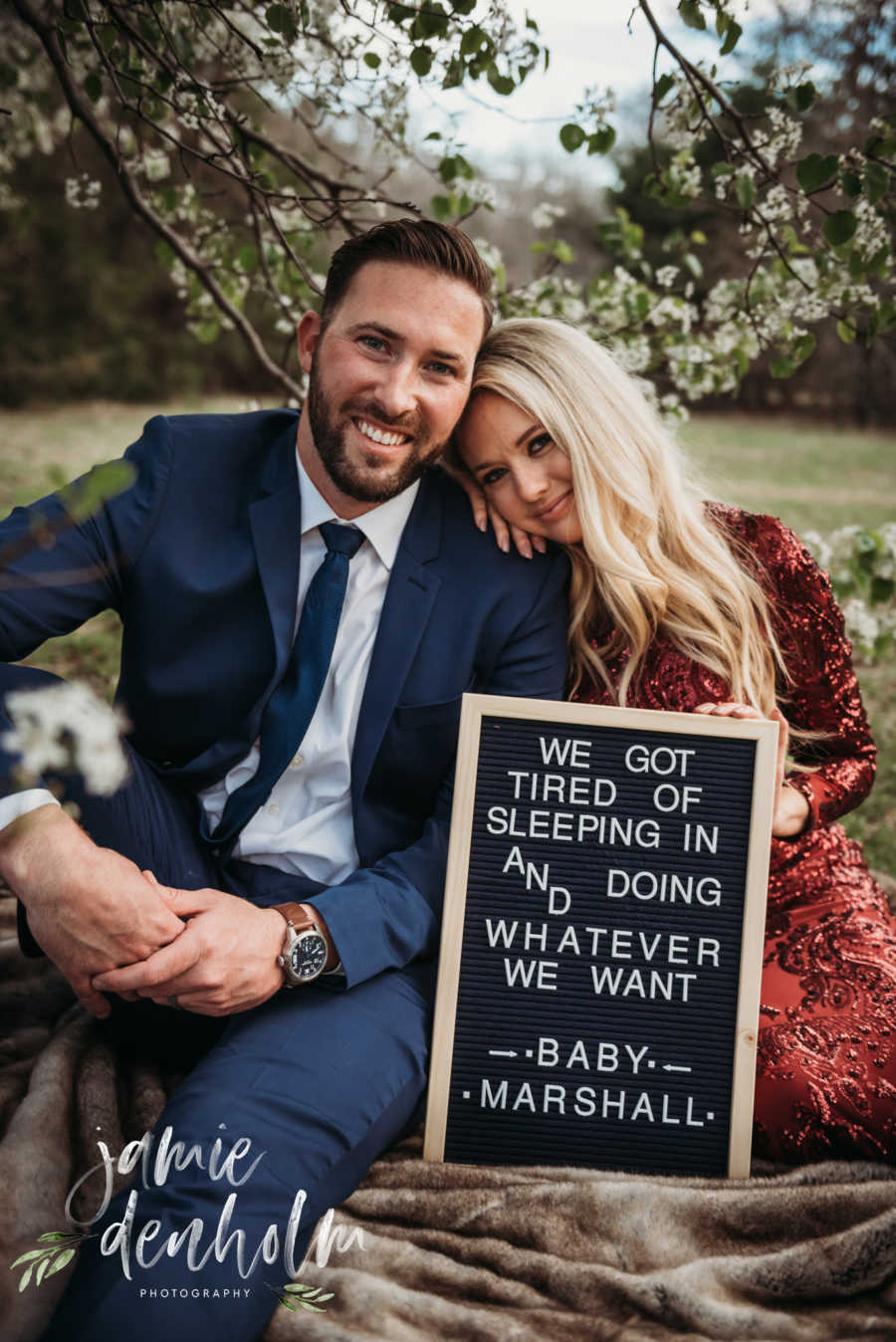 This story was submitted to Love What Matters by Brittany Marshall, 31, of Frisco, Texas. Do you have a similar experience? We'd like to hear your important journey. Submit your own story here. Be sure to subscribe to our free email newsletter for our best stories, and YouTube for our best videos.
Read more powerful stories like this:
'Babe, are you serious?' My wife's body was shaking. She nodded, in tears. 'You're pregnant? Oh my Gosh!': Father brought to tears after learning wife is pregnant 3 years after loss of twins
'Love makes a family': After same-sex couple's harrowing Reciprocal IVF journey, their advice is to 'stay strong'
Have you surprised your spouse in a big way? SHARE this story on Facebook to help spread the joy.