"I spent fifteen years writing my husband notes. Things to do. Stuff we needed at the store. Schedules. Don't forgets.
Some of them he paid attention to, some of them he didn't. And the ones he didn't usually ended up on post-it notes on his forehead when he was sleeping, or in his lunch, or on his car door. Sometimes written in lipstick on the bathroom mirror until I decided that was a huge pain to clean up. And it went both ways, you know.
We worked a lot. We were busy. It was before texting was a big thing, so notes were the way to go. I always giggled when I would leave him a note that actually required an answer, because, at some point, I had to resort to creating little checkboxes, instead of 'do you like me—check yes or no', it was 'do you want meatloaf for dinner—check yes or no.'
Ah, yes. Notes. I saved them all. I'm not a hoarder, but even when life was blissful and easy, I always wanted to hold onto everything he touched. I loved him. I loved him when he was my 17- year-old boyfriend, and I loved him when he was my 30-year-old husband. And now, I love him as he is forever suspended in time at forty-five. He would have been fifty this year, but he's not, and so I will forever be his widow at forty-three.
Over time, those notes morphed from 'don't forget to pick Kaitlyn up at school' to 'don't forget to take this medication at that time.' If you've followed any of my story, you know cancer took him way too early and how sorely we miss him. So much so I still talk to him all the time. Out loud, quietly, in my prayers, and yes, still with notes.
I don't know how many notes are tucked in behind that headstone. A hundred maybe. Maybe more. I lost count after the first year, and six years later—when I need to talk to him or tell him what's going on in our world, it's an easy way to get the thoughts out of my brain and hopefully to the place where he can see them. I know everybody says the people who have passed are watching over us, and we can talk to them, but sometimes, I just want to write him a note only he and I understand.
And, so I do. I wrote to him when my grief was raw. I wrote to him when I had a bad day at work. I wrote to him when my daughter was struggling, and when she graduated and started cosmetology school. I wrote to him when I needed help, when I needed guidance, and when things were going well. I wrote to him when my heart was breaking. I wrote to him when my book was published. I wrote to him on big days with lots of meaning and small days when there was nothing more to talk about than the weather.
I don't know why, other than it makes me feel like we're still connected and he's still part of the 'everyday everything' that goes on. I like it that way. I like feeling like he's still involved in some weird way, and I am okay with it being weird. Because life is weird. Grief is weird. There's nothing 'normal' about it except the way I want to process my grief. That's normal because it's mine and it belongs to me. Just like yours belongs to you and nobody should ever dictate to you how you handle it.
Plus, I think it's really cool that someday, maybe 500 years from now, somebody might open those graves, and find those notes encapsulated, and put them in order, and sit down, and read about a love that transcended death. That could not be killed by cancer. That could not be beaten down by time, and could not be stopped by any force.
Who knows—maybe I am fooling myself. Maybe he and I will be the only ones in the universe who ever see them, and maybe that's exactly the way it should be.
I don't know the answers to how this is all supposed to work, but I do know when you have so much love left for somebody you have lost, you have to find a way to show it, and this is how I have chosen to do it. It works for me, and someday, if you haven't already—you will find what works for you. And whether that's privately or in front of millions of people, it will be right, because it's right for you.
Remember that."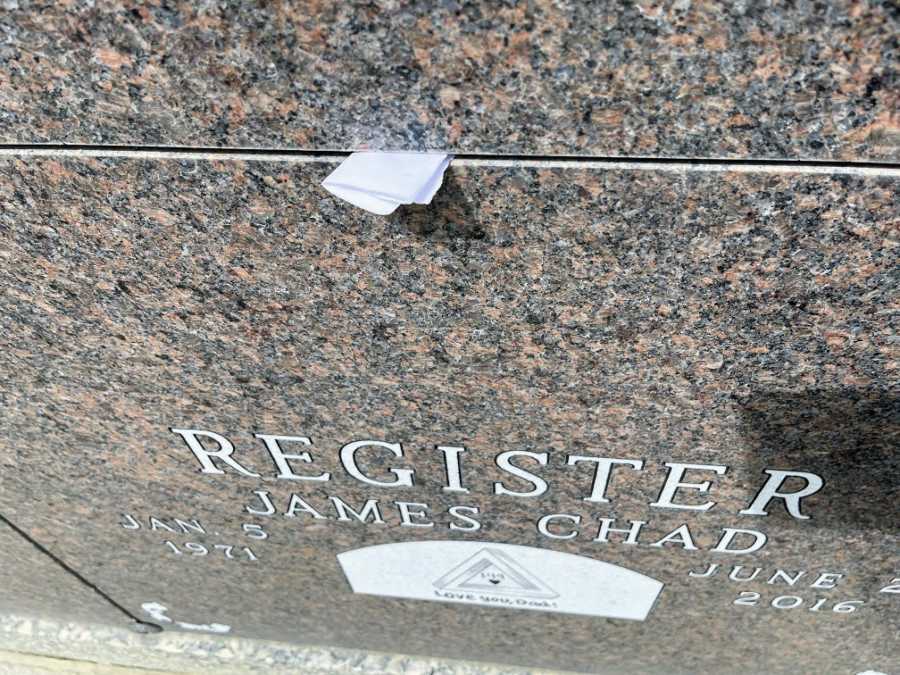 This story was submitted to Love What Matters by Diana Register of Meridian, Idaho. Her books "Grief Life" and "Grief & Glitter" are available in print and on kindle. You can find more of her books here, and her podcast here. Connect with Diana on her author Facebook page, and Instagram. 
Read more stories from Diana here:
'I kept repeating, 'This can't be real!' My deceased husband's badge number kept showing up in places it shouldn't have.': Widow gets countless 'winks' from late husband, 'It's the most beautiful, comforting thing in the world'
'Just quit. You can't keep doing this to yourself.' I took the leap of faith and decided to leave my job.': Woman shares powerful reminder 'you are going to make it'
'He didn't try to replace her dad. He came along, just when we thought we'd never feel joy again, and filled the unspeakable void in our hearts.': Widow pens appreciation letter to bonus dad
'Chad is still your emergency contact?' I'm lucky to be loved by two men. Every day, I'm learning to make room in my heart.': Widow shares emotional moment of grief, 'I didn't give up love, I found more'
Please SHARE this story on Facebook to encourage others to cherish every moment and love what matters most.