"I bought the dress. And a box of desserts only for me. I've been having sinus issues since September. I've been on various antibiotics, steroids, and countless nasal flushes, all with little to no improvement. We made it to a point where my ENT wants to see what's going on in my head, so he scheduled a CT of my nose and sinus.
There is no denying the places my mind has wandered. I've grown tumors before, so the thought has crossed my mind. Is this it for me? My kids are too young. While imagination can be strong, intuition can be stronger. Listen to your gut, y'all. And your body.
While in the midst of treating sinusitis, I started having hot flashes. Initially I attributed them to the steroids, but they only got worse after I was finished the medication. Then I had a thought. A memory. My intuition kicked in. When I was pregnant with my son, I had ongoing sinusitis. I literally could not breathe for seven months, and then, alas! Once he was born, all systems returned to normal. It was hormonal.
I contacted my endocrinologist, who, by the way, is the kind of doctor we all need in our lives. He called me and essentially said he'd run whatever tests I wanted to run. So, I asked to test for menopause and a complete blood panel to ease my worry about something sketchy going on in my head.
On Friday, I had four vials of blood drawn. Saturday morning, I received a call from my doctor with the news I was expecting, but not really prepared for. I'm 46 and am in menopause. It explains a lot—but I'm not ready for this. I don't want this.
After my doctor and I talked—so much is already changing—I took the kids to the grocery. My head was spinning. I was flushing. I wanted to laugh. And cry. All while simultaneously wanting to stab the man who cut us off at the end of aisle five. I'm not ready for this.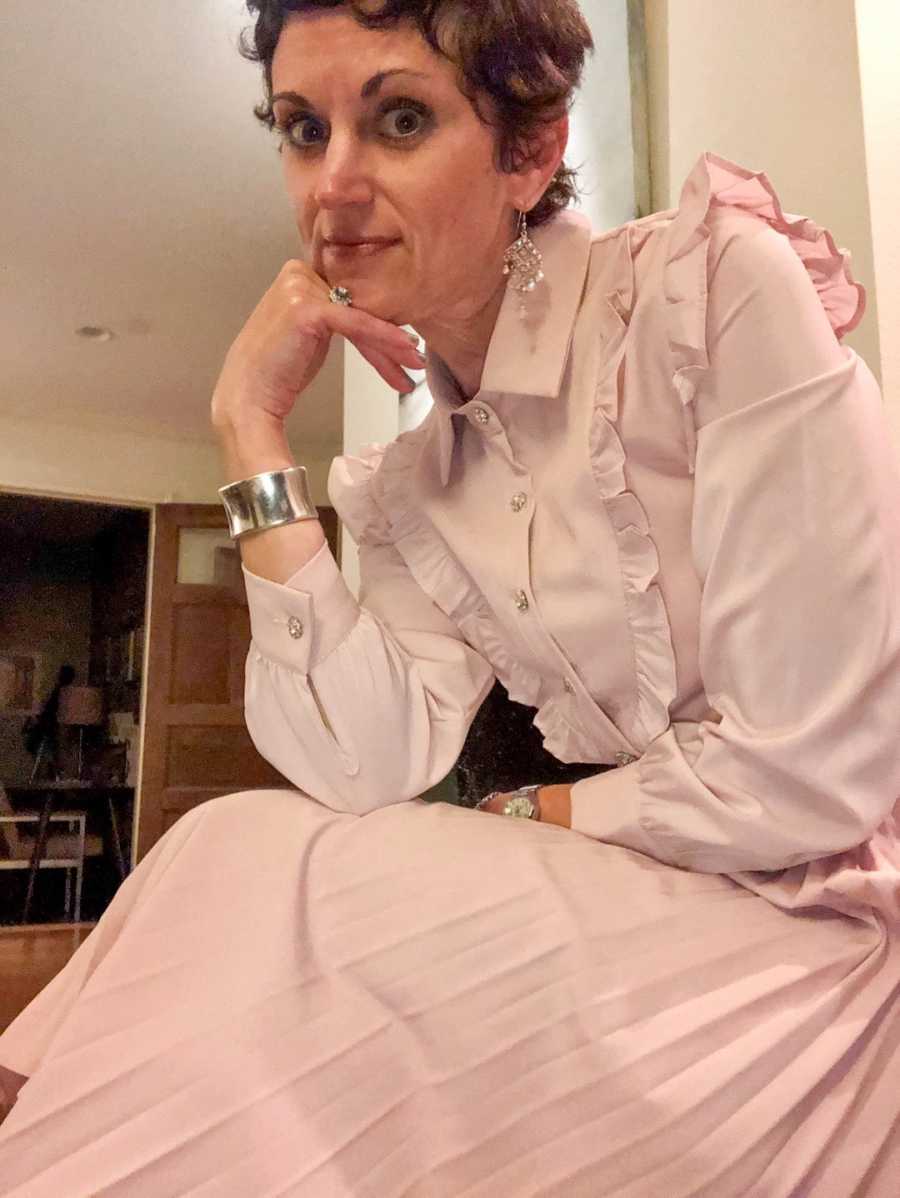 But there, in the middle of the produce section, was my sign—a display of white pumpkins. I thought to myself—we need this. I need this. 'We need this!' I said to my kids as I plopped one into our cart. 'We are going to create a gratitude pumpkin.' If you look closely, one of my entries is 'my health,' even though right now I don't feel very healthy.
Being grateful right now is the only way to get through this. (And by 'this,' I mean *wildly gesturing around to everything.*) As I've said before, I can't pray for anything because it's all just too much. Too heavy. So I pray in thanksgiving.
Yes, menopause sucks, but I'll take it over a tumor in my sinuses. Hot flashes, moodiness, insomnia, rage tears, and what I'm discovering to be complete intolerance to alcohol, totally all completely suck, but I'm here. Alive and functioning. This is not debilitating or life threatening. (Except maybe for the man with horrible cart etiquette.)
We will add to the pumpkin each day this month. No matter how big or how small, we will work daily to find the things we are grateful for. No matter how random, either. Last week while folding laundry, I thanked the Lord for giving me arms that work. Seriously y'all, gratitude is the only way.
So I bought the dress. I'll probably buy this other one which makes me smile every time I see it. I'll probably have some Christmas decor out earlier than ever, but who says pumpkins and pine don't go together? I'm doing what makes me happy and will remain firmly rooted in gratitude for all things that are good. And if we take the time to look, there's plenty."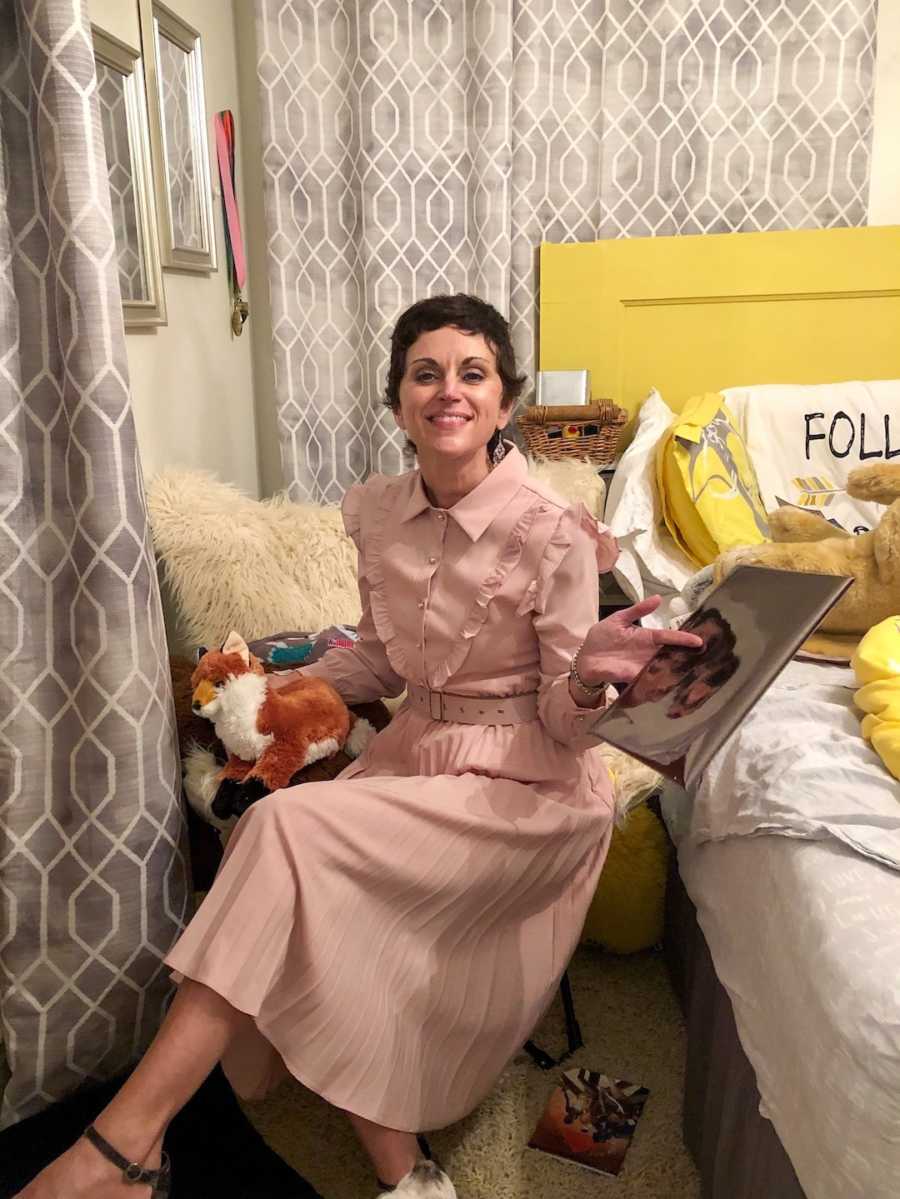 This story was submitted to Love What Matters by Melanie Forstall of Baton Rouge, Louisiana. You can follow her journey on Instagram here and Facebook here. Do you have a similar experience? We'd like to hear your important journey. Submit your own story here. Be sure to subscribe to our free email newsletter for our best stories, and YouTube for our best videos.
Read more stories from Melanie here: 
'In the middle of a heated conversation, a woman called me 'cold.' Her intent was to shame me, make me feel bad for not having an emotional response.': Woman learns to embrace being 'emotionally strong'
'What the hell is that? Is it POOP? How did it survive the wash cycle?! Wait, can poop be sanitized?': Mom hilariously recounts 'heart-stopping' moment of confusion, 'Hang in there, y'all'
'We left home on our bikes and didn't return until the street lights came on. Growing up as a kid in the 80s totally prepared me for this.': Mom encourages kids to have 80s-style independence
Do you know someone who could benefit from this story? Please SHARE this story on Facebook.