"I usually begin by saying, 'It all started in 2009' but it really started ten years before that, when I met this cute guy. It was a kind of crazy time. I was 20 and had my first full-time job, which is where we met. It was 1999 and we were in our last year of a century that had encompassed my entire childhood and everything I knew. I remember thinking how weird and also cool it was we'd get to live in two different centuries. I had high hopes we were embarking on a time full of new promises and experiences. I was right, but wouldn't realize just how true this was until years later!
In 2000, we got married and had our first baby, Annicka. I was finally a mama, my biggest dream finally realized, and I was in heaven with this new baby girl. Before her first birthday, we had made a big decision and just a few months later, we became a military family. I never anticipated the miles separating us, as my husband went to basic training and then onto his tech school location, would be so intensely difficult. I had my little girl and my parents, but it was lonely in a new way. The day we were reunited was amazing, the first of so many sweet reunions.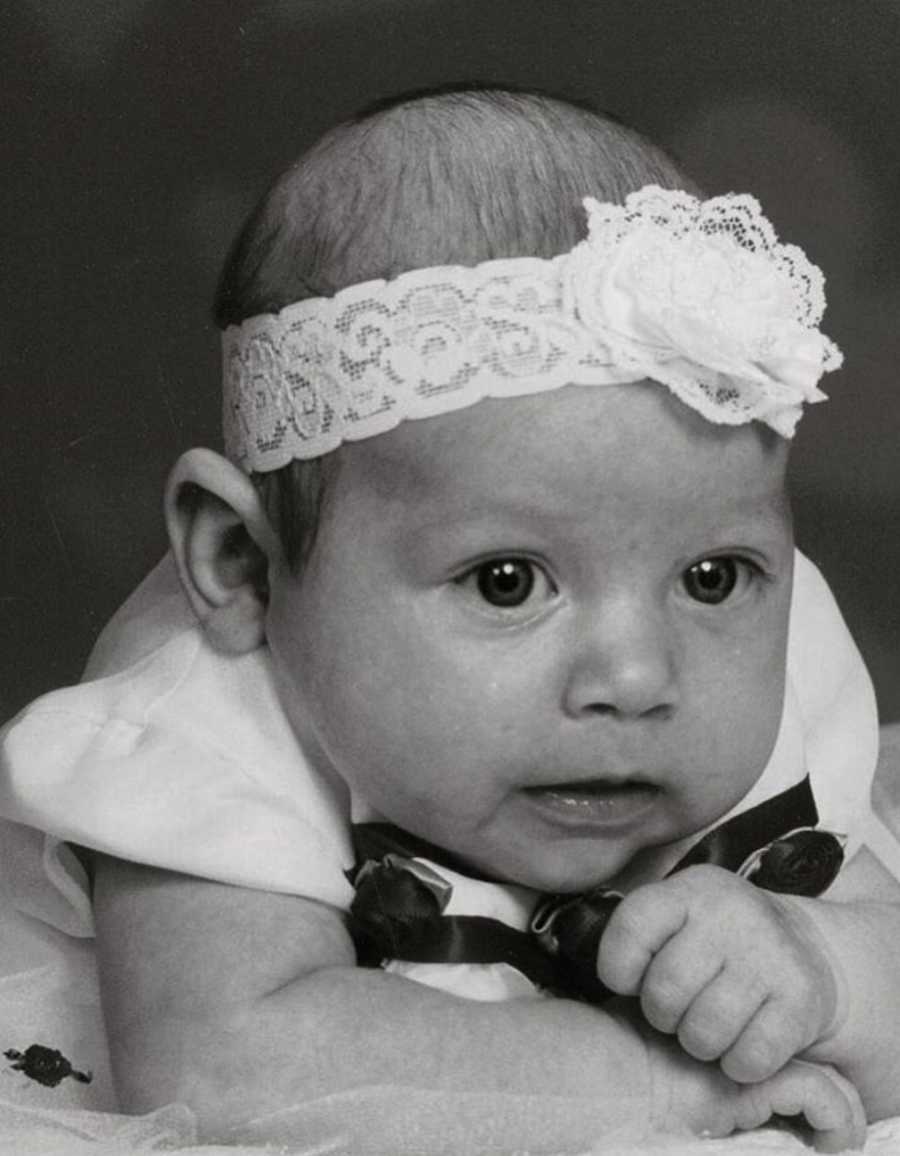 In 2005, we welcomed our first son, Jericho. I always say he was 'the perfect baby.' In fact, I remember telling everyone if all babies were like him, I'd have twelve for sure. He was just so chill and so sweet and quiet. He grew into a toddler with no volume control and boundless boy energy. I had been worried about being a boy mom, but I found so much joy in having a son.
Three years later, we welcomed another little prince, Liam. It was a stressful time in my life as my children and I were in the middle of a year-long separation while my husband was stationed in another country. He did get one visit during that year. What a blessing he was able to time it so he could be with us as we welcomed baby number three into the world. He was exhausted from travel, but made it just in time! It was three precious weeks together and then it was back to temporary single mama status.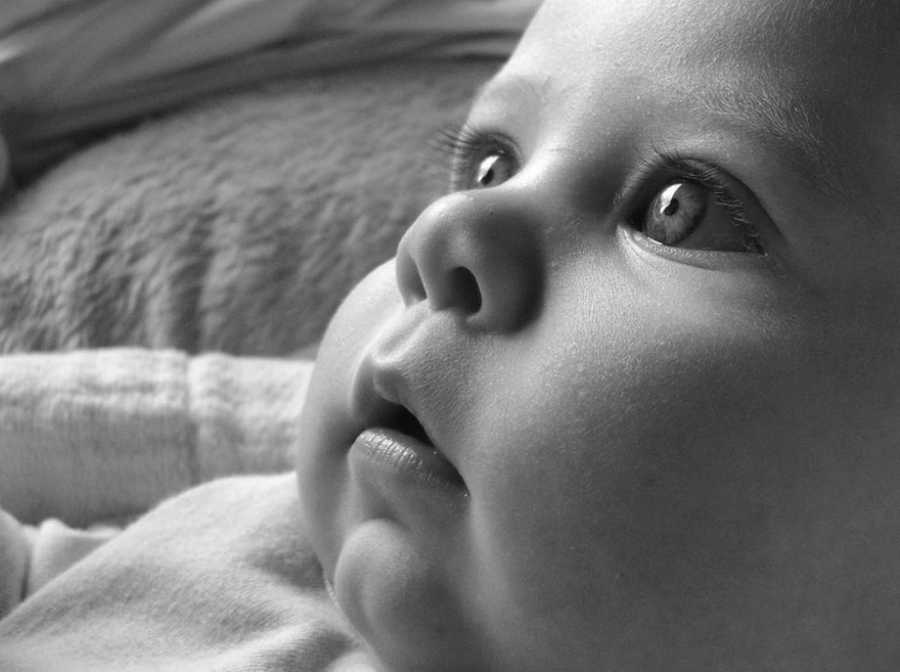 Later that year, my husband returned and we moved to California! And there we were. Life wasn't perfect, but it was sweet and good and fun and happy. It was so good for the kids to have their daddy back and for me to have my guy. I had been feeling that heart tug for another baby and much to my surprise, he had too! We decided we'd wait a year and then try for baby four… but God had other plans. Years later, I'd remember my prayer, 'Lord, if this is the window for us to have another baby, please bless us with him/her.'
In 2009, we were a family of five just going about life like so many other families. Each of our children had taught us important things about life and love. Each child came with their own unique set of strengths and challenges. We knew parenting was hard, but we also knew it worth it! Life was full of exponential amounts of joy, hugs, smiles, playing, laughs, cuddles, and love! In May, we found out baby number four was on the way!
This pregnancy was different from the beginning. I was beyond worn out. I found myself on the couch day after day as my eight-year-old helped to fill in my role – helping me immensely with the boys, now one and four. It was likely I was just a little more run down overall and adding being pregnant shocked my system, but I think that was when I first started wondering if there was something else going on. Thankfully, once I moved into the second trimester, things improved and I started to feel so much better.
On September 9, it was time for the 20-week scan! I was so eager to know the gender of the baby. I won't even pretend I wasn't super duper hoping it would be a girl. IT'S A GIRL! Oh my gosh, I was beyond excited, but it was short-lived as next I was told they saw 'extra fluid in the ventricles of the brain.' They said, 'It could be nothing … or it could be something serious.' I still remember that evening. I was giving the boys their bath when my husband came home and asked, 'Well?' That was his way of asking if it was a boy or girl. I was still processing how to tell him the not so good news, so I was quiet as I tried to find the words. 'Oh, it must be a boy,' he said. I smiled and said, 'No, it's a girl… but they saw something.' None of our babies had ever had any issues, so this was new. I was trying not to panic. She was safe inside for now and we were told they'd just keep an eye on it by having me come in more often.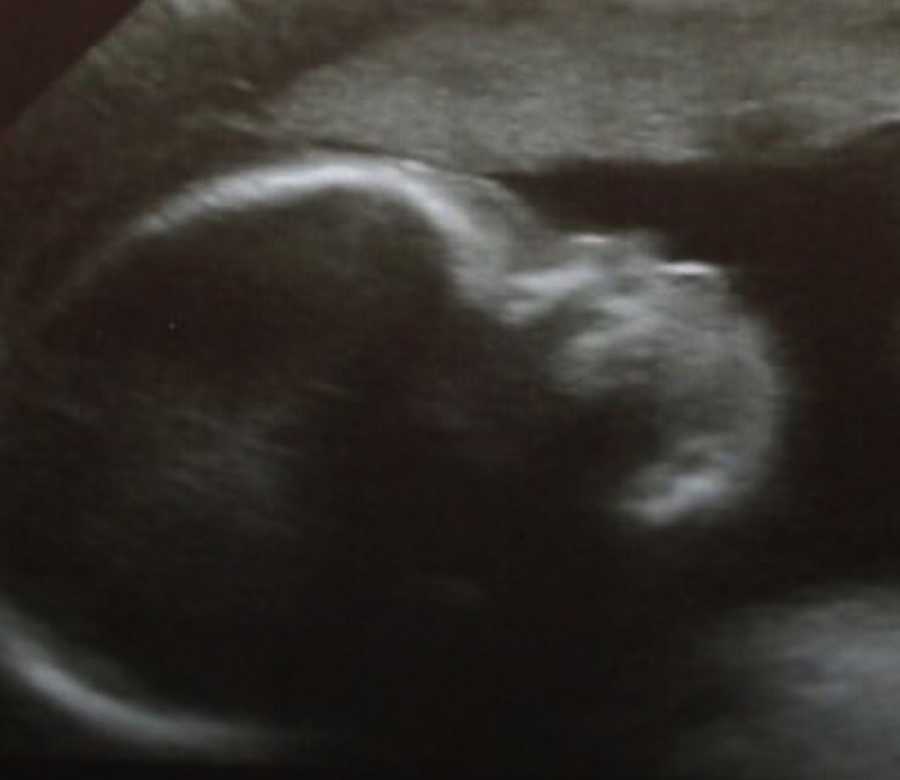 On September 22, I was back at the doctor and the ventricle measurement was ever so slightly smaller. So, it looked like maybe the fluid was going down. The clouds of fear began to part and I was so happy things were looking up.
When I was at the doctor for another ultrasound, the tech thought he saw a hole in baby girl's heart. I didn't ever document this at the time, I guess because I was so unsure of what the future held. My Facebook post was simply, 'Pray, Pray, PRAY, people! Just pray for God's will!' That was the day I was told, 'You only have about a week to decide.' Chromosomal defects were mentioned, an amnio was suggested, and then in those few words, this baby's worth was questioned. Her very life was challenged. I was shocked. I said no to the amnio and I went home, crying and oh so scared.
By October 12, the brain ventricle measurements continue to go down. The tech was pretty sure she had two small holes in her heart. I still felt unsure about the amnio, but I knew my husband felt it was important to know, so I went ahead with it.
On October 22, my doctor called, 'I'm sorry, but your baby DOES have Down syndrome.' With those words, it all became a reality. For ten days, I had worried, prayed, cried, hoped. I was okay with Down syndrome, but I also wasn't. Down syndrome was like a gray cloud full of unknown raindrops and while I believed the sunshine was still there, the cloud was blocking it.
The following day, I wrote a blog post to share our news: 'I have what feels like a world's worth of emotions. I never EVER imagined I would be the mother of a 'special needs' child. My hope for her is she'll have a good life, I don't want life to be a struggle for her.'
Right here, I want to jump forward and tell you today, I can't imagine not being the mother of a most extraordinary child, my little rainbow girl, Zoey! The name Zoey means 'life' and Zoey is LIFE! My hope was quickly realized, Zoey has an amazing life – full of light and love she spreads everywhere she goes, ya know, when she isn't being shy or sassy!
On January 23, 2010, Zoey entered the world perfect with her extra chromosome and a congenital heart defect. Ready or not, we were about to embark on this new adventure. Zoey spent five and a half weeks between two NICUs. She even got to take a helicopter ride to get to the second one! It took some time to get her little heart stable so she could go home and grow before having it repaired. Bringing her home was scary and amazing all at once. It was so good to finally be all together again and the kids adored their new baby sister.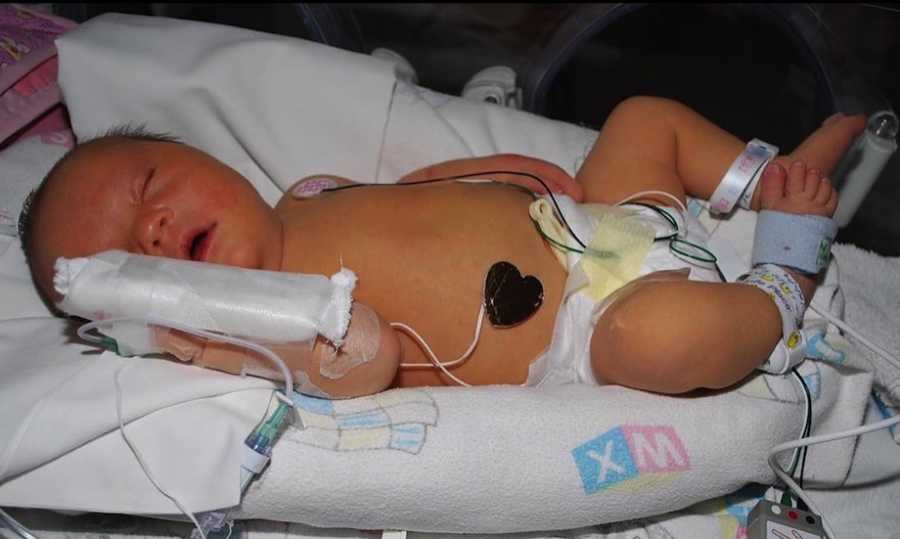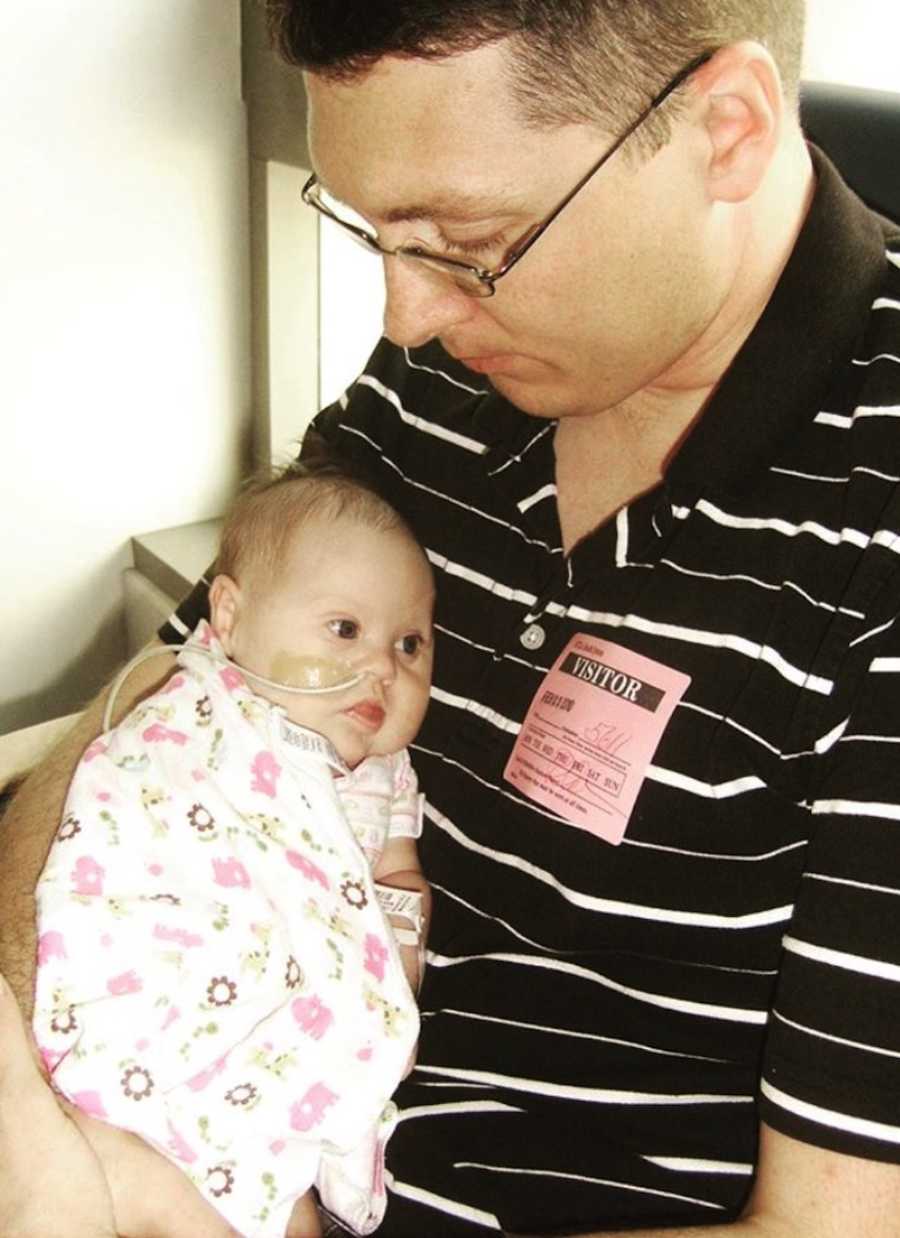 April 20, 2010, was open heart surgery day. This was a pivotal moment, as Zoey's heart was repaired and soon we'd see a complete turnaround — from weak and sick to strong and full of personality. This was when our journey truly began. Our biggest worry was behind us and now we just got to let Zoey show us who she was – and oh boy, did she have a lot to share!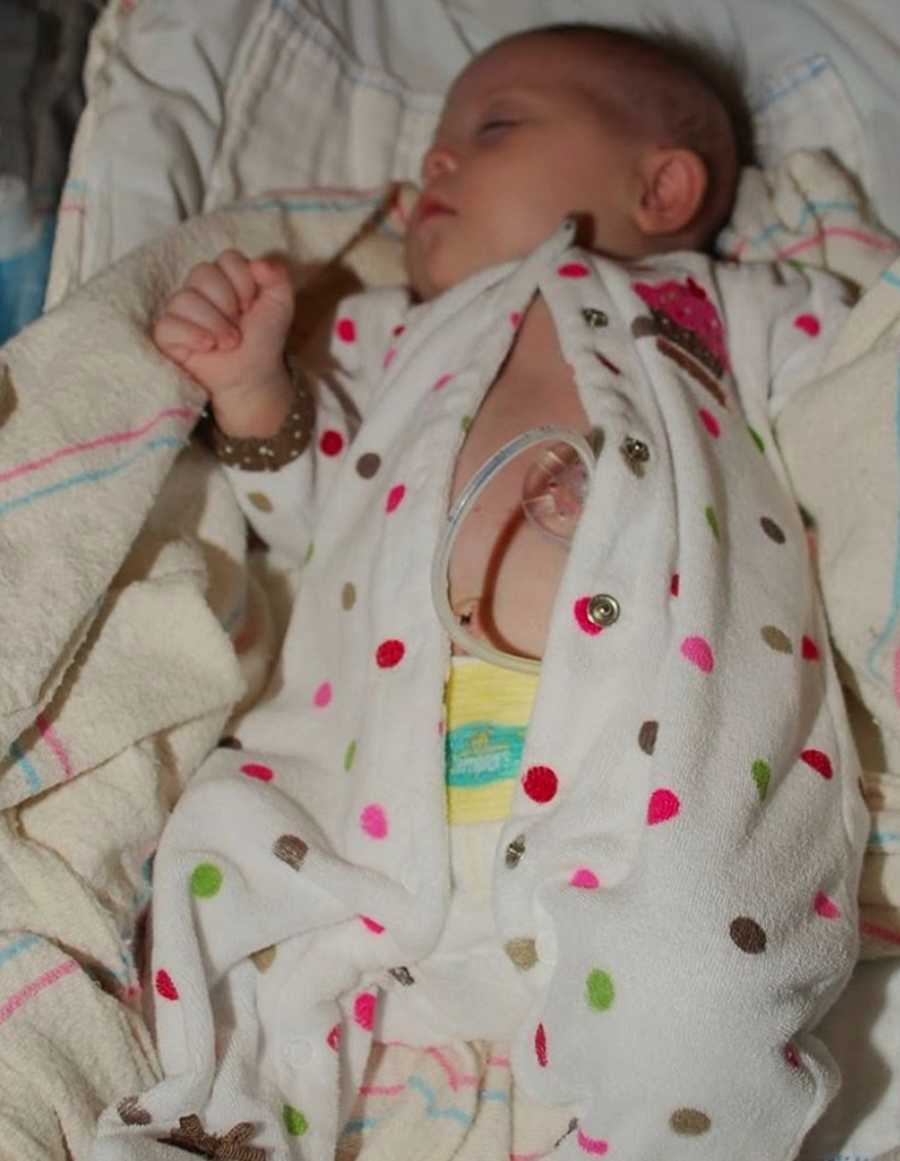 Being Zoey's mama opened my eyes so much. Soon, I was just gushing at every moment of how lucky I was to have a child with Down syndrome and how much beauty I had found on this path I was put on. I shared Zoey from the moment she was born and as she grew I shared more and more, I wanted everyone to know that life with Down syndrome is beautiful. In turn, I learned a lot from other mamas and even a few people who didn't have kids with Down syndrome but had experiences to share.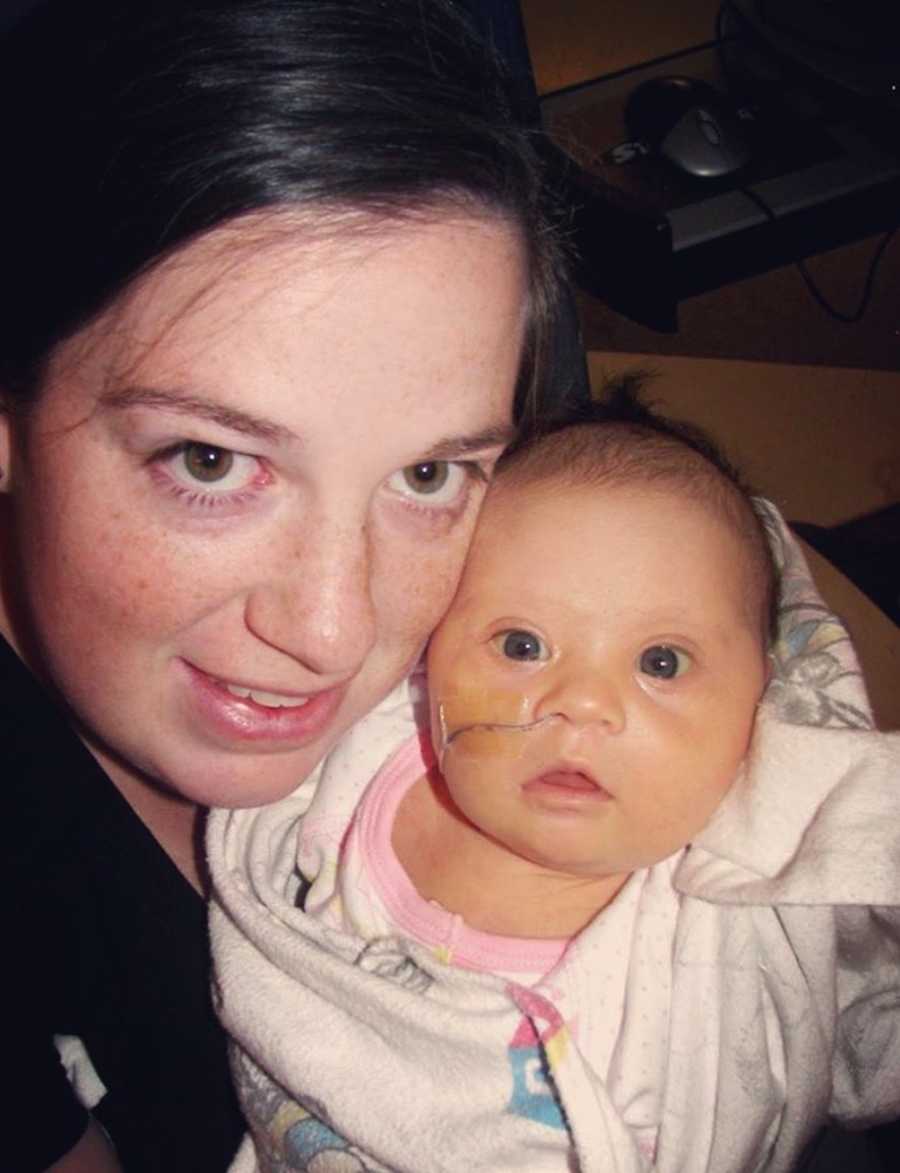 One friend shared with me she wanted to adopt a child with Down syndrome. Now that was new to me. Honestly, plenty of people loved Zoey, but no one I knew quite saw what I did. For me, it was a world of overwhelming and often indescribable beauty. The challenges meant the achievements were that much sweeter. The slower pace meant I could hold onto the moments a little longer. I was seeing life through a lens not many others had. No one I knew would have chosen Down syndrome, until this encounter. It didn't take long for me to know if my dream of adopting could come true, I would choose another child with Down syndrome.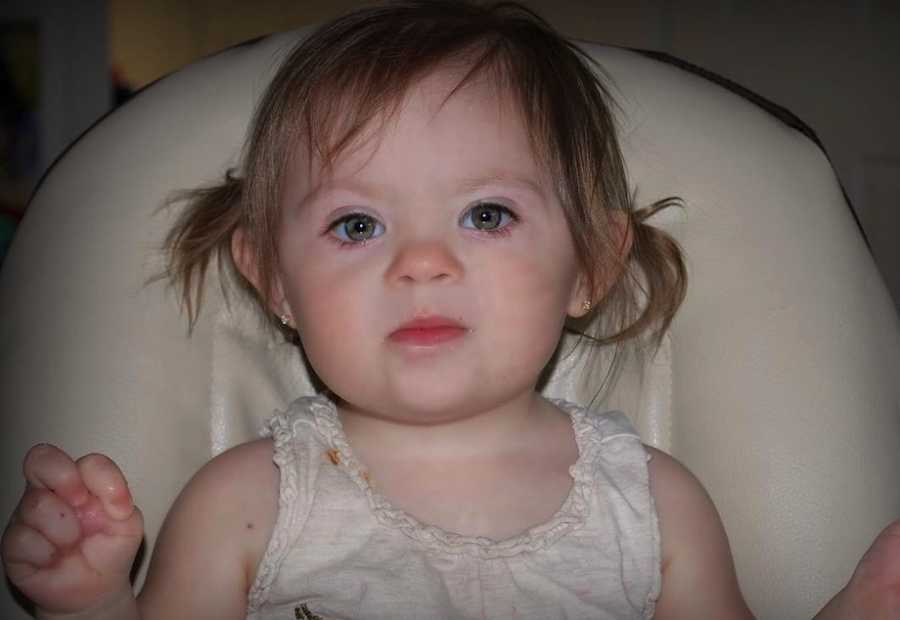 Over the years, our beautiful adventure continued. The kids were growing, we entered the 'parents of a teenager' phase, those intense toddler years were behind us for the most part. My sharing grew as I started an Instagram account and continued to learn from both my own experiences, as well as the experiences of other families. Soon my social media circle consisted of many, many families who had adopted children with Down syndrome. My heart broke for the children who needed a family of their own. For many of these children, their biggest 'special need' is to have a family who will love them.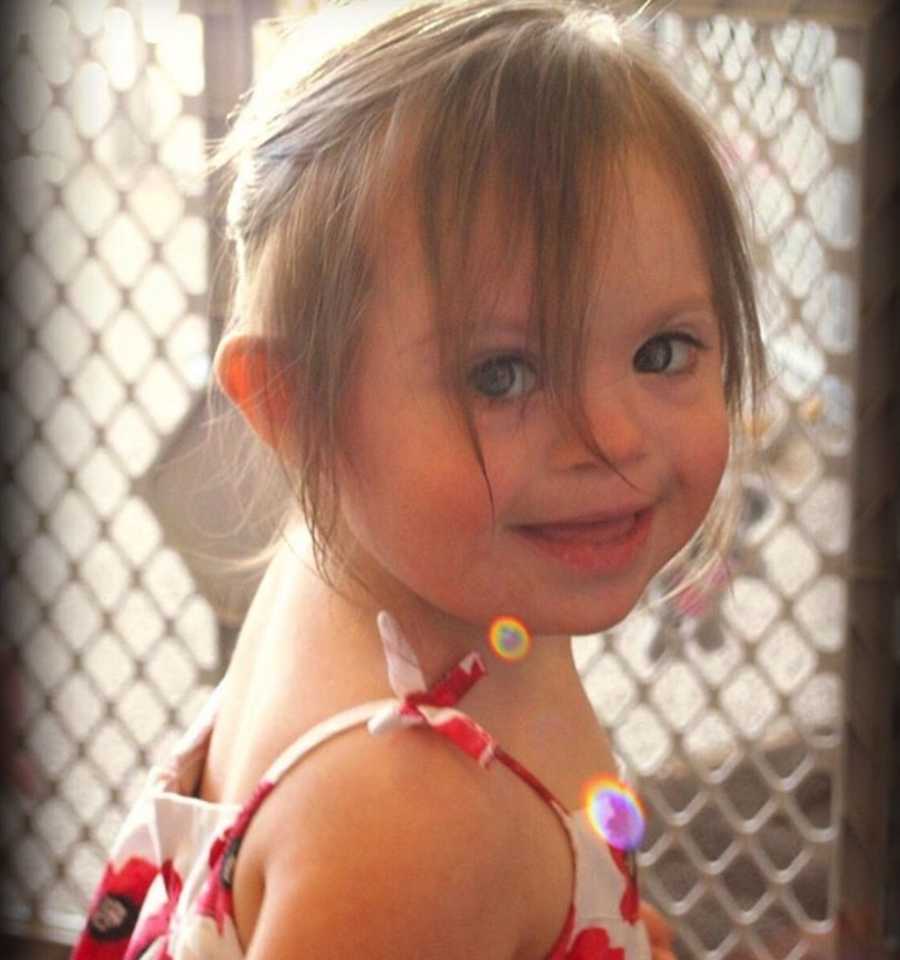 November 8, 2016. I was scrolling through Reece's Rainbow and there she was. 'Angel' headed the page with a little paragraph of information about her, an advocacy name she'd been given. She was born in 2012 and had Down syndrome and a congenital heart defect. My heart stopped. I tried to scroll on, but I couldn't. I knew I was her mama. I sat there and tears fell as my heart was tugged to the other side of the world where my child was.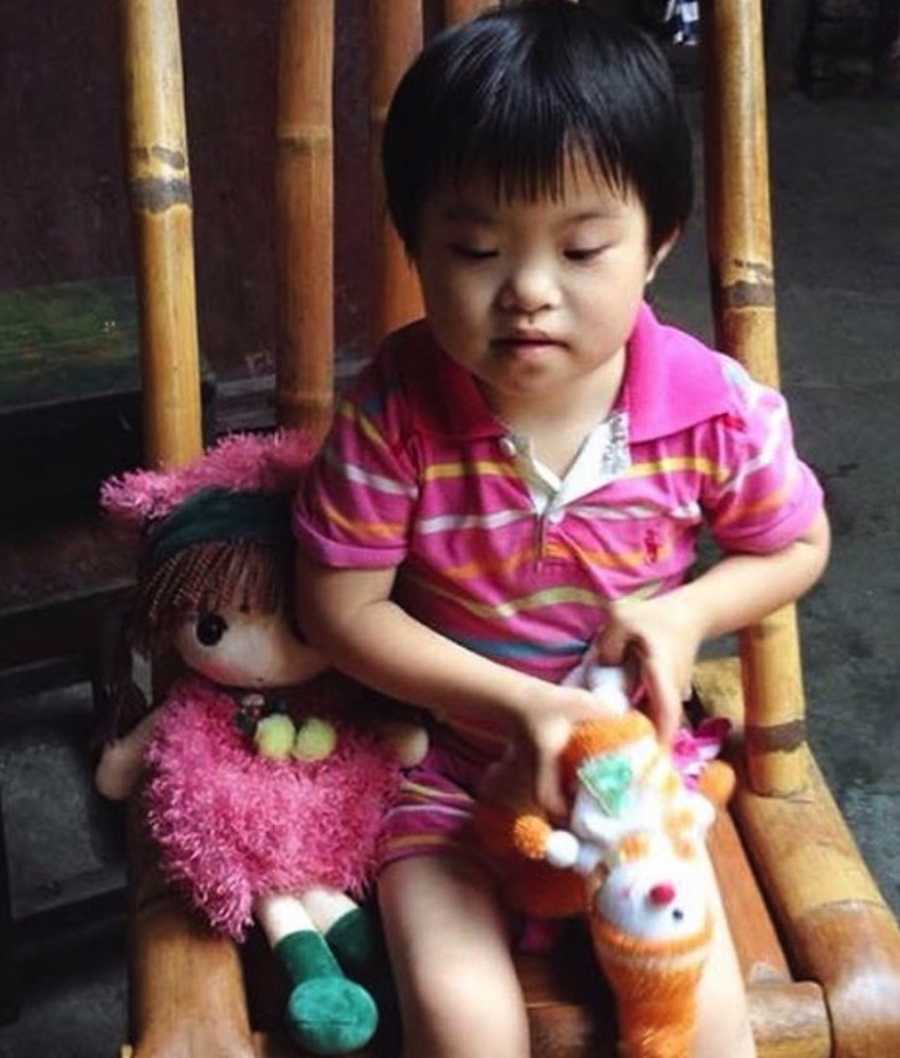 I think it's important to note we had talked about adoption and hoped to adopt 'someday.' Again, God's plans are better than our own. I'd later find out a family had been set to adopt this little girl but felt they had to back out when they learned they were expecting. They backed out just the week before I saw her. It was divinely meant to be.
The next month was full of questions. Can we do this? How can we do this? We haven't prepared. I prayed a lot. I asked my family and friends to pray. Finally, we knew we were hers and we had to do whatever it took to bring her home. We took a huge leap of faith and began the process of adopting 'Angel.' The day after Christmas we got a call from our adoption agency. It was the best Christmas present ever, China had given us pre-approval to move forward with the adoption.
We spent the next ten months getting documents, going to doctor appointments, filling out paperwork, taking classes, mailing forms, and waiting – there was a lot of waiting. Then finally, in October of 2017, I boarded a plane to China and finally met my daughter, who we named Ruby. It was like being in a dream, I couldn't believe she was right there in front of me. The next day I signed the adoption paperwork and we were officially her parents, oh my heart.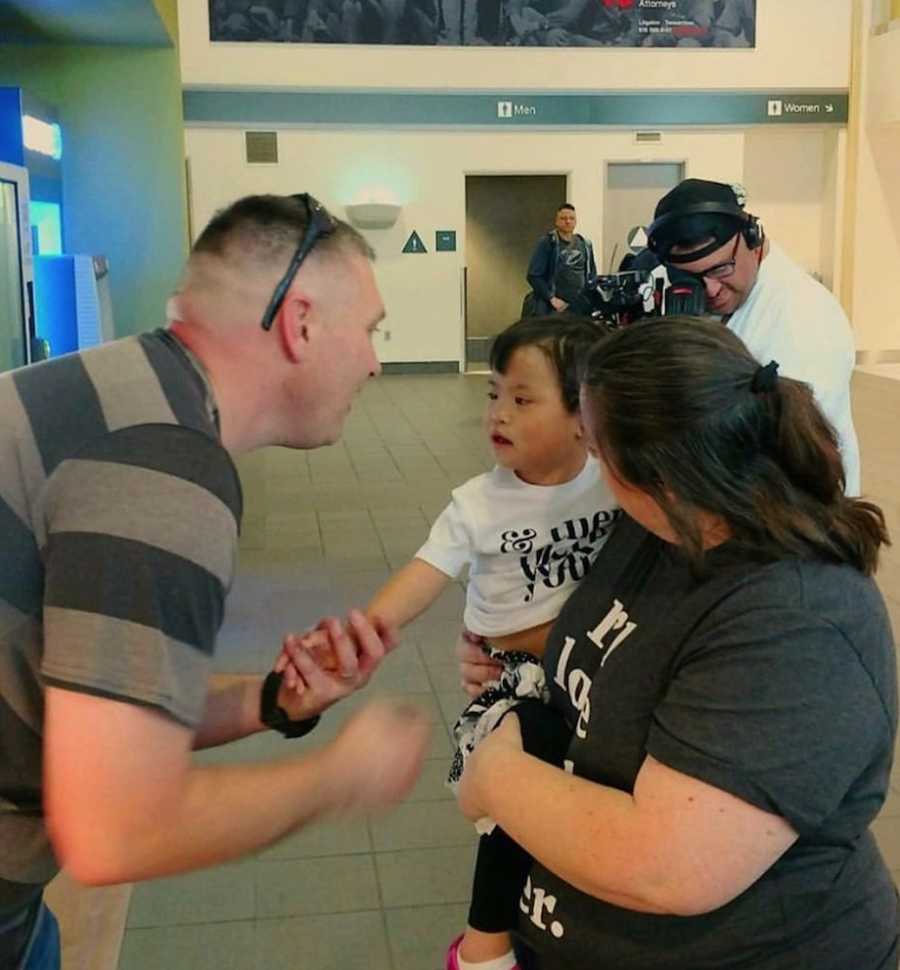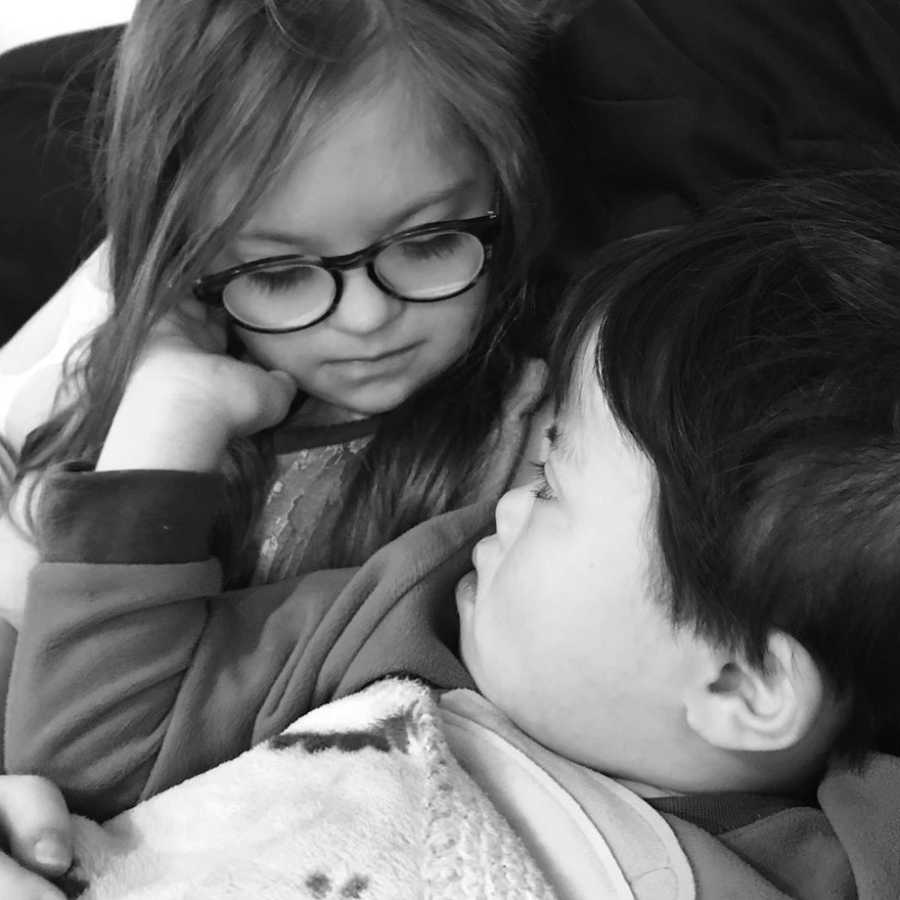 Today, I can't imagine my life as a mom any other way. I have five amazing kiddos who I get to spend my days with, I homeschool, I share about Down syndrome, I make YouTube videos, and I still gush over every little thing they do – even the teenagers! Life with two daughters who have Down syndrome may look a little different, but I am here to share IT IS BEAUTIFUL! It's fun, it's hard, it's happy, it's challenging, it's worth it! Our girls make our family better. They're just doing life as it comes naturally to each of them and we're along for the ride.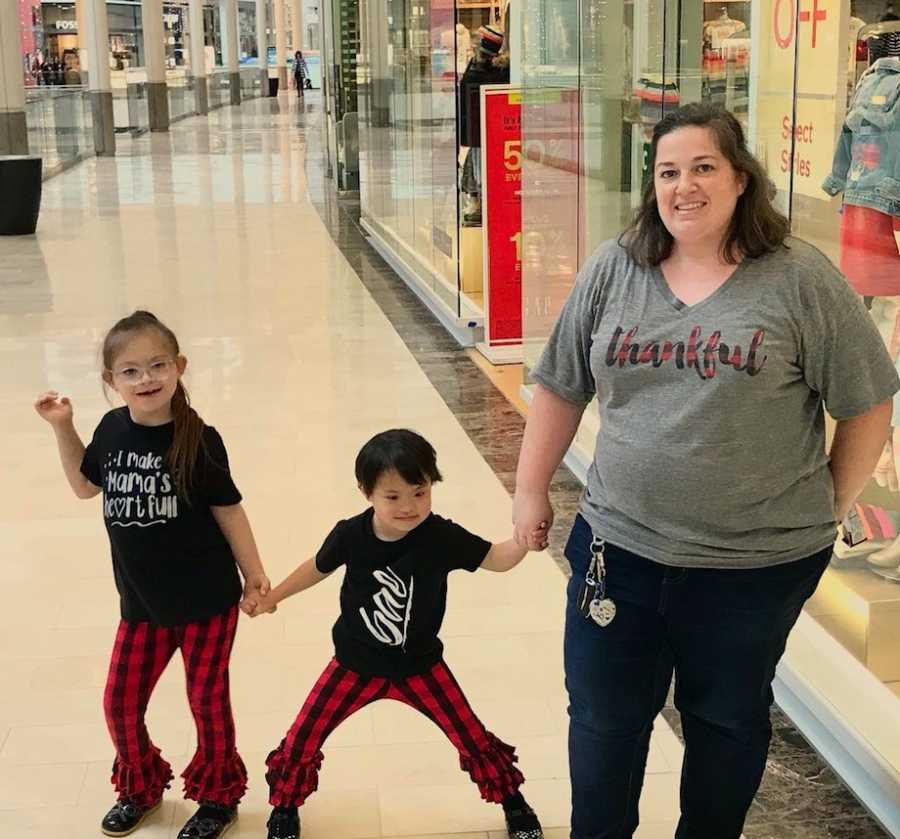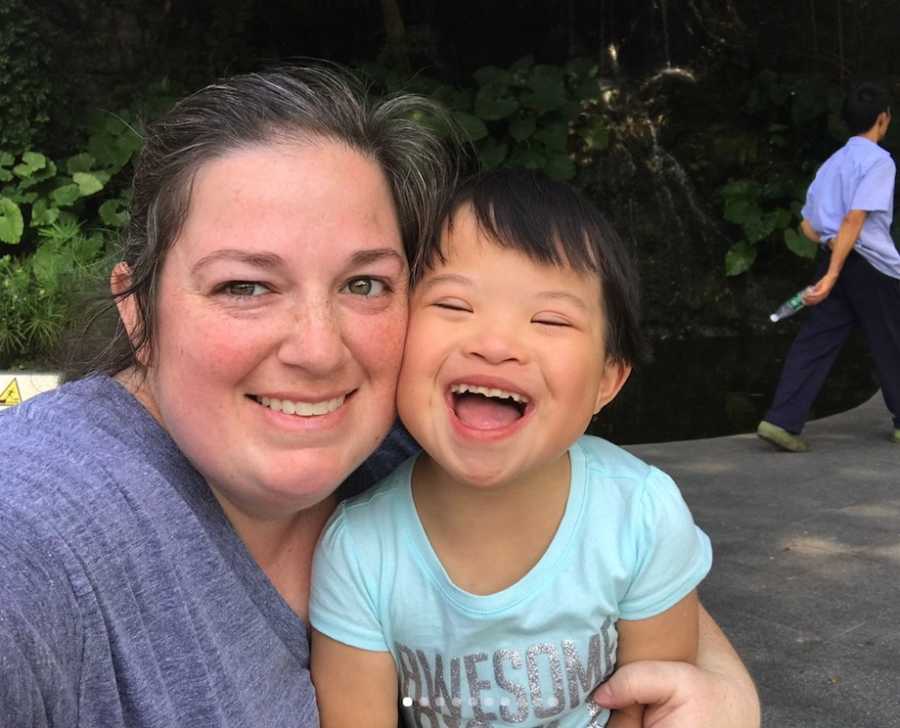 Without even trying, they teach us to be the best versions of ourselves. They know how to enjoy life! They have their own pace and find joy in the little things. They don't slow us down; they help us to take notice and see what we might otherwise miss."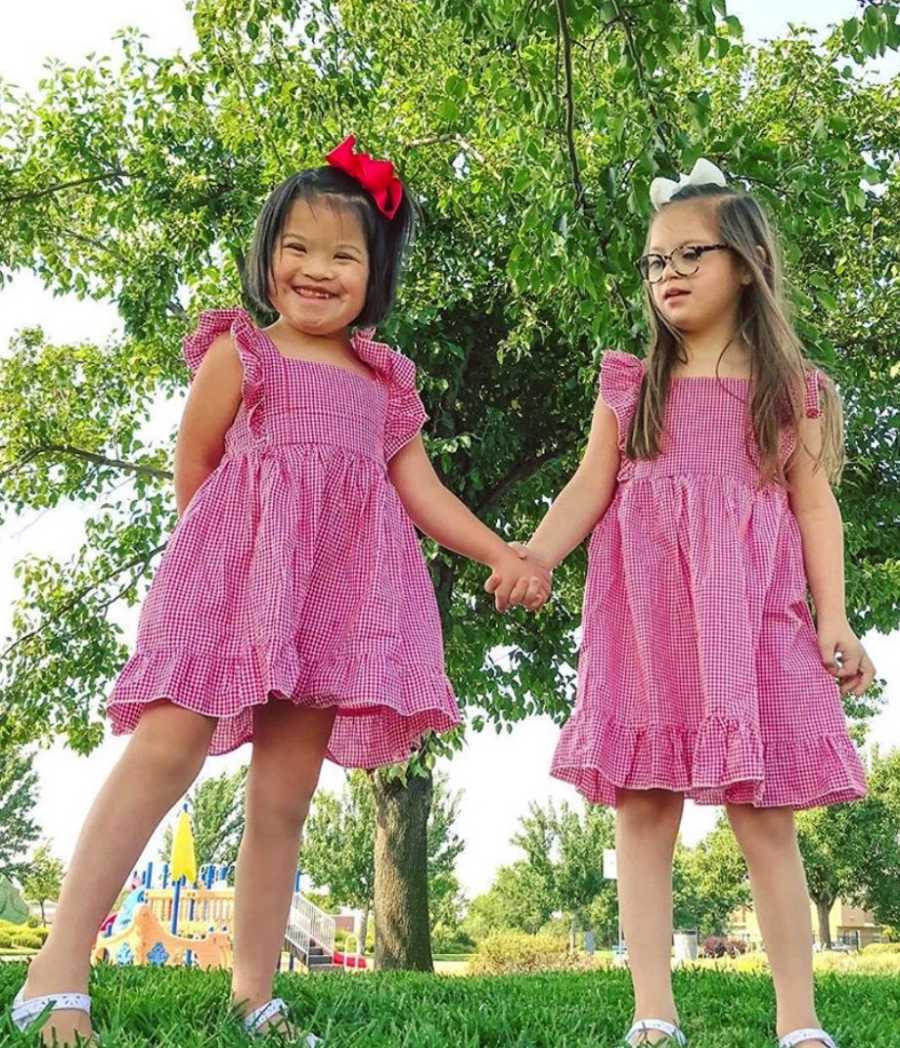 This story was submitted to Love What Matters by Sasha Job. You can follow their journey on Instagram and YouTube. Do you have a similar experience? We'd like to hear your important journey. Submit your own story here. Be sure to subscribe to our free email newsletter for our best stories, and YouTube for our best videos.
Read more stories like this:
'We found our phones with several missed calls, texts. 'Congratulations! You've been matched with a baby boy…' We immediately melted into tears.': Couple adopt baby with Down syndrome, 'He was absolutely worth the wait'

'My principal said, 'I'm adding a boy to your class. He's from foster care and has Down syndrome.' I felt this tug on my heart. 'I want to take him home.': Single mom, kindergarten teacher adopts down syndrome student

'I was 14 and pregnant. 'Would you be willing to meet?' 9 years after she was born, my birth daughter's family encouraged her to hug me. I didn't want to let go.': Woman shares perspective as an adopted child, birth mom, and adoptive mom
Do you know someone who could benefit from reading this? SHARE this story on Facebook with family and friends.