"Coincidentally, this was the last photo I took of Finn in a school for #KidsHeartChange. In this moment, both his body language and face were in obvious expression that he did NOT want to be pulled away and end his time at the school. Little did I know then, in those few seconds, it truly would be his last.
A while ago, the Virginia Governor rightly, bravely and confidently closed all Virginia schools for the remainder of the school year and put our state on a mini lockdown, shutting down many businesses in hopes this will finally minimize the spread of COVID-19.
I had big plans for this year; Finn's last year before Kindergarten. We had a special 'retirement' shirt, we knew what the school was going to be for his last, we knew the date, and we had a special thank you speech planned and even a special video we had been working on since last May.
We had big plans for May 28th: Finn's graduation from preschool and an adorable spring program was planned.
It's all gone.
He will never get to complete preschool. We had our kids at this school for 6 whole years and with one announcement, gone.
Mason's first year of kindergarten has now ended. I would have never thought when he walked off the bus two Thursday's ago, this would have been his last. His teacher means the WORLD to him, the world. She has guided him with ease through truly the most difficult challenge he has ever faced watching his brother have a stroke. His time as her student is done and his desk will have his name removed.
We will all have to stay quarantined for a very long time. The economy will struggle, mental health will be challenged, domestic violence will increase, there will be kids that will have challenges getting meals because they aren't in school. There is so much uncertainty.
BUT I will tell you one thing. You can't have a lifestyle without LIFE, and I would give and sacrifice ANYTHING to keep mine and my family's life.
I want to bring you all and myself back to 2015. The year that gives me the most PTSD of anything I have ever been through in my almost 36 years of life on this earth. The year I didn't know what temperature it was outside, what breathing fresh air was like. The year I lost the ability and knowledge of my older son's nap schedule, likes and dislikes because I didn't see him. The year the only time my husband and I even got to hug each other was for a few moments on just a few occasions. The year I had no idea what I looked like, how much I weighed, what I was eating. I was just surviving because I didn't know if my youngest son would.
You see, ever since 2015, I have compared literally every single challenge I face to this and it immediately puts things into perspective. It calms me. It reminds me I can get through anything as long as myself and my family have life, as long as we are still breathing. I would spend 5 years in this COVID-19 lockdown and quarantine to trade it for not having 2015 circumstances happen. To not watch my child fight for his life and be taken down into the OR every week for 7 weeks in a row. To not know if he would even have the chance to go to preschool or ever see his big brother again.
I am so sad that the above moments like preschool graduation and the last part of kindergarten have been robbed from my children BUT I thank GOD they have been robbed because of something we CAN control if we all work together. Something that there's 100% hope for and a solution. A sucky solution but a solution. In 2015, I was certain my children's life moments would be taken by heart disease and there was little hope then, but we did it. And we can do this too. I am CERTAIN.
Love on your family, get some house projects done, do the best you can. That's all we can do. Remember, if you're still breathing, there's still a chance. Even if that chance is you cooped up in your house after being laid off with three screaming kids. You are far from alone and there will be millions in the same boat. But you've still got a chance! We all do. Let's not lose sight of that.
Just keep swimming friends. Just keep swimming."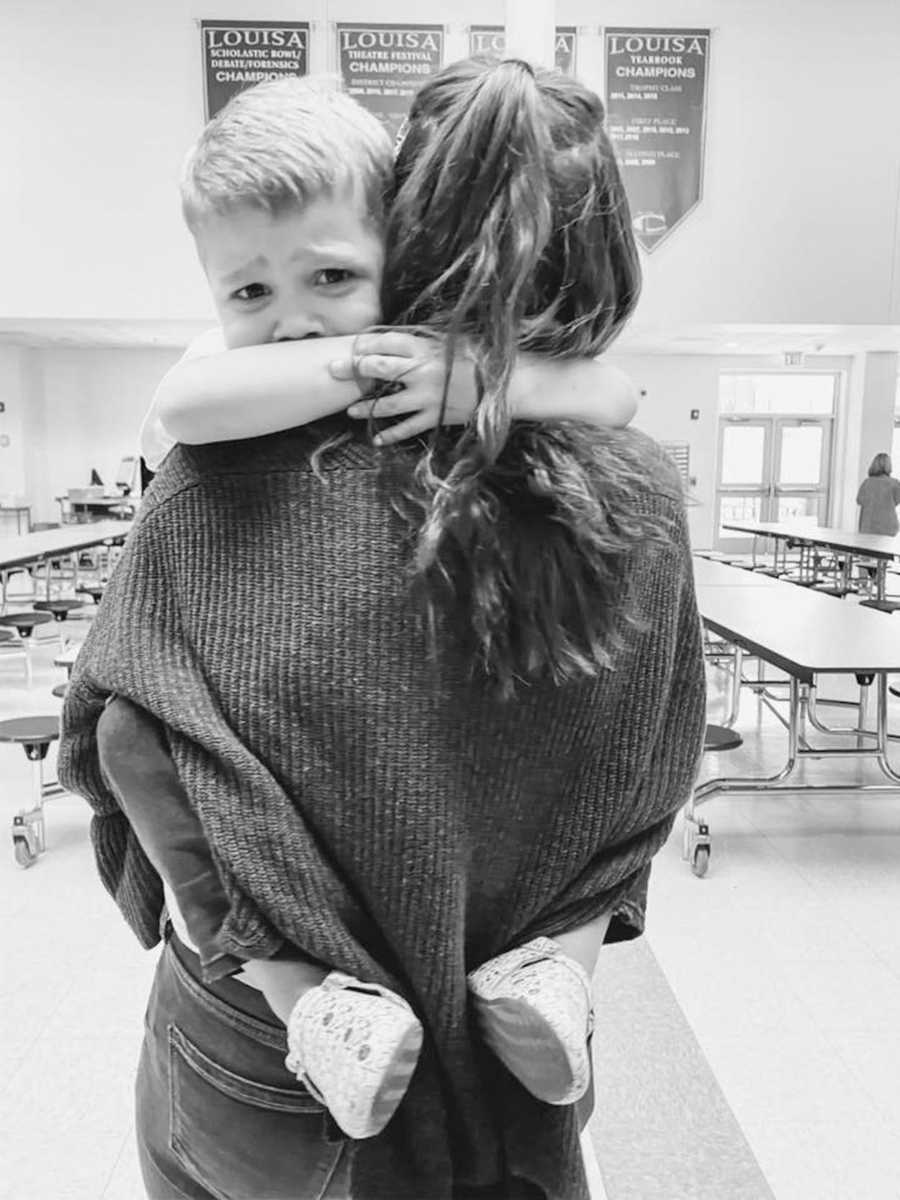 This story was submitted to Love What Matters by Kelly Blumenthal of Prayers for Finn. Follow their journey on Facebook here and Instagram here.  Do you have a similar experience? We'd like to hear your important journey. Submit your own story here. Be sure to subscribe to our free email newsletter for our best stories, and YouTube for our best videos.
Read more stories from Kelly here: 
'My youngest son had a stroke while in the check-out line at the grocery store.': Mom to son with heart disease says 'it kills more than corona, but I won't let either stop our lives'
'Are you sure he isn't cold?' His swim instructor constantly asks, concerned over his very blue lips.': Mom emotionally recalls son's severe heart disease operation, 'I know every angel was watching over him'
'Michael got news something had gone wrong. I was being put under anesthesia immediately. He wasn't thinking he would have to worry about me too.'
'That's my brother,' he stood next to me crying. He never left him. His skin was white as a sheet.': Mom 'so shaken' after son's stroke scare, 'No moment is promised'
Do you know someone who could benefit from this story? SHARE this story on Facebook with your friends and family.