"I found out I was pregnant with you around August of 2017.
The emotions I felt were a whirlwind; I was happy, scared, ecstatic, and in love, yet so many mixtures in between. At my first ultrasound I was 7 weeks with you. I fell so deep in love with you that I vowed no matter what, I would love and protect you.
My pregnancy with you was so hard on my body, I lost nearly 25 pounds from being sick constantly; but all I could think about was you. Were you getting enough nutrients even though I was vomiting so much? Were you growing on track? Not once did I think about myself because it was all about you.
Upon having morning sickness with you I had extremely bad acid reflux where no medication helped with the pain; but that never stopped me from craving fried chicken with you. I used to joke how you would be part chicken from how much I had eaten it! I slowly had to change my diet to a dairy friendly diet to help alleviate the pain from the attacks.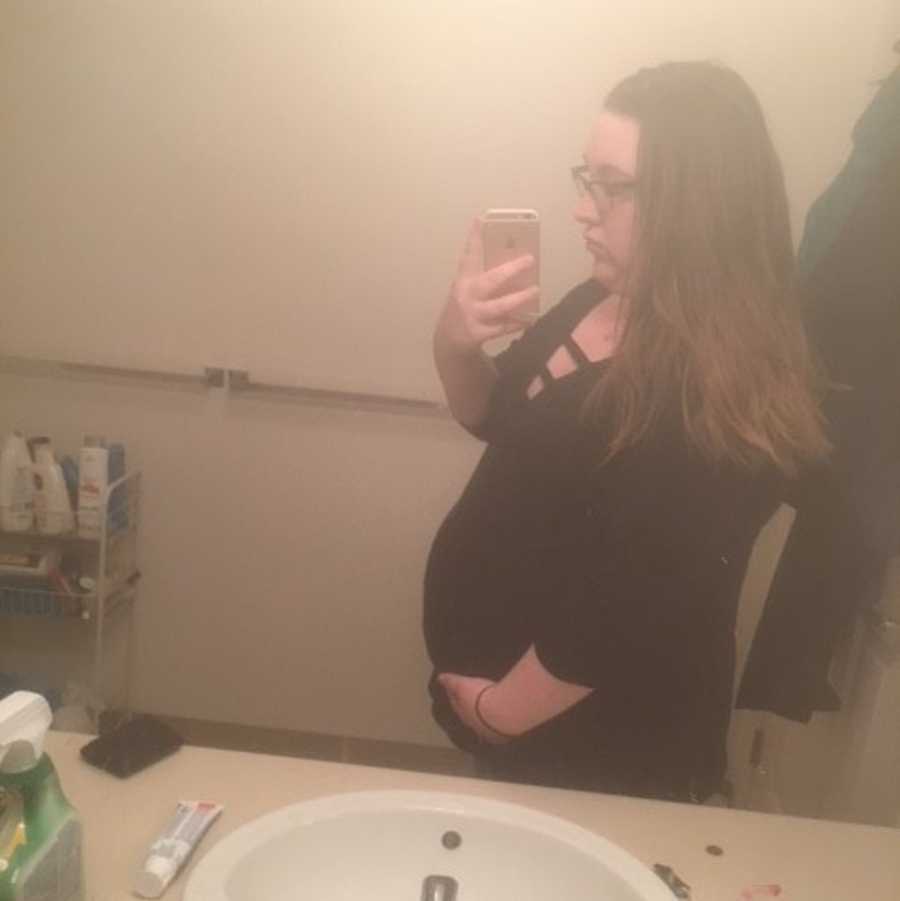 In December around Christmastime I had found out you were a bouncing baby boy! My excitement was overwhelming! The thoughts of bringing you to the park and seeing you run around made me realize you were really real, and that was so blinding!
Sadly, my happiness didn't last long…
Around late January/early February my body wasn't tolerating being pregnant anymore. Around 28 weeks I noticed I couldn't fit into my work shoes, and not many things fit comfortably anymore. I slightly ignored it because pregnancy causes water retention.
Nothing too serious right?
Next my blood pressure started rising and I was so very scared for you. First it was hypertension with the slowly advancing stages of pre-eclampsia. Pre-eclampsia is very serious and could hurt us both very badly. I prayed you would make it to 37 weeks so you could be full term.
Our midwife and I agreed on weekly labs to monitor my protein and make sure the pre-eclampsia would stay at bay. As cruddy as it was to have blood taken weekly, I had made friends with the phlebotomist and for 2 weeks she had reassured me I was in good hands and you were a very strong little boy, especially since your momma was staying strong through it all.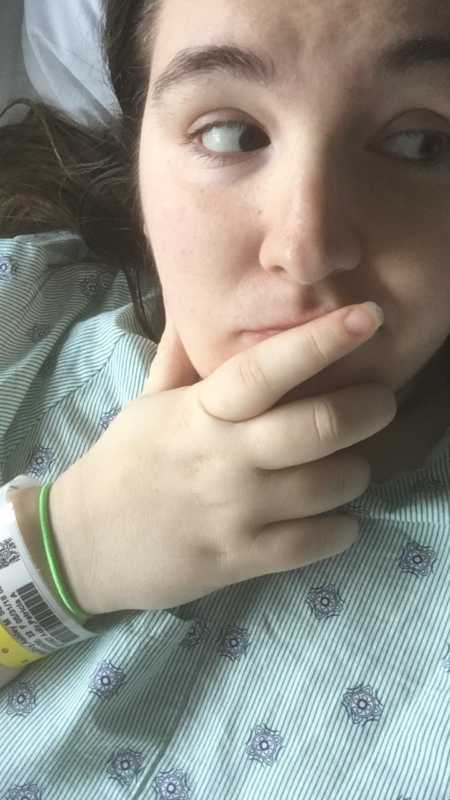 On March 15th I had trouble sleeping that night from a pain on my right side; the whole night I would feel you squirm and kick as if you knew I was feeling nervous and scared. The very next morning I went to my doctors to make sure everything was alright. That was the moment I won't ever forget: my pre-eclampsia had taken a turn for the worse in the past 24 hours! I didn't even realize my blood pressure was so high I was border-lining to having a seizure! All I knew was something was very wrong, and I was so, so scared for you. I was sent by ambulance to our local birthing center where we awaited labs to determine to how sick I was. I will never forget the doctors coming in to explain my diagnosis: I had pre-eclampsia with HELLP Syndrome. My liver was slowly shutting down and I could no longer carry on my pregnancy without serious risk to us both. In that moment everything came crashing down.
I had done everything right!
I went to my appointments!
I exercised daily for more than an hour!
I chugged water by the gallons!
I broke down sobbing asking, 'Why me? What did I do wrong? Why couldn't my body just keep it together for a few more weeks so I could have a full-term baby?'
Here I was at 33 weeks and 6 days along with you being put into another ambulance awaiting transfer to Maine Medical Center for their NICU. I couldn't help but wonder if you would blame me if you had gotten an illness from me being sick and that's when the tears started falling and wouldn't stop. The whole hour-long ride I rubbed my belly hoping you would kick for me and boy did you kick! You reassured me that I would be okay and that everything would be okay. As I was getting settled into my birthing room being hooked up to IV medication I realized looking down at my belly you would be here soon in my arms.
On Monday, March 19th, the doctors and I discussed the potential reality of a premature birth. That you may not cry right away, that you may be intubated, and that you may be sick from the HELLP syndrome. We had talked about options for induction and we agreed the balloon would be best to start opening me up. I waddled up and down the halls awaiting the balloon to fall out; but the contractions came first and God did they hurt! I slowly made it back to my room with your father holding my hand reassuring me that you would be okay. When the doctors came in I was only 4cm with you; the labor and contractions were hard. It was beyond painful. I cried, begged, pleaded and cried through my labor. As the contractions started coming closer and closer; 5 minutes, 4 minutes, and started slowly working my way to 2 minutes apart, I broke down from being so scared and in pain.
With each contraction that came it meant I was one step closer to meeting you. When it came time to push, your father held my hand and locked eyes with me to keep me calm. After 8 hours of labor and 5 minutes of pushing, at 7:56 p.m. I heard your father scream, 'He's here! He's here! Oh my God, he's here!' I saw your father cry.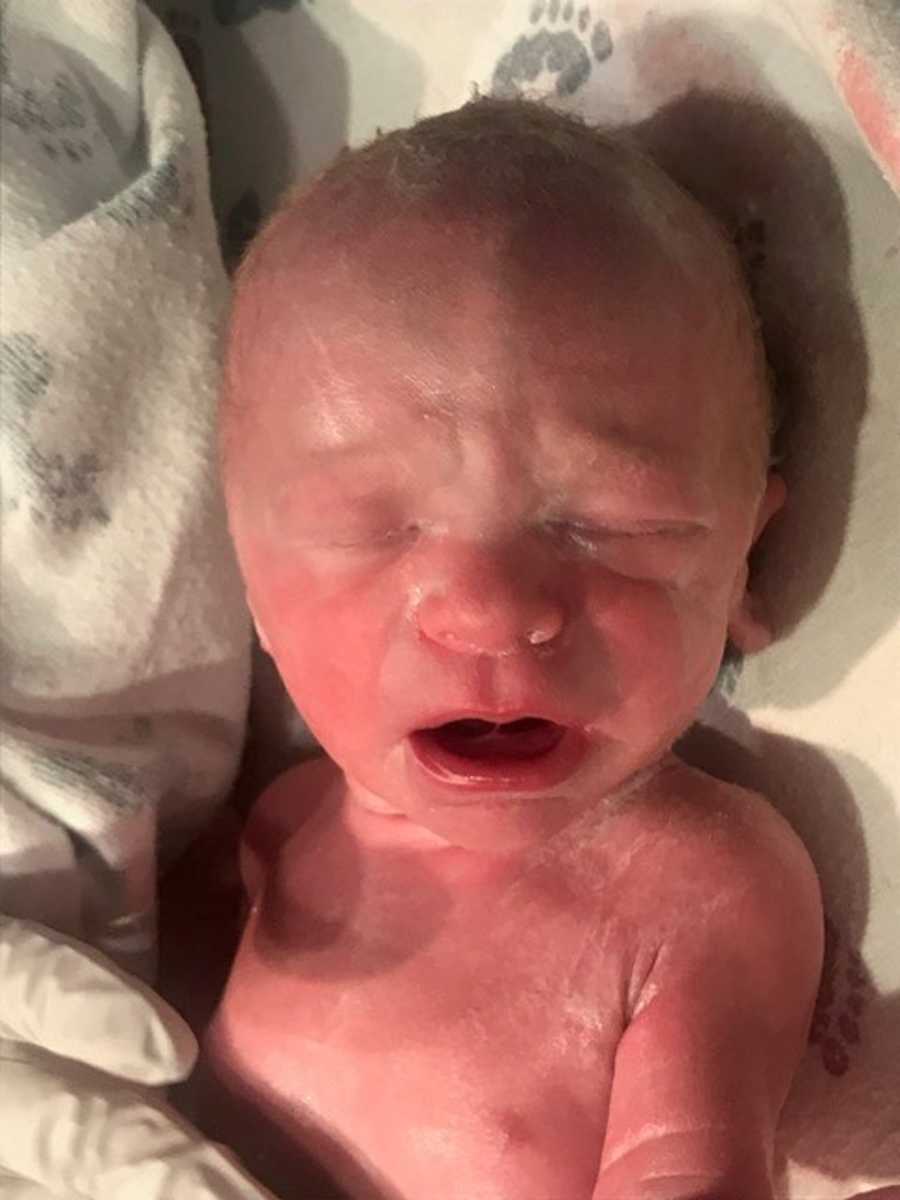 Before I could process I had given birth to you, you were placed on my chest and I started crying. Not the ugly crying, but the crying that your soul has been fulfilled. I looked down at your precious face and I felt overwhelmed when I heard you cry; I was happy, scared, ecstatic, and in love, yet again. You were here and you were crying, a feat the doctors didn't believe you would do! When I locked eyes with you, I realized everything was worth it.
The pain, the fear, the sickness, especially the morning sickness, was worth it.
Sadly I wasn't able to hold you for another 12 hours so we could stabilize. When I was able to see you, I ran into your room while hooked up on magnesium sulfate, and I saw you in your incubator. You looked at me, and while your father thinks I'm crazy, I'm so sure I saw you smile at me. The second the nurse put you on my chest for skin to skin we bonded forever. Mother and son becoming one. Becoming whole. Forming the strongest bond and most pure bond life has to offer us.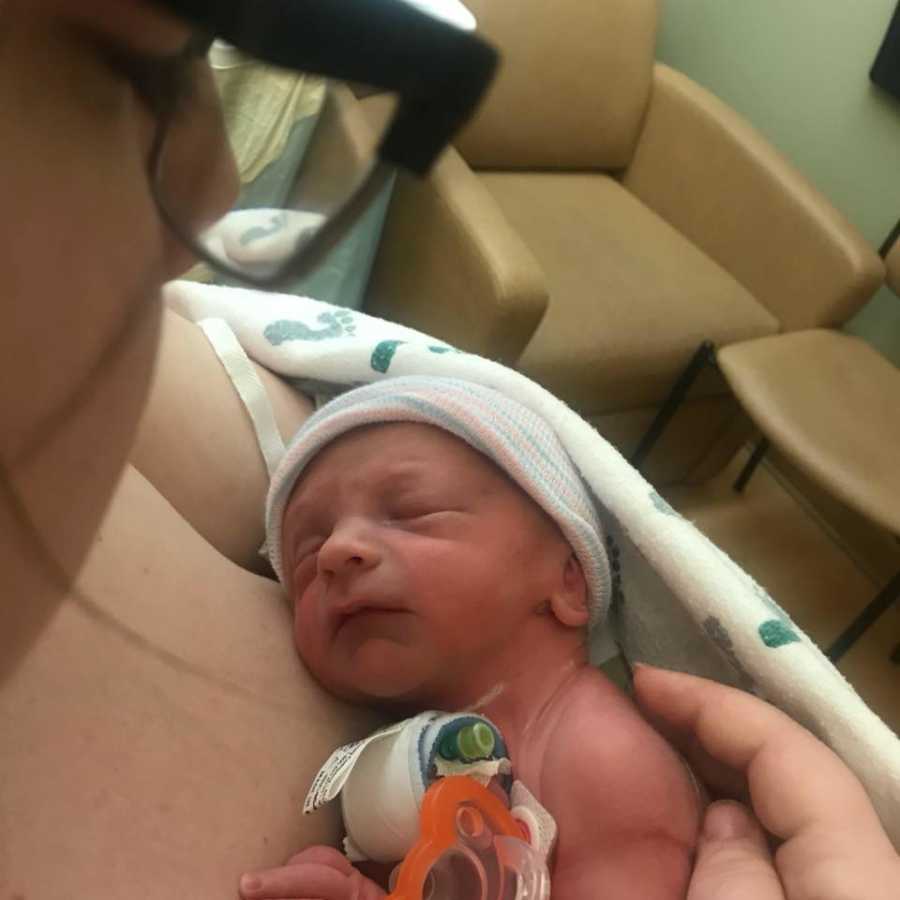 Marcus Dean Myslivy. You are my preemie warrior.
You are my fighter. You are my son.
And I promise you as long as I shall live, I will love and protect you forever. And I will always put you first."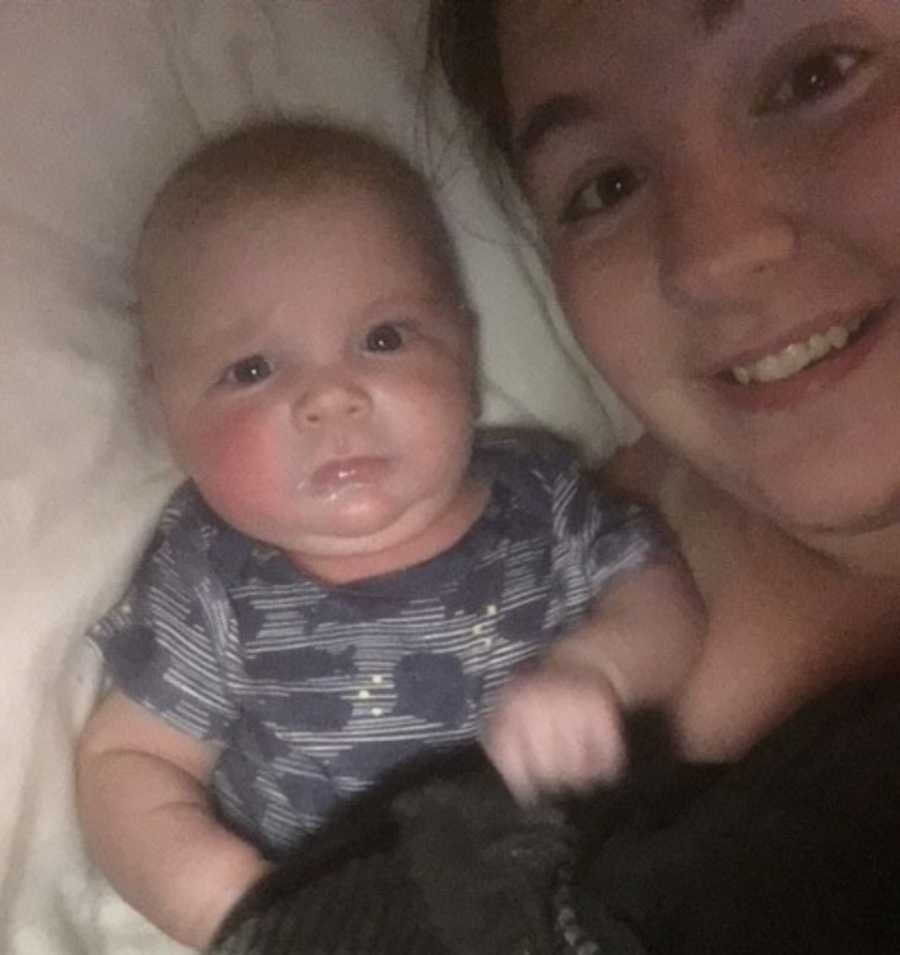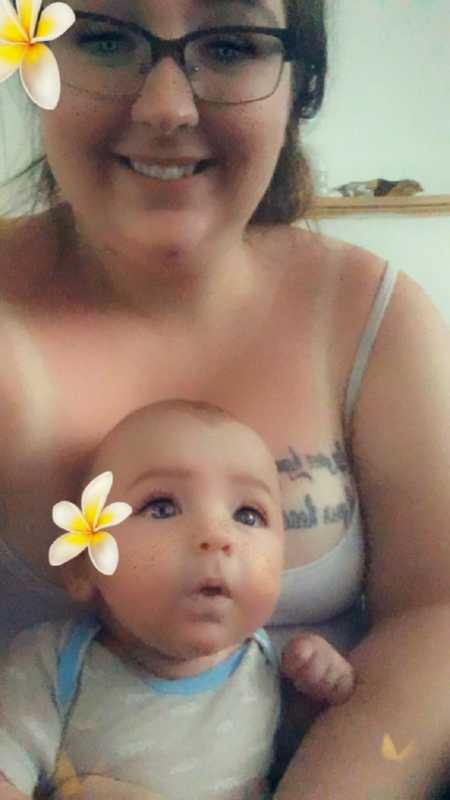 This story was submitted to Love What Matters by Ashley Myslivy, 23 of Dover, New Hampshire. Submit your own story here, and subscribe to our best stories in our free newsletter here.
Provide beauty and strength for others mothers. SHARE this story on Facebook with your friends and family.