"So you look at this picture and think, 'Why the tears? Why such emotion? Why are they crying THIS hard on their wedding day?'
The answer. Faith.
Have you ever hoped for something you couldn't see? Have you ever felt a stirring in your heart that something so big was about to happen, or your life would change in some way… but you didn't know exactly what?
This strong stirring in my heart began in Spring of 2017. I was single and had not been in a relationship for over 10 years. For me, marriage felt very far off because of being single for so long. Throughout my singleness, there were times the longing to experience marriage and the lifelong commitment and covenant to one person for the rest of my life was so strong wondering what it would it would be like. Faith is the most important thing in my life…so I chose to pray… and pray big. I believed this promise with all my heart – God is able to do immeasurably more than all I could ever ask or dream of. I loved it so much that I began praying it, believing it and trusting it with all my heart.
It was such a promise of hope. For many years, I felt the word that seemed so relevant to my life was 'wait.' Many of my best friends and family's lives seemed to be changing around me, but wait became a word of hopeful expectation in my life.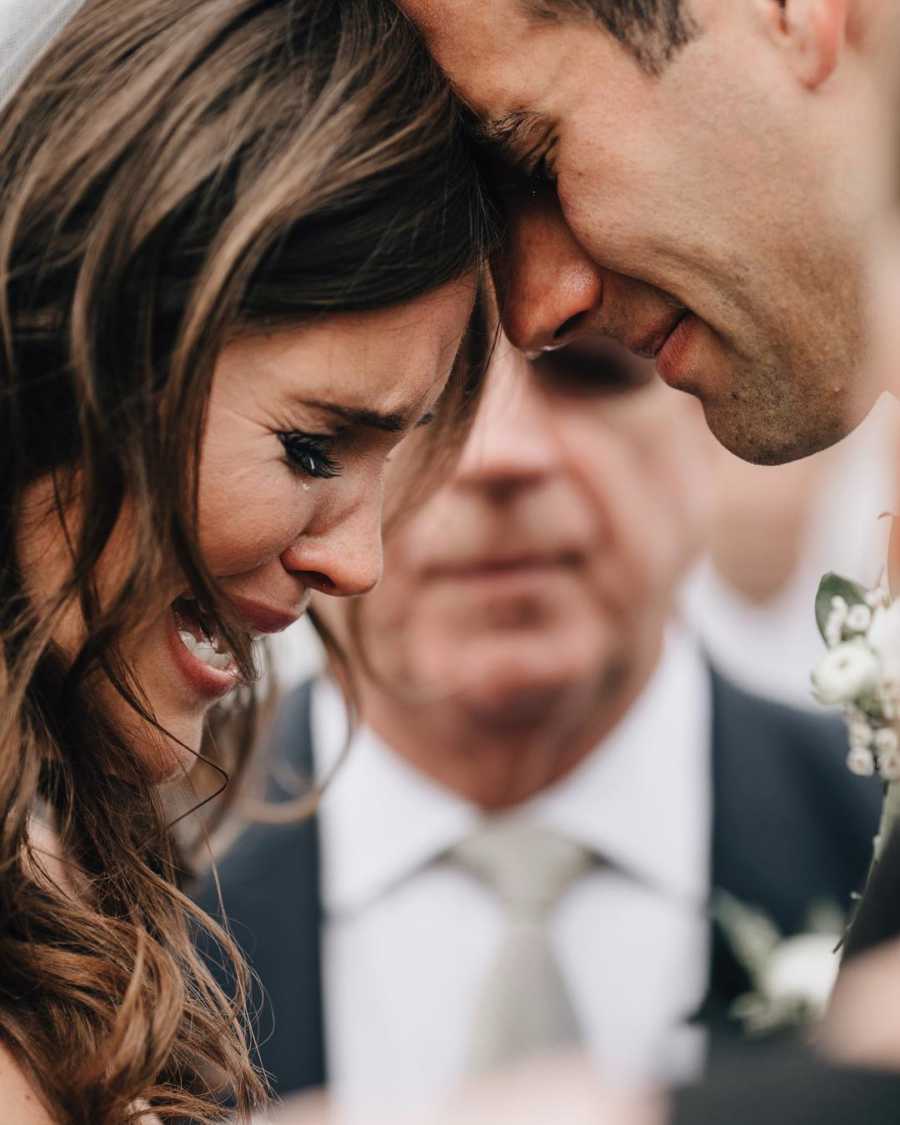 My life changed forever on July 1, 2017, when I met Kyle. I first heard of Kyle at the end of March 2017 from a friend when I was talking to her at a wedding. It was brief and felt very out of the blue, but as she talked about Kyle to me, she emphasized his character, specifically his kindness, and just how wonderful he was, especially with her kids. She even said her son loved him so much he thought Kyle was Superman. At the time, he was in a relationship. The conversation was all fleeting because of knowing this. In April, I saw Kyle in person. He was with his girlfriend so I didn't think much about it. A few nights later, I had a dream. It was one of those dreams that when you wake up, you feel you are still dreaming because it is so impressed on your mind — and then when you go back to sleep it's the same exact dream — and that dream was just Kyle's face. Just a clear image of his face. I woke up and was frustrated as to why this man I didn't even know, who was in a relationship, was so clearly impressed in my mind and continually being placed before me. I was losing sleep over a guy I didn't even know!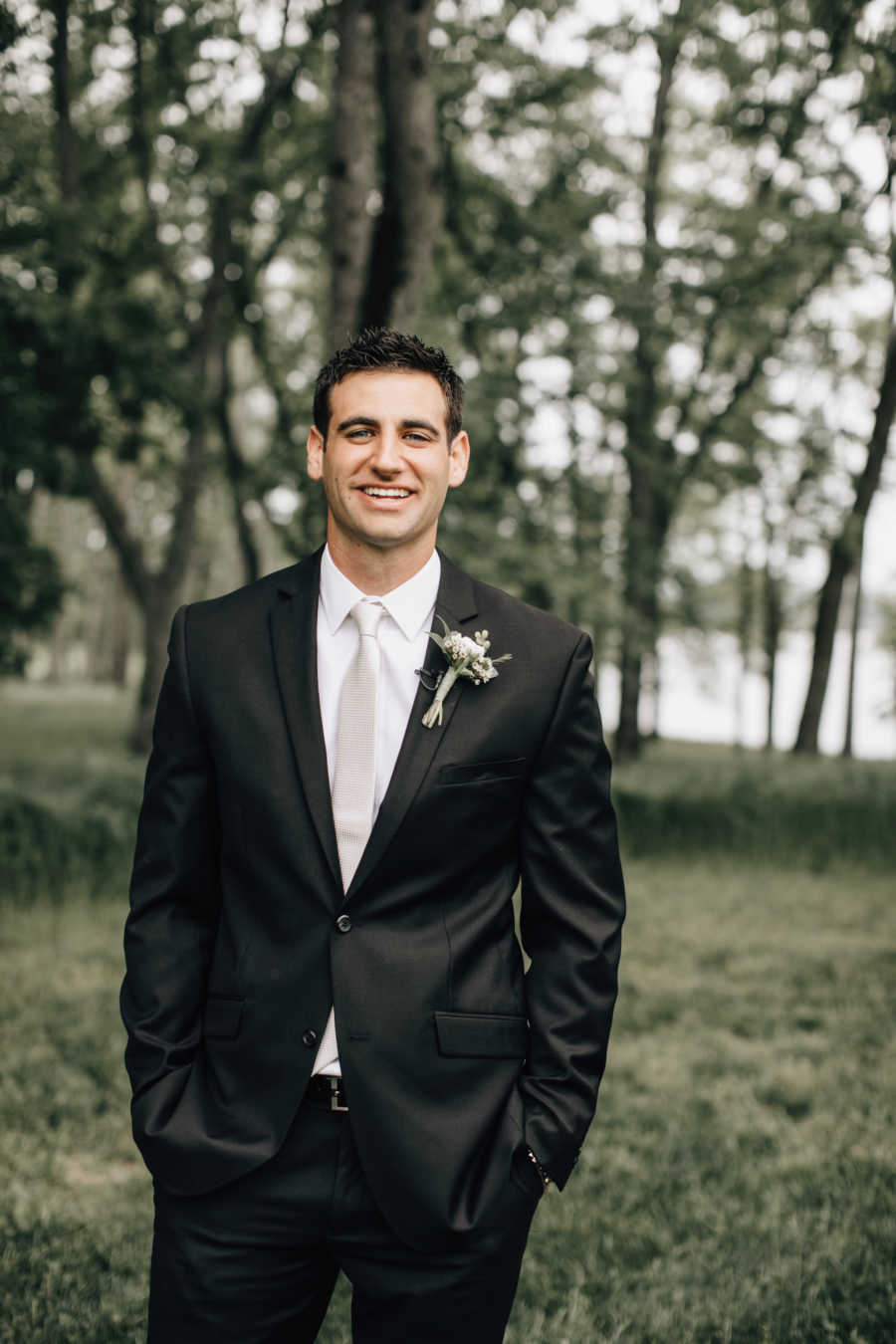 Fast forward to July 1, 2017, a little over two months later – I was at a friend's house for the 4th of July. It is a tradition amongst our friends to return and spend July 4th on the lake together. We were out on the boat and saw friends on the dock waiting to be picked up. As we got closer, we realized one of our guy friends from college had come back in town for a few days, but unbeknownst to us, brought one of his friends along with him… who happened to be Kyle.
As we got closer, I immediately recognized him. My heart instantly put up a guard. I mean, the last time I saw this guy was in my dream… and I had lost sleep because all I could see one night was his face. We made our way out of the boat and Kyle introduced himself to me. Yes, I initially noticed how handsome he was, his warm smile and kind beautiful blue eyes… but my heart was guarded. VERY guarded. So much so that after I shook his hand, I ended the conversation and moved on. My friend who had brought Kyle was talking to me when out of the blue he said, 'Hey Kristen – just wanted to let you know I brought you some potential!' I laughed and said, 'Me?! You brought me potential?!' knowing this 'potential' he was talking about was Kyle. My mind was swimming with all kinds of thoughts at this point, especially since the last time I briefly saw him, he was with his girlfriend. I was so confused, so hesitant and honestly shocked as the conversation continued. Kyle and I ended up sitting near each other over dinner. He had conveniently sat down right across from me. We talked some and he said enough for me to know he was now single.
As the weekend went on, Kyle would try to initiate conversation or place himself near me, but my heart was so guarded and stunned that I became fearful to talk to him because I was so unsure of what was happening. How was the guy I heard about months prior now showing interest and the desire to know me? Slowly, I felt my heart soften to the idea of allowing myself to get to know him. He was so kind and easy to get along with."
To give insight on what Kyle was thinking through all of this, here's his side:
I had gotten out of a relationship at the end of May. I had told those who were close to me I didn't want to date anyone for year but wanted to take some time and not be in a relationship. They advised against this and said they didn't think it was a great idea because at any time, God could bring my wife into my life when I'd least expect it. On July 1, 2017, I was on my way over to this house full of people I had never met with my friend. These were all my friend's old college friends. On the way over to the house, my friend said to me, 'Oh by the way… you're going to meet your wife today.' This friend constantly keeps me laughing so I didn't think much about it. We pulled in the driveway and he said, 'Yep, she's here. I see her car!' Shortly after getting to the house, I met Kristen down on the dock. I was instantly attracted to her and knew this was the one my friend was talking about that could potentially be my wife?!
As I introduced myself, her response was short. I could tell from our brief conversation, it was clear she did not want to talk to me. As the weekend went on, I continued to initiate conversation hoping to get to know her better, but she continued to end conversations pretty quickly. I wanted the opportunity to really talk with her to understand why my friend said she would be my wife. A couple days later, we finally had good conversation on the dock one night. I left that time with her feeling so refreshed and knew I had to get to know this lady more. I went to bed that night and had a dream that I was at my wedding. In my dream, I was marrying this girl, Kristen, I had just met. I was outside standing down by the water waiting on my wife, Kristen.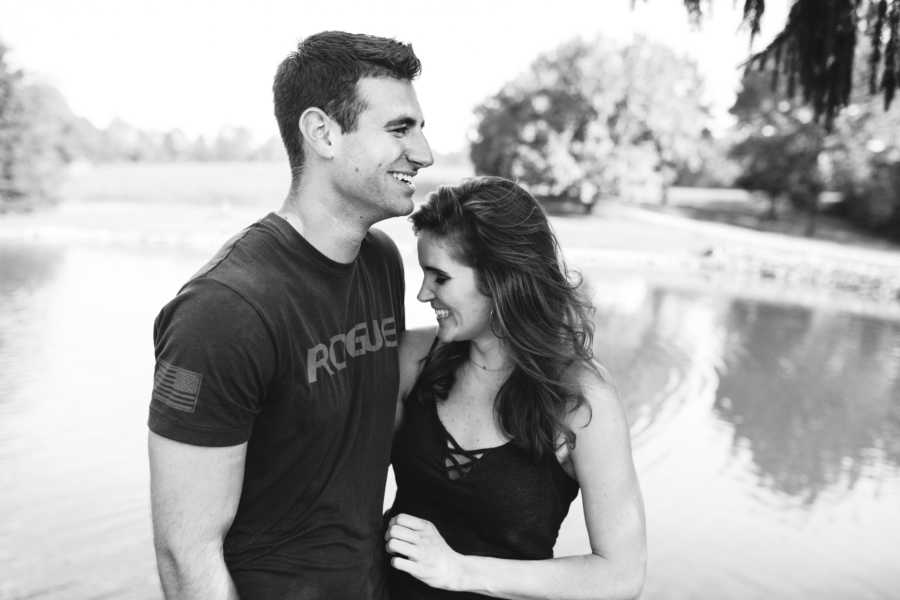 Two days later, I was eating breakfast with a friend who had been living out of the country for several years. He had just gotten back and said out of the blue… 'Hey, I have a girl you need to meet! One of my friends from college – Kristen!' I was shocked. He had no idea that I had just been hanging out with her the past weekend.
A week later Kristen and I met up for coffee. We talked for close to 3 hours and it felt like 5 minutes. It was evident her heart was still guarded, but she was different in the most refreshing way and it challenged me to figure out how I could really get to know her. I left the coffee shop and called one of my best friends. I told him, 'If I can get this girl to date me, I'll marry her.'"
Kyle and Kristen dated the rest of the summer, although her heart was still unsure of the relationship.
"I continually was so surprised by his steady, kind and patient pursuit. My friends and family were so shocked at this wonderful man who seemed to have been dropped down into my life from above. I kept hearing, 'Where did he come from? He is SO wonderful Kristen!' As wonderful as he was, for a month and a half, I continued to pray and ask God, 'If I am to know this man better then will you please just flood my heart with peace when I am with him?' And every single time I was with him, my heart was absolutely covered in a blanket of peace. Kyle continued to make his intentions known.
On August 21, 2017, the day of the solar eclipse, the guarded wall in my heart came down and I allowed all emotion and feelings known for him. I was all in.
Around a month later, I was spending time reading and praying over pages I had written in my journal. These pages had character qualities I had prayed for in my future husband. I had written this journal entry back in the spring. My heart was poured out on these pages and there was lots of time spent revisiting these pages praying over this future husband of mine. It was in praying over these things that God revealed Kyle would be my husband. I got to the end of the journal and Kyle's face was again so clearly impressed in my mind that I started crying. That same clear image of Kyle's face I had dreamed about back in April was the image now before me in prayer.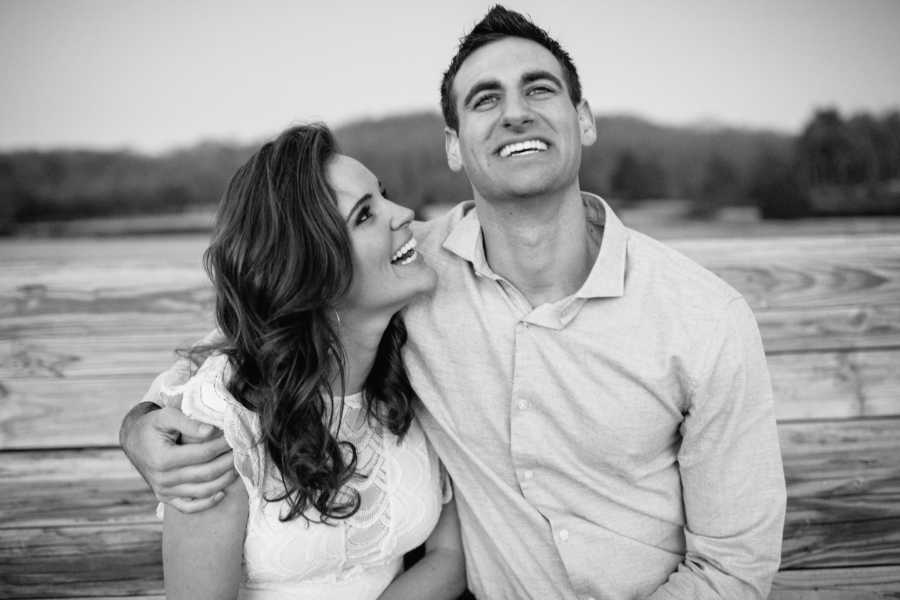 Our relationship was so sweet and so fun. Neither of us had ever experienced anything quite like it before. We had only known each other a few months but it felt like a lifetime. Kyle would continue to remind me there was absolutely no doubt in his mind of our relationship or where he stood with desiring me in his future. Our family and friends were so supportive and excited for us. They were amazed at the timing of our story and how seamlessly our lives aligned to be together.
On December 8, 2017, Kyle proposed and I was completely surprised in the most wonderful way! We had talked about marriage and knew undoubtedly this was God's plan for our life… but I did not expect it the night he did it. With it being close to Christmas, he suggested we go to a magical spot to look at all the Christmas lights at night. As we looked out on this beautiful view, I turned around and he was down on one knee. He said, 'It could not be more clear that this is God's plan for our lives. Kristen, will you marry me?' With tears streaming down my face – I bent over and hugged his neck so hard. I was completely overwhelmed I forgot to look at the most beautiful ring he had waiting before me.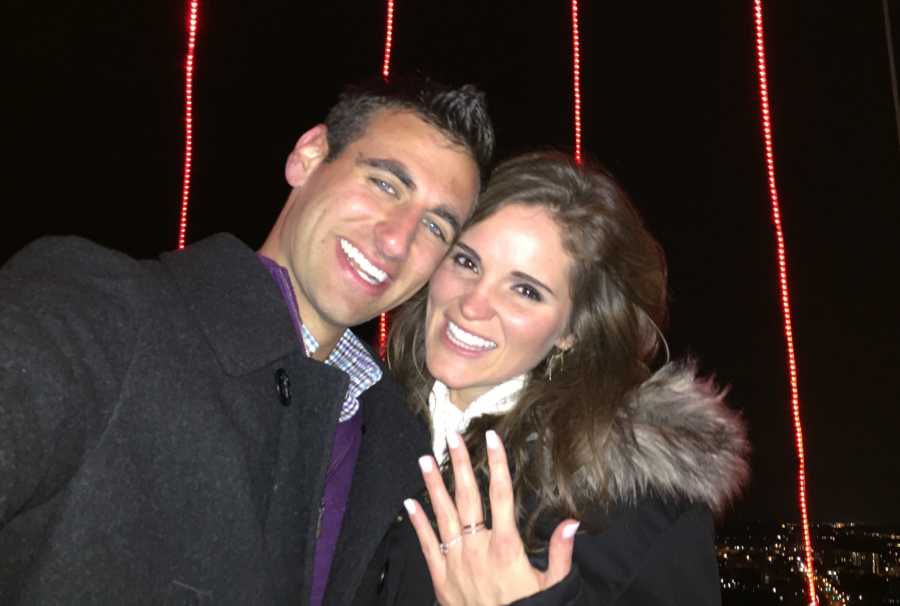 As we left the romantic location, he said we should go to the dock where it all began and FaceTime our friends to tell them we are getting married. I loved that idea! As we arrived at the house it was completely dark. We pulled around back and walked down the winding path to the dock by the water. The whole dock lit up and was wrapped in Christmas lights. The best surprise was over 60 of the sweetest friends and family that yelled 'SURPRISE!' from the house along with those who greeted us from coming out of hiding at the dock with the biggest hugs! This precious man of mine had planned the most wonderful surprise along with some amazing friends to help him pull it all off.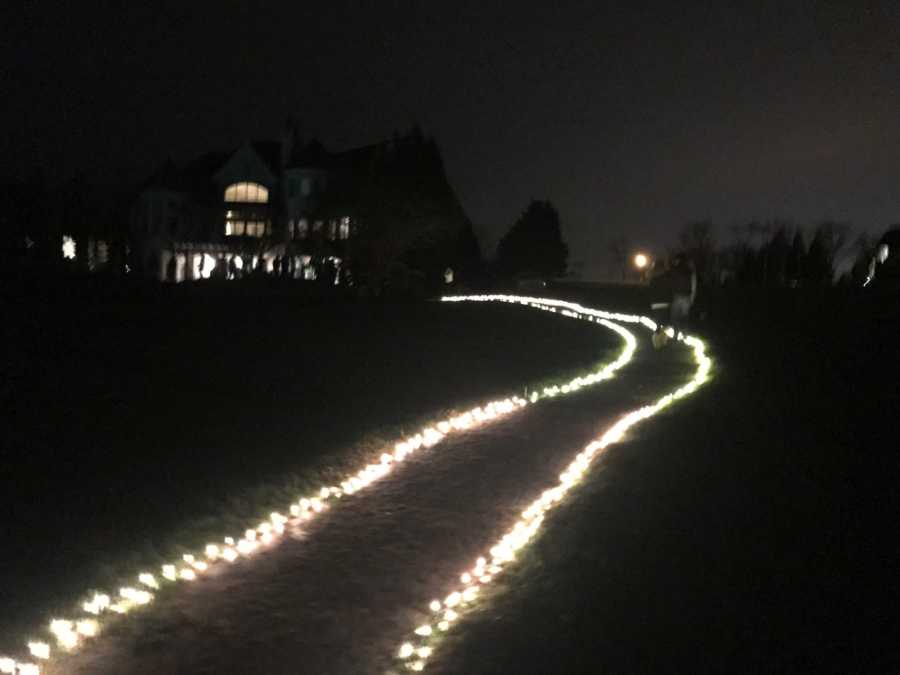 May 5, 2018, was the day we would be married at gorgeous Marblegate Farm in Friendsville, Tennessee.
With a full heart, I saw the date that the journal entry was written that I had outlined my future husband, and it completely stopped me in my tracks. Tear filled my eyes and flooded my face as I read 'May 5, 2017.' I had written this journal entry of prayer for my future husband exactly one year prior to when I would be marrying my husband on May 5, 2018. I was so stunned and all that I could think of as I sit in my room with tears flooding my face was the promise that was so strongly impressed on my heart and that same promise I chose to fully believe and trust – God was able to do immeasurably more than all I could ever ask or dream of. My faith and hope in God's ability and trust in God's timing had been fully revealed in the most beautiful love story in the most perfect time.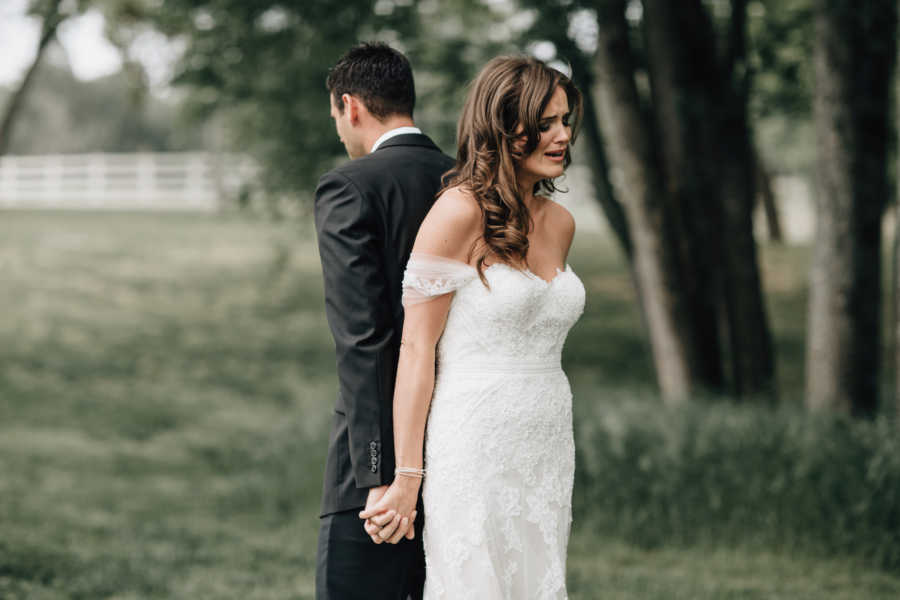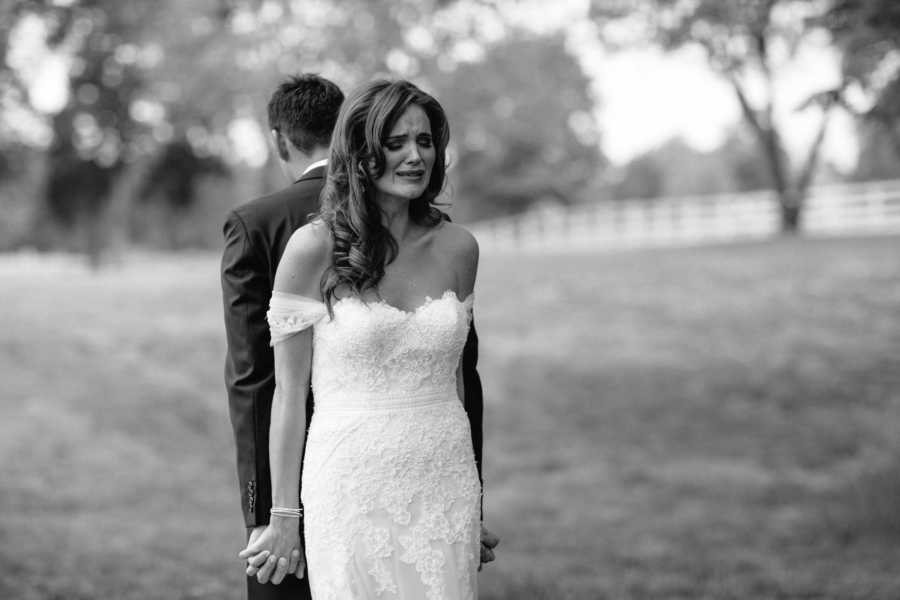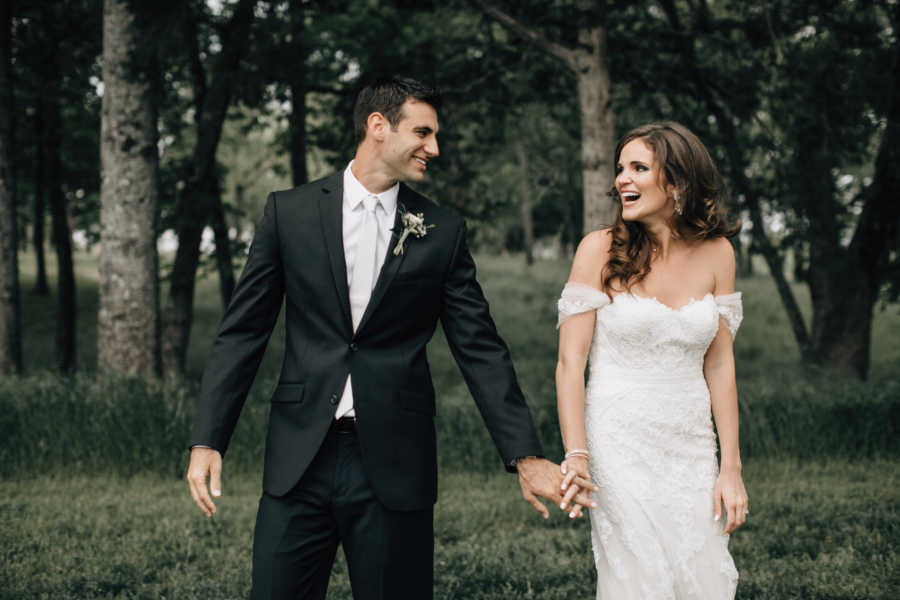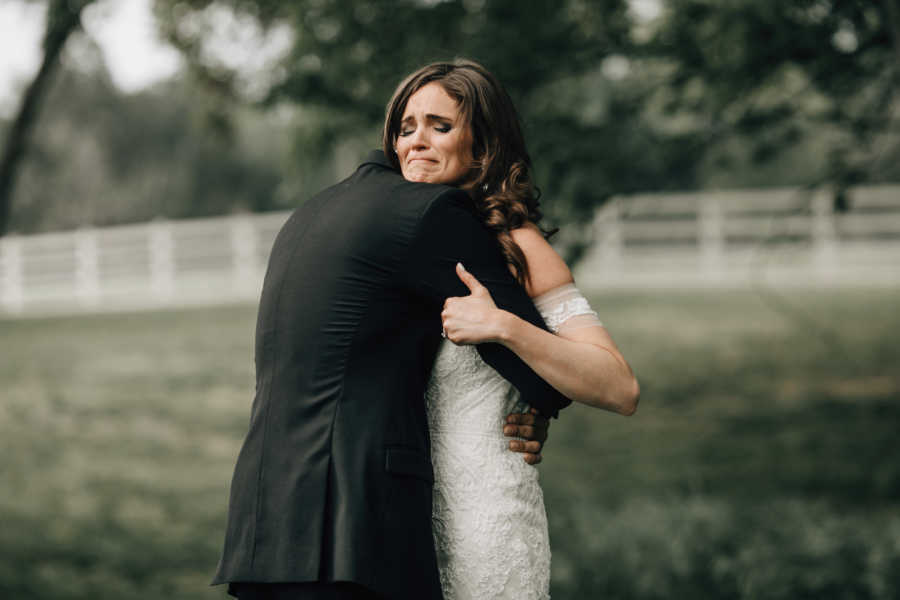 We were married on May 5, 2018. We were surrounded by the most amazing friends and family who had come from all over the country to be with us.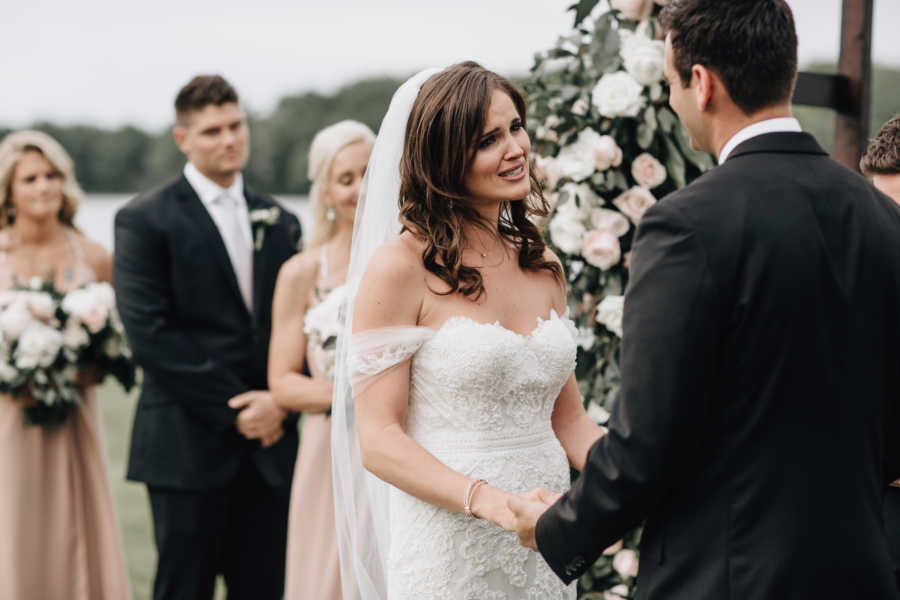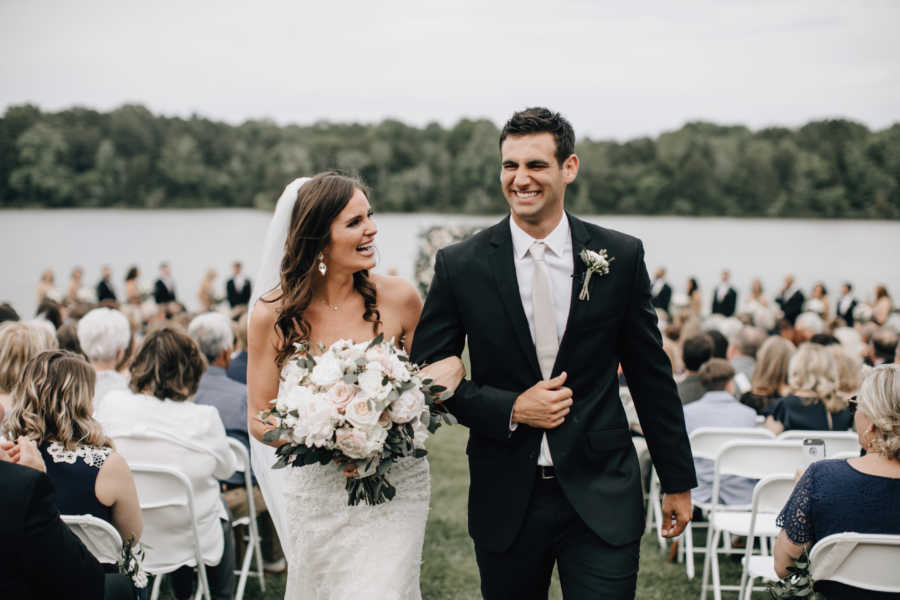 During the ceremony, we had a time of prayer where Kyle and I stood together, facing one another and holding hands as our bridal party surrounded us, along with our parents. We wanted this moment to stop and pause to give thanks to God who had made the day possible. It was during this prayer that this sacred powerful moment was captured by our amazing photographers Brad and Jen Butcher. As tears flooded our face, it was so powerful as if heaven was touching earth. God's undeniable presence was all around. His faithfulness and glory completely surrounding us and every single detail of our story resting on our shoulders as we humbly stood in utter humility before a faithful God who had divinely answered prayer.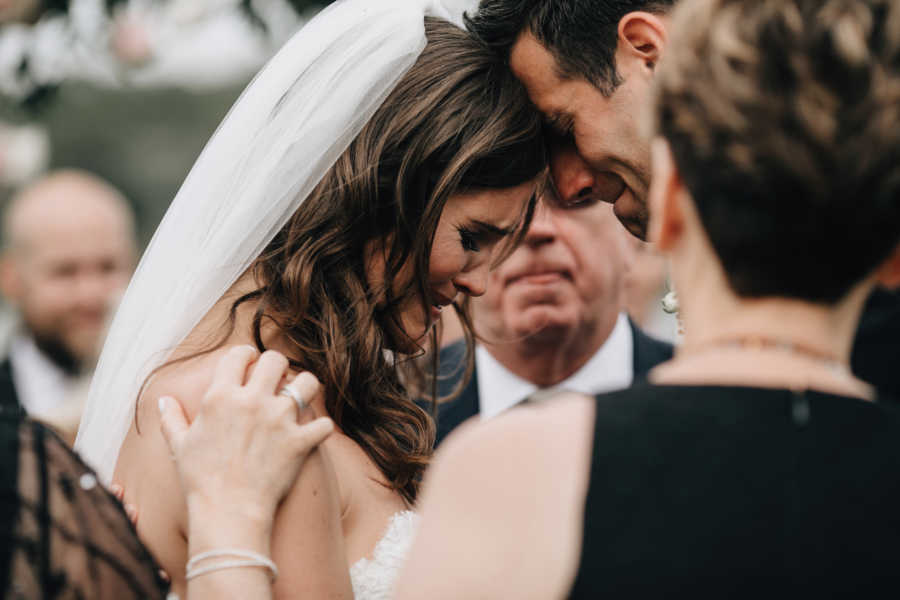 The overwhelming love and support of family and friends felt as a covering in this moment. The power of the covenant of marriage leaving us in awe. In that sobering moment, we undoubtedly recognized that our lives were truly created to point to our Creator. This moment was so beautifully captured and it stands as a reminder of the power of faith and prayer.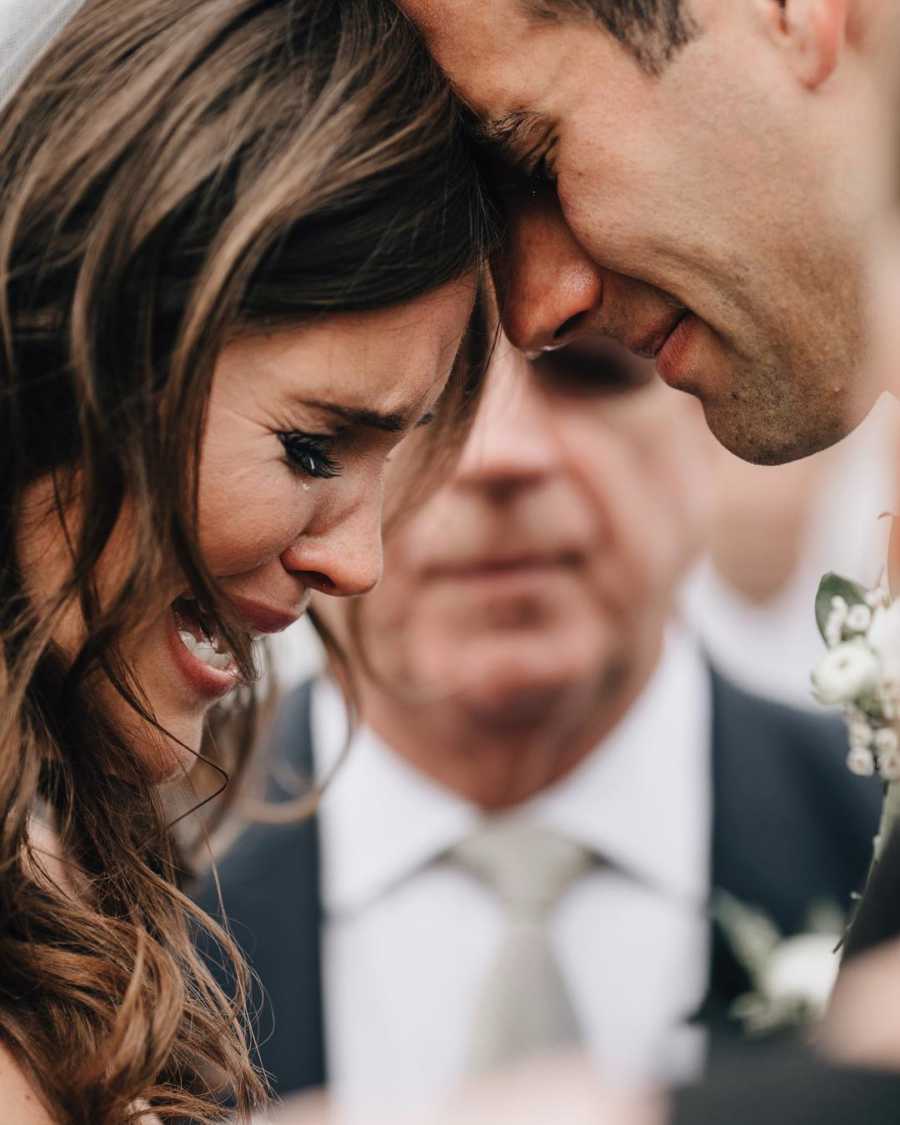 It was that exact day a year prior that God stirred my heart for something so big to come that would only be explained by Him. This moment it all came full circle. The image of our faces covered in tears will forever be a reminder of how humbling it is to know how intricately God is involved in the details of our lives. The God who created us, loves us beyond what we can ever fathom, and knows us better than we could ever know ourselves. And to think… this is just a taste of God's goodness."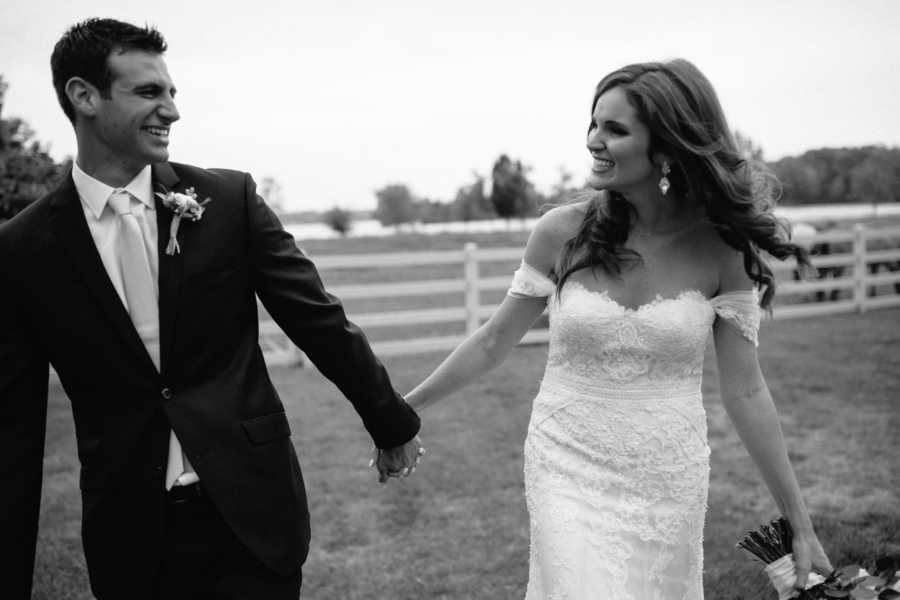 This story was submitted to Love What Matters by Kristen Horner Grigsby, 28, of Knoxville, Tennessee. Submit your own story here, and subscribe to our best stories in our free newsletter here. 
Read more powerful love stories like this:
'Everything was changing. But it was grief that brought us together.': Widows fall in love after losing spouses to tragedies, now a beautiful 'blended family of 8'
'I found YEARS of mail in his trunk. My husband was living a double life and had another daughter! He abandoned us in a Target parking lot and changed the locks to our home.'
Provide beauty and strength for others.  SHARE this story on Facebook with your friends and family.