"Sitting down to write this is very emotional. I am supposed to write about miscarriage and our rainbow pregnancy. How am I supposed to write about something that I don't want to relive? It means I am going to have to face all the emotions of the past 4 years. Honestly, I am not sure if I am ready/strong enough to do that. Even after counseling I do not want to face my own thoughts/emotions. I am a strong female/mother who helps others – not myself.
November 25, 2015, was one of the best days of my life. After having my IUD out in March 2015, we had our first positive pregnancy test. It was the day before Thanksgiving, and we were more than thankful. We shared the news with our family on Christmas and the pregnancy went to 40 weeks 3 days without complications. We delivered our first daughter on August 1st, 2016.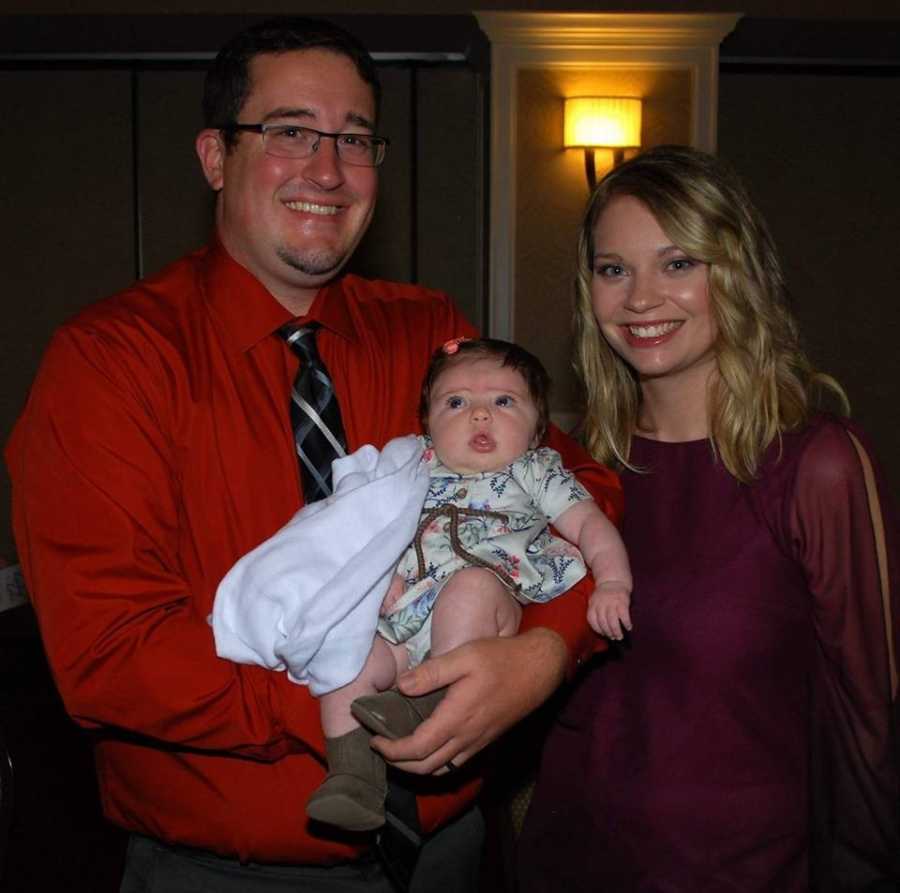 After our first pregnancy we were introduced to the heartaches of secondary infertility. We tried to conceive for 1 year without success. January 2018, we met with the doctors and we were introduced into the world of IUIs and Clomid. We started the process and on February 12th we had our first IUI. On February 23, 2018, we had 2 pink lines and my heart exploded with feelings of joy and happiness. When my husband came home from work, our daughter was unknowingly wearing the typical, 'Big Sister,' shirt. I remember him being on the phone with his sister and he abruptly ended the conversation and was over the top happy. They look on his face brought so much joy to me. We had our family pictures scheduled on the 24th and again she unknowingly wore the Big Sister shirt – pictures that have remained unseen to others.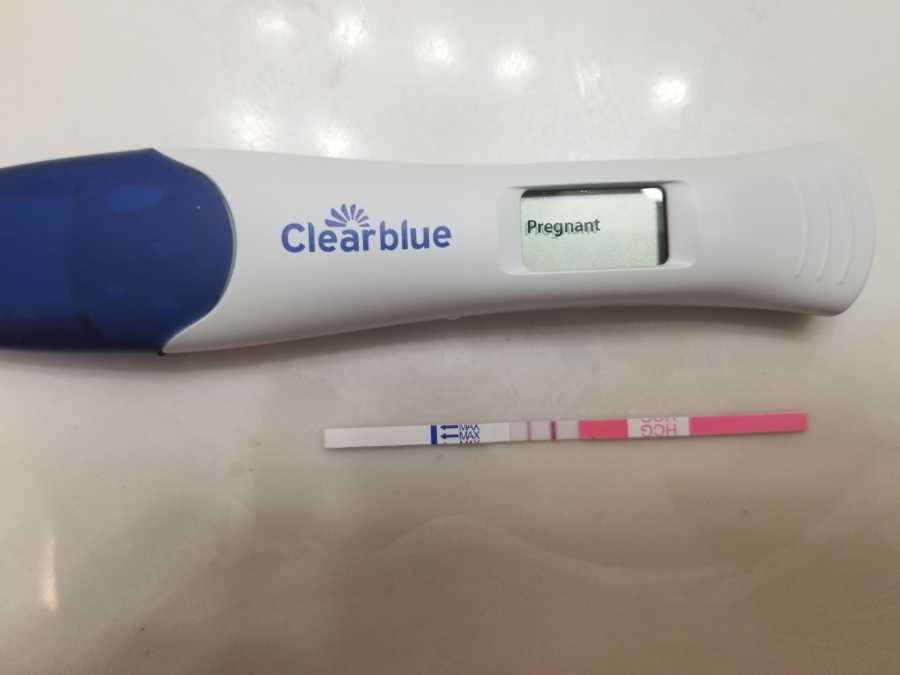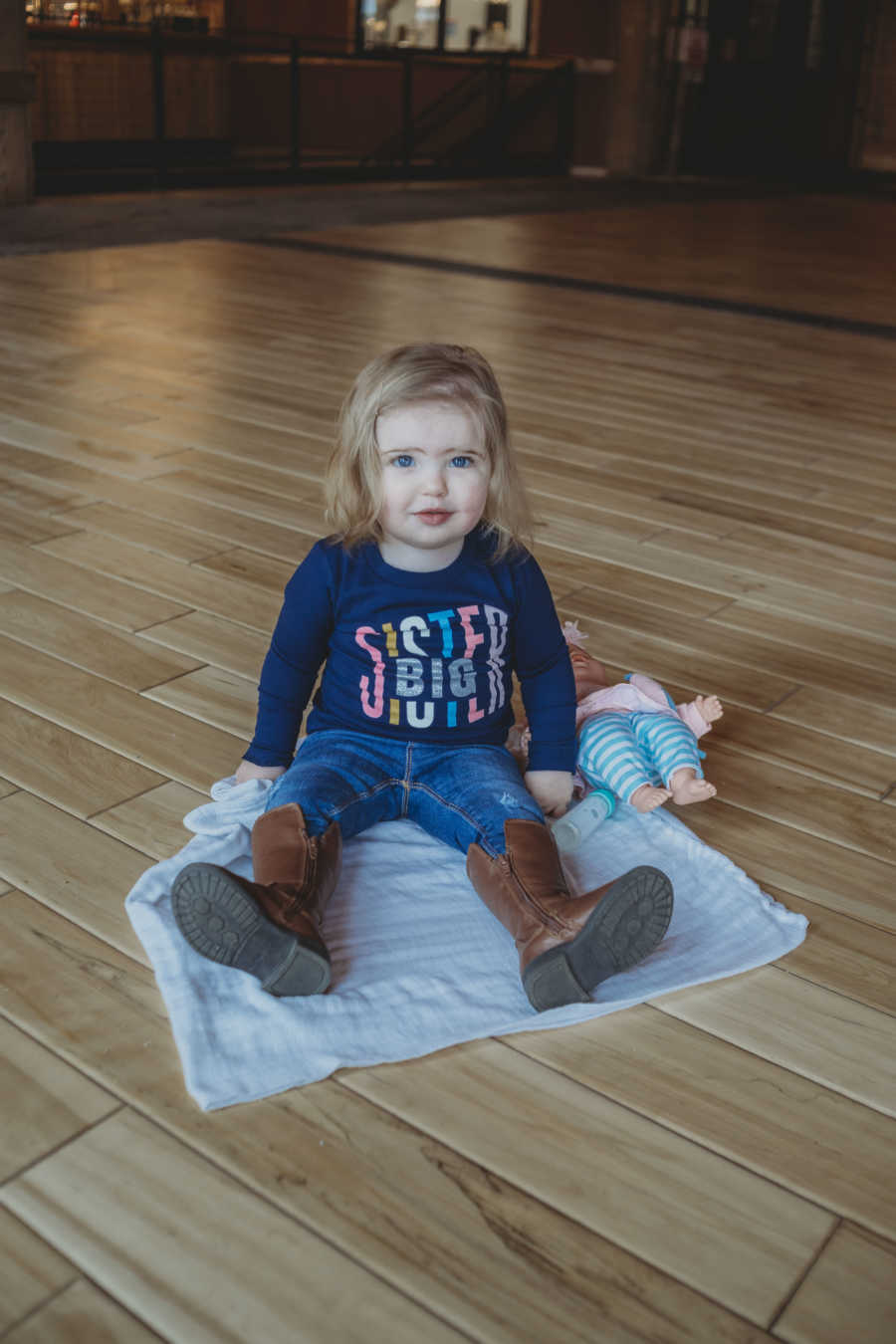 April 16th, 2018, (my husband's 31st birthday) is without doubt the worst day of my life. Sitting in the waiting room anxiously waiting for our 12-week ultrasound we were planning how we were going to tell everyone later that night at his birthday dinner. Minutes later, I was laying on the ultrasound table uncontrollably crying because our baby was measuring 9 weeks 5 days and did not have a heartbeat. Those horrible words, 'I'm sorry, there is no heartbeat,' replayed in my head over and over that day and continue to do so. Words that no one should ever have to hear. I asked my husband to stay home with me the rest of the day and all I wanted to do was pick our daughter up from daycare and hold her.
I had no signs/symptoms of miscarriage or missed abortion as it was so horribly worded on my medical records. Missed — what was missed about it?! I was carrying a baby and trust me I didn't miss any of the emotions, heartache or procedures to come. I was not sure how God could have dealt us secondary infertility and then a miscarriage on top of it. I felt so alone and worthless as a female/mom. How could I not keep my baby safe? How did I not know that Baby's heart had stopped beating? How could I cause so much heartache to my husband – on his birthday, nonetheless?
Crying is not something I see my husband do, but that night as he called his family and sobbed, I felt helpless. I did not have the words to make it better and I caused it. I couldn't look at myself in the mirror knowing I was carrying our baby that was not alive – I felt empty, ugly, not worthy of my husband's love and not worthy of another child.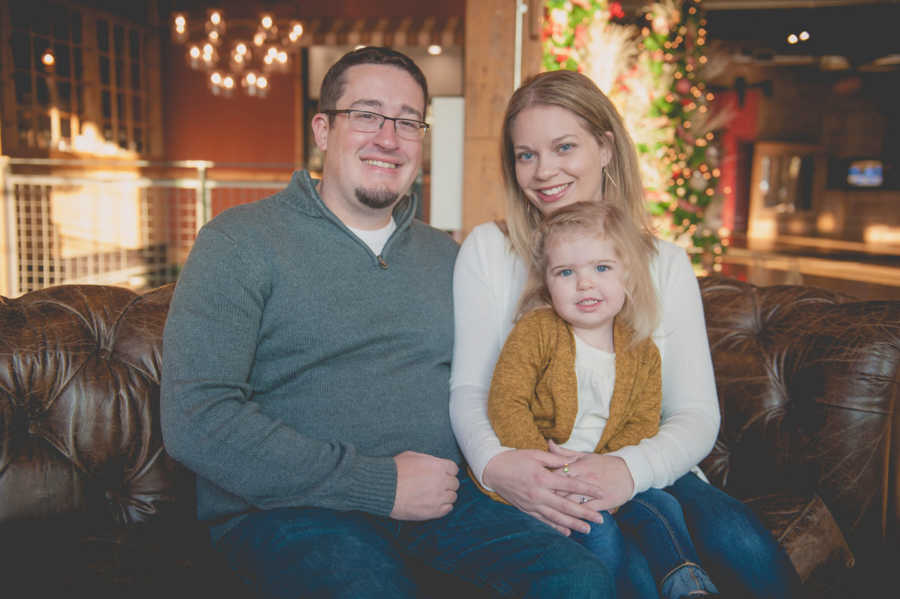 I was scheduled for a D&C on April 19th and unfortunately again on May 18th due to retained tissues. Nothing like being told that you miscarried, and we missed tissue so let's do your surgery again – oh and by the way, it costs more money!
It took quite some time for my HCG to trend down. I was able to do IUI in June but without Clomid as my HCG was not quite 0. July, we restarted IUI and Clomid. Months passed without any luck. November 3rd, 2018, our due date came and went. That day will always be a constant reminder of our Angel Baby. December, we started Famera. I pushed to have another ultrasound done and it was found that I had tissue blocking my left tube. I was set up for Hysteroscopy on 12/24/2018 and proceeded with it as scheduled. In early January we were surprised with a bill for my Hysteroscopy as insurance did not/continues to not want to pay for it. Staring at bills for over $14,000 we had mixed feeling and thoughts – could have adopted, could have put it towards IVF, etc.
January 22, 2019, we had our 1st IUI after starting Femara. February 6th was a day of very mixed emotions as I had a positive pregnancy test but had spotting. With our first pregnancy I had no signs except a missed menses. Our second pregnancy I had no symptoms and now I was staring at a positive pregnancy test and bleeding. It was a Wednesday afternoon, OB doctor wanted me to have blood work done. I was not ready to share the news with my husband but had to call him to watch our daughter while I went in. There was a sense of apprehension in both of our voices on the phone. HCG came back at 288. I was scheduled to repeat 48 hours later (Friday afternoon).
I went in for labs but had to wait until Monday as doctor's office was already closed. Monday morning, I called, and the office could not find my lab results and questioned if I had it done or not. I anxiously waited for her to check with the lab. The results were found, and HCG had increased to 780. After miscarrying, I was happy that it had increased but was still very worried. We had been here before and all my prayers did not keep our baby alive. We were scheduled for an early ultrasound – I had very mixed feelings about this. Did I want to hear those horrible words again or would our baby have a good heartbeat and be growing well? I replayed those words in my head leading up to our ultrasound and went over different scenarios in my head.
March 4th, we had an ultrasound and baby was measuring 2 days ahead at 7 weeks 6 days with a strong heartbeat. March 13th I was diagnosed with Influenza A and was started on Tamiflu-again terrified- with the nausea, vomiting and loose stools that I would harm/lose our Baby. March 21 an ultrasound was done, and baby was measuring 4 days ahead at 10 weeks 4 days. On April 1st we had our 3rd ultrasound at 11 weeks 4 days and baby was doing well. We decided to share the news with our family and daughter, Charlotte. Charlotte was very excited and immediately thought we were having a boy. Even though we shared the news with close family and friends I was not quite ready to share with everyone. I feared having to go back and tell them we miscarried again.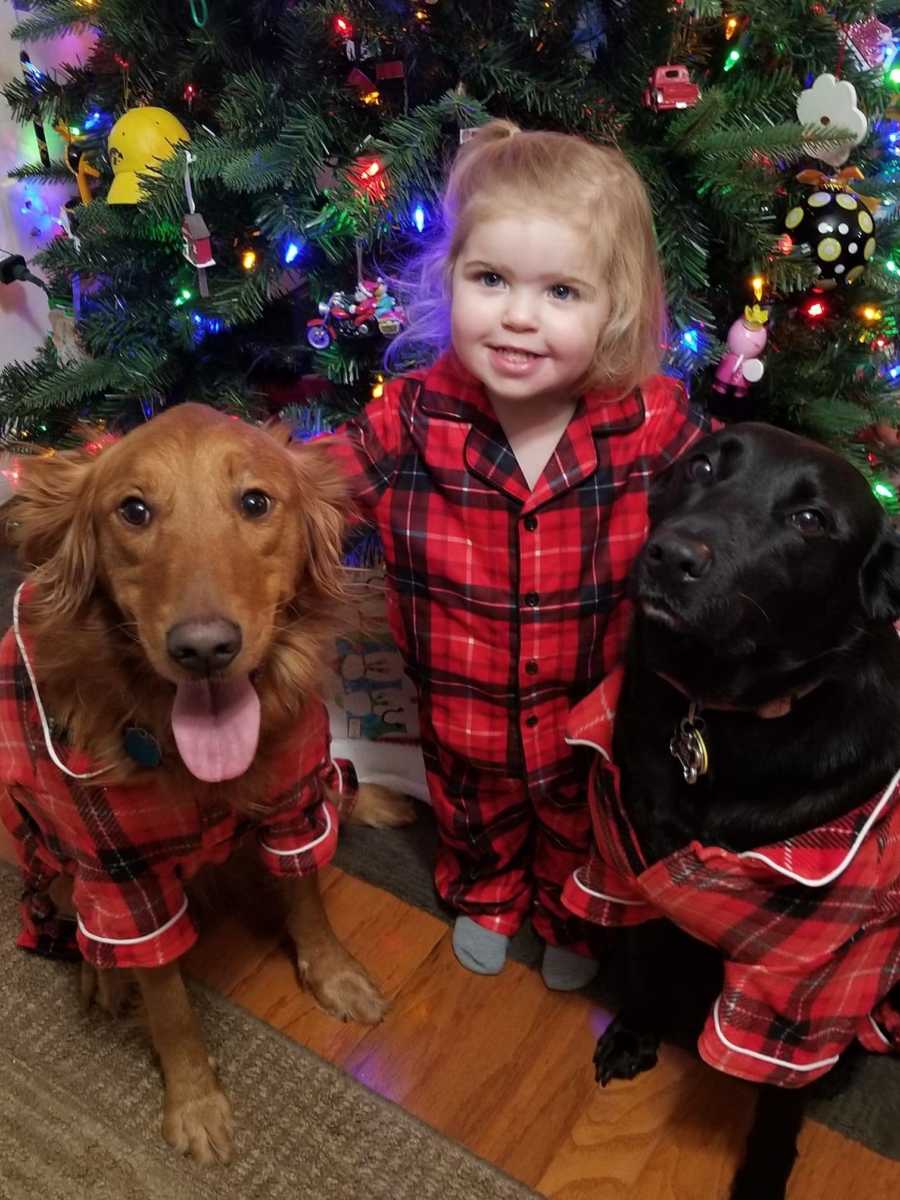 At this point I continued to feel that this pregnancy was surreal and did not want to feel the heartbreak I felt before. I continued to have the pregnancy symptoms but did not want to be overly happy and jinx it. I reached out to Shannon with Seymour Flash Photography with the idea of taking a rainbow picture. She jumped right on board. I decided that each dress/picture was a milestone that I was blessed/thankful to have met. I kept this a secret from everyone else.
Weeks passed, we felt the baby for the first time, and it began to feel real. We announced to everyone else on Mother's Day. We were surrounded by well wishes and support.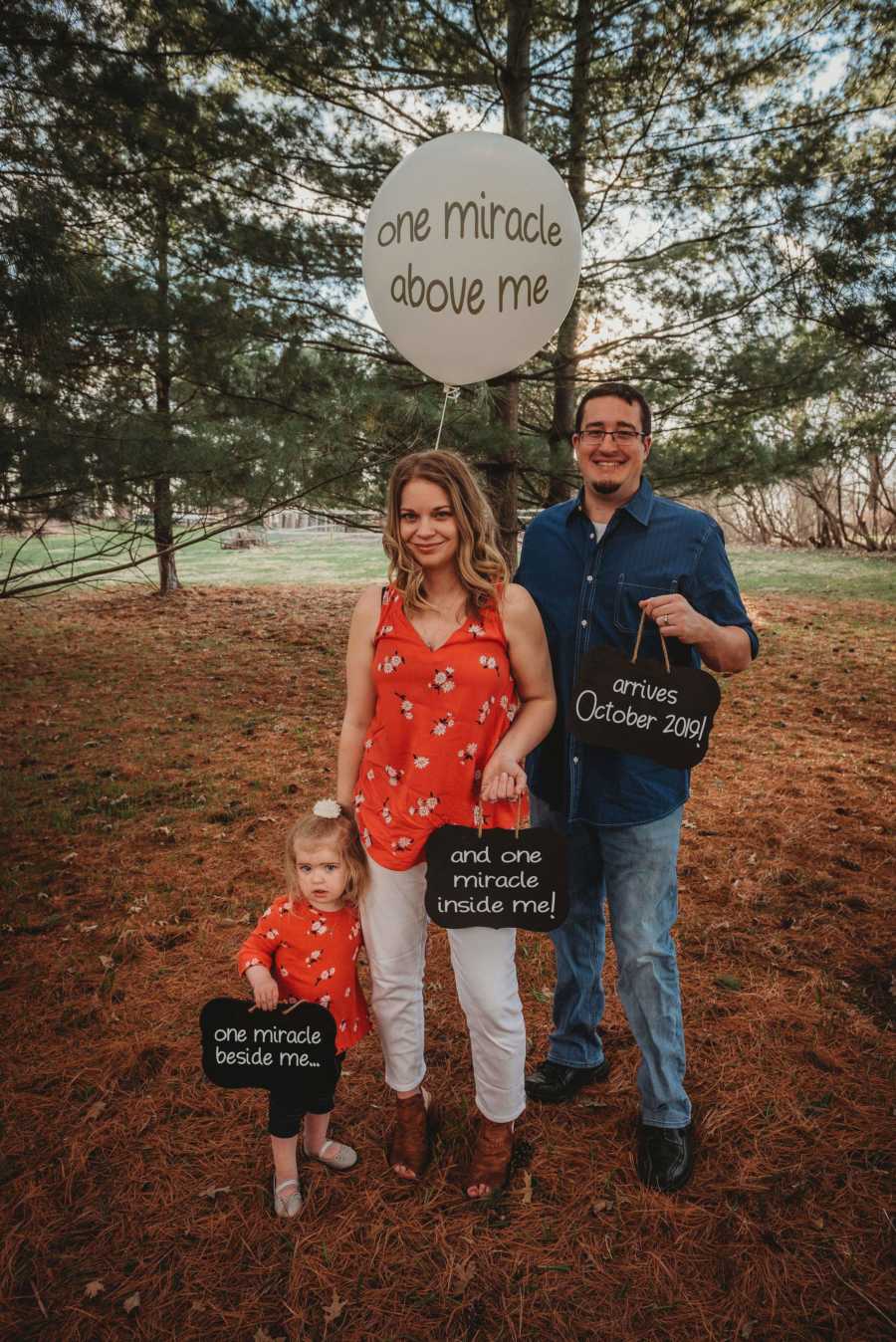 July 27th, we had Charlotte's 3rd birthday party and when I woke up, I was unable to walk without pain due to hemorrhoids. July 29th after seeing the surgeon in the clinic it was decided that I would need to go to surgery for a hemorrhoidectomy. This terrified me. We had made it to 28 weeks and now I had to have anesthesia. I called my husband and he came right to the hospital. He had watched me go through so many procedures/surgeries and we were about to add another to the list. Baby's heart rate was monitored before and for 30 minutes after the surgery. We both did well and were sent home shortly after. Working in healthcare, I thought I could be tough and not take much for the pain. I did not want to take medications that myself/baby would become addicted to. Yeah, I was wrong – not near as strong as I thought. Tramadol did not touch the pain, Lortab made me feel funny and lidocaine gel was pointless. I called my OB doc and pleaded to have ibuprofen and she allowed me to take it. It worked wonders but I spent the rest of the week in bed, on the couch or in the bathtub with my husband and Charlotte caring for me. While writing this, tears flood my eyes. Charlotte sat next to the bathtub and we shared blue raspberry Jell-O. Over the next few weeks every time I went to the bathroom she would ask, 'Does your butt hurt? Do you need to take a bath? I can eat Jell-O with you.' She is one of the most caring, sweet, loving and smartest 3-year-olds that I have met. God had a plan when he blessed us with her.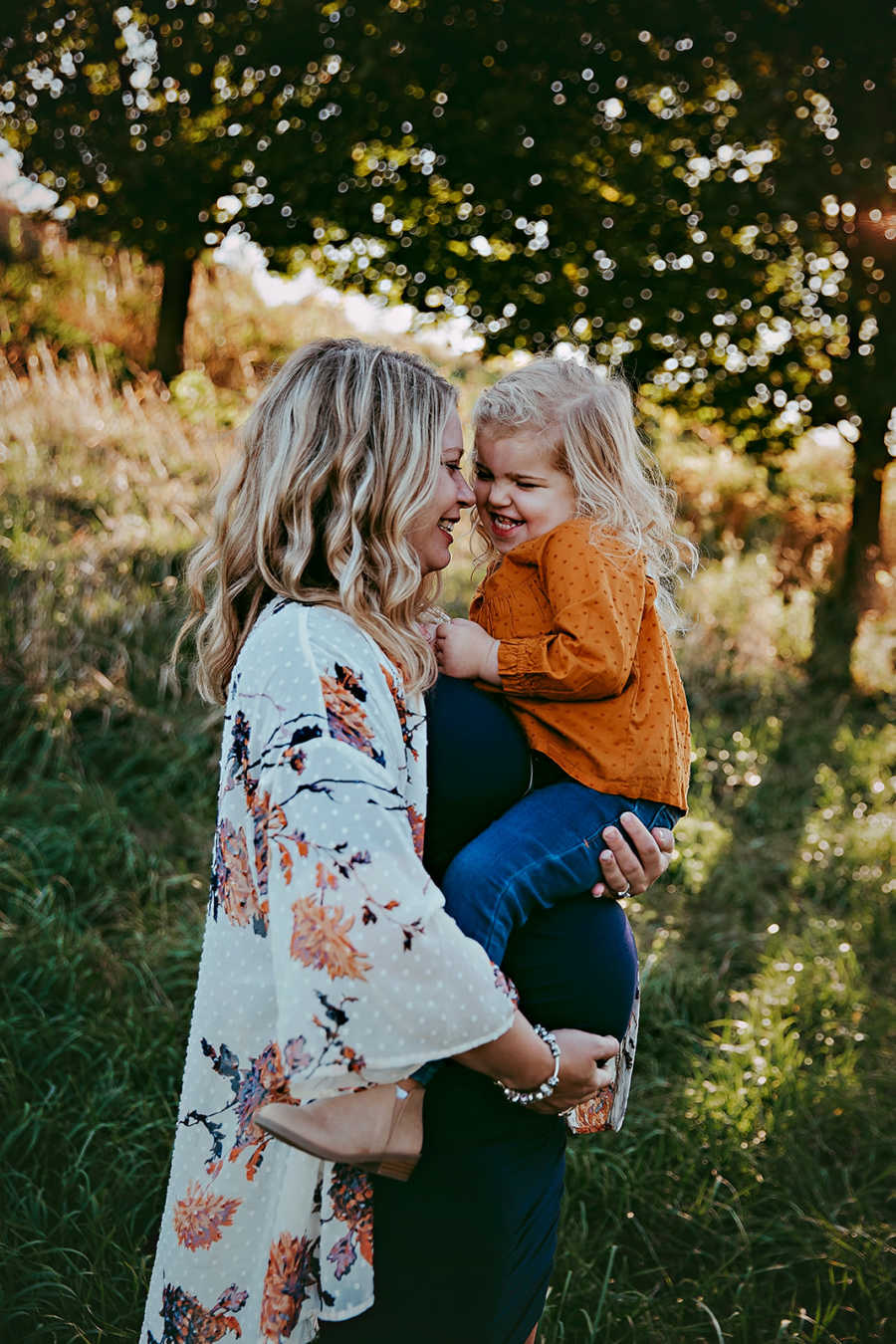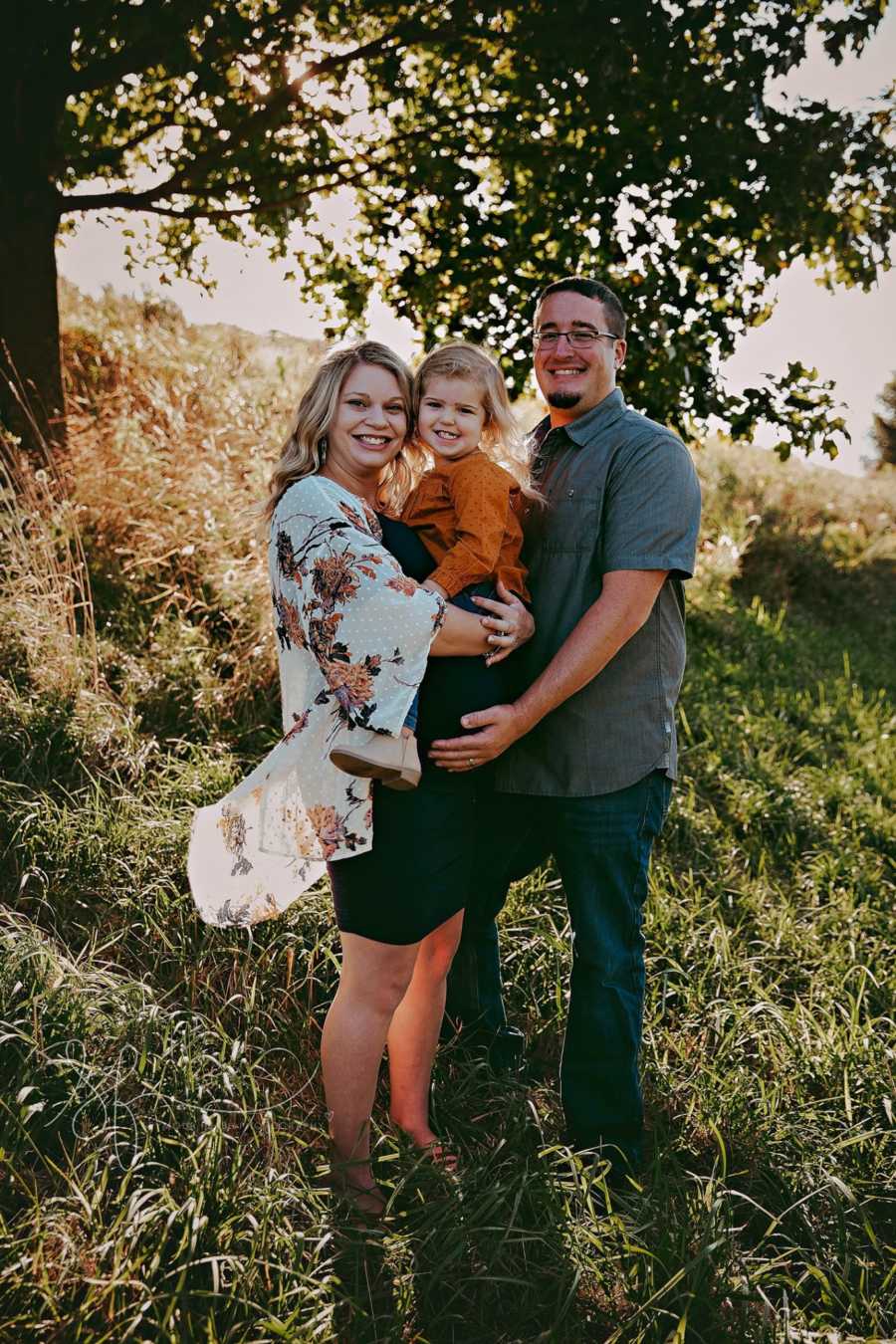 October 17th our due date came and went. Finally, on the evening of 10/22 I began to have irregular contractions. We went to the hospital at 1:30 a.m. Again, having faced heartache in the past and working in healthcare I was still anxious, terrified and praying lots. At 7:32 a.m. on 10/23/2019, our angel baby made her entrance. At 40 weeks 6 days – she was 9 pounds and 9 ounces. While delivering I had a mirror to watch and could see the doctor unwrapping the cord from around her. Finally, it was announced that we had a girl, her cord was cut, and she was laid on my chest.
'Thank God, she is healthy and finally in my arms,' was all I could think.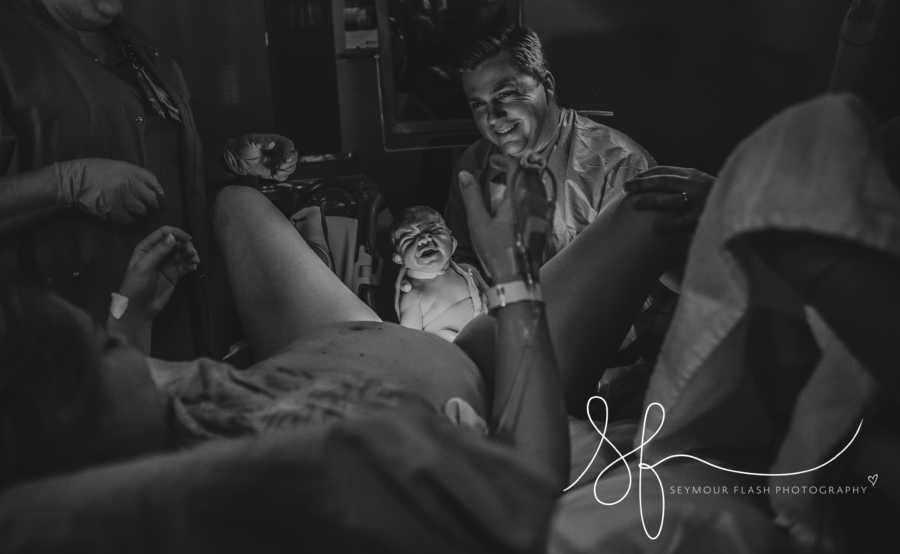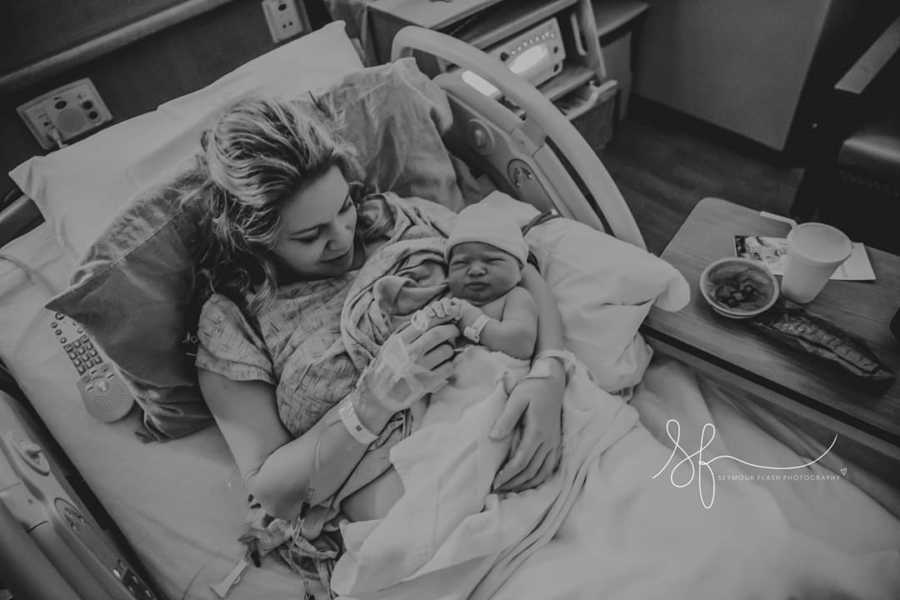 I would be lying if I told you that I was 'okay' at that moment – I wasn't. I was still sure something bad was going to happen. But guess what, as I write this, my 3-year-old is sitting next to me and my 6-week-old is resting peacefully by us.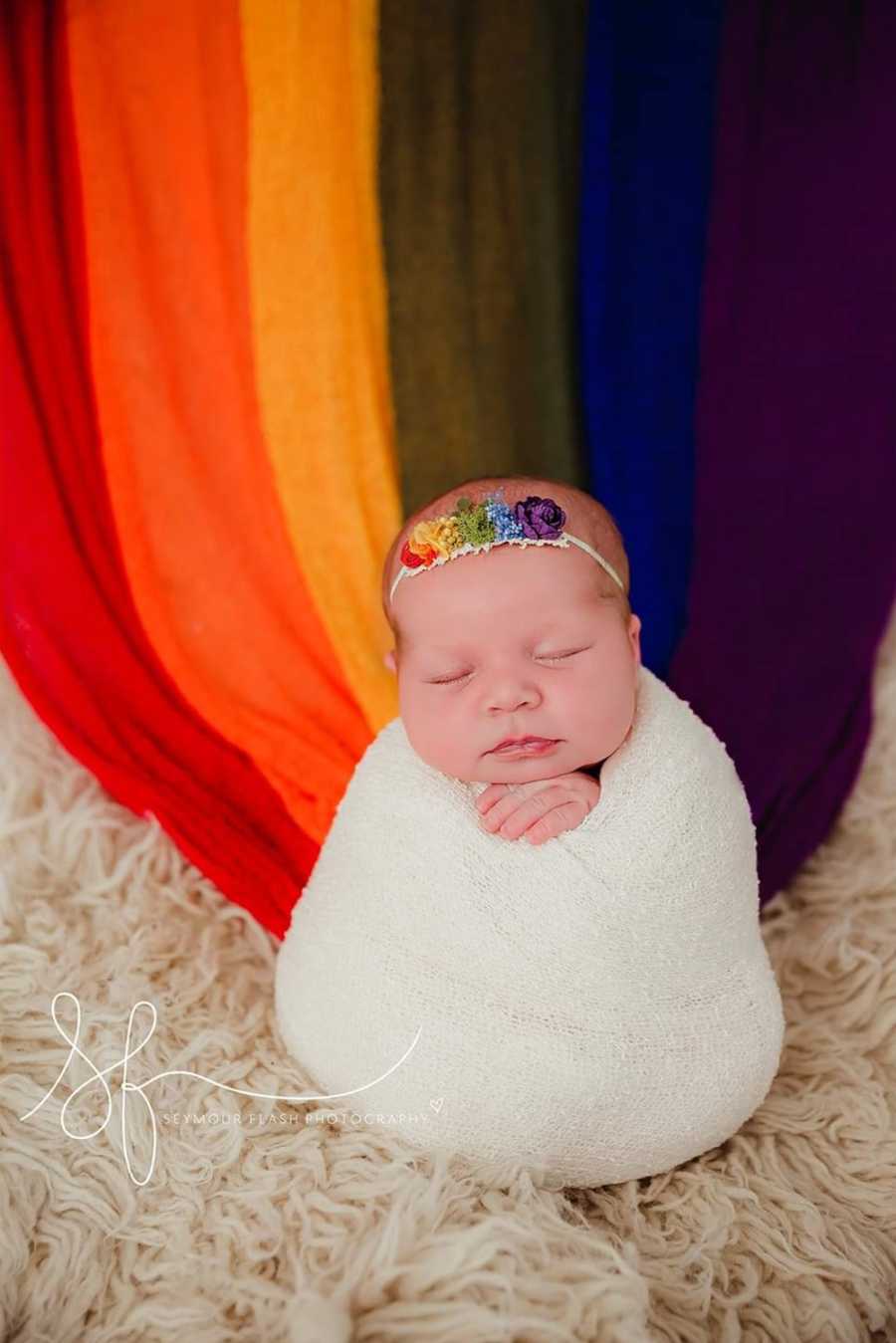 One of the hardest questions I get asked is, 'How many kids do you have?' In my heart we have 3 children, but do I owe an explanation to everyone who asks? I have learned to open up to those who care and share our story with them. We celebrate our Angel Baby every chance that we get.
During our journey I have doubted everything. I had never felt so alone when surrounded by so many. Once I started talking about our miscarriage and rainbow pregnancy, others started opening up and it felt so uplifting. I lost touch with my faith – felt sick to my stomach every time there was a baptism at church – cried at every pregnancy announcement and everywhere I looked, someone was pregnant. After many nights of praying and remembering what I had already been blessed with, I was able to return to faith/God. I fully know and believe that we had Charlotte first as there were many days when she is what got me through the hard moments. We continue to pray every night for those who are trying to get pregnant, those who have suffered losses and for those who are currently expecting. We also thank God every night for our Angel Baby that watches over us. This is not a journey that I wish on anyone else, but it is our Journey and has made us stronger and the family we are today."
From podcasts to video shows, parenting resources to happy tears – join the Love What Matters community and subscribe on YouTube.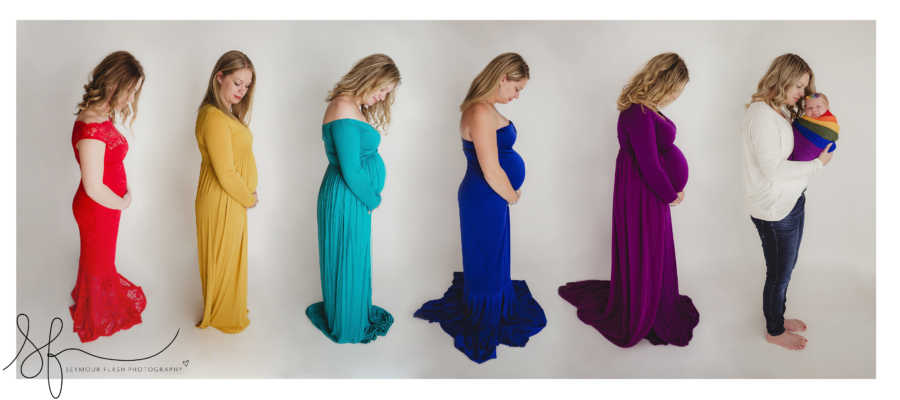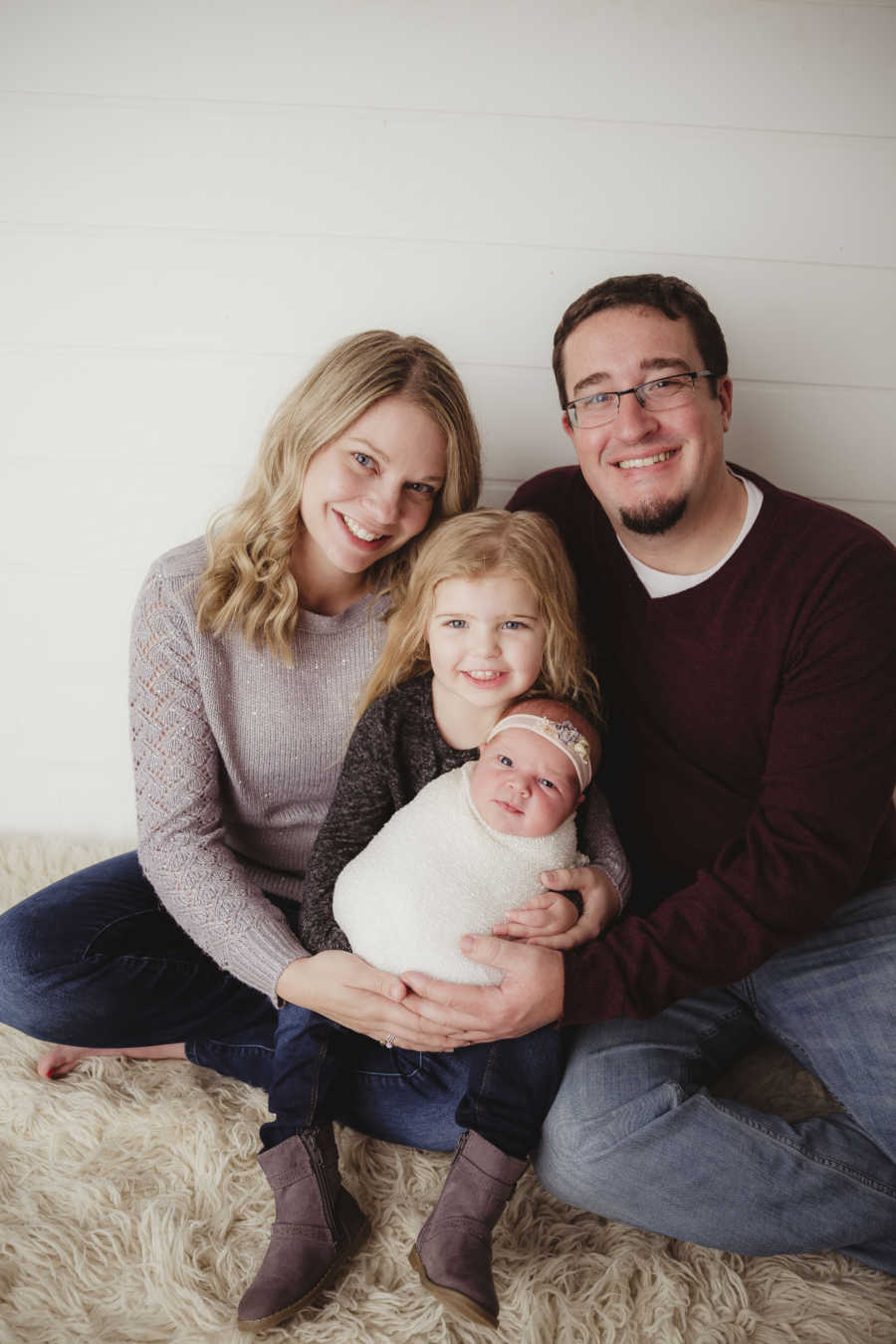 This story was submitted to Love What Matters by Amber Kemp. Do you have a similar experience? We'd like to hear your important journey. Submit your own story here. Be sure to subscribe to our free email newsletter for our best stories, and YouTube for our best videos.
Read more powerful stories like this:
'In a Waffle House bathroom, I wiped. Bright red blood. Stunned, 'Oh my God, this can't be happening again.': Couple suffers 5 miscarriages to finally welcome surprise rainbow baby, 'All 9 of my children are and were a gift from God'
'After 6 miscarriages, 9 IVF transfers, 15 embryos, and 5 egg retrievals, my best friend offered to be our surrogate.': Couple take home 'rainbow baby' after several years of battling infertility
'Ma'am there's been reports of gunshots.' The cops open the closet, we all stop. I see his legs.': Woman finds true love after abuse, miscarries, welcomes rainbow baby with man who 'rocked her world'
Do you know someone who could benefit from this story? Please SHARE to let them know a community of support is available.