Trigger Warning: This story contains mention of child loss that may be triggering to some.
"'I'm so sorry, there's no heartbeat.' That'll be a line that will stay with me for the rest of my life. Anyone who's had a difficult journey in their story of motherhood will know how unbearably frustrating it is when it seems the whole world wants to portray pregnancy as this seemingly, perfectly smooth ride. It's not until you've been through it, you realize what the harsh reality has been for so many and how every little milestone through pregnancy is HUGE when you've experienced loss previously.
Well, absolutely NOTHING could prepare me for what the universe had in store for us…
My journey started back in early 2019. Having been with my boyfriend for nearly 10 years, we were both absolutely elated to find out we were expecting our first child.
For anyone who's experienced the same, you'll know from the moment that fate sealed stick speaks to you, your whole life has changed. You feel different, you act differently. I felt I moved and looked different. My whole thought process was immediately different. There was someone else always with me now who needed me, and from that second, I needed them too. It was instant.
As the weeks passed, I had started experiencing signs that something wasn't right and after multiple scans and hospital visits, we were dealt the devastating news that our dreams were over. I can honestly say, never in my wildest dreams did I expect to be in that position. It was as never something that had even crossed my mind and immediately, I was now entering a supposedly 'secret' club I would never wish to be part of.
During this traumatic time, I didn't really know how to deal with and process the situation. I didn't have anyone close to me to speak to who I felt could fully relate, and I found myself desperately seeking something to fuel my focus on.
'Let's get married!' A decision we both felt would be a welcomed distraction as we had originally planned to wed the following year, so what would be the harm in bringing it forward and trying to mask the pain with a positive celebration? The truth is, it was the worst decision we could have made. I absolutely threw my heart and soul into trying to plan an entire wedding myself in less than 3 months, whilst also battling with the aftermath of our loss. I was fixed on this idea of perfection and how everything had to be absolutely spot-on, as I felt I desperately needed to give something back to our family and friends after feeling I had taken away the joy of us having a baby. I really did feel like I was to blame and the wedding was my deluded way to make it all better.
Long story short, the wedding did not go to plan at all. I had completely and utterly run myself into exhaustion and in scrambling to block out any thought or emotion relating to our loss, I actually made myself incredibly ill. It was such a suffocating time when I look back, as everyone expects you to be in this happy newlywed bubble, but I didn't feel like that at all. If I could have erased the whole day and waited until we were both in a better place, I would do that in a heartbeat. After spending several months attempting to sweep everything under the carpet, it was there and even more difficult to deal with once the wedding mayhem was over.
As the months passed, life was quite difficult to be totally honest. Everyone around me seemed to be having babies and everything was just a painful reminder of what we didn't have. At times, I could feel what had always been a strong and loving relationship slowly drift apart as we both tried to meander down our own different pathways of overcoming grief.
Then nearly a year on to the first time, I found myself in the bathroom peering down onto that familiar stick again. There it was. That blue line that would be the change and the step to giving us both our happiness back. For anyone who's been through it, you'll understand that explosion of emotion that comes with finding out you're expected again after a loss. That feeling of not feeling able to fully believe it's going to happen. That feeling of pure crippling fear that history will repeat itself. The feeling of guilt for finding yourself feeling bursts of excitement, then having to calm yourself down because the reality is, this baby might just not stay too.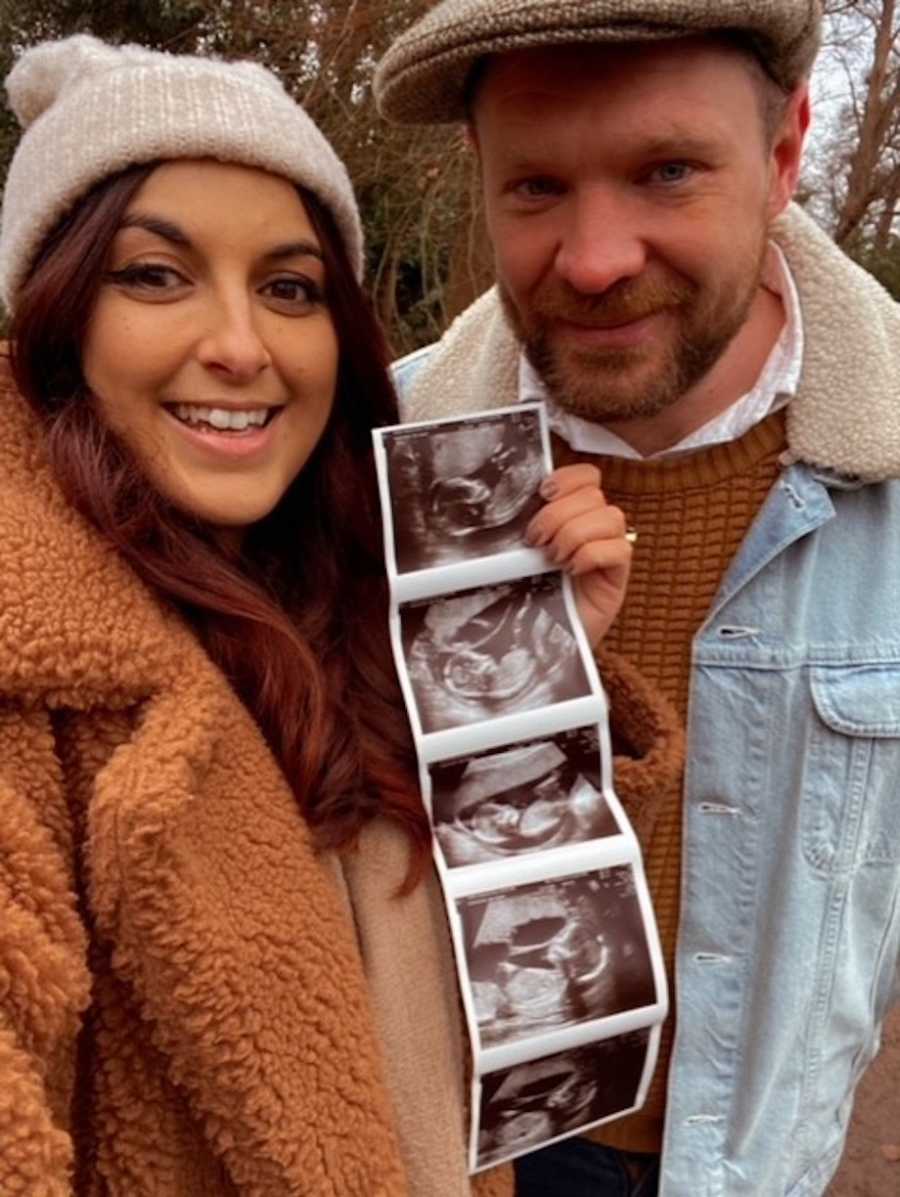 Heartbreakingly, that constant thought and fear were right. Almost a year to the day, we lost our second baby and for me, that was when my life really did start to unravel.
Living so unhappily for such a long period of time and having to put a brave face on for the world will only last for a period of time before it has a huge impact on almost every aspect of your life. Mentally, I found myself in the darkest place I had ever been. I closed myself off from the world, avoided as many people as I possibly could, found I'd lost every part of enjoyment in my life and honestly just didn't see the point anymore.
I've always used my Instagram platform to be open and honest about my life and wanted to share the highs and the lows and it actually brought great comfort to me to be able to speak openly to the community I have on there. It was as if thousands of these virtual arms all wrapped me up and lifted me up on days I could barely lift my head from the pillow. For some strange reason, I found it so much easier to speak to camera than I did to speak to loved ones in person.
To hear from so many others in my position and people who could genuinely relate was like a huge wave of love rushing over me, and it made me feel even more passionate about speaking out about something that so many of us are expected to deal with in silence. There simply is not enough support out there for families going through the devastation that fertility issues and loss can leave behind.
One morning 6 months later, I awoke and just remember feeling like THIS was it. This was my time now for me to finally regain control of my life. For me to finally get the old me back. I desperately missed my friends, family, just my whole thirst for the 'get up and go' mantra I'd always lived like. I desperately wanted my old self back and to feel the energy and excitement of everyday life just rushing through my veins again. It was on that day I eventually found it in me to reach out for help and I can honestly say it changed my life.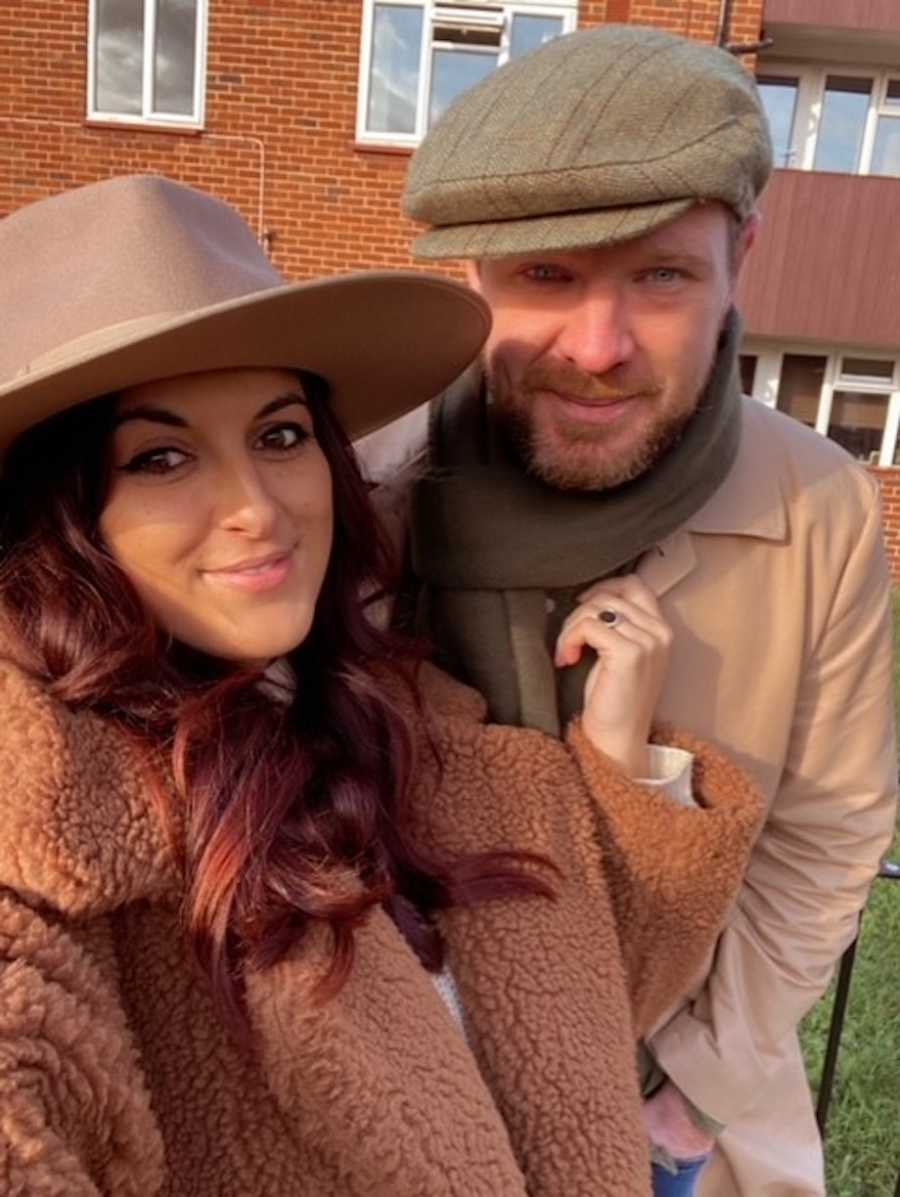 After endless searching, I came across a charity that offers support and grief counseling to those who have experienced loss within pregnancy or motherhood. Immediately, having this lifeline of support and a listening ear lifted the immense feeling of weight I had felt was crushing my shoulders for the last year and a half.
During these months of intense sessions, I could slowly start to see the light again. Sure, there were days I wanted to still curl up in a ball and cry, but I felt so much better equipped for accepting myself and knowing how to deal with situations without constantly wanting to blame myself. It was during this period I decided to make huge changes to my lifestyle too. I wanted to start fuelling my body again with goodness and really taking the time to look after myself, which in return, helped massively in my journey of battling depression. That's something I will forever feel proud of myself for.
A week before my very last therapy session, I started to feel familiar feelings again. My boobs were sore, I lacked energy and I felt like I was constantly tired… surely this can't be?! I tried my hardest to put off doing a test until one day I just couldn't hold off any longer. Seven tests later, and that line couldn't have been more prominent if it had been drawn on with the world's thickest marker pen.
Sadly, there were no celebration hugs. No jumping up and down together in the bathroom, no bursts of excitement. If anything, it was like the whole world fell silent and the only noise was the sound of our tears as they fell. The sheer wave of panic just engulfs you again and that is the sad reality for many with pregnancy after loss. You really are robbed of that whole joyful experience, immediately your mind just begins to prepare for the worst, plus there was also the worry I had only just freed myself from such a dark place and was finally getting back on track—would I be able to survive this happening yet again??
This time around, we just decided to do things completely differently and keep our news to ourselves. We had repaired so much within our relationship over the last year, it finally felt like we were back to our best. As long as we had each other, we really could get through anything the world wanted to throw at us.
A week before our first scan, my heart broke into a million pieces when I found blood again. I had never suffered from panic attacks or anxiety prior to our losses, but this was something I had been desperately trying to overcome. Seeing that sight was just like the trap door opened again below me, and the black hole was getting ready to pull me down again. I spent that week before our scan just attempting to program my mind this pregnancy didn't exist, I wasn't attached, it was all just a dream, and in a few weeks, life would resume to the normality of it just being the two of us.
'I'm sorry, I really don't know how to tell you this.' The doctor's hand shook as she twisted the monitor screen in our direction. I had gone into the appointment already having had a panic attack and was uncontrollably sobbing before I'd even made it to the bed. I just couldn't bear being back in the scan room or having to go through this again.
'Someone up there really is looking down on you. Someone up there really wants you to be a mum. There are THREE healthy heartbeats beating here.' Her voice quivered as she spoke.
SORRY, WHAT?! That was the moment life changed forever. Both of us were in a pure state of shock, disbelief, confusion. We had gone into that appointment preparing ourselves to be told the same news again. Never in a MILLION years did we expect to have a healthy baby waiting for us, let alone THREE.
It was at this point I also found out I had got my dates mixed up and had actually surpassed the first trimester, which for me was always the harrowing part of pregnancy. I had already made it over the first hurdle and had come further than ever before. Could this really be happening?!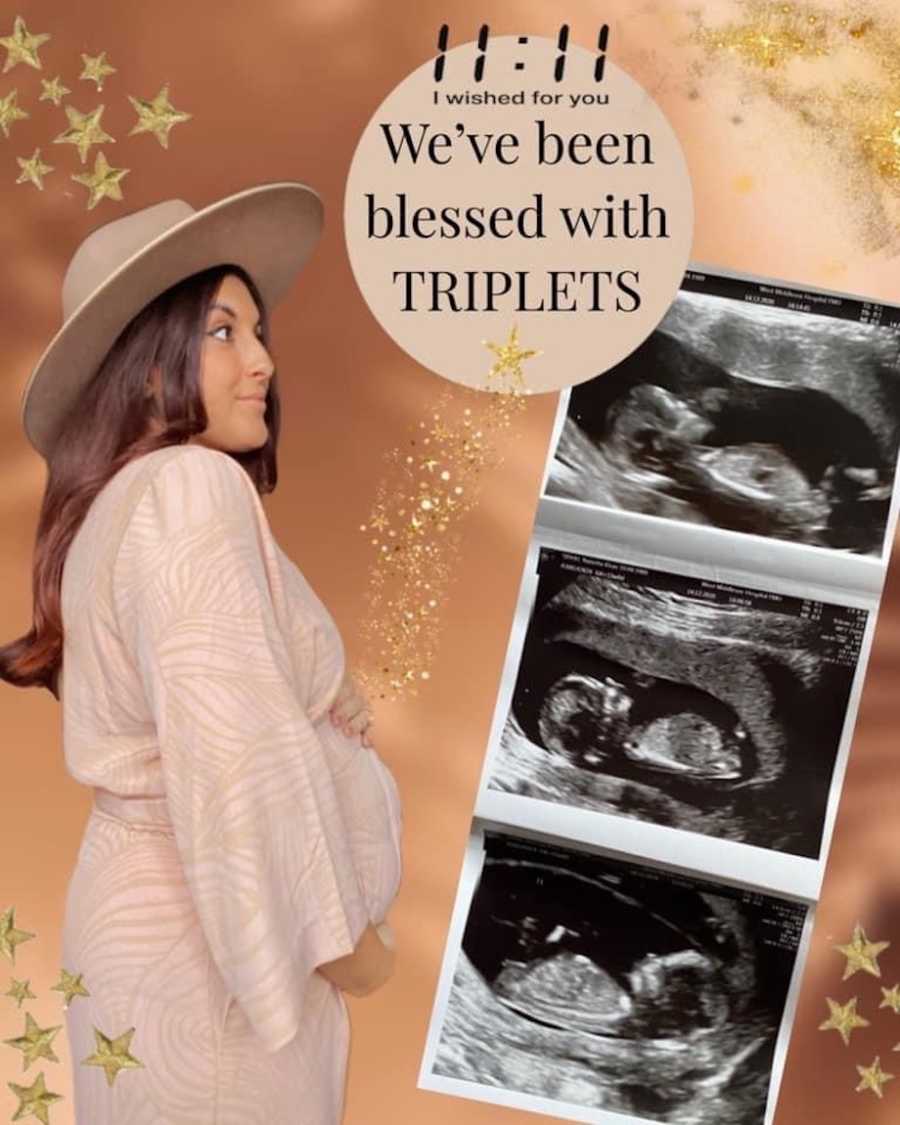 It wasn't until around week 16 I felt I could actually even acknowledge my already growing bump. For over a year and a half, I hadn't even been able to touch my stomach area in the shower or laying in bed as I always felt such disconnection to that part of my body, as if it had completely failed me. As the weeks went passed, there was no hiding this rounded bump and for the very first time, I felt able to tenderly rest my hand on my tummy and connect with the bundle of life that was growing inside of me. Every day, fighting with thoughts in my head this would all be taken away from me too.
For me, scans have always been the part I struggle with the most. I'm secretly envious of those who go into those appointments with pure excitement and joy. I wish I could share that experience too, but sadly, my reality is usually endless tears, a panic attack, and clenching my eyes shut for the duration, praying for it to all be over and never really being able to face seeing the babies on the screen. This part of our pregnancy I have struggled with the most as like many others have. I've had to attend most scans on my own. I've found this exceptionally difficult as I'm having to be monitored so often this is usually weekly and each scan can take about an hour and a half and a LOT of information to process on my own.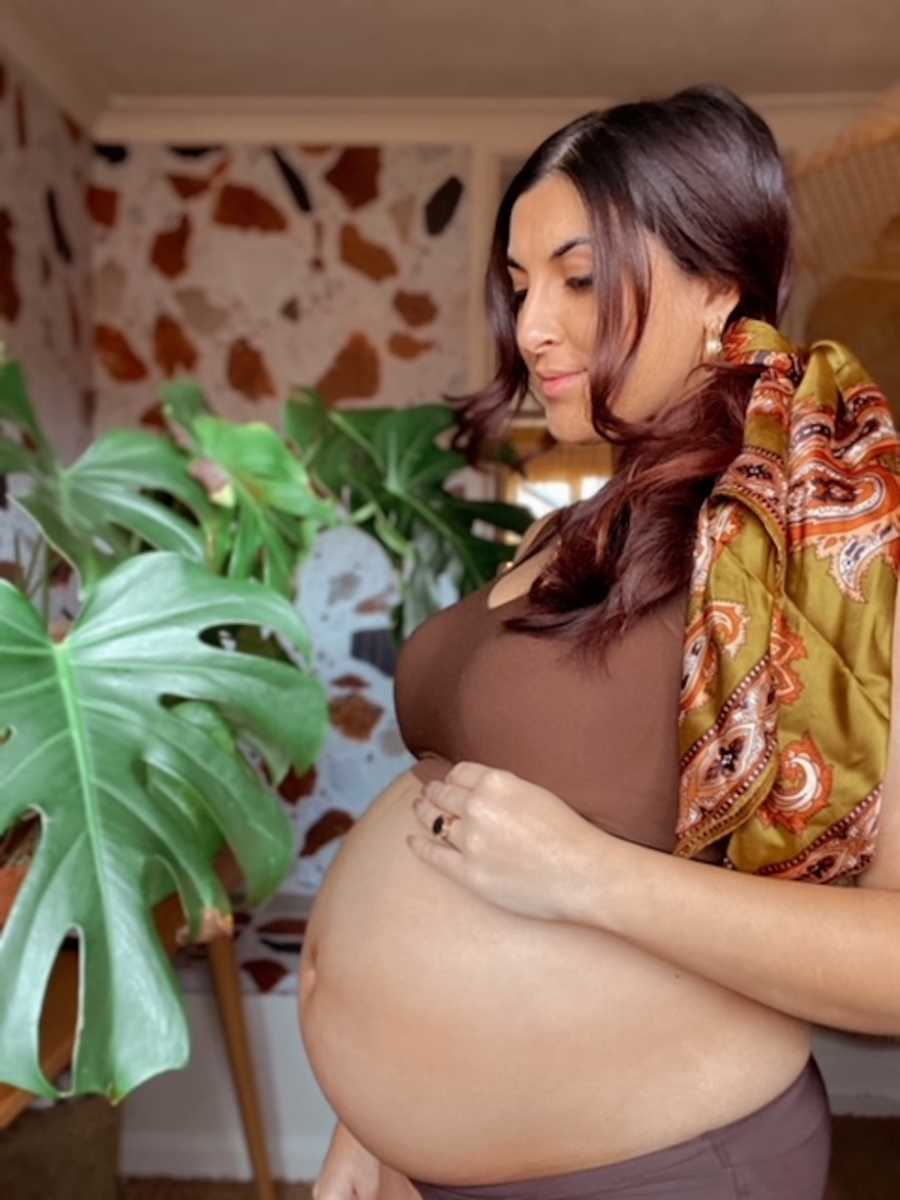 My heart really does go out to the partners who, if they're anything like my husband, have felt absolutely helpless anxiously waiting outside in the car to hear what's going on. Having such a special experience taken away from them, too.
Each week is an incredible milestone when it comes to multiple pregnancies. There are so many huge risks and factors that come with carrying triplets, and it's been absolutely overwhelming to try to understand and process it all. Pregnancy after loss is a journey in itself, then add in being in such a high-risk pregnancy category due to expecting TRIPLETS, then add in a worldwide pandemic, and it's safe to say this is an experience I will never ever forget.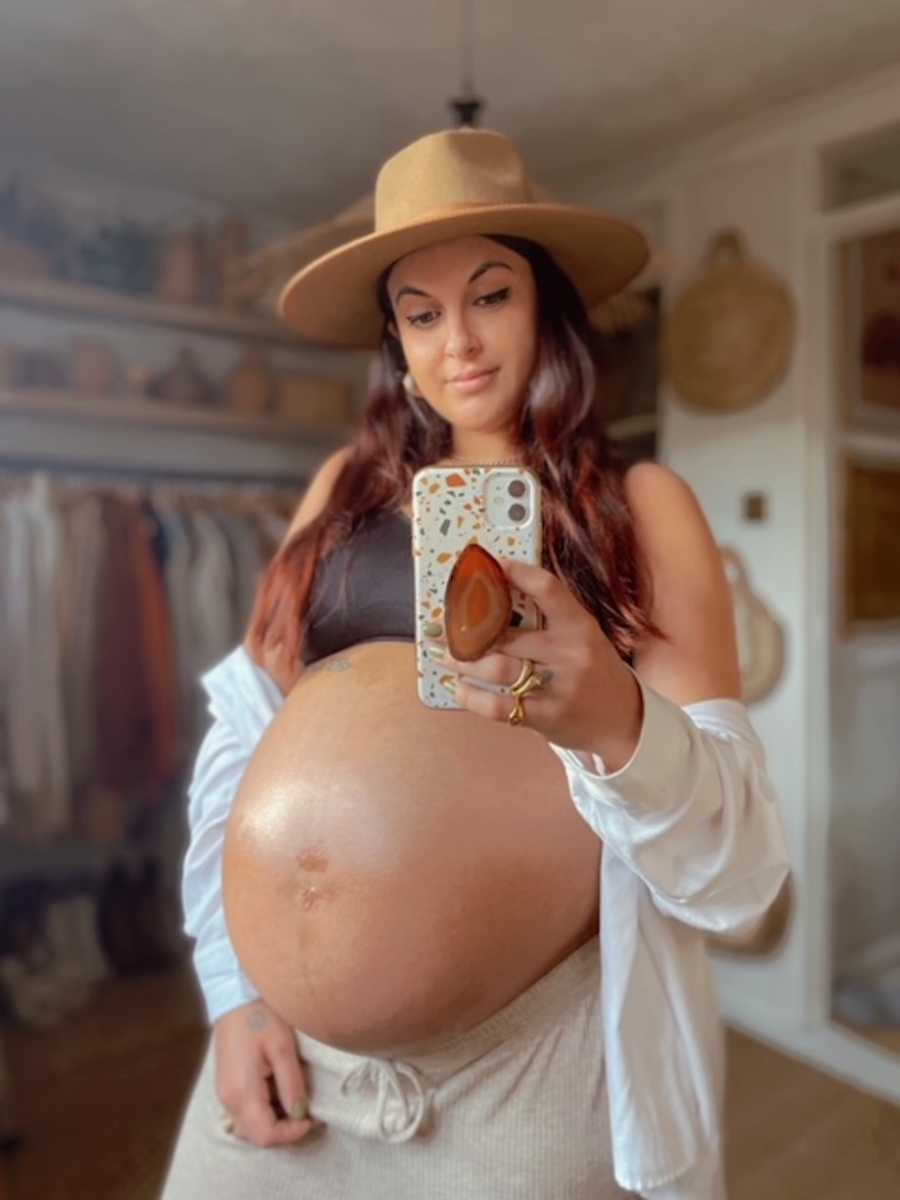 I truly now can say I feel absolutely blessed to have been chosen to experience this unique, whirlwind of a journey. It felt completely surreal to be building a cot, being able to shop for baby clothes, and even feeling able to discuss baby names. We went through so many highs and lows with this pregnancy and I prayed every single day I would eventually get to have a baby (now babies!) to take home with us.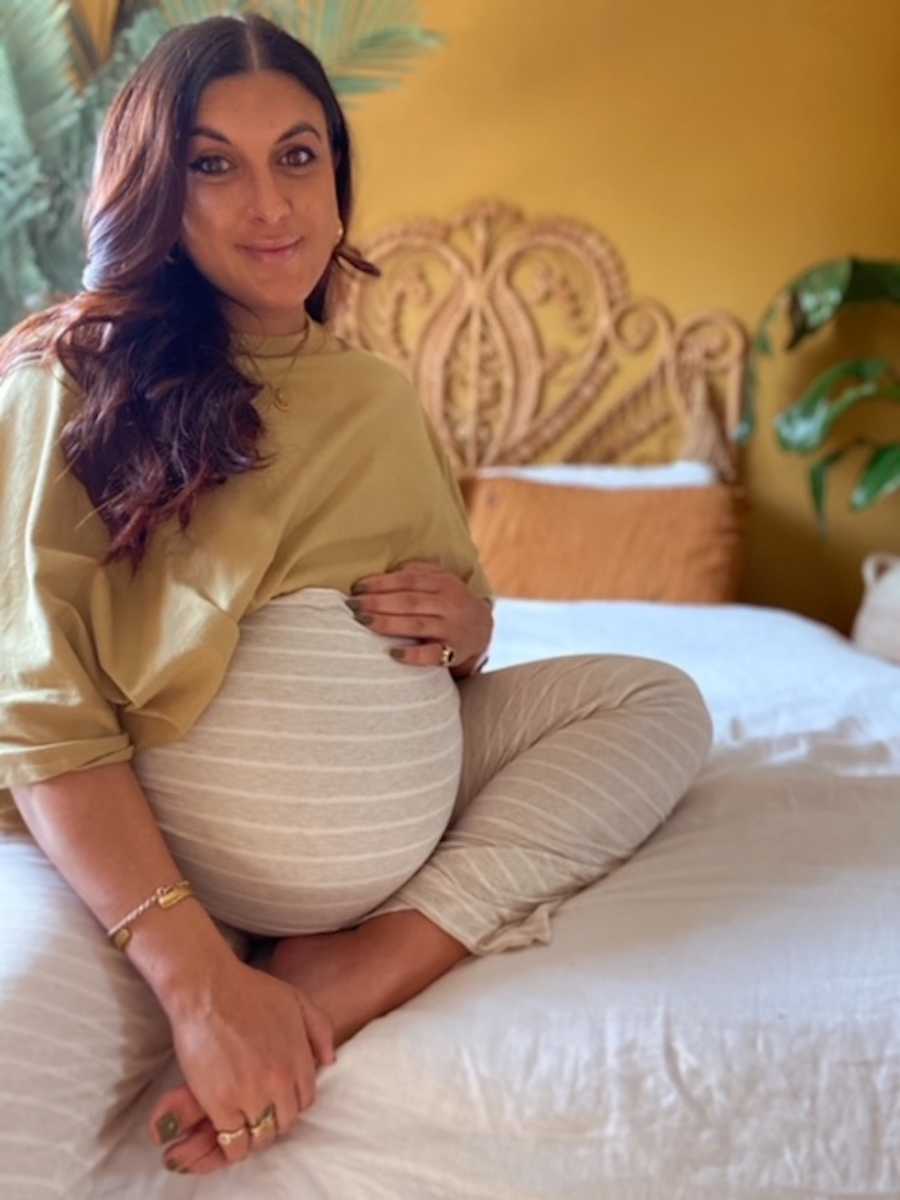 On May 5 2021 at 10:10 a.m. and at 33 weeks of pregnancy, our lives changed forever. After a stressful delivery, our miracle babies finally joined us earthside and showed us that love at first sight really does exist.
Our very own rainbow babies, ours to keep forever… please meet Onyx, Maddox, and Quinn. More perfect than we could have ever imagined.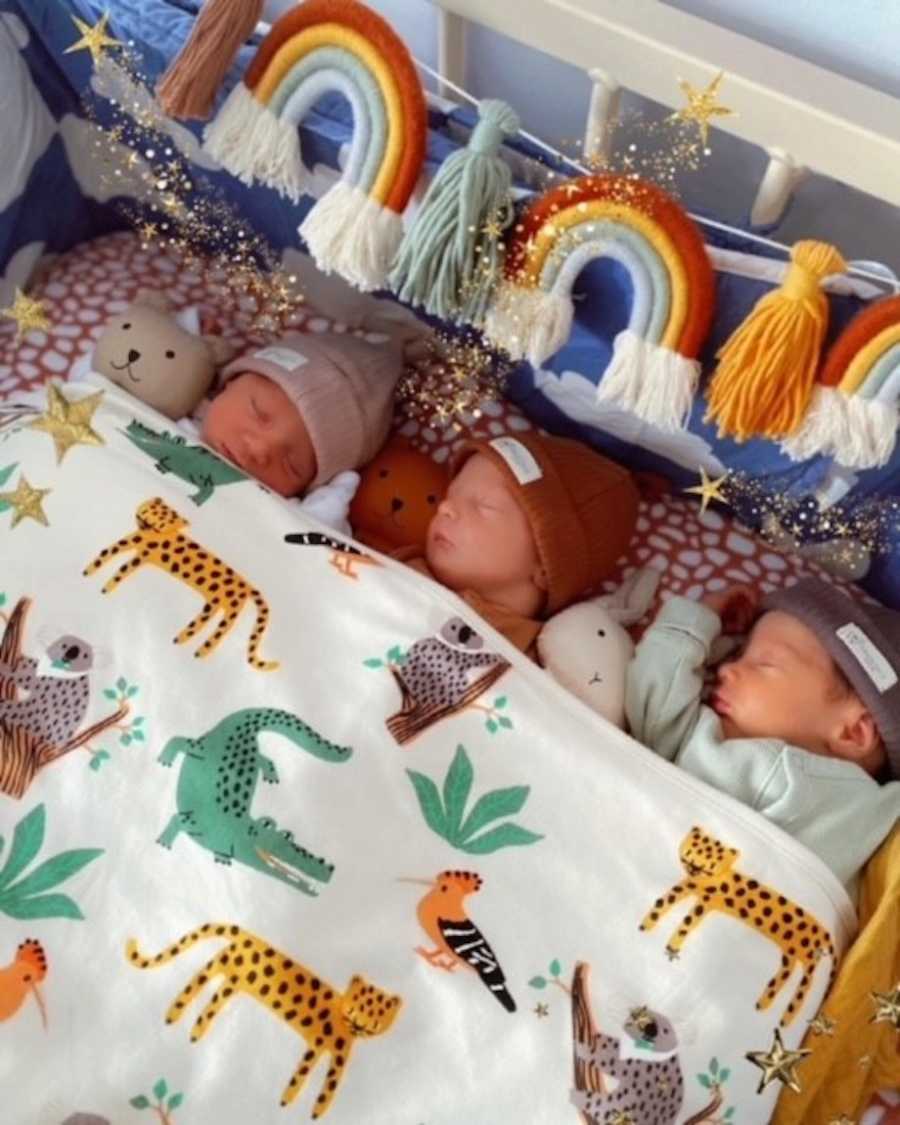 We had fully prepared for a lengthy NICU stay as our girls were due to be born so early and to this day, we and all the hospital team are in absolute disbelief they only required 24 hours in the neonatal intensive care unit. All babies came out fully breathing on their own and incredibly, only one baby required any additional oxygen support. This is usually completely unheard of when it comes to triplet births! They really are real-life miracles.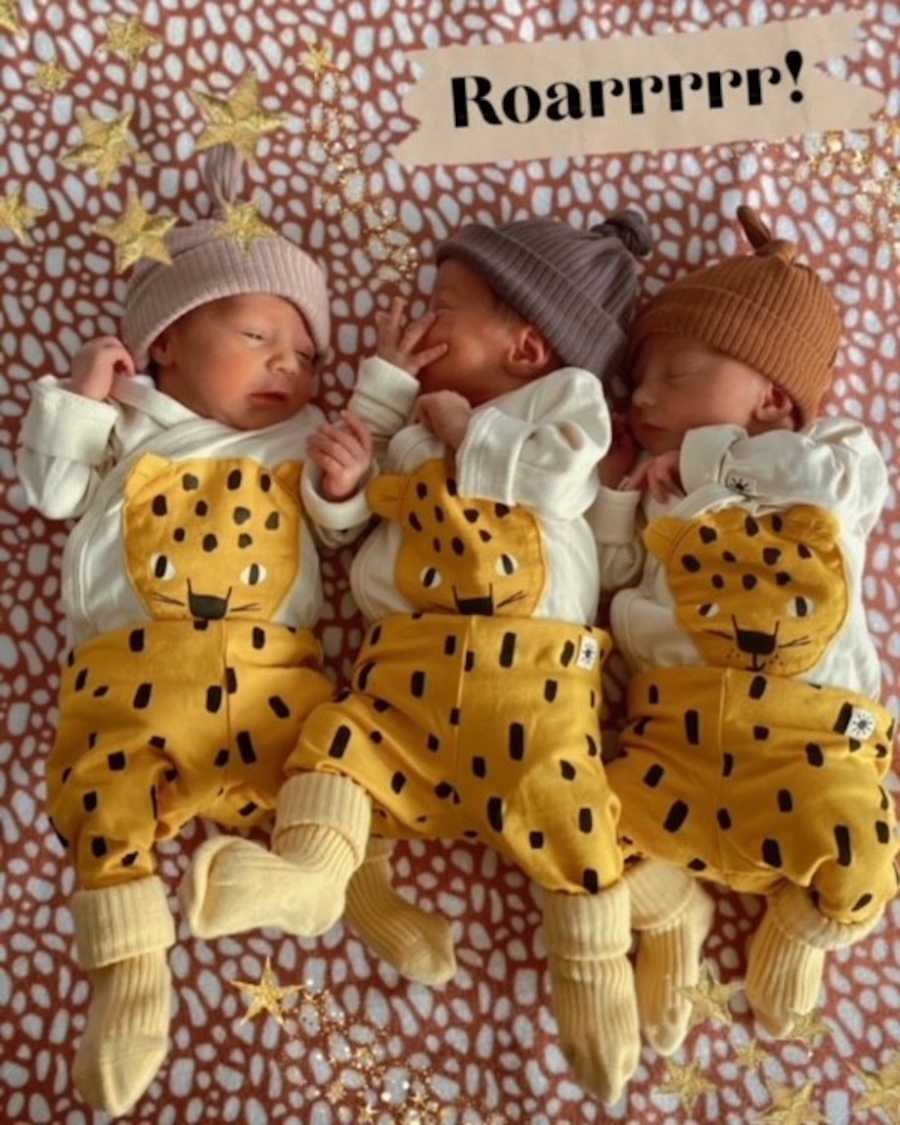 It still feels like a dream, but we recently celebrated our little ladies' first month. Looking back at our journey, I still have to pinch myself this blessing and once a lifelong dream is now, in actual fact, our everyday reality.
After experiencing loss and finding the overwhelming sense of heartbreak and grief almost unbearable to deal with, I really do count every day as a blessing and will feel eternally grateful for this incredibly special gift we've been given.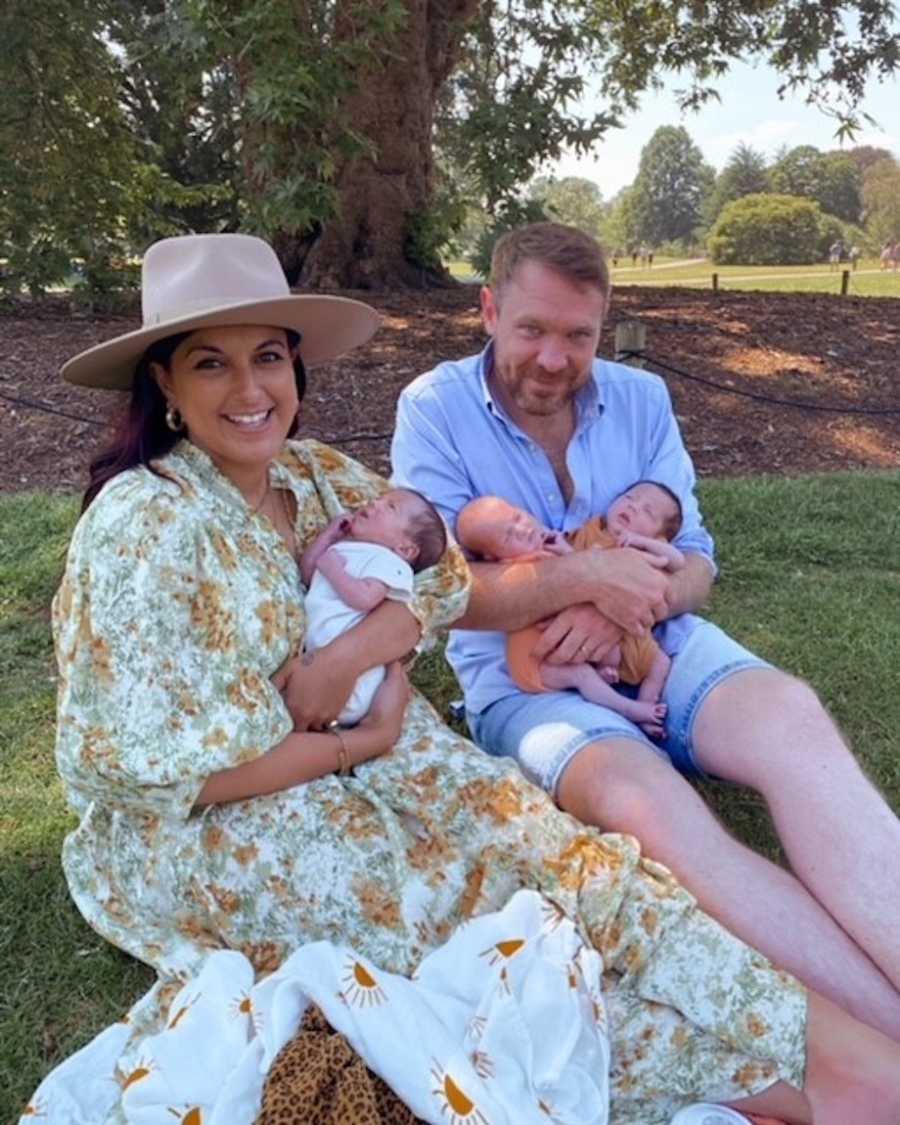 To our little ones flying high somewhere up there together that could not stay earthside with us, you've given us the greatest gift we will be eternally grateful for. Thank you. Your sisters will remind us of you every single day."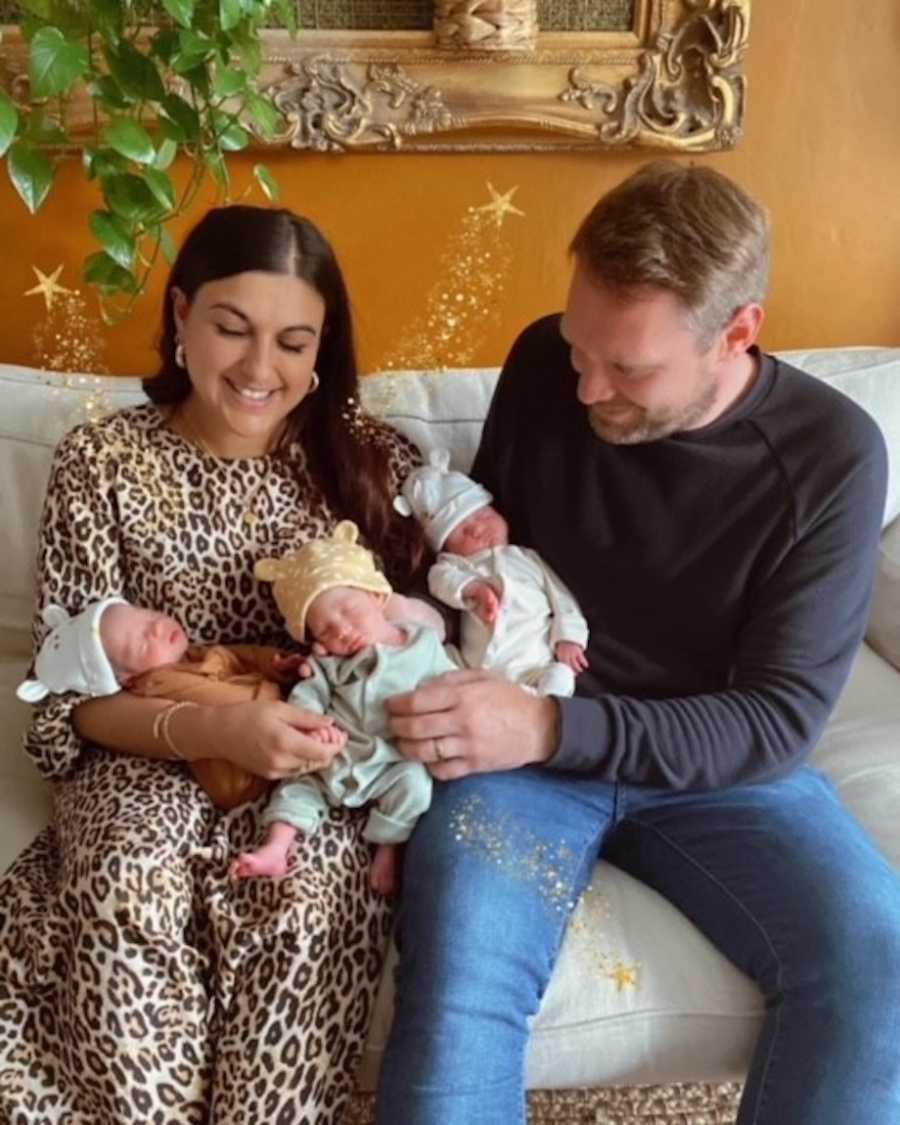 This story was submitted to Love What Matters by Natasha O'Grady from London. You can follow their journey on Instagram. Do you have a similar experience? We'd like to hear your important journey. Submit your own story here. Be sure to subscribe to our free email newsletter for our best stories, and YouTube for our best videos.
Read more stories like this here:
'Terminate one baby.' My weak heart couldn't handle triplets. But as a triplet myself, I wanted all three.': Triplet births triplets against all odds, delivers 3 'healthy, amazing little miracles'
'The tech lubed my belly. 'OMG. There are SO MANY!' My heart dropped. 'So many what?!': Mom births triplets after battling infertility, 'It's hard, but in the end it's all worth it!'
'The ultrasound tech got quiet. 'Are you here alone?' I was freaking out. 'This is what I see. Here's one, two, and three.' THREE BABIES!': Woman births miracle triplets after pregnancy losses
'She scanned my stomach. 'Congratulations, Mom and Dad! Oh, wait…' My heart sank. 'I see three here!': Couple has triplets, twins through embryo adoption, 'We're the lucky ones'
Help us show there is a community of support. SHARE this story on Facebook with your family and friends.