"I was named after my paternal grandmother. She always made it perfectly clear that she and I would not be referred to as 'little Mary' and 'big Mary' or 'old Mary' and 'young Mary'. Or 'junior Mary' and 'senior Mary'. When she took me to get my first library card, we had to issue them using our middle names to avoid confusion. Thus, she became referred to as Mary E. Warrior and I as Mary A. Warrior.
The first 10 years of my life were spent living a mere three-minute drive from Grandma's house. Needless to say, I spent a ridiculous amount of time with her. She babysat me and picked me up from school if I was sick. She taught me to do crossword puzzles in pen and to 'work around it' if the answers weren't coming to me. She taught me to bake and to sew on her 1949 cast-iron Singer sewing machine. We played mini-golf and went to library book sales every summer. She was, to put it mildly, my first best friend.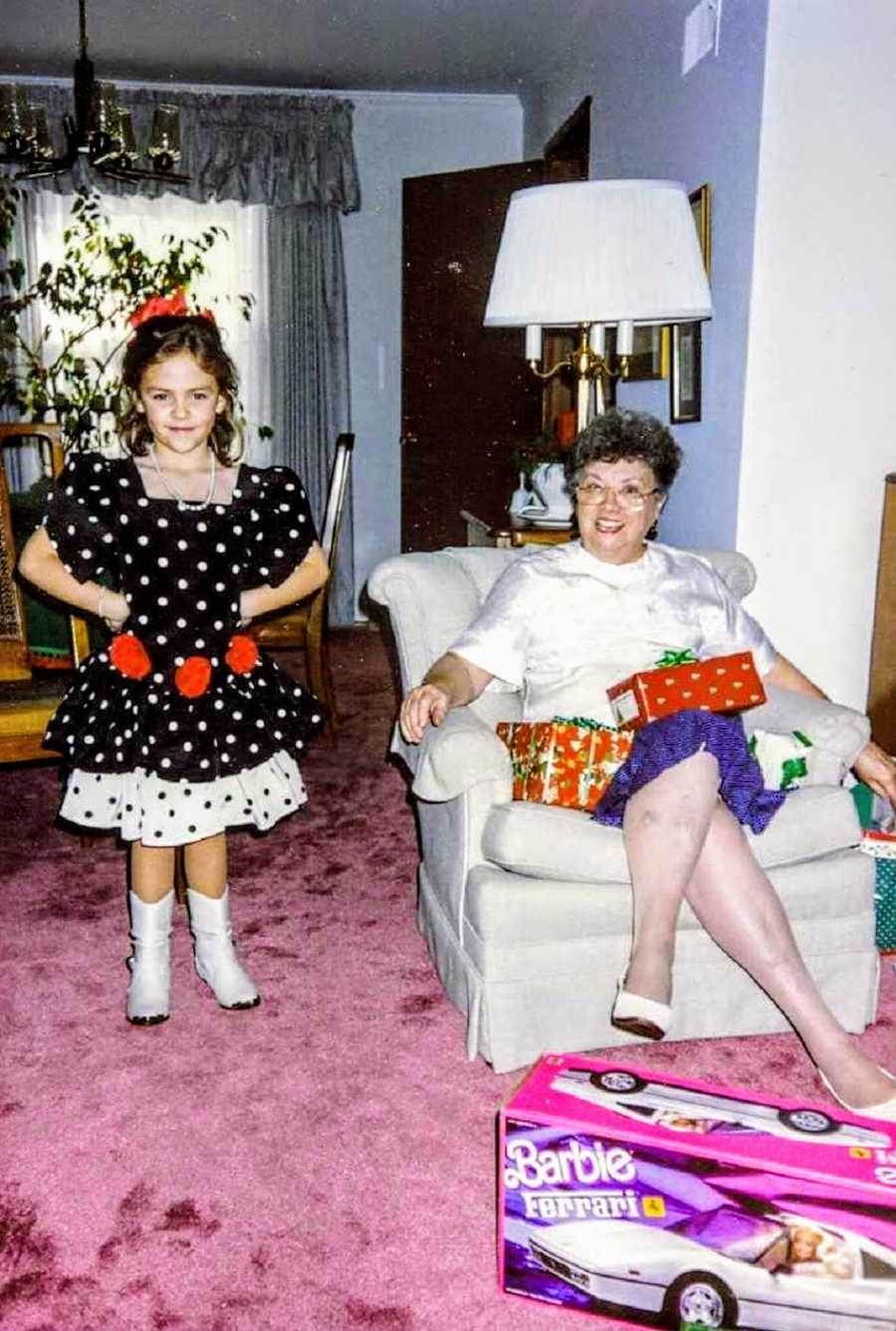 My cousin Lindsay and I are her only two grandchildren. While we didn't get away with quite everything at Grandma's, the sign reading 'kids get spoiled because you can't spank Grandma' that hung in her home was very accurate. One of my favorite memories with the three of us was the New Year's Eve night we spent with her. Somehow, we convinced her to let us drink cappuccinos. The kind that come in single serve packages like hot chocolate. (FYI, these are NEVER a good idea for pre-teens to be drinking after 7pm, or ever, really!) Later that evening, we talked her into letting us make confetti. You have to throw confetti at midnight, right? All Grandma could come up with was red and green tissue paper leftover from Christmas. So Linds and I proceeded to make an entire bowl of tiny pieces of tissue paper. Midnight came, tissue paper confetti was tossed ALL OVER the family room, hugs and kisses were shared, and eventually we went to bed. Whether we picked up the mess that night or the next morning, I don't recall. But I DO know that Grandma and the rest of us continued to find bits of tissue everywhere for years to come.
As Lindsay and I grew older, we inevitably made mistakes. And Grandma always had this way of shaking her head at you that was crushing when you realized you'd upset or hurt or, worst of all, disappointed her. But man, would she light up at our successes. My early adult years were a struggle, so I didn't have many of those 'winning' moments to share with my grandma. But I'll never forget the look on her face as my cousin graduated high school, college, and then received her master's degree. And I was there in June 2011 when my cousin told Grandma she was pregnant with her first great-grandchild. At the time, I didn't know how much that moment would mean to me.
In mid-August of 2011, we travelled to Iowa for Grandma's family reunion, held every other year. It's a very long weekend, but one we always looked forward to. Our branch is small (just grandma, dad, my mom, my aunt, my cousin, and me at the time), but the tree is HUGE!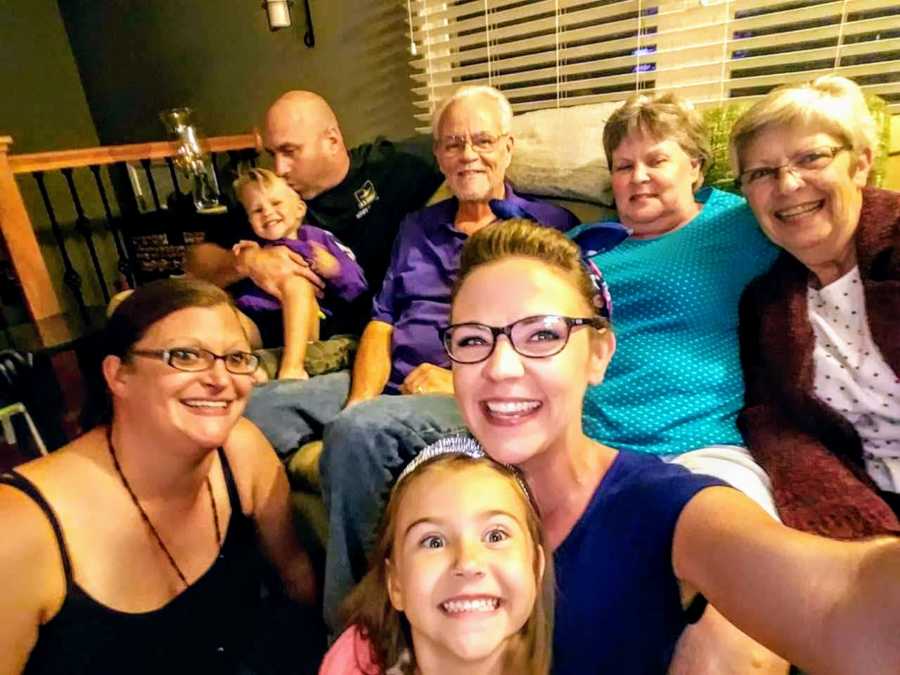 Grandma was one of 10 children, and my dad has over 30 cousins who have a pot load of children themselves. It's a fun-filled weekend full of stories to be told. Every reunion, we take family photos. Each branch in their matching colored shirts. The siblings, the cousins, and then the rest of us. That year, I remember looking at the dwindling group for the siblings photo. There were only 4 left. I knew the time was coming when they'd all be gone, and our time was coming quickly. Grandma was, after all, 91 that year. I just wish I had known how quickly it was coming.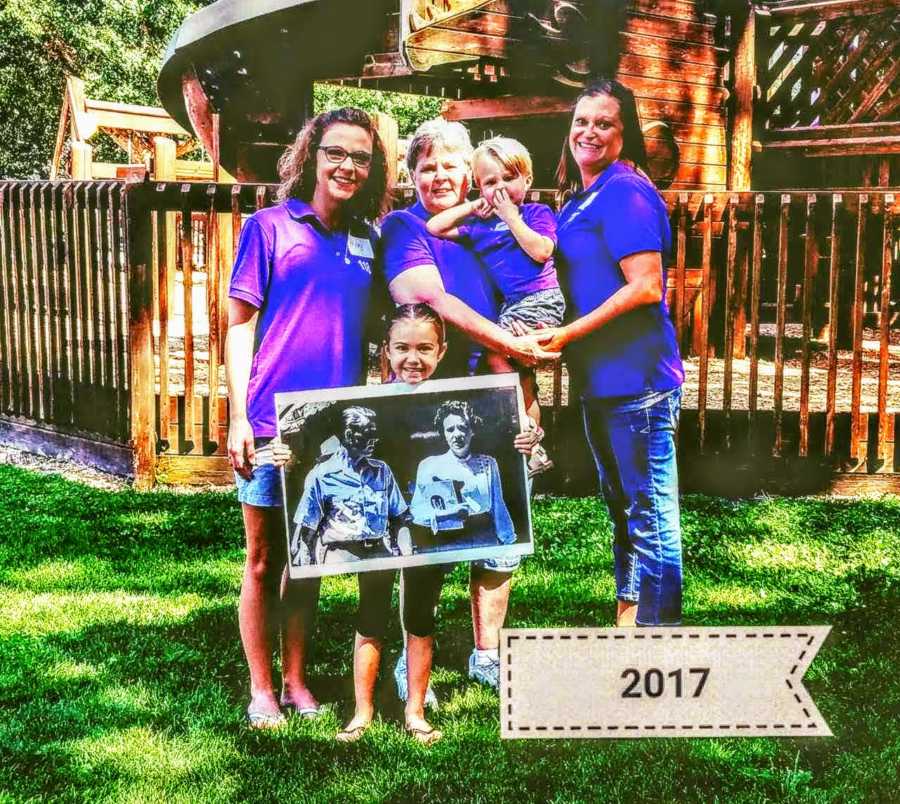 We dropped Grandma off at home that Sunday (can you believe she was still living in her own home?), and said our goodbyes. She hugged me and said, 'I love you, Tootsiebell.' Then she gently patted my rear end, like she always did. And off we went. That was the last time I saw her as herself.
9 days later, the neighbor who lived next door to Grandma called our house and asked for my dad. She said she was having trouble reaching her; she wouldn't answer the phone or come to the door. Dad told the neighbor to sit tight and he'd come over. Twenty-five nerve-wracking minutes later, my dad called my mom and said we needed to meet him at the hospital. 'Mom's had a stroke.'
The doctors told us that a stroke of this magnitude would be nearly impossible for someone to overcome even if they were in their 50s or 60s. For the next 2 days, my amazing nurse-aunt scrambled and pulled some strings to secure a spot in a hospice facility. I was in the middle of finals week for my undergrad studies and had a final due the day after my dad found her. I wanted to call my professor and beg for an extension, but I knew Grandma would be ticked if I did, so I took the stupid final (and aced it somehow).
When I arrived at the hospital that afternoon, she was still mostly alert. I asked how she was doing and she groaned and rolled her eyes at me (I guess I get this little trait from her). I knew she was mad. Mad because the stroke hadn't just killed her. Mad that she was in the hospital and couldn't talk. But we all agreed she was maddest because she didn't have her dentures in. In all of my 28 years, I had never once seen her without her teeth in. My modest and demure WWII-era grandma was mad about her dentures!
She was transferred to Hospice House 2 days after the stroke, and we had a blessed 5 more days with her. My cousin even painted Grandma's toes because she always taught us that a lady always has her toes painted, and Lindsay wasn't about to send her off with naked toes. On August 30th, we all decided to stay that night for some reason. I can't remember if the nursing staff told us the time was getting close, or if we just knew, but we stayed. And my dad's childhood best friend Bob (my 'other dad') stayed as well. At some time around 9-10pm, my dad and Bob went outside for some fresh air. The night nurse came in to shift Grandma and said, 'You guys, she's going.' (I swear, hospice staff are a breed of their own and incredible.) Someone called my dad and said, 'Get back here….NOW!' The guys came in. I was standing at the head of the bed, Grandma was facing me, eyes wide open and looking right at me.
It had been days since she'd opened her eyes. I wish I could tell you she looked peaceful, but she didn't. She looked scared. So I brushed her hair with one hand, her shoulder with the other, and told her to go home. 'It's okay, Grandma. We'll be okay. Go see Grandpa and the girls. It's okay.' (My grandpa died in 1982, and my grandparents had buried two infant daughters in the 40s.) And just like that, the love of my life was gone.
If my dad's best friend Bob hadn't been there with us, I don't know how I would've survived the worst moment of my life. The second she was gone, my cousin and aunt embraced. My mom grabbed my dad. And I collapsed onto the couch alone. My 'other dad' came to my rescue and hold me. And he didn't just let me cry into him…he cried with me. Because he, too, had lost a huge part of his life. Bob, if you're reading this, I cannot thank you enough. I've tried, and I'll keep trying, but it will never be enough.
So much has happened in the 7 ½ years since her death. All of her siblings are now gone. My cousin gave birth to a daughter, and then a son 4 years later (the first boy born into my family since my dad). Her great-granddaughter, my goddaughter, often says she feels her Grandma Mary with her. My cousin has done a beautiful job sharing our beloved grandma with her children. I graduated college (finally) and found love 3 years ago. She missed the year of 2017 when her son (my dad) fought and beat cancer. That same year my mother had open-heart surgery. She's missed so much.
But the biggest thing she's missed is my sobriety. I had spent most of my 20s binge drinking and making excuses for what I thought was normal behavior. December 30th, 2018, I celebrated 5 years sober, and not a day goes by that I don't wish she could be here to see this version of me. I know she does see me, but it hurts that I didn't get to show her in person. I wish she could see me doing great at work. I wish I could see her face when she sees me in love now with the man of my dreams.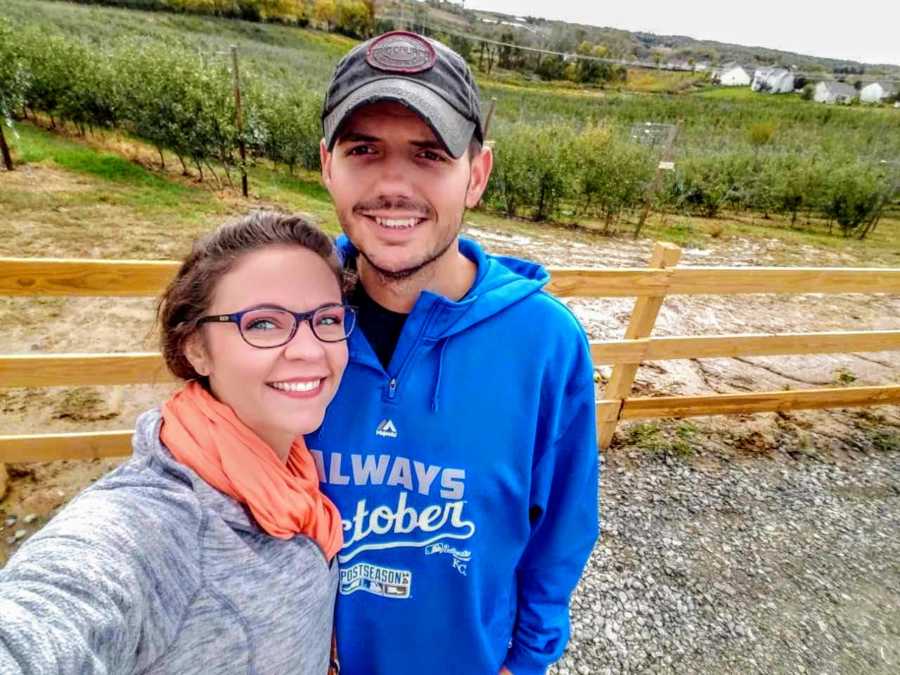 I wish she could see my goddaughter as she and I bake, wearing our aprons, just like I did with Grandma.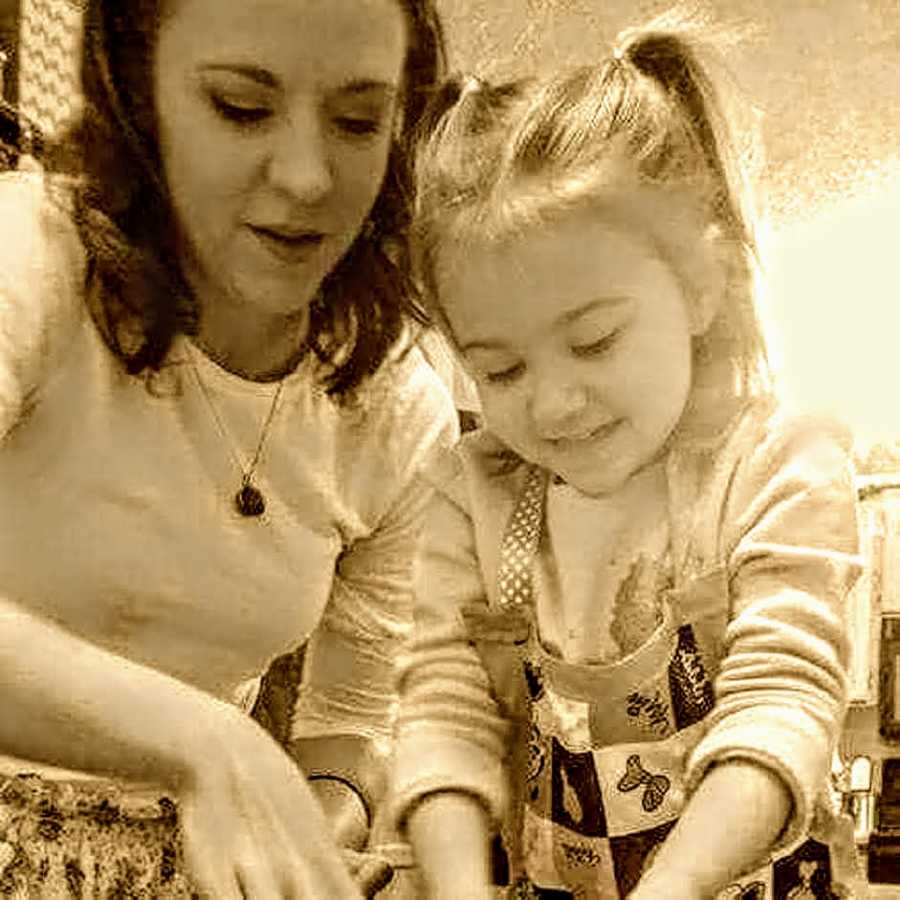 I wish she could see my parents more in love than ever and back at church. I wish she could've seen my dad get baptized on Father's Day last year. I wish she could see the amazing mother my cousin is. I wish she could see the incredible Grammy my aunt has become to her own grandkids. She had a remarkable role model.
Grandma was amazing. She was a class act, and a true vision of women of her generation. She was an absolute role model for Lindsay and me. Making her proud is, was, and always will be important to both of us. After all, we have both always been warned that if we did something stupid, WE were the ones who had to tell Grandma.
It's been 2,734 days without her. I am still not ready to live in a world without her, and I don't know if I'll ever be able to do the name justice. But my grandma, the original Mary Warrior, will always be watching over me every step of the rest of my journey."
This story was submitted to Love What Matters by Mary A. Warrior of Lenexa, Kansas. Submit your own story here, and subscribe to our free email newsletter for our best stories.
Read more from Mary:
'Whatever. Clearly it's the police officer's fault.' I crawled out the sunroof knowing my parents would murder me.': Woman finds sobriety after 11 years of alcoholism, now 'the person drunk me desperately wanted to be'
Provide beauty and strength for others. SHARE this story on Facebook with family and friends.