"I am a mom of three children in the nice, rural town of Nottingham, New Hampshire. Our children are now 4, 3, and 2. My husband and I have been together since 2006, after we met at a party with mutual friends. Coincidentally, we went to the same high school too! He was getting stationed in San Diego, and I was moving there to go live with my cousin. I grew up in a small town in NH. My parents thought it was going to be an experience of a lifetime- it sure was! We met a few days before I graduated high school and have been together ever since.
We married when he came back from Iraq in 2007. My husband, Erik, was in the United States Marine Corps for almost 11 years before getting out in 2013
. After living in San Diego for almost ten years, we decided to move back home. Through many deployments, I felt sadness and I hated being away from him but in the end, it truly has made us stronger, and I do feel it is why we overcame everything that life threw at us.
We tried for a long time to become pregnant, and at some points, I gave up. After some time, we realized that when God wanted us to be parents, it would happen. When we moved back home on St. Patrick's Day 2013, it was bittersweet. Another chapter in our journey was about to start and we could not wait to be closer to our family.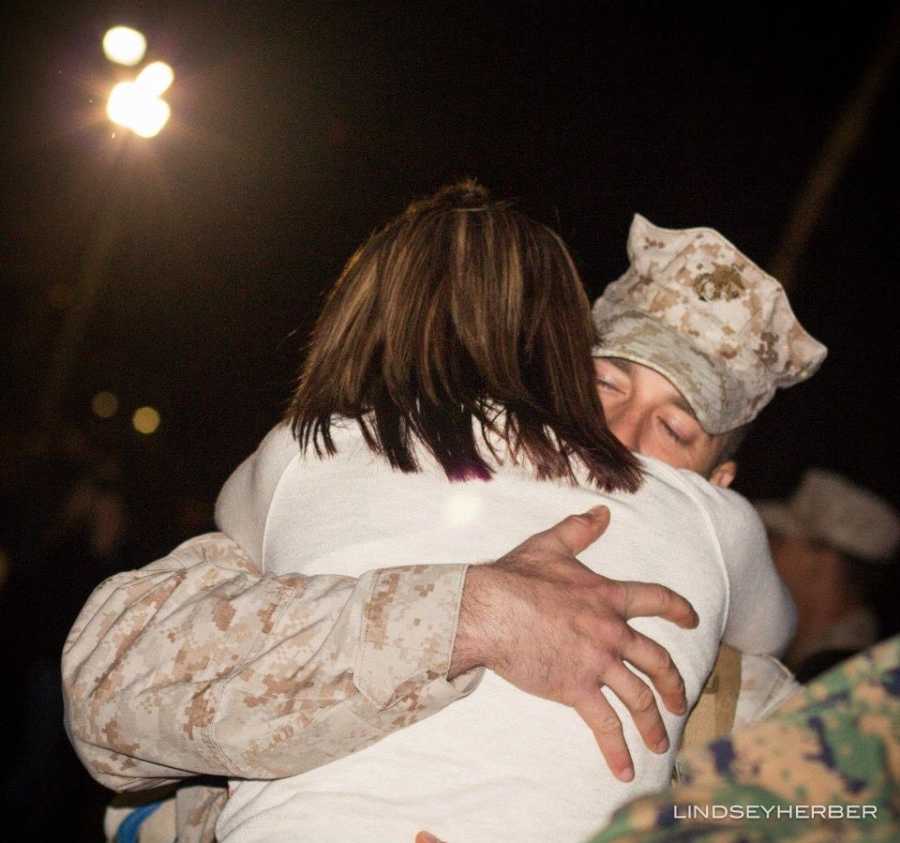 Then, it finally happened. I became pregnant after almost ten years with our first son, Jameson. I will never forget the moment; it was February 15, 2014. It was a Sunday and there was a huge snowstorm! I was in shock and never felt so alive in my life at that very moment. A few months after our son was born, I became pregnant again with our daughter, Emberlynn, who was born November 2015. It was unreal; we waited for so long and God knew our timing. We believe he wanted us to be home, closer to our family. He knew these littles were coming, it just was in his timing.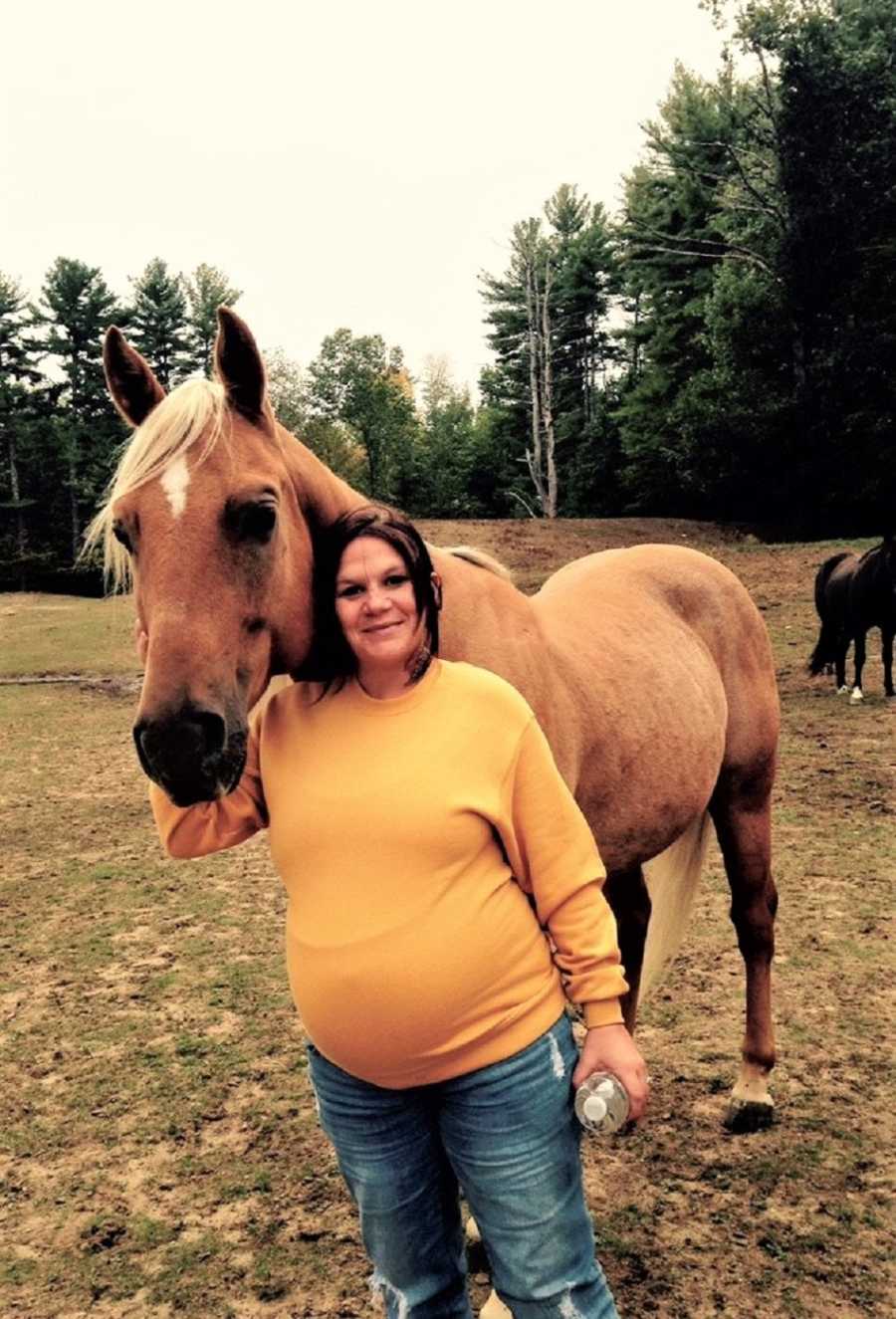 A few months passed, and we became pregnant with our third, Branson. We were shocked, but so happy. Now, fast forward almost 5 years later, it truly has been a beautiful journey, despite the hard times that have occurred.
Back in May of 2019 is when our journey with Branson's medical story began. I was cutting his hair when I noticed his head looked different. It was a Friday afternoon and I was trimming his hair fairly short, along with his older brother. I noticed the front of his head just looked different. His forehead bossed out quite a bit and the top of his head was higher than the back. Right away, I called his primary care physician and they scheduled us to come the next day, which was a Saturday.
The doctor recognized my concerns and was going to set up a CT scan to make sure everything was going on properly within his skull. We went the following Saturday for the CT scan. A few days later, the results were in. The word that I read in the report was Craniosynostosis. It stood out and I just did not know what it meant. I googled it and my jaw just dropped. I felt awful. I was able to join some amazing Facebook groups that had to do with families of loved ones with Craniosynostosis. Through those groups, I have connected with some of the kindest people I have ever met in my life. Having support, especially for something you have never heard of before, and listening to their words of encouragement and stories was truly so helpful.
We went to numerous doctors and they told us we could do surgery, but it would be 'cosmetic.' I did NOT believe it. Sometimes he would wake up at night and cry for no reason. I just held him in my arms upright and he would soundly go back to sleep, soundly. It seemed when he would be lying flat, he would have discomfort. I remember asking one of the neurosurgeons we met about my concerns and I was dismissed. They said it wasn't relevant to his diagnosis. I still did not believe it. My husband Erik and I kept advocating and searching for other doctors-fighting with our insurance company to go out of state. That is what led us to Vermont, and I am so thankful it did. We met the best neurosurgeon and plastic surgeon.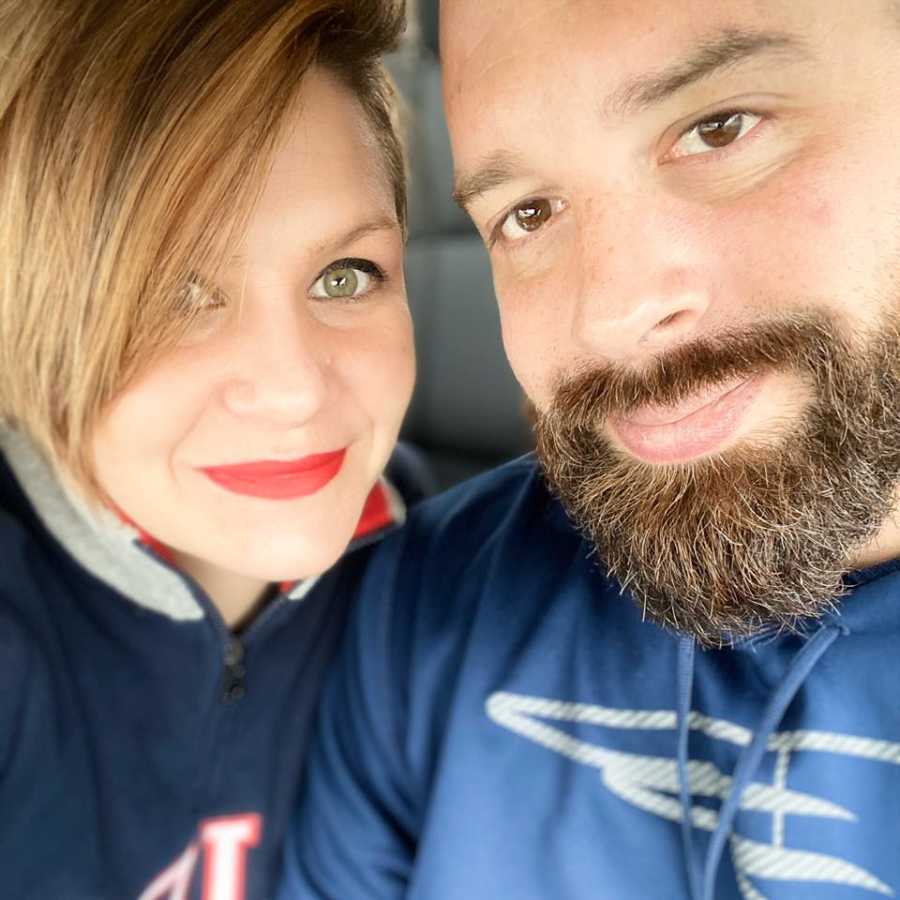 As soon as they walked in, they knew our concerns and even saw he had another suture closed, just not his sagittal suture. He also had his squamosal sutures closed as well. Their demeanor and compassion to Branson truly made us see that our journey and all those other doctors who basically said we nothing was wrong was meant to happen so we could be led to this amazing team of doctors. They suggested surgery, and we agreed and did it right away. His surgery was scheduled for October 16, 2019. Up until a few days before, I was still fighting with the insurance to let it happen since they were not in contract with them. They tried to convince us to go to a different out of state doctor, but I was not going to let that happen. We had a connection with our son's doctors and so did he. We knew we were in the place God wanted us to be and I did whatever I could to make sure we stayed!
That Wednesday morning was the hardest moment of my life. Handing your baby over, knowing the complications, knowing how major it is, is just heartbreaking. I remember holding him and asking God, please just let me switch with him, let this be me. The nurses and doctors knew how nervous I was, so they let me get dressed in a surgical gown and I was able to bring him back. The wonderful nurse led the way with bubbles. Branson was so excited. He was holding a baby shark and we were singing all the way to the operating room.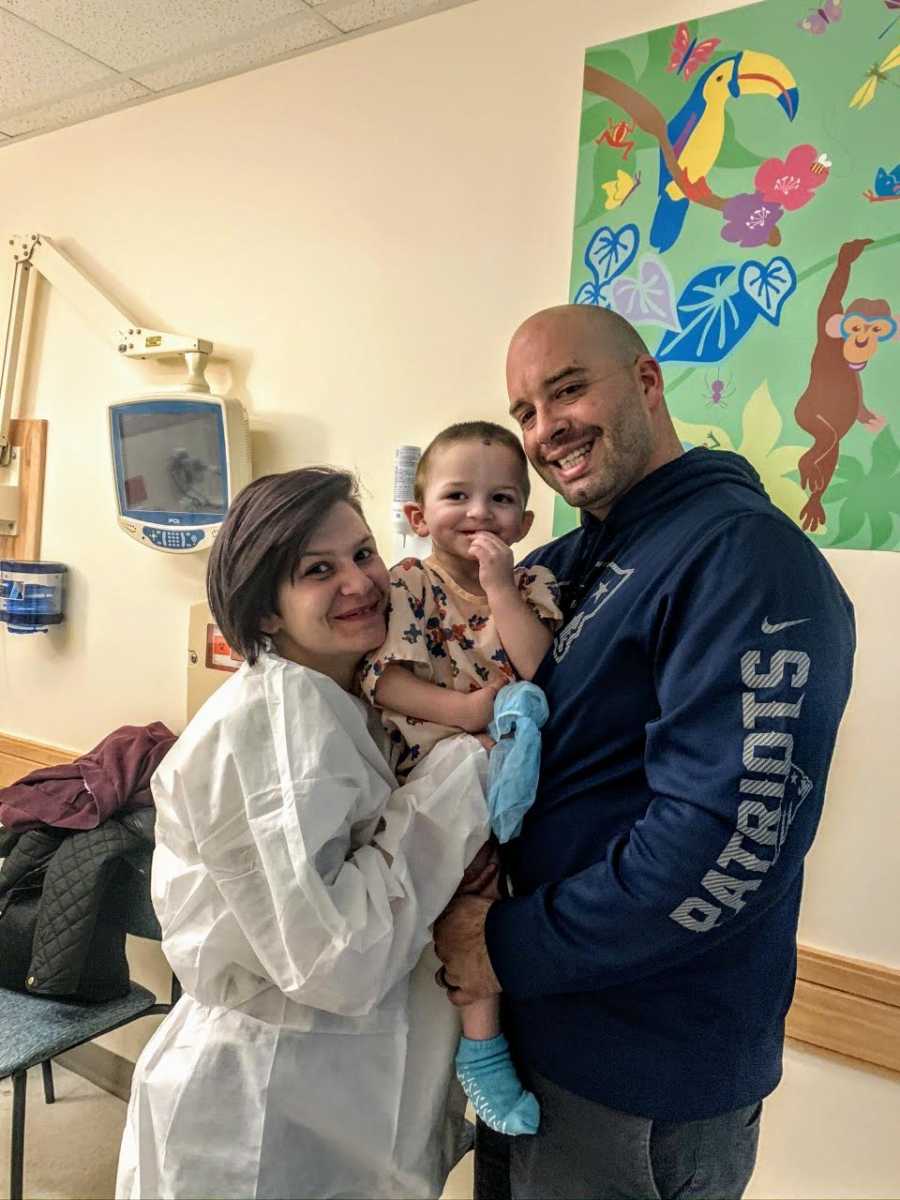 Once we got into the room, it was so bright. There were all of these nurses and doctors everywhere. It was overwhelming, but they made Branson so welcomed and comfortable. A nurse turned on the 'baby shark' song on her phone and we all were dancing while he was on my lap with the anesthesia until he fell asleep. They made him so happy before he fell asleep. That's a moment I will never forget.
It was 7 hours, and it was the longest of my life. My first son I labored for 37 hours all together, and this felt like an eternity compared to that. I remember seeing our surgeons come out and I just ran over to them and hugged them. They told us he was being prepared to be sent to the PICU and we would be able to see him shortly. I asked them how it went, and they said he had some blood transfusions and some parts of his skull were imprinted in his brain due to pressure. Hearing that broke me. I wanted to go to those other doctors who basically brushed us off and ask them why? But I knew it was not worth it. Our son was safe and with the best doctors we have ever met. They did the right thing. They saved him.
It felt like an eternity as we were being brought to see him. As soon as I was able to see him, I felt such peace but felt so broken at the same time. Seeing him pale as a ghost due to the blood loss, and his head all wrapped just lying there. I just wanted to scoop him up in my arms and hold him and sing his favorite song, 'You are my sunshine.' Nurses informed me he needed to just lay there and rest. I understood. So, since they were not letting me take him out of the crib, I lay and slept in it with him. He needed to feel me, he needed my heart to sync with his. He needed to know mommy was there, and would never leave his side.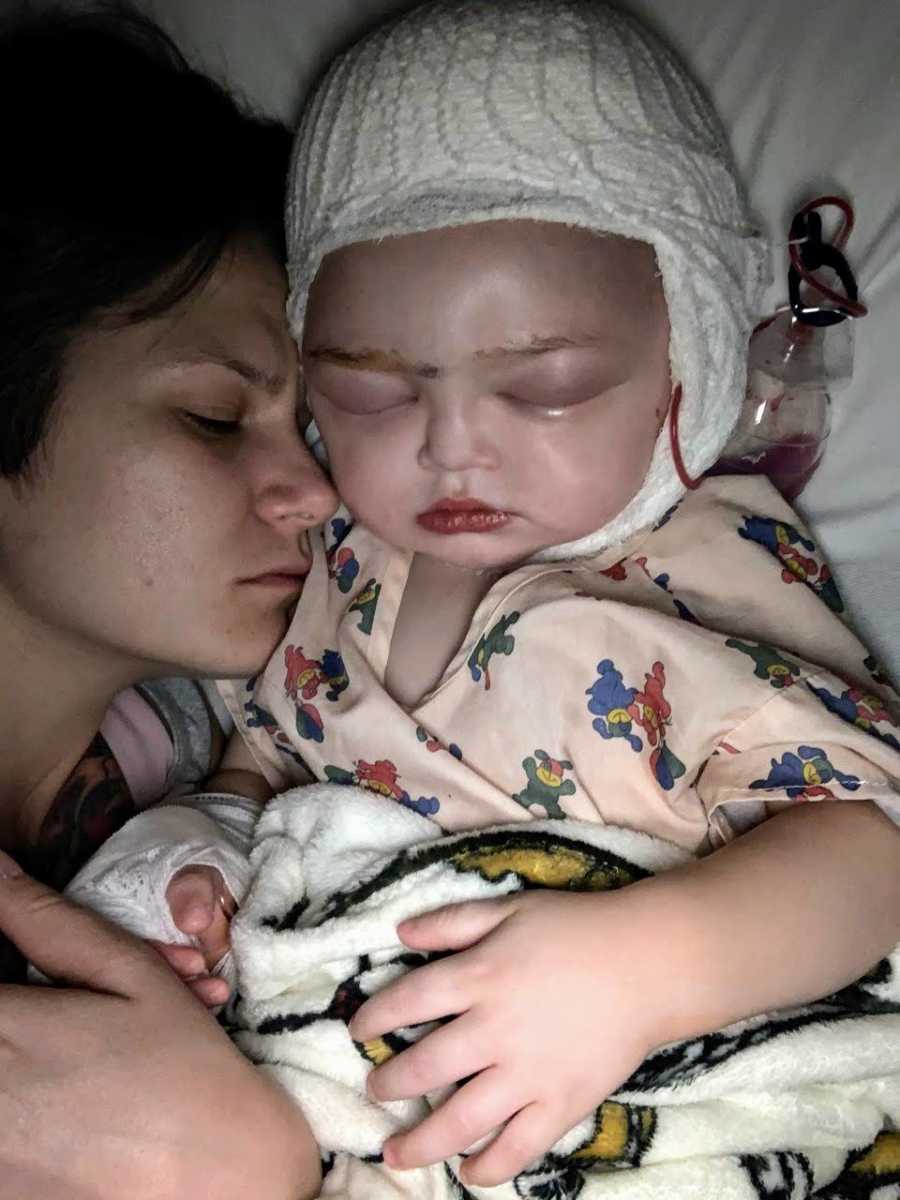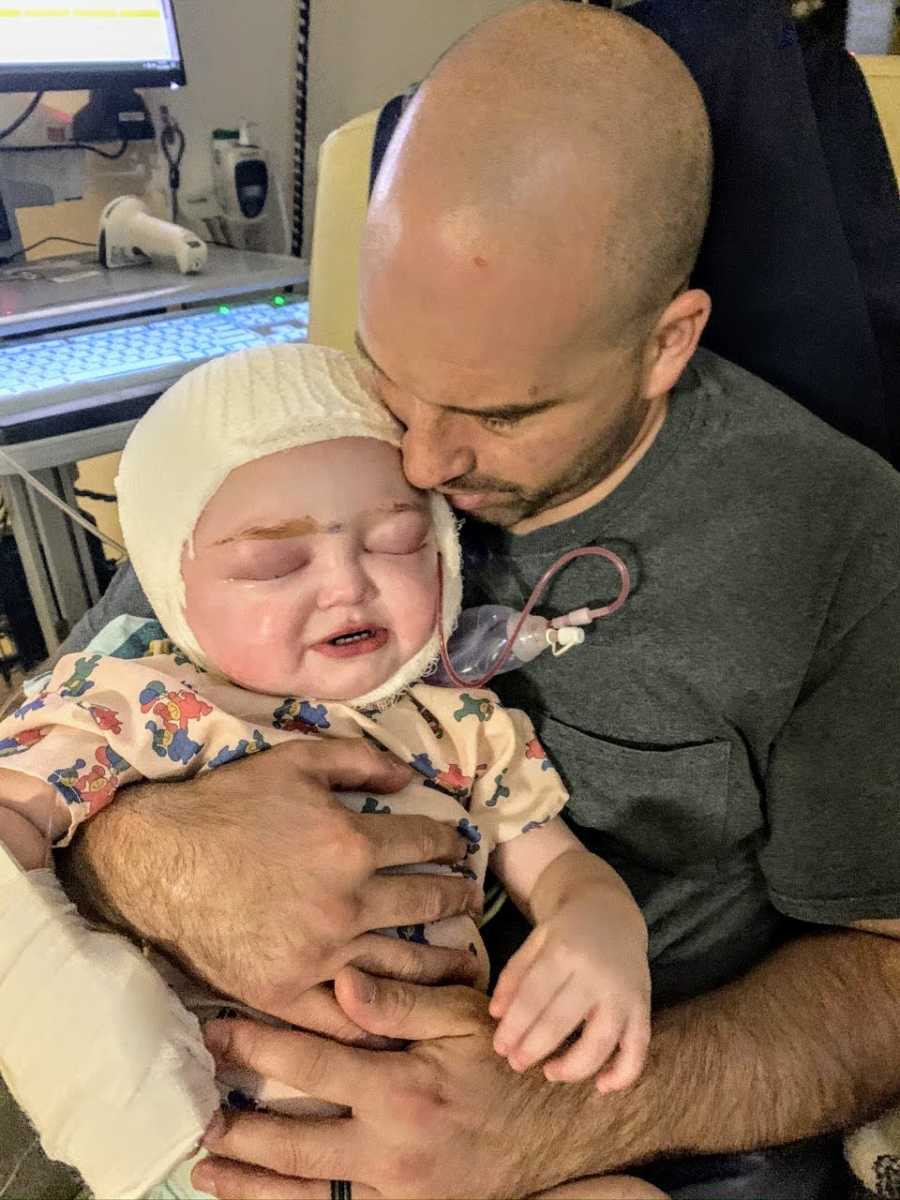 Recovery was going well in the next few days. They addressed the swelling. We were alarmed at how fast it happened, but we were prepped for it and knew it would go away. Branson is such a strong boy. He walked with his nurse not even 48 hours after surgery. Eyes swollen shut, guided by my voice down the hallway with all his doctors and nurses looking at him. I cannot wait to be able to show him a beautiful moment that he gave to the world when he is older. Adults complain about such small things. To see what strength children have is beautiful and such a learning experience as a parent.
Almost 5 months have passed since his surgery. He is doing wonderful. Watching him and his siblings together are truly such a gift, and I am so happy that he healed so well. It just shows us how amazing God is. We are beyond blessed for our miracles. One thing I have learned through all this is always be a mama bear, always advocate, always be your children's voice. If you know something doesn't feel right, fight. Fight with everything in you. You are their voice. You are their protector. I am happy I listened to myself and kept pushing for other opinions. If I did not, who knows how he would be right now. Always follow your feelings. They usually are never wrong.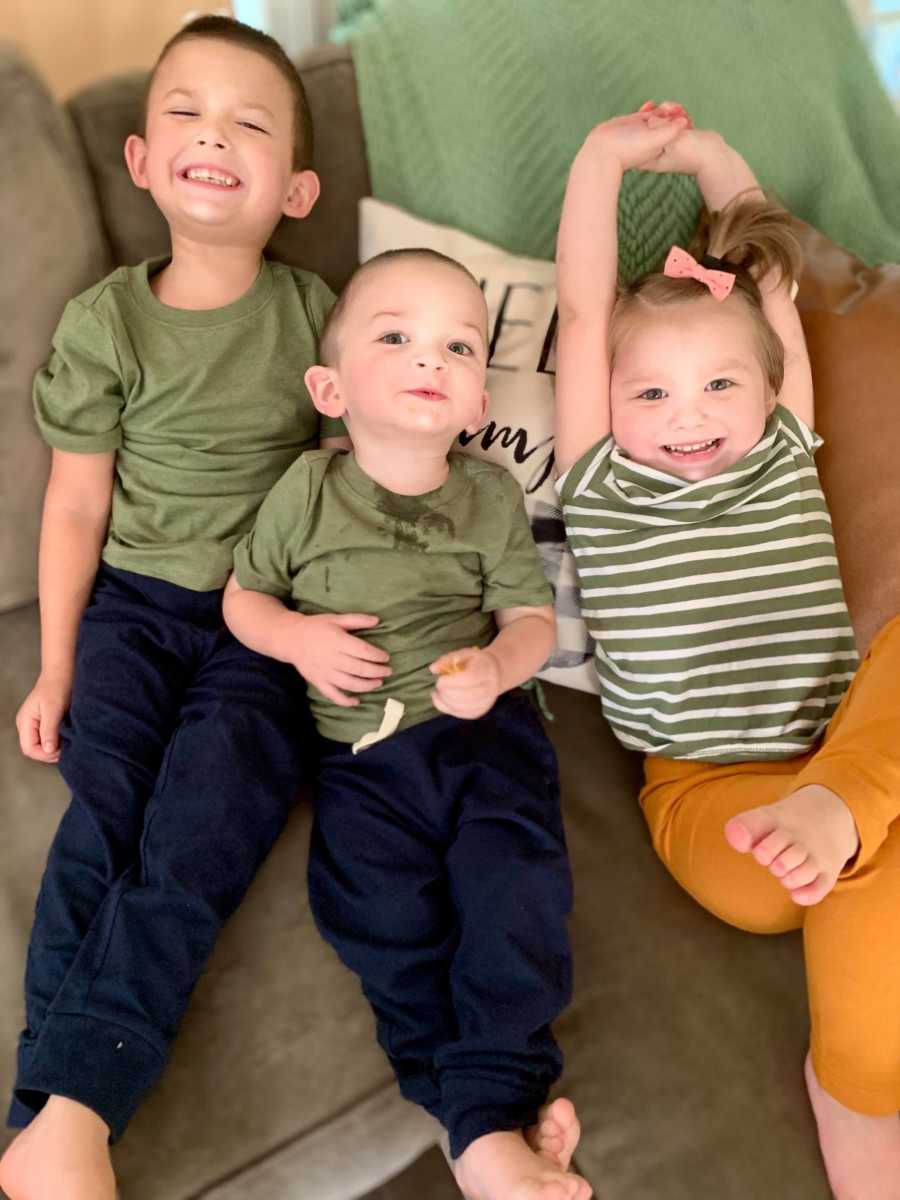 A few weeks ago, we welcomed a little puppy named Thanos to our home. He is a Boston Terrier. We wanted to bring a puppy into the family for our children and our dogs. We love animals, and with Branson recovering so well we just wanted to do something special for them all. He is the sweetest puppy, but something just was making my husband and I question if he was healthy. We noticed he was becoming more and more sleepy, having hard times standing on his legs by himself, and during play time, he would become winded very fast. So, we brought him to the vet last week. What was supposed to be a 1-hour vet visit turned into a 5-hour visit.
Our vet quickly mentioned we should do some blood tests and x-rays. I completely agreed. I wanted to do whatever I needed to make sure he is as healthy and happy as can be. Tests came back good, and we were all still concerned. She reached out to the owner and he also did a very thorough exam. He mentioned he thinks he has 'hydrocephalus,' which is cervical spinal fluid around the brain (water around the brain). This means that both my boy and my puppy have rare brain pressure conditions. The news hit me like a brick, and I was brought back to the moment I knew our son needed skull surgery. You feel helpless, you wish you could take it all away in that very moment and endure it all.
He has many physical symptoms that the doctor said was 'off ' and not how a normal puppy acts. We left with a game plan, and I just remember bawling the whole ride home and praying to God. They scheduled him to be seen at a local neurologist. We brought him there this week and we had a liver shunt test the next day to also see if his liver is functioning properly. She also agreed with the other two veterinarian's concerns and agreed.
I knew God brought him into our life for a reason. I knew he was suppose to be exactly where he was meant to be. Him and our youngest, since the moment we brought him home, have had this very special connection. He will always cuddle right up into his neck and peacefully sleep. It is as though he finds comfort from Branson because he knows he can feel what he is going through and feeling since our son went through something very similar. Their bond truly solidifies what a man's best friend truly is. God does not give us anything we cannot handle. We all learned that when our son had his surgery. Even though in that very second we were terrified and felt defeated, Branson showed us just how strong he is, and how we all are. When it comes to it, you band together as a family and rise above it all, especially with the Lord on our side. He walked us through by holding our hand every step. He always let us know all was going to be okay. Today, I feel the same with Thanos. I know he gave him to our hearts, and we will do all we have to do to make sure he is okay.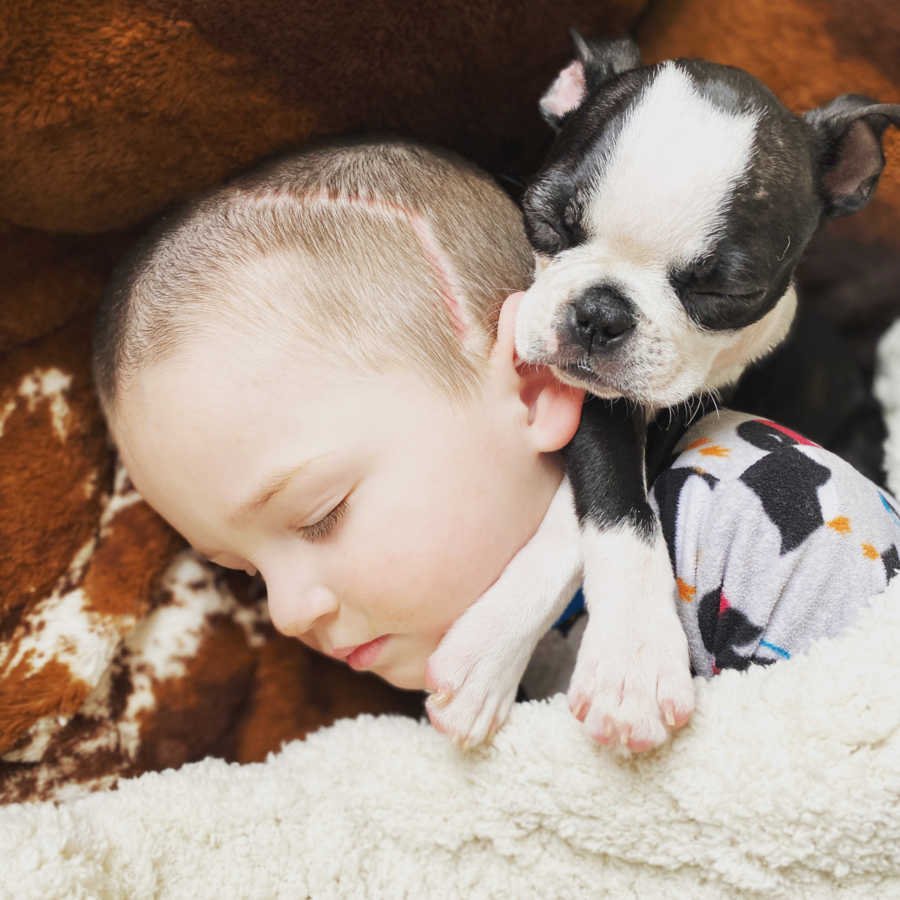 Our vet technician knew we would not be able to come up with the funds, as an MRI is over $3,100. The surgery costs over $10,000. She so kindly started a gofundme to help raise funds to help with his medical costs and procedures since he may need a very expensive surgery to have a shunt put in his brain to bypass the extra fluid to another part of the body. We have truly been blown away by our community. The love and support has been beautiful. Thanos has a long road ahead of him medically, but we will all be there every step of the way to make sure it is extra special. According to our vet, the chances of both our son and puppy battling similar issues are one in a million! She said, 'I've never seen anything like this in my 35 years. The odds are astronomical.'
God brought Thanos to our lives for a reason, and we will do whatever we can to make sure he has the best life possible for as long as God allows him to be placed with us. Thanos and Branson are two little warriors!"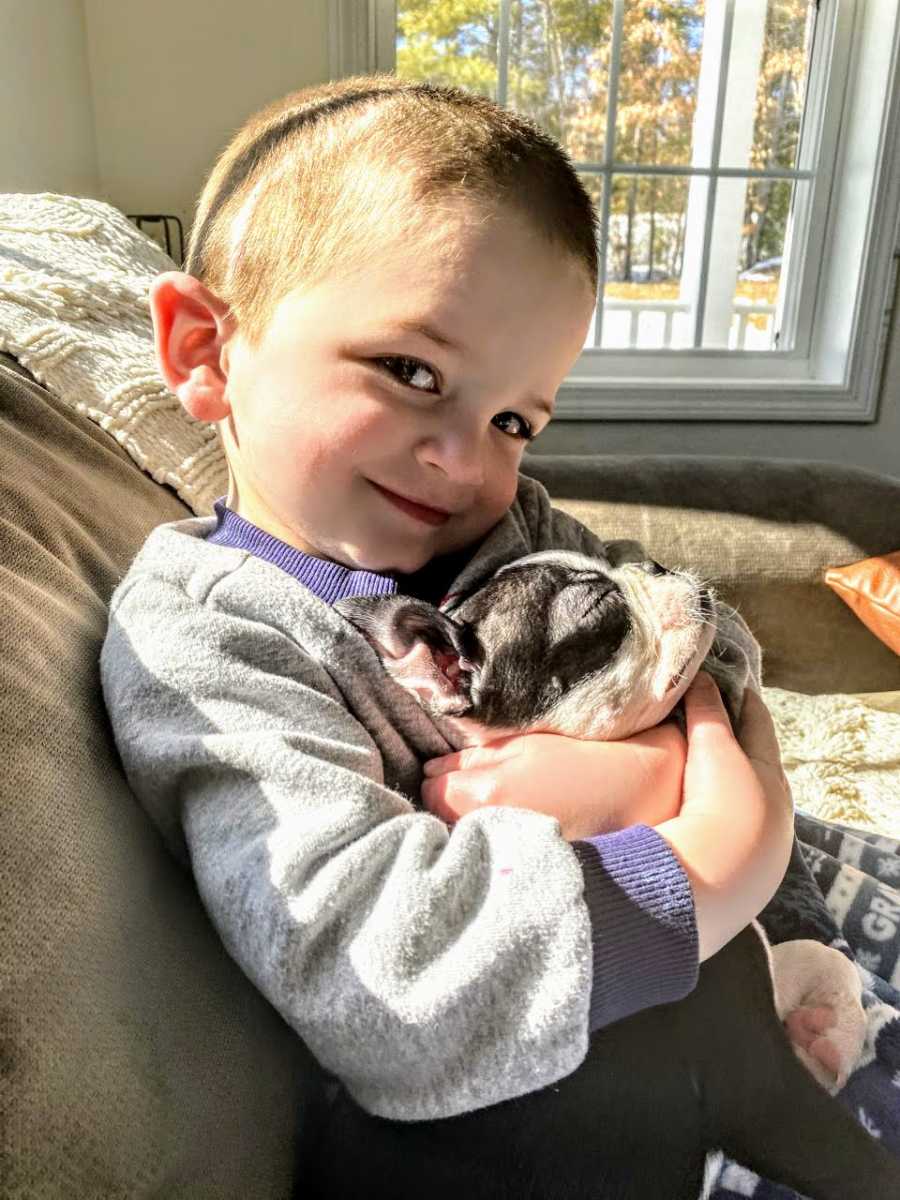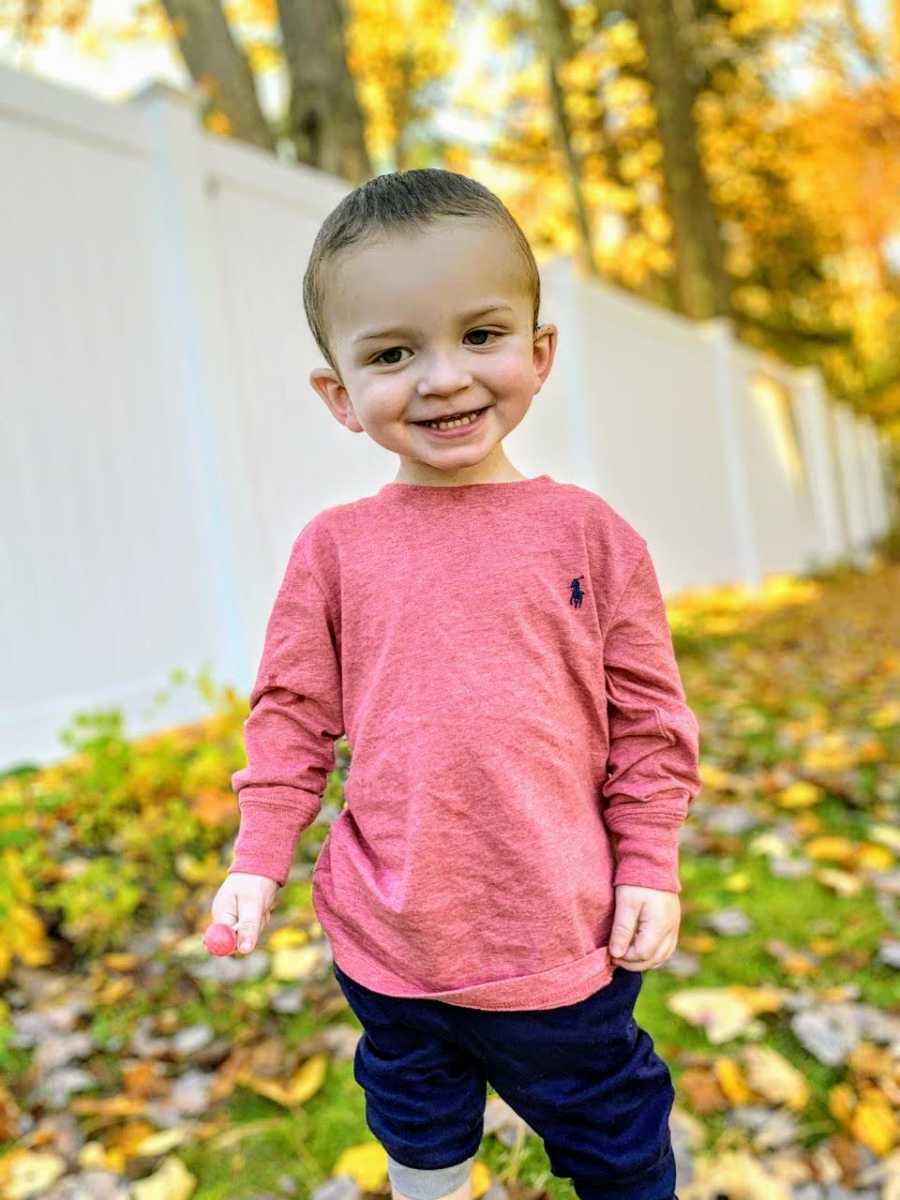 This story was submitted to Love What Matters by Heather F. You can follow her journey on Facebook. Submit your own story here and be sure to subscribe to our free email newsletter for our best stories.
Read more touching stories like this:
'If we waited 2 more weeks, you would've been paralyzed from the neck down.' I was in and out of consciousness. Death wasn't the only thing on my mind.': 15-year-old undergoes brain surgery after feeling dizzy, discovers rare chronic brain condition, Type 1 Chiari Malformation
'Is it cancer?' I had to tell my son, 'I don't know.' There's no treatment. We were told go home and live life.': Twin brother suffers 2 brainstem strokes caused by a cavernous angioma, mom says it's made her children 'kinder, better'
Please SHARE this story on Facebook to encourage others to cherish every moment and love what matters most.