"When you're young and in love you have it all planned out. You know exactly what you want to have happen as you begin your lives together. Thinking that it may not be God's plan doesn't always cross your mind. Ever since I was a little girl I wanted nothing more than to be a wife and mother. At the tender age of nineteen, I married the love of my life. We were young, in love, and ready to face the world together. A couple of years into our marriage we decided to try and expand our family. We were so excited but as each month passed my heart dropped as each test came back negative. One year turned to two years turned to four years. 'God,' I would cry. 'Why?! Why can everyone else around me get pregnant and not me? Am I not a good enough mother to my step-son? Would I not be a good mother to any other children?'
With each passing month turned year, God pulled apart my heart to reveal to me that I did not have him first in my life. I was placing my roles as wife and mother as an idol in front of him. I had a hole in my life that I felt could only be filled with that 'next step' of children. Then one day, about four years into our journey, God finally broke me. I can remember being alone in the house one evening pouring through scripture. Searching and searching for answers.
Tears streaming down my face I screamed, 'Why?' I lay there clutching my Bible in my arms, crying, unable to pray anything other than, 'Why God, why?' Then the Holy Spirit said to me, 'I AM all you need.' In that moment, a peace washed over me. Again, the voice said, 'I AM all you need.' It hit me then I didn't need children to make me happy. I didn't even need my husband to make me happy. I could find joy in Christ. HE was my all in all. From that moment, not having a child of my own to hold in my arms hurt a little less. I found a joy and peace in being in the arms of my heavenly father and enjoyed being his child.
Beginning that fifth year, we started to look for answers as to why we couldn't get pregnant. Each of our doctors told us we had problems that would make it difficult to get pregnant and together, humanly speaking, it would be impossible. I would be lying if I said that I was completely okay after the news. There were tears and there was a period of mourning as I came to the realization that I may not have children 'the good old fashion way.' But again, through that whole experience I could feel the presence of God holding us, walking us through it all.
The doctors of course said we could try different things but nothing was covered under insurance and it was tens of thousands of dollars. Within a couple of weeks, we had an 'Orphan Sunday' at our church, where once a year in November, churches all over the world pause and remember orphans and are called to action to do something. Praying, giving of time and resources, or the ultimate step of bringing an orphan into their family. I'll never forget sitting there at the end of the service as everyone else was getting up and leaving and my husband and I just sat there and looked at each other. 'What do we do?' I asked with tears in my eyes. 'We pray.' He replied.
He didn't need to ask me what I meant. He knew that I was thinking that God was possibly calling us to bring an orphan into our family. So, pray we did, for the next two months. Beginning in January 2014, we started the adoption process for Haiti. However, eight thousand nine hundred and sixty miles away in Ho Chi Minh City, Vietnam our daughter was being conceived. It took a little more than a year and more miracles than I can count, but finally in the spring of 2015 we sent in our paperwork to Haiti and began the process of waiting to be matched.
We were hopeful that with our paperwork, which specified that we were willing to accept a child with a limb difference disability, we would be matched quicker than most. During that waiting process, we began to receive emails from Rainbow Kids, an organization that has waiting lists of children all over the world with special needs whose paperwork is ready to be matched. I had been faithfully deleting these emails as looking at their sweet faces and not adopting each and every one of them broke my heart. However, that September day in 2015 as my mouse hovered over the delete button I felt the Holy Spirit say, 'Wait.'
I considered shoving down the stirring, thinking it was my own wishful thinking but then again, I felt it. So, I clicked, a few clicks later there she was. Yellow sun dress, punk rocker hair sticking out all over her head, and a sassy look on her face that said 'bring it on' to the world around her.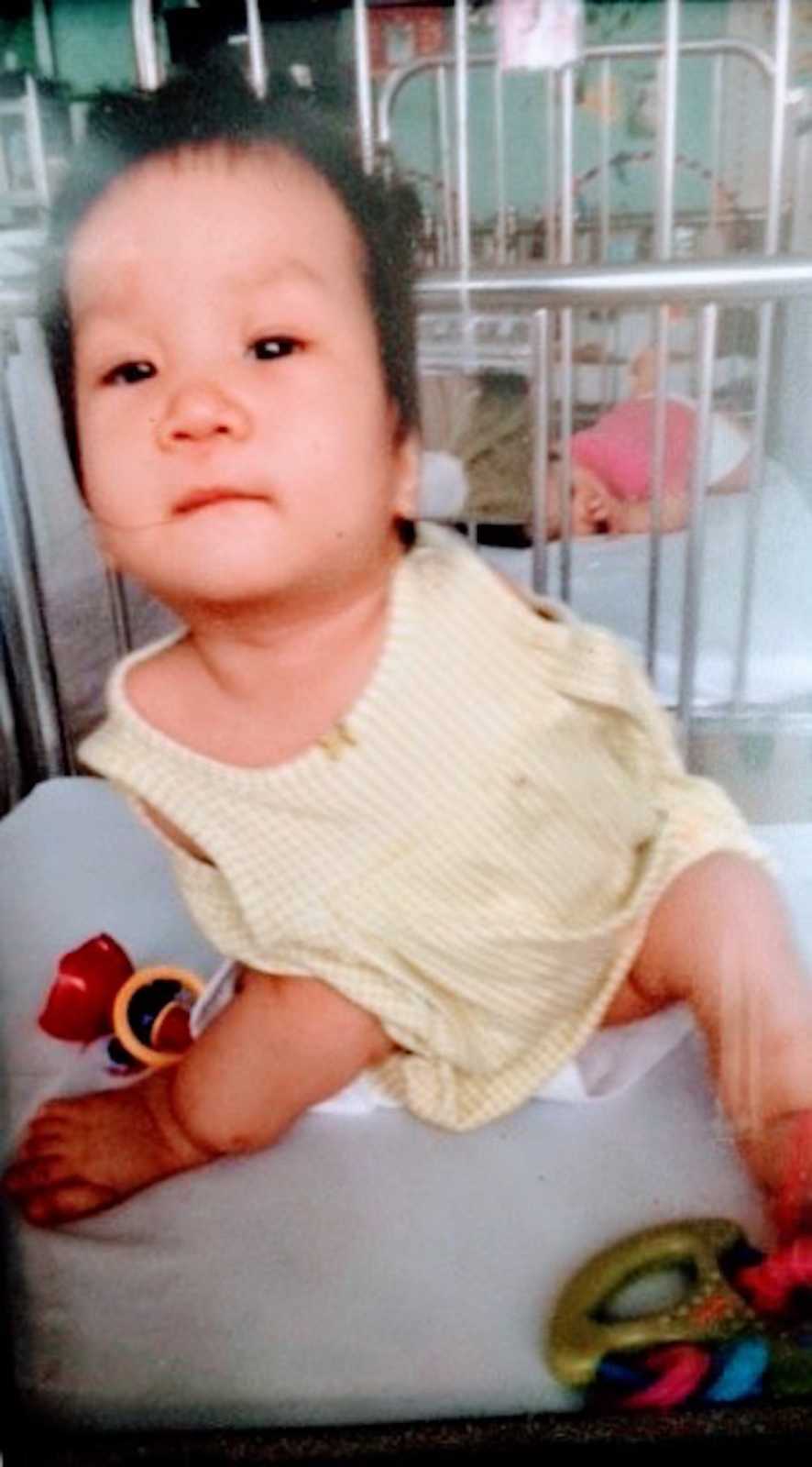 I quickly read the bio: 1 year old little girl in Vietnam, born without either of her arms from the shoulders down. I didn't even realize I was holding my breath until I asked, 'Lord? How can she be our daughter? She's not Haitian.' 'This one,' God said. 'What about Haiti, Lord' I pleaded. 'This one,' God said again. I took a picture of the computer screen and texted it to my husband (the first hurdle) with her bio. 'She's adorable,' was his reply. Wait, what? Not a 'non' or a, 'we're already adopting from Haiti, you can't adopt them all'? I could barely text.
'Can I call the agency and request information? We may not even qualify, but we can ask.' Those grey dots on my phone seemed to blink for an eternity. 'Sure, let me know what they say.' I called her agency and explained who we were, that we were already in the process, and was this even a possibility? Every answer fan the flame of hope in my heart. Second hurdle cleared. I told them I needed to contact our agency for Haiti and see if we could simultaneously adopt from two countries and I would call them back within the hour. I hung up and called my social worker with our Haiti agency. The whole story spilled out of me and breathlessly I finished with 'Is this even possible?'
'Yes…'
We tell people all the time, 'If you don't believe there is a God, try adopting.' Her paperwork went through every channel on time and only once did we have a 'hiccup'. When I spoke to her on the phone the USCIS agent said, 'This could slow your process as much as a few months getting all the paperwork corrected' 'Tell me what I need to do' I said. No one and nothing was going to slow us down to get to our girl. Within three hours I called her back and said 'I have the paperwork where do I send it?'
A few months ended up being maybe two weeks. As for the financial side of it all, that is honestly a whole different story, but suffice to say that God provided EVERY dollar and not once did we have to pause for lack of funds. August 30, 2016, we boarded a plane and flew those 8,960 miles to our daughter's birth country. Since we crossed the international dateline, we arrived about 3 am on September 1 in Vietnam. Our adoption agency representatives met us and took us to our hotel. 'I'll be back for you about 9 am to go meet your daughter,' the interpreter said. I'm still not sure how either of us slept that night, but we were up by 7 am and taking in the first true sights and sounds of our daughter's culture.
The cab ride to the orphanage my husband and I held hands and prayed for our sweet girl scarcely believing that we were here and going to meet her at long last. We pulled to the end of an alley way and got out of the cab. We followed our interpreter as he wound his way down the alley to a nondescript concrete building. As we entered through the gate and he explained who we were, we were ushered into the orphanage to meet the director who greeted us warmly and thanked us profusely for adopting the 'darling' of the orphanage. We followed them out of the office and upstairs to the second floor. At the top of the stairs to the left was a closed door with shoes lined up outside of the door. We removed our shoes and our interpreter opened the door.
The first face I saw was the main nanny of the nursery and when she saw me, a dawn of realization came over her and she placed her hands on either side of her face in surprise. She quickly invited us in and announced to the room that we were there. 'This way' she said in Vietnamese as she motioned and pointed. I followed her down the center row of cribs and there in the last crib on the right was our daughter. I wanted that moment to stop so I could live it again and again. There asleep in her crib was our baby girl. The nanny bent down and patted her awake and blinking she looked around to me. As I offered her a smile and said 'Hi baby girl. We're here.'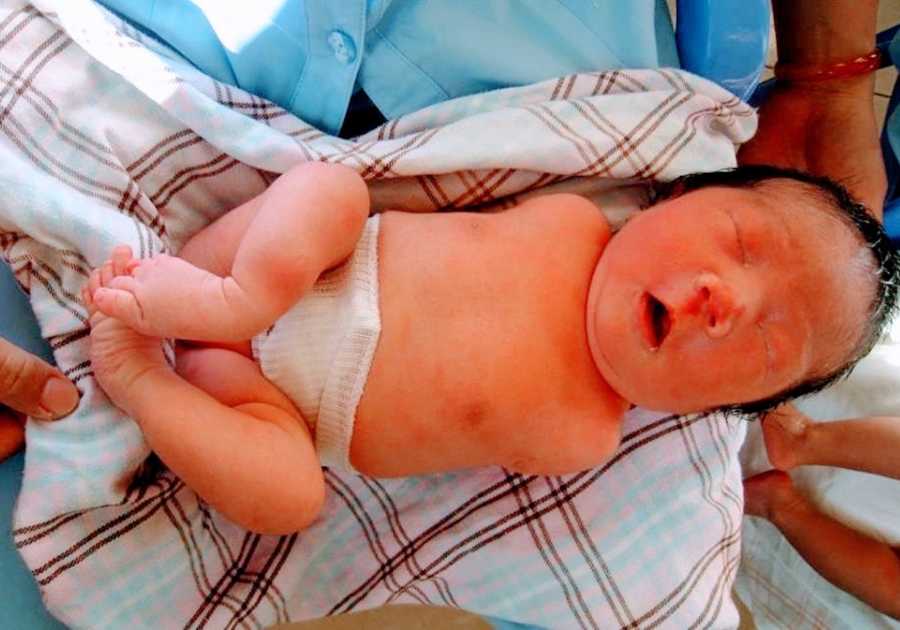 She did nothing more than give me a disapproving look. The nanny picked her up and took her to change her. They sat her on the floor for us to sit with her and play with her. It's not like Hollywood. She didn't crawl into our laps and greet us immediately, in fact she will tell you 'I cried, I didn't like them.' It took a while but she got use to us as we continued to visit the orphanage for the next three days. That third day, accompanied by the interpreter and her nanny we left the orphanage with our daughter. After they settled her in our hotel room they quietly slipped out of the room and there we were. She wasn't happy at first but after a nap and a snack she began to realize that we were safe, and here to stay. Those first few weeks with our daughter, living with her in her home country before bringing her home are times that we will treasure.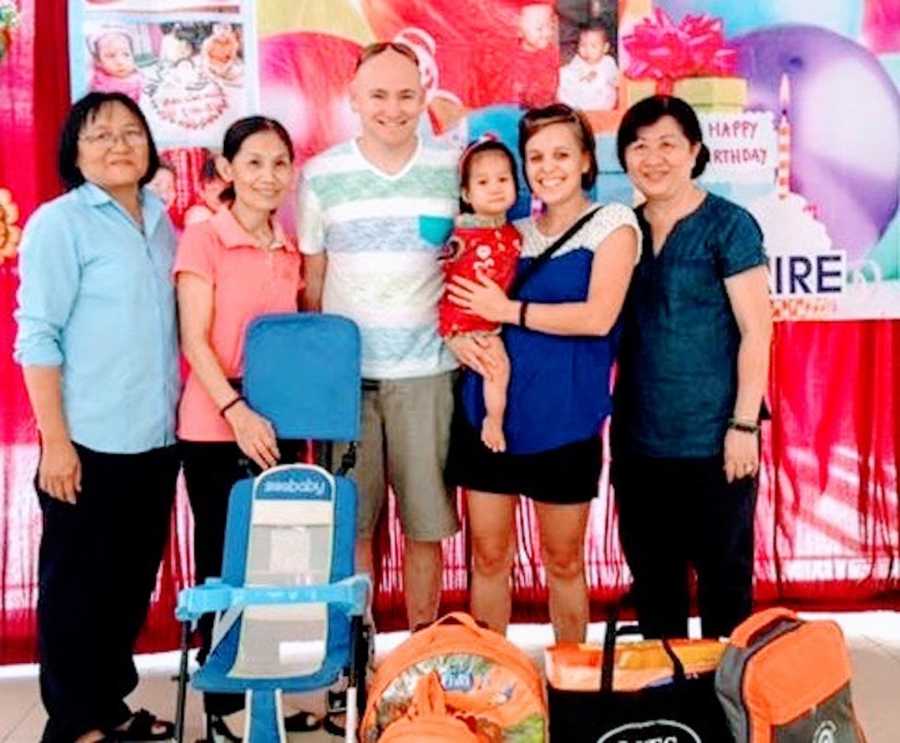 Since we've been home she has been such a blessing. All those tears and begging God to make me not just a mom but someone's mommy and he fulfilled that longing tenfold.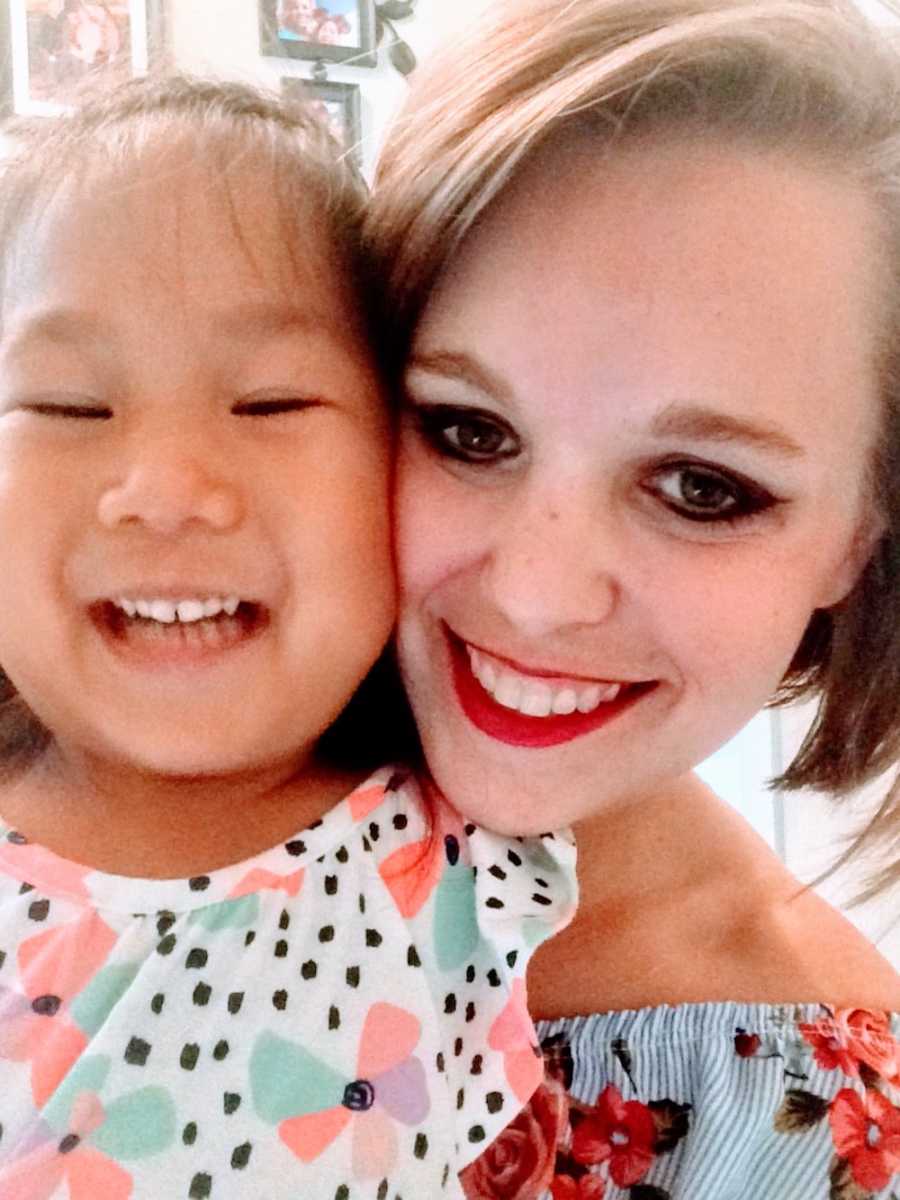 Everyone who meets her is amazed at her spunk and love for life. Not having arms doesn't slow her down at all. She is fearless and tells people constantly that God just made her this way, before she runs off and says 'Follow me!' If you need inspiration just watch her for 5 minutes.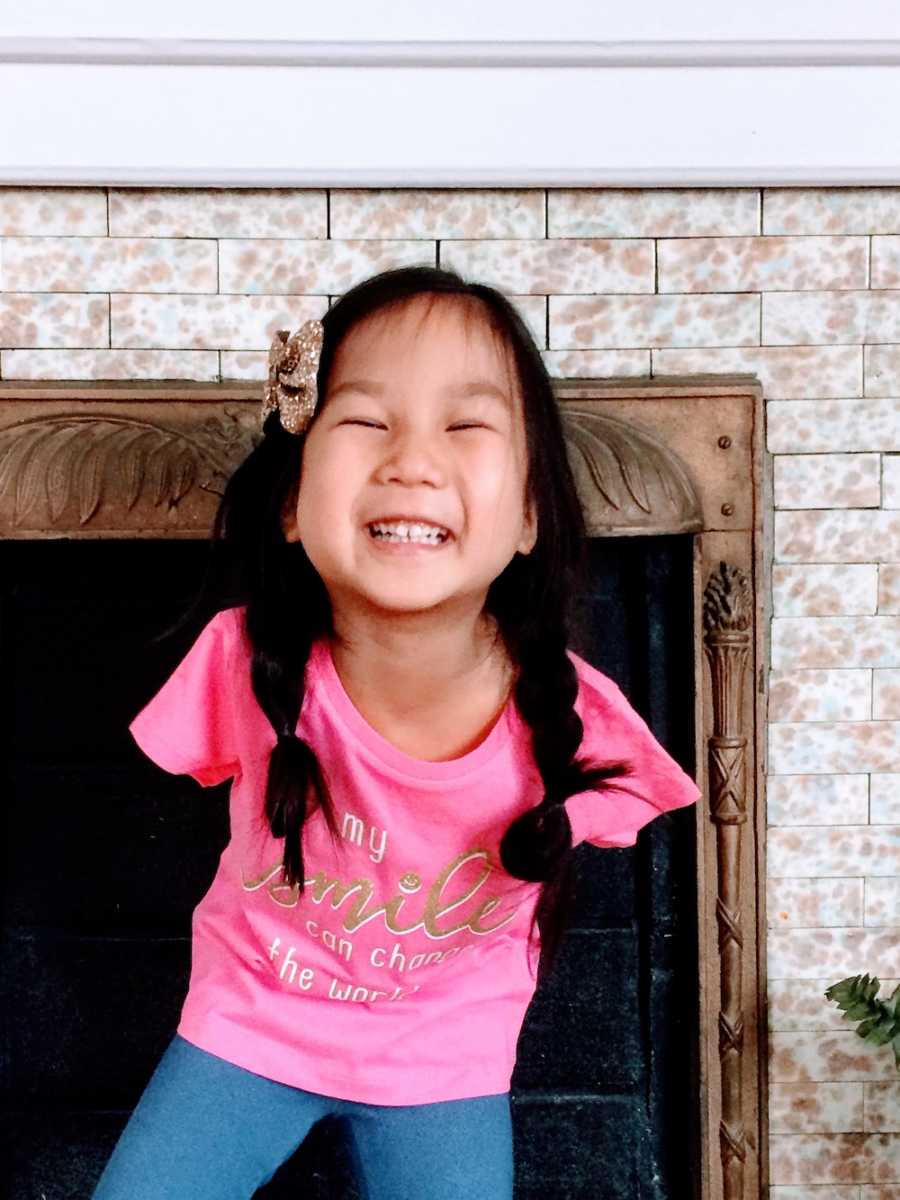 From doing daily life skills such as eating or getting dressed to creating masterpieces through her paintings people can't help but stare in wonder. All of it is God. We don't show her how to do things with her feet, we show with our hands and she does it with her feet.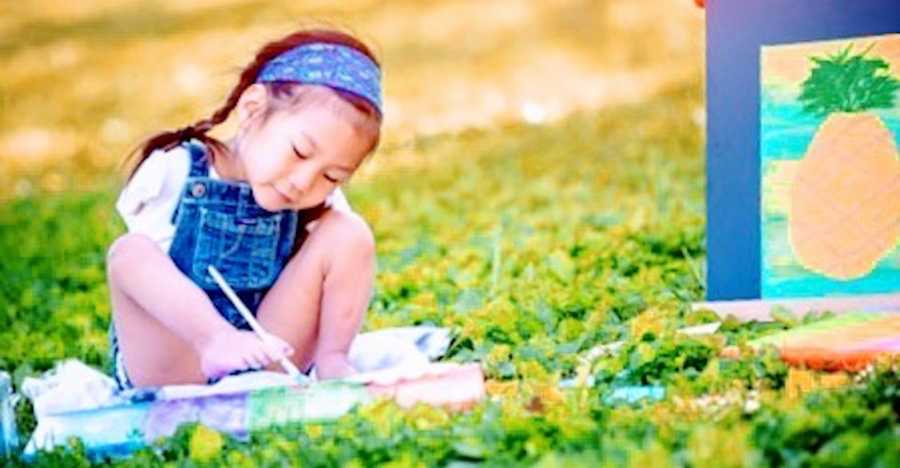 Her beauty both inside and out are gifts from God and we hope that through her story God's glory is on full display. He is faithful, as He showed this to our family as we walked through infertility and the adoption process (and continues to do so with our next adoption). He is the ultimate creator, as displayed through each detail in our daughter as one detail complements one another and allows her to live life without a care in the world.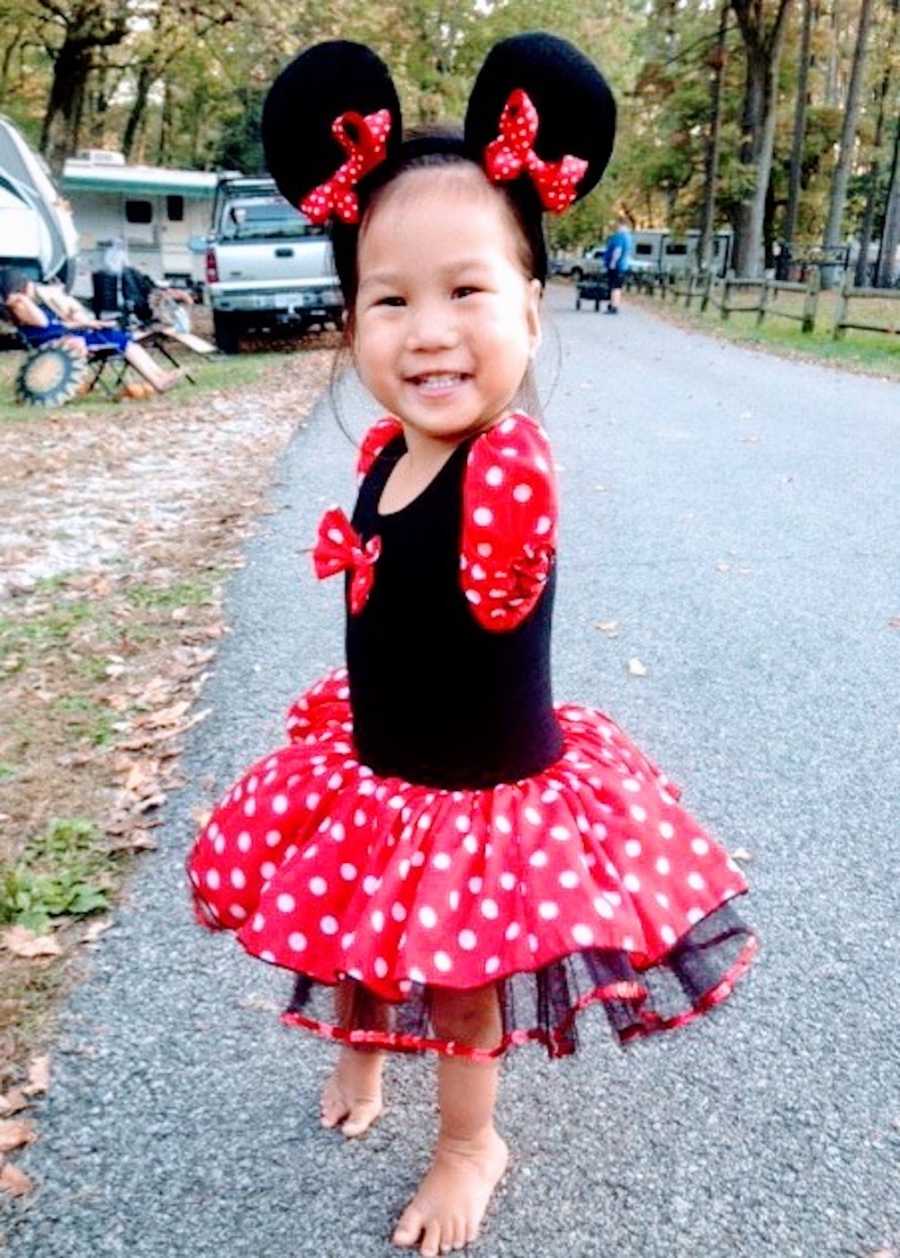 He is all powerful, as he showed us by weaving every detail of this journey to fit together perfectly, from growing my husband and I during those years of having no children, to having started the adoption process nine months before our daughter would be born into this world. God is good, all the time. We are so thankful and blessed with our sweet girl. She is the PERFECT fit for our family and looking back we wouldn't change any part of our journey in getting to this place."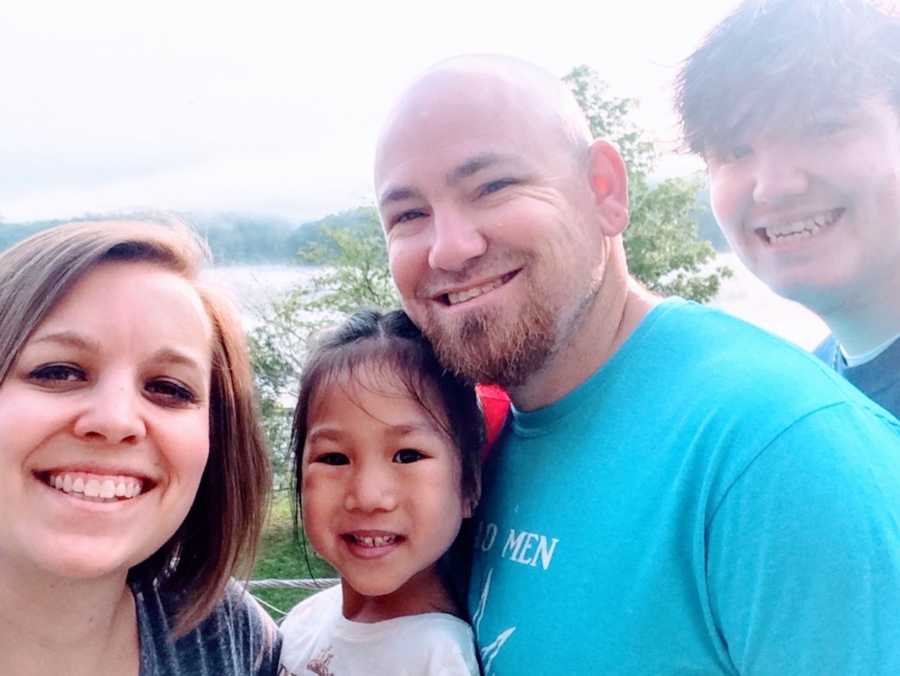 This story was submitted to Love What Matters by Sarah Best of Meeting Minh. Follow their family journey on Instagram here. Submit your own story here and be sure to subscribe to our free email newsletter for our best stories.
Read more stories like this: 
'Our PE coach pulled me aside. 'Your little buddy is about to be put on an adoption website.' Without thinking, I told her, 'We'll adopt him!' The words literally just came out of my mouth.' Teacher adopts student with special needs
'He looked me straight in the eye. 'I'm sure you're aware this is a FINAL decision. Once I sign off, you cannot change your mind.' They're a sibling group of 3, and 2 of them had special needs.'
'I called my dad. I was afraid to tell him. 'WHAT DID I JUST SIGN MYSELF UP FOR?' I made a mistake saying I could foster by myself. What was I thinking?'
Help us show that compassion is contagious. SHARE this story on Facebook with your family and friends.