"My name is Hannah Watkins and I'm a stay-at-home mom (SAHM). I grew up on the south side of Indianapolis and still live in the area. I met my husband 12 years ago via mutual friends, but we didn't start dating until nine years ago. After four years he proposed on a bench on the beach of our family vacation spot in Florida. We went to Asheville, NC for our honeymoon… we love hiking and being outdoors. We have been married for four years and have two children, a 3 year old daughter and an 8 month old son. We also have two dogs, a 9 year old Australian Shepherd/Great Pyrenees mix and an 8 year old Australian Shepherd. I think it's safe to say our house is a little crazy.
Being a SAHM mom has its perks, but it is not as luxurious as a lot of people seem to think it is. I always knew I wanted to be a mother, having always loved kids. I think I've always wanted to be a SAHM as well, but never thought it would actually happen. We are very blessed to have me home with the kids full time. Growing up, my parents always had multiple jobs each, so I figured that's just what I would end up having to do. My dad was a career firefighter and EMT for 26 years. On the days he wasn't working at the fire department, he was a funeral director and a photographer on the side. My mom was a full-time secretary and worked on the weekends as a theater singer. She also worked part-time as an Applebee's waitress at one point.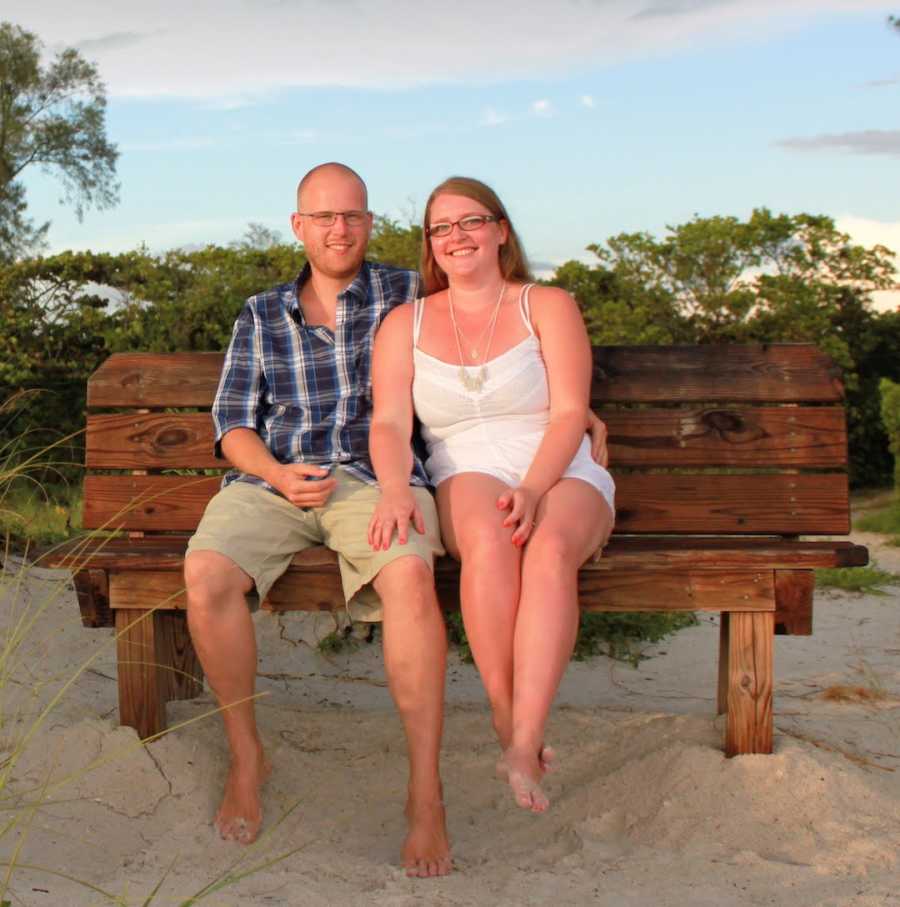 My dad was an alcoholic my entire life until he ultimately died from it when I was 23. He was only 56. I had to call the police to his house in July of 2013 because he wasn't answering his phone or the door, and when they found him, he had been dead for two to three days. He basically drank himself to death. Neither of my children got to meet him. He had been living with my grandmother for close to ten years, having moved in with her a few years after my parents were divorced, when he decided to move back out into his own apartment. He only lived there for maybe a month before it happened.
The worst part of his death was cleaning out his apartment… because it smelled so bad. I would never hope for anyone to experience that smell. Growing up with an alcoholic father was tough on me, and I ended up going to therapy a few years after his death. I have countless stories about him being drunk as I was growing up. There were a few times before I could drive that I would have to basically help him drive home from his friend's house. I had to keep an eye on him to make sure he wasn't nodding off at the wheel, and make sure he didn't swerve off the road.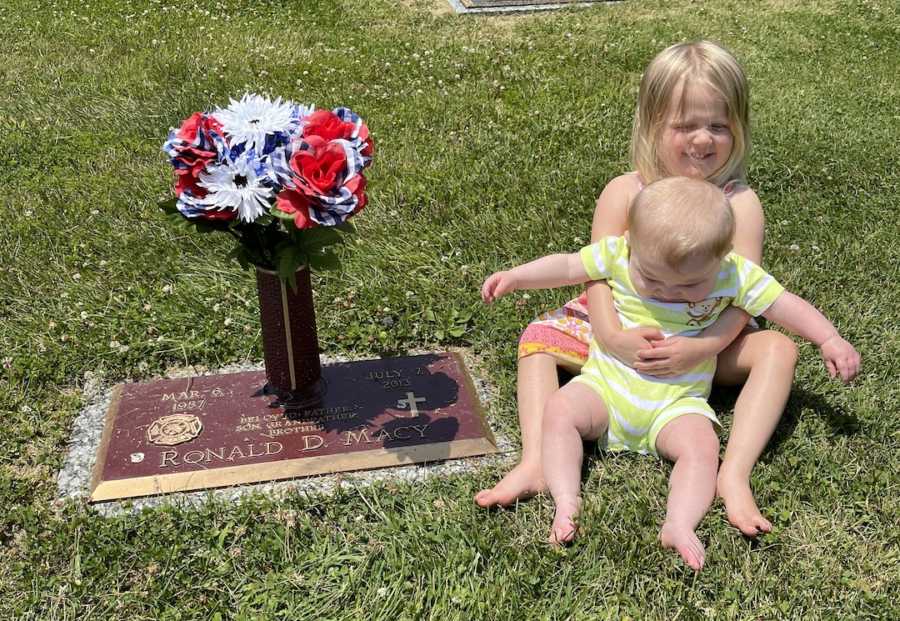 Honestly, I'm not sure why I waited so long to go to therapy. I don't go regularly anymore, because my therapist did eye movement desensitization and reprocessing (EMDR) therapy for me, and it worked wonders. It's hard to describe, so I'll try my best. EMDR is a therapy for traumatic experiences where you close your eyes and hold a device that pulses vibrations from hand to hand while describing your traumas as the therapist asks questions to push you further into detail. I think there are different types of stimulation for the therapy, the pulsating device is just what my therapist used. This therapy allows you to correctly process your experiences through stimulation. I also take an anti-depressant/anxiety medication.
Anxiety is something I have always dealt with but becoming a mother has exacerbated it. It is the most difficult thing to put into words, but the moment you become a parent, you worry about LITERALLY EVERYTHING. I am constantly overthinking and wondering if I'm making the right decisions for our children. I was already a worrier before becoming a mom, so you can imagine how bad my anxiety got after I had children…and then COVID hit. Being pregnant during a pandemic was scary, and parenting through it has been challenging, although leaving the house with two kids is a challenge anyway. It is basically impossible to keep a mask on a 2 year old.
My husband and I decided to start having kids right away. With our first born, I got pregnant on the first try. I was scheduled to be induced on my due date but ended up going into labor the morning before. Our daughter ended up being born on her due date. I got an epidural and they had to break my water. I only pushed for nine minutes. She did not cry, and she wasn't quite the right color, so the nurses took her to the NICU. They weren't able to tell us much right away, so we had to sit in our hospital room just wondering what was going on. It was one of the scariest moments of our lives… we couldn't help but wonder if we should expect the worst.
After what seemed like forever, a doctor finally came in and told us she had a collapsed lung, which is apparently somewhat common, and they had to put a stent in temporarily. When my husband went to the waiting room to tell our families, I guess he started crying before he could get any words out. She still has a small scar on her chest from where they put the stent in. She got to stay in our hospital room on the last night. She was jaundice as well, so she had to be in what they call a biliblanket. It's an LED pad the baby lays on to help with their bilirubin levels. It's pretty funny looking so we were at least able to laugh about it.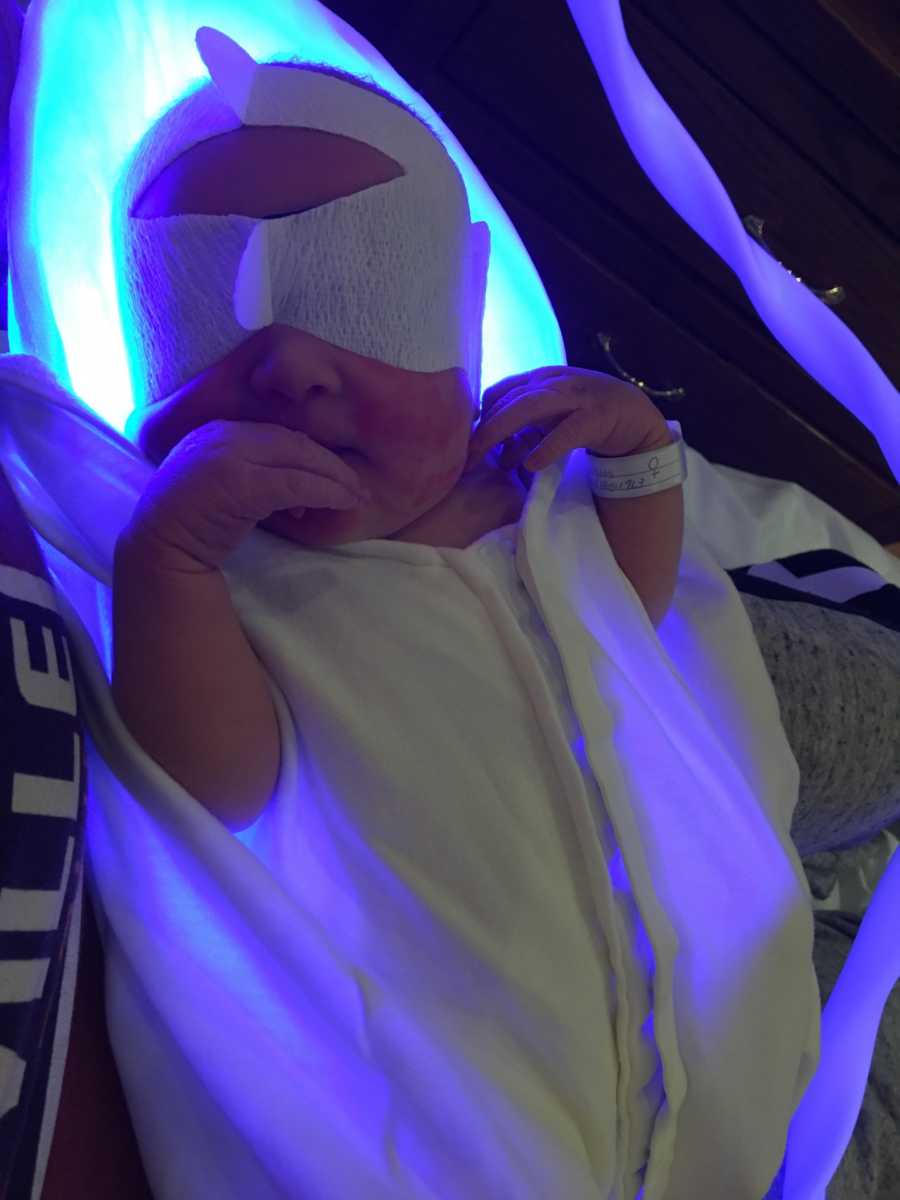 Once we decided we were ready for a second baby, we tried a couple times and then COVID hit, so we stopped trying. I found out I was pregnant a couple weeks after we had decided to wait to see what happened with COVID. The second time we tried, it had worked! When we found out we were having a boy, we were both so happy… one of each! Our son was born four days before his due date. My water ended up breaking while I was kneeling on the floor changing my daughter's diaper. I got an epidural again, and only had to push for three minutes. He cried a little bit, but was breathing rapidly, so they ended up taking him to the NICU as well. We weren't as scared this time because the nurse was reassuring us saying that if your first has an issue that sends them to the NICU it is likely the second one will as well. His rapid breathing had to be monitored and slowed down, and he had to be on a feeding tube for the first two to three days, so they kept him in the NICU the whole time we were in the hospital. Both our kids are fine now, thankfully, but I do not want any more children. My husband wants more, but I don't want to go through it all again. Also, kids are expensive.
Raising a toddler has been the most difficult phase of parenthood for me. My daughter got my strong, independent personality, which will be great when she's an adult and on her own, but it is currently blowing up in my face. Terrible 2's is a real thing, but 3 has specifically been the worst age. Toddlers are like Sour Patch Kids… first sour, then sweet. They don't listen to a thing you say and throw tantrums over the most ridiculous things. They try to run away from you every chance they get. They hit you and laugh in your face when you get hurt. They act like toilet paper is free and think their toys are meant to be broken. But after all that, they come running when they have a boo-boo, want to be tucked in and kissed goodnight. They say they will miss you and get excited to see you when you get home. They say you look pretty and tell you they love you. You'll never realize how intensely you can love someone until you have kids. They are a part of you and a part of your other half. They love unconditionally and always see the good in people.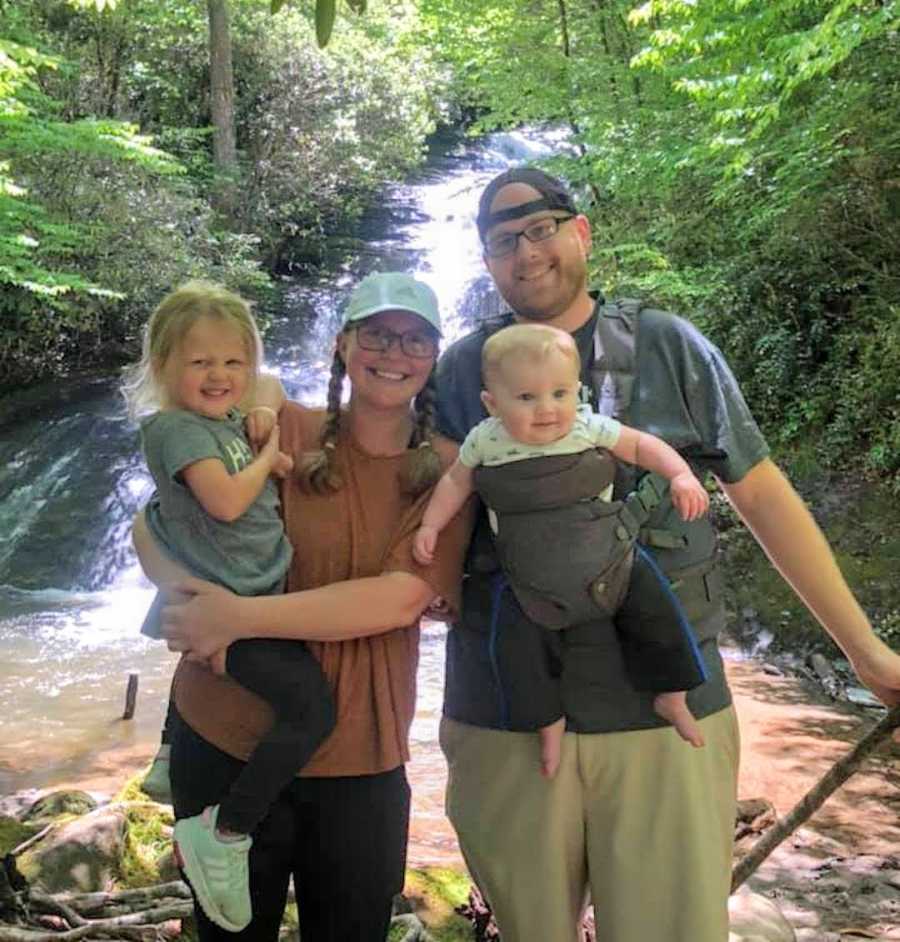 Before becoming a SAHM, I worked for a hospice company. I started out as the administrative assistant, eventually moving up to admissions coordinator. If you don't know what hospice is, it is a medical service that you can be admitted to when you have a life prognosis of six months or less. It is focused on quality and comfort of end of life. There are different services, such as music therapy and art therapy. You also get a team of nurses, social workers, etc. I loved working there, reassuring family members and the people I worked with had such big hearts, but it could be a depressing and stressful environment. When I was eight months pregnant with my daughter, my doctor had me go on maternity leave a month early because of the stress of my job. As it got close to my due date, my husband and I decided I would not return to work after maternity leave. So when I went to the baby shower my coworkers threw me, I told my boss I would not be coming back. She was not surprised, and luckily was incredibly supportive of my decision.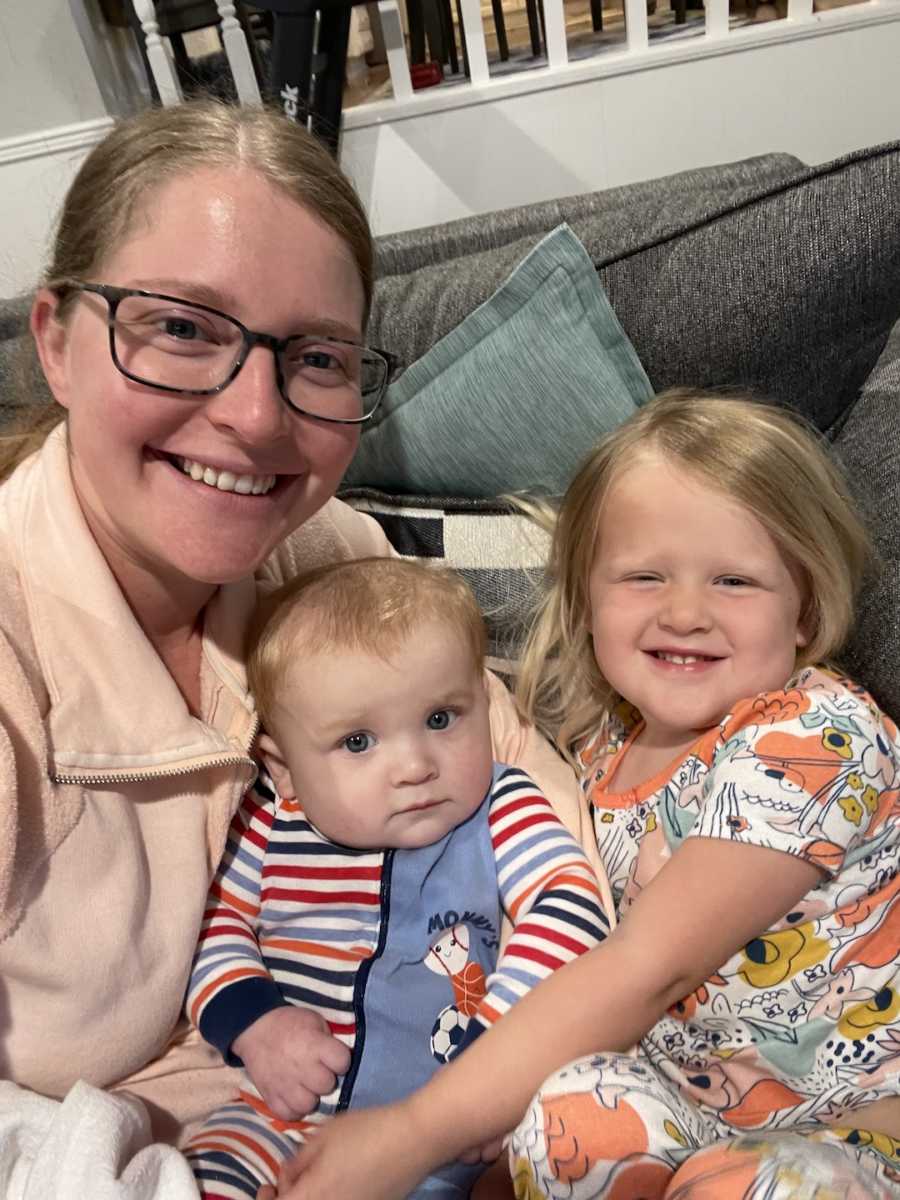 I've thought about going back to work a few times since becoming a stay-at-home mom, even just waitressing, which I used to do, but I don't think I could be away from my kids after getting used to being around for everything. I've been there for all the firsts: first smile, first laugh, first time rolling over, first time crawling, first words, and first steps. My husband hasn't been there for all the firsts, so I'm very thankful for the position I'm in. It's stressful, but 100% worth it. It is easy to get burnt out…and there's no way around it. I mean, you're basically with your kids 24/7. SAHMs don't get sick days or vacations. Vacations are just going to somewhere different to continue doing your job. SAHMs get a bad rep, but it is the hardest job I have ever had; however, it is also the most rewarding. You must remember that everything your child goes through is just a phase. There may be a phase for every age, but at least it's something different to deal with. For about a year, my daughter has been in a phase where only mommy can put her to bed. This is taxing on me since I'm already with her all day, but I'm trying to soak it all in while she's young, because one day she won't want to be tucked in. With that said, I still have my husband put her to bed occasionally, even though she throws a fit.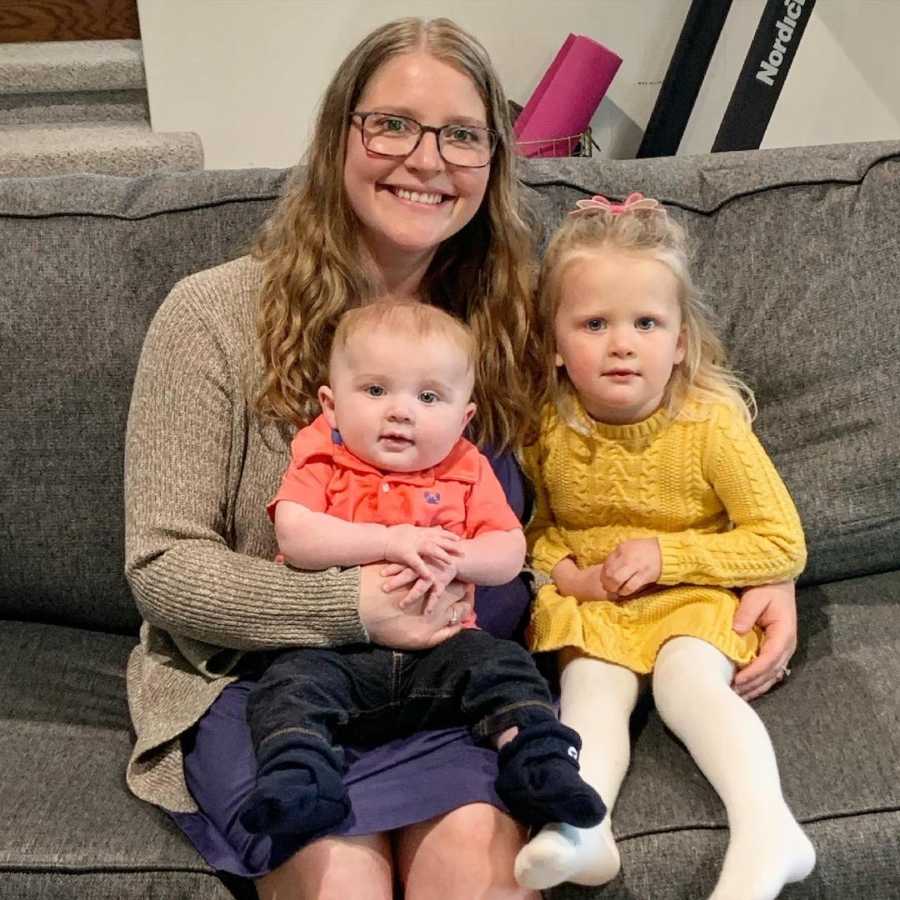 I'm sure you have heard the saying: you can't pour from an empty cup. You are the cup, mama. You must make time for yourself. Ask for help if you feel like you need it. Do not try to be super mom 100% of the time…it's not possible. We are only human. Everyone needs some self-love…take care of yourself, or you cannot take care of your family. I wasn't listening to this advice, and a few months ago, I had started feeling like I was losing grip of who I was as an individual. I used to be so creative. I've started exercising regularly and eating healthier and I feel so much better, mentally and physically. Starting a blog and social media presence has gotten me exercising my brain more as well. I've also been getting more into crafting again, which is one of my passions. I love using my Cricut for random projects, making jewelry, making soap, and painting. I finally realized I need to do more of what makes me happy. Sometimes it's okay to be a little selfish. I am putting myself first more, and I'm doing it for my family."
This story was submitted to Love What Matters by Hannah Watkins from Indianapolis, Indiana. Follow her on Instagram, Twitter, and her blog. Do you have a similar experience? We'd like to hear your important journey. Submit your own story here. Be sure to subscribe to our free email newsletter for our best stories, and YouTube for our best videos.
Read more stories like this: 
'Laura can do it, she's home every day.' I was told how hard my husband must have it. They didn't tell me about the frustrations, the anger.': Mom tells other stay-at-home moms 'you are not alone'
'No one is cleaning their house every day. No one is having sex every day. We are ALL losing our crap.': Mom insists 'you're amazing' at motherhood even when it doesn't feel like it, 'To them, you are everything'
'I'm unfit to be a mother.' I wanted to crawl into bed and sleep for the rest of my life.': Stay-at-home mom shares mental health journey
'To the world, my role is unimportant; a dime a dozen. But to my family, I am everything.': Stay-at-home mom urges 'my role IS essential'
Provide beauty and strength for others. SHARE this story on Facebook with your friends and family.