"I was 20 years old and broken when I fell in love with my son's father. He showed me a kindness I wasn't used to growing up. We laughed and shared adventures. He knew my fears, my past, my mental illness, and my dreams. I would have handed him the moon on a silver platter. I lost myself in him. Our relationship progressed quickly and within months he moved in with my roommates and I. When he moved in with me, I cooked, cleaned, drove him to work until I helped him get his license, did his laundry, and I loved him with everything I was.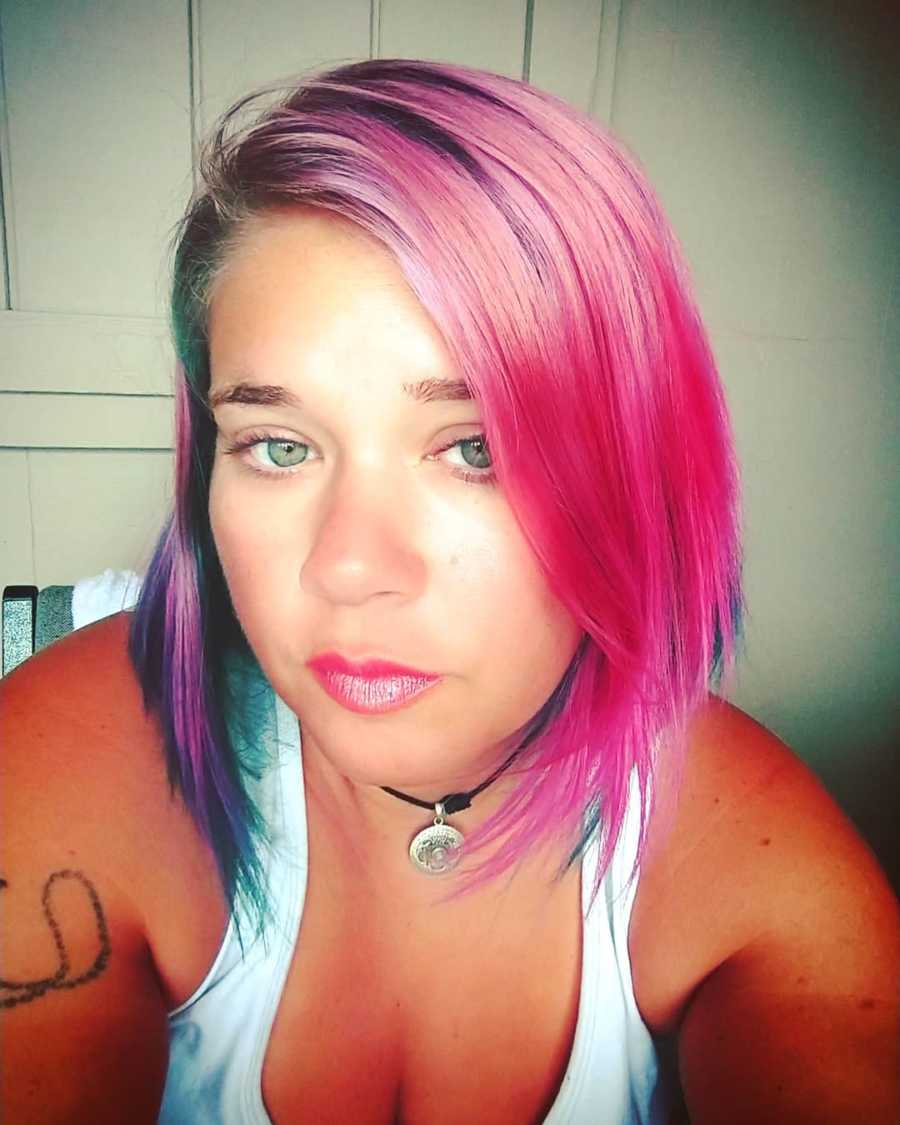 Within a year we had our own one-bedroom apartment. He started drinking a case a night, and, after I got pregnant, he became verbally and mentally abusive. I was 'ugly, lazy, worthless, and fat' during my pregnancy. I would beg for sympathy as my body ached and screamed in pain. I could barely eat in the beginning and then when I could eat, the heartburn was unbearable. I developed sciatic nerve pain, which would end up being permanent. My iron levels kept dropping, and my joints constantly ached. He began messaging other girls online. I kept making excuses and blaming myself. I just needed to try harder. I just needed to be stronger. I felt so alone and stuck because I so badly wanted my child to have the family I never had. I felt like I had done something wrong to deserve his treatment. I had to quit my job as a lifeguard manager because my body was in too much pain to do my job and I was put on bed rest because of complications at the end. But I couldn't just stay in bed. I had to cook, clean, get the baby clothes cleaned and ready, get the crib put together, and finish preparing for our son to be born.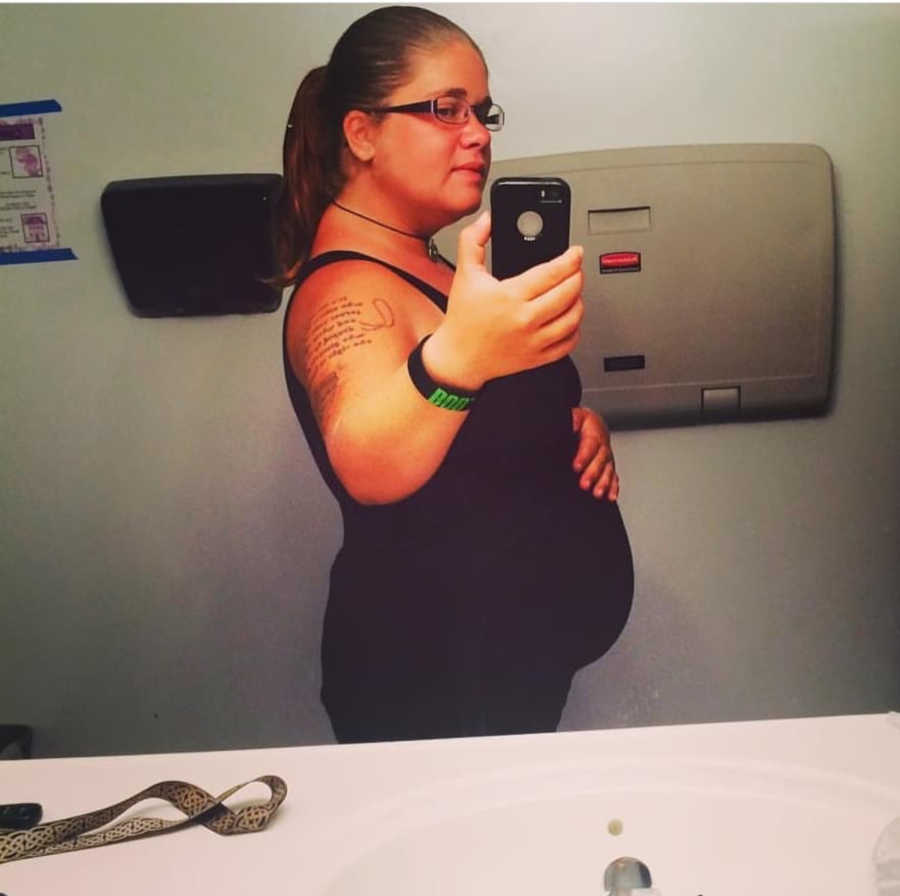 My water broke when I was 36 weeks pregnant. For a moment I was terrified, then calm washed over me. I grabbed a towel and called my doctor, then drove myself to the hospital. Once there I labored alone in a patient waiting room, waiting for my doctors to confirm my fluids were from labor. I could feel my labor progressing, but kept being told it was my first and I probably 'just lost control of my bladder and mistook it for my water breaking.' I breathed and rocked through it all until I knew it was time, and then I went looking for an empty room with real equipment.
It was hard to stay on my feet with every contraction knocking the wind out of me, but I found a room. I laid on the bed on my side with my knee pulled up to my ear and began to push when the nurse found me. She was an older woman and had the attitude that she knew my body better than I did. The nurse began telling me I couldn't possibly be ready so soon, I needed to stop pushing and calling for my doctor. I remember looking over my shoulder and telling the nurse, 'You catch this baby, or I will,' as my doctor, thankfully, ran in. My son's father got there and promptly fainted. He woke up a few minutes after our son was born, looked at our newborn, then walked out to smoke. He was gone for a few hours and returned smelling of cheap beer and cigarettes. He didn't really stay with me and our son those first couple days in the hospital. I lost a lot of blood and they kept monitoring me because my labor was so quick they said they were concerned about internal bleeding and shock. My blood pressure was high. But I was so in love with the little human in my arms that none of it mattered. The moment they handed me, my perfect little warrior, I knew I would live my life for him and give my life to protect him.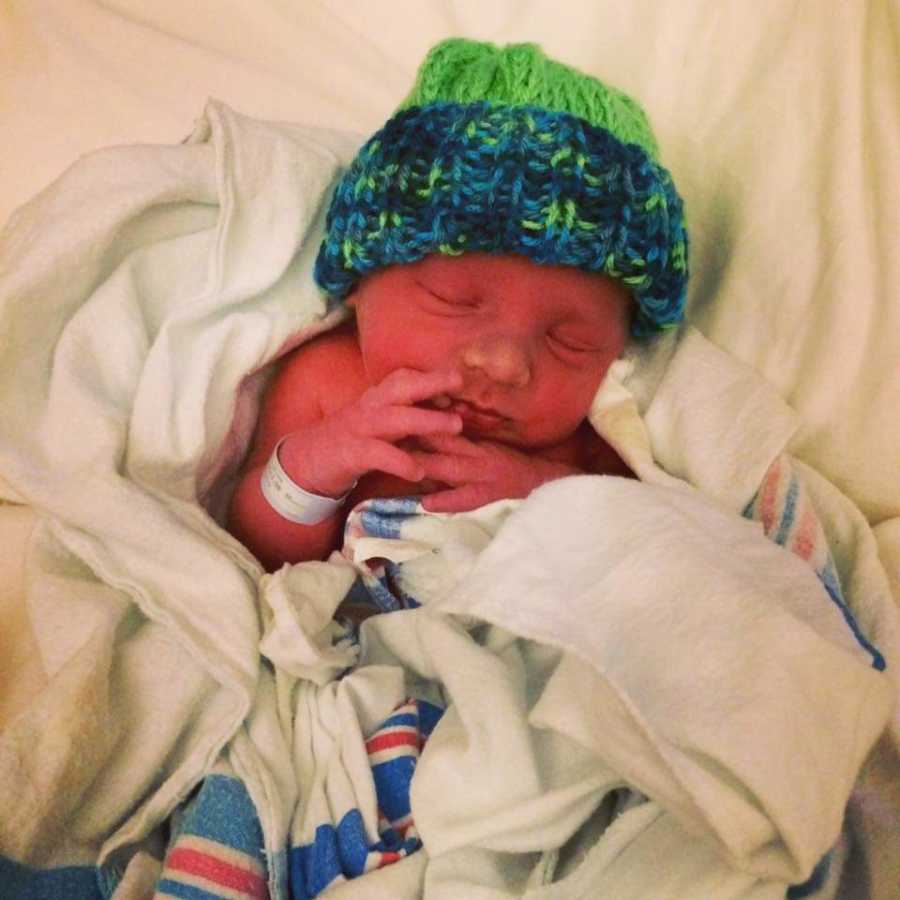 We ended up losing our apartment about three months after our son was born and had to move in with my grandmother. The abuse escalated once there. He would come over very late and into the morning hours wasted and angry. Then one night he came home blackout drunk again, and when I tried to take his keys to prevent him from driving anywhere else, he picked me up and slammed me onto the kitchen table. He slung me around the kitchen screaming at me about stealing his things, even though I had failed to grab the keys. That's when our son began to cry. His father walked into the living room. 'I'm taking our son,' he said. It was snowing and he was wasted. I don't remember moving, but in an instant, I was standing between him and our infant son. He said, 'If you get between me and my son, I'll kill you.' My blood ran cold but I didn't move. He then said, 'I take that back. I won't kill you, but I will knock you out on the tile floor.'
It was that moment that everything changed. The man I loved, the man I still wanted to be with after all of the abuse, became a threat to the most import person in my life. In an instant, years of blind love faded and all I could see was a monster that would harm my infant son. That's when he tried to push past me to grab my son. I stood my ground and then he slung me by my shoulders, but I dragged him to the ground with me and was able to push him into the kitchen. He threw a punch, I moved, he swung again, but this time he connected with my face. I still held my ground between him and my screaming son; I remember the only thought in my mind was, 'He will not take this child like this.' My son's father grabbed my knees and flipped me onto my back and sat on my stomach as my great grandmother walked into the house from church. I started screaming, 'Take my son and lock yourself in your room!' I held my son's father on the ground with me while she complied. We both stood up and he tried to get past me again, he swung again, then I fought back. I was able to push him all the way outside before he stopped fighting and got in his car and sped off, fish-tailing down the snow-covered road.
I walked back inside, checked on my son. He was happily being bounced by Grandma; that magical giggle of his ringing through the house as I walked into the bathroom to clean myself up. But when I looked into the mirror, I didn't recognize the woman staring back at me. She looked like a warrior. Her eyes were bright green and fierce, her long hair was tussled and knotted, there was a bruise forming across her right cheek, her lip was split and there was a small bit of blood smeared on her chin. I washed my face, and took one more look at the stranger in the mirror, then put my son to bed. I saw his father's car pull in again a few hours after he had left, and walked outside to meet him. He was so out of it, he had passed out with his car running, the door opened, and his body half slumped in the snow. I pushed him back into his car and called his grandfather to come and get him. I didn't let him come back, but I still tried to help him. Within a few weeks, he was in jail on several charges including DUI, 2 hit-skips, fleeing and eluding, among others. He was sentenced to 30 days in a rehab program and probation with time on the shelf. I continued to help him and provide every opportunity to let him be a father. In the end, he failed several drug and alcohol tests and was sentenced to 9 months.
By this point, my son was a year and a half old and was showing signs of great intelligence and strength. His smile could light up any room and he was having so many firsts; firsts that I missed because I was working so much to provide a good life for him. I struggled with my depression and anxiety. Was I doing enough? Was I with him enough? Was I doing this right? Oh God, I just wanted him to have a better life than I did. I wanted him to have a family and be loved and accepted for his beautiful soul. I had to find a way to be with him more.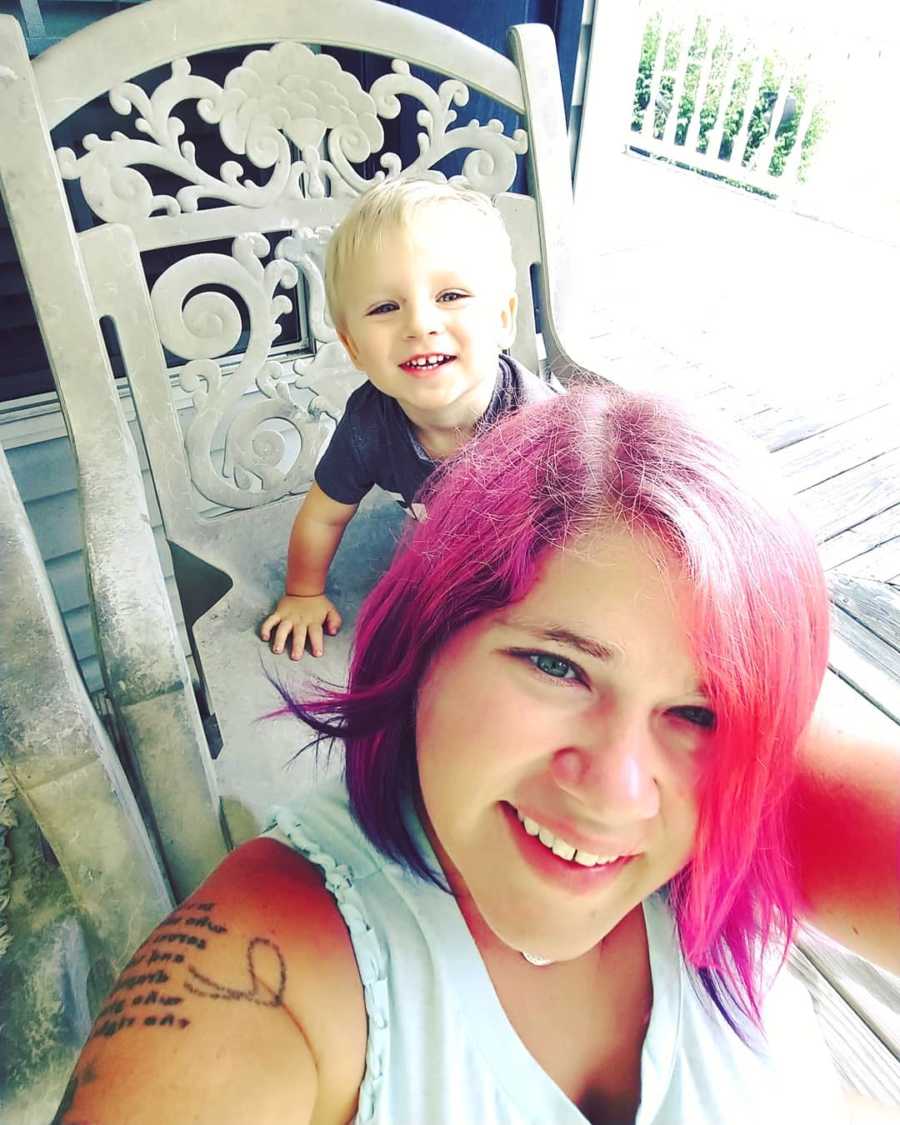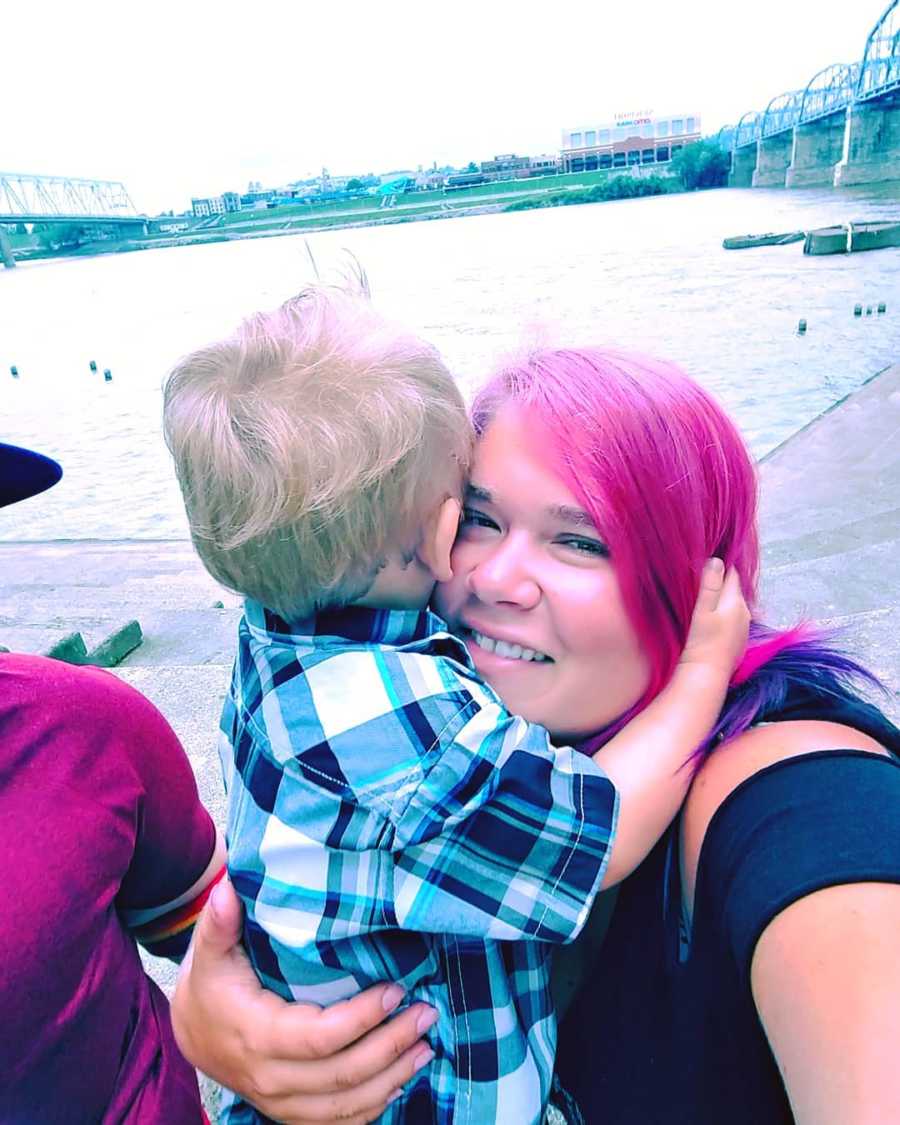 I began talking to the women at the pool I manage and they were thrilled to have my son come to work and play with their children a few days a week while I worked as a lifeguard. Every 30 minutes my second guard would take the stand so I could clean, check chemicals, and do my paperwork. Half of that time I was able to spend playing in the pool with the neighborhood children, including my son. I would teach the young ones how to swim and play dive games with the older ones. Every July 4th the community does games and grills out. That's when I had this fun idea to bring my cosplay to work. I worked a half day and when the relief guard came, I put on my mono-fin and a mermaid tale then went out to the pool deck. I talked and swam with the kids as a mermaid and they loved it. I knew this was how I was going to be the amazing, magical mother my son deserved.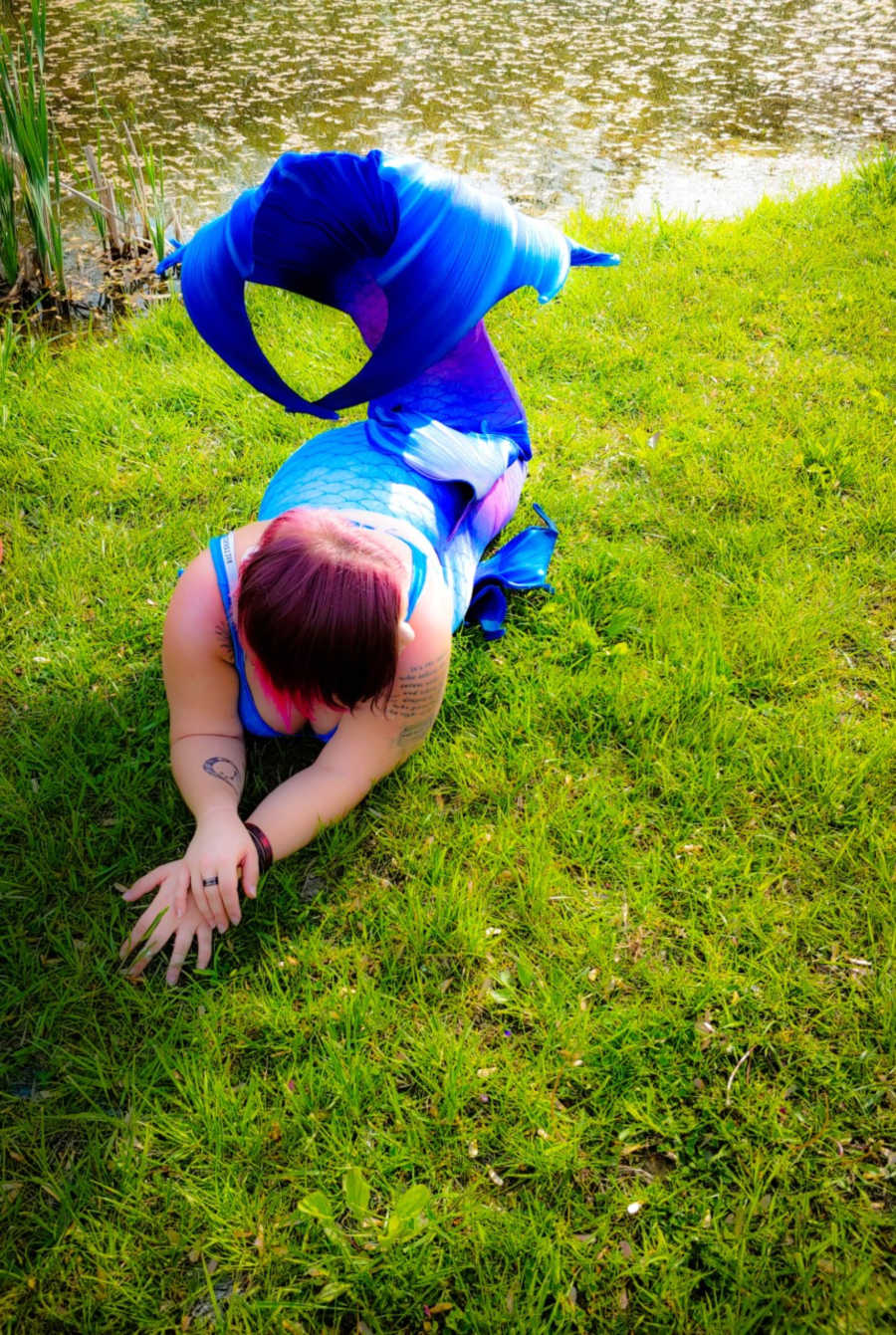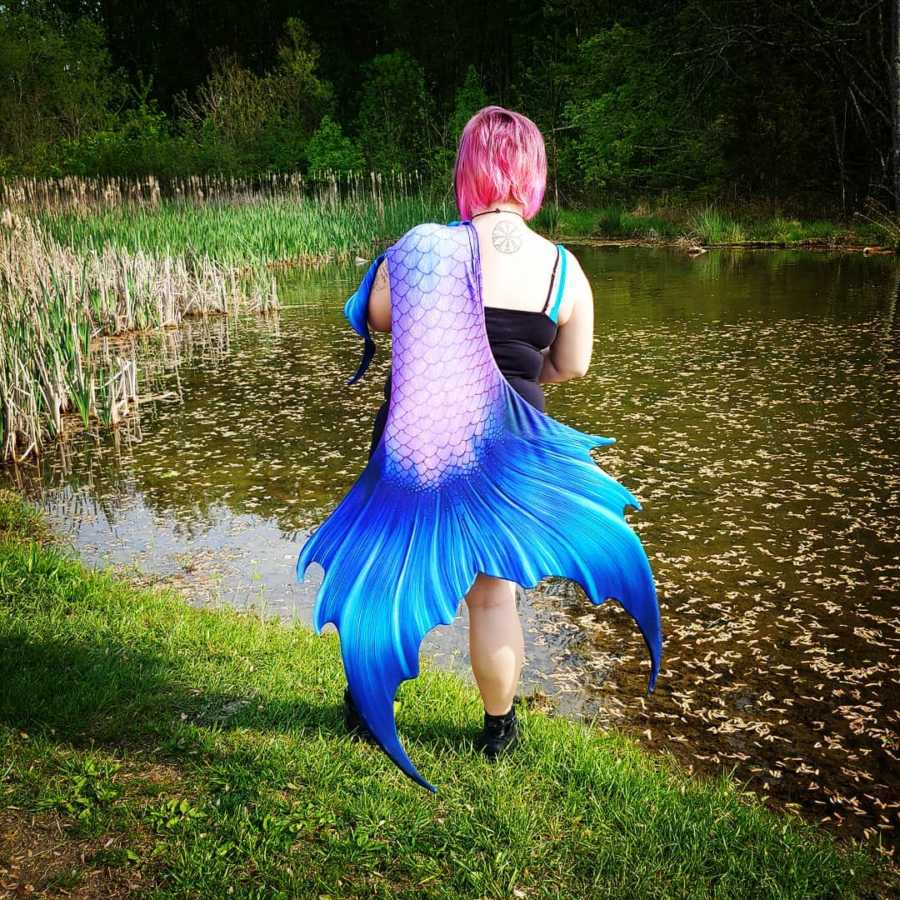 Now it's spring and my son is two and a half and the most amazing little human. He's smart, kind, compassionate, and so full of smiles. He's so generous and curious about the world around him. He really is the cutest little man. I've surrounded us with people who love us. He is so loved, and our home is so full of smiles. I've changed so much being his mother. He's taught me the meaning of patience and has taught me what's most important in life.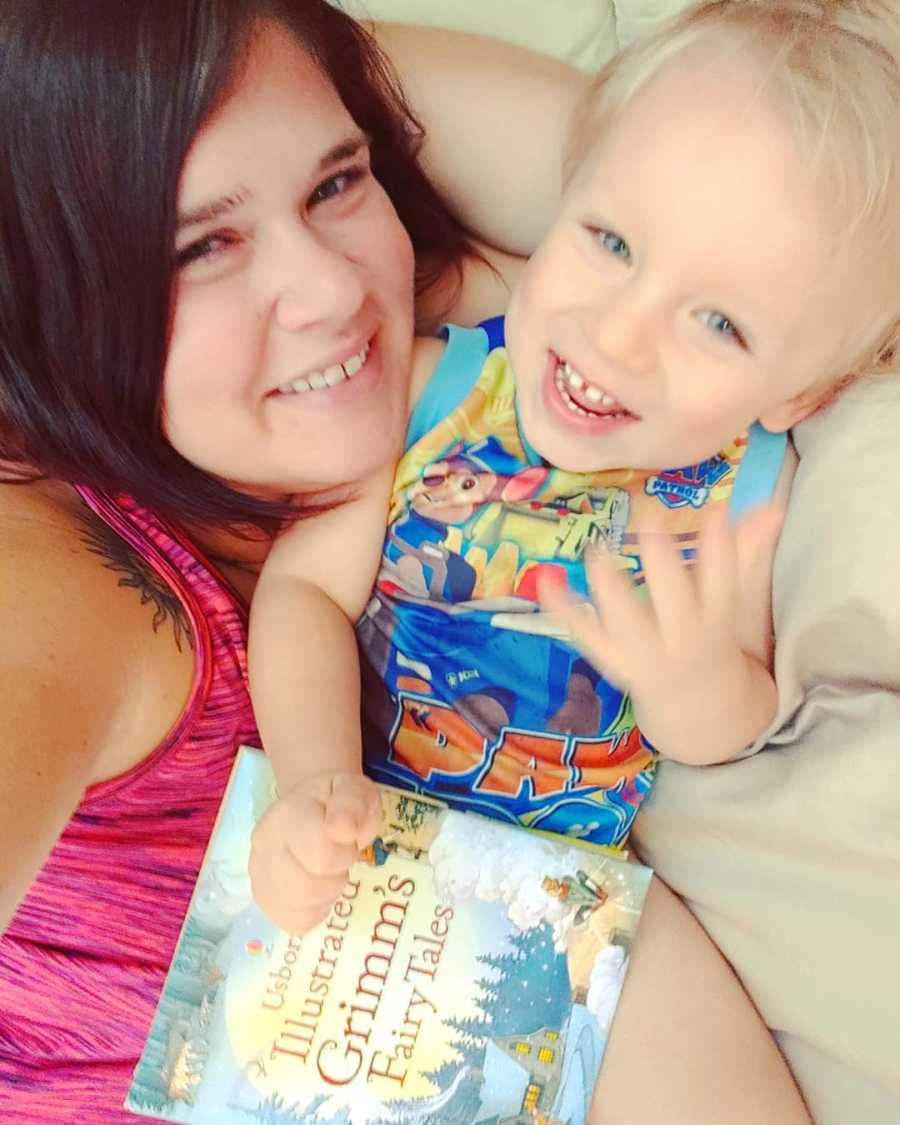 When he has a tantrum, as all 2-year old's do, I will stop and get on his level. I tell him it's okay to feel the way he feels and why the emotion is so big; I tell him to sit and breathe and I stay with him so he knows he's not alone, and he will calm down, then we will figure it out together. He's always in the kitchen helping me cook and he even helps me do the dishes.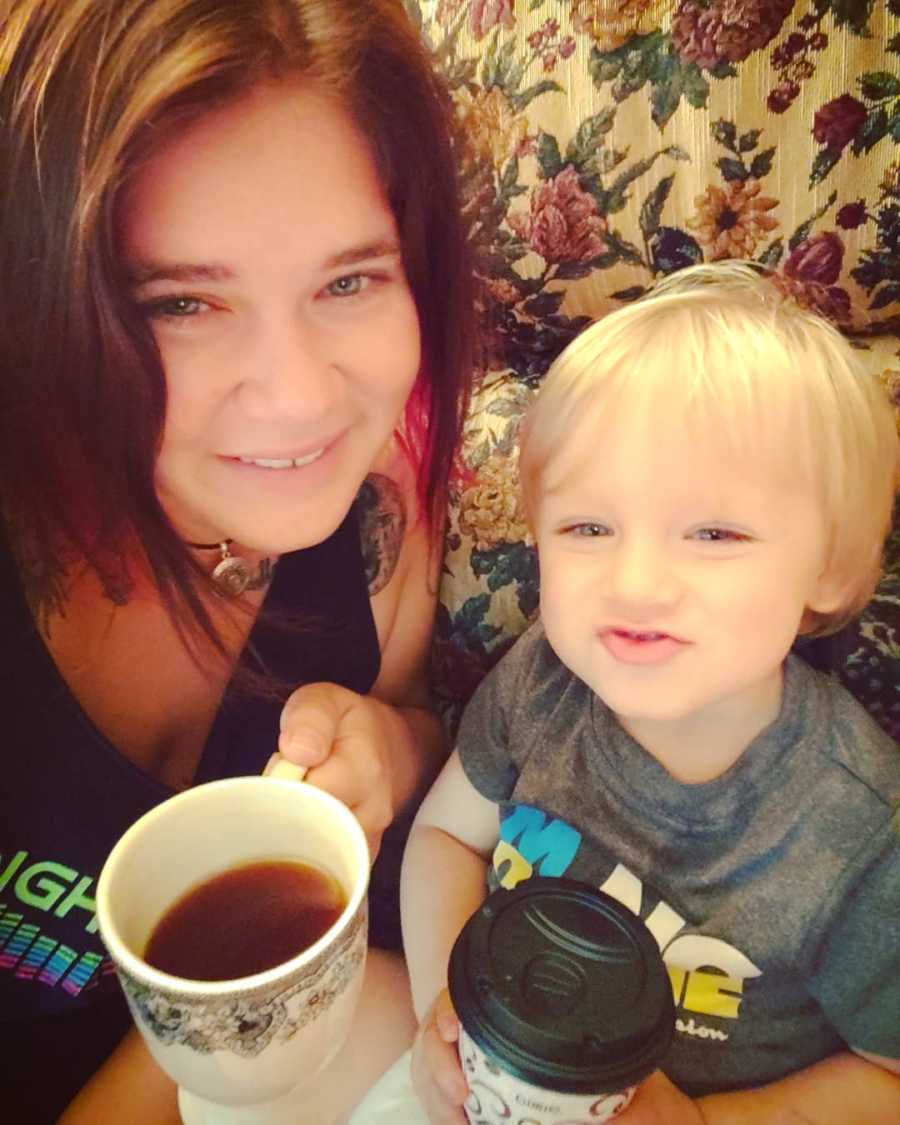 He helps me make my mermaid merchandise and plays with my mono-fins. I've been getting the outdoor pool ready for the summer and he can't wait until it's time to go swimming. I see a therapist now to talk about my struggles and help me conquer my past. I still have a long way to go and I still have a lot of moments of weakness. Being a mother, while being a warrior, and trying to recover from past trauma is the hardest thing I've ever had to do, but for him, it's all worth it.
He is safe, loved, and has everything he could possibly want in a home full of magic and light."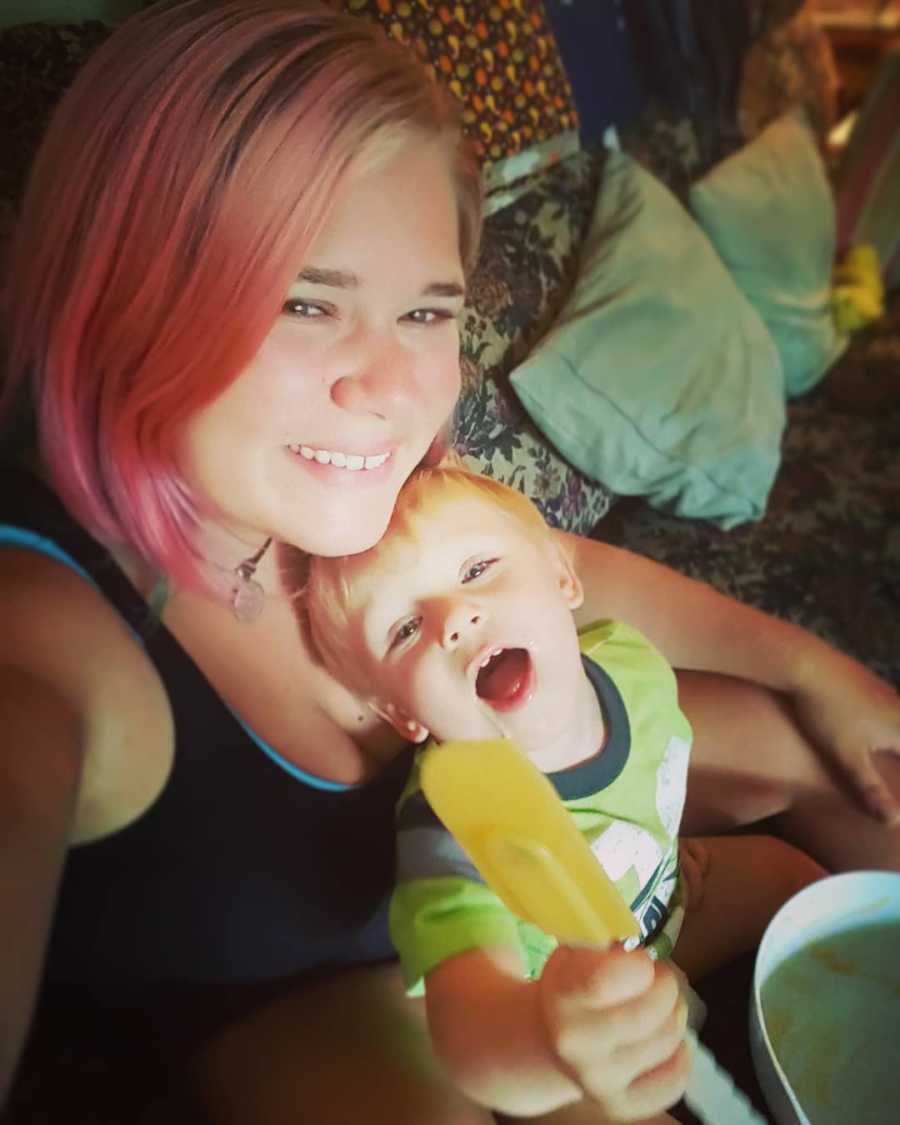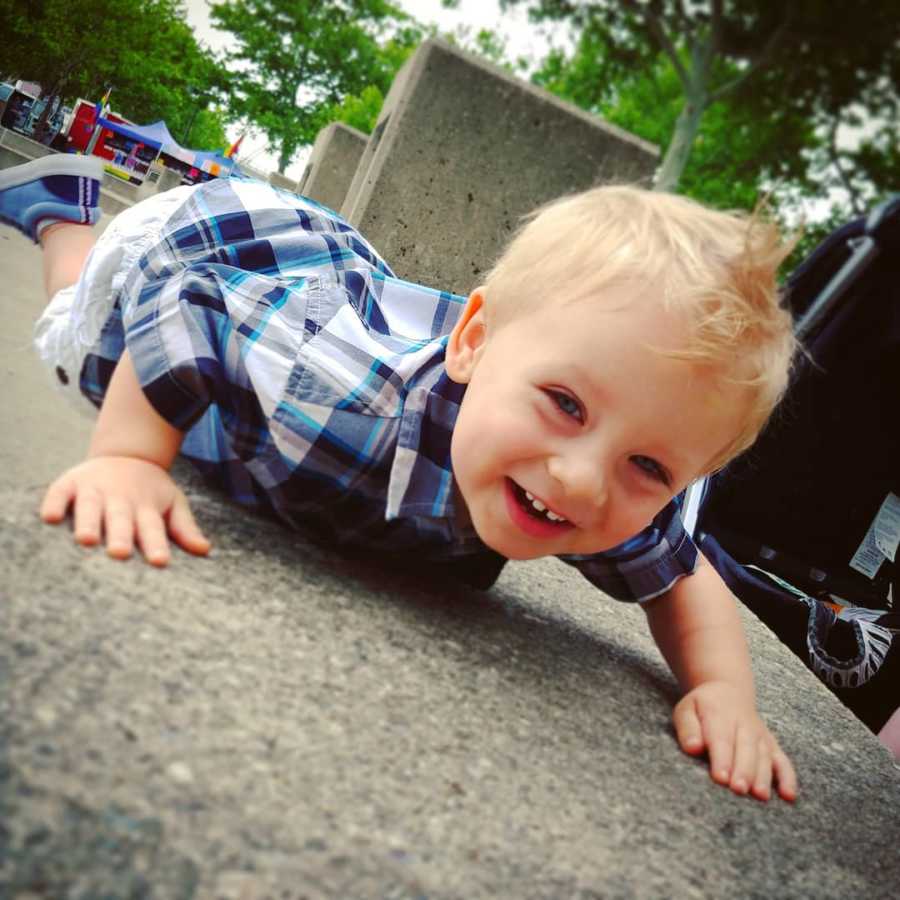 This story was written by Jade Brown of Cincinnati, Ohio. You can follow her on Instagram here. Submit your own story here, and subscribe to our free newsletter for our best stories.
Read more empowering stories from single moms:
'Hours shy of our wedding, at 5 months pregnant, I was assaulted. My fiancé sat in the fetal position, berating himself. 'I don't know what is wrong with me,' he said, begging me to forgive him.'
'At 7 months pregnant, I found messages online to a dozen women, telling them he hated me, wished I was dead. He was my best friend, and had promised we could co-parent.'
'My child's father was leaving me. I was a new mother to a 3-month-old baby girl. The only items I had were a bag of clothes and a computer. She didn't deserve any of this.'
Do you know someone who could benefit from this story? SHARE this story on Facebook with your friends and family.