"I'll never forget having my first son back on September 25, 2004. The second we took him home, I looked at my husband and said, 'I can't wait to do this again.' Even though I was exhausted and tired and nervous and overwhelmed with first time motherhood, I was excited to add another to the brood. I guess I found my perfect match because my husband completely agreed. I guess it's no surprise that we welcomed our second son exactly 12 months later.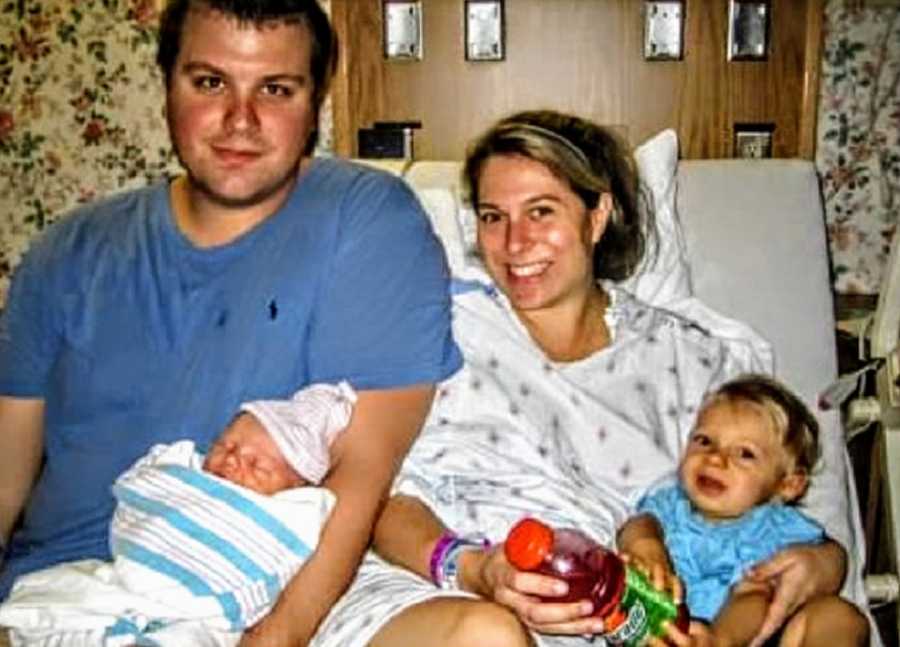 And believe it or not, when our 2nd son was 3 months old, I found out I was pregnant again! I was about to have Irish Triplets (is that a thing?).
Sadly, I miscarried that baby, but I found out I was pregnant again a few months later. Three babies in 3 years. And still, after all that… I knew I wanted another. And he came along a year later! So forget 3 babies in 3 years, it was 4 babies in 4 years!
I never felt that 'I'm done' feeling. Even when I look back and read old journals and old blog posts I'd personally written, they all talked about wanting more babies. I knew I couldn't handle or even afford 10 babies, but that need and that want for babies was alive and well within my heart.
I remember having dinner with my sister-in-law one night and she was talking about that feeling of just knowing you're done. You're content with what you have. You have zero inking to have another. And even the ultimate test of holding a beautiful newborn baby still had you feeling done, done, done.
I just sat there thinking to myself, 'I've never had that feeling.'
I never felt done.
I never knew what it was like to KNOW I was finished having babies.
When we decided to try for another baby in the beginning of 2012, it took us 6 months to finally get pregnant. This was different for me because I had gotten pregnant quickly with the first 5 babies (including the baby I lost), so I started worrying and wondering if this was it for me. Maybe it wasn't going to happen again. When I came to grips with the fact that it might not happen, I found out I was pregnant. I was over the moon and so excited to bring another little one into our family.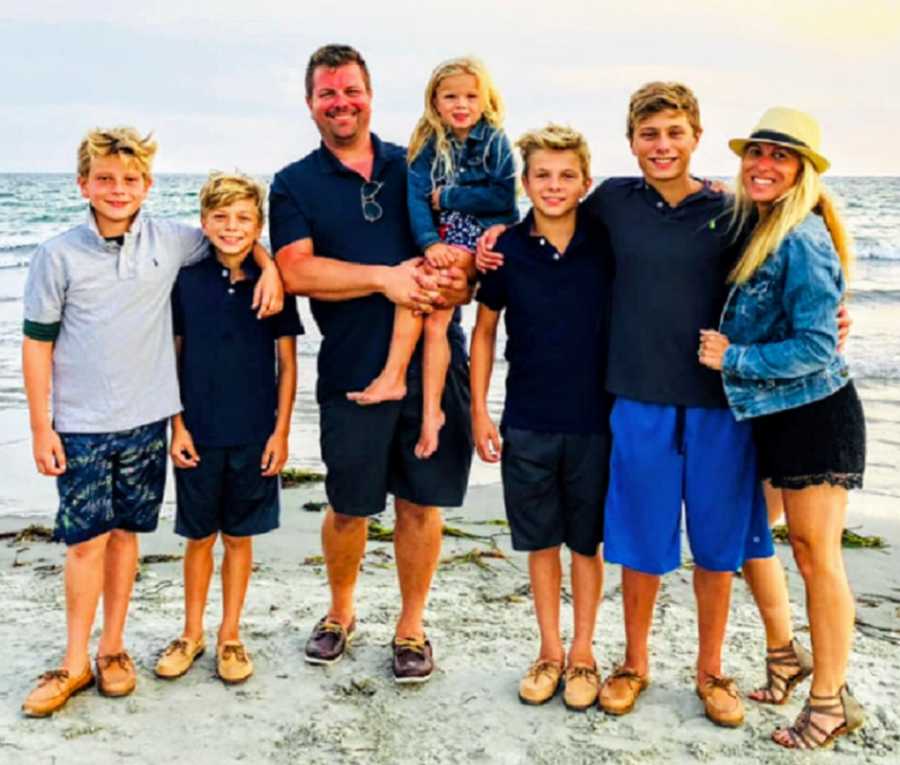 I miscarried that baby in August of 2012 and it really made me stop and think about our family. Maybe we were done? Maybe another wasn't meant to be? But I still had that feeling that we weren't done yet. I had this feeling of not being complete. When I found out on Halloween of that year that I WAS indeed pregnant again, I cherished that pregnancy. I knew I didn't have any control over it, only what I could do to keep myself healthy… so I did everything I could.
When Victoria (a girl!) entered our lives, as anyone can imagine, the questions started pouring in pretty quickly.
'You're done, right?'
You're not going to try for another girl, are you?'
'You aren't going to have more, right?'
Truthfully, I would've loved to have had more after Victoria, at least one more. My age was a factor in deciding to not have another. My nerves during pregnancy were a factor in deciding to not have another. Financially it was tough to have another. 5 kids is a handful, literally… so we made the decision to stop at five.
But feeling done? Knowing all around that I'm done?
I've still never felt it.
I'm 40 years old right now, so I know if I got pregnant now it would be a different pregnancy simply because of my age. I had my first baby at 25 years old. I was 15 years younger! I had more energy. I had more time. It's a little different now. I have 5 kids to take care of, a full time job and, well, I have a very full plate. But still, among it all, I've never felt done, done, done.
When I hold a newborn, I get those stirrings inside of me.
When I see a pregnant woman, I get those warm and fuzzy feelings inside of me.
When I watch gender reveals on YouTube (don't judge – I always go down that rabbit hole), I get those goosebumps on my arms.
Because we do have so many kids, people truly even NOW ask me if we'd ever have more babies. We won't. It's not the plan for us. But feeling done, done, done. I don't have that feeling. I don't know why. I don't know if I ever will.
How do you know if you're done?
It's that one question that isn't a one size fits all for everyone. We all have a story behind why we are or aren't. And many of us have a pretty direct answer whether it's a yes or a no. But for the maybes out there like me, I think it's a feeling we'll always feel. And that's OKAY."
This story was submitted to Love What Matters by Audrey McClelland of Rhode Island. You can follow her journey on Facebook and her blog Submit your own story here and be sure to subscribe to our free email newsletter for our best stories.
Read more stories like this:
'You don't look old enough to have 10 children!' If they only knew. My oldest is only 9. Strangers commenting, 'You must have your hands full' when I'm out with just 3 children are always amusing.'
'Certainly these aren't all your children.' At 29, we welcomed our 10th baby. I looked like I had stepped out of a junior high locker room. 'I can't believe your mother left you with all these siblings!'
Do you know someone who could benefit from this? SHARE this story on Facebook with family and friends.