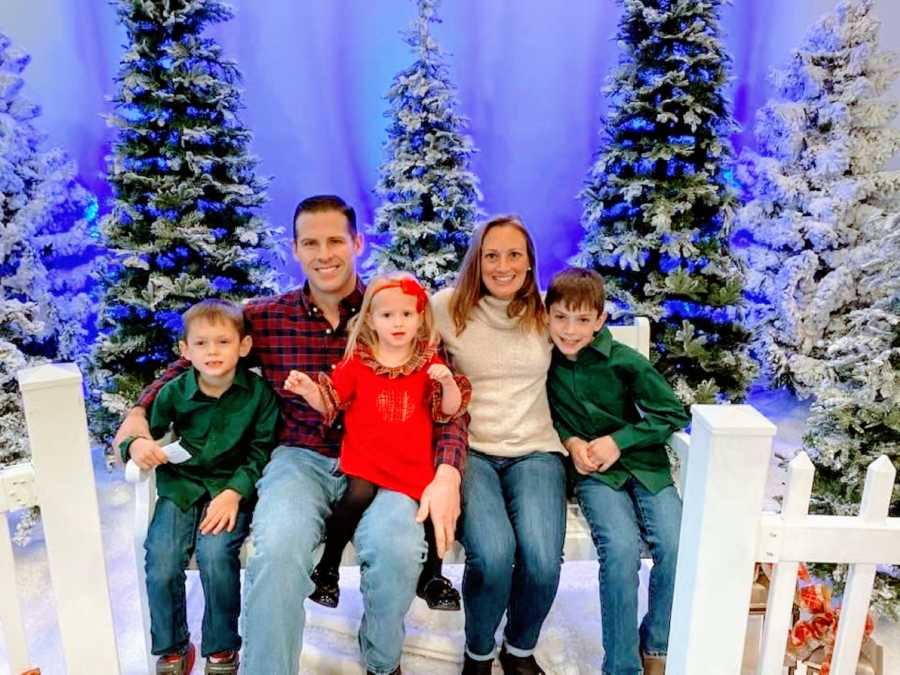 A year ago, we had returned from Disney with family only for schools to shut down a few days later. We intentionally gathered some close friends and their kids at the local park and had our last get-together before we wouldn't see each other for at least two weeks. Little did we know, two weeks would turn into 4 months. I often reflect on both that trip and that Saturday at the park. If we wouldn't have gone ahead and still done both of those things, I'm not sure I would have been refreshed enough to keep pushing through what came next. Thank God for family, friends, and memories that keep us going!
This weekend marks a year since Maryland closed down for the famous coronavirus quarantine. A year later, my kids are outside playing with friends, my husband is on yet another shift on the front lines at the fire department, and I can't help but reflect on this past year. I had to wait until March because I can't lie, the start of 2021 had some hiccups from the ball drop. Now that I've come out from the fog, I wanted to share my reflection on 2020 and this strange moment in history we have faced. We all know it was rough for us individually. I'm sure we could list plenty of things we would have changed and that were hard, but isn't that true for every year? So instead, here's why I'm saying 'Thank you, 2020.'
1. Adaptability
I'm a planner. Type A. The worst kind. If this past year taught me anything, it's I know how to adapt personally and professionally. It was my first year of leave from teaching and life was already full of change and uncharted territory. I had to pivot again and restructure my new business and schedule to fit in my children being around 24/7 and also having to complete their school work. It was one of the most trying times of my life. I ate way too many Oreos in the middle of the night, needed to use my anxiety medications for the first time since leaving teaching, and our house was filled with tension on more days than I'd like to admit. But we adapted. We learned to be flexible. Math might happen at 6 a.m. one day and 5 p.m. the next. I picked my battles. Not only did I adapt, but I also watched as others did the same. So many learned to work from home and take their jobs to a whole other level. Businesses restructured. A local nursery began delivering vegetable boxes. Restaurants made fun carry-out activities like make your own pizzas and cookie decorating kits. Fitness centers offered virtual classes. It is pretty darn amazing to see what will stay from this year. I think so much innovation and creativity never would have happened without this pandemic, and many of us are better for it.
2. Big Moments
We taught my son Bryce to finally ride a bike without training wheels. My son Jake found a love of cooking. I was able to see firsthand how Jake and Bryce both add, subtract, multiply, read and write. Since school work was minimal, we made up activities where we collected bugs, made crafts, learned about boater safety, and more. My husband let the boys be his assistants on projects. I spent every day with daughter Madilyn as she snuggled, learned words, worked on potty training, and more. While there were so many stressful moments of juggling multiple tasks and personalities, I will forever cherish those moments and the memories made.
3. Neighbors
We live in a small cul-de-sac of 7 houses, two of which were built right before the pandemic. Two of our neighbors moved in during the quarantine, which at first made it difficult to introduce ourselves. The few of us that have lived here for years knew and respected each other, but never really had time to spend together. Now we had all the time. We found each other as we walked our dogs or went to the mailbox. We were our only real sources of human interaction some days. This past year, we became real neighborhoods – our kids play together and have become friends, we celebrate each other's successes, and are there to joke with and support each other. We hang out together when possible and when I run out of bread crumbs or one of our goats get stuck in their fence, my neighbors come to the rescue. I'm so grateful I now know everyone beyond a basic 'hi.' Even more special is our street is filled with frontline workers, former military, and essential personnel. Everyone was still working on the front lines through this craziness and it helped to share stories and touch base on what we were all going through. I will be forever grateful we now have our 'court' finally pieced together.
4. No Need to Impress
If you know me, impressing others, especially with my appearance, isn't exactly my main concern. I was in my element. No one cared how you looked at the grocery store, they were just as happy as you to be out at the grocery store. Still though, it was nice there were no comparisons to be made in chit-chat about your family, kids, jobs, etc. To not HAVE to talk to or interact with people who brought negativity to my life or who I didn't feel comfortable being around felt so freeing. There was no energy spent putting on your best face or having to keep up with everyone and everything because you hardly saw anyone or talked to anyone. When you did, it was carefully planned and always someone important to you.
5. Busy Life
Yes, there was so much going on in our house, but for a brief period of time, everything stopped. We weren't rushing to eat dinner to get to practice, barely talking to each other because of the crowded schedules. While there were times I wish my kids had a social activity or practice to go to, it also made us realize how much we need to slow down and focus on not packing our schedules.
6. The Right Partner
Marriages are tried on a daily basis. These conditions put our stress levels on high. Some days were really tough. We said things we shouldn't have. We didn't always put each other's needs first. Sometimes we were so exhausted, I'm not sure we said good night or even good morning. What we did do though was love each other and our kids through it. We made decisions about the mental health of our children and their education. We figured out to make even more sacrifices as a team to get them what they needed. We made it through this together and continue to do so. Through it all, I've realized I chose the right partner.
7. Focus
Family is what matters. Health matters. This year, I put not only the physical health of my family first, but their mental health. This meant some big changes for our children, but I believe we made the best choices. We found out which friends would be there through the tough times and those friends are like family. The friends who we would FaceTime for happy hour, or would send random texts in group chats. The friends who would allow us to vent so we could survive another day in the house with these kids. I am so grateful that some of us became even closer during this trying time in our lives.
8. Hope and Faith
As someone who suffers from situational depression and anxiety, this experience really could have sent me over the edge. I admit, some days definitely weren't my best, but I showed up every day and gave it my best because I had hope and faith. Hope that things would turn around sooner than later, hope that a door would open for a new contract, faith that God would open a door I needed open, faith that God would give me strength and serenity.
I hope that despite so many difficulties and struggles we have all had recently, we can all look back and find the positives. If anything, look back and say, "We made it through some of the worst times and came out on top!" Thank you, 2020 (I think).
This story was submitted to Love What Matters by Stephanie K. of Maryland, and originally appeared on her blog. Be sure to subscribe to our free email newsletter for our best stories.
Read more from Stephanie here:
'I'm the last person you'd imagine to be struggling with Kobe's death today. Why is this white, rural mom so distraught?': Mom relates to Kobe Bryant as a father, 'he had to remain calm in the last moments of his daughter's life'
Read more stories like this:
Sweet 2020 Baby, You've Been The Light In The Darkness
Provide beauty and strength for others.  SHARE this story on Facebook with friends and family.