Living With Cystic Fibrosis
"For most people my age, life is simple, times are fun, and worries are small. I was playing in a completely different ball game. I was born with Cystic Fibrosis, which is a chronic illness known for affecting all the organs in the body but progressively affecting the lungs and digestive system. I have stayed in the hospital multiple times as a child.
I went through dialysis at age 10, due to a reaction to medication resulting in kidney failure. I recovered, but an experience such as that at a young age really shapes a person. Throughout my life, I have always had a tough time with my lungs. My function scores were always on the low side, but despite what my doctors thought, I was always able to keep up in cheerleading, running, dancing, and singing.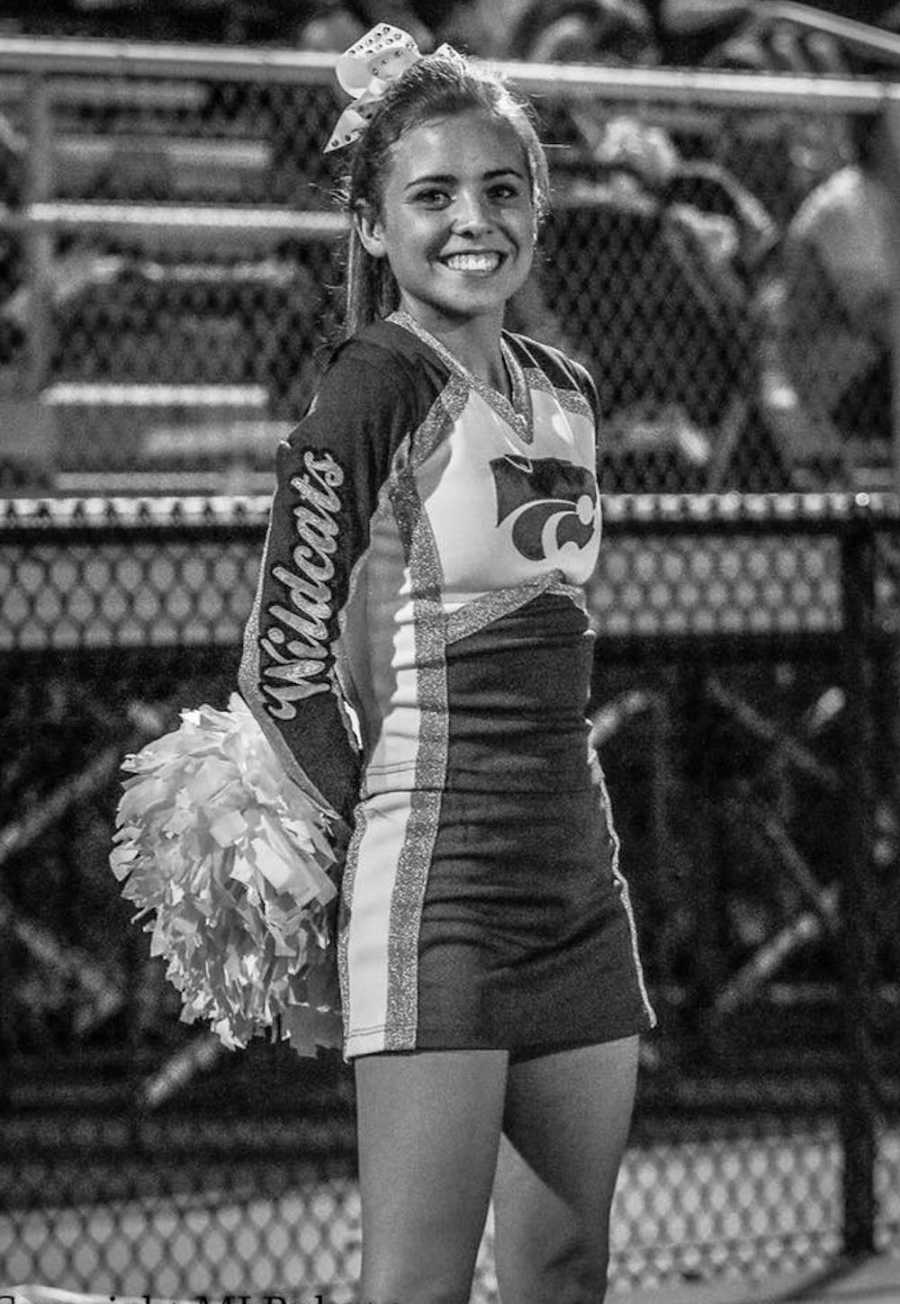 When I graduated high school and went off to college, it is when everything took a turn for the worse. I went to school for one year and then I had to make the crucial decision to not go back. I was fatigued easily, breathless, and had lost a considerable amount of weight. At each doctor's appointment since leaving school, the words 'lung transplant' came up.
What I knew about transplants was all the scary things that I could not understand having to go through. At this time, I was 18, and all I could think about was, 'How did I get here?' and 'This is not fair.' I was sick, but not sick enough where transplant needed to happen just yet. I spent two more years learning and researching more about transplant and following others' journeys with it. I became more accepting that this would be my reality if I wanted to see my future.
Throughout the next two years, I went to pulmonary rehab to work on my strength and endurance. I had to be on constant oxygen of four liters, and I was in and out of the hospital constantly. I was house ridden and seeing all my friends having fun without me always put me in a sad place. I just wanted to be like everyone else.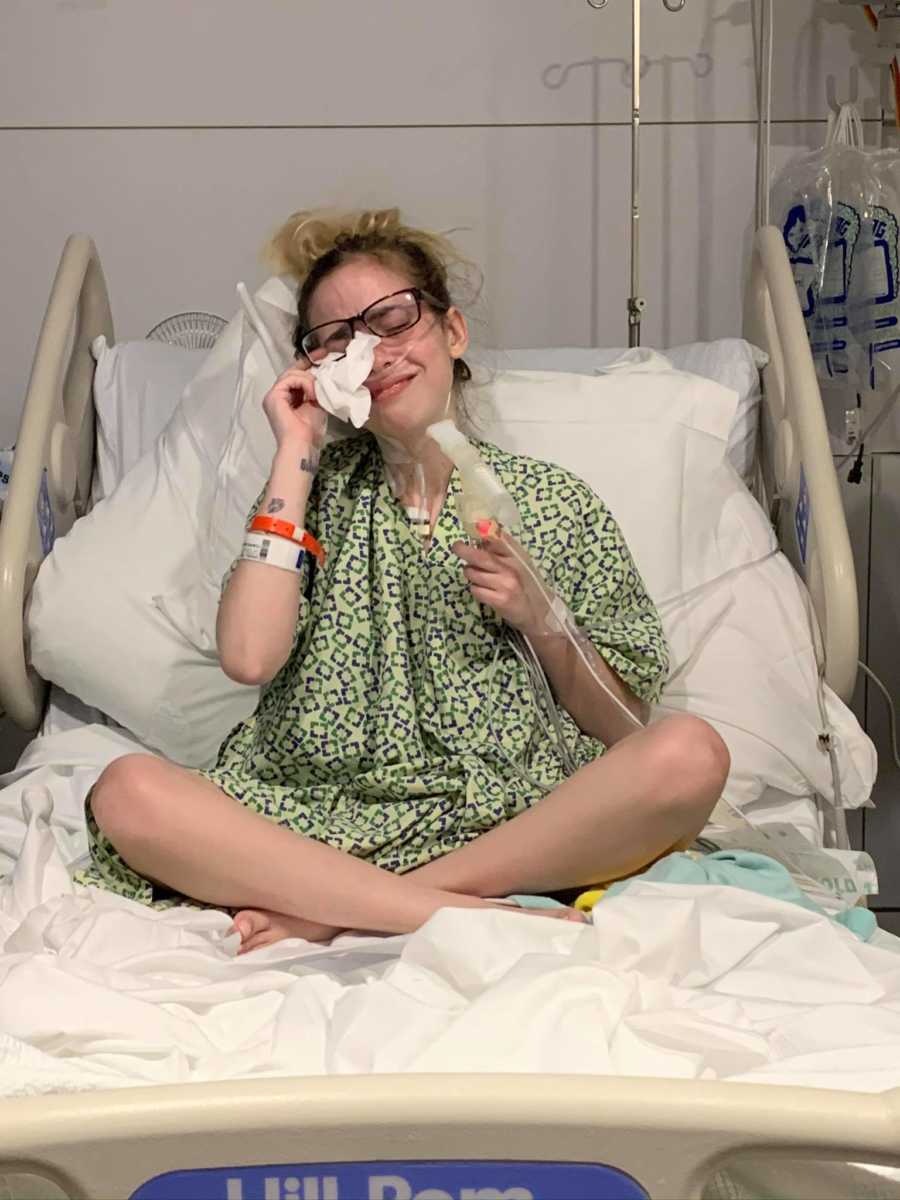 I had to deal with heavy subjects when everybody else was enjoying life. I was frustrated and in a dark place for a long while. Thankfully, I can take myself out of that place and remind myself to smile and that storms do not last forever. I spent my twentieth birthday in the hospital, but I am forever grateful that my family made it special for me by coming in dressed up as my favorite celebrities.
As time went on after that, I steadily declined. Walking up the stairs was a chore and I could not sing because it took too much breath. That was extremely hard for me because singing was my whole life. It is what fueled my soul and all of a sudden, I am supposed to stop?
Getting Onto The Transplant List
One night I remembered something a transplant coordinator had said to me, 'Kenzie, there is what we call a 'transplant window.' 'This is where you're sick enough for transplant but healthy enough to make it through surgery of this magnitude.' I thought to myself, 'I am in this transplant window and I need to start the process now before it is too late for me.' So, the work-up began.
The work-up was very draining mentally, physically, and emotionally. I remember the first words to ever come out of my new doctor's mouth who I was meeting for the first time, 'Do you know how sick you are?' That shook me to my core. I always knew I was sick, but when you hear it aloud, it becomes real. After a month of work-up, I was listed. I was on the transplant list for a whopping twelve days, TWELVE DAYS!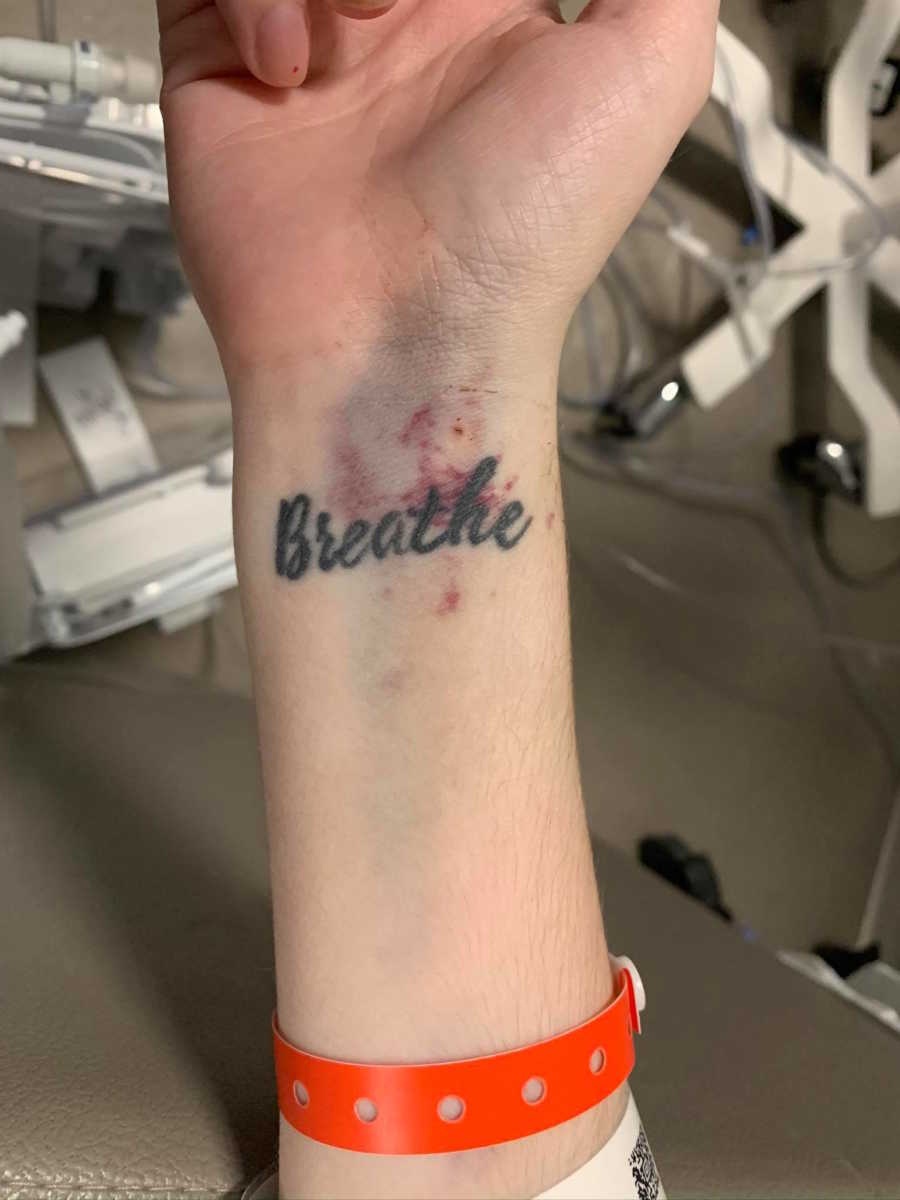 There had been a lump in my throat and the weight of the world on my shoulders for years, but it was specifically worse when waiting for that call. I was with my dad when I received the call and I instantly threw up. On the way to the hospital, I had a sense of calmness come over me. I casted all of my fears onto God, and I know He was there guiding me and putting all my anxiousness at ease.
Getting My Lung Transplant
When I got there, my friends were in the waiting room where we cried and hugged each other so tight. I am so grateful that they came. As time passed, my sisters had made it from Tennessee, and I was about to be rolled into the operating room. I had asked my sister Kimberly to pray over me. She did, and my family stood there holding hands around my bed.
Being rolled away from my family was the hardest part of this entire process. Praying that I would see them again and that I would be breathing easy. After eight hours, I was awake. Breathing for the first time out is not as glamorous as you may think. It took me some time to get used to the fact that I could breathe easy. A concept that was foreign to me my whole life. I spent 4 days in the ICU.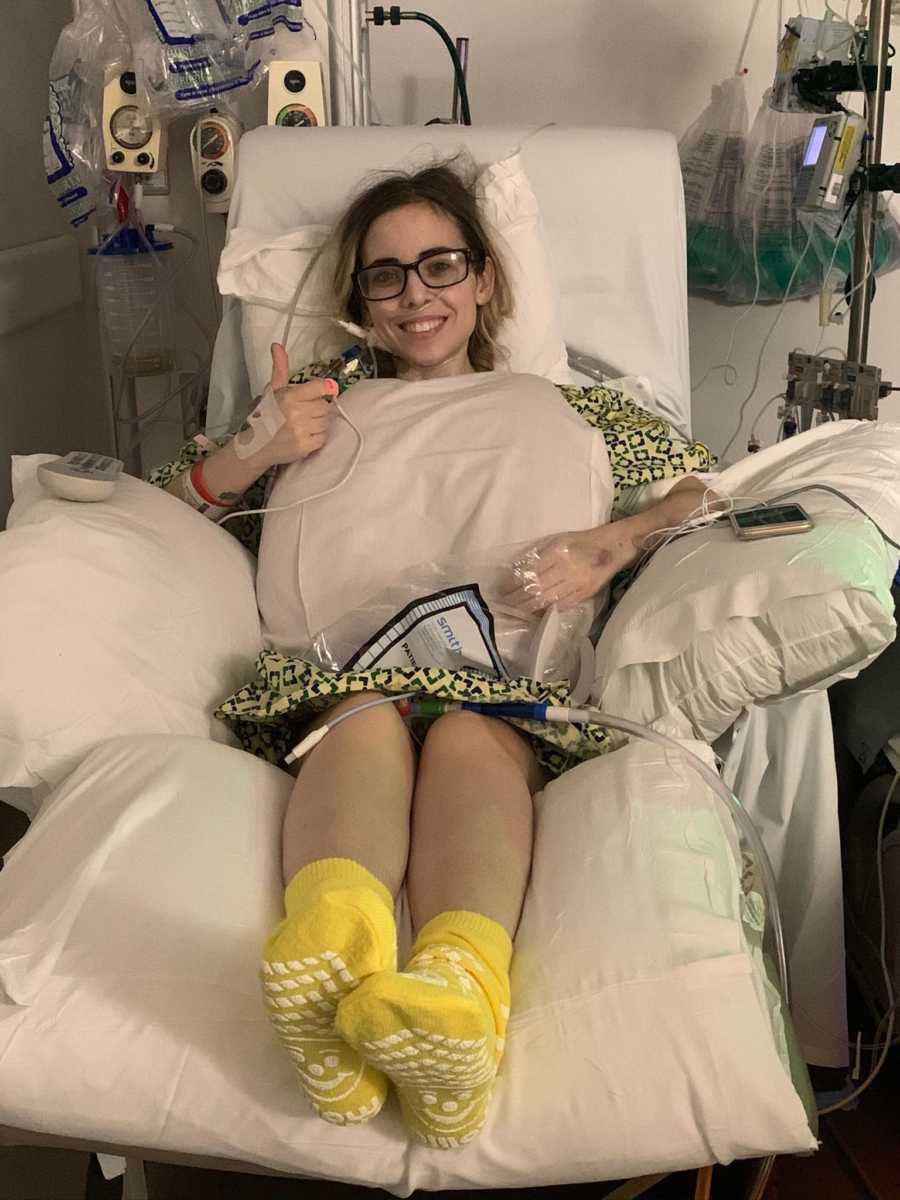 The day before Halloween, I passed out and when I woke up, I could not see. It was not blurry, it wasn't double vision, I was blind. One of my medications reacted with each other and had taken my eyesight. I remember calling or feeling for my family because I never knew who was around me. That was the worst feeling. Thankfully, doctors had stopped that medication, and my eyesight returned Halloween evening.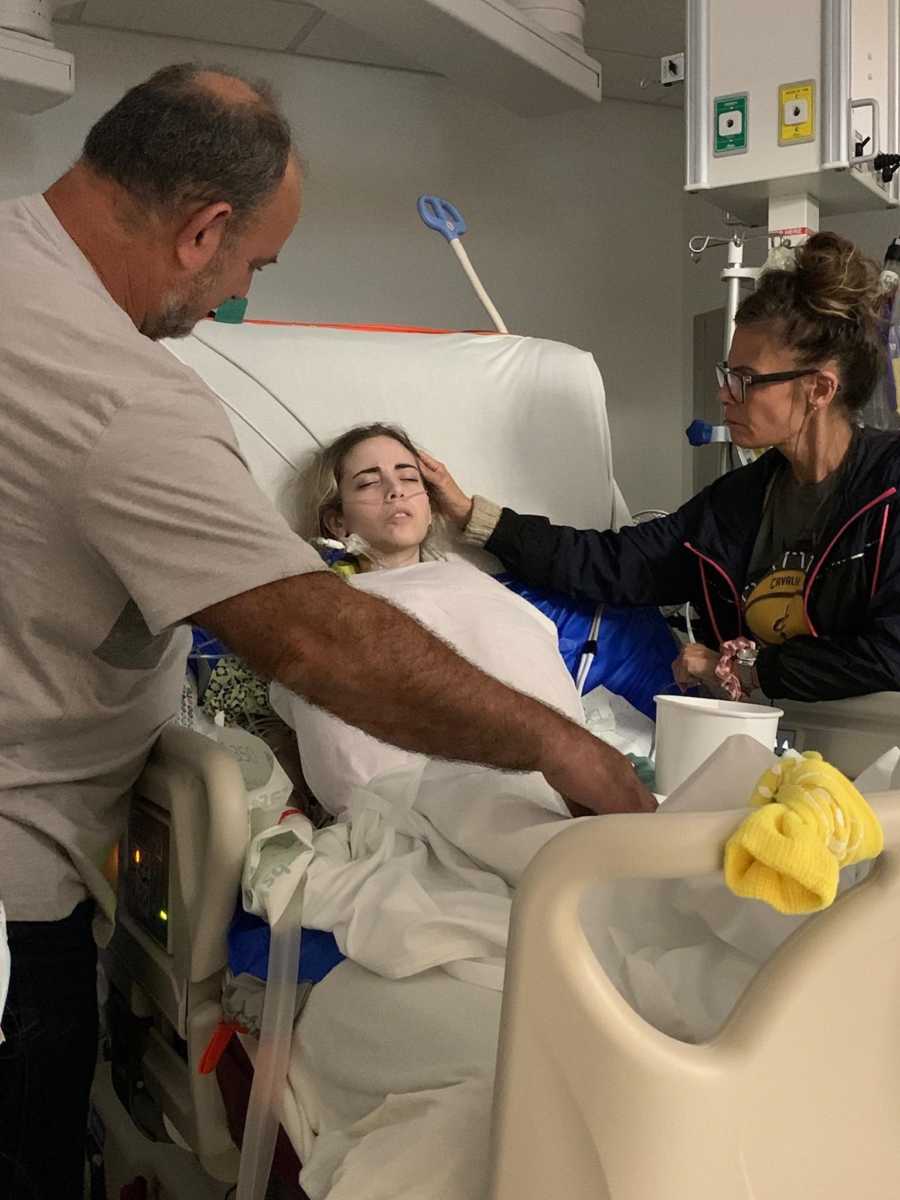 Finally, I was able to move to 'step down.' Recovering in the step-down unit was more comfortable than the ICU. There was more privacy and it was a much more conducive place to recover in. During my stay, I was taking walks with my physical therapists and nurses each day, gaining strength. I did not want to take my oxygen off. It had been my security blanket and even though I did not need it anymore, my brain was telling me I did.
Music therapy came by and wanted me to take it off while I sang because that would be a distraction from anxiety. Before I knew it, I had it off for a couple of hours and my oxygen level stayed around 98 to 100. That was when I knew my body could breathe on room air just fine. That was a big mountain to overcome, but I am proud that I overcame such a scary moment.
Thriving With My New Lungs
At last, I was able to go home. I was nervous but so ready to live my new life. We have stairs in our house, so going up them was a little difficult leg wise, but I was not out of breath in the slightest. I thought to myself 'Wow, I could get used to this.' Fast forward to my doctor's appointments right after post-transplant. My transplant doctor had said, 'You're the most improved.' My PFT (pulmonary function test) had come up from 19% to 83% so far and my weight was steadily increasing.
Fast forward again, over six months post-transplant and my PFT is at 100%! I never thought I would see that number in my life. I have gained over 25 pounds since my transplant and I am healthier than ever. I love doing my YouTube videos and I've become a fan of making Tik Tok videos, too! These are things I never thought I would be able to do again. I am dancing again, singing again, and loving life again all because of my selfless donor.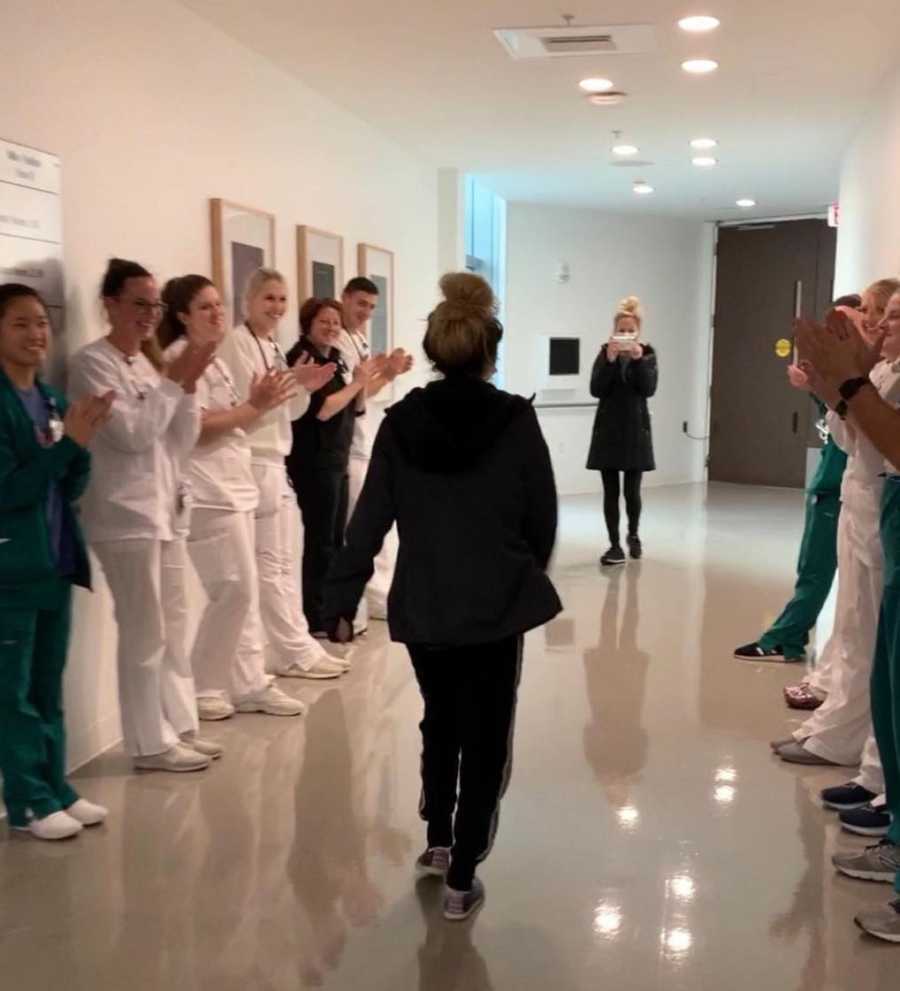 To my donor, my family and I keep your family in our prayers because we know in order for me to gain my life back, you had to lose yours. Thank you for being an organ donor. I know I can never repay you, but I hope my story will urge others to register as an organ donor. I am forever grateful for the second chance at life you've given me."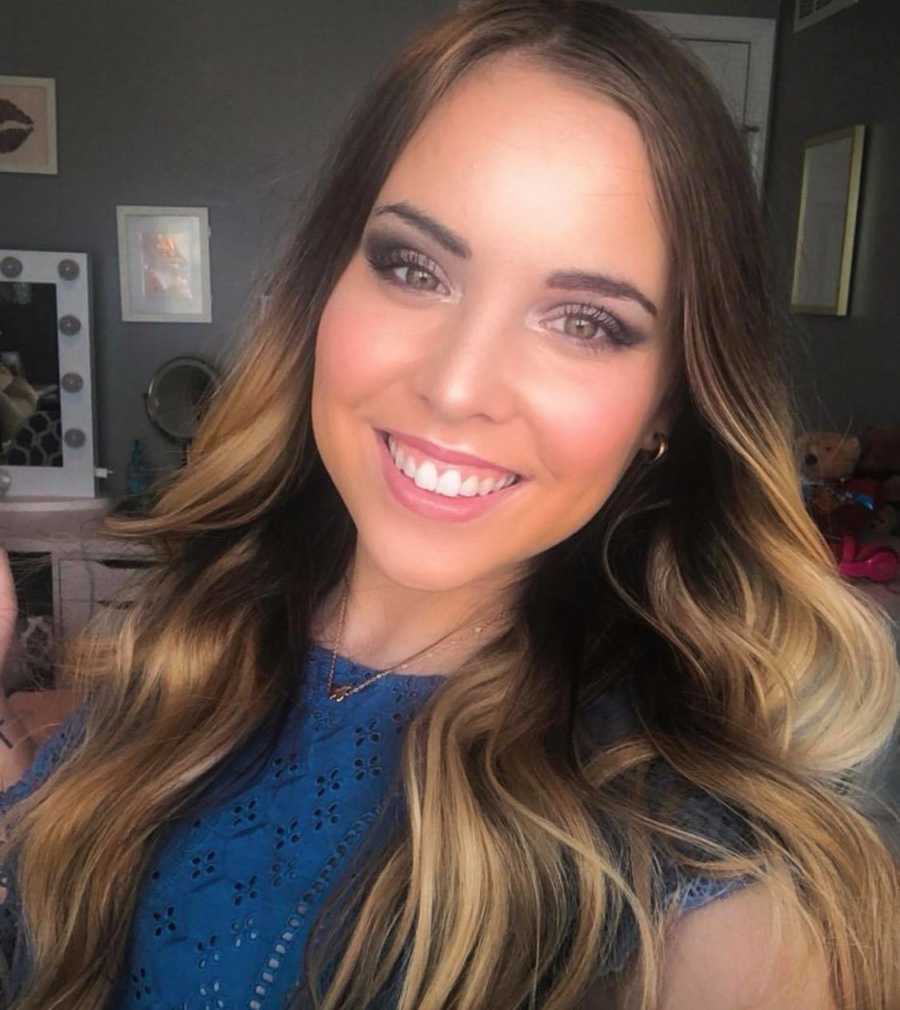 You can register as an organ donor at donatelife.net.
This story was submitted to Love What Matters by Mackenzie Kokoski. You can follow her journey on Instagram here and here, and on Youtube. Submit your own story here and be sure to subscribe to our free email newsletter for our best stories.
Read more amazing stories about people living with chronic illnesses:
'The nurse checked if my skin was salty to confirm her suspicions. She was right. I came out of the hospital and immediately changed my job.': Woman diagnosed with 'life-threatening' Cystic Fibrosis, 'I couldn't be more alive'
'I'm often mistaken for being lazy or spoiled. The dirty looks I get would shock you. I may look like a typical 23-year-old, but I'm not.': Woman with multiple 'invisible' chronic illnesses refuses to let struggles 'overcome her joy'
'By the time I clock out and leave tonight, I will have been in the building for 14 hours. 3 as a patient, and 11 as an employee. This is invisible illness. This is dysautonomia.'
Do you know someone who could benefit from this story? SHARE on Facebook to let them know a community of support is available.