Starting Recovery
"On the day when the therapy dogs came to visit, Bobby was feeling anxious. He and other first responders from around the country had been in inpatient treatment for a couple of weeks. In Bobby's case, he had undergone a medically supervised detox from prescription painkillers and was now participating in the intensive group and individual therapies.
Bobby, almost halfway through treatment, was feeling anxious thinking about things at home. His wife was stressed out, and understandably so: While Bobby was in treatment, she was solo parenting their four young kids (all of them under the age of five), while continuing to go to work. That reality was causing anxiety for Bobby, who wanted to recover as soon as possible and get back to being a father and provider for his family.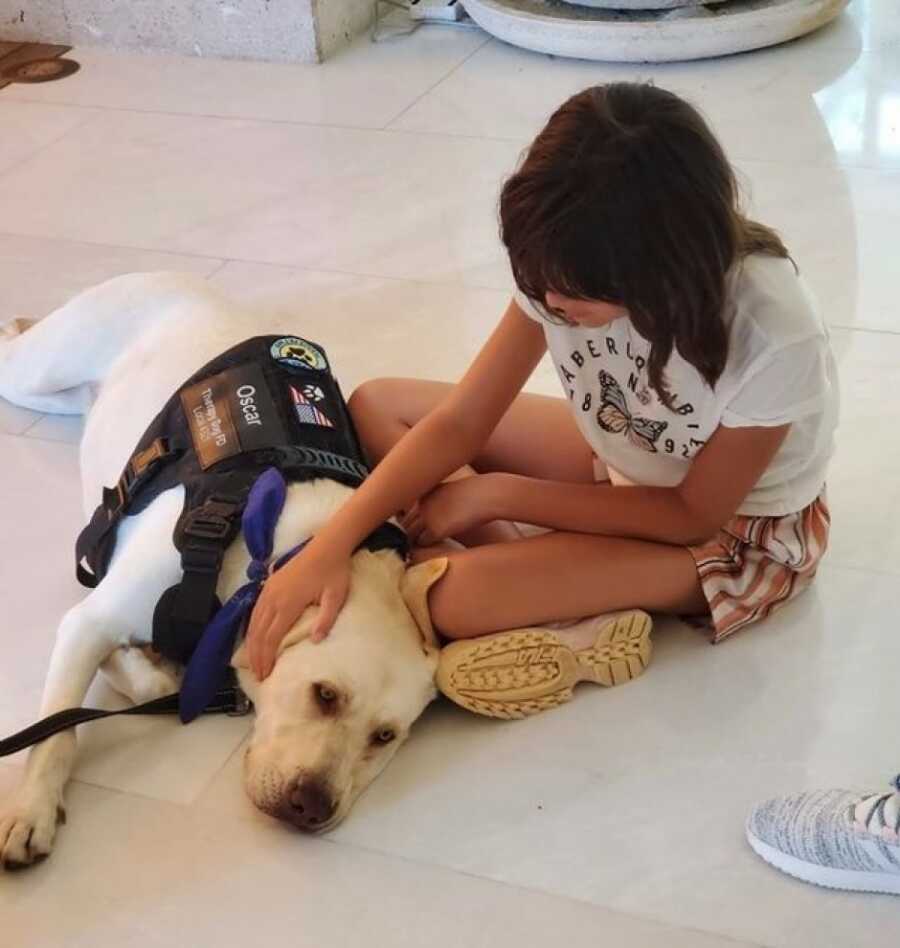 Living with Anxiety and Trauma as a Corrections Officer
Anxiety was nothing new for Bobby. Over the 13 years that he had served as a corrections officer at a men's prison just outside of Boston, Massachusetts, he had grown increasingly anxious and hypervigilant—to such a degree that it had become an almost constant feature of daily life.
Bobby was used to being ready for and responding to all sorts of emergencies and traumatic events, after all. His job was to help oversee the 'segregation unit,' which was 'a prison within the prison,' in Bobby's words. There he dealt with 'the worst of the worst criminals.'
In a recent interview, Bobby described what corrections officers do: 'We are the police, the fire, and EMS inside the prison. I'm a sheriff of a small town that's all criminals and you've got to keep the peace, put out some fires, and save some lives.'
When Bobby would get home from this work, his wife would leave for work … at the same prison. That only amplified Bobby's fears and anxieties—all of the terrible 'what if's.' Because he was intimately familiar with the dangers that his wife faced at work, he would play these potential scenarios out in his head even when he was off duty (and she at work). Often it seemed as if there were no escape from the negative, worst-case thinking and high-stakes stress.
How Painkiller Addiction Developed
'I was in a hypervigilant state constantly thinking of negative scenarios,' Bobby said. 'I couldn't shut my mind off.'
Prescription painkillers temporarily dulled these constant fears and worries: 'My only release was to take a painkiller and numb my brain for four hours.'
Bobby, 36, had his first experience with painkillers when he underwent shoulder surgery after a high school sports injury. He began taking them again a few years ago—only in this case to cope with the mental and emotional stress of his job.
Getting Help for Addiction
After a stint in rehab three years ago, he managed to stay clean for a year and a half before relapsing.
'Life was going back into chaos, and I caught myself before it got completely in chaos,' Bobby recalled.
He told his wife, and she reached out to a caseworker who referred them to 'Shatterproof,' a specialized treatment program for first responders. Almost immediately, he was on a plane headed to rehab.
The Calming Effects of a Therapy Dog
The therapy dogs that came to visit on this day when Bobby was feeling anxious knew nothing about him or his story or about the other first responders in the room. The dogs showed up to offer their love and support, by offering friendly sniffs and wordless invitations to be petted.
Here is how Bobby recalled the dogs' almost immediate impact:
I was dealing with a lot of stuff from home and cleaning up the wreckage of my behaviors … I had a lot of worry and anxiety … When the dogs came in, it made me forget all that stuff and I could just focus on the dogs. They came up to me and were sniffing me and letting me pet them, and it just instantly calmed me down.
The overall effect was to make Bobby 'forget everything what's going on' so he could be more present in that room and better able to focus on his recovery.
Bobby was not alone in his experience with the dogs: 'When the dogs come in you could instantly see everyone relax. Everyone was relaxing and smiling and petting them.'
He had seen similar effects before in his own line of work. 'Even the most hardened criminals in prison, big tough guys, loosen up and smile and say hello to therapy dogs,' he said.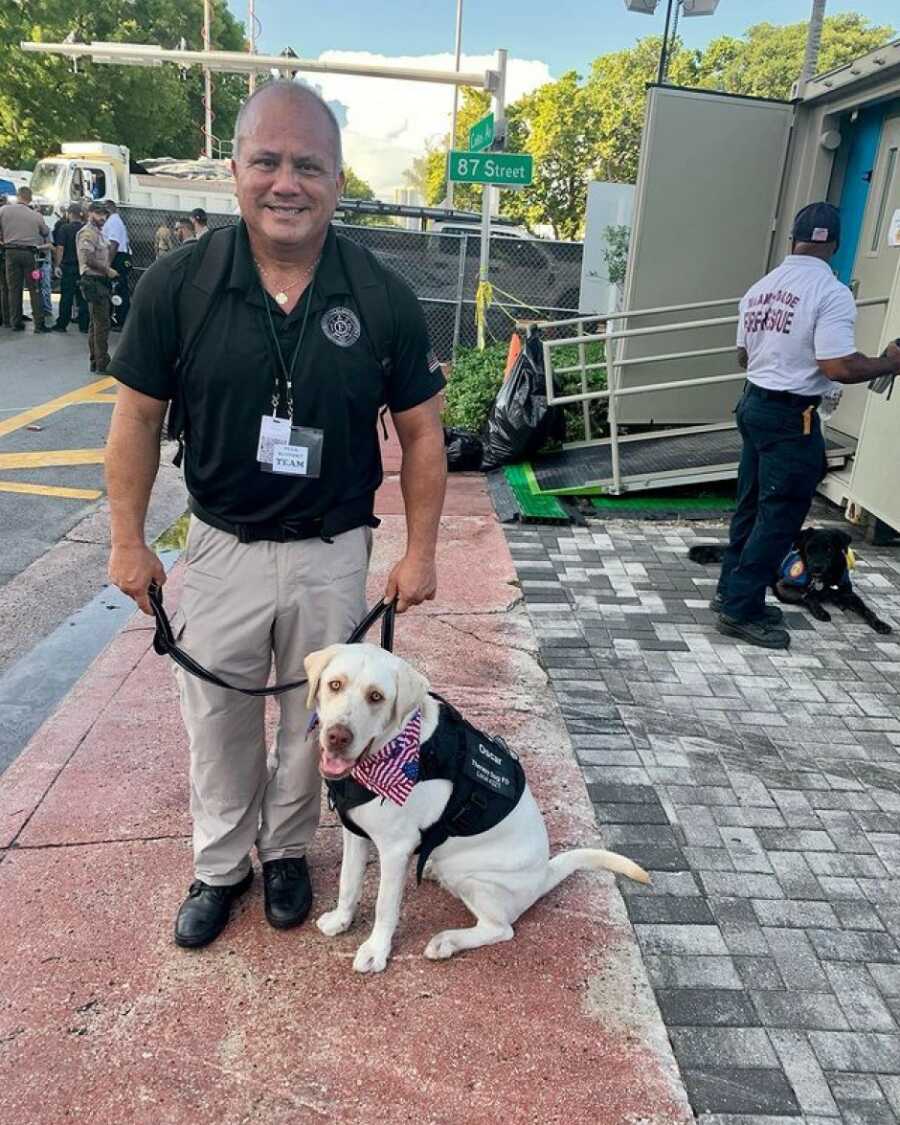 What Recovery Has Meant
After more than a month in treatment, where he spent time and effort 'fixing the problems on the inside' and addressing the emotional triggers of drug use, Bobby has a new, more positive mindset. He said he used to automatically respond to various events with negativity. Now, thanks to the work that he has done in therapy, he is reframing many of these same situations.
As an illustration, he gave the example of calling his daughter from work to wish her a happy birthday earlier in the year. Just minutes before that, he and some of his coworkers had responded to an inmate who had tried to take his own life by hanging himself. The man was turning blue when Bobby and his colleagues cut the rope around his neck.
30 minutes later, that same crew was joining Bobby in singing 'Happy Birthday' to his daughter.
Prior to treatment, 'I looked at that experience in a negative way,' Bobby said. After his therapist pointed out to him that 'you still took your time to sing Happy Birthday to your daughter after a traumatic event,' Bobby 'began learning how to flip my perspective from negative to positive.'
Today Bobby is thankful for recovery and hopeful about the future. He also can look back with gratitude to a couple of dogs that showed up to visit one day in rehab and helped him feel better."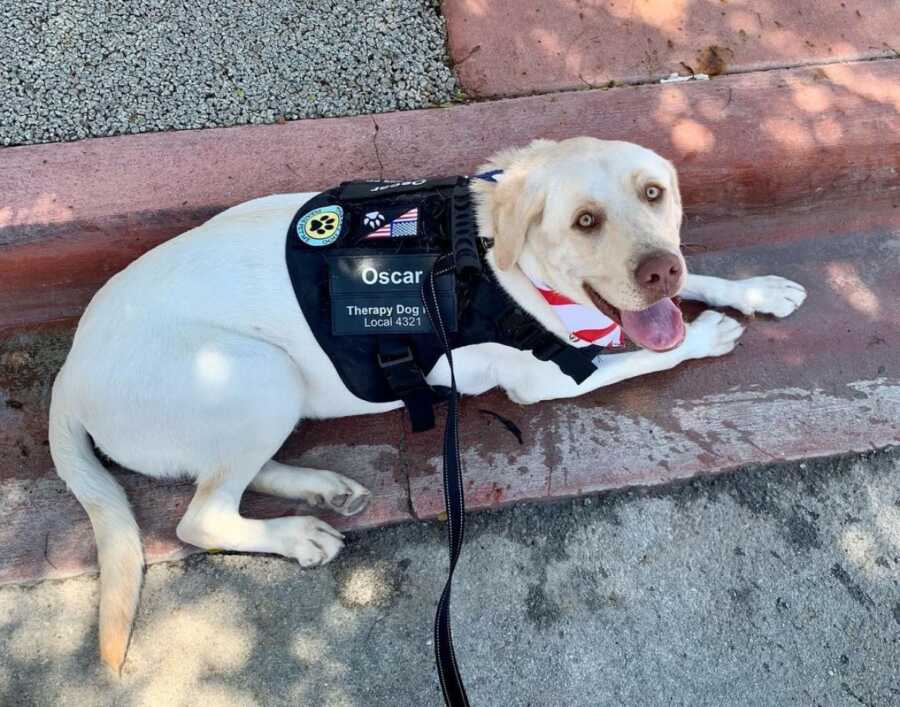 This story was submitted to Love What Matters by Kristina Robb-Dover from Chicago, Illinois. Read more about the author here. Submit your own story here and be sure to subscribe to our free email newsletter for our best stories.
Read more stories like this:
'She paused from petting and looked up at me, she said, 'Can he pray with me?' I said, 'Of course.': Woman says 'therapy dogs are desperately waiting to hear the words, 'It's time for work'
'A 3-legged dog and a one-armed wife? We even each other out!' Sandy was always meant to be mine.': Woman with anxiety disorder, limb difference finds 'angel' therapy dog
'I knew she was ready to go. She had done her job, and done it well.' Firefighter says tearful farewell to his 'best friend' Dalmatian therapy dog
Ice Center's Incredible Act Of Kindness For A Dying Dog Who LOVED The Snow
Do you know someone who could benefit from reading this? SHARE this story on Facebook with family and friends.