"I love Christmas. I'm not one of those people who is all 'yesss Halloween is over, let's get the tree out,' but I do believe that Christmas is the season for love and miracles. Before last year I was a firm believer that bad stuff wasn't allowed to happen at Christmas which is so stupid, but I can be really naive.
On December 20th of last year I got a call I had been expecting for three months. One of my oldest, dearest friend's moms had been diagnosed with cancer nearly four years before. Originally the doctors only gave her six months but through sheer will and determination she managed to hold on. She was a fighter and she wasn't ready to leave her family yet, but by September of last year her body was failing and her death, while sad, was expected. After my dad died I made it my mission to be there for friends and acquaintances when they go through the loss of their parents. I believe that things happen for a reason and as horrible as it was to lose my dad, if my experience allows me to help others then it's worth it. I promised my friend that as soon as her mom died I would fly to Tennessee to be by her side. Unfortunately, a last-minute plane ticket to Nashville five days before Christmas was way out of budget for me. The cheapest ticket I could find one way was over $500 dollars. I came home that day from my store and was feeling like a real failure. I just wanted to be there for my friend and I couldn't. Not being able to afford that ticket turned out to be a blessing.
My mom lives a grand total of 1.5 miles from my house. We spend six days a week together at our business and she typically comes over after work to hang out with her grandson, Sawyer. That day was no different. We were hanging out in the kitchen just like usual when the very unusual happened. Sawyer looked up at us and then dropped to the ground seizing. This wasn't his first seizure. However, the only other time he had one was when he had a high fever. His pediatrician diagnosed it as a febrile seizure. For those that don't know, febrile seizures typically happen in young children when they have a sudden temperature increase. They aren't uncommon. This time wasn't like the last time though. He was perfectly healthy with no fever. I called 911 while mom made sure Sawyer didn't harm himself. By the time the paramedics arrived the seizure had stopped. They told us they could transport us to the hospital or we could drive ourselves. We chose the latter.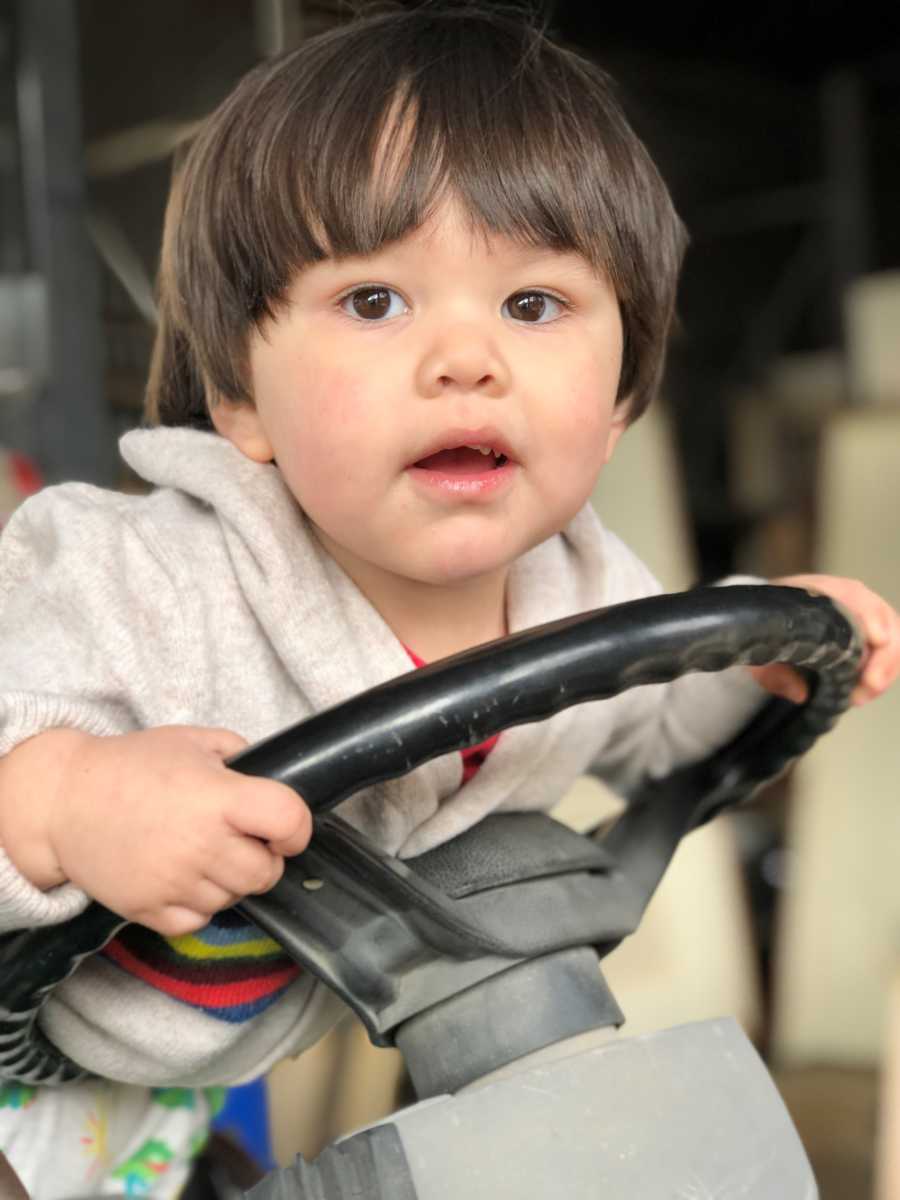 I called my husband right after I called 911 and he arrived as the paramedics were leaving. We loaded Sawyer up in his car seat and drove to the closest children's hospital. My mom and my sister also came with us. We were immediately taken to a room where we were seen by a doctor. Sawyer had two more seizures lasting under two minutes while we were there. The doctor said they were probably febrile even though there was no fever and he discharged us at 10:30 p.m. I didn't think he was right but at the time, I didn't know I could argue. I just wanted my baby to be okay. The doctor who had a lot more experience than I did said he was fine, so we went home. My husband and I were way too wrecked to let Sawyer sleep by himself so we let him sleep in our bed. We tried to sleep but for obvious reasons we weren't really relaxed enough to fully rest. Around 12:30 a.m. Sawyer had another seizure. We called 911 again and the same paramedics came. This time, however, was different.
Sawyer didn't come out of the seizure himself. It went on for 17 minutes. The paramedics gave him emergency drugs and it finally stopped. We rushed back to the same hospital in the back of an ambulance. My husband followed us in his car. Nothing in this world could have kept me from going in the ambulance with my baby so I rode with him. As a parent our number one job is to protect our children. We are supposed to keep them safe and out of harm's way, but that night I couldn't do anything. All I could do was hold him and tell him how loved he was. I told him how my life didn't matter until he came into it and how I would do whatever I could to make him better.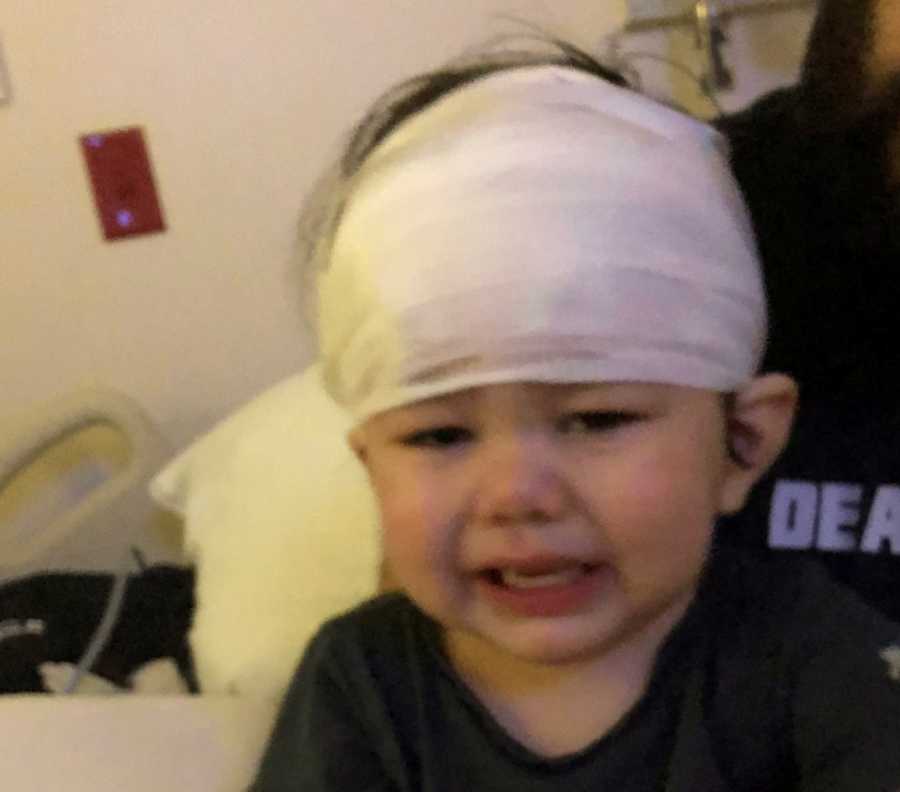 By the time we arrived to the hospital Sawyer was pretty out of it. We got a room immediately and as we were walking back there the original doctor who discharged us asked what we were doing back. I wanted to slap him. If he had just taken my kid's seizures seriously the first time he wouldn't have had a 17-minute long seizure because he would have been at the hospital where they could have immediately given him the proper medicine. Instead he sent us home, even though the diagnosis made no sense. I think he saw how livid I was because I didn't see that doctor again.
After being in our room at the ER for less than 10 minutes Sawyer had another seizure followed by another one less than an hour later. At this point, our new doctor was taking it very seriously. Sawyer got a CT scan and was admitted to the hospital. He had a few more seizures before we saw the neurologist on call. The neurologist ordered an EEG and an MRI and he put Sawyer on an IV of anticonvulsants. To see my barely 2-year-old hooked up to so many needles and machines was traumatizing. It's been nearly a year and the memory of it still gives me nightmares. For the EEG we had to hold him down as dozens of electrodes were glued to his head. Even though it was necessary it felt wrong. You're supposed to shield your child from awful things, not be a participant. I've never felt more hopeless in my life.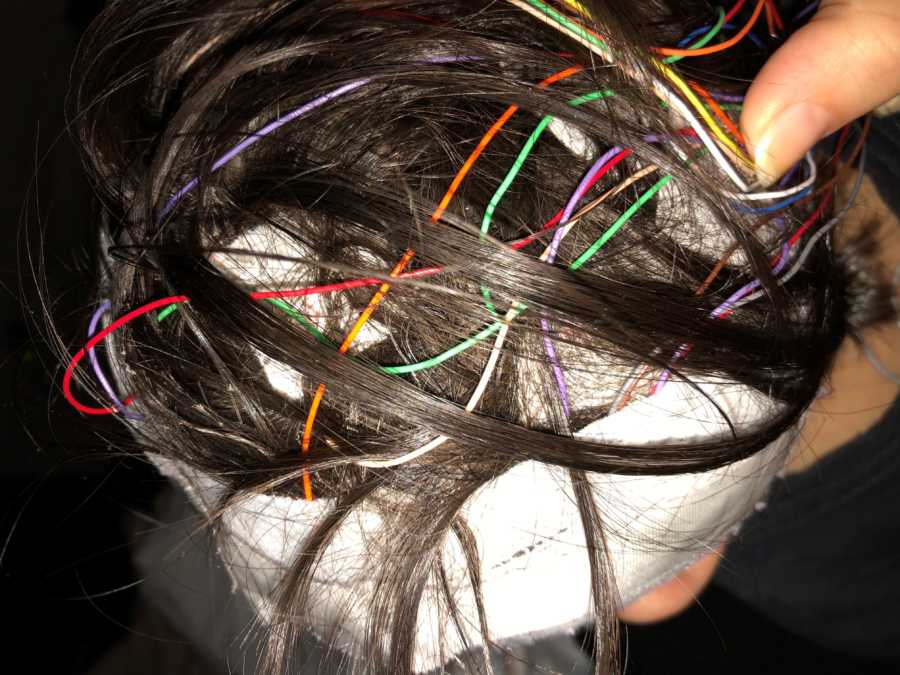 We were discharged from the hospital on the 23rd with no real answers and a prescription for twice daily anticonvulsants. At that point I thought our nightmare was over and we could have a calm Christmas, but the universe had other plans. On Christmas Eve morning I got a phone call from my little sister. Someone very close to her died unexpectedly. We were all in shock. Why did this crappy stuff keep happening to our family? Ya'll, I was ready to just bury my head in the sand and give up. I couldn't find any meaning in my baby being sick or my sister's friend's death. It didn't seem fair. I kept asking myself why is this happening to me? What did I do wrong? Then I realized this stuff wasn't happening to me. There was no grand universe plan against me. Sometimes bad stuff just happens. How I felt didn't matter. All that mattered was being strong for the people I loved. My kid needed me to be at my strongest not my weakest. My sister didn't need to experience a Hannah pity party, she needed me to have her back and not make things about me.
On Christmas day my entire family came over to my house to celebrate. Normally on Christmas we all dress up in matching PJs, take silly pictures, open presents and enjoy each other's company. For obvious reasons, it was a very different sort of Christmas. There were no pictures of matching costumes and the energy was all wrong. I tried my hardest to spread Christmas magic but we were all in a bad place. You know what though? It was still a good day. I got to watch Sawyer gleefully open his presents. I witnessed my sister smile for the first time in 24 hours. We all managed to still find joy in the moment and even though it wasn't the most cheerful of days, the spirit of Christmas was still there.
Here's the deal, ya'll. Crappy things are going to happen. It is inevitable, but I truly believe that nothing is put into your path that you cannot handle. Our horrible experiences give us strength and allow us to grow. It is nearly a year later and Sawyer is seizure-free. We will be weaning him from the medicine soon and hopefully everything will be okay. When life keeps throwing punches, you have to punch back, because I promise you it really will be okay."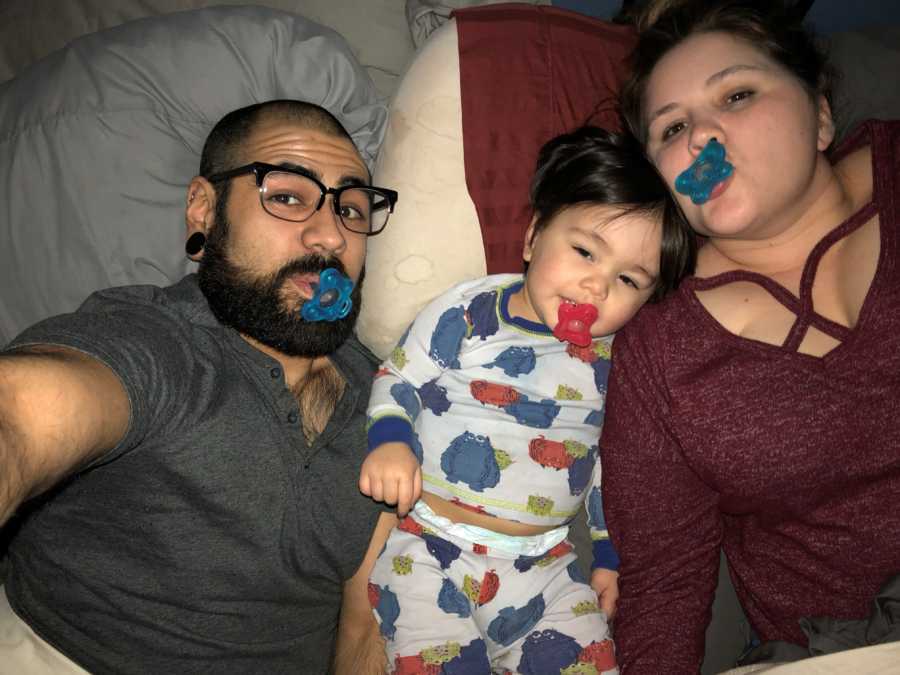 This story was submitted to Love What Matters by Hannah Hargrove, 29, of Dallas, Texas. Submit your own story here, and subscribe to our best stories in our free newsletter here.
Read more of how Hannah's emotional journey dealing with her father's death:
'I called my dad and he didn't answer, which was weird. I drove over to his house. His car was there, but he wasn't. I started panicking. I knew something had to be horribly wrong.'
'My father was murdered. When Sawyer was 7 months old, I had a dream. He told me he was proud of me. I decided my dad was telling me I needed to do something that made me happy.'
SHARE this story on Facebook to encourage others to cherish every moment and love what matters most.