"I'll be honest with you, my particular brand of holiday feminism set in late in life – I didn't know any better. In a family with 5 women and one lone Dad, what the men were or weren't doing during the holidays wasn't really on my radar – all the fun was in the kitchen. Now that I have 4 children, aged 7 and under, things look quite a bit different from my end.
Holidays just weren't meant to be spent planning, shopping, prepping, cooking, serving, and cleaning (all while minding kiddos) with no end in sight. Husbands, fathers, thrilled-to-be-childless-bachelor uncles, college-aged-home-on-break-menfolk, hear me: this is a holiday for the enjoyment of all, and your participation is not just wanted, it's required.
So, what can you do to be a holiday hero? Read on friends.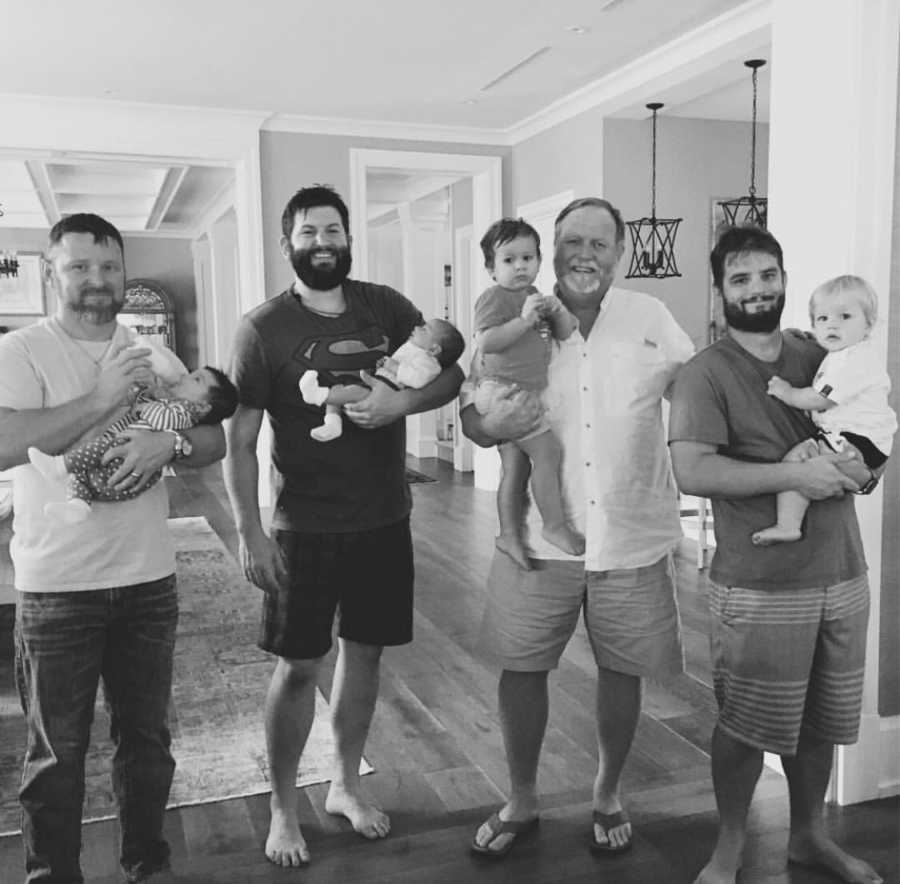 1 – Play with the kids

Once more for effect – PLAY WITH THE KIDS. This isn't an order for a 12-hour shift of theme park level excitement – but some easygoing plans for games, puzzles, yard play, wrestling, and yes, even football watching. Keep them interested! Give the kids a gummy bear when someone scores. Do pushups with the kids on your back if the quarterback gets sacked. Tell them about the first NFL game you ever went to, or the game you'd like to see. Use commercial breaks to make a paper chain to decorate the table. Empty the change jar and teach them to play Hold 'Em.
If you're outside manning the turkey fryer, organize the fun. Where we live, it's races or games of cornhole – you may have sledding or snow forts. Really, just keeping an eye out while the kids do their own thing is a load off the Momma's minds (but you have to actually, you know… watch them).
Listen, the Missus loves you. She really, really does… And she will feel all this work is well worth it when she looks out and you're a Norman Rockwell painting, patiently explaining the beauty of a straight flush or encouraging that runner-up in the footrace.
2 – Clean Up Crew

Don't wait to be asked. There is a mountain of dishes and a cooking team who has been in there all day. When in doubt, wash it. This is not as bad as it sounds – I'll even tell you a little secret… if all the guys are on clean up, we don't care if you have the game on in there, how long it takes, if you eat that third piece of pie, and we'll watch the kids. There are benefits to being the ones in the kitchen.
3 – Gratitude

It's like the holiday should be called Thanksgiving or something.
Be thankful (out loud) for the effort that goes into holiday merry-making. Everything you see is just the visible portion – the invisible planning, thinking, and revising takes real work and a little genius to pull off well. Say thank you – not just for turkey and gravy (and a kickin' apple pie) – but for the real reason – the intention and work it takes to make family memories happen year after year (after year after year…). Teach your children to see the work that goes into making fun – point out to them what you see, and why it makes your heart glad. Teach them by your example to notice, and to appreciate. When you think you've said it enough – grab your wife and tell her one more time.
PS – Mommas – if you've gotten this far- one word from me to you – let Dad be Dad – he's not a Mom impersonator. He won't talk or play like you do. He won't settle kids' disagreements or comfort hurts in the same way. But here's the thing – unless there is actual emergency room danger happening – let Dad do things his way – it's good for everyone involved. Thank him for his efforts – gratitude goes both ways.
In our family, Dads are involved to the delight of all. To all the Holiday Heroes – thank you for all you do!"
This story was submitted to Love What Matters by Emily Kasper. The article originally appeared on her blog. Submit your story here, and subscribe to our best love stories here.
Read more by Emily here:
My Husband's Many (Many) Women
SHARE this story with friends and family to give them a good laugh before the holidays!