"No one really ever plans on having a premature baby, or the NICU experience. I on the other hand had a mother's intuition throughout my entire pregnancy, that my daughter would be born early. I couldn't explain it as anything more than a gut feeling, until symptoms of preeclampsia at 30 weeks brought on plans for her immediate arrival. Waking up hours after a C-section, confused and exhausted, the first thing I asked for was to see my daughter. It was then that my husband wheeled me down to the NICU for the first time. The bright lights, clicks of the security doors, the long blank-walled hallways of anticipation, and then there we were. I remember the silence. The warm, dark room where our baby was fighting for every breath.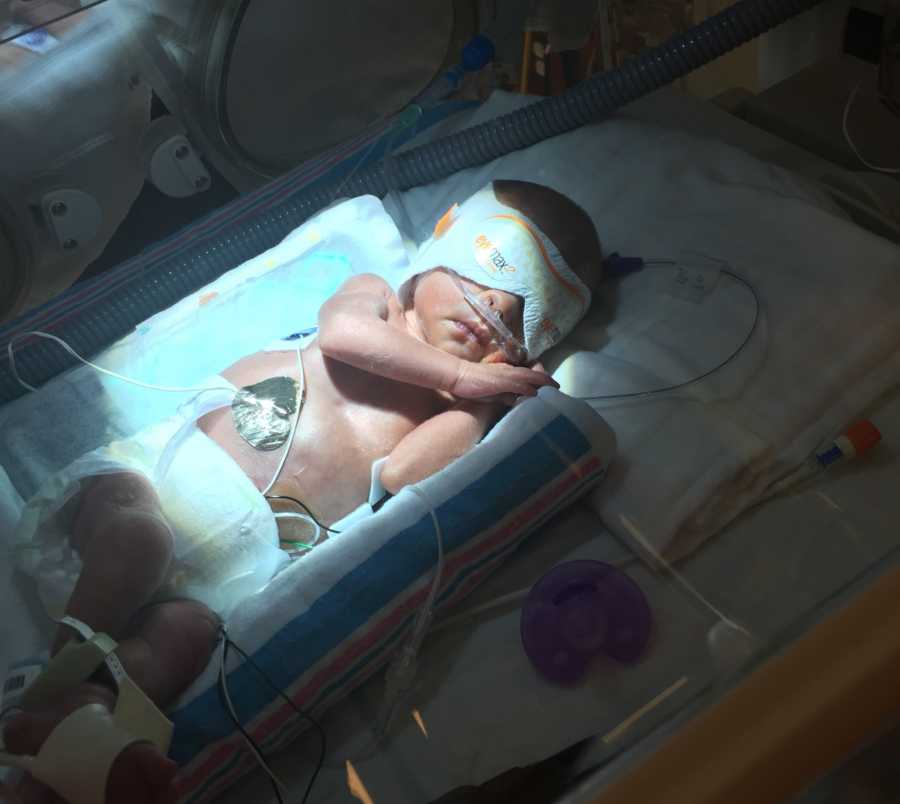 The night shift nurse told me her name and with a smile said, 'I will have your baby for tonight.' What it really felt like was that she understood, and is here for me and my baby's best interest. There she lay, full of wire leads, tubes, monitors measuring her SPO2 levels, her heart rate, blood pressure, respiration's, and how much oxygen she was taking in. I couldn't believe I had carried this tiny fragile human being with me for 31 weeks, and how much of a fighter she exemplified, even in her current state. 3 lbs 8 oz of pure perfection. I was able to sit in front of her isolette, place my hand inside of the door, and have her tiny hand grasp my finger. I wanted to hold her, nurse her, bond with her, but we did not have that chance. We did not get to follow any sort of birth plan. Our plan was simply to survive. I was thankful she and I lived, and I would have to be patient knowing in a few long days I would hold her for the very first time. Prior to this, we had cheek to cheek contact in the OR, a quick kiss, and she was swept off to the unit.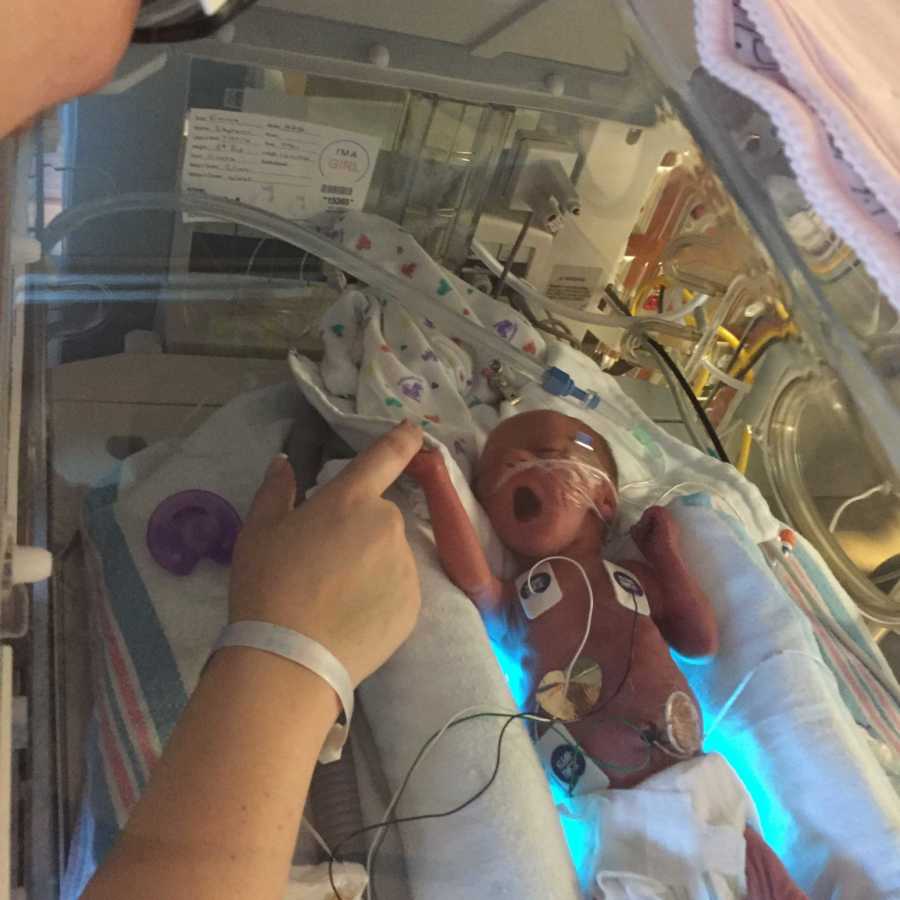 I never knew how difficult being a few feet away from your child can be. Most hours I just had to sit and wait. Wait for her to become strong enough. Wait for her to eat for the first time. Watching her chest heave up and down with every breath, sternum almost concaving into her abdomen was heart wrenching. There was nothing I could do but to be there for her. I was taught to cup my hand and place it lightly on her little head for comfort. Who knew that preemies do not like to be stroked, and that it is sensory overload for them? There are many things we learned quickly from the experts around us. All we could do was put our trust in them, and wait.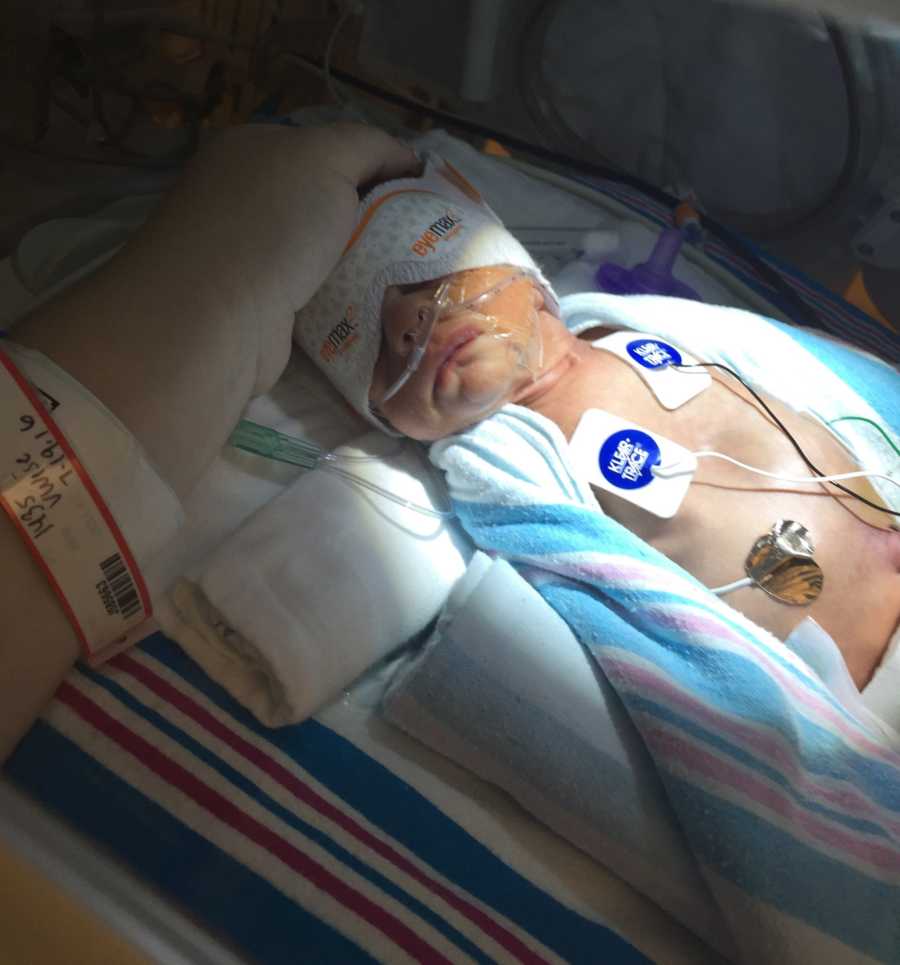 Every day we sat, spending the hours looking through a pane of plexiglass. We used this time to admire her little fingers and toes, her shimmering blonde hair, the tiny hairs on her body that kept her warm in the womb. My husband could fit his wedding band around her precious little foot. Every moment was documented by photos and videos. That picture will always show us the magnitude of her situation, and what a tiny fighter she was from day one.
Five long days after she came into this world, we were able to hold her for the first time. I was asked if I wanted to do skin to skin kangaroo time, to which I eagerly agreed. The nurse could fit her entire tiny body between my sports bra and tank top. As she lay her head on my chest, I felt immediate warmth and overwhelming appreciation for that moment. A moment we had waited days for. I held her for as long as they would let me. Nurses would come by to check her temperature, and even with warmed heavy blankets to wrap us in, she would have to be placed back in the isolatte to bring her body temperature in safe range. Letting go was hard, but I had to do what was best for her to grow and come home. Little did I know that holding her for the first time could be my last, as I was diagnosed with postpartum HELLP syndrome and admitted to the ICU that night.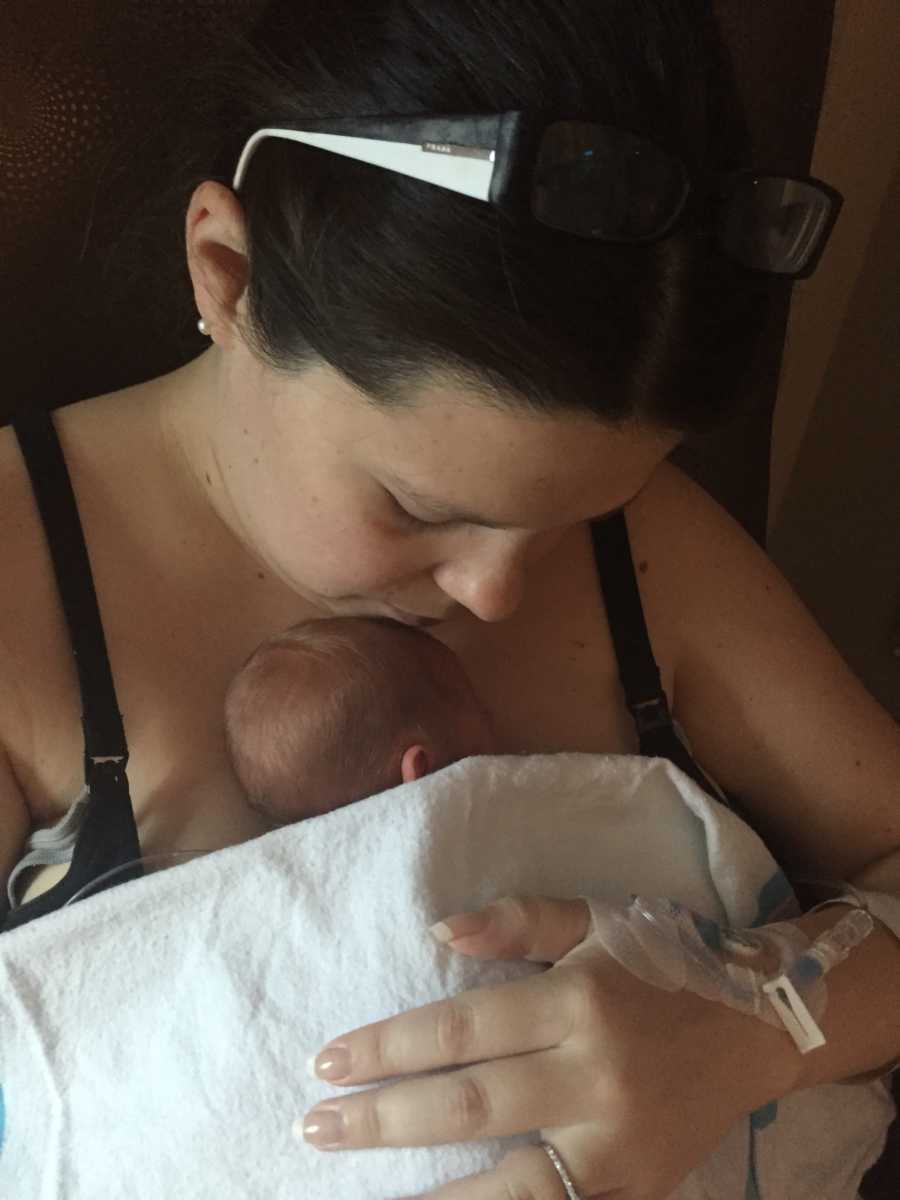 Three long days I was without her. I was heartbroken, depressed, and felt a million miles from her when in reality were two floors apart. The day I was released back to the floor, all I wanted to do was hold her. We read to her, played music, talked to her, and took as many pictures as possible. I was determined to make the best of this experience even though we were not home. This was her first home, and the staff our second family. The hospital address in the GPS is still saved to this day, 'Emma's.'
The days went by visiting her from breakfast until almost midnight at times. Hours flew by like minutes, as I sat rocking her. I was told to go home and rest because I was so sick from the HELLP syndrome. Taking care of yourself isn't a priority when you are worried about leaving your child. I had to remind myself daily that taking care of myself would help me be the best mother I could be to her. Leaving her every night was the hardest thing I'd ever had to do, even after I had just fought for my own life. One nurse started calling us the warriors for continuing to fight after all we had endured.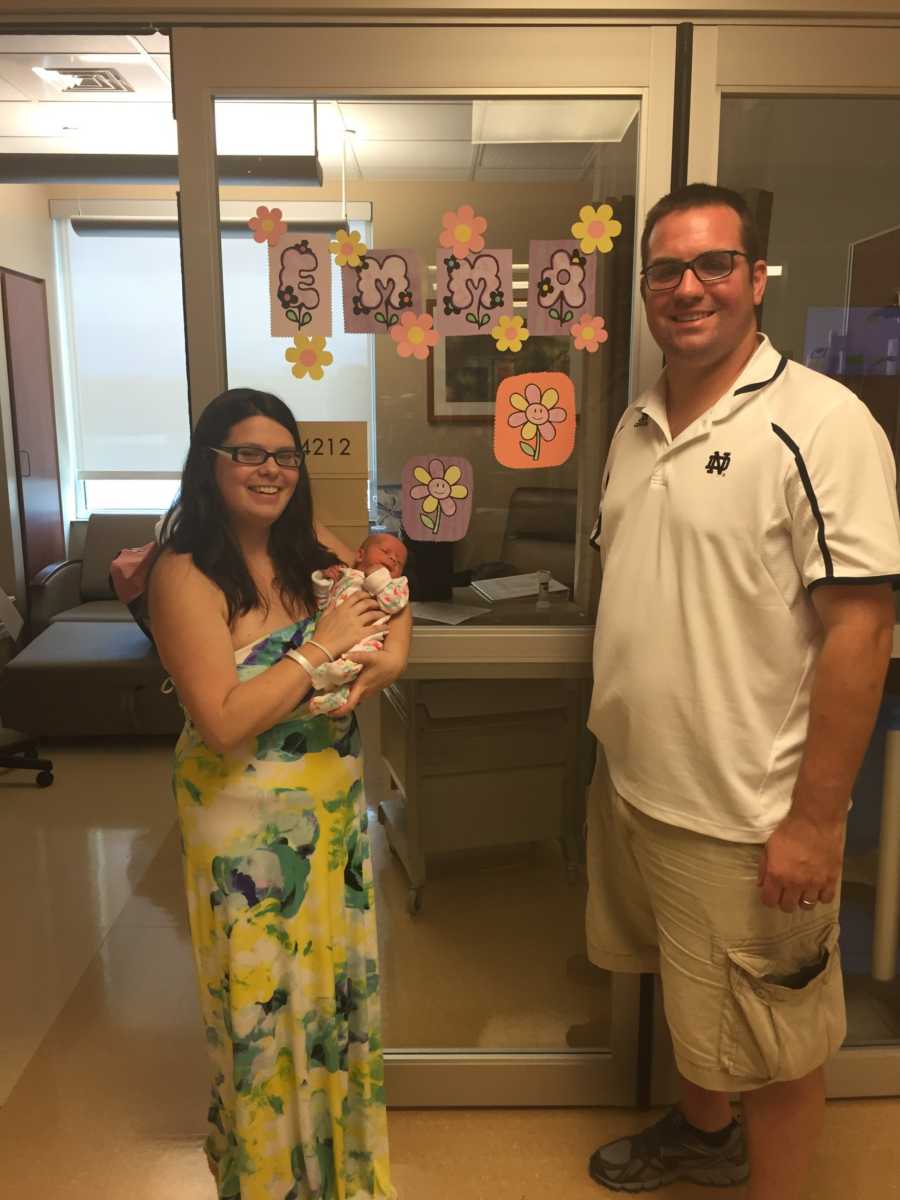 The nurses and doctors were there to help make this experience joyful. We bathed her, changed her diapers and clothes, learned how to feed and nurse her. Seeing their faces day in and day out for four weeks, they really had become our second family.
Every milestone was a moment of celebration. Whether it was a first smile, coming off oxygen, moving to an open air crib, or the highly anticipated graduation day, we documented and celebrated it all. NICU life helps you appreciate that every moment is priceless and not to take the small things for granted. It's hard, it's raw, and it's real, but it's life. And we lived.
Four weeks to the day she was born, we would exit the NICU for the last time as patients. Little did I know Emma's portrait would grace that hallway wall in a project called The Hallway of Hope. Rather than blank walls of anticipation, families now are greeted by the faces of the fighters and thrivers who have come through those doors before them.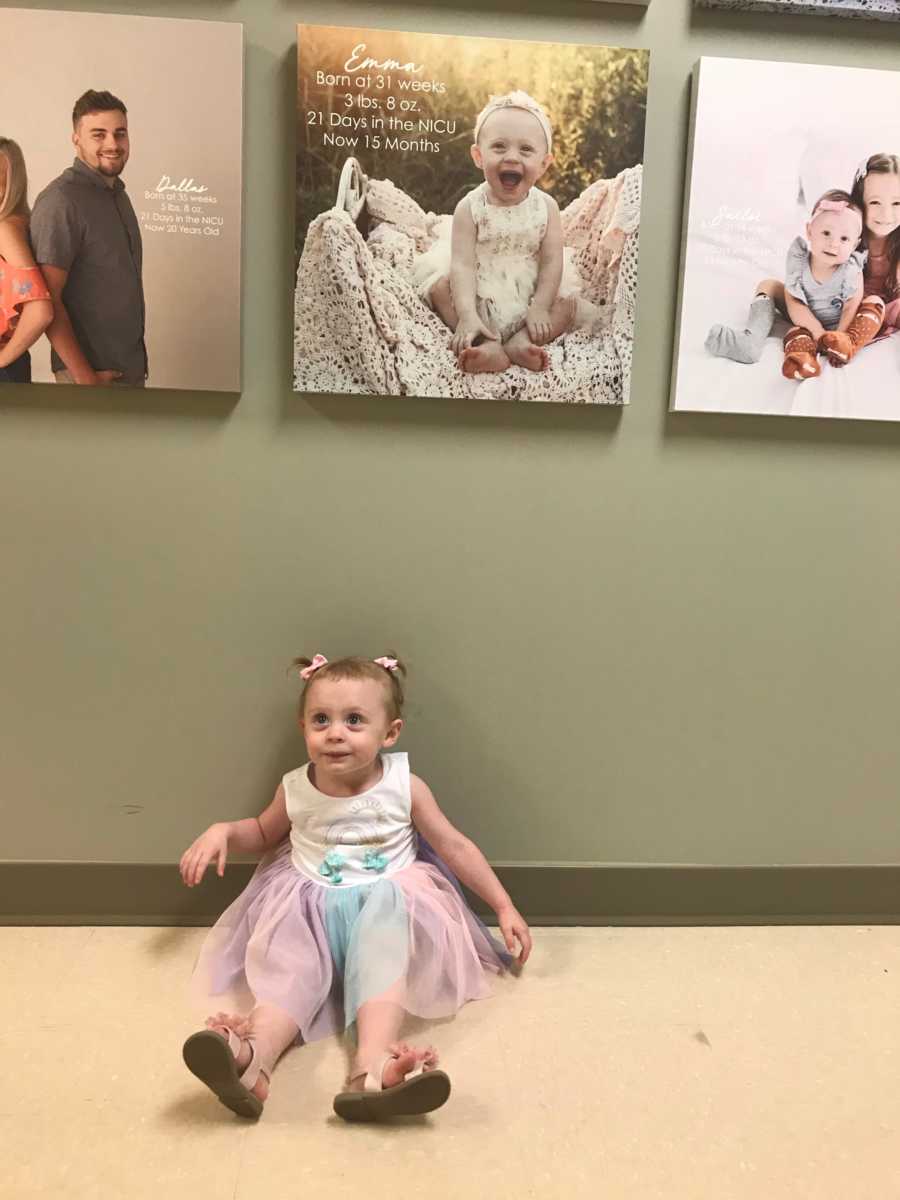 I am here to tell NICU families that you are strong. You are warriors. You are the representation of hope. Don't stop fighting."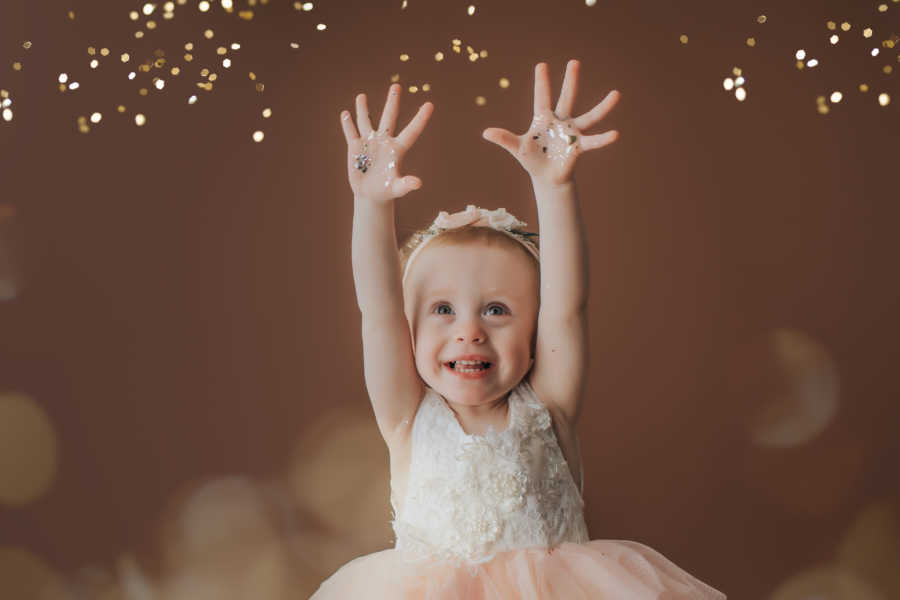 This story was submitted to Love What Matters by Stephanie Trendowski, 34, of Crown Point, Indiana, in honor of World Prematurity Day. Have you experienced something similar? We'd like to hear your journey. Submit your own story here, and subscribe to our best stories in our free newsletter here.
Read about Stephanie's terrifying experience with HELLP syndrome here:
'The doctor came in and said, 'I'm sorry.' My husband and I were too in shock to say, 'Why didn't you call us?!''
Provide hope for other struggling mothers. SHARE this story on Facebook to help spread awareness.