"As a child in the 70's from a middle class northern family, I was lucky enough to holiday for 3 to 4 weeks every year overseas. My parents never applied sun protection and I burnt regularly. I would then burn on top of my badly blistered skin. I remember peeling off huge patches of dead skin. In the 80's I was a sun worshipper. On holiday I would lie in the sun for 10 hours a day using oil to enhance my tan. Little did any of us know back then about the potentially devastating consequences of what was perceived to be a healthy tan.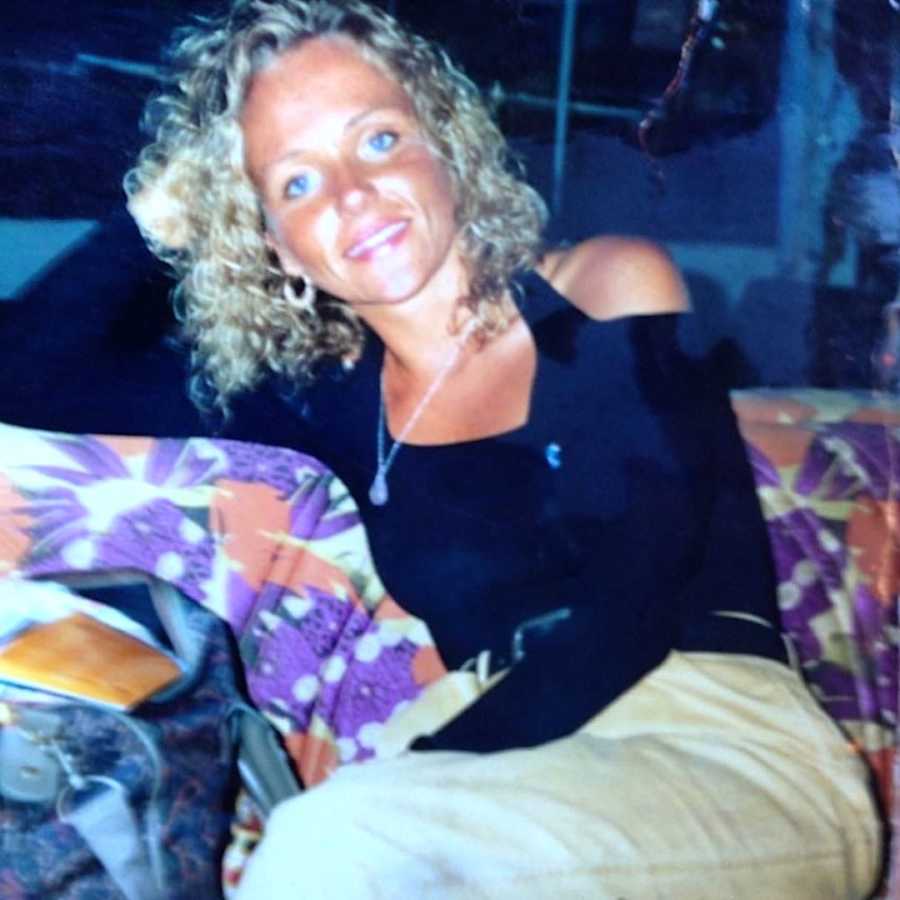 My first cancer diagnosis on February 10, 2009 was devastating. In the 3 months prior to the diagnosis I had visited my GP practice on two occasions and was seen by two different GPs. Both visits were about unrelated issues, but each time I pointed out a troublesome mole. It was small and dark, innocent enough looking, but it was itchy and had bled a couple of times. On both visits, I was reassured the mole was perfectly normal and I had nothing to worry about. One of these visits was with a GP whose speciality was dermatology, so I left feeling confident all was well.
On the second GP visit I asked if it was possible to pay for a mole check at the Oxford Mole Clinic. He agreed to send a non-urgent referral for a private appointment. I made the appointment for 4 weeks later.
The day of the appointment arrived and I had no childcare in place, so had to take my 3 young children to the hospital with me. The consultant took me into an examination room and went over my whole body using a dermatoscope, or a tool which is used to diagnose melanoma. It has a high quality magnifying lens and a powerful light system which can evaluate pigmented skin lesions. He asked my children if they liked hot chocolate and then promptly sent them on a hunt for a hot chocolate machine down the corridor in the waiting room.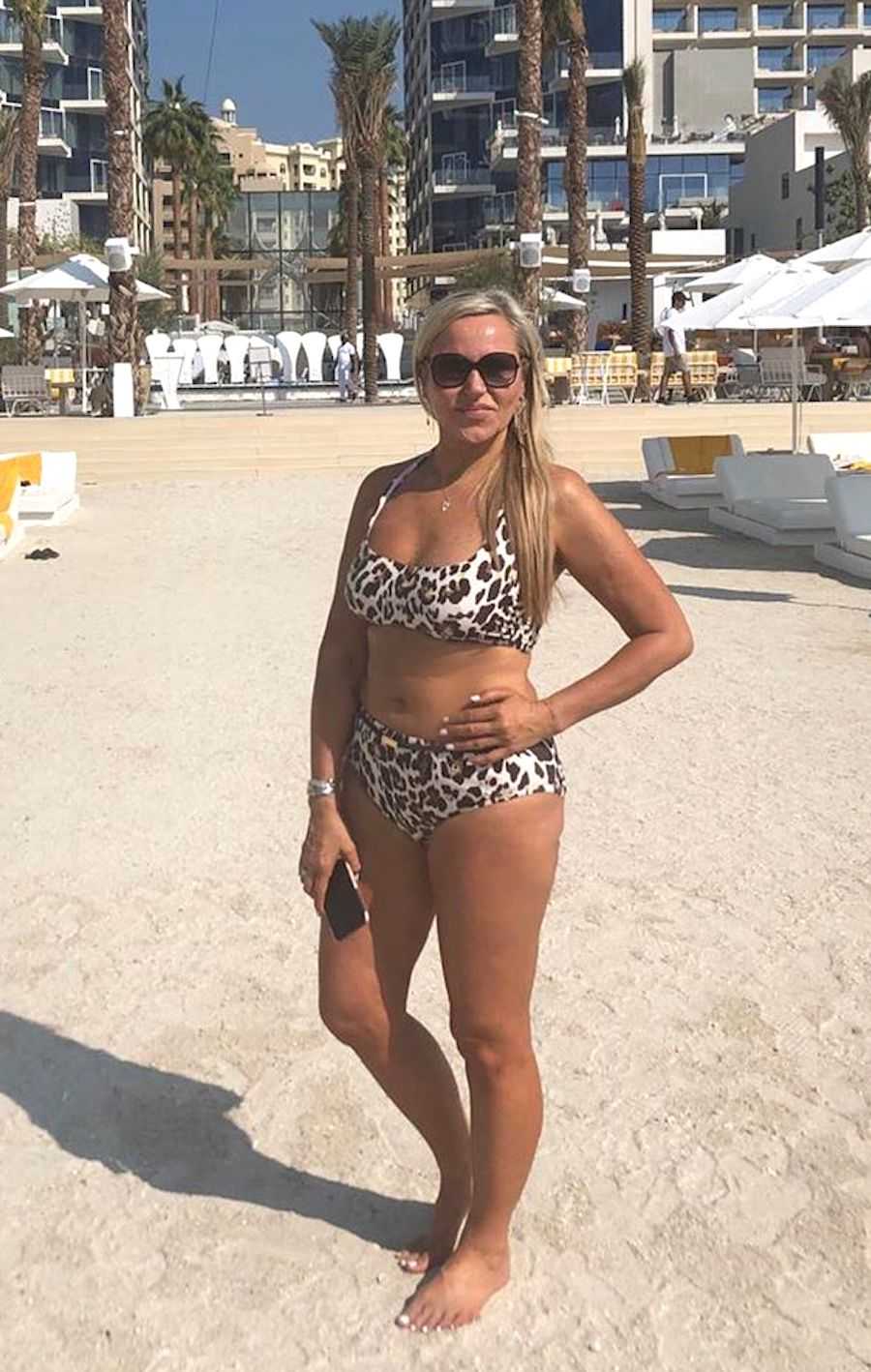 Alarm bells should have been ringing, but I still felt very calm and reassured since my GP appointments were all fine. He placed a big chart on the table in front of me. He explained, 'These are all examples of skin cancers ranging in severity. Even without a biopsy, I am confident you have the most serious and deadliest form of skin cancer, malignant melanoma.' I could not compute what he was telling me. I felt numb. I left the hospital with my children who were oblivious to the news I had just been given, in a complete state of shock and disbelief. I called my husband from the car. I told him the news, 'I have cancer.' We were then silent. We had been reassured this mole was innocent, we were absolutely not expecting this diagnosis.
The mole was removed the following day. My news started to circulate and my family and friends were all in shock. I was young and was the first in my circle of friends and family to be given a potential cancer diagnosis. Everyone rallied to keep me busy and distracted. However, I was in complete denial and took my children away for half term to visit my best friend from university. Less than one week later, I received a phone call from my consultant to confirm his suspicions, 'The mole I removed was indeed a malignant melanoma and you need to return from your travels as soon as possible so I can perform a wide local excision of your tricep to ensure all the cancer is gone.' I was distraught.
The following day, I was back in the hospital room with my consultant, who performed a wide local excision. I was terrified. As I was leaving, my consultant advised me not to look at the internet, but of course I soon became an expert of all things melanoma. I read about the most deadliest form of skin cancer and it became a middle of the night obsession. The horror stories I read compounded my fear. Luckily, it ended up being ok.
My family and I love travel. I love to travel with my girlfriends. All of a sudden, travel lost its appeal. Holidays in the sun became an ordeal and I became obsessed with shade. I spent my entire time moving from one shady spot to another and rigorously applying factor 50 to myself and my children. This continued for many years.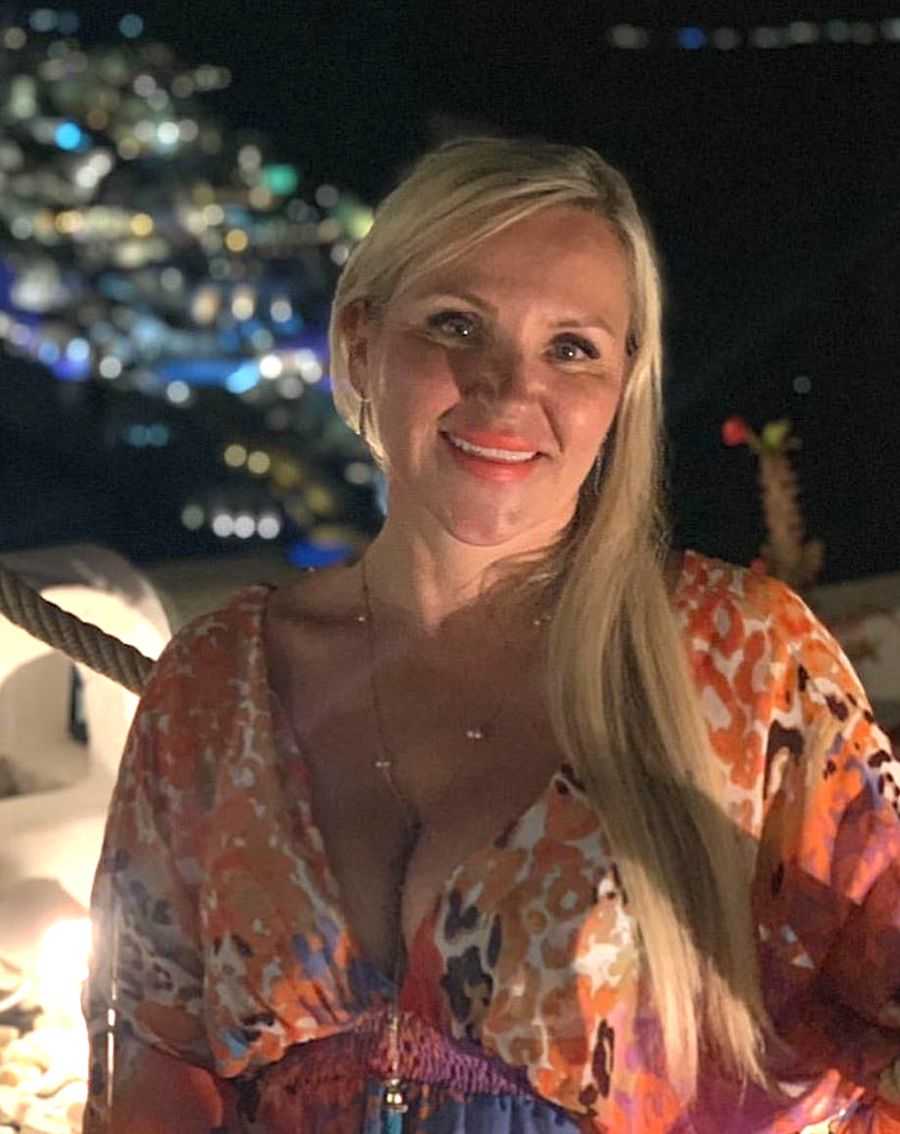 I was in the screening system and had regular skin checks every three months. All of a sudden, I started to consider my mortality. It was awful. When I received my first diagnosis, melanomas were rare. In the UK only 365 people a year are diagnosed with melanomas. Why me? Over the following years I had various moles removed as  precaution. In June of 2011, my consultant sat in front of me and said he was concerned about a mark on my face. I thought it was an age spot and didn't think it looked sinister at all. My consultant suggested we remove it – he wasn't as absolute as in my first diagnosis – but he did think a biopsy was necessary. The pigmentation was removed a couple of days later and the biopsy confirmed it was a lentigo malignant melanoma at a subsequent appointment a week later. Once again a wide excision was performed – this time by a plastic surgeon – as the melanoma was on my face.
I am now routinely screened every year, or sooner if I have any concerns.
I wish this was the end of my story. Fast forward to August of 2014, I was lying on a sun lounger (in the shade of course) in Cyprus and I suddenly got an overwhelming, unexplainable gut feeling I needed a mammogram. I was 46 years old. I didn't have any lumps but my gut was screaming it was the right thing to do. I called the private hospital from my sun lounger and was told the mammogram machine was due to be refurbished and would be out of commission for a while. One appointment was available which happened to be 9 a.m. the morning I landed at Gatwick airport from my holiday at 5 a.m. I agreed to the appointment. I don't know why. I knew I would be exhausted and the last thing I needed was to go for a mammogram, but I found myself saying, 'I'll take it!.'
To this day, I don't know why I agreed to the appointment. I already had committed to major surgery the Saturday after I returned home from my holiday. I was booked to have a hysterectomy and major prolapse surgery. But my gut very firmly told me to agree to the mammogram so I found myself driving straight from the airport to the hospital. Several days later I received a call saying a consultant had reviewed my mammogram and felt it would be beneficial to biopsy an area which had shown up on the screen. I had the procedure on the Friday which consisted of 10 needle biopsies. Coincidently, my son was also having surgery the same day on his jaw, so I literally found myself running from one hospital to the other.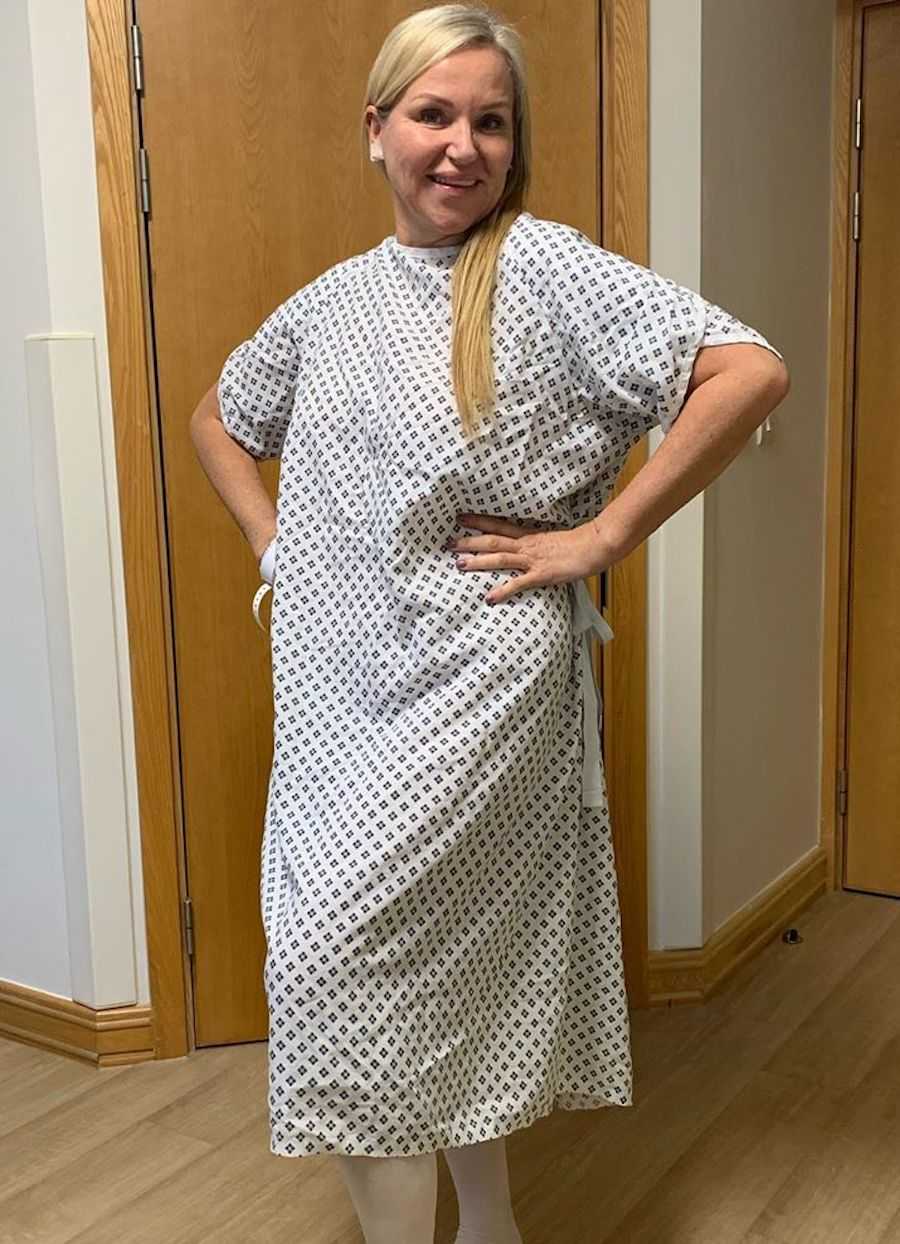 The following morning I arrived in hospital for my hysterectomy and prolapse repair, basically major surgery which involved 4 nights in the hospital. I returned home the following Wednesday morning. As I walked through the door, the home phone was ringing. I answered and received the news I had been strangely dreading, 'You have breast cancer.' They weren't able to tell me more over the phone. My best friend, Lisa, arrived at the house to help me convalesce from my other major surgery. She asked if I had received the results from the biopsy and I mumbled, 'I have breast cancer,' in complete shock. I don't remember what we did. I was completely numb and couldn't compute what I had been told.
During the phone call, an appointment was made for me to see the consultant a few days later on Saturday morning. Those three days were the worst of my life. I was in agony from the surgery I had just endured, but I was also dealing with the dreadful news that I had breast cancer. I had so many unanswered questions. 'Am I dying? How long do I have left to live? What treatment do I need? Why me? Will I be here to see my children grow up?' I was so vulnerable and weak and didn't know whether I had the strength to climb the mountain which now seemed to be looming in front of me.
I barely slept. Nights were a bleak and lonely time. Saturday morning arrived and I was showered and dressed by 6 a.m. for my 10 a.m. appointment. The home phone rang at 9 a.m. It was the hospital. My consultant unfortunately had the flu and my appointment was postponed until the following Thursday. This became my absolute lowest point. I remember howling uncontrollably and begging the hospital, 'PLEASE find someone who can share my results with me!' I needed information desperately. But sadly, I was forced to wait.
My 73 year old Mom, bless her, was visiting from Lincolnshire to help me recuperate from my surgery. It was during that week, as I was starting to process the shocking news I had been given, I realized something was seriously wrong with her, too. She was disengaged from the devastating news I had been given. She was forgetful. She was behaving strangely. She would walk around my house giggling while I sat in the corner, sobbing. Several months later we received the devastating diagnosis she had rapidly advancing Alzheimer's disease, but sadly it is another story. But it added to my distress.
I had two surgeries on my breast, followed by 6 weeks of radiotherapy. Thankfully I am in remission and am regularly screened.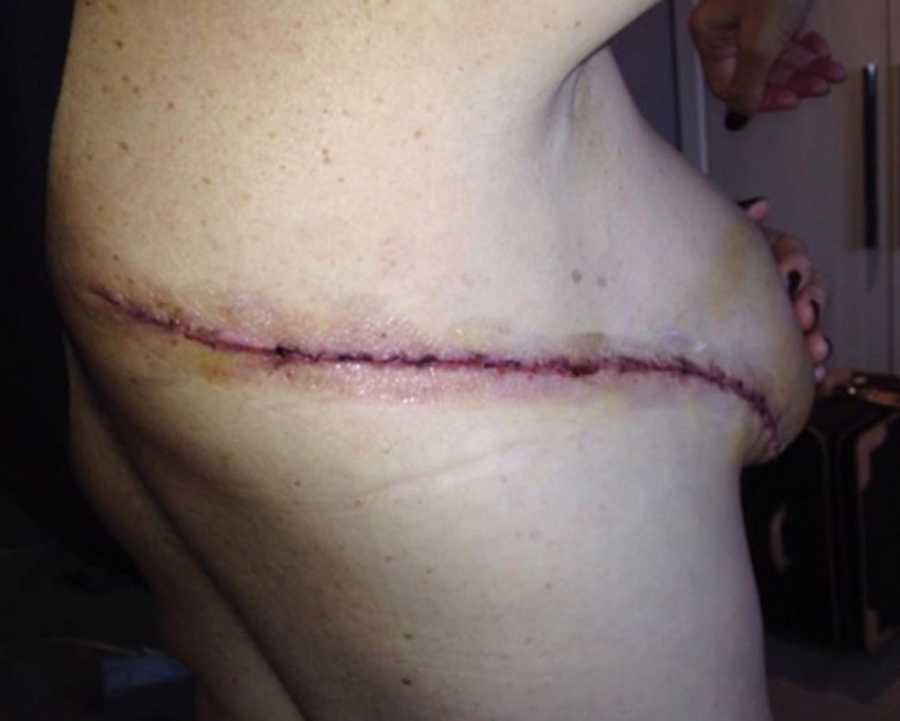 How I survived those weeks and months, I will never know, but those events define who I am today and I am enormously grateful for my journey. I love life and I try to make the most of every day. I have developed a love of walking and the outdoors in general. In fact, I would go so far and say I am addicted to walking. I am so lucky to have the best walking partner, my dear friend Sarah. We walk 6 miles, 4 times a week and never run out of conversation. It's my therapy. It doesn't matter what I feel like when I start the walk, by the end I always feel better. We have completed several long walks and raised significant sums of money for charity. We are planning our biggest challenge to date…we aim to climb to Everest base camp on Easter of 2021.
Yet…it's still not the end of my story. I had a nasty fall last year which resulted in me breaking my coccyx and wrist in 2 places. I had a bone density scan and was diagnosed with osteopenia, or decreased bone density. I wonder how much of this can be attributed to my avoidance of sun for the best part of 8 years following my first melanoma diagnosis, and the removal of dairy from my diet following my breast cancer diagnosis – both given by the advice of specialists. I now adopt a much healthier approach to the sun and nutrition. I try to have 20 minutes of exposure to the sun and elements every day without any sunscreen, but avoiding burning at all costs. I make sure my diet is organic, and where possible, I avoid sugar and I make sure I am getting the recommended daily intake of calcium from my vegetarian/plant based diet. I feel healthier than I ever have. I firmly believe intuition saved my life on two occasions. My message would be to trust your gut. Gut instinct arises as a feeling within your body only you experience. Trusting your intuition is the ultimate act of trusting yourself. And it saved me."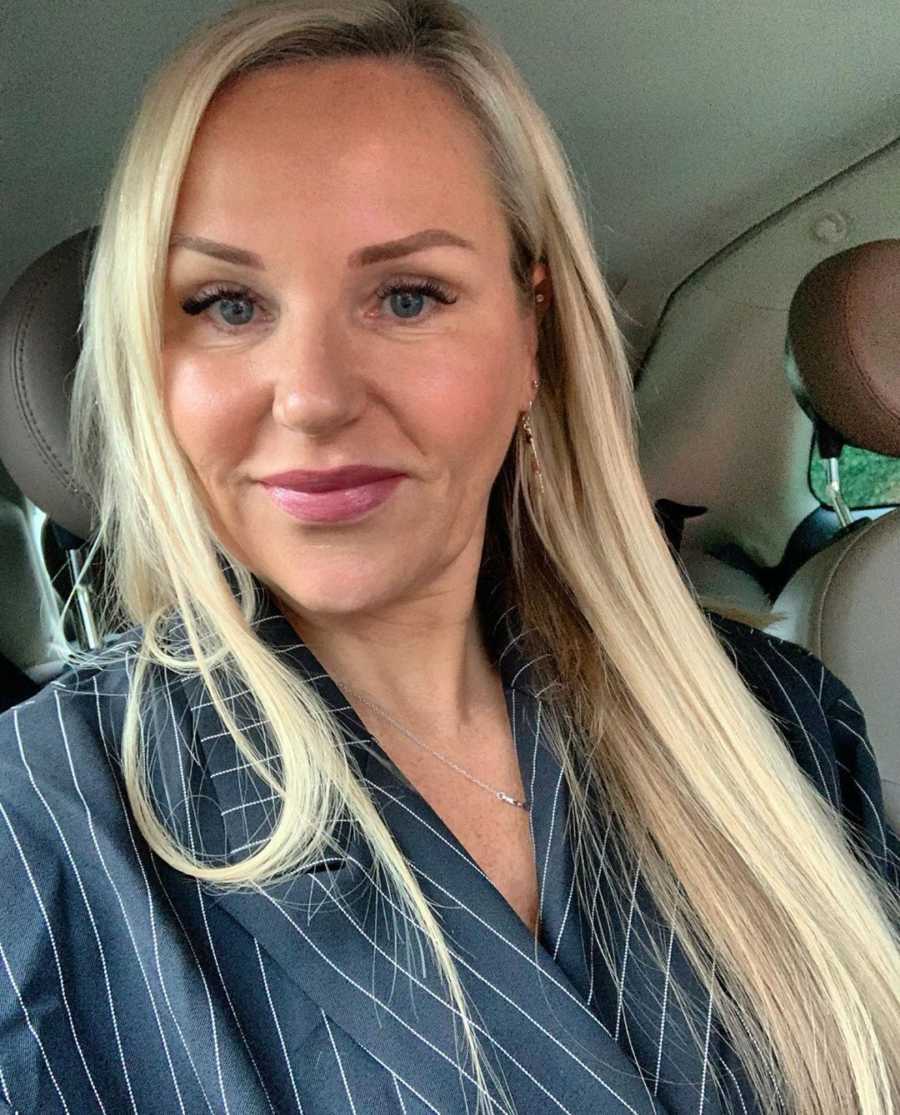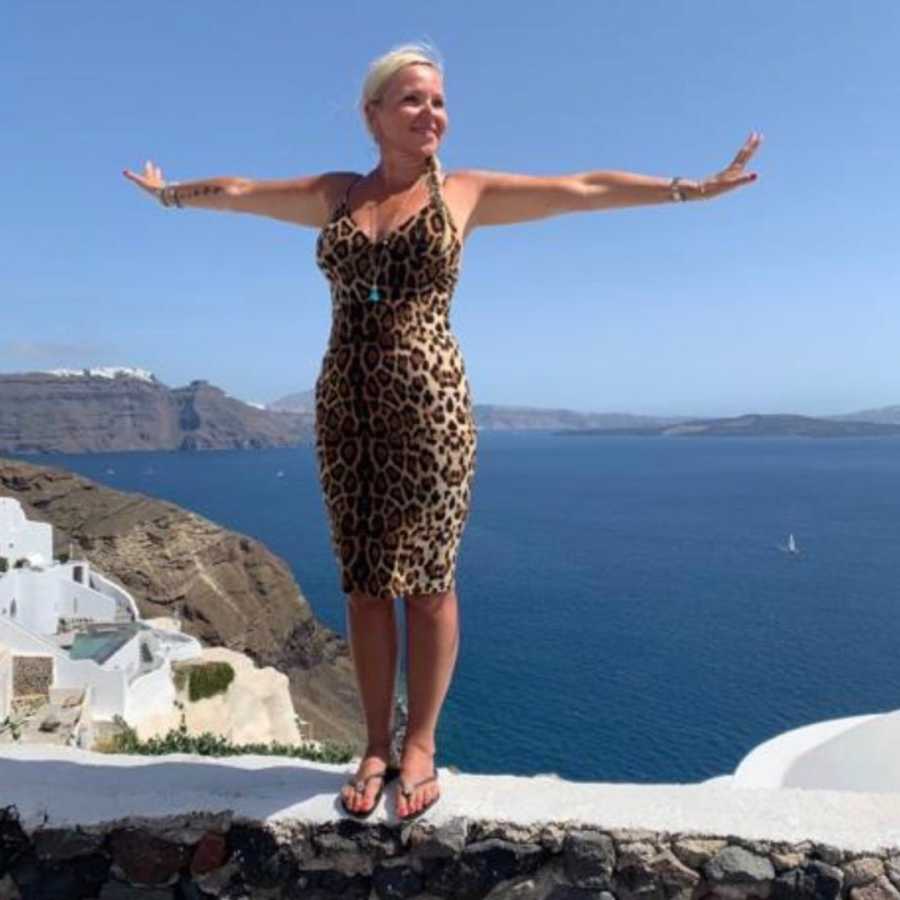 This story was submitted to Love What Matters by Katharine Casey. You can follow her on Instagram. Do you have a similar experience? We'd like to hear your important journey. Submit your own story here. Be sure to subscribe to our free email newsletter for our best stories, and YouTube for our best videos.
Read more beautiful stories about surviving cancer here:
'I hadn't even held my baby yet when the doctor came in. 'We've found a growth. You need to come back in 2 weeks.' I lost it! The happiest day of my life quickly turned into the worst.' Cancerous growth found on woman's labor day
'We were celebrating 3 years of marriage. I thought life couldn't get any better. When I laid down, I got news no one wants to hear. I ran to the bathroom and hovered over the toilet, dry heaving.'
Give other women strength and courage. SHARE this story on Facebook and Instagram.