"What was supposed to be one of the happiest days in our lives quickly turned into the worst. When I went in to have my third baby in January of 2018, I was nervous, anxious, and excited! Because of complications during my pregnancy, they were going to induce me. That had never happened before so I didn't know what to expect!
When they did an examination they said they felt placenta and I would need an emergency caesarean. All went well until the doctor said, 'We are just going to look at your cervix.' I was oblivious to what was happening and I remember the head doctor saying, 'She'll have to come back.'
Come back? This seemed strange, but I wasn't worried.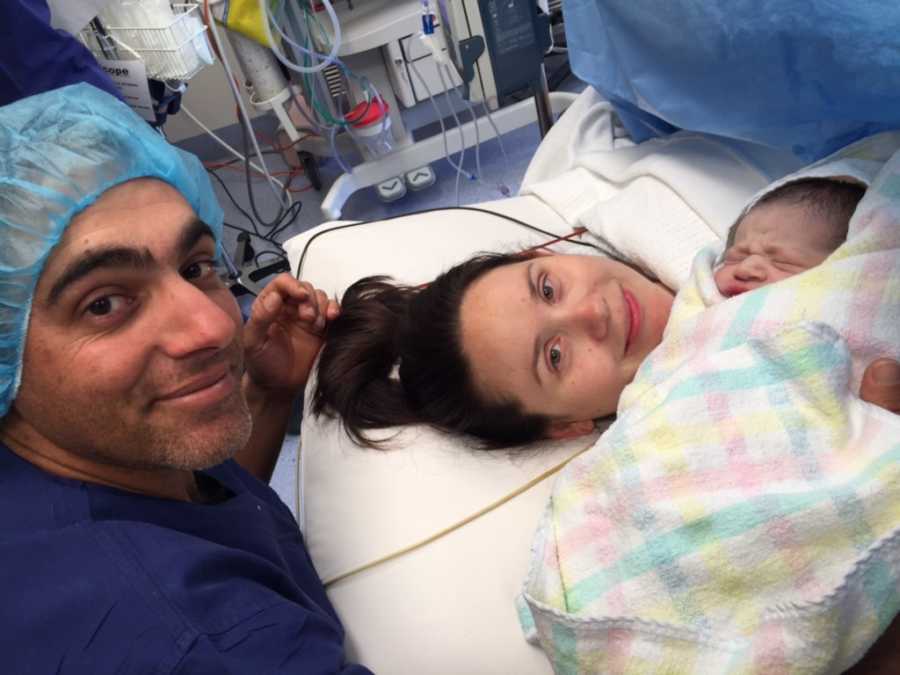 While in recovery, I had not even held my baby yet and the doctor came in. 'We've found a growth in your cervix and you need to come back for a biopsy in 2 weeks.' To say I was devastated is an understatement! I remember my husband crying. He never cries, so I knew it was serious. He asked, 'Is it cancer?' They said they didn't know yet and I'd have to wait for the biopsy. It was then I knew something was wrong.
Honestly, I had a feeling all throughout my pregnancy that something might not be right. I started bleeding at 6 weeks and thought we were miscarrying. This went on all through my pregnancy. I had 20 ultrasounds, internal exams, doctor visits, and all said the baby was fine. 'You'll most likely just bleed throughout,' the doctors said. But I felt something else was going on. I had a new baby and two small children at home and in my gut I just knew it was cancer.
Four weeks later, we go back for results and Marcus, my husband, is holding the baby and the doctor says, 'I'm sorry. It's come back as cancer and it's very aggressive.' I lost it! All I could think was I'm going to die and I'm not going to see my kids grow up. It was the worst time of our lives.
Two weeks after we had scans and an appointment at Mercy Hospital and the Olivia Newton John Center. I sat there at the gynecology oncologist's waiting room with my six-week-old baby and broke down. I started to have a panic attack. You never think it's going to happen to you, but it can. I was diagnosed with stage 2B cervical cancer with an 8cm tumor. They prescribed six weeks of chemo and radiation and brachytherapy, or radioactive implants.
We lived three hours away so the kids and I moved in with my family who lived closer to the city while my husband stayed home. He continued to work while visiting me once a week. It was a tough time for all.
My parents own a bakery and would work in the morning and come home to look after my three kids. My sister took time off and would drive me to treatment everyday. I kept thinking, 'It's okay. I'll come home and go straight back into mom mode,' but I just couldn't. It took its toll on me. I lost 15kgs in 2 months, was in a lot of pain, and had absolutely no energy. I felt so bad for my family but luckily they kept reminding me, 'That's what we're here for!'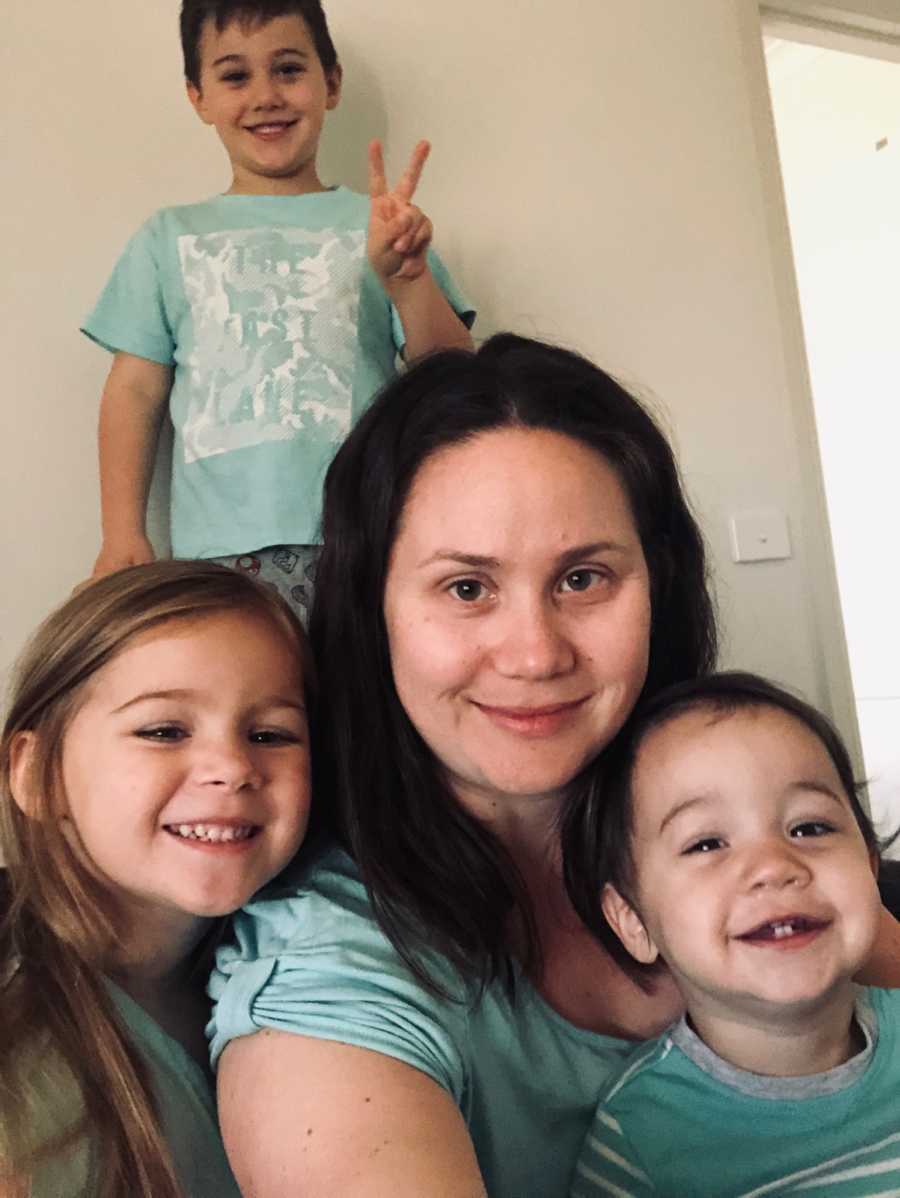 The hardest part was the brachytherapy. It was horribly painful. After the first one, I cried so much when it came to the next one. I really didn't think I had the strength to go through it again. But I did and my children got me through it! I would look at the pictures on my phone while I was in hospital to keep me strong.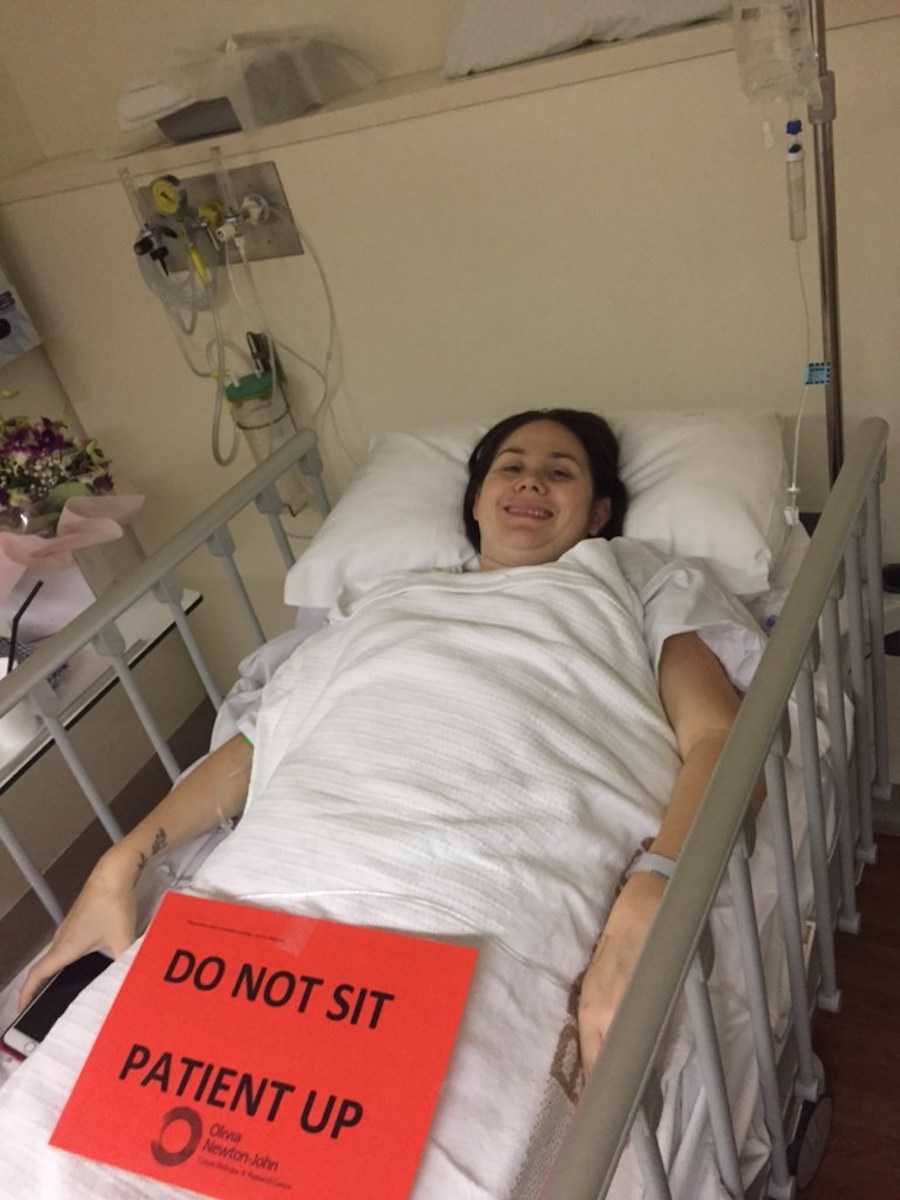 Finally, it was all over and we could all go back home and try and get back to normal. I was still on strong pain relief and I had my difficulties being home and going straight back to mom full time. Still, it was good. I had no time to dwell on my body, so that was the best thing for me.
On October 16th, I got the awesome news my pet scan had come back all clear! I was so relieved! Basically, having Frankie had saved my life! Honestly it was a surprise pregnancy, but clearly it was meant to be.
My family got a holiday break given to us from the cancer council. We went to Mornington Peninsula in May and it was fantastic, our first family holiday. It was so nice to get away and not think of the horrible year we've had! I am lucky my children were too little to remember and fully understand what was going on. All they knew was mommy was sick and had to go to the doctor everyday to get better.
I fund-raised and took part in the relay for life, volunteering for daffodil day and doing a 5km walk/run to raise funds for ONJC. Just doing my little bit to give back.
I share my story so other people know it can happen to anyone no matter their age. I am a total advocate for listening to your body. If this reaches one person who has a gut feeling something is wrong and has put off getting it checked and this story helps, I'll be thrilled. No one should have to go through what I went through and early detection is key."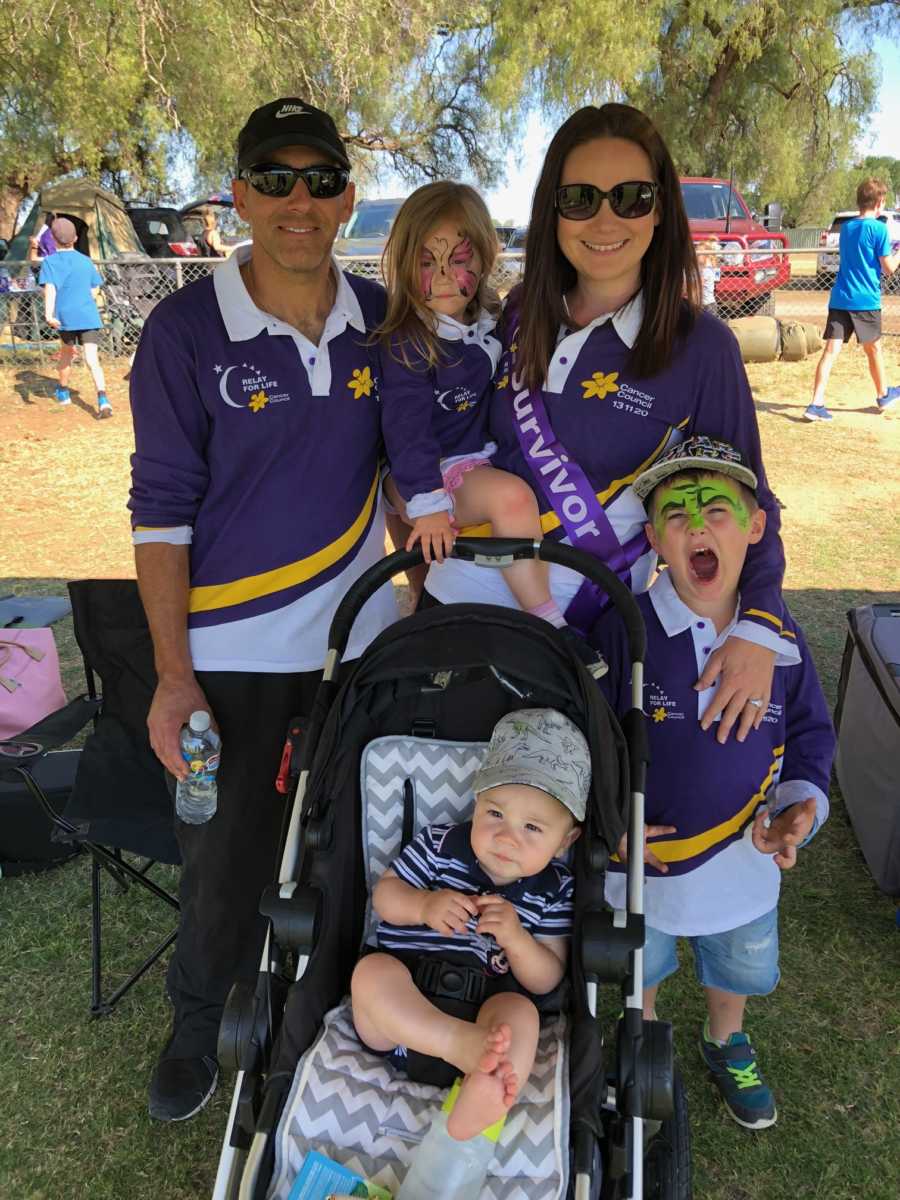 This story was submitted to Love What Matters by Amanda Mancini. You can follow her journey on Instagram. Submit your own story here and be sure to subscribe to our free email newsletter for our best stories.
Read more beautiful stories about cancer survivors here:
'At 18, it was traumatic to be told I was not going to carry my own child': Cancer survivor, military spouse beats infertility odds to get pregnant with 'miracle baby'
'We were celebrating 3 years of marriage. I thought life couldn't get any better. When I laid down, I got news no one wants to hear. I ran to the bathroom and hovered over the toilet, dry heaving.'
Please SHARE this story on Facebook and Instagram to encourage others to live life to the fullest.