"'When the time is right, I, the Lord, will make it happen.' This verse has been the greatest stepping stone throughout the infertility journey my now-husband, Bryer, and I have been on. I always said I didn't know how we were going to make it happen, but when the time is right, we would figure it out. Unfortunately, 'figuring it out' was easier said than done. I prayed on it, thought on it, and obsessed over it daily. Seeing my friends start their families and seeing women getting pregnant with ease was hard. The worst part was seeing women with drug addictions becoming pregnant and not having a single care about the babies they were growing. How can they have kids, and I can't?
Becoming a mom was and is everything I have ever wanted but having to answer the dreaded question 'when are y'all going to start having little ones?!' was absolutely heartbreaking. They didn't know to not ask that question—I mean, everyone wonders when we will…but it was a question I would get asked almost daily. How do I even tell them without opening up a whole can of worms? The reply, 'Oh, in a couple years, we're not even ready for kids' began to roll off my tongue scarily easy. If only they knew deep down I wanted kids now, yesterday, and even a year into our marriage.
Infertility is hard on anyone going through it, and it's something I don't wish on anyone. My story is a little different than most, though, as I have known about my infertility since I was 16. The years leading to today have allowed me to learn to cope with the pain, but in the same breath, they have allowed for more opportunities for the unwanted pain to creep in when least expected, causing a feeling of learning about my infertility all over again.
I remember sitting in the cold room in stirrups with nothing but a crisp paper robe on. My mom was standing next to me, and the comfort level in the room was at an all-time low. I was 16—why did I still not have a period? I knew well and good that usually, by this age, Mother Nature has already made her appearance. I have always wondered, 'When will I start? Every girl in the school has…what about me?' Each day with no answers, I knew deep down something was not right.
I went through test after test to finally get a call to review what had been found. 'Maybe I'm just a late bloomer. I mean I'm very active and play softball all year around.' I continued to assure myself all was fine. The doctor sat me down and the words struggled to exit her mouth. 'Courtney, you have something called Mayer-Rokitansky-Küster-Hauser (MRKH).' Basically, that was a really fancy way of saying I was born without a uterus or cervix. While I have normal ovaries and therefore eggs—I have no way of carrying children. I will never have a period and will never be able to get pregnant.
It took a minute to really have that sink in. My mind was blown. I remember feeling paralyzed, as if my world stopped—I was nodding but not fully understanding the severity of the news I had received. To this day, I can still feel the brick that was thrown at me full speed. Thankfully, as I sat frozen, my mom was full of questions and continued to ask them eagerly even though tears filled her eyes. I couldn't imagine the pain of hearing that your perfect baby girl could never carry her own babies. Sure, kids were definitely not on our minds at the age of 16, but she knew one day my heart would ache for children of my own.
After ending the conversation that felt like hours, my mom and I found ourselves in the elevator. I remember the harshness of the silence to this day. Eventually, my mom turned to me and asked, 'Are you okay with this? How do you feel about all of this information?' I immediately lost it. Tears filled my eyes and rolled down my face. The information the doctor told me was the worst news I could have received.
'I'm NEVER going to be able to have kids of my own' was on repeat in my head. My mind was in a fog. It was as if a broken record was playing. The same questions on repeat over and over. 'What will my future be like? What's Bryer going to say? Is he going to break up with me? Sure, we haven't talked about kids, but what if that is all he has ever dreamed of?' We were a year into our relationship, so not telling him wasn't an option. Even at the tender age of 16, I was absolutely in love with him. He had to know.
When I told Bryer the gut-wrenching news I had just received, his exact response was, 'I'm not dating you because I want to have kids, I'm dating you because I love you. We will get through this!' I knew at that moment he was the one I would spend the rest of my life with.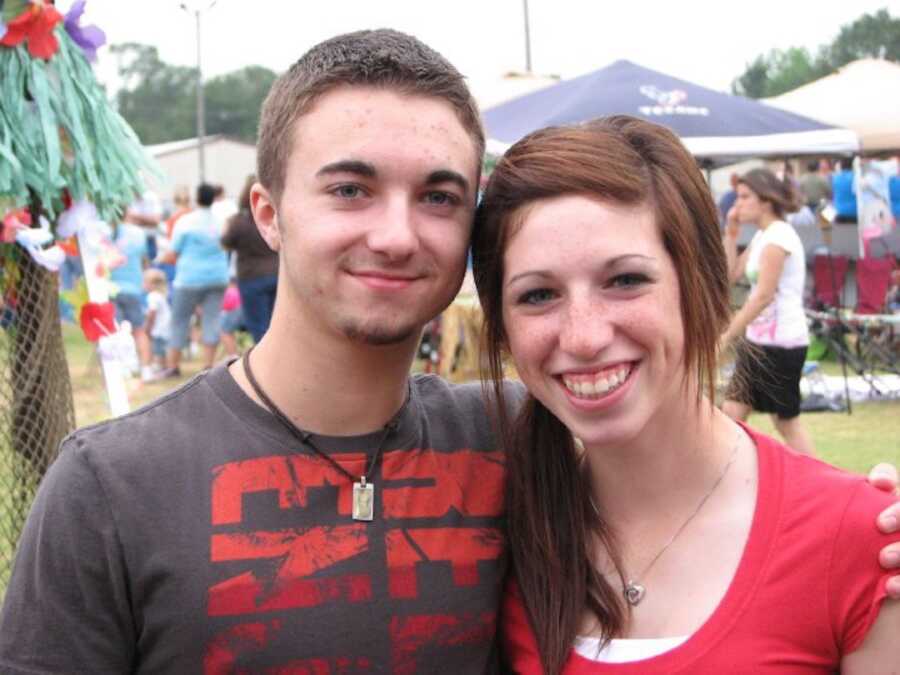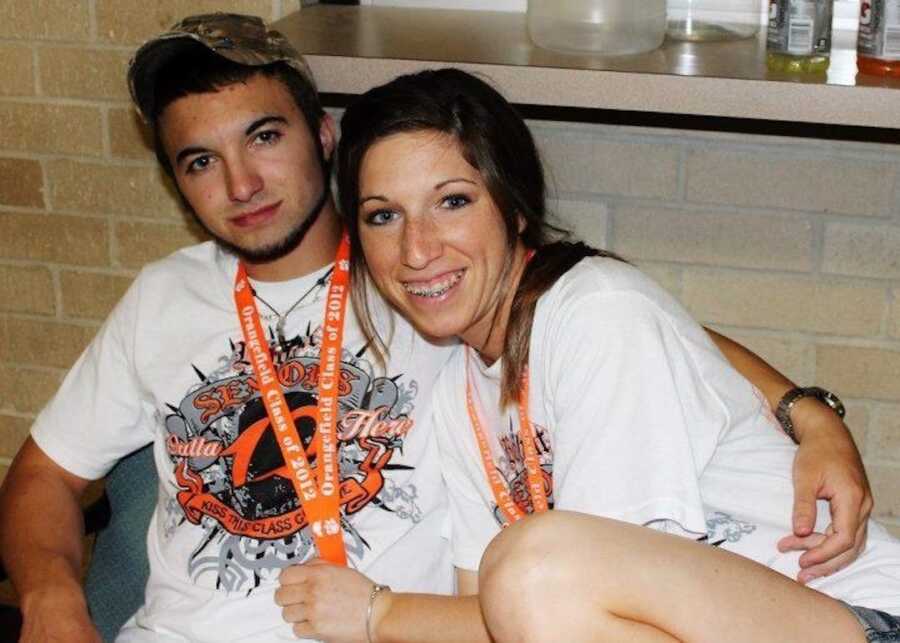 High school came and went. Graduation led to marriage, marriage led to fur babies, and fur babies led to our very first home. We enjoyed our lives and soaked up every minute of our free time together. I think both of us put the thought of having kids in the back of our minds, and we drowned out the thought with vacations, friends, work, and hobbies. I knew deep down we would eventually have to face the reality of my diagnosis, but in the moments where the thoughts of this crept up on me, I reminded myself God would provide us with an answer when the time came. Honestly, this is what kept me sane over the years. He has truly been our rock and foundation since day one.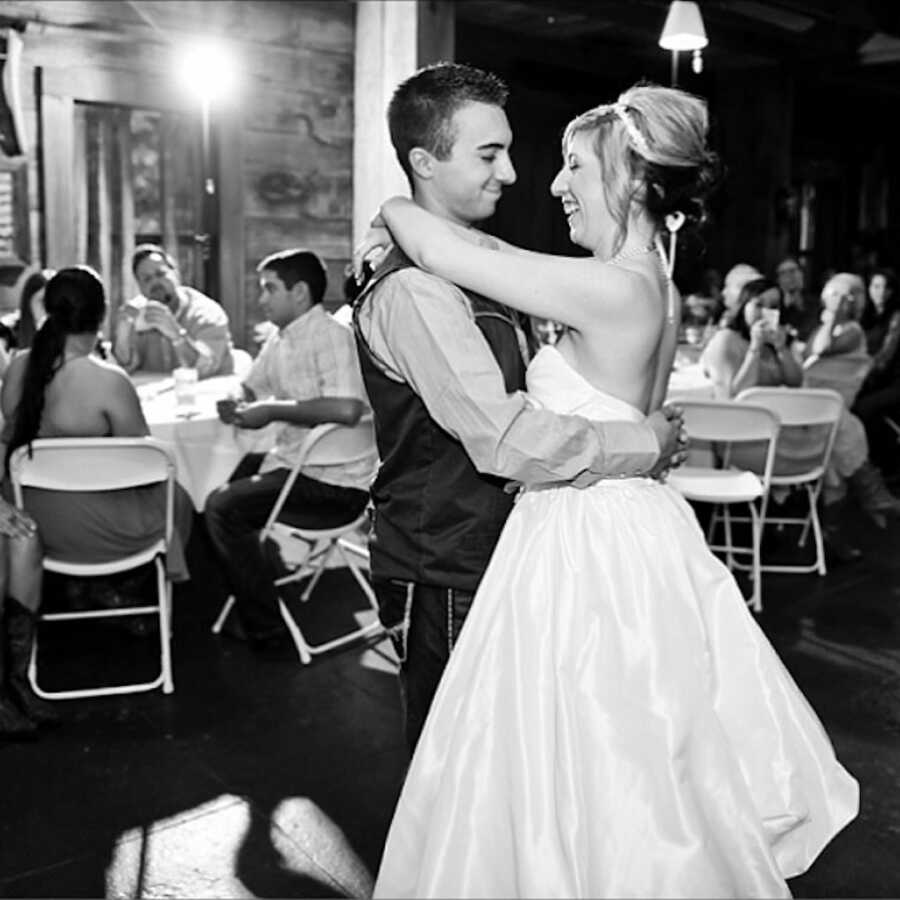 The switch flipped. It's now 2020, and we woke up to the year of questions, dreams, prayers, and tears. More tears than I could have imagined. Being a hairstylist and owning my own business, I found myself out of work for six weeks due to the COVID-19 pandemic. 2020 brought my friends babies. It felt as if everyone I knew was beginning their families. The year also brought a longing in my heart for a baby of my own.
In this year, I felt as if I was standing still, and the world was moving full speed around me. I was in stasis. Couldn't move. Literally, I was stuck in the rut of infertility, and everyone left me behind. Baby bumps, births, and pregnancy announcements seemed to be on every channel, in every movie, and on every feed of every social media. I couldn't escape it any longer. I was tired of crying. Crying over a baby in a commercial, a post on social media, or a scene in a show with a mother and baby.
With every thought of finding a way to have a baby of my own came the thought of how expensive it would be. Adoption—expensive. Surrogacy—expensive. But having a baby of our own to love and nurture—priceless. The year 2020 was filled not only with tears but with prayers as well. I prayed harder than ever for God to give me a sign of what exactly I needed to do. I prayed for patience and guidance. I prayed for acceptance. I wanted patience when I felt the pain of wanting a baby NOW. Seeing announcements, bumps, and babies put salt on a cut I didn't realize was wide open. I wanted guidance to make the absolute best decision for my family. I wanted to accept the fact that I couldn't just say, 'Hey! Let's get pregnant!'
I got lost in battling the emotions my infertility brought and in the new wave of emotions flooding over me, the intense want of having a baby. Bryer approached me one evening, wondering when we were going to have a baby. I was not ready for this conversation. As I said, I was lost in my own emotion to even begin to formulate a plan. A plan that would change our lives forever. Since I couldn't answer the question, I replied with my own, 'When do you want to have a baby?' Our planning began here. In our unfinished shop that will one day help teach our future child how to get dirty, fix things, and be patient with all processes in life. 'Give me until next summer,' he said, 'and we can start this journey.'
Some time passed, and we didn't speak much of the journey on which we would soon be embarking. In August 2020, a client I've had for about a year was in for her appointment. She knew my story, but we didn't talk much of it. By the end of the appointment, she turned to me and said, 'Courtney, this is going to come off weird—and may sound a bit crazy, but I have to tell you something.' Weird and crazy is my middle name. I mean, let's be honest, something about the hair salon lets everyone's crazy come out at some point.
She proceeded with, 'God spoke to me today. He said I needed to pray for you. Specifically, about a fertility journey you're about to go through. He told me that you need to know He has been and will continue to be with you every step of the way.' Tears filled my eyes. Let me first say God is amazing. He used a client who didn't know much about my infertility to open my eyes to the fact that he is in control and will guide me and will place people in my life to get me through this. She immediately prayed over me. She held her gentle hands on my tummy and prayed over whatever journey I was about to go through. I was moved. It's amazing how God speaks when you least expect it. After discussing the day's events with Bryer, we decided that this was the sign we needed. At this point, why wait?!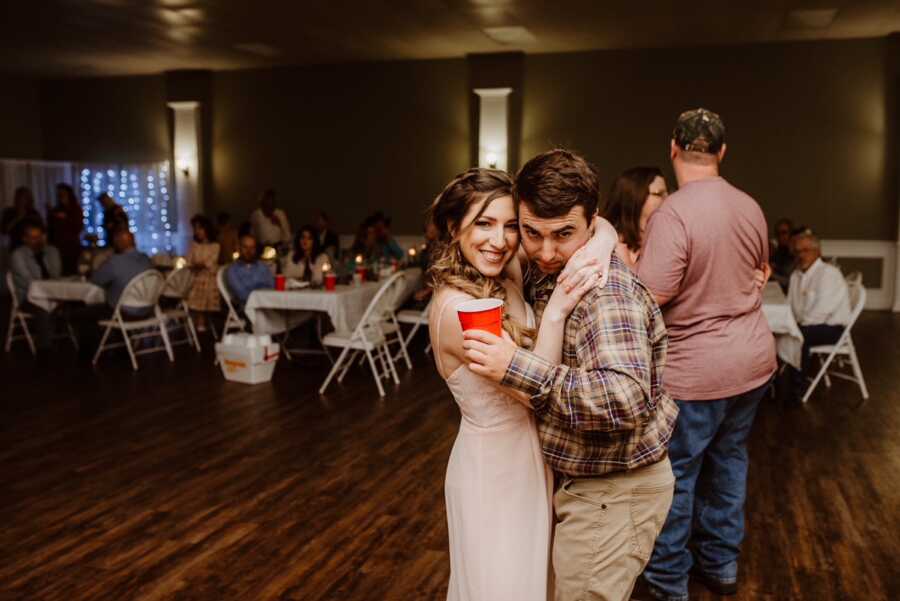 September 29, 2020, was my very first appointment with Houston Fertility Institute. My heart felt as if it were a bass drum. Naturally, I brought my mom with me. Since this appointment was only to hear our options and my mom was with me when I found out I couldn't have kids, I felt as if I needed her with me this time, too. Thankfully, I brought her because she had the answers for the doctor when I hadn't a clue. 'Are her ovaries testicles?' 'Was a full panel of genetic testing done when she was diagnosed?' So many questions were asked that only she had the answers to.
On this day, we learned about everything that needed to be done prior to the start of IVF—in vitro fertilization, the first main step of the surrogacy process. Was Bryer fertile? Are his 'swimmers' healthy? What did my genetic testing reveal? What about genetic testing for him? Since we know I have a cycle, but not an actual period, where am I at in the cycle since we have no way of knowing? Multiple labs and tests had to be performed. Throughout this point in our journey, all I could think about was the price tag. How in the world would we ever be able to afford all of this?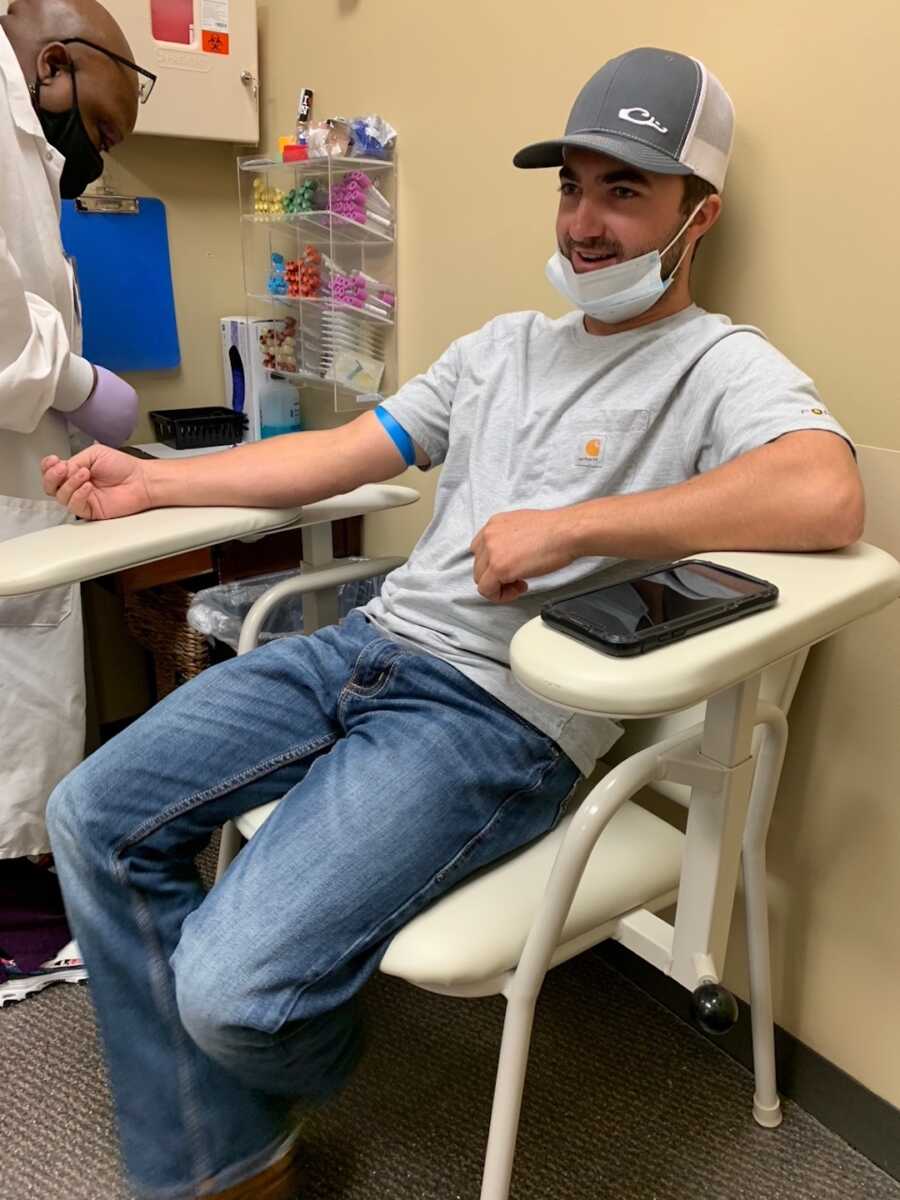 On October 30, 2020, we began our IVF journey. This was the day I opened up to the world about my journey with MRKH and our attempt at a family of our own. My first shot was so surreal. I cried and prayed and begged God to allow my body to produce enough eggs for us to fertilize. After 10 emotional days that consisted of shots in my stomach, it was time! We triggered on November 9th at 8 p.m. This shot is administered prior to retrieval of the eggs in order to facilitate a process called meiosis where the eggs we primed for fertilization.
Retrieval of the eggs took place on November 11th at 7 a.m. I couldn't contain my emotions as I placed the gown on and waited for the doctor to come in and give us the breakdown of the procedure. There were 6 eggs my doctor was retrieving. I woke up from the procedure full of emotions. The tears were normal at this point since I've had hormones literally raging through my body. My doctor came in and explained that due to the anatomy of my body, he was only able to safely retrieve the eggs from my right ovary. '…but the good news is I was able to retrieve 3 eggs!' Now, I know it only takes 1 to become pregnant, but I'm also not oblivious to the fact that things can go wrong. It could potentially take 2, 3, or even 4 times to get to a successful pregnancy. Not to mention that my eggs still have to go through multiple steps to even become embryos. I didn't want to be, but I was devastated.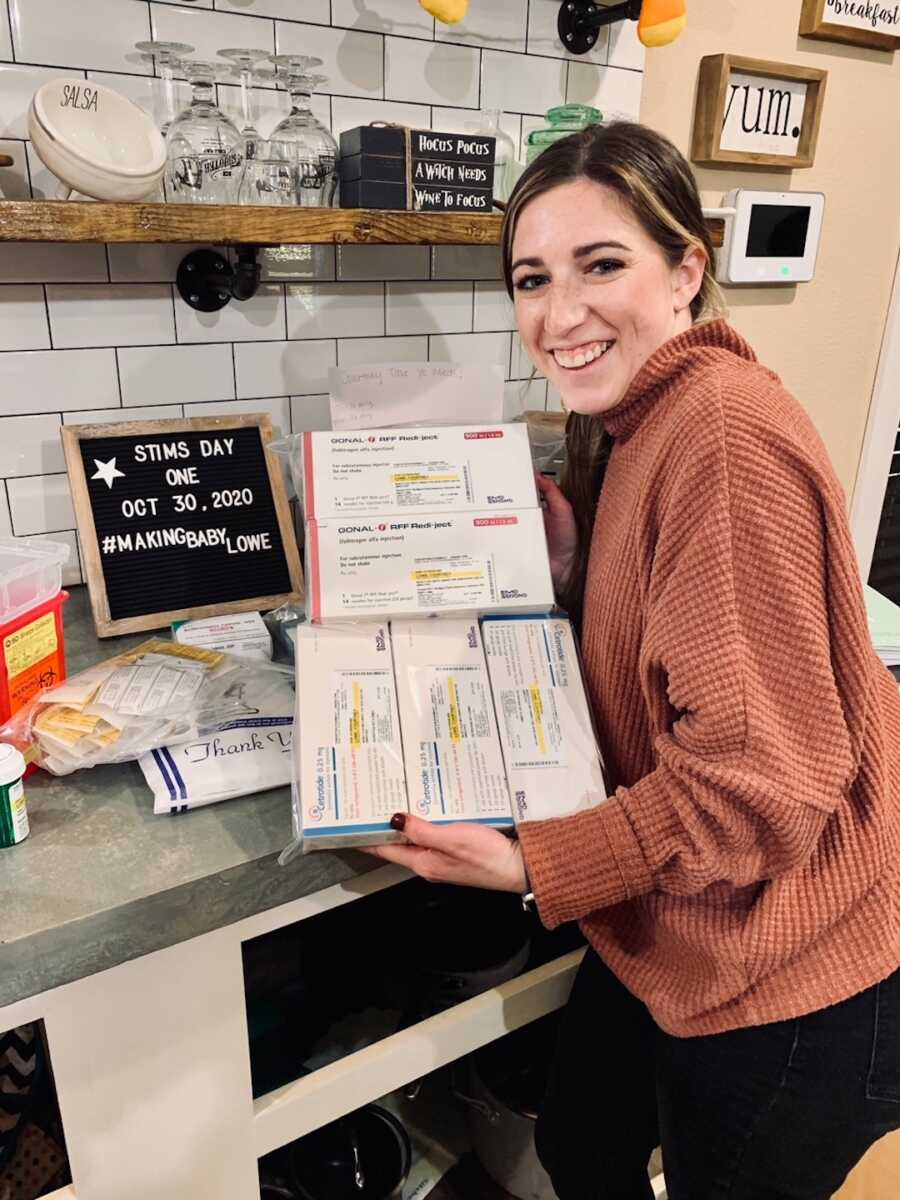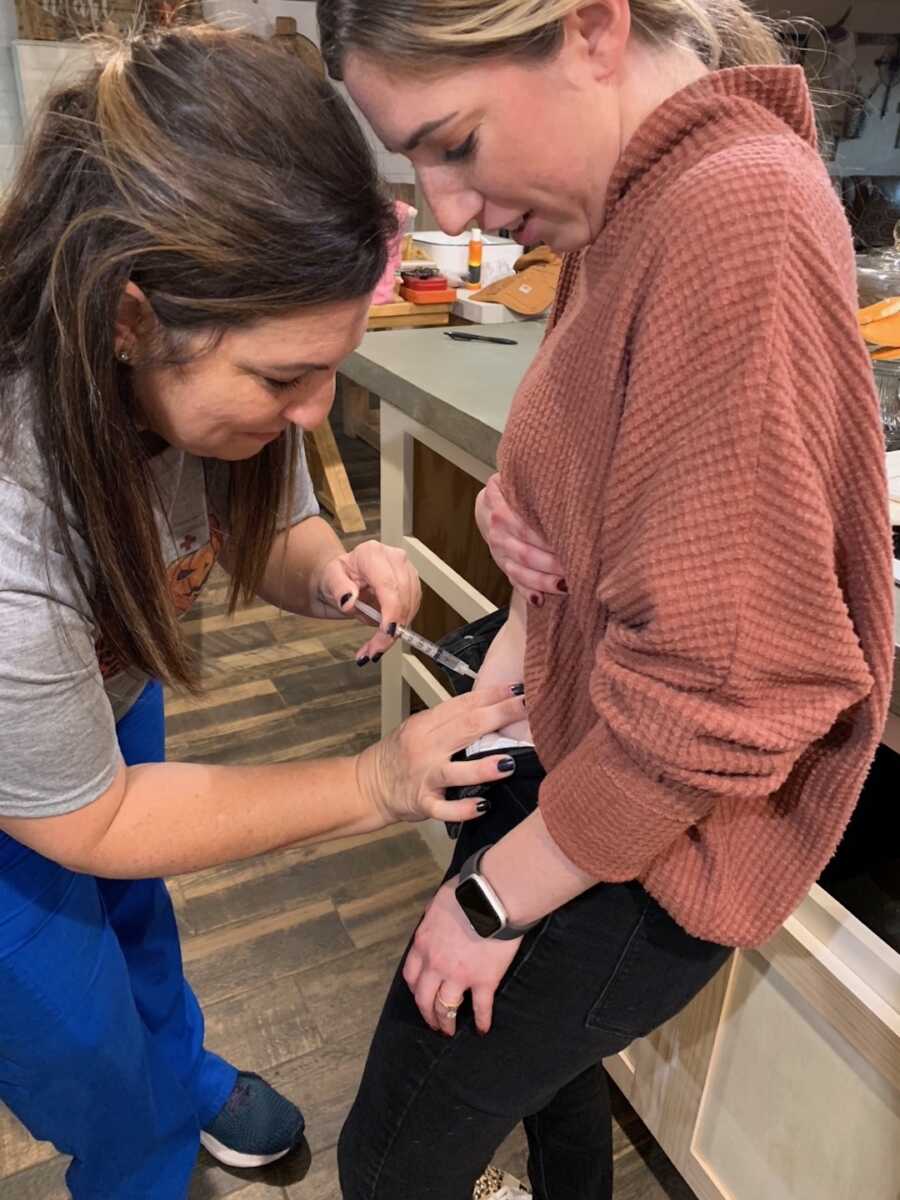 By November 18, 2020, we had 2 embryos frozen and that ready whenever we were. Knowing this, on November 19, 2020, we began the search of a lifetime. 'Searching for an oven for our bun!' a post that would go semi-viral on Facebook led to 2,880 shares and over 100 messages filling up our inbox of women all over the world wanting to help us. A post my salon girls would encourage me to post. Even offering to hit the post button for me. This post led us to so much love and support. It was truly amazing. After the initial share of the post, my hype girls, as I like to call them, and I, found ourselves in the break room praying. We prayed God would provide. That the perfect surrogate would find us and that whatever was about to be thrown in my and Bryer's direction, we would handle it with grace and in a way pleasing to The Lord.
On November 24, 2020, we received the news that both embryos were normal and healthy. WOW! Two chances at completing our family. I was overjoyed. Once again, the tears rolled down my face as I attempted to finish the conversation with our Embryologist. 'Two embryos!' I kept replaying those words over and over in my head. Bryer wants a boy, and I just want a healthy baby, but deep down, I would love a mini-me. Another little hurdle we see in the near distance. How in the world do we choose between a boy and a girl if we have one of each. This decision didn't sit right with me. I prayed about it. 'Lord, I can't choose, choose for me. Please make them both the same sex. Give me another sign if there is one of each. Please just guide me in the right direction!' Low and behold—same-sex embryos. A weight was lifted, and I could breathe again. Thank you, Jesus.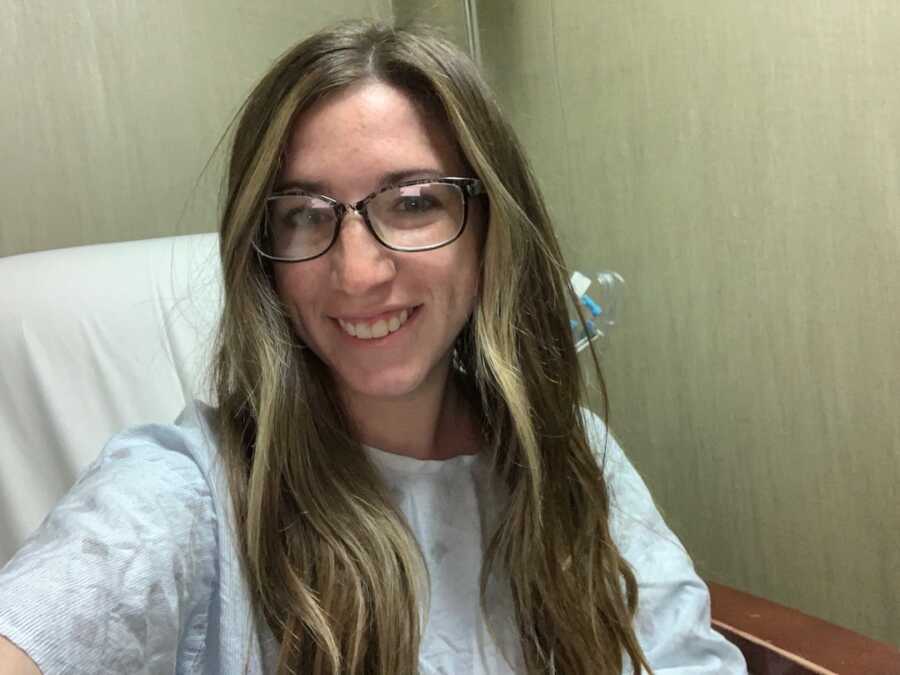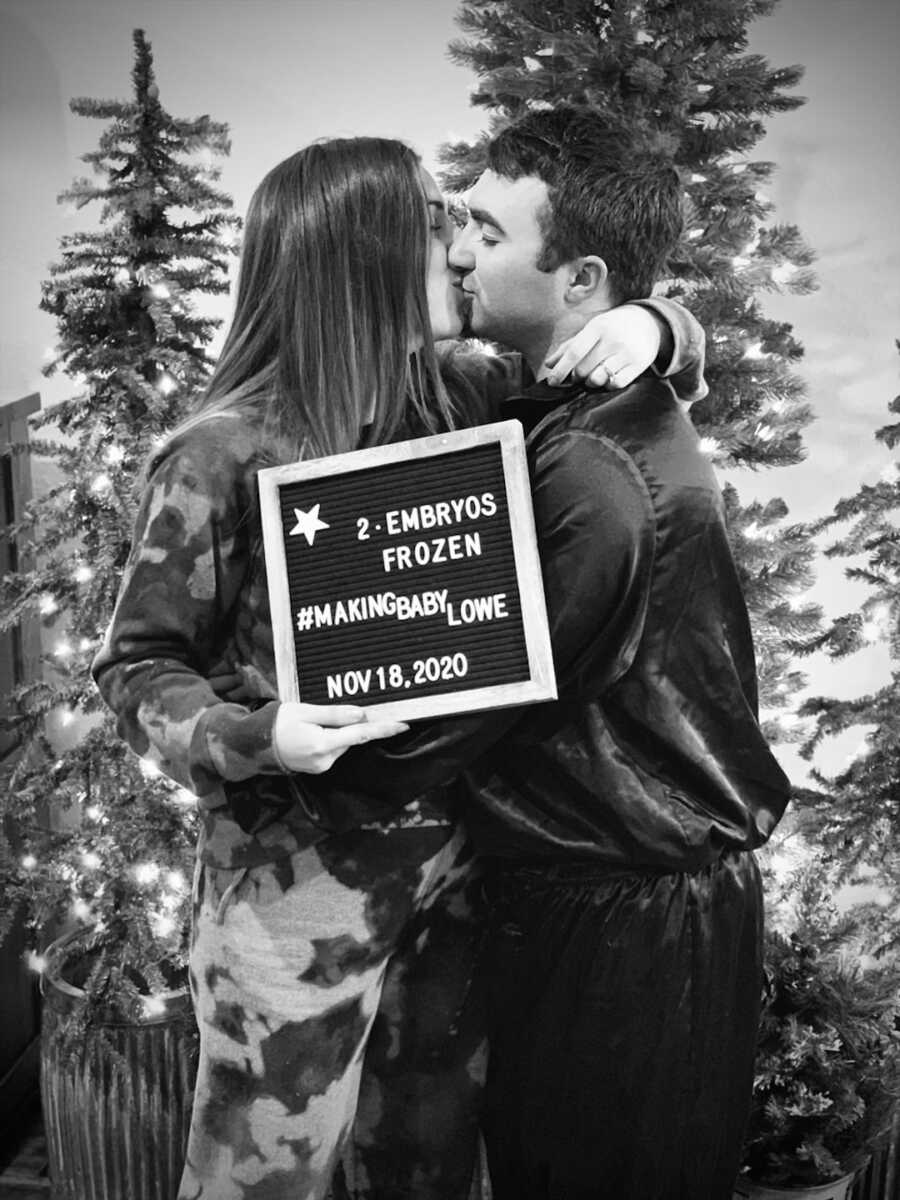 A few months and a few setbacks passed, which inevitably led me to update the world on our continued search for the perfect, God-sent woman to help grow our family. Now, even more women reached out, but there was always something that didn't work. My heart hurt. 'When the time is right, I the Lord will make it happen,' I reminded myself. I continued to lay it all down for Him. June 7, 2021, was my and Bryer's 12th year of being together and our 7th wedding anniversary. Coincidentally, on this day, the Facebook post made a comeback. I was in awe to see that it was randomly being shared again.
As the week went on, I spoke with several women. There was one woman we felt in our heart was the perfect, God-sent 'oven' for our 'bun.' She was currently working with a local agency, The Surrogacy Consultant. We decided to do a Zoom meeting with them to see if this route would be a good fit for us. We agreed to work with the agency, and officially matched a week later after her medical records were approved at our new fertility clinic, The Center of Reproductive Medicine.
WE FOUND A SURROGATE! Cue the tears. Everything was finally falling into place for us. We couldn't, and still can't believe it. Our carrier lives 30 minutes from us, and I've learned we have so much in common. She is literally our perfect match. Since she was working with an agency, she had already been psych prescreened. This meant we could go straight into medical screening! This all happened within a week and a half. HOLY MOLY—I couldn't believe it! I was scared, worried, and stressed.
Now that we are working with an agency, our whole surrogacy journey just doubled in price. 'How in the world are we going to do this?' I kept asking myself. I continued praying for Jesus to take the wheel and guide Bryer and me, as we have no clue what we are doing or how we're going to make it work. As of the beginning of September, we are now in the legal portion and are finalizing the contract between us. Our next step is her baseline appointment to see when we need to start her medications. Once she starts medications, it's time to transfer an embryo. Eek!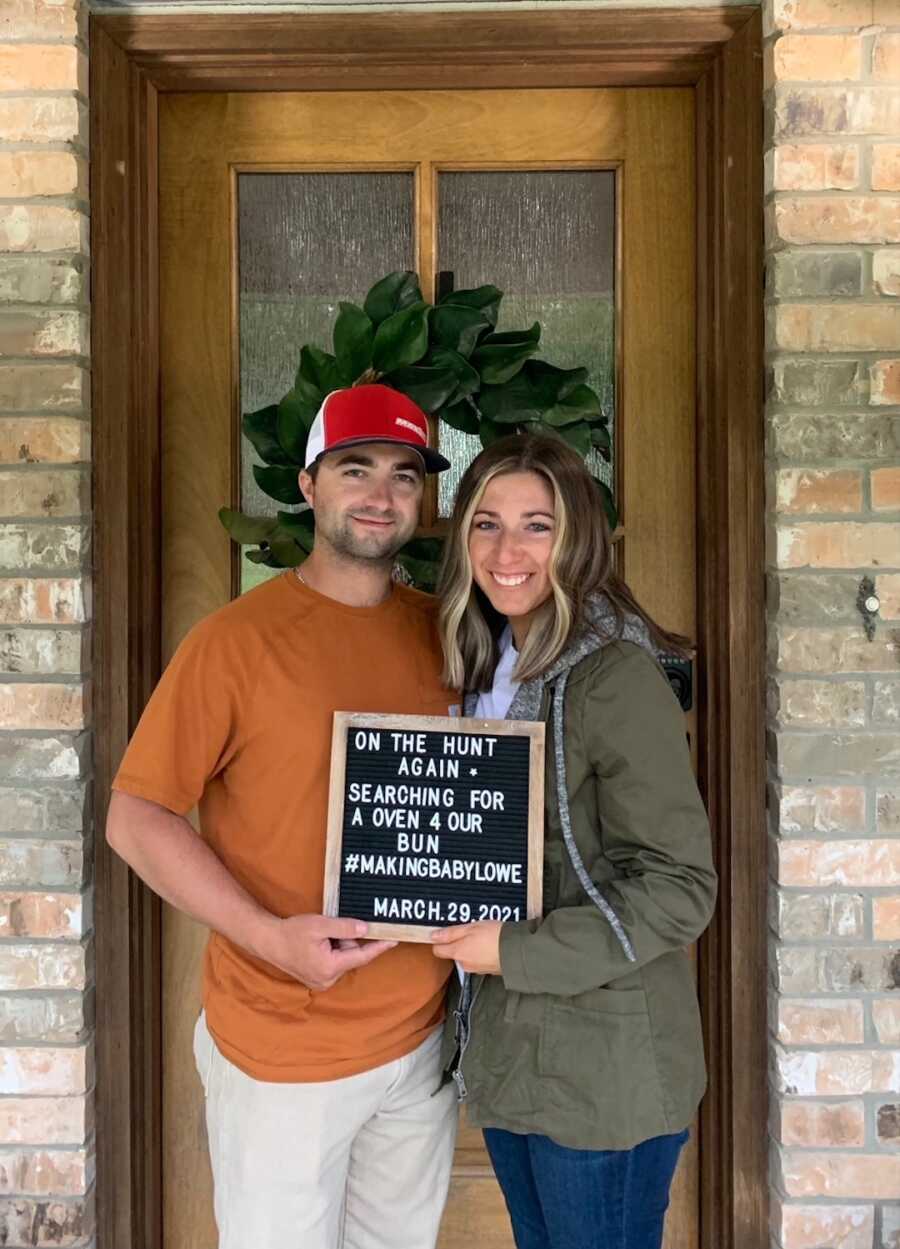 Bryer and I have saved over the course of many years for this journey. This is our life savings, literally. Although you cannot put a price tag on something so special, the stress of emptying your savings takes a toll on you. Thankfully, my family and friends are coming together to raise funds in order to make the rest of this journey a little less stressful for us. Everything that has happened this far and everything that will happen, we owe all to Jesus. They say with faith you can move mountains, and that is something I truly believe.
Although this journey has been a trying one, it has also been the greatest experience of my life. I cannot wait to hold my baby in my arms and see who they look like, watch their personality unfold, and see how spoiled they're going to be. Most importantly, I can't wait to watch Bryer become a dad. I've waited so long for this journey to unfold that some days I don't even believe it's happening. I want to close out by saying that for anyone with MRKH, you are not alone, and you've got this. You may not know what the future is going to look like, but don't lose faith that God's got this."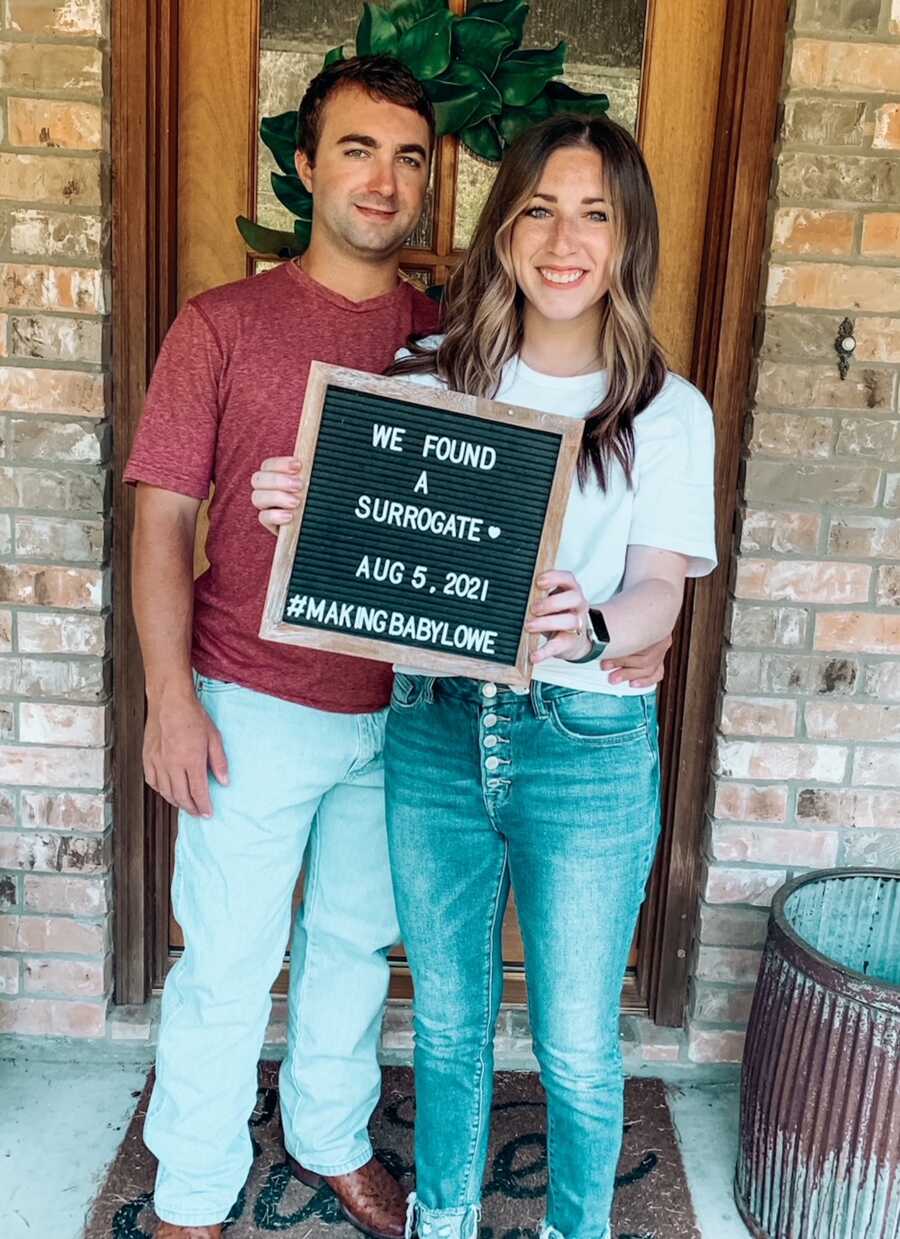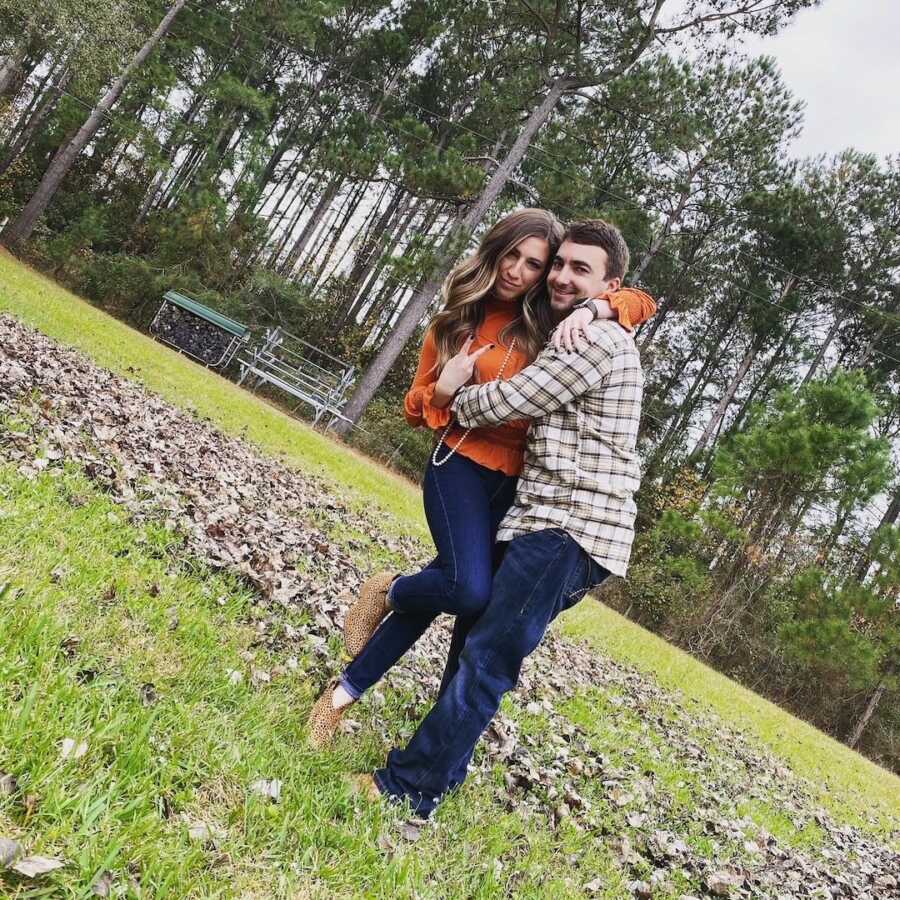 This story was submitted to Love What Matters by Courtney Lowe of Orange, Texas. You can follow her journey on  Instagram. Submit your own story here, and be sure to subscribe to our free email newsletter for our best stories, and YouTube for our best videos.
Read more stories like this:
'The moment we saw Wesley, it was love at first sight. I was his Mommy, and he was mine.': Boy finds 'forever family' after fate pairs him with couple battling infertility
'I said if I wasn't married by 30, I was going to have a baby on my own. They laughed, told me I was crazy.': Single mom by choice shares journey with infertility
'If I paid more attention, ate healthier, and drank less wine, maybe things would have played out differently.': Mom details miscarriages, infertility journey, 'I'll never take my title of mama for granted'
'We were so focused on building a family, we forgot we ARE a family.': Woman details infertility journey, 'We have so much love for each other'
Do you know someone who could benefit from this story? SHARE this story on Facebook to let others know a community of support is available.