One mom is making Sir Mix-A-Lot proud with her hysterical take on his classic hit rap, "Baby Got Back." Nicole Merritt, mother of 3 and mommy blogger at Jthreenme, came up with this genius rendition — turning the racy lyrics into an anthem about breastfeeding — and we. are. rolling.
She said it took her less than hour to write in between a morning workout and school pick up for her younger ones.
"Ever since my early 20s my husband and I would change lyrics to songs on occasion to make each other laugh. I made myself giggle pretty good with this one and I hope it does the same for others," Nicole told Love What Matters.
Without further adieu, we give you "I like Mama's milk and I cannot lie." Enjoy!
"I like Mama's milk and I cannot lie
You other babies can't deny
That when a mom walks in at a super rapid pace
And brings that milk right to your face
You get sprung, want to eat enough
'Cause you notice those things were stuffed
Up in that shirt she's wearing
You're hooked and you can't stop staring
Oh Mama, I want to get wit'cha
And take your picture
My baby friends tried to warn me
But with that milk you got makes (me so thirsty)
Ooh, you've got some smooth skin
You say you wanna fit in your old jeans?
Well, use me, use me
'Cause I'm breastfeedin' groupie
You've got me trancin'
I've got you prancin'
I'm leakin', you're wet,
But we keep goin' like a turbo 'Vette
I'm tired of other babies
Sayin' formula is the thing
Take the average baby and ask him that
She gotta keep milk up in front pack
So, Babies (Yeah) Babies (Yeah)
Has your mama got the milk? (Heck yeah)
Tell her to squeeze it (Squeeze it) Squeeze it (Squeeze it)
Squeeze that healthy breast
Mama's got milk.
Mama's got milk.
I like 'em round, and big
And when I'm throwin' a fit
I just can't help myself, I'm actin' like an animal
Now here's my scandal
I want to get you home
And drink, double-up, drink, drink
I ain't talkin' bout being coy
'Cause mama's parts aren't made to be a toy
I want 'em real full and yummy
So find that mama's tummy
And don't be too much trouble
Beggin' for a piece of that bubble
A word to all the mamas' sistahs, your babies will wanna get with ya
They may bite or pinch ya
But I gotta be straight when I say they want to drink
Til the break of dawn
Mama got it goin' on
Some babies won't like this song
'Cause them babies like to drink it and quit it
And I'd rather stay and play
'Cause I'm thirsty, and I'm strong
And I'm down to get the breastfeedin' on
So, Mamas (yeah) Mamas (yeah)
If you want to feed your baby (yeah)
Then turn around, stick em out
When your baby gives a shout
Mama's got milk!
Breastfeed or formula feed, who the heck cares. I did both. JUST FEED THE BABIES!"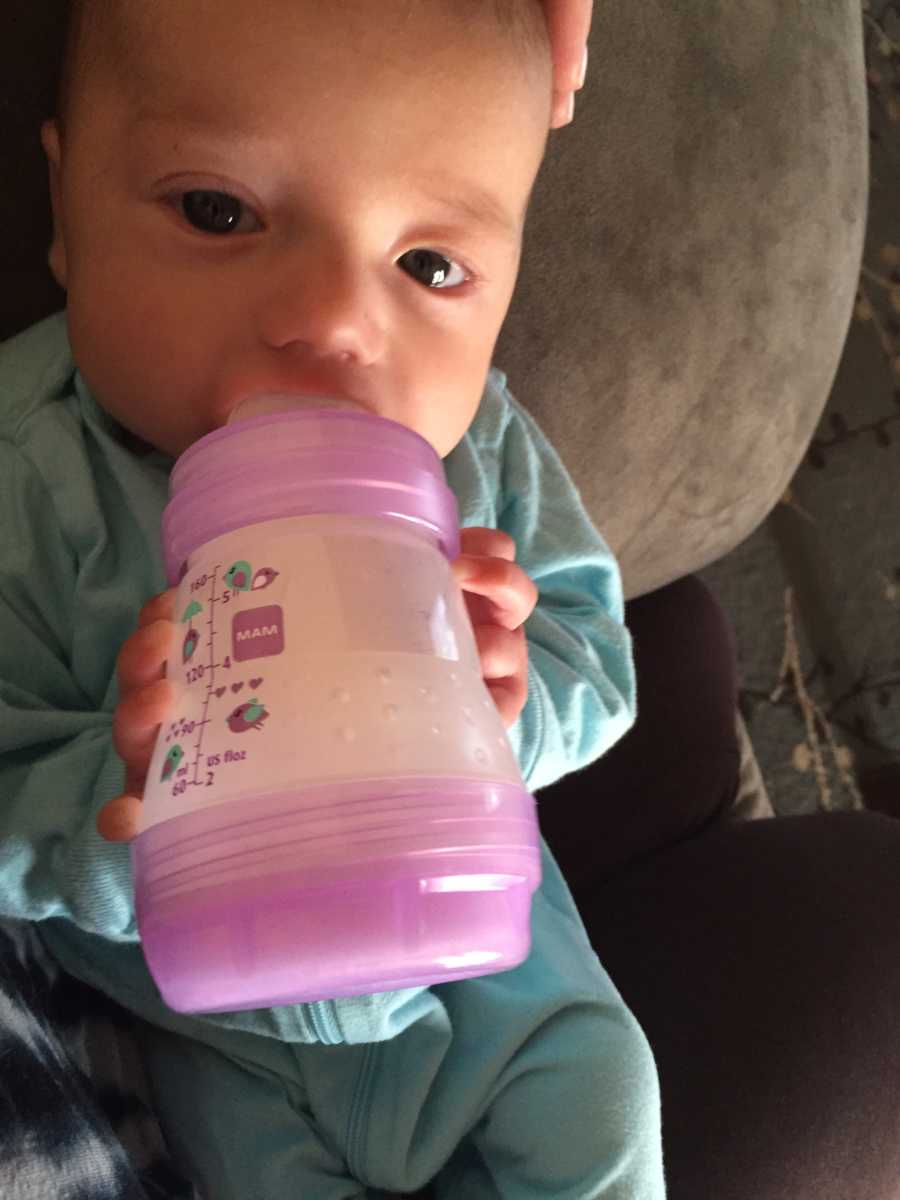 This story was submitted to Love What Matters by Nicole Merritt of Jthreenme, where the post originally appeared. You can follow her on Facebook, her website or podcast. 
SHARE this hilarious mom rap on Facebook to give other parents a good laugh!