"It was the sort of bad week that would make movie goers scoff at a poorly written script depicting an unbelievable scenario.
Saturday my dad called and asked to take my sister and I out for dinner. 'Daughter and Dad time,' he said. Just us. No husbands. No kids. We went out for pizza. In the way that little details stick with you pointlessly, I remember the basketball game on in the background and the way the gravel in the parking lot sounded when we drove over it. I remember wondering why we were doing dinner alone and texting my husband that I had worried for nothing because everything seemed fine. Until it wasn't fine. Until loss gripped its cold hands of terror around my heart and my foundation cracked. He waited until we were driving home. Back to our kids and our husbands. He waited until he didn't have to look us in the eye to tell us.
Cancer. Stage 4. Terminal. 9-18 months. He was so sorry. He loved us so much. He would fight, but he had lived a good life. We'd be ok.
The world spun in ways you don't understand it can spin until you hear those words. Looking back, there was 'The Before,' and then there was 'The After.' I look at pictures taken earlier that weekend of me and my family. I am a stranger to that woman now. Loss happened to other people. Cancer happened to them.
We cried. We clung. We shared platitudes like, 'well dad's a real fighter' or 'doctors don't know everything.' We slid into googling madness looking for the one study that would give us hope. The one story that would say our dad might, maybe, live. We asked a neighborhood photographer to take pictures of us because treatment would be starting soon and who knows what the future would look like. Who knew what my dad would look like.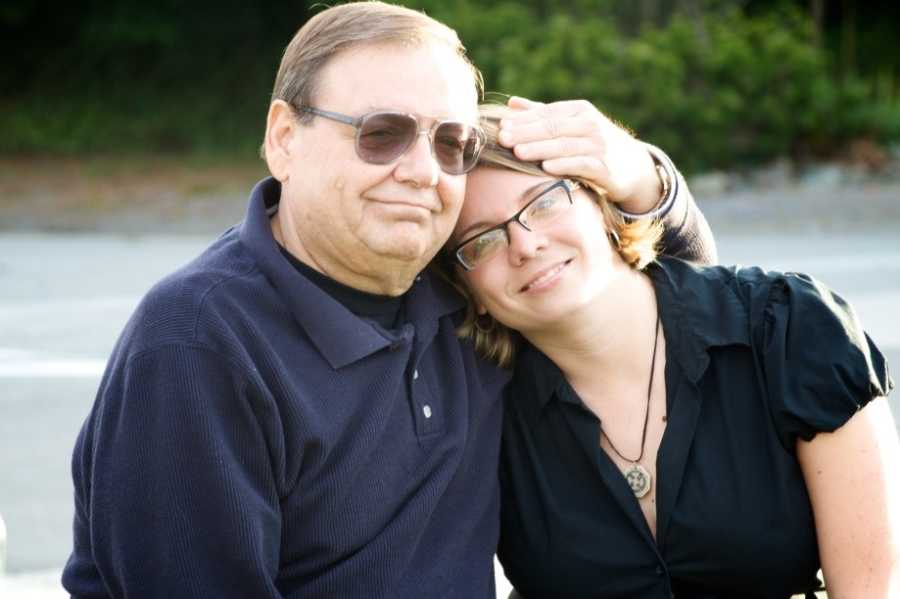 On Monday I turned to my husband and said, 'I just can't handle anything more right now.'
On Tuesday my beloved grandmother dropped dead.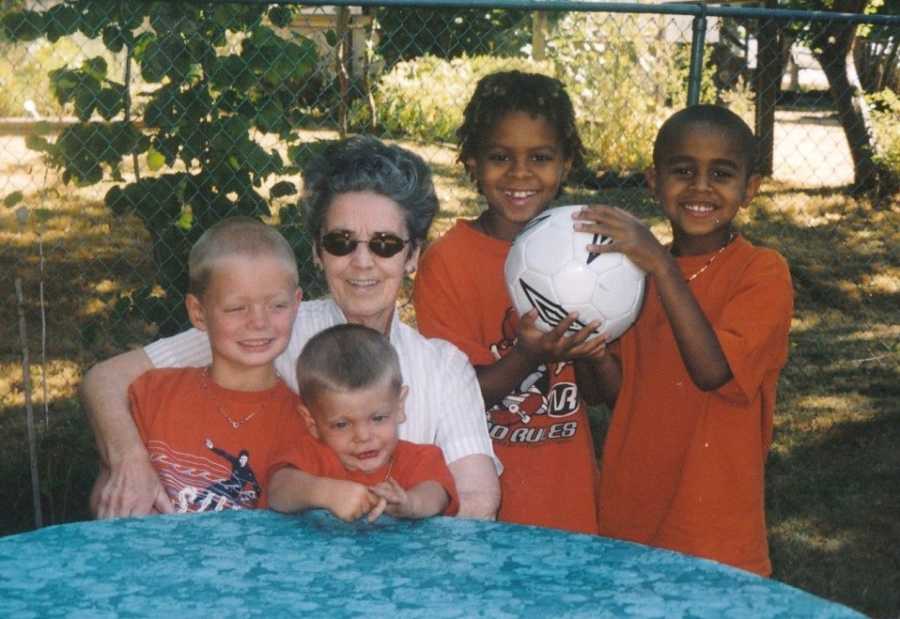 In life, if you are very lucky, you have one person who you know with absolute certainty adores you. That person drops everything to hear your stories. They know your favorite cookies, and make them. They host family holidays and make corny jokes. When they have nothing, they share what they do. They teach you about love and loyalty and faith; not through lectures or discipline but through presence. If you're very lucky, you have a grandma like mine. Until one day they are gone, and all that is left is the heartbreaking absence of their presence.
My foundation cracked some more. This was The After.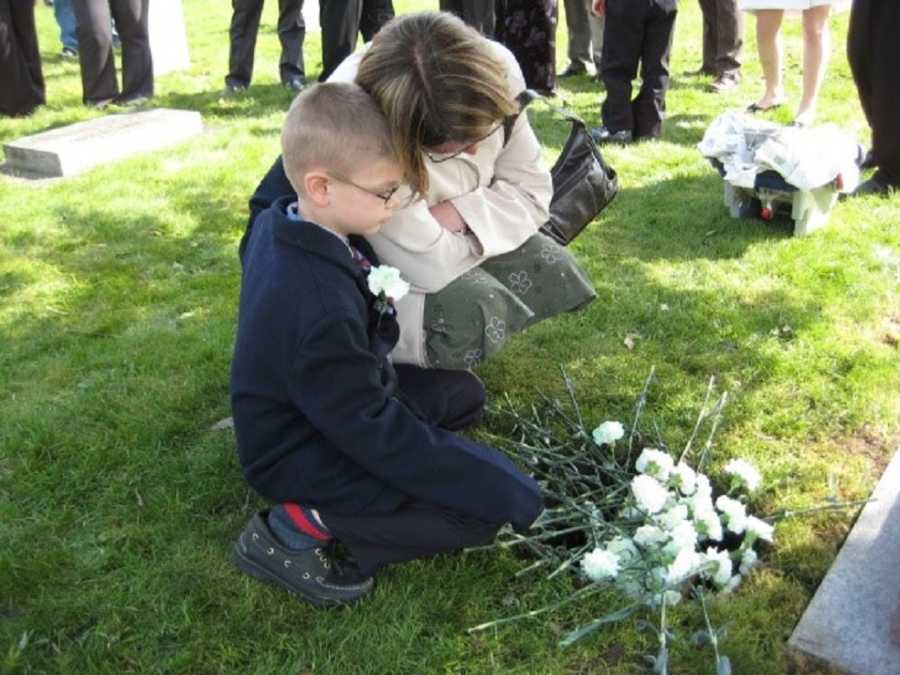 On Thursday, stunned and silent, my sister and I sat in the parking lot of the lawyer's office. We were the executors of our grandmother's will and we had arrived a few minutes early. I remember we were talking about shock and fear and how neither of us were sleeping well. That's when my phone rang. It was The After.
The call display said 'St. Paul's Hospital – Kidney.' I was 16 months into being tested to be a living donor of a kidney to my cousin. Blood tests, ultrasounds, EKGs had all gone fine. Last week, in The Before, I had been declared an ideal donor and the final testing of a nuclear renalgram had been arranged. It was a lengthier test than I had expected. An IV with radioactive dye, signing a form agreeing to not cross an international border for 72 hours so I wouldn't set off any alarms. Then a CT scan to map my kidneys. The technician made me wait. And then said the radiologist needed more images. And then I waited some more. They hadn't warned me it would take over an hour, but eventually I had been given permission to leave and I thought nothing more of it. The donation was tentatively planned for several months away. But that was in The Before.
In The After, the voice on the other end of the line was my surgeon. In The After, the surgeon told me they'd found a tumor on my kidney. In The After, I have cancer too. In The After, I call my husband at work and tell him I have cancer. He needs to come. The surgeon needs to see us right away. In The After, I call my dad and tell him 'me too.' In The After, my stoic dad cries, not for himself, but for me.
In The Before, I was the wife to a wonderful man and the mom of four sons. Privileged to have been entrusted with children through adoption, I spent my time learning and educating about attachment and trauma and transracial parenting. In The Before, I was a strong and healthy 35-year-old with 3 of my 4 grandparents still alive. In The Before, I did things right. I didn't smoke, or drink too much and we barely ever skipped church. In The Before, I thought those things kept me safe. In The Before, I couldn't imagine ever contributing to the attachment trauma of my children.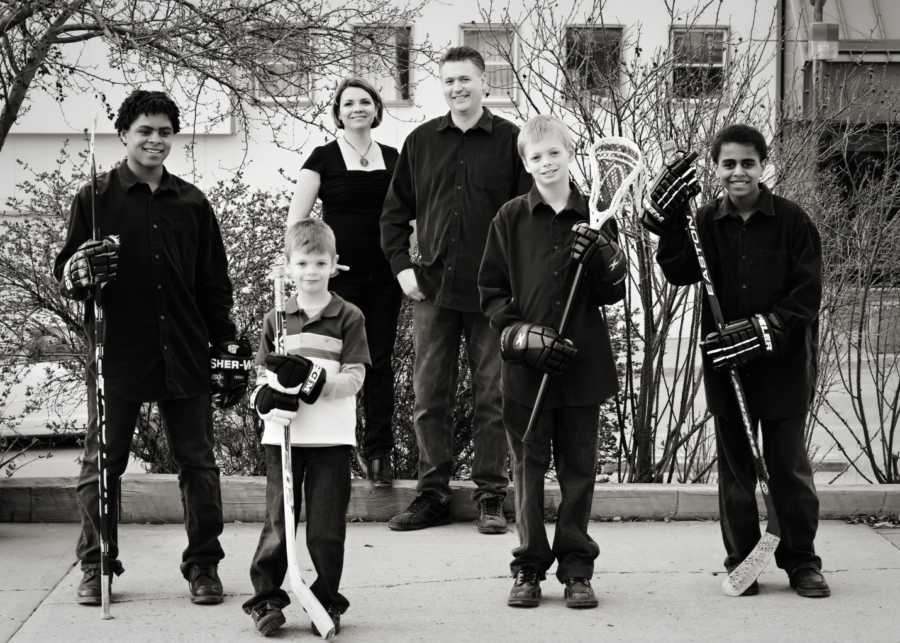 In The After, I sat my four pre-teen sons down and told them their beloved grandfather was dying. Then 2 days later I broke the news their treasured great grandmother had died. And 3 days later I told them I had cancer too. In The After, I the therapeutic, skilled, knowledgeable mother handed my children one painful lesson after another.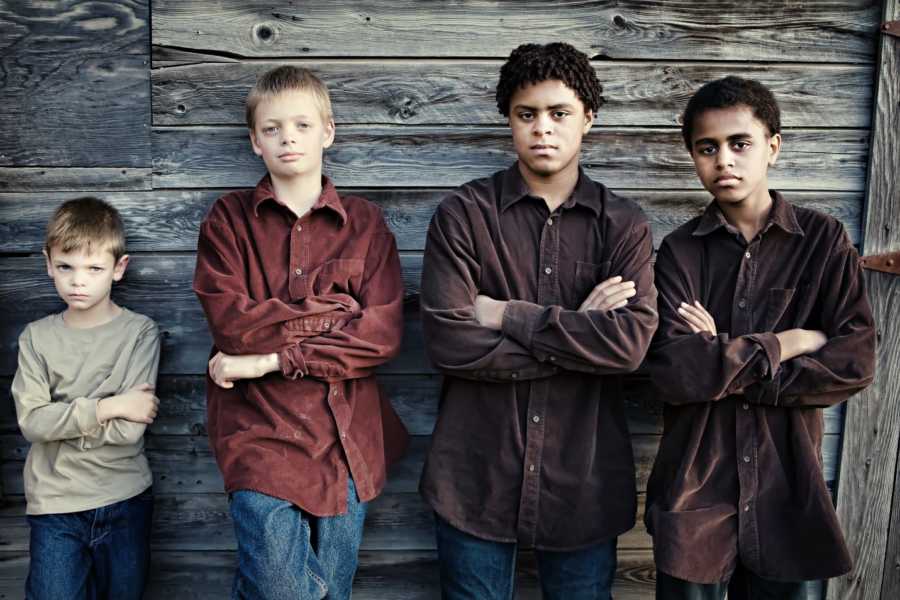 In The After, fear replaced faith. In the After, anger replaced joy. In The After, terror replaced peace. In The After, shock replaced capacity.
The next few weeks were a flurry of preparations. For my father as he prepared for chemotherapy. For myself as my tumour urgently needed to come out. For my family as they prepared for my absence during surgery and recovery.
In The After, 3 days after my renalcell carcinoma surgery, my husband lost his job.  At this point, even I felt it was a bad movie script. In The After, I had no more tears and I had no more faith.  In The After, I was hopeless and abandoned.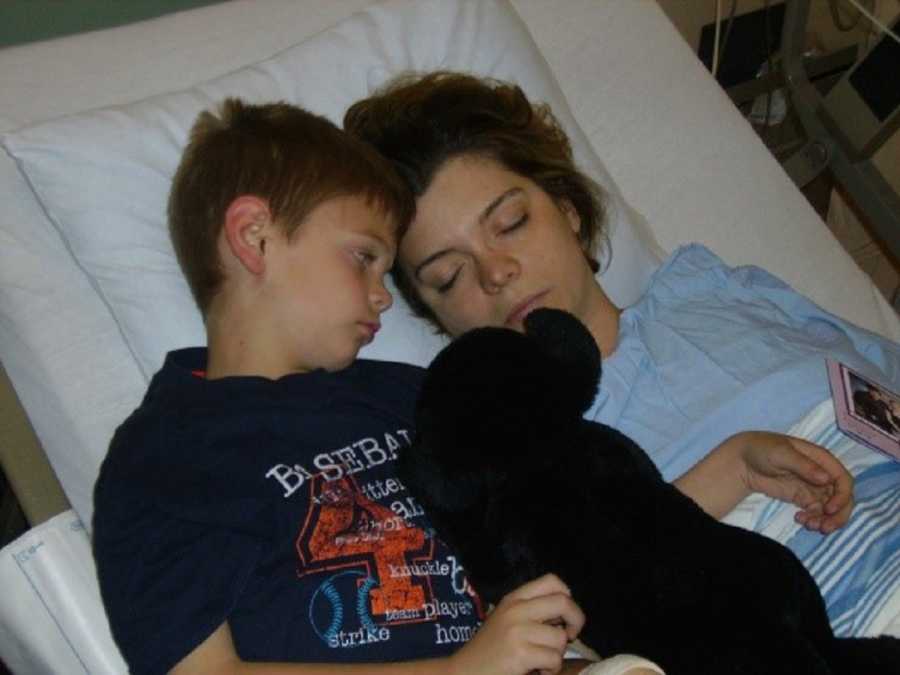 Except I wasn't alone or abandoned.
'For I know the plans I have for you,' declares the Lord, 'plans to prosper you and not to harm you, plans to give you hope and a future.'
Two days later, the phone rang again. This time it was a social worker. A friend.
'Jen, I heard you're off work right now.'
BECAUSE I JUST HAD CANCER SURGERY!
'And that you and Shel might have some time on your hands.'
BECAUSE HE LOST HIS JOB!
'And maybe you need a distraction.'
BECAUSE EVERYONE IS DYING!
'I have two babies in my office. They need a home. Today.'
Ohhhhhhh.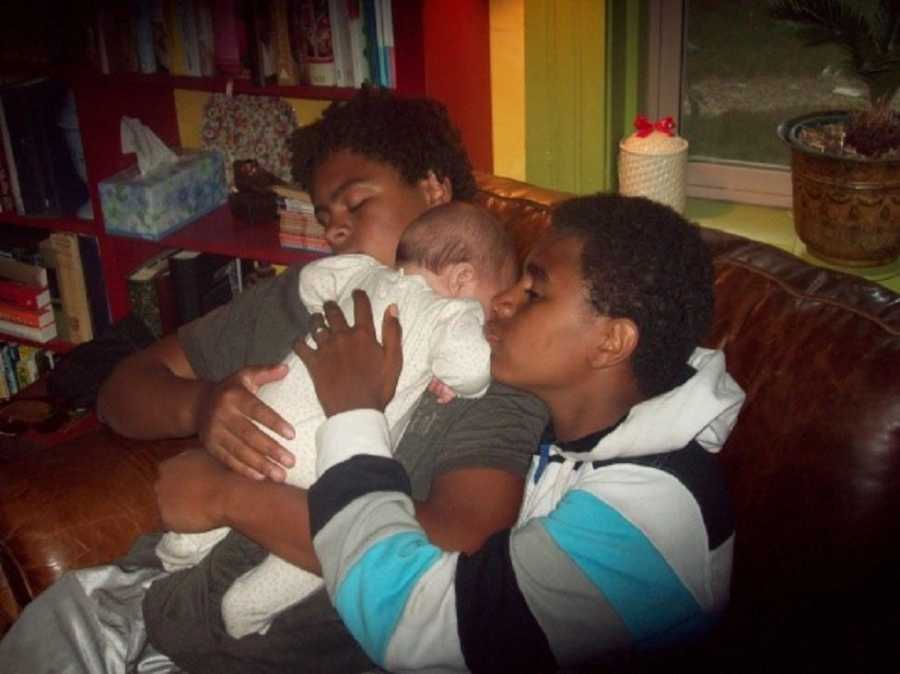 And so began our New After. In the New After, both my husband and I were off work to care for our precious baby girls and work on their attachment.  In The After, their family of origin asked us to adopt them. In the After, my sons had precious baby sisters to love them and attach to them and to adore them through the tumultuous adolescent years. In The After, our family grew again, when those baby sisters had another baby sister 4 years later that needed a family too. In The After, when my husband's career brought us to a new city, an 11-year-old boy needed a family too. In The After, my dad lived, victorious, for 9 more years. In The After, I've been cancer free for 10 years.
In the New After, I have cried, and sobbed and grieved deeply, but I have also loved more, appreciated life more and held on tighter. I am wiser, stronger, and better for the lessons cancer taught our family. From here I can see the whys that were impossible to comprehend in the middle of the horror. There may be more bad weeks like that one horrible week in March 2009, but that week that took my grandmother and bestowed cancer on my father, and unbeknownst to me also at the time gave life to a child so full of light and love she takes my breath away. My family grieved because of that week, but we grew because of that week. We ached because of that week, but loved because of that week. I am blessed in spite of that week. I am blessed because of that week."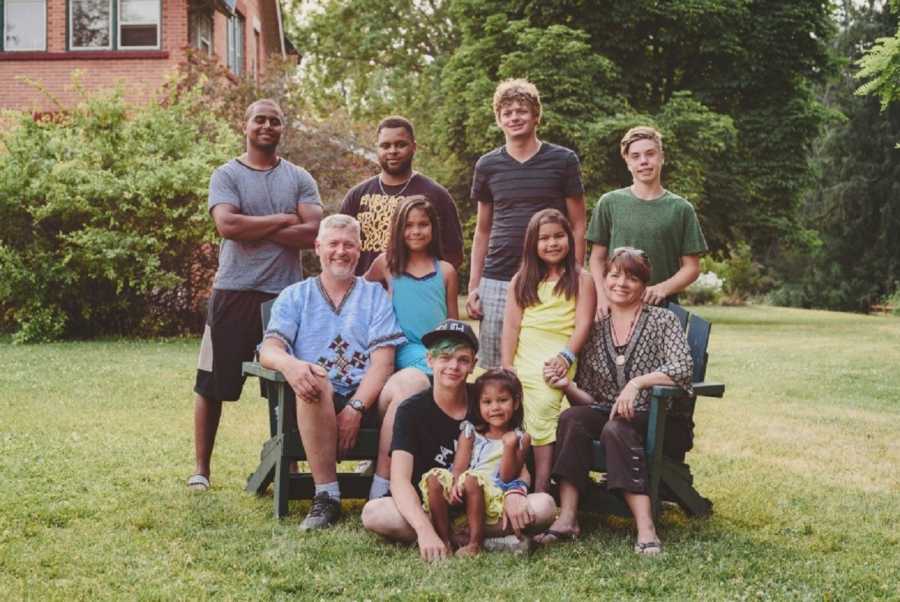 This story was submitted to Love What Matters by Jennifer Nickel. A portion of this story appeared on her blog. For information on becoming a living kidney donor, check out "A kidney for Bethany." The author's father passed away in April 2018, living 10 years past his diagnosis. 
Read more stories like this: 
'Within five years' time I lost my mom to cancer, got married, lost two grandparents, had a son, got divorced and went broke.': Woman's journey re-defining definition of success
Do you know someone who could benefit from this story? Please SHARE on Facebook to let them know a community of support is available.