"'MY DAD IS ABDUCTING ME TODAY!'
This is how one of our sons announced to his classmates and teachers that we were to officially become a fivesome…again.
My husband and I had a whirlwind romance that began three years prior to this happy occasion. Tom was a bachelor emerging from a decade of personal hardship, I a widowed single mom with three kids in rebuilding mode. If it sounds a bit like a fairy tale… well, it felt a bit like one.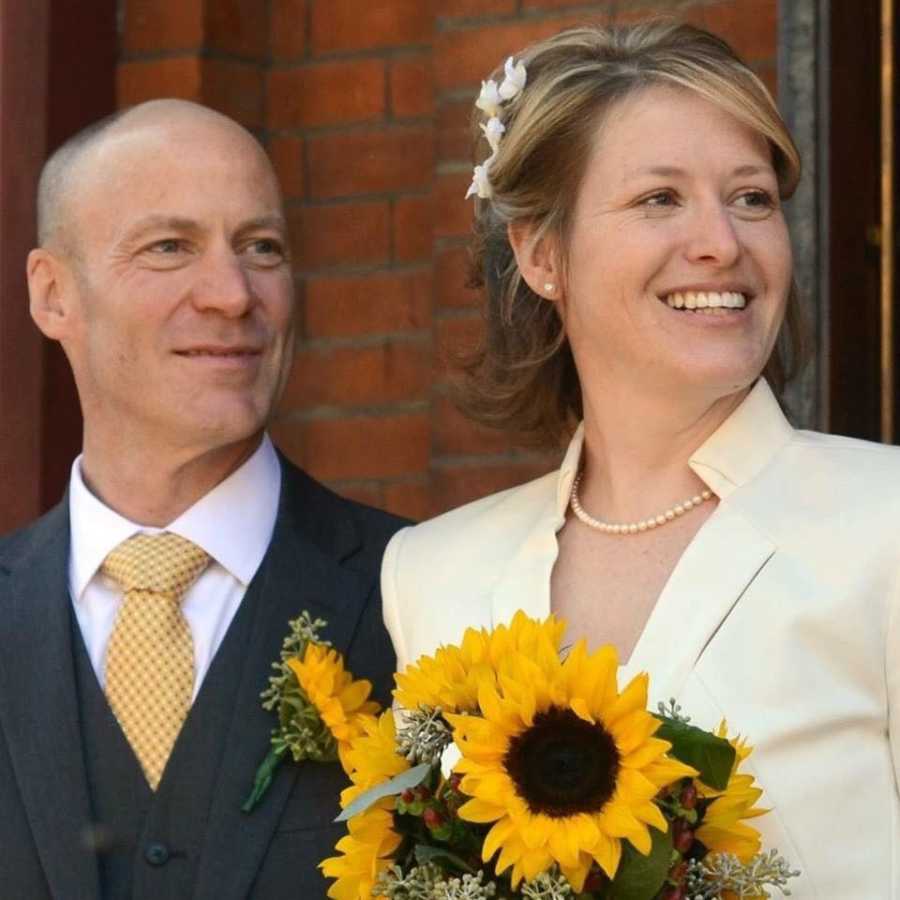 The first time Tom came to the house was only a few days after our electric first date. Though the energy between us was palpable from the moment we connected online, the chemistry in person was even more undeniable. Part of me was hesitant to introduce him to the kids so early on. 'On the other hand,' encouraged my dear friend Doug, 'if he comes to the house and he wants in on all of it, then you know. And if he doesn't, you know that too.'
After much flurrious texting back in forth that fateful Sunday morning, Tom offered a non-threatening scenario. 'I'll show up as the pizza man. If they seem open to it, you can invite me in to hang out. If not, no harm done.' A few hours later, my doorbell rang and Tom appeared with two large pies. Jay, only 5 at the time, met him at the door. 'Wanna come see my favorite room?' he asked in the sweetest possible way. Tom looked to me for assurance, and with that, Jay took Tom by the hand, led him to the laundry room (his favorite), and that was that. As we like to say, Jay had him at 'laundry.'"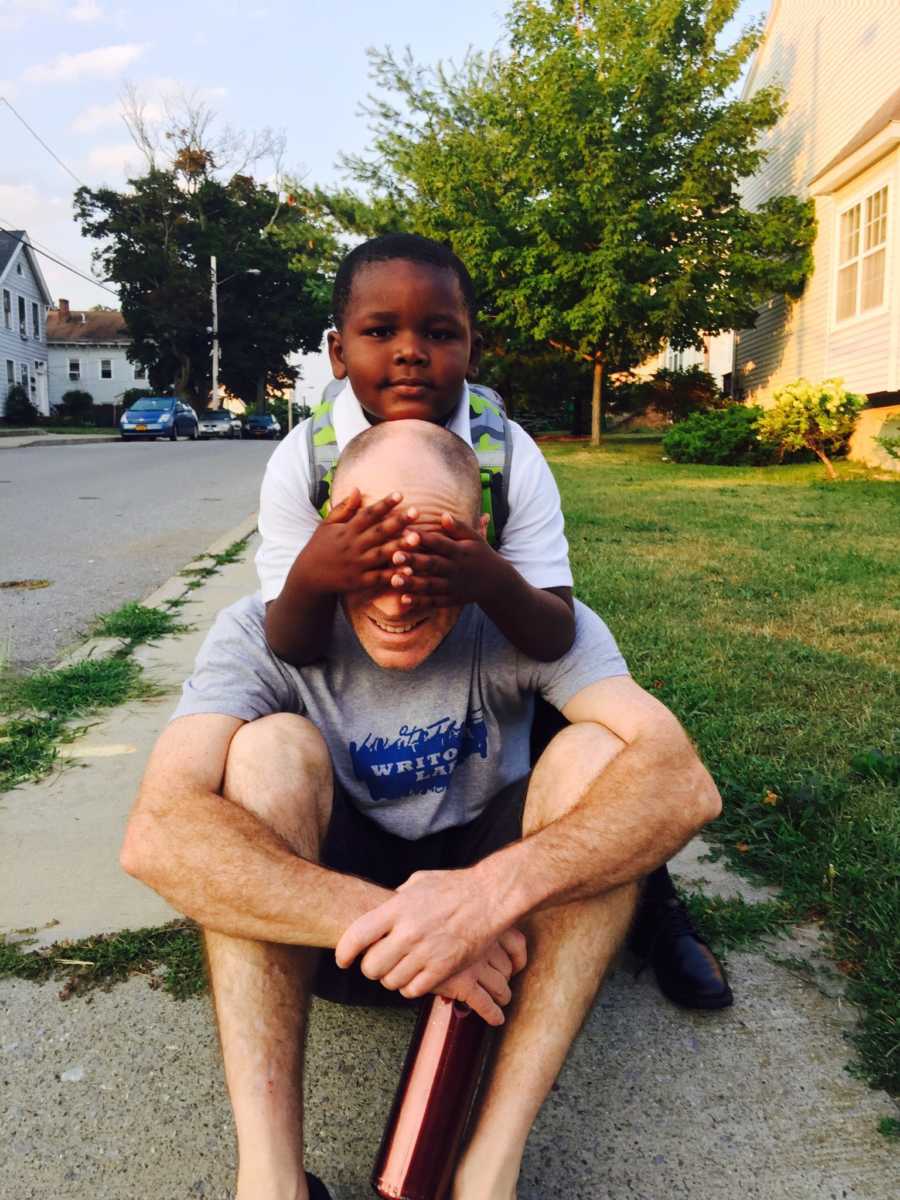 Any real romance has its darkness to it, and we are no exception. Tom learned quickly that our boys commanded specialized attention. Having endured several early childhood traumas including foster care, 'Failure to Thrive' diagnoses for the twins, Dyslexia for the oldest, and the loss of their first Dad in my late husband Peter, these kiddos struggled with profound behavioral challenges. Add to that a mom that had barely kept it together in the months following their Dad's death, and they barely knew which way was up. There were sensory issues, developmental concerns, aggression troubles, and night terrors to name just a few. I asked Tom how he felt about the prospect of joining a family like ours. 'I did the spiritual and emotional math on it,' he replied. 'I understand the responsibility and I take it seriously. Let's see where this goes.'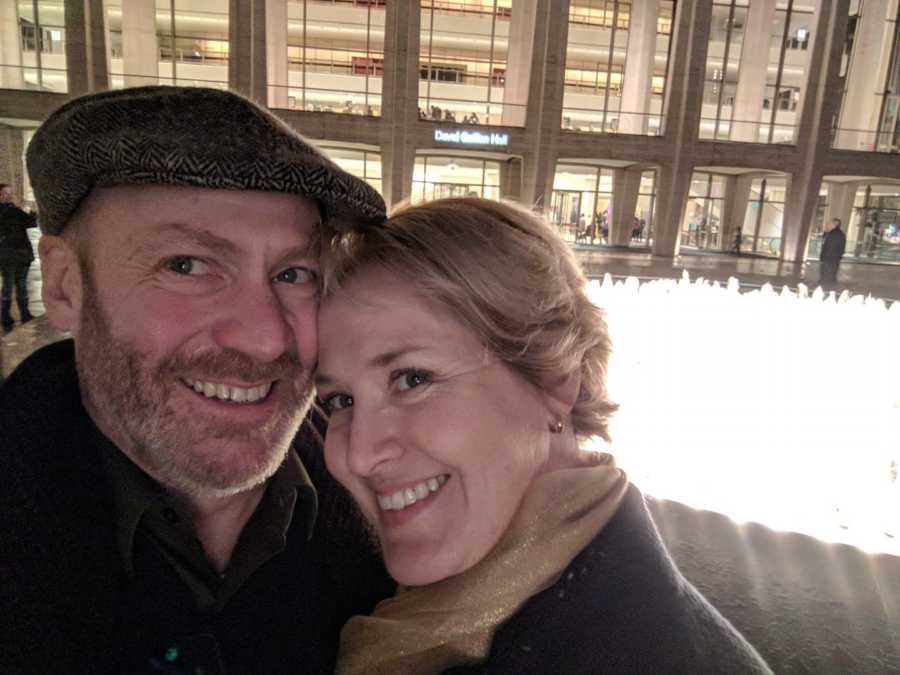 And go it did. 364 days after our first exchanged message, my friend Doug served as the officiant for our extraordinary autumn wedding. We were joined by family and friends who had cheered each of us on in our triumphs, and carried us through our lowest moments. We were even blessed to have my late husband Peter's parents in attendance. It was a celebration of hope, of optimism, and of the power of love. There was joy in every ounce of that day.
The days that followed, however, held no shortage of stress to navigate. We sold the house I had been renovating, bought a house together in an adjacent town with schools that we felt better suited the kids' needs, and began our life together. We learned, and are still learning, about what it is to partner in mid-life when so many beliefs and behaviors have been established. The circumstances set a stage rife with conflict – between co-parenting the kids and all that entailed, building a marriage, living in a new community as a family, running a household together, and managing dual careers, not to mention the dogs (he often says that the dogs were the hardest part for him to wrap his head around), it was a lot to handle.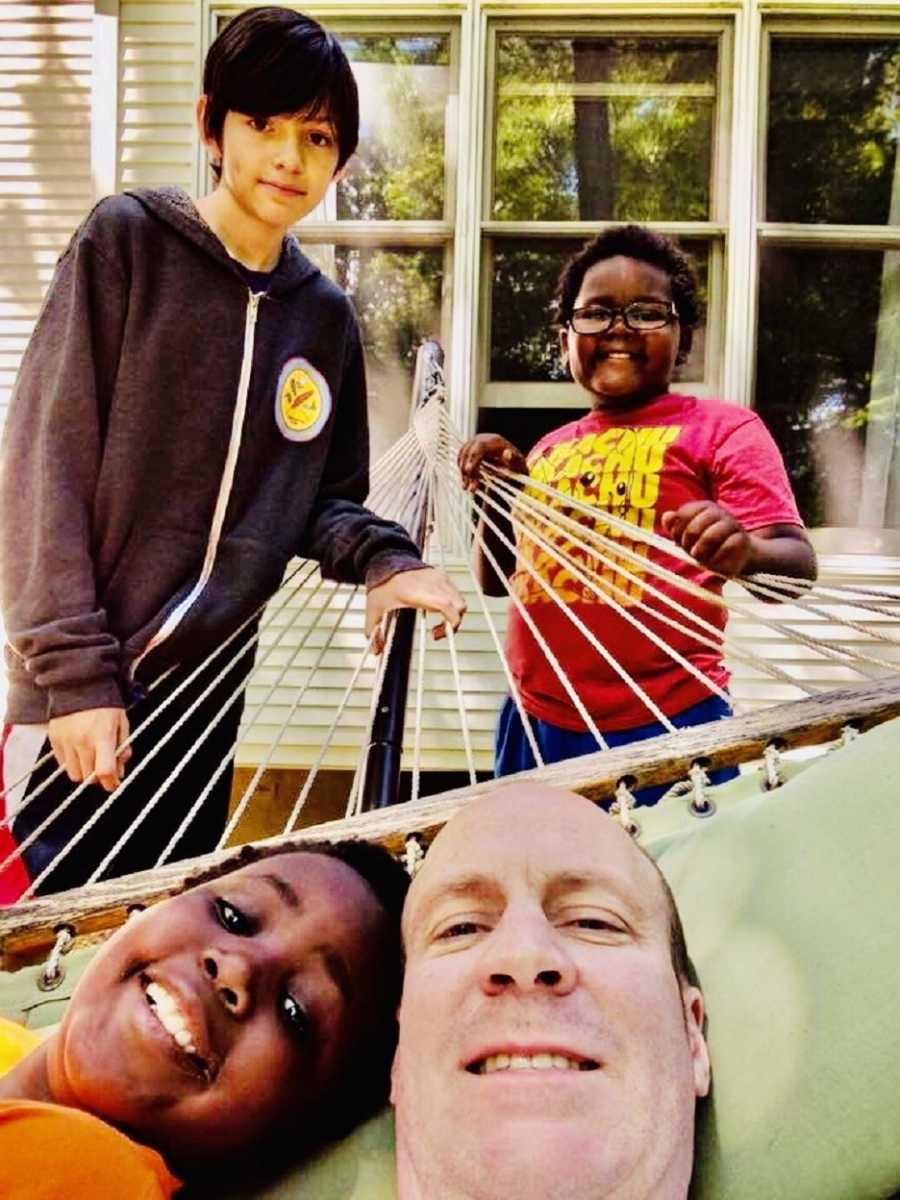 Even with all of this going on, it seemed natural for Tom to make it official with the boys. He was a committed father from the get-go, and when we asked the kids if they wanted to take Tom's last name, not one of them hesitated. Each of us understood that, like marriage, a legal proceeding would seal the deal on us being a forever family.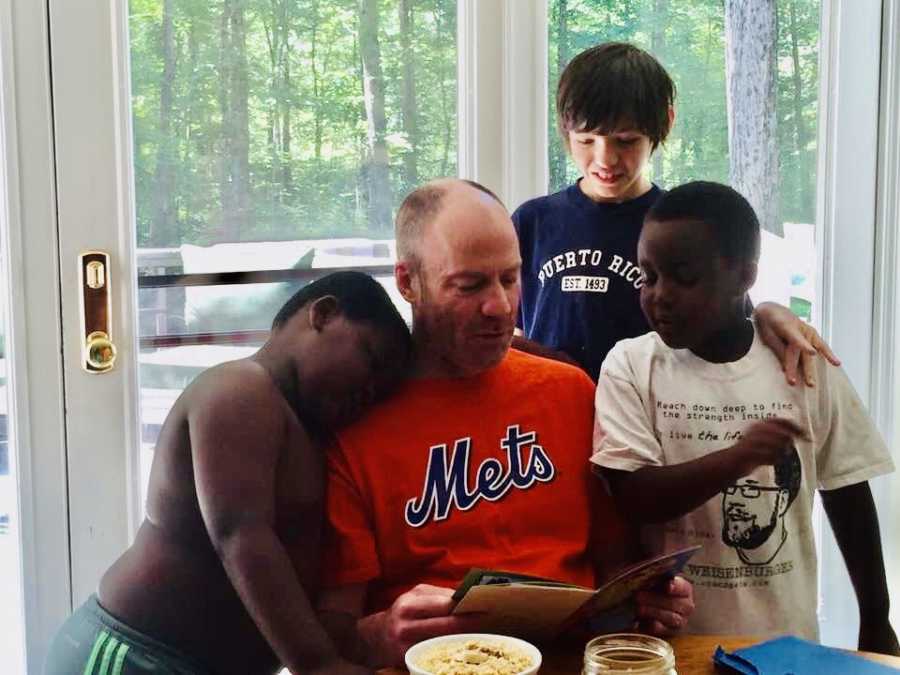 The process for Tom to legalize his role as parent of our boys, and they were very much 'ours' at that point, was a great deal different than what I had experienced in the past. While it felt like a formality for us, he still had to go through the hoops of a background check, a home study, and a fair amount of scrutiny which was daunting and burdensome. All of us, each for our own reasons, were eager to wrap up the process and move on into normalcy. We yearned for an easier, uneventful road ahead.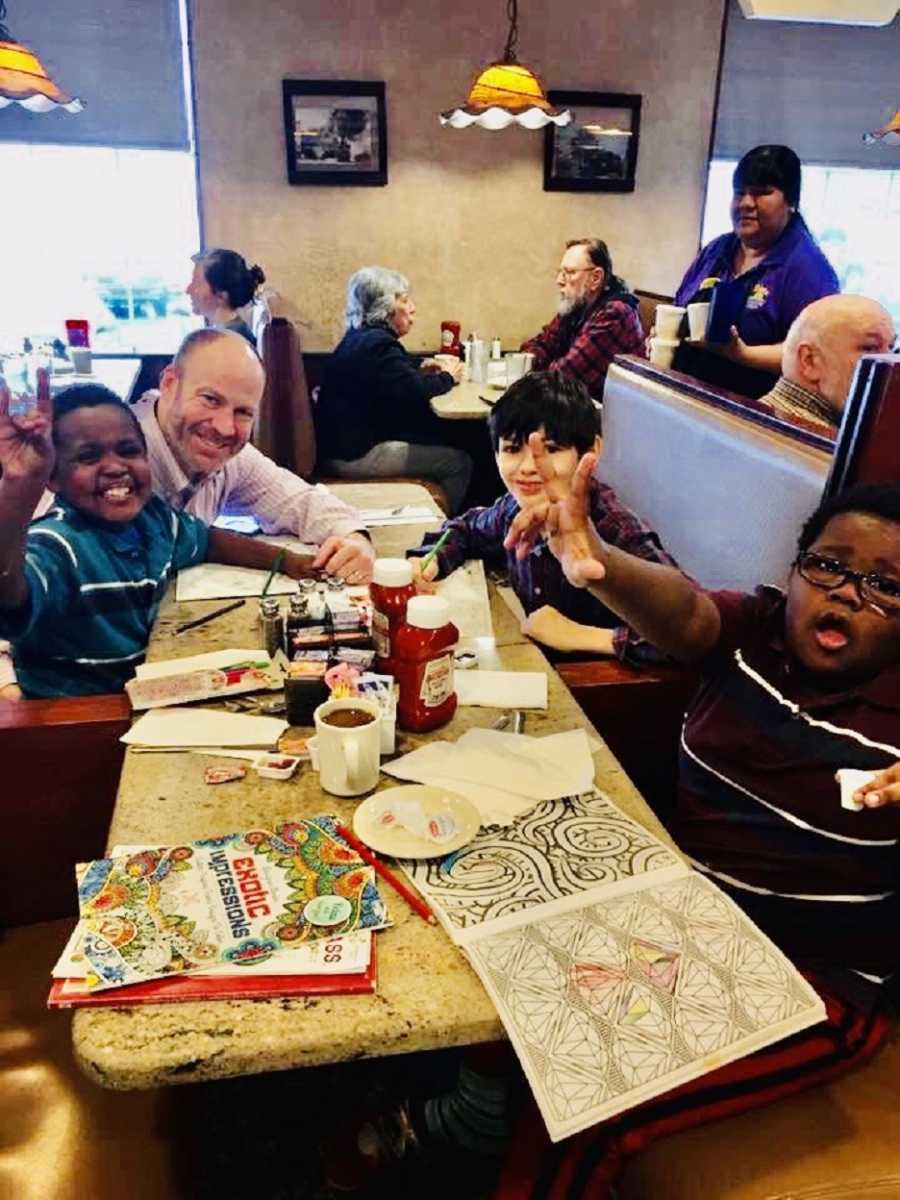 Adoption day finally arrived nearly a year later. We paraded excitedly into the courtroom and the twins, in all of their manic glory, ran about, spun in the judge's chair, and made tons of noise. A shoe was thrown across the room at one point, if memory serves. The oldest sat back and watched in amusement at the show that is his brothers. That's how we roll. When the judge asked each kid if he wanted Tom to be his legal father, all three responded with an unequivocal 'YES!' He then turned to Tom and said with a wink, 'No backsies.'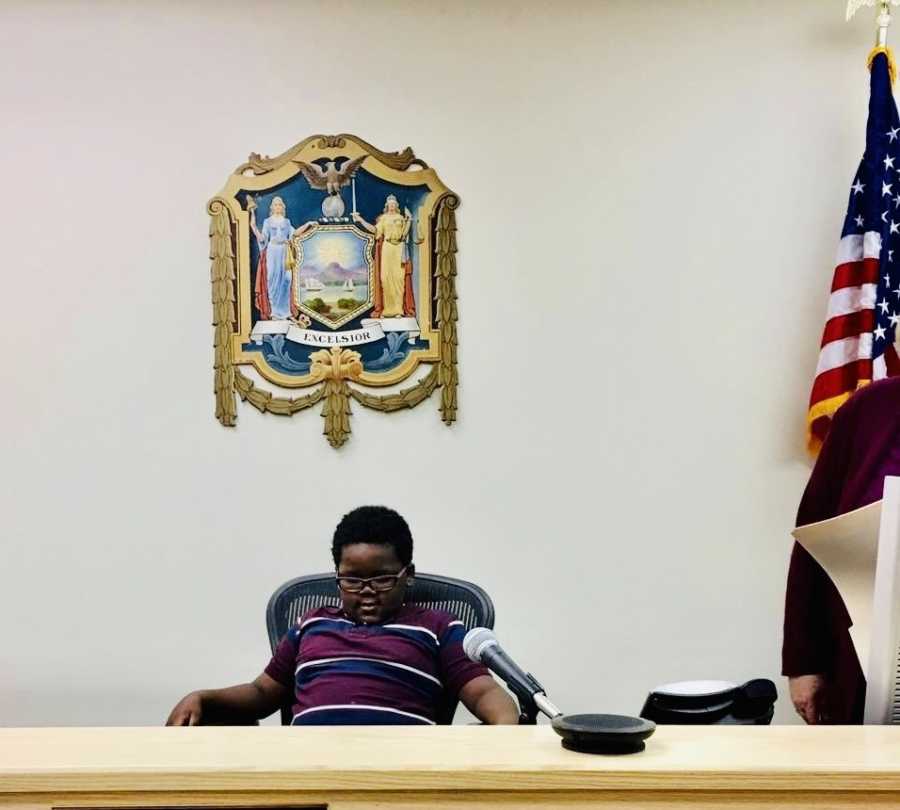 It's 5 years on from the day Tom the Pizza Man came over and we all fell in love. Some days we are hot mess. There are also days in which we are in awe of the progress we have made together, and still others when the occasional shoe still soars through the air (who knew shoes could fly?). The night terrors have given way to peaceful sleeps, and though we have our areas in need of improvement, we are safe together; we belong to one another. We are bonded by unfettered faith in how love heals and strengthens us. We are, without question, a proud 'abducted' family."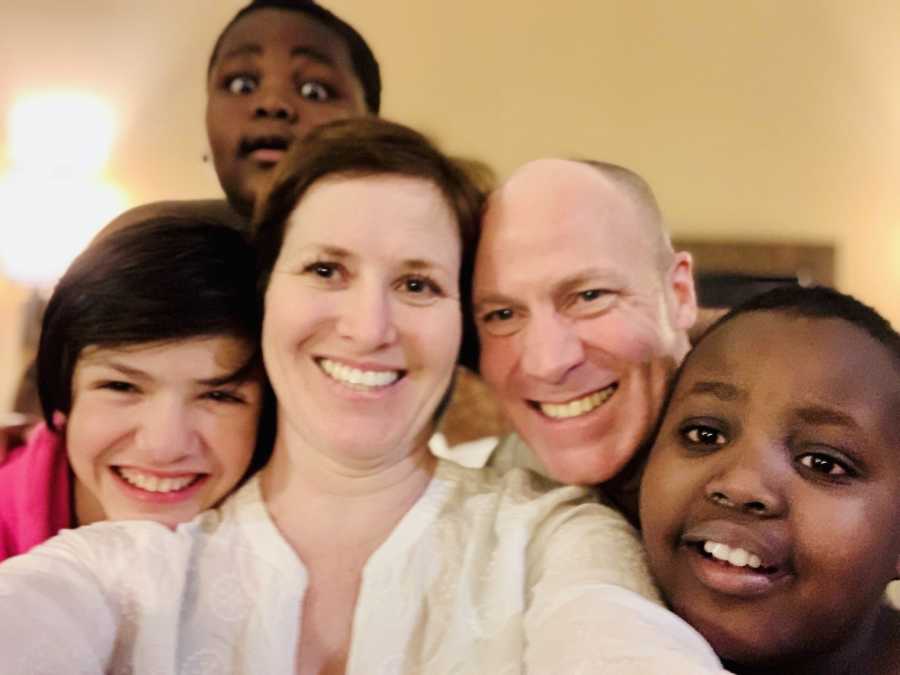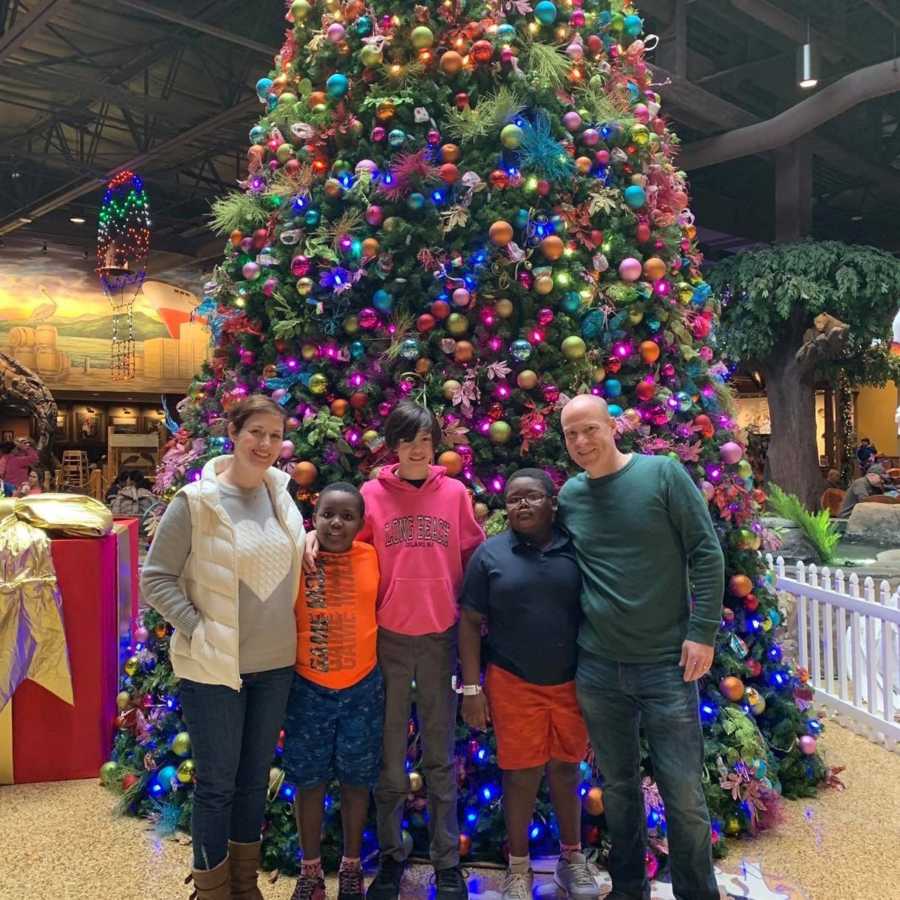 This story was submitted to Love What Matters by Merritt Minnemeyer of New Paltz, New York. You can follow her journey on Instagram and her website. Do you have a similar experience? We'd like to hear your important journey. Submit your own story here, and be sure to subscribe to our free email newsletter for our best stories.
Read Merritt's powerful backstory of adopting 3 sons, and losing her husband:
'The adoption date changed. Then the unthinkable happened. My darling husband collapsed from a seizure.': Husband dies 2 weeks before twin adoption finalized to become 'official family of 5'
'An elderly woman behind us said, 'he's beautiful.' We both responded with a resounding, 'Thank you!': Adoptive mom says her son's 17-year-old birth mother was her 'saving grace,' she'll forever 'be in awe' of her
'Cancer is a gift.' My husband wrote. I scowled. Widowed at 35 with 3 adopted boys, I was angry as hell.': Woman's journey to new love, life thanks to 200-year-old haunted house
SHARE this story on Facebook to encourage others to cherish every moment and love what matters most.