"In light of recent circumstances and Asian hate crimes, I've decided to speak up and share a bit of my past. This has been stirring up inside for a very long time and I'm not sharing this for sympathy, but simply to provide a glimpse of what racism can actually do to a person. Or in my case, to a child or teenager. By sharing, I'm also allowing myself to work through it myself.
From an early age I was aware I looked different than other kids my age. Being mixed race, half Chinese, half German, it pretty much explains the difference in looks compared to other 5 year olds.
Especially in my younger years, I envied other girls with hair lighter than mine, with bluer eyes and fairer skin.
At the time, I thought something was wrong with me for having these thoughts, and it took me 30 plus years to understand what ancestral traumas, and the effect words and behaviors can have on an individual.
To provide a deeper understanding, I'm sharing a couple things I used to hear from other kids and classmates:
"You have chinky eyes because you eat too much rice."
"Your skin is yellow (is it really yellow, though) because you p*ss against the wind."
"Ching – Chang – Chong (which was probably their favorite)."
Even writing these down gives me belly aches now. The amount of times I called my mom to pick me up from school because I was bullied is a joke. Back in the early 90s 'racism' of that sort wasn't classified as racism.
I'm also sure none of these kids intentionally meant to cause harm and I hold no grudge. But they did leave emotional scars. Scars I've been carrying all the way into adulthood.
I hated the fact I was mixed. I wanted to be fully white, fully German, and be accepted.
In 11th grade I changed schools, and the first thing my history teacher said when he walked in was, 'Jetzt haben wir auch noch einen Japsen in der Klasse,' which pretty much translates to, 'Great, now we also have a 'Japs' (insult for Japanese person). I'm not even Japanese! But let alone the fact a teacher got away with something like that is merely unimaginable today.
A few years later, I asked my siblings whether they experienced any things of that sort and they hadn't. But to think my nephews would have to go through something similar makes me sick.
I eventually found more acceptance when I became friends with a couple of American high school girls. I grew up near a military base. And for the first time, I felt like I belonged. Here, I was friends with girls who were mixed race. All kinds of races, and I loved it and felt 'normal.' I believe that's why I have such a deep love and connection to Americans.
Nevertheless, all the emotional bullying has left scars on my identity, and it has taken decades to return to myself, to love myself, and to accept myself.
Today, I am proud to be who I am. To be mixed race. But it wasn't always the case. There was years of destructive behavior, hating myself, negative self talk, and being envious.
So please, the reason I am sharing this is simple. While we here in Germany and Europe may not experience Asian hate crime to the extent we do in the United States – it still exists. In other forms.
Be kind. You don't know what it will do to a person, to a child. And not even just in relation to racism, but any kind of bullying.
I'm in a good place today. Thanks to my family and amazing friends. But not everyone has a support system or is resilient, and while they may appear strong and rebellious, it may be their only protection."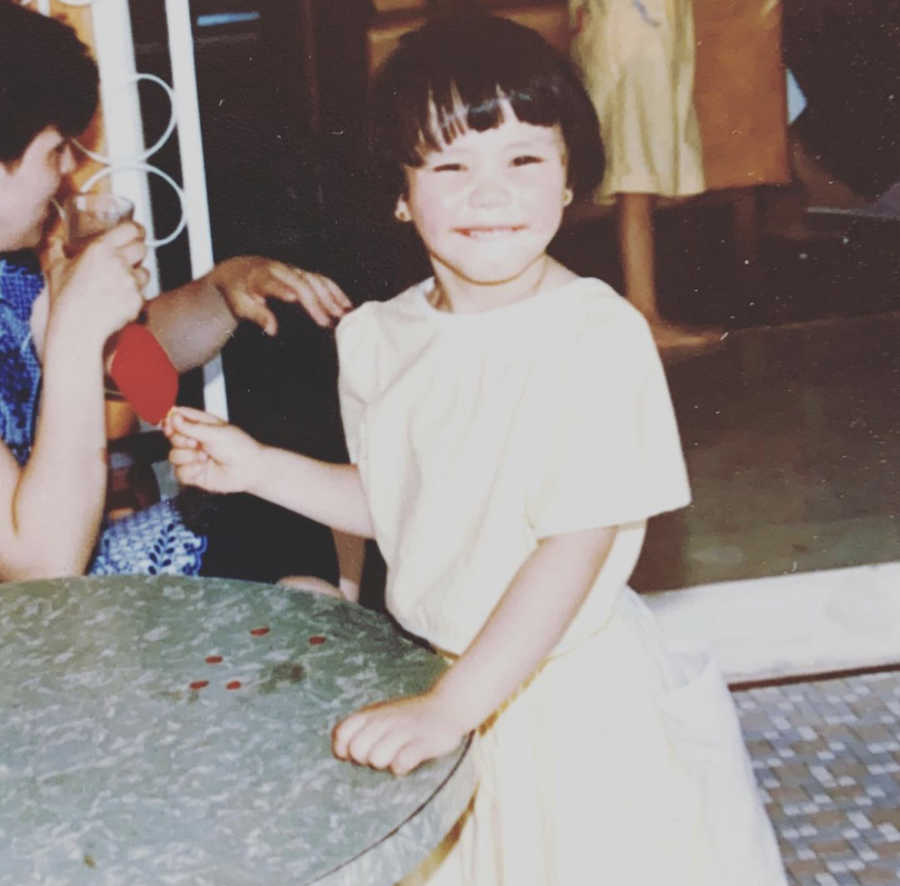 This story was submitted to Love What Matters by Nina Chin. You can follow her journey on Instagram. Do you have a similar experience? We'd like to hear your important journey. Submit your own story here. Be sure to subscribe to our free email newsletter for our best stories, and YouTube for our best videos.
Read more stories like this:
'During my daughter's daily Zoom meeting, her classmate said, 'I don't like Chinese people because they started this quarantine.': Asian-American mom urges 'we are not the virus'
'A Chinese student of mine was cowardly assaulted for walking down the street speaking another language.': Man urges 'look after your Asian friends' during pandemic after student assaulted
'We have 2 caucasian girls, one is 11 months and the other 4.' She gets 2 multi-racial kids out of the car.': Mom fosters 11 kids, shares lessons learned about trauma
'I am bi-racial, but when I gave birth to my son 4 weeks ago, I chose Caucasian as his race on his birth certificate.': Woman shares candid reality of growing up mixed race
Help us show the world that compassion is contagious: SHARE this story on Facebook and Instagram with your friends and family.