"When my husband died, I gathered up his favorite shirts and put them in a bag. I set them aside in the corner of the living room near the front door with the intention to give them to a friend of mine who was going to make a t-shirt quilt for our then 13-year-old daughter. Before I could hand over the bag, we moved from that house and the bag disappeared. My guess is that the bag was mistaken for trash or donation, which in the end was my fault for being so careless with it. Nonetheless, I looked for that bag for hours, then every few days, then every few weeks, then periodically every couple of months. To this day, if I am in my garage looking for something, I inevitably move things around hoping it will appear.
Because, it was all the shirts that I remember him wearing. You know, the one husbands wear too much for too long that eventually they shouldn't still be wearing them, but they do? The ones they keep for so many years that they are in style, then out of style, then back in style? The ones you would recognize anywhere, and the ones you know you can never replace? The ones that smell like him. They ones you've slept in. The ones you've wiped your tears on, and probably your nose. The ones your babies snuggled up against. Yeah. Those.
I wasn't ready to lose them, but within a week after I lost him, they were gone, too. I was sad. Still am sometimes. Angry. Yes, that too. Just all around frustrated because I really wanted to give our daughter this quilt. And, I blew it. I should have been more careful. But, like everything else those few first weeks after he died – I was just in a fog. I just wasn't thinking.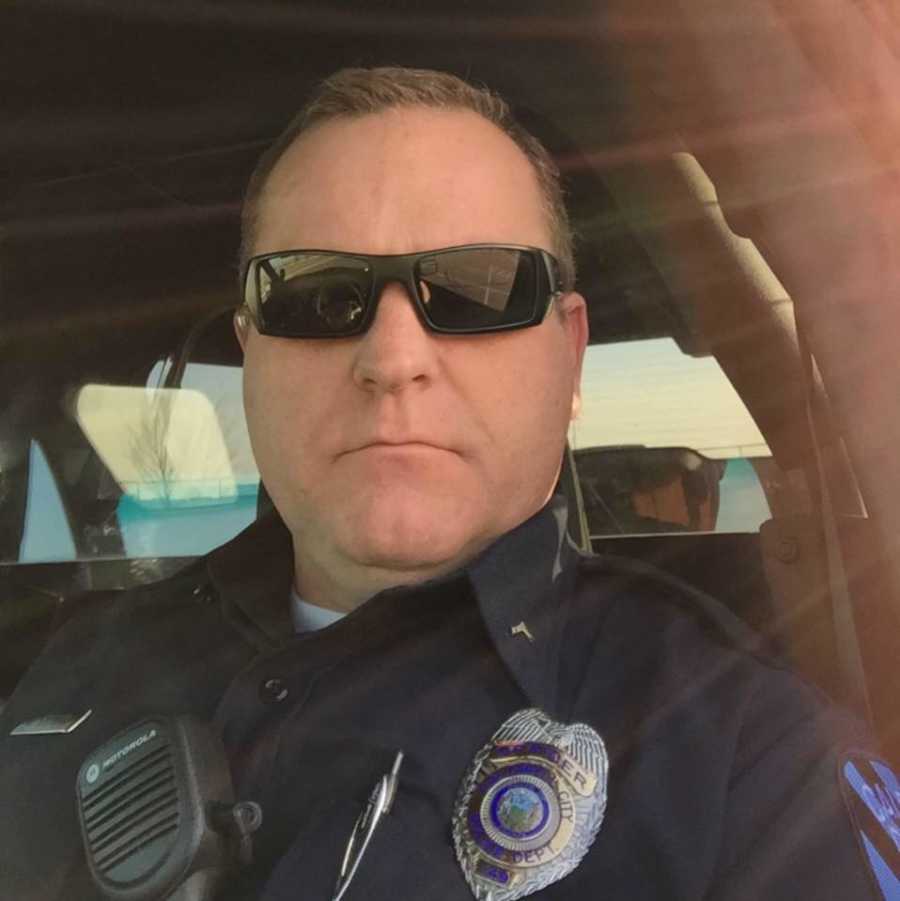 I don't know why it took me over three years to try to think of another way to give her something of his. Maybe I put it out of my mind. Maybe I was afraid to give her something and have her lose it like I did. Maybe I just didn't know what to do. Maybe I figured it would come to me when everybody was ready. Maybe the universe just knows when the time is right.
And, apparently the right time was this fall. I was out in the garage again, this time hunting down Christmas decorations because for the first time since he died, I was actually excited about Christmas again. I don't remember what box I pulled it out of, but as soon as I did, I knew exactly what I was doing with it. I was going to find somebody to make a pillow out of Chad's police uniform shirt. I posted on Facebook, looking for a seamstress, and found a friend whose brother could actually put something like this together. I was excited. It was such a cool idea. But, as I was looking over the shirt, something else caught my eye. An embroidered emblem on his lapel signifying his rank.
I sat up. I probably gasped. I tried not to get overly excited before I found it. I didn't even put on shoes. I ran back to the garage, flung open the safe, turned on my iPhone's flashlight and patted my hand around all the areas I couldn't see. It took seconds, not even a minute before I felt the plastic sandwich bag. I pulled it out. And there it was. Two perfect pins. The real pins. You see, sometimes the officers at his department wore real ones, and sometimes they wore embroidered ones. And when I saw the embroidered one on his shirt, I had this weird flash of memory that at some point, I put the real pins in a bag, in the safe. And not only that, but his nameplate was in there, too. Tucked away. For the right time.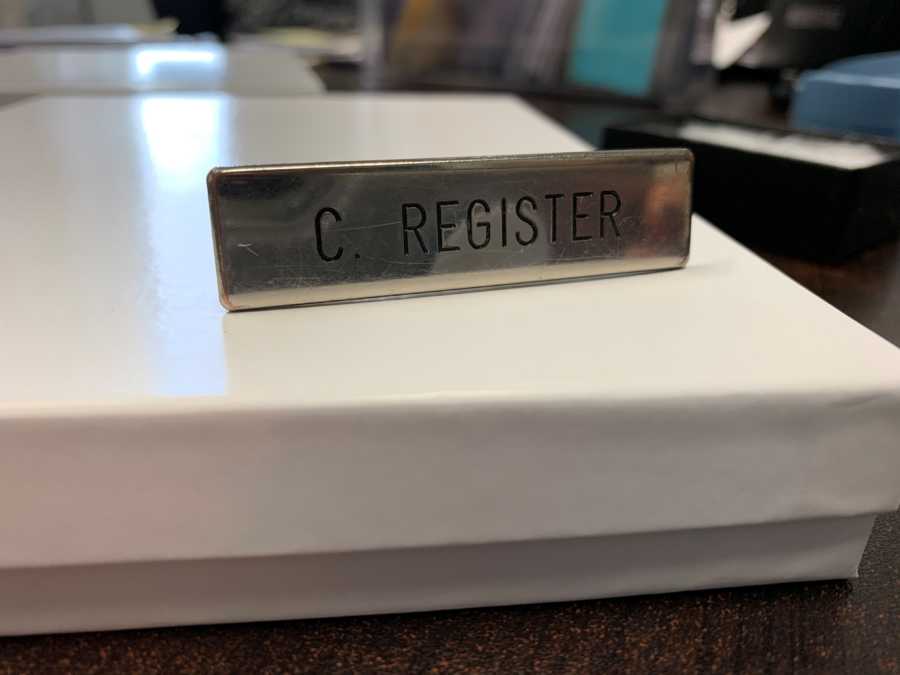 I made an appointment with a jeweler. I explained to her what I wanted. I had a very clear vision in mind, and she said she understood. We talked about it a lot. I probably repeated myself 10 times. I was probably anxious. Nervous. Fearful.
Because entrusting a stranger with something so personal, so significant, so sentimental, so unique was almost like entrusting his body with the funeral home. I can't explain it. Maybe it sounds weird to somebody who hasn't had that kind of loss. But, you just don't want to let go of anything. Not one thing.
It was a month before I received the call. My items were ready. I drove to the shop. I walked in and sat down. My heart raced. They gave me the first piece – a money clip I had made for my son out of his name plate. Stunning, I thought. The most beautiful thing I have ever seen.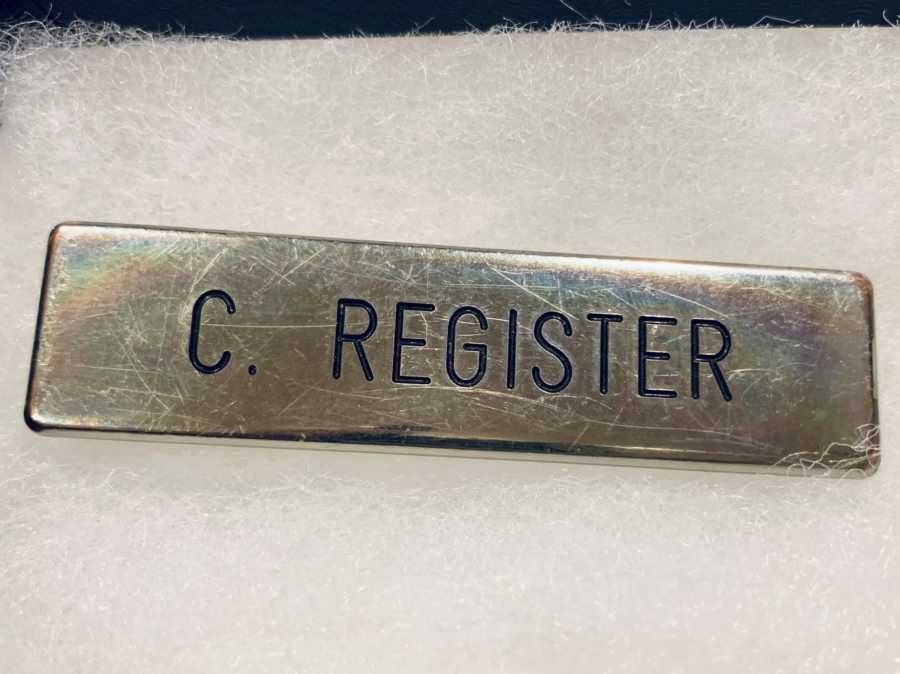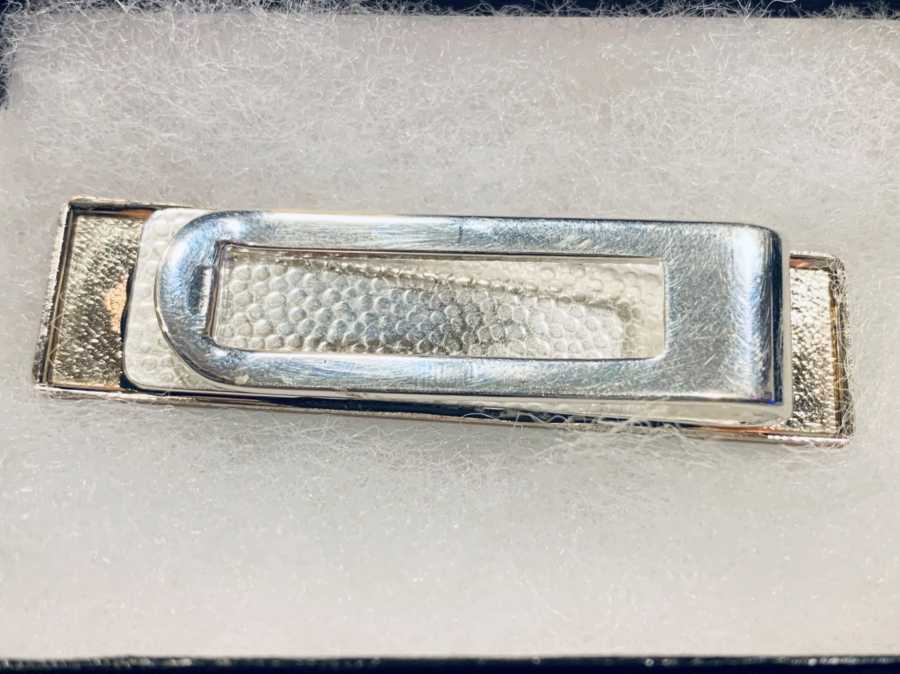 That was, until they handed me the white box. I slid off the top. Opened the sheath. First the top flap, then the sides. Just like my two girls would do on Christmas morning.
I drew in a deep breath sitting at the jeweler's desk on a random Thursday afternoon. My daughters would eventually do the same, sitting on the floor, cross-legged by the Christmas tree.
I brought my hand to my mouth and instinctively covered it. My daughters would do the same thing, just a few weeks later while listening to Christmas music playing all around them.
I let the tears fall without even blinking. I let my face get wet. I let my lip shake and my hands tremble. So, would they.
And just before they would open those packages, my teenager would open the pillow. The pillow with the shirt that would represent all the other shirts that are still missing. And the first thing she would ask me is, 'What are these?,' and she would point to the embroidered rank on his lapel. And, I would explain, all the while my voice breaking, knowing that in just seconds she would be opening the real thing, on a silver chain. She told me she loved the pillow. She squeezed it. Held it tight.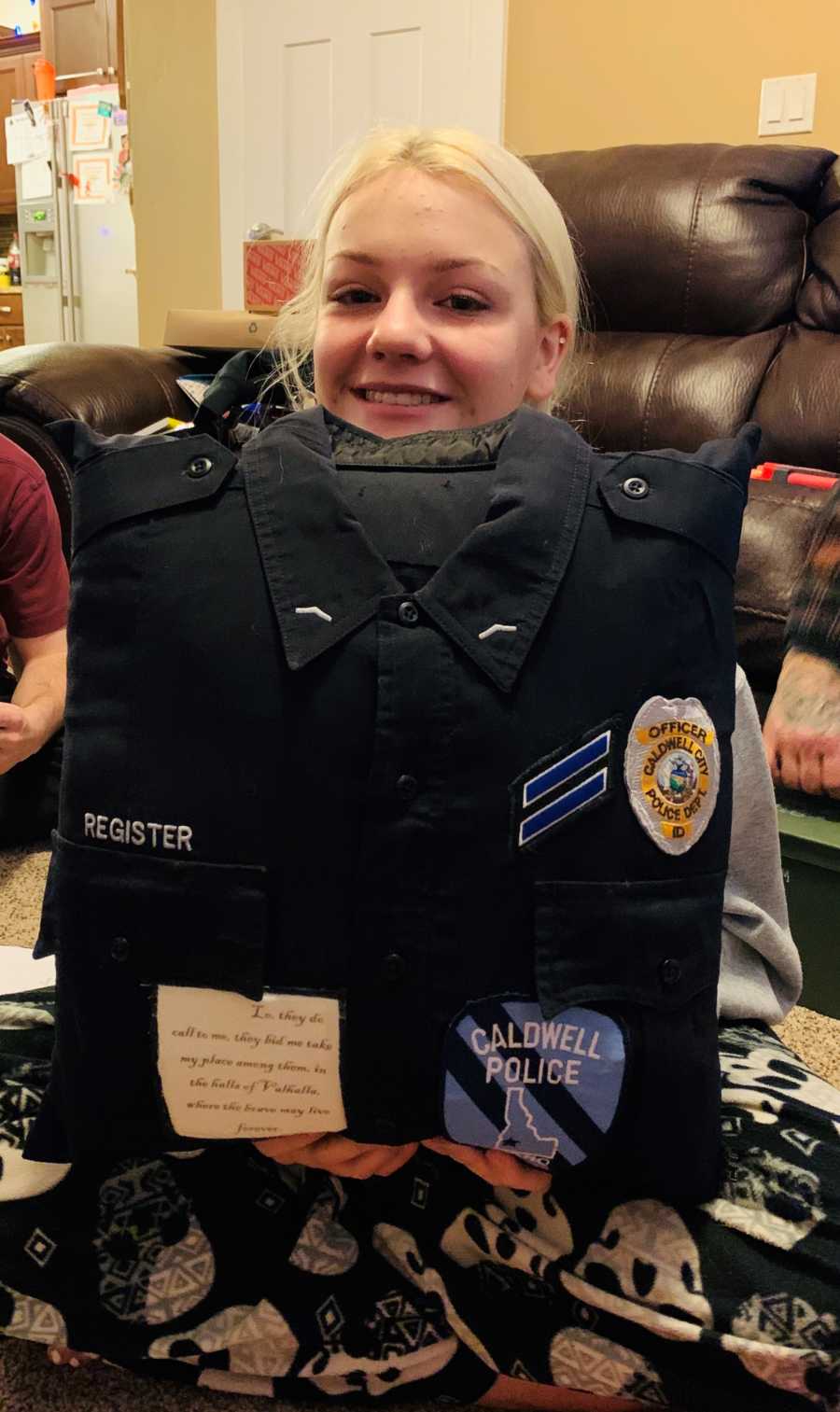 Then when the two girls opened the jewelry box together, in unison, their collective gasps spoke volumes.
'Is this the real pin?,' my little one managed to squeak out.
'Yes, my love, it is.'
'From his shirt?' Her eyes were big and curious.
'Yes.'
'I love it.' She responded. My older daughter unable to say anything at all through her tears.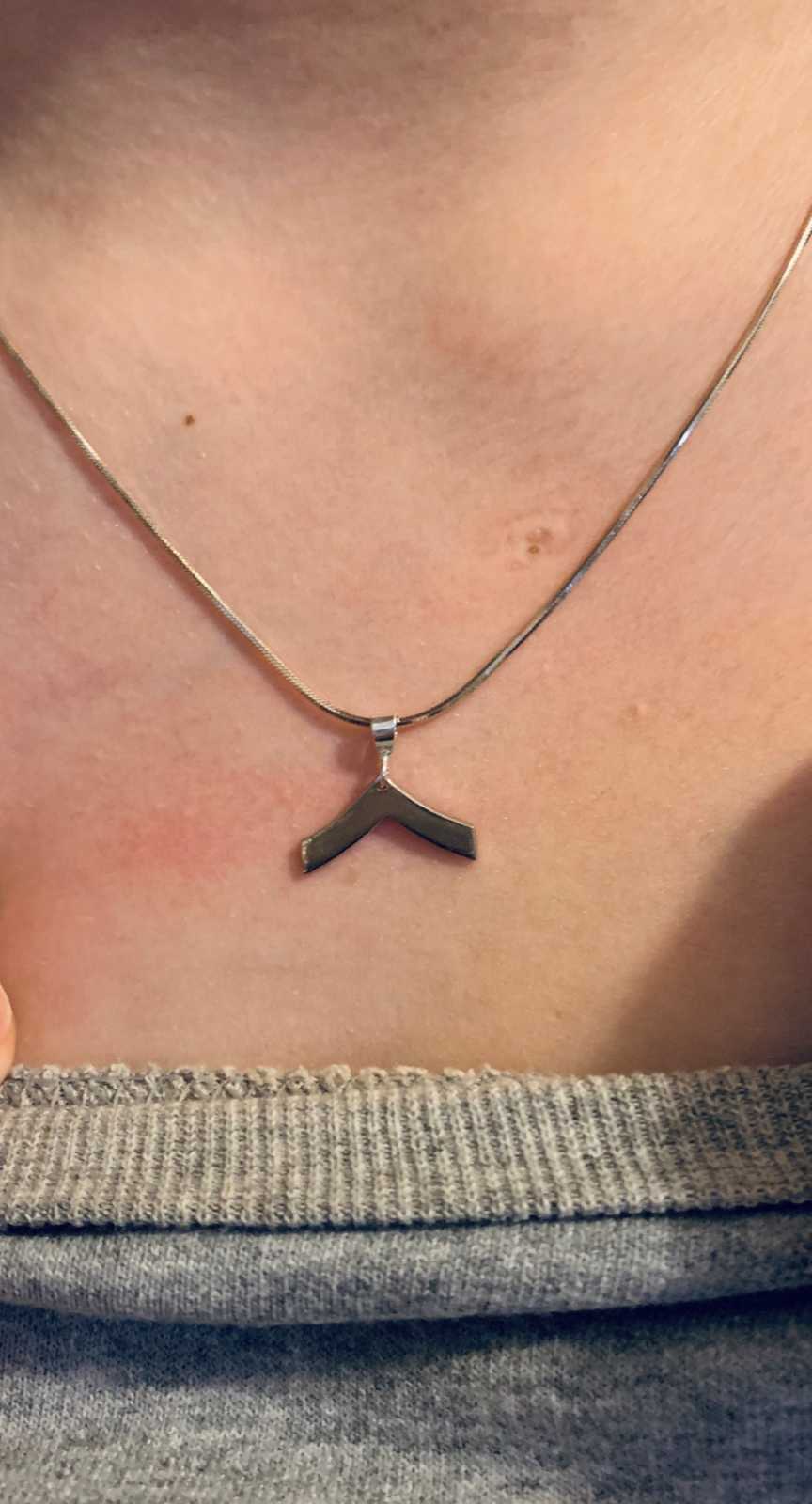 They immediately put them on. They immediately took pictures. They immediately told stories about him. His laugh. His generosity. His silliness. They kept touching it. They kept looking at it. They kept loving it.
And they kept loving him. They kept loving him like he was sitting on the couch watching them. They kept talking about him like he was still there. They kept laughing like he was laughing right along with them.
Just the way it should be.
Because, that's what memories do. That's what found shirts do. That's what the smallest, beautiful token made into a necklace can do.
Look for the memories, friends. Look for the pictures. Look for the littlest things that make your heart swell. Look for the shirts. Trust me on this one. Just look for the shirts."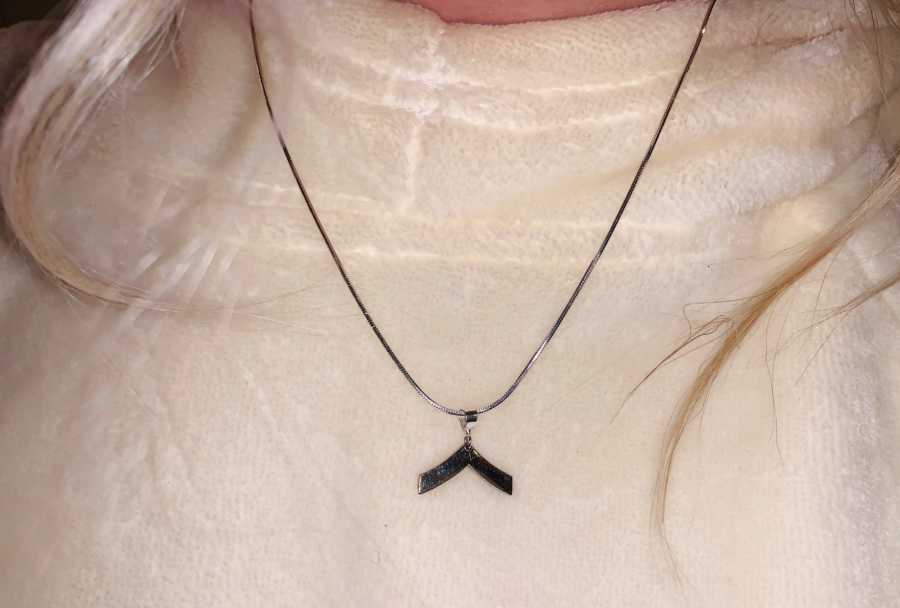 This story was submitted to Love What Matters by Diana Register of Meridian, Idaho. Her book "Grief Life" is available in print and kindle. You can find more of her books here, and her podcast here. Connect with Diana on her author Facebook page, and Instagram.
Read more powerful stories from Diana:
'My husband bungee corded my kid to the backseat. Not kidding. She was 3 years old. I honestly didn't believe it. But there she was, strapped in a makeshift five-point harness.': Widow hilariously recalls memory of late husband
'We pulled into the cemetery. As she opened the door, there it was. Two vials of glitter.': Widow finds humor in the special way she and daughter honor their beloved late police officer husband, father
'Passenger 2C stomped onto the plane. He should have worn a sign that read, 'Do you know who I am?' Did you really have to throw your foot on the armchair? Darn. So sorry.'
Please SHARE this story on Facebook to encourage others to cherish every moment and love what matters most.