"Now that I can breathe again, let me take you all on a journey. Let me begin by saying I've always wanted an Instant Pot. Didn't really know why, but it was part of my favorite cooking line (Pioneer Woman). My dad got it for me for Christmas and requested this meal. And so it began.
I started dinner at 2 p.m. I'm making beef stew; I sautéed the veggies, cooked the beef cubes, and lightly boiled the potatoes. I plugged in my instant pot and poured in the broth, veggies, meat, and potatoes, then added my spices. It was beautiful.
I put it in the Instant Pot at 3:10 p.m. I set it to 2 hours on 'stew.' I should also add, I am a man in the sense I did not read the instructions and figured I could wing it. I was wrong. I went and took a nap with my son and woke up at 5:10 p.m.
Went to check on my stew and I could smell it. It smelled great! I was SO excited. I tried to open it. Nothing. Confused, I'm looking at it and can't figure it out. I see this little button-looking thing on the lid and figured, 'Why not press this conspicuous button and see what happens?'
When I tell you I almost defecated all over my kitchen floor, I'm not exaggerating. I screamed and flew into the sink. I nearly fell on my ass. My stomach was in my throat and my life flashed before my eyes. I sincerely thought my son was going to come out and see me dead on the floor with half the instant pot sticking out of my chest.
I DIDN'T KNOW IT WAS GOING TO NEED TO BE PRESSURE RELEASED PRIOR TO OPENING. I figured the Pressure Cook button meant pressure cook,  BUT NOT THE STEW.
So much steam and noise came out of the thing. I've never heard such a noise. Good GOD. I thought back to a cooking show where a pressure cooker exploded because it didn't release the steam. Now I'm staring at this thing and trying to figure out how I'm going to do this without detonating it and blowing myself, my kitchen, and my apartment up.
I've never been so scared of a kitchen appliance. Once I regained composure and released the pressure, I went and sat on my bed and did a weird, high-pitched laugh and actually cried.
Today, I was humbled and scared absolutely S–TLESS by an Instant Pot. Read the instructions. Or follow in my footsteps and nearly s–t yourself in the kitchen. Whichever you choose, may God be with you."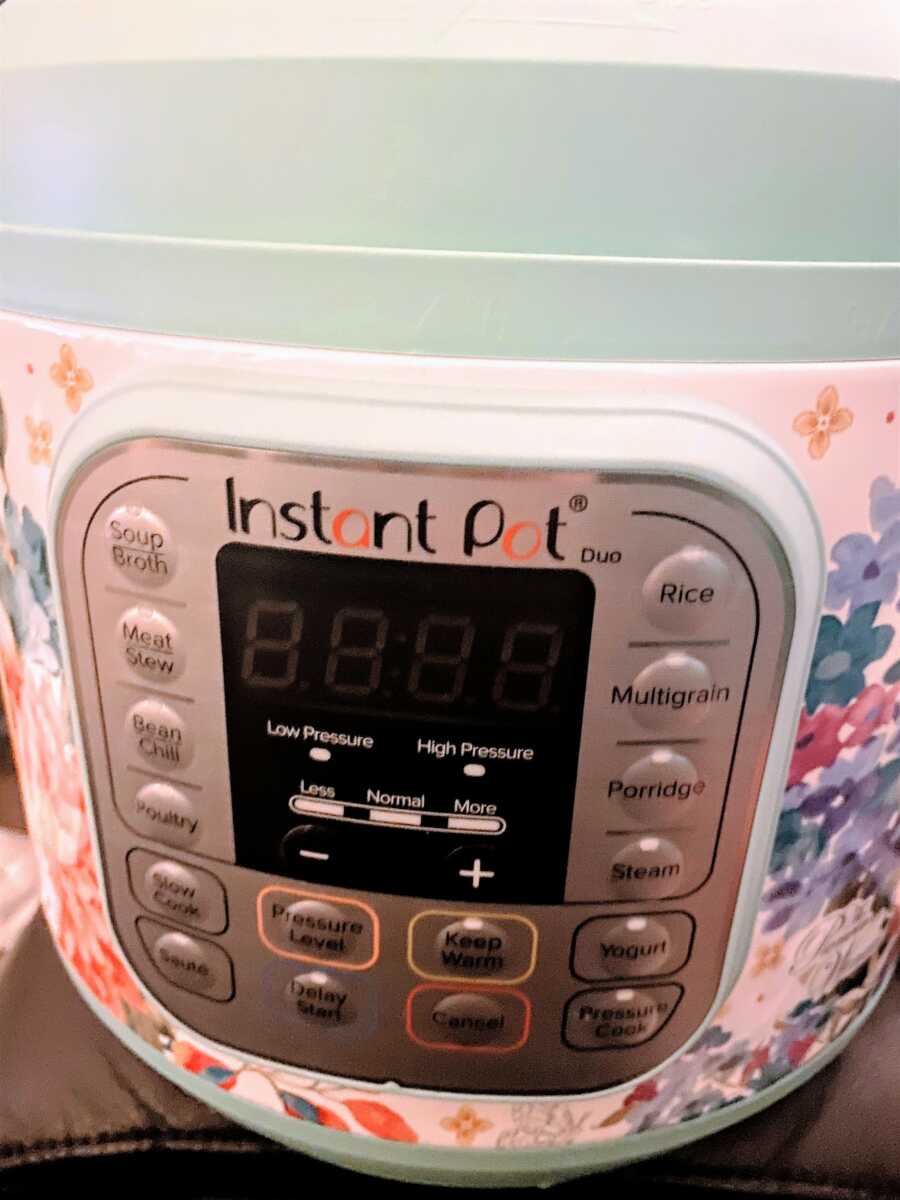 This story was submitted to Love What Matters by Rebecca Chin. Submit your own story here, and be sure to subscribe to our free email newsletter for our best stories, and YouTube for our best videos.
Read more stories like this: 
'Cooking isn't just cooking. I know I make food appear like it hasn't been a grueling process, but it is. Grueling.': Mom fed up with making all the meals, 'It drives us crazy'
This Mom's Whimsical Fruit And Veggie Creations Will Inspire You To Eat Healthy
'Mom, it's funny to think when I'm a dad, I'll have to wrap presents at night.' I gave him a puzzled look. What was he talking about? 'You know, mom. When you and dad go into your bedroom and close the door.' OH.': Mom shares amusing encounter with son
Woman Turns Sculpting Skills Into Full-Time Niche Business: You Won't Believe This Tiny  Food Isn't Real! 
Do you know someone who could benefit from this story? SHARE this story on Facebook to let others know a community of support is available.