"Mikey has asked for a baby brother for as long as he could speak the words. In a matter of a year, we had gotten married, had a baby and bought a house. We thought we had plenty of time. After all, Mikey was a surprise for us a month after we had gotten engaged and we did not think we would have any trouble the second time around.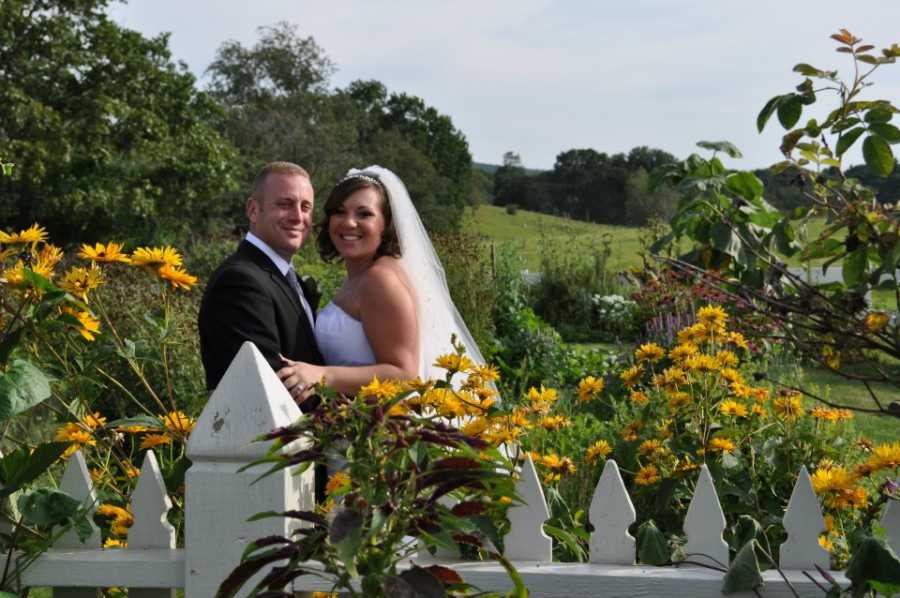 We started trying for #2 when Mikey was 3 years old. Month after month passed and we got more and more discouraged every time we saw the negative sign on the pregnancy test. My heart would sink when Mikey would ask, 'when am I going to get my baby brother?' It made us so sad for him when he would follow up with, 'I just want my baby brother.' After over a year of trying, we turned to a fertility specialist in the fall of 2016. I had a lot of testing done to try to find out what was causing the infertility. After a surgery in September of that year to remove fibroids from my uterus, I went to the fertility specialist to track my ovulation. On December 9, 2016, we finally got that positive test. It was even more special because it was Mikey's 5th birthday. That day we went to my parent's house before they treated us to the Polar Express for Mikey's birthday. I remember getting to their house, looking at all our stockings on their mantle and telling them next year they would need another stocking. My mom had tears. My husband decided he could not contain the news any longer and Facetimed with his parents to share the news with them as well. We were over the moon with excitement.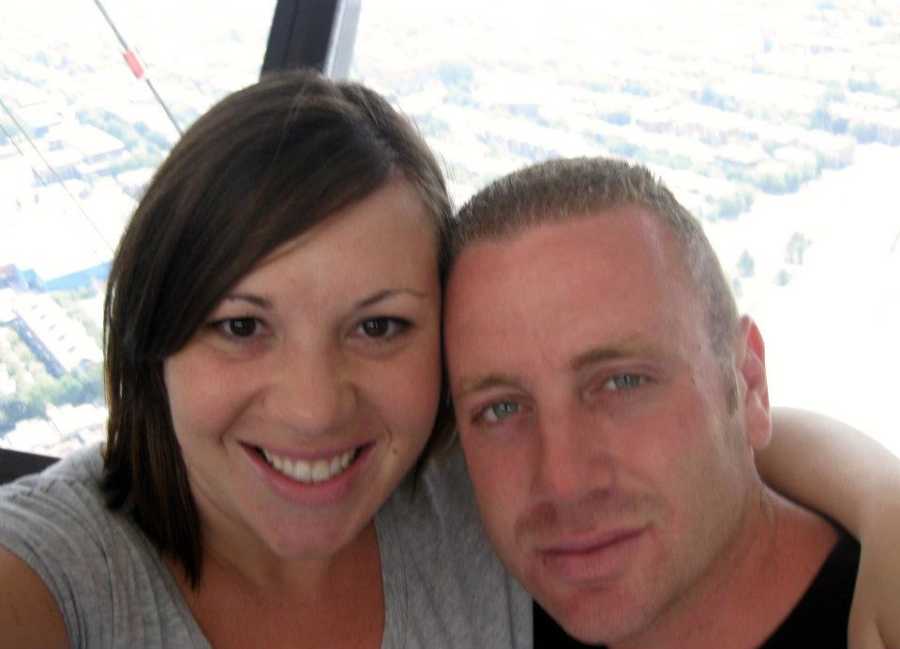 On December 27th I went to my OB and the heartbeat was there and strong. We had no reason to be concerned and felt like that heartbeat was a sign that all would be okay. We felt comfortable and safe enough to share the news with our siblings and spent that Christmas watching Mikey open his presents imagining what it would be like with two the next year. On January 12, 2017, I started bleeding at work. I called the OBs office immediately and the nurse assured me that there is a chance that things would be okay and asked me to come in first thing the next morning. I left work immediately and the next morning, we went for an ultrasound. As soon as I saw the baby's image, my heart sunk — I just knew. I looked at my husband and shook my head through tears. Our hearts were broken. I was 11 weeks and we thought we were just a week away from being able to safely share the news with the others in our lives. Later that day I went for a D and C and we made the choice to send tissue for testing to find out what had happened. The OB called a week later to share that the baby had trisomy 13, something that would have been fatal even if the baby had gone full term. Before the OB hung up, I had to know… 'Did you find out the sex?,' I asked. She kindly answered, 'yes, it was a male.' It took my breath away. Mikey had gotten his baby brother, except now he was our angel baby.
Through all of this, we had decided to put our home on the market to find a new community to call our forever home where Mikey would start kindergarten. We put the baby plans on hold. As we cleaned out our home to get ready to go on the market, we decided to get rid of all our baby things. We felt that if we took them to our new home, they would just haunt us, and we were tired of the pressure we had put on ourselves. Soon after we moved into our new home and got settled in the spring of 2017, we had a heart to heart conversation and late one night came to the decision that we were perfectly content as a family of three. After that, every time Mikey asked for his baby brother, we would explain to him that there may be a chance that he may never get a baby brother. It broke our hearts to say these words to him, but we found a way to settle into a life just the three of us in our new home and enjoy our summer.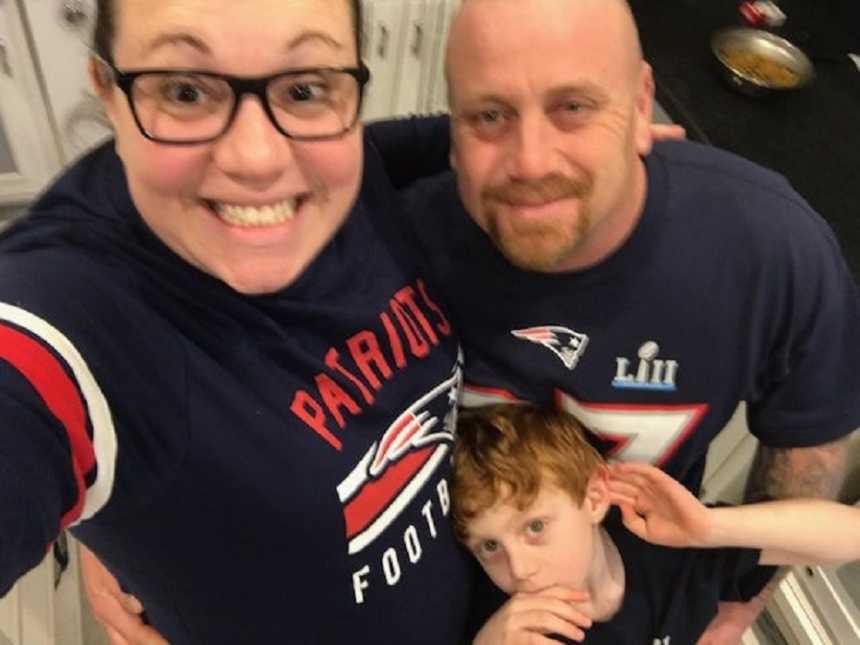 In late August, Mikey started kindergarten and I took off his first few days of school. I sobbed like most moms seeing their first baby go off to kindergarten, but I found myself more emotional than I expected, and quite exhausted. I knew something was off, but I did not want to get too excited. I waited until the weekend and I had my husband pick up a pregnancy test. I took the test and waited in the bathroom alone for the result. My husband could hardly believe it and made me take two more tests just to be sure. We were excited but cautious. The next 7 weeks were hard. I found myself bleeding every week and each time my heart would drop and our excitement would turn to sadness. I found myself googling percent chance of miscarriage by week every chance I could get. However, every follow up appointment showed a strong heartbeat and a normal pregnancy. On Halloween we got the results of testing that the risk for disorders such as trisomy 13 were low and that we were having a boy. We were beyond thrilled and recorded a video of Mikey saying in May he was going to get a baby brother and sent it to our loved ones.
From October through just before Christmas, we had a smooth few of months of pregnancy. During our 18-week anatomy scan, the baby was measuring about a week smaller. The OB was not super concerned but scheduled us to come back in three weeks to check the baby's growth. On January 10th during our ultrasound, we discovered that the baby was measuring far smaller than the OB was comfortable with and she sent us to Maternal Fetal Medicine over at Beth Israel. We were so scared. The ultrasound we received at the hospital allowed the doctors to get precise measurements of our baby. The doctor shared with us a grim diagnosis, severe Intrauterine Growth Restriction (IUGR) and there was a high risk of uterine demise (their words, not ours). I was 23 weeks pregnant, but our baby was measuring about 5 weeks behind in size. Legally, the doctor had to give us the option to terminate the pregnancy. My husband was in shock and just kept saying, 'I don't understand what is going on.'
We explained to the doctor that we were going to fight for our baby. They explained they wanted to see us for weekly ultrasounds at the hospital to measure the baby's growth and prepared us for an early arrival. The goal was to get to 28 weeks and 1 pound. Over the next three weeks the once a week ultrasound increased to twice a week due to absent cord flow and on February 6th I was admitted to antepartum. We knew it was what was best for the baby and me, but it did not make it any easier to be away from my husband and Mikey. I received a rescue steroid shot immediately to help the baby's lungs develop and I was monitored three times a day. Mikey visited me twice a week. He had his own cubby filled with toys and snacks and each time I was put on the monitor he would hold my hand.
During my one month in antepartum, the baby gave us three scares that he was going to arrive, but we made it to 30 weeks and 6 days. I had a growth ultrasound that day and the baby had only gained two grams in two weeks. The doctor told us, 'we are going to have a baby today,' and explained that if we waited any longer we would risk a stillborn.
A few hours later I was in the OR for a C-section that quickly turned into an emergency C-section because the baby's heart rate was failing due to the anesthesia. Our baby, Jake Eric, came out quickly and was born at 11:06 a.m. on March 6th with lots of people to greet him in the OR, including the NICU team. I got to see his teeny face for a moment before he was whisked to the NICU. Jake was 1 pound, 12 ounces and only 12 inches long. He was the size of a 25 weeker. Once I recovered a bit, I was wheeled on my stretcher to see him and his smallness took my breath away and my eyes filled with tears.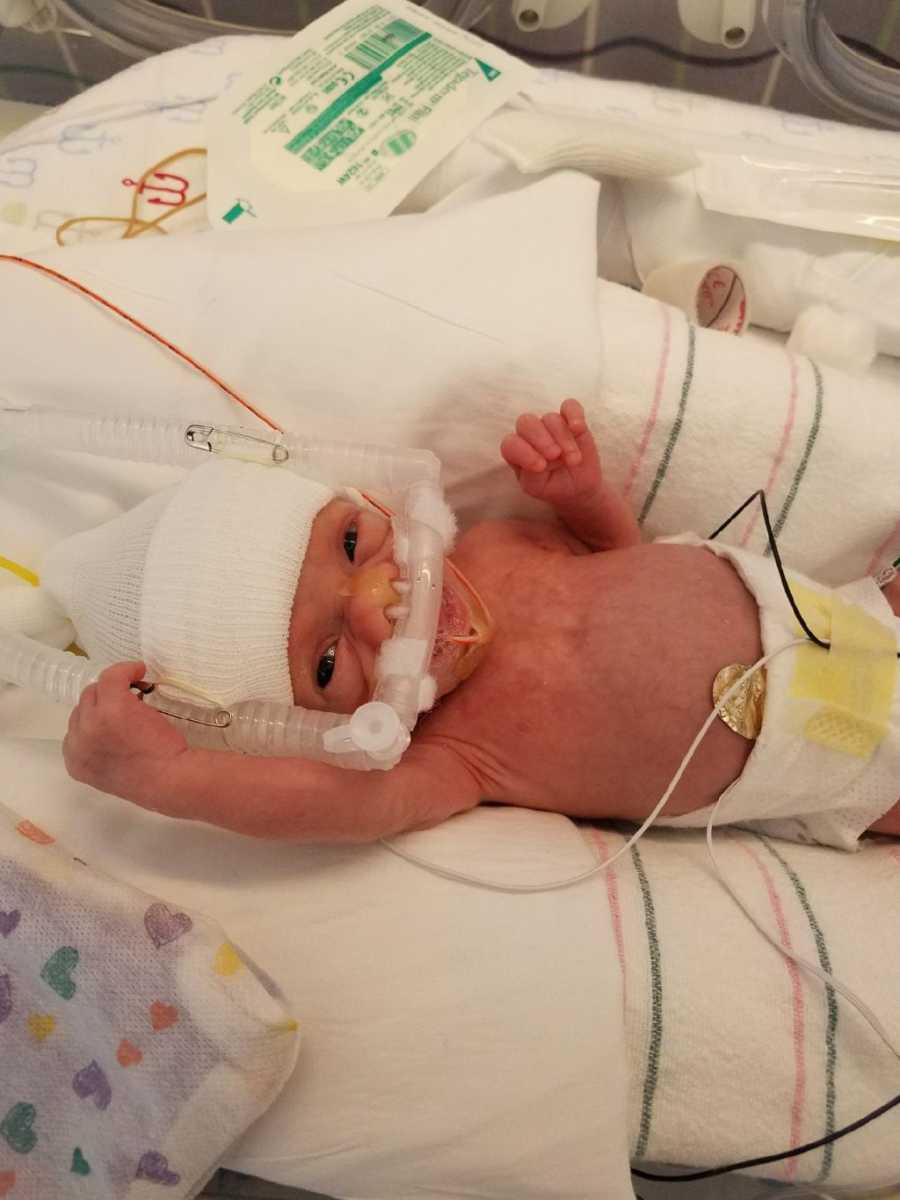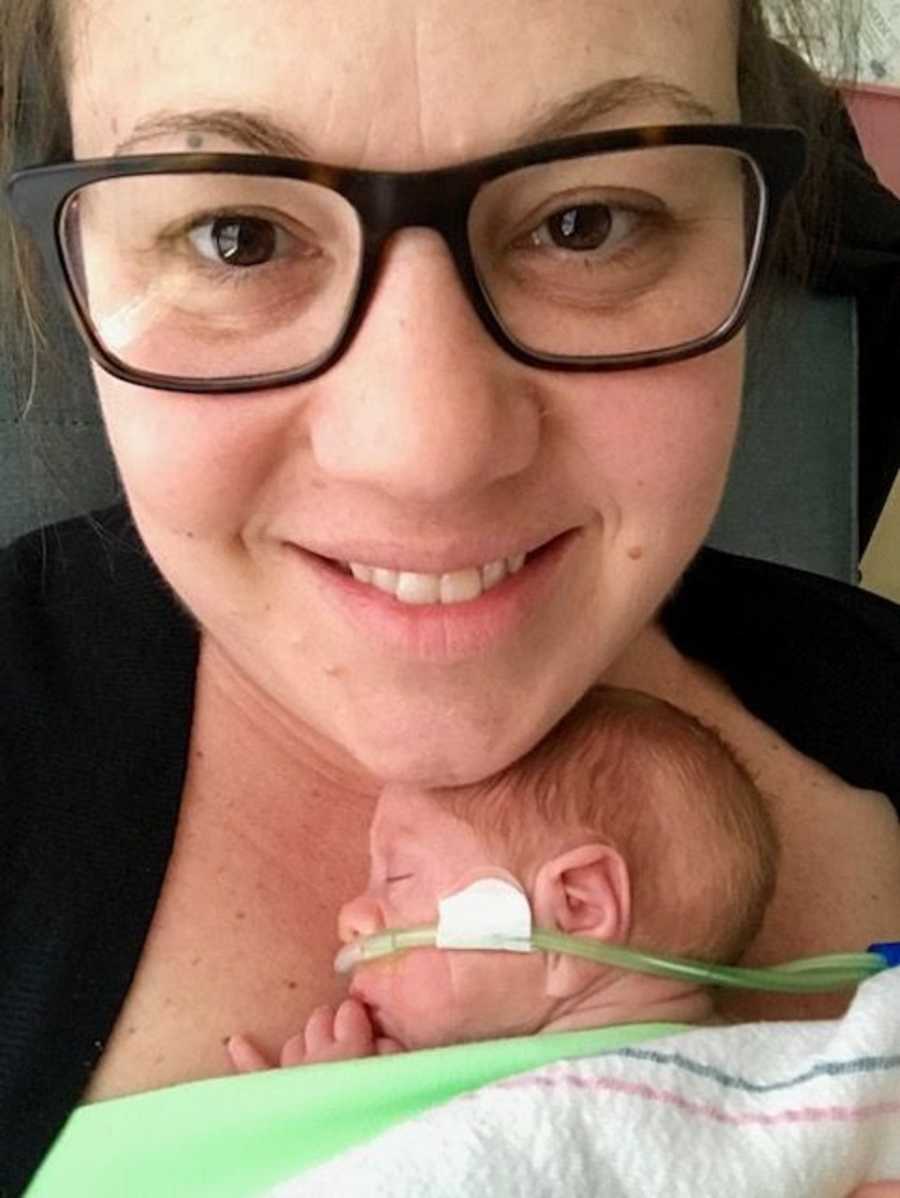 That night my in-laws brought Mikey to see me and we told him he finally had his baby brother, Jake. The first time Mikey saw him, he beamed and said, 'he has red hair just like me!'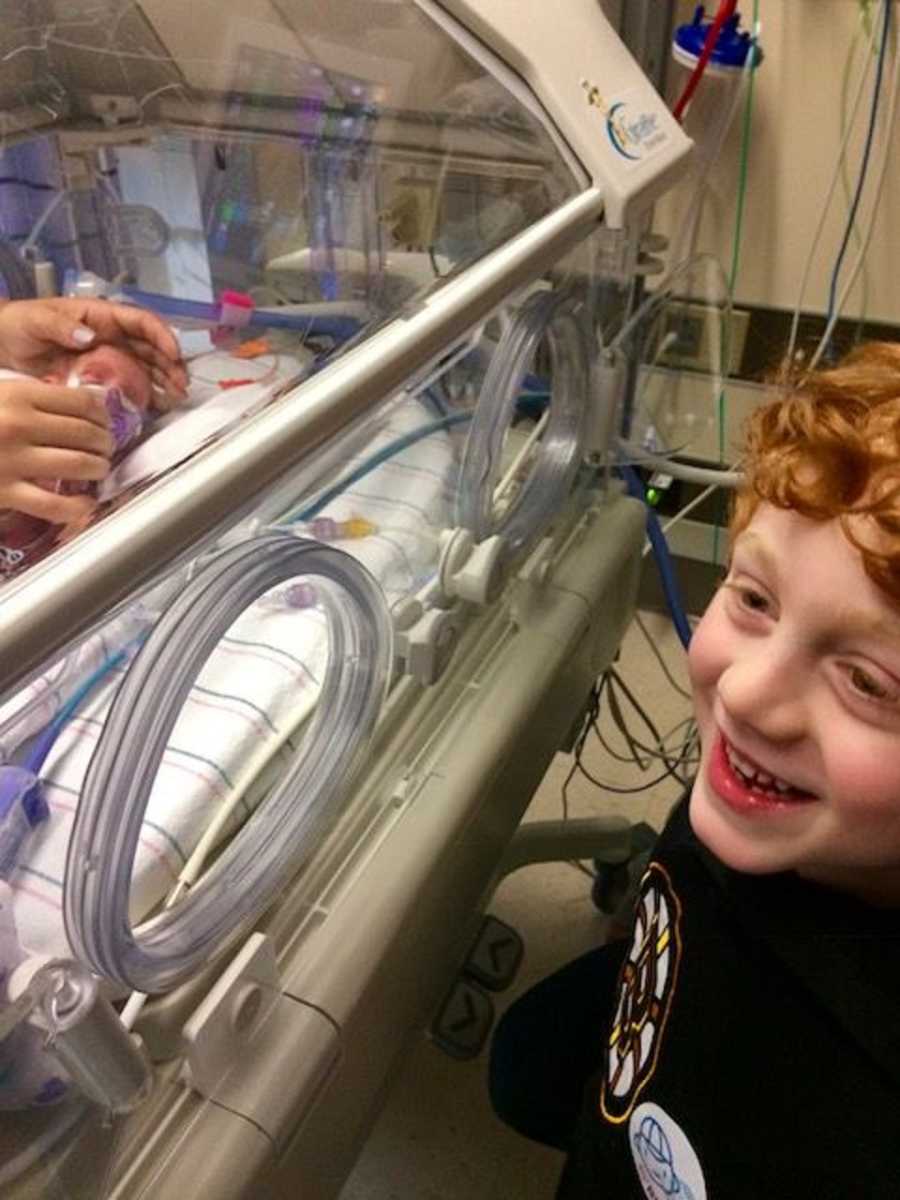 We quickly settled into NICU life. My husband went back to work and Mikey was still in school. As a NICU mom, I feel like you go into autopilot and go through the motions without the emotion as much as possible because it is the only way to survive. Living the NICU life was the hardest thing we have ever gone through together. Jake was hooked up to so many wires and tubes and lived in an isolette. We had to leave him alone except for his care times every three hours when you would assist the nurse in diaper changing and taking the temperature.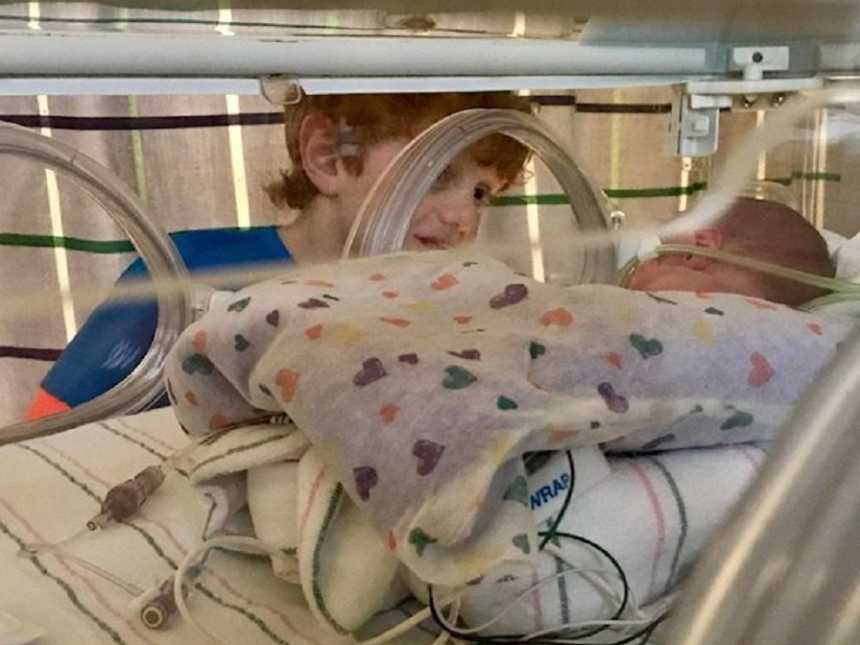 As a NICU mom you get used to all the beeping and alarms. The first few 'spells' Jake had pushed me to tears. It is when his heart rate would drop significantly, and he would often require stimulation to come out of it. In the early days, he would have as many as eight in a day. At three weeks we had quite the scare and Jake was really struggling to breath and was just fighting a lot more than he had been. After a meeting with the nurse practitioner, we decided he would benefit from a blood transfusion to get red blood cells which would allow him to produce more oxygen. Jake was fed via a feeding tube until he was about 7 weeks. I lived for the couple of hours a day I got to hold him skin to skin. I would sit in the recliner by his isolette anxiously awaiting the nurse and respiratory therapist to take him out and adjust all his tubes. It was the moment of the day when I felt most calm.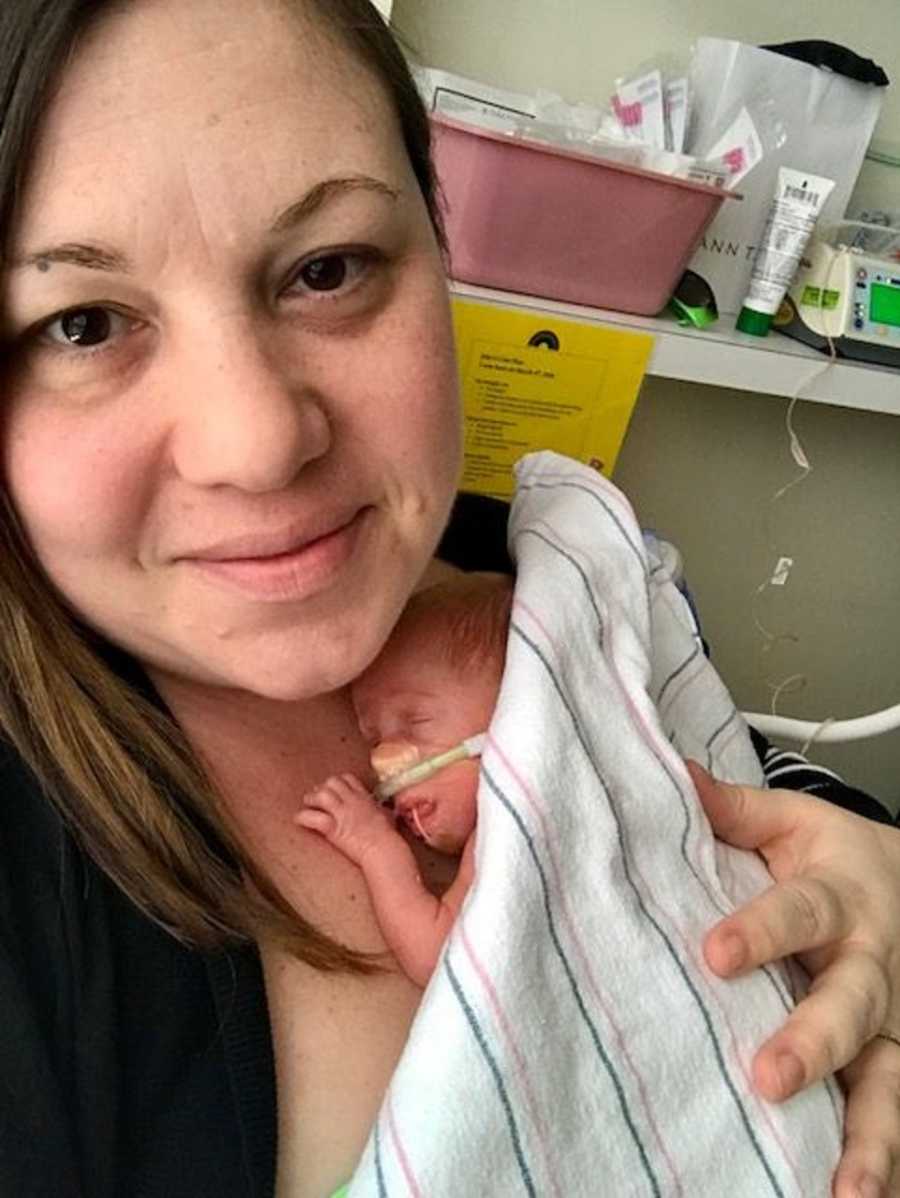 During the NICU time, Mikey settled into his big brother role well. He learned the ways of the NICU quickly. Where and how to wash his hands, how to open the portholes of the isolette and how Jake liked to be touched. However, Mikey struggled with not being able to hold Jake. He wanted more than anything to hold his baby brother. Mikey was filled with sadness that he could not hold his baby brother.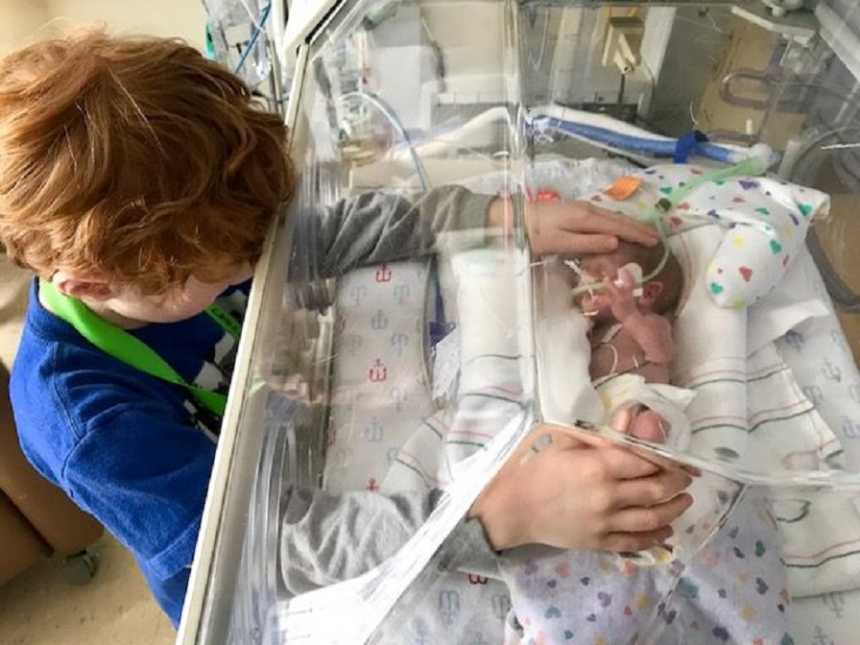 During one of my daily rounds with Jake's nurses and doctors on day 10, I asked if Mikey could do skin to skin with his baby brother, fully expecting them to say no. I was beyond thrilled when they agreed! On March 17, 2018, Mikey was the first sibling at the Beth Israel NICU in Boston to do skin to skin. It was amazing and emotional, and I truly believe became the foundation for their brotherly bond.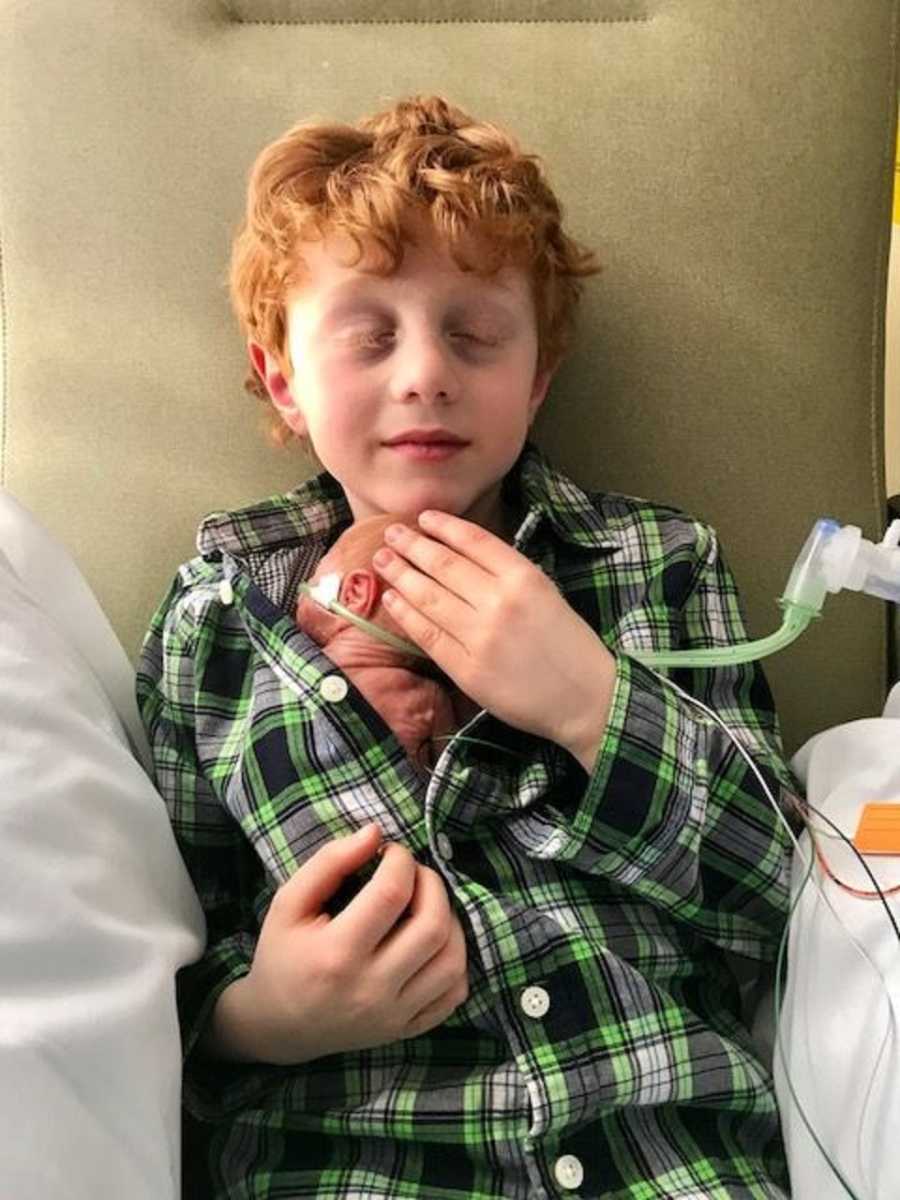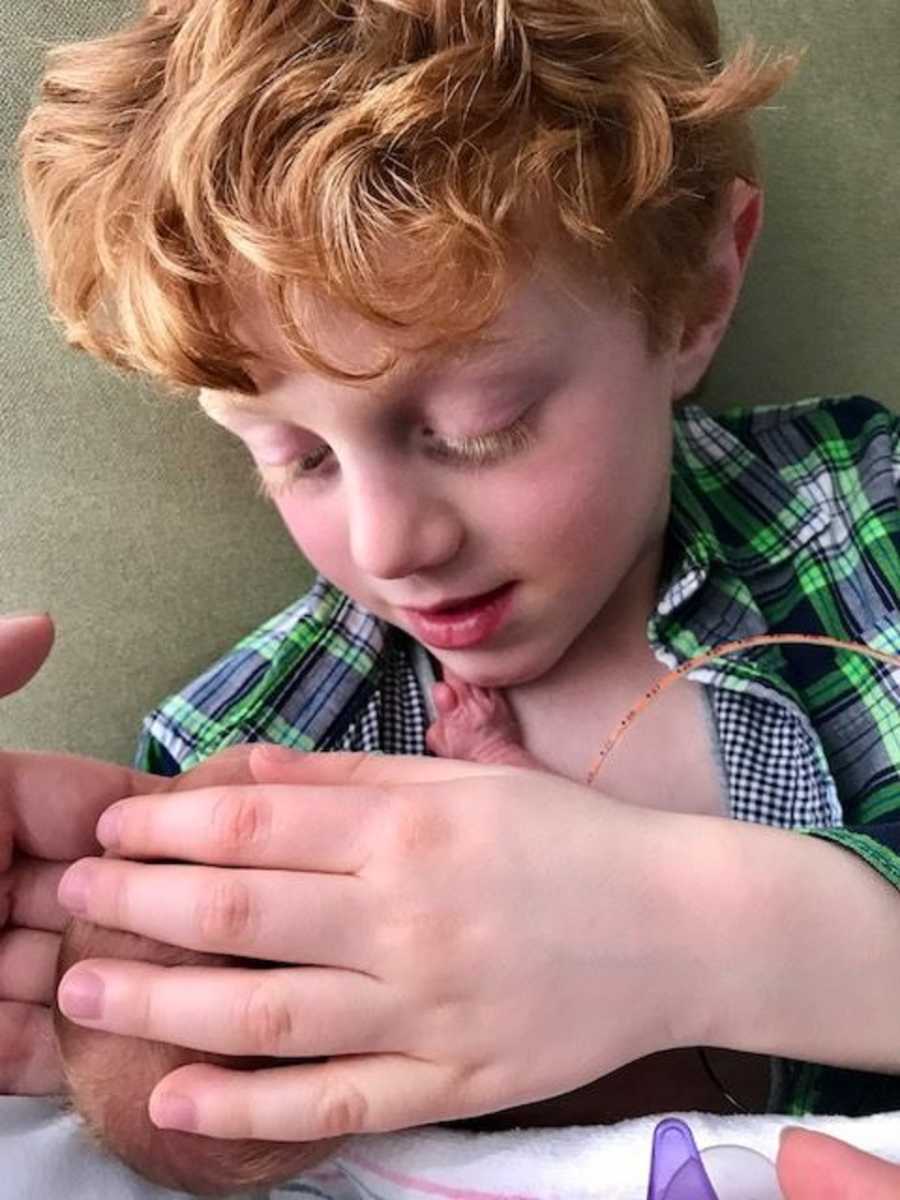 Jake spent 62 days in the NICU and his homecoming was one of the happiest days of our lives. Mikey is an amazing big brother and having Jake has brought a calmness to Mikey's life, and Mikey has a way of calming Jake when he is upset.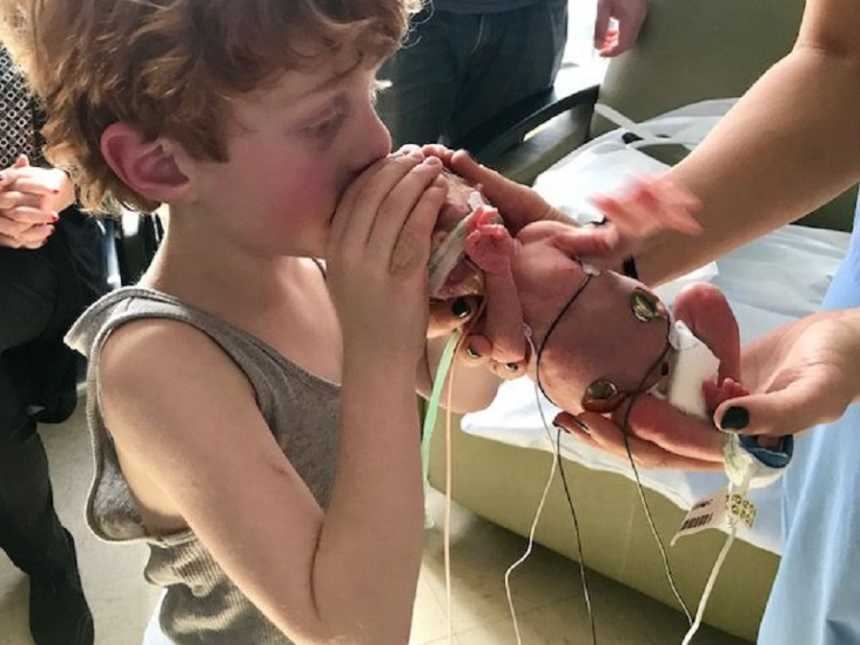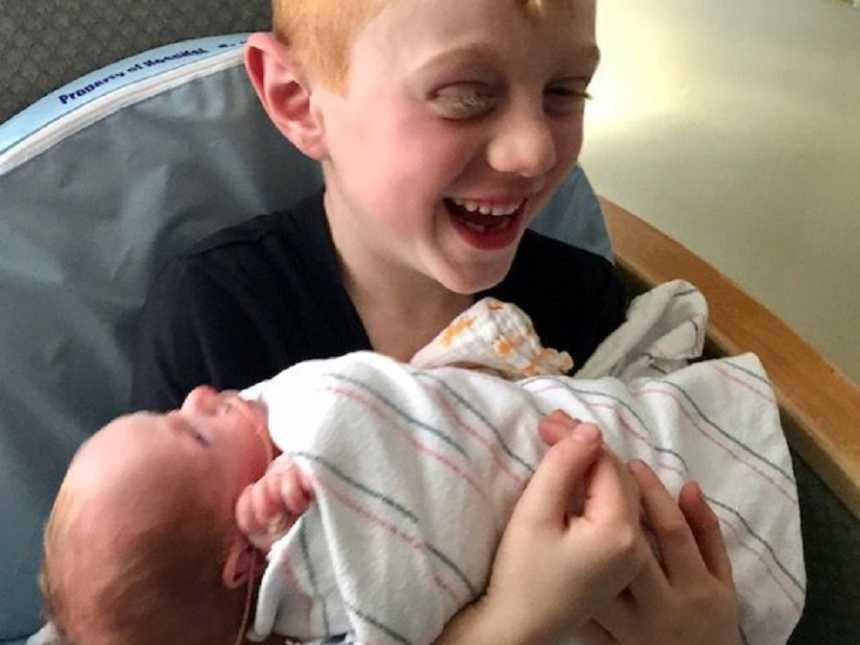 Every morning our two boys start their day with snuggles in my bed. I feel honored to witness their love. Their bond is amazing, and my husband and I often say that we wish Jake looked at us the way he looks at Mikey.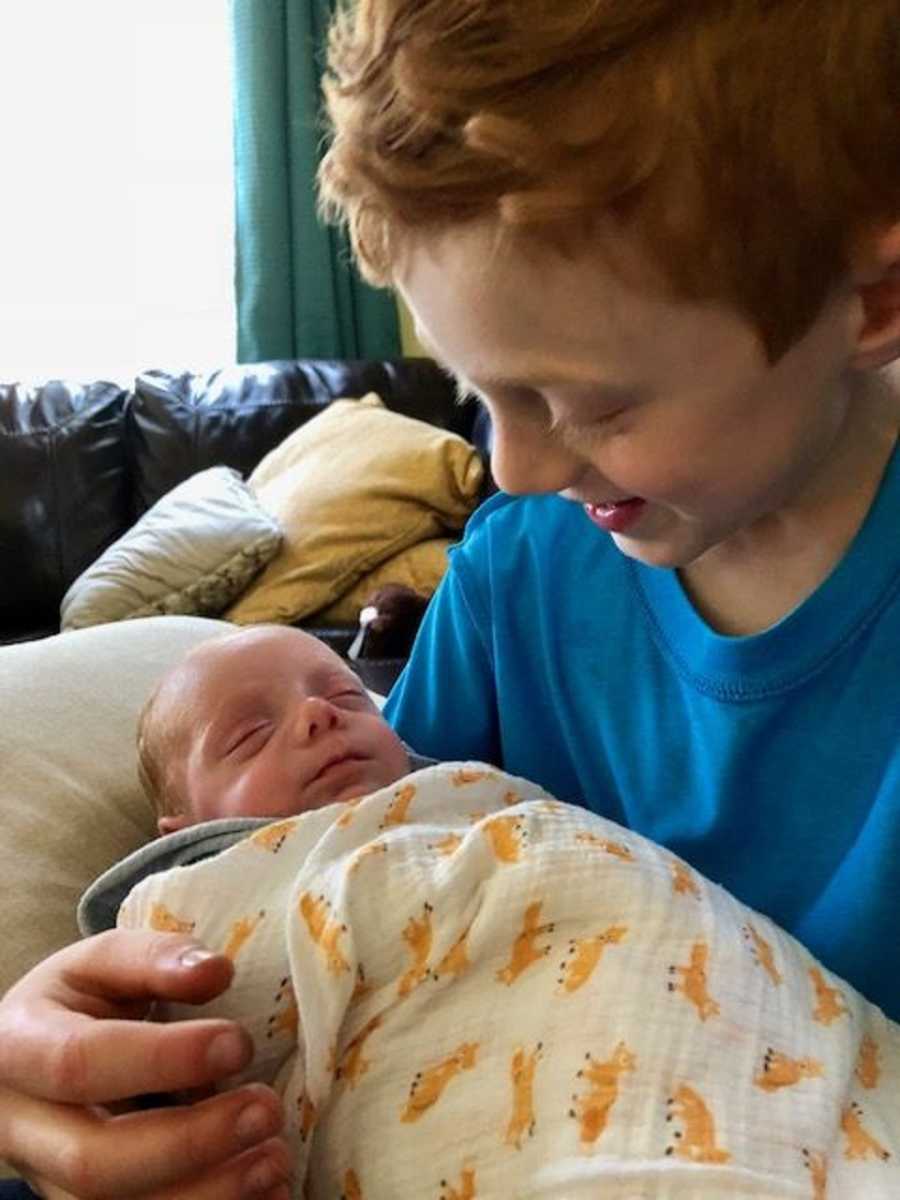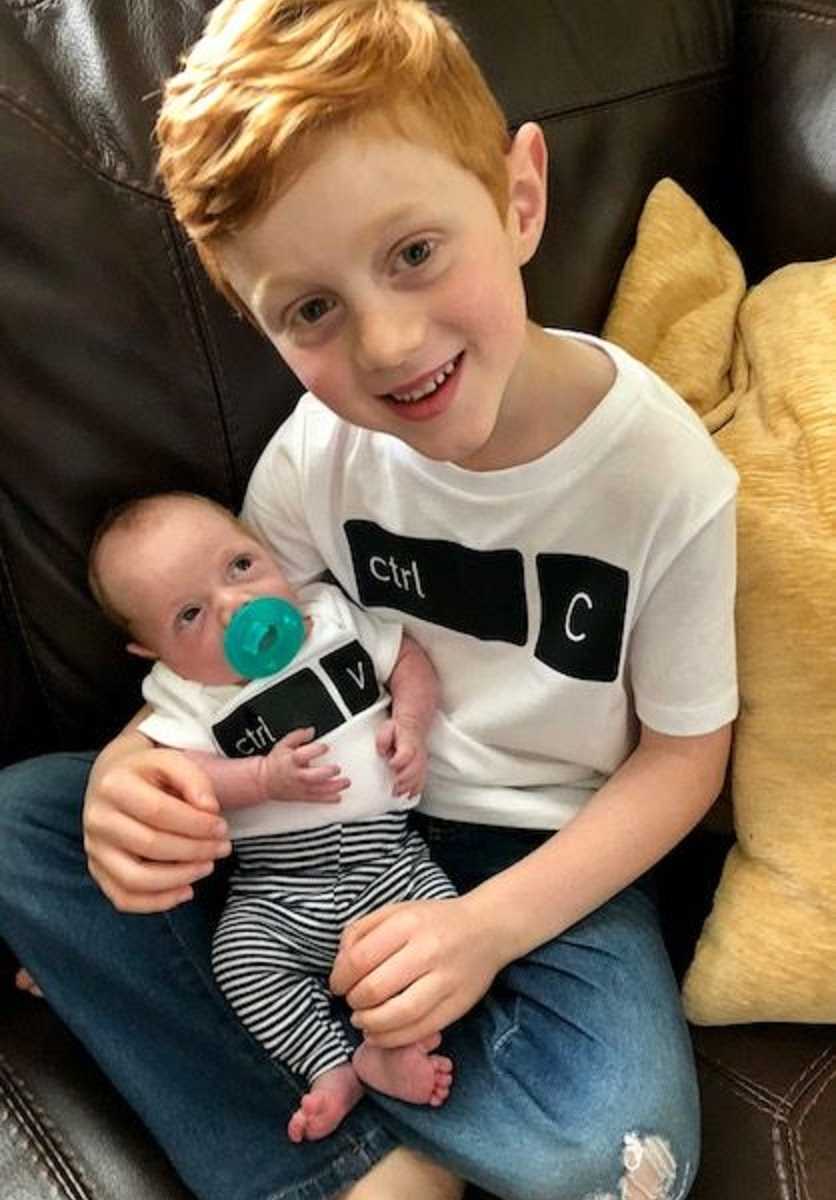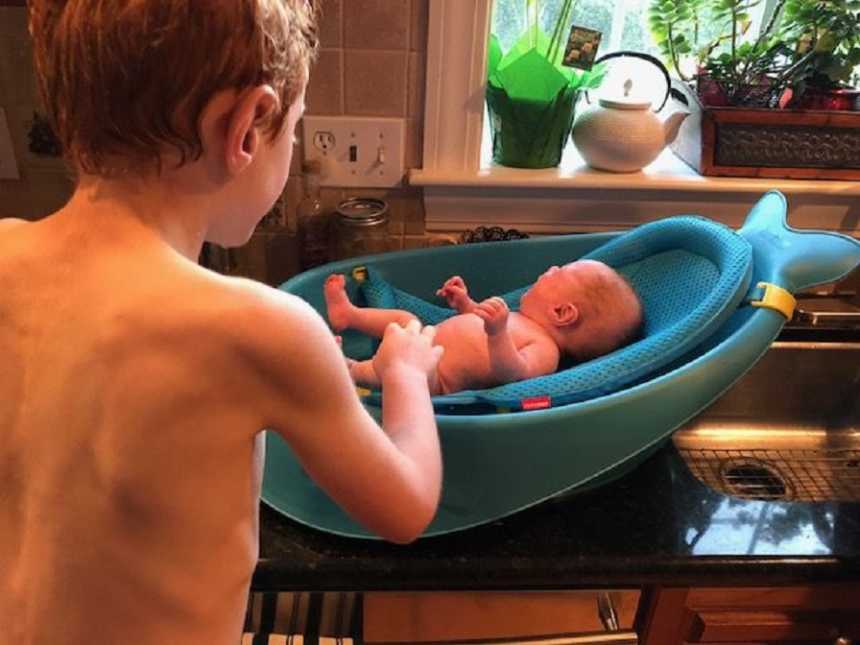 It is as if the two of them were destined to be each other's brother. There is no question that Mikey was born to be Jake's big brother and Jake was born to be the baby brother Mikey had always wished for…"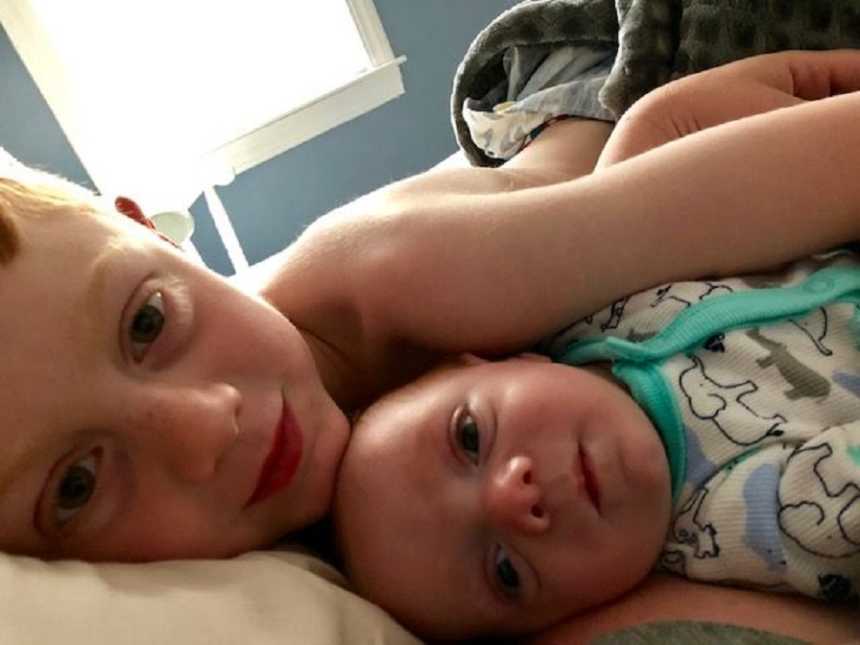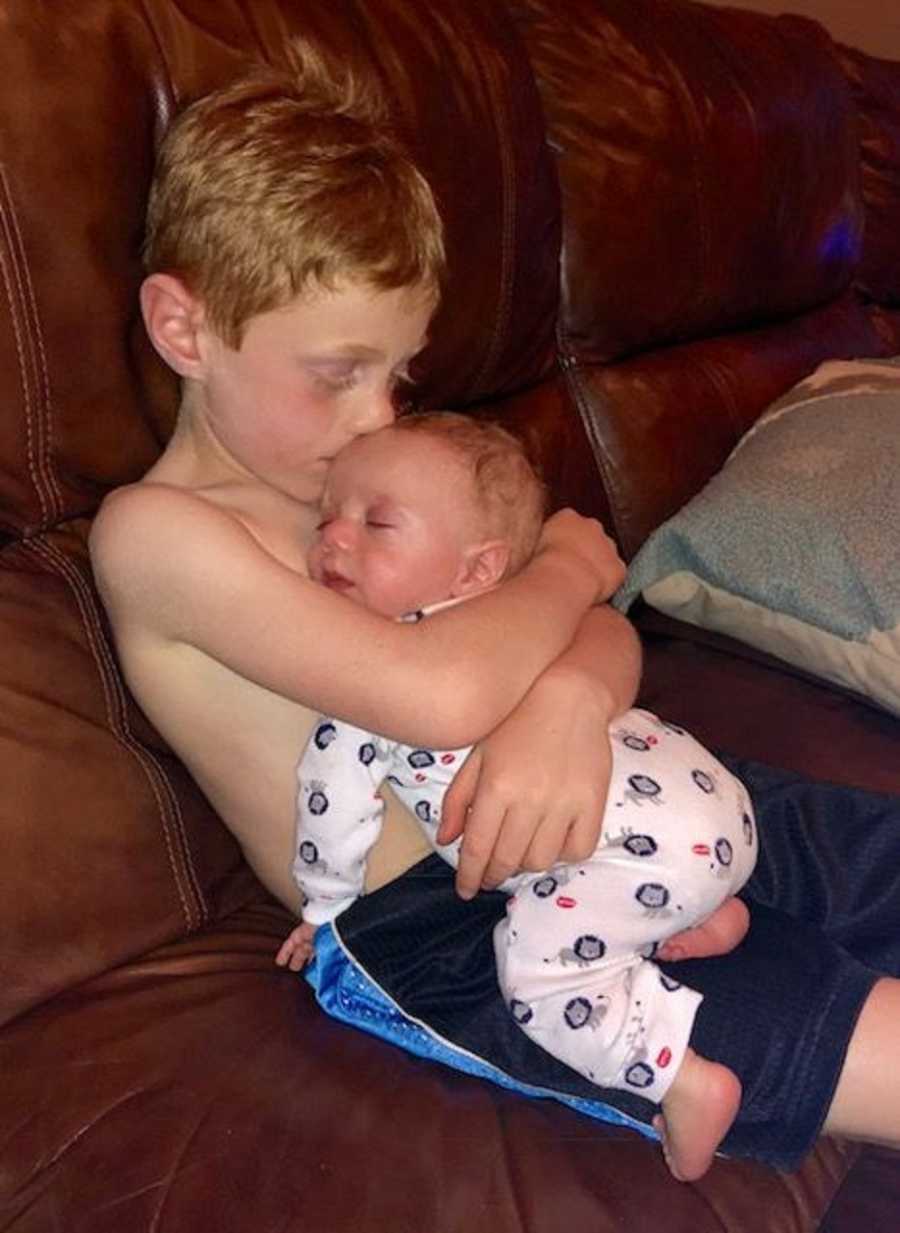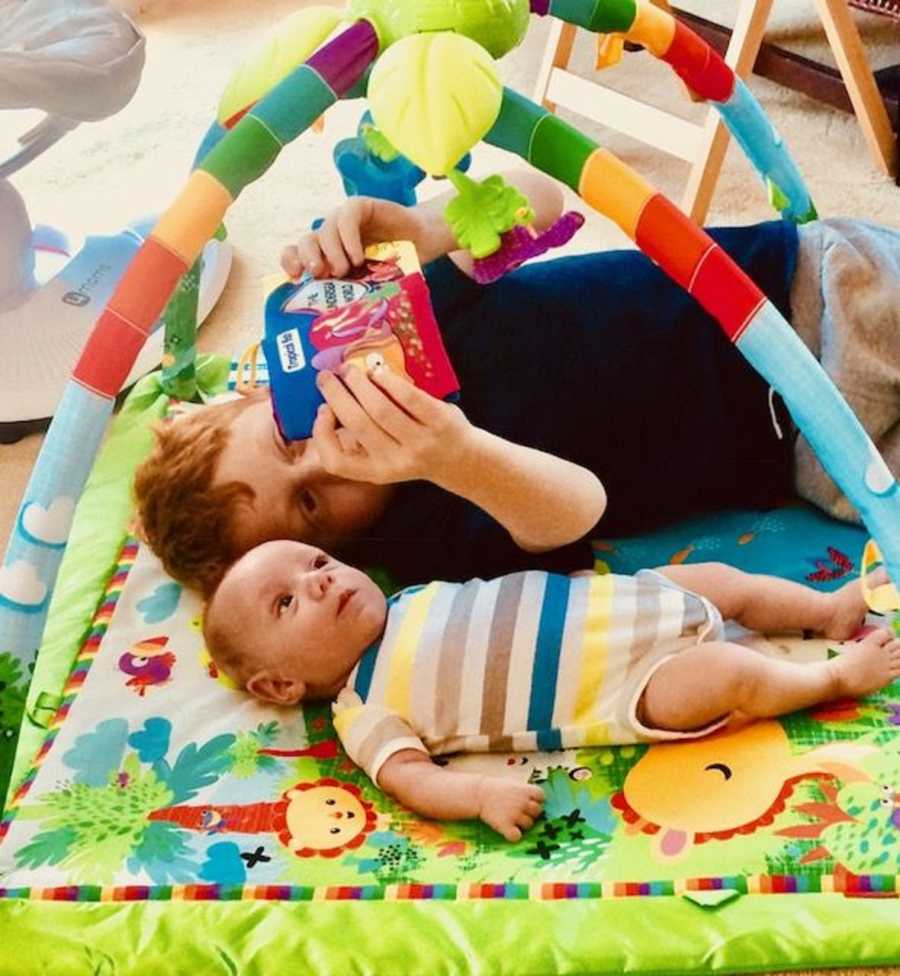 This story was submitted to Love What Matters by Jessica Marotta, 39, of Melrose, Massachusetts. You can follow their brotherly love on Instagram here. 
Do you have a sentimental family story? We'd love to hear from you. Submit your own story here, and subscribe to our best stories in our free newsletter here.
Provide beauty and strength for others.  SHARE this story on Facebook with your friends and family.