"To the ones raising strong-willed children, who have big feelings but haven't fully learned how to work through them yet, during this 'unprecedented time' of social distancing and quarantine… this one's for you.
We made it through our second week of homeschooling our twins this week, and I'm wiped. Going into the self-quarantine and taking on working from home while trying to home-school three kids under the age of five (with help), I naively thought my greatest challenges would lie in working with Luca and meeting his needs in the dependable way his teachers do at school. He has a team working for him five days a week, observing, evaluating, and tending to him during school hours in ways I had no idea how I'd be able to while at home. I worried about his aggressive outbursts and how I'd manage them in the hours I would be outnumbered three to one, especially if they got more frequent with the lack of scheduled activities and individual attention his aid gives him.
But y'all… NOT EVEN CLOSE.
I'm exhausted.
I'm fried.
I'm wiped.
Not because working with Luca to meet his needs hasn't taken energy — it has — but he's been awesome, receptive, and worked on using his language in ways I wasn't able to experience before. It's actually been incredibly rewarding.
I'm tired, not because our toddler, Alex, who is missing daycare and friends in her expected neurotypical fashion and is needing extra attention because others are not seeking hers in the classroom.
I'm worried about how long the status quo is going to last in our new normal because lately, I feel like I'm…
Raising the WILD.
No, seriously.
Our sweet, caring, and completely impressive boy, Jack, is so strong-willed that I think he might break me. He questions everything all day long. He's the first to rise in the house, pulling me out of bed before the sun's come up — and quite frankly — far before anyone else in our household is willing to join him.
I've shared how he feels big feelings, but, Lord, give me strength, his feelings since not having school and connection to friends every day are MASSIVE. They span the open desert for miles and miles and suck up every breath of air I have during the day.
Our nanny and I will set up the lessons for the day, and just as we're patting each other on the back because it's going well, it's like his time of the month hits. Just because Luca is enjoying it, it means he can't, and we're completely derailed.
Every time he decides to share these feelings with our social-distanced world, they hit a volume I swear pulls our neighbors into our bubble, despite that we are acres away from them physically.
And lately, the following tools are what we are focused on having him master:
Gentle Hands
Teasing isn't Kind
Soft Voice and Open Listening Ears
Space is Kind
That is the nicest way I feel like I can frame for you the constant tackling of siblings with a strength that can hurt and injure, the need to push every button Luca has, the volume of his whine, and the refusal to read the room when someone doesn't want him on top of him, in case he were ever to read this one day.
Y'all…. even when his sister is napping and the nanny and I are with the twins, and one-on-one time is available, it's still our biggest challenge.
At one point this week, when we learned schools were indefinitely closed until, Jack and I were already having a tough day. His anxiety was high, and even though he had BEAUTIFUL moments throughout the day when he was able to name his feelings and work through them or ask for help when needed — I was FRIED. (More so with not having a date I needed to make it to, a date when we could all go back to the normal we so desperately miss.)
After I finally got him to bed, during not the easiest bedtime routine, I snapped at my wife and even went upstairs to take some space of my own. After putting away the laundry that had been haunting me all week, sending the emails to the kids teachers with photos of proof of what's gotten completed throughout the day, and completing a few business-related tasks for my wife, I finally made it to the shower. I could feel myself relax, had a decent therapeutic cry, and when I finally made it to my pajamas, I could hear my father's words from the speech at my wedding ring through my ears: 'She had a flair for the dramatic.'
I winced.
I laughed.
I smiled, remembering the adoration he had in his voice when he said it.
And then I looked up to the heavens and said: 'Dear Lord, please don't let this be my karma.' I'm going to naively continue to live in denial thinking he was merely referencing the many performances on stage he watched during my short-lived theatre career and that 4-year-degree as a theatre major he helped to pay for. (Humor me!)
Here I was, week two of quarantine, feeling pretty lousy in a pity party of exhaustion, and I was acting like my four-year-old child to my adult spouse. I hadn't gotten a chance to shower that day, so I wasn't feeling like my best self to start. I was hungry because I had maybe been able to snack throughout the day, but despite getting dinner on the table for her, I never actually got to eat myself. And the glass of wine I had on an empty stomach was definitely not the wisest choice.
I was having BIG FEELINGS and not able to deal with them.
I wasn't using my words.
I wasn't asking for help.
I wasn't owning how the quarantine was making me feel. I missed my family. I missed my friends. I missed my spouse. I missed my freedom when all three kids were at school. My anxiety was through the roof and hadn't had a break to speak to the one person who for 45 minutes only cared about how I was doing, and let me talk about anything I needed to say. And I was ASHAMED I was having those feelings.
Just earlier that day, I was talking with a friend I admired and cared for who was working through her anxiety about leaving her family every shift to work in the NIC-U as one of the most heroic nurses I could think of. Her anxiety was real. Mine was selfish and unplaced, and I was disappointed in myself that I wasn't able to handle things better for Jack that day, or with my spouse.
What's going on in the world is 'unprecedented' — this term is making so many of us roll our eyes because it does nothing to reassure us that the worst isn't the yet to come. The unknown makes things feel hopeless and doomed for worst-case scenarios in ways that can make us feel unhinged.
Imagine what it feels like for our wild ones, who haven't been able to fully comprehend the social stories we're trying to give them to understand why one day they were living their best lives and the next day, they were told they couldn't see their friends, learn with their teachers, and play in public places or intimate play dates.
If we as adults, with decades more life experience than our kids, are having a hard time, then maybe we can find some grace and perspective for our littles who only know one way to feel.
If you are raising the wild-hearted, passionate, and dramatic-at-times souls, I need you to hear me when I say, YOU ARE NOT ALONE. This is hard, y'all. None of it is easy. But having the unruly who can't comprehend the simple requests like 'Keep your hands off your sister' or 'Please keep your voice down' or 'Stop teasing or he's going to beat the crap out of you every time!' (No one else? That's just me?) …and maybe are asking 'why' a thousand times a day because they actually want to learn why something is happening during a time they just can't understand… YOU ARE NOT ALONE.
The one driving force to my staying sane as I manage all the BIG FEELINGS going on in our household during quarantine, social distancing, and homeschooling, is something I assume about most of the kindred spirits in my life who I rely on to keep me steady during turmoil and chaos, inspire me to be a better person because they expect more of me, and are passionate game changers leaving an impactful footprint on this world.
As the week continued, when Jack was overly loud, or extremely needy, or beyond frustrated — I focused on what I've found to work from him in the past: we talked through feelings, used token boards where he could earn a preferred activity once he tackled a wanted behavior five times, and used books and songs to understand why we feel certain emotions throughout the day. His favorite, is 'Belly Breath' by Common and Colbie Caillat, in case you have a child that might be interested.
Instead of Jack being able to just say, 'I'm ANGRY' or 'I'm sad,' we worked on adding 'because' to complete the sentence. By the end of the week, although the tantrums were still at large and the behaviors continual, he was able to express why he was feeling how he was feeling twice on Friday and even shared with Luca that he needed to 'belly breath' because he was 'So mad, he could not be kind.' His words, hand to God.
I have no idea how long this new normal is going to last. There are days it feels like we are living in Hunger Games or The Maze, and it's all some kind of Big Brother experiment. All we can do is continue to hope for warm weather where our children can run the wild out before it takes over our sanity. As parents, my wife and I are focused on trying to give Jack the tools he needs to harness that energy and use it for good one day.
With no control over how many more tantrums are in store for us during this new season, 'accidental' injuries are caused to his little sister when he plays too rough, or buttons he pushes with Luca that initiate aggressive reactions… I have little advice on how to navigate the unknown while raising the wild in this different time. But what I can share is YOU ARE NOT ALONE. Let's hope all of their determination stays strongly grounded in their souls and used to change the world for the better one day because as a parent who is dealing with it hourly, trust me when I tell you, it's not something you want to reckon with.
I look forward to witnessing their passionate advocacy, creatively found solutions, and unwillingness to give up on what they care about, for they are who will be our mark on the world, as we were the ones responsible for raising the wild."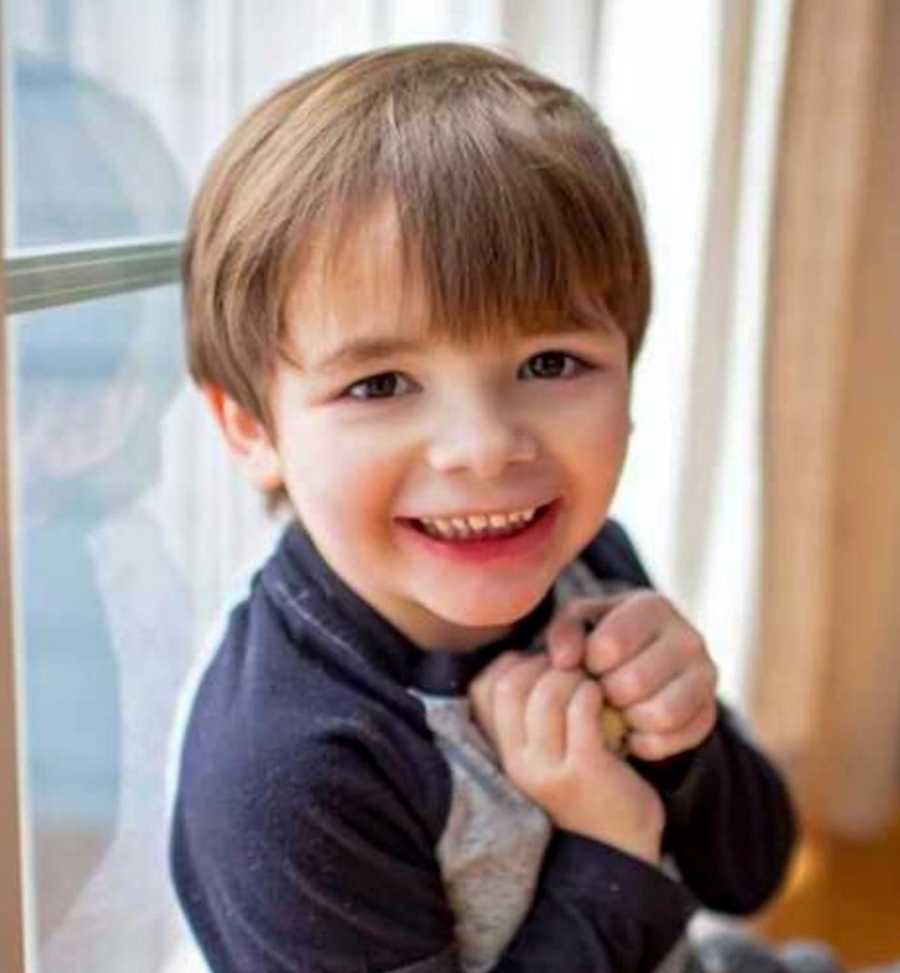 This story was submitted to Love What Matters by Christina Young. You can follow their journey on Instagram and their website. Do you have a similar experience? We'd like to hear your important journey. Submit your own story here. Be sure to subscribe to our free email newsletter for our best stories, and YouTube for our best videos.
Read more touching stories like this:
'What happens to my girl when society realizes it's not 'cute' anymore? How do I make people see the beauty I see?': Mom to daughter with autism urges us to challenge our idea of beauty
'I fell in love at 17 and had two boys. Then the doctor said, 'We believe Cale has autism, and I suspect your youngest does too.': Teen mom births 2 non-verbal, autistic sons, 'Love needs no words'
Do you know someone who could benefit from reading this? SHARE this story on Facebook with family and friends.