"Well before children were a thought in my mind, a college professor introduced me to a gothic short story called 'The Yellow Wall-paper'. In this story, a woman chronicles her experience with postpartum depression in real time. The story, published in The New England Magazine, was written by American author Charlotte Perkins Gilman. At the time, postpartum depression was mostly referred to as hysteria. As I re-read this story of a woman journaling her way into a state of madness, documenting her silent suffering, I was brought back to the height of my own suffering. To the morning it all changed. This, my brave reader, is my 'Yellow Wall-paper'.
It's over. The words seer through the back of my neck up into the space between my temples, tinging my vision red. The voices have set fire to my brain. Again. But this time my attempts to extinguish the flames are useless. The space around me is entirely still as I feel my spine pressing against the sofa behind me, reminding me that I haven't lost yet. My fingers lace deeper and deeper into the threads of the rug that, just a moment earlier, was the place I read stories with my babies. Stifling the tears, my eyelids clamp shut. I can feel my heart beating so rapidly, so erratically. I feel wild. But everything around me is so very very still, as if I'm already gone.
I hear the cribs creaking upstairs as the babies shift in their sleep.What would they think in the morning? Would they even know? Did they understand the words I spoke to them as I laid them down to sleep?
I love you. I will always love you. And I promise you will be okay.
My wondering is interrupted by the persistent ticking of the clock:
Time's…
Up…
Time's…
Up…
The hum of the white noise machine emitted by the baby monitor hisses to me: deathhhhhhhhh. The deeply darkened weeks deciding on a weapon of self destruction has comparatively become a mundane, almost natural task. My body is burning, engulfed in invisible flames, and my heart is beating like the deep menacing rhythm of a war drum. But my thoughts are so clear, so calculated, so…easy. The clock continues to tick:
Guns…
Knives…
Rope…
Pills…
Until all at once, it stops. Everything stops. The sounds, the voices, the fire, the agony: gone. I am empty. My heart, my head, my body, all join the stillness of the room around me. The realization that this all ends the same feels warm, steady, easy.
This is the only way.
The voices call to me: 'It's over.' I've never been so sure of anything in my life as I am tonight. This is how I go. This is how to fix the damage I have done.
Tonight I pull the trigger.
The walls were the perfectly warm shade of gray. Pure white flowers embellished the walls and sheer blush curtains fluttered in the summer breeze as they hung ever so gently over the sun-soaked windows. I let my body sink into the luxuriously upholstered rocking chair, imagining what it would be like to sit here with her. Everything in the room was untouched, just waiting to spring into life with the coos and giggles of my infant daughter who was, at that time, tucked safe in my belly. My son toddled into the room, just twenty months old, showering me in hugs and kisses just to prove how truly blessed I was. Nothing, I told myself, could take this away from me.
I was greeted with the first of my labor contractions on an incredibly hot day in July. I was giddy as I spent the afternoon splashing my son in our inflatable kiddie pool in the side yard, taking momentary breaks to breathe through particularly consuming pains. As the day, and the intensity, progressed, my awe-inspired waiting shifted to bliss-coated agony. I had read so many books, online articles, and medical pamphlets to prepare myself for labor.  I was ready for birth. I was ready to meet my daughter.
In hindsight, this all seems so trivial. The height of my labor lasted but a few hours and after a measly forty-five minutes of pushing, at 2:00 in the morning, my absolutely perfect baby girl was laying on my bare chest, existing in the world for the very first time.  All at once, my heart felt full in a way I never knew possible. Seeing her for the first time made an entire world of complexity seem so simple, so clear. I wish I could have bottled that feeling and saved it.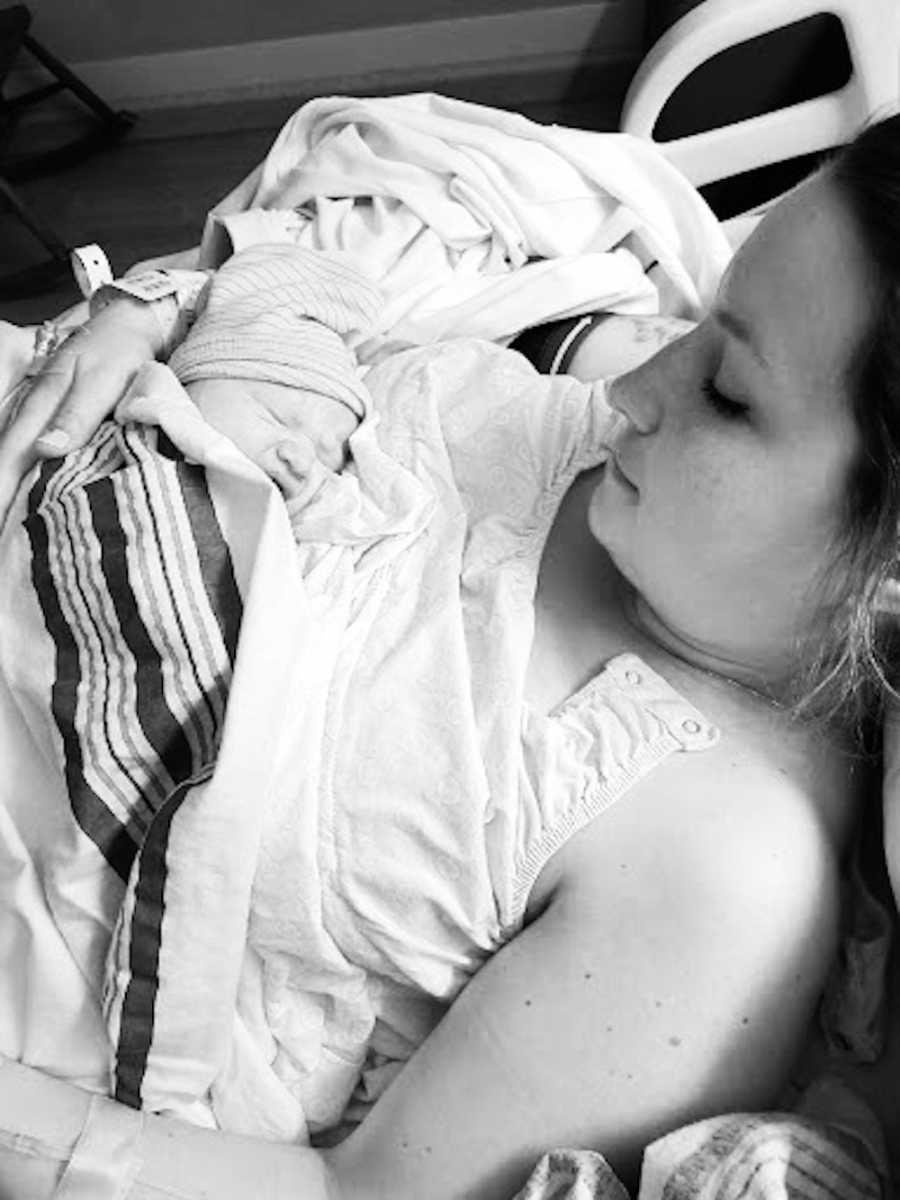 It wasn't long before I remembered that half of my heart was at home. My little boy was waiting for his mama. I urged the hospital to discharge me and my daughter the very next day and away we went to begin our life as a family of four. Nothing felt different. I was a little sore maybe, but the ride home, with our tiny treasure in the backseat, felt like just another commute, and walking into our home was almost listless. We just fell right back into our life. The following two weeks were unbelievably manageable. My sweet girl would awake in the middle of the night two to three times, and when she slept more, I missed her. At 2:00 am, when the rest of the world (sans all the other new moms) was sleeping, I was up feeding my baby, throwing in a load of laundry, emptying the dishwasher, and satisfying my craving for a glass of more ice than Gatorade. During the day, I reveled in the joy of seeing my son grow into his role of big brother, and my husband being all sweet on our girl. The dreams I didn't even know I had were all coming true.
At night, I would lay in bed, thinking back to that day, sitting in her empty room feeling the breeze and the sun, with my little boy in my lap.  I would think about how that moment paled in comparison to this new view of my family taking shape. Off to sleep, I would drift, in a drunken haze of ooey-gooey love, thick as molasses.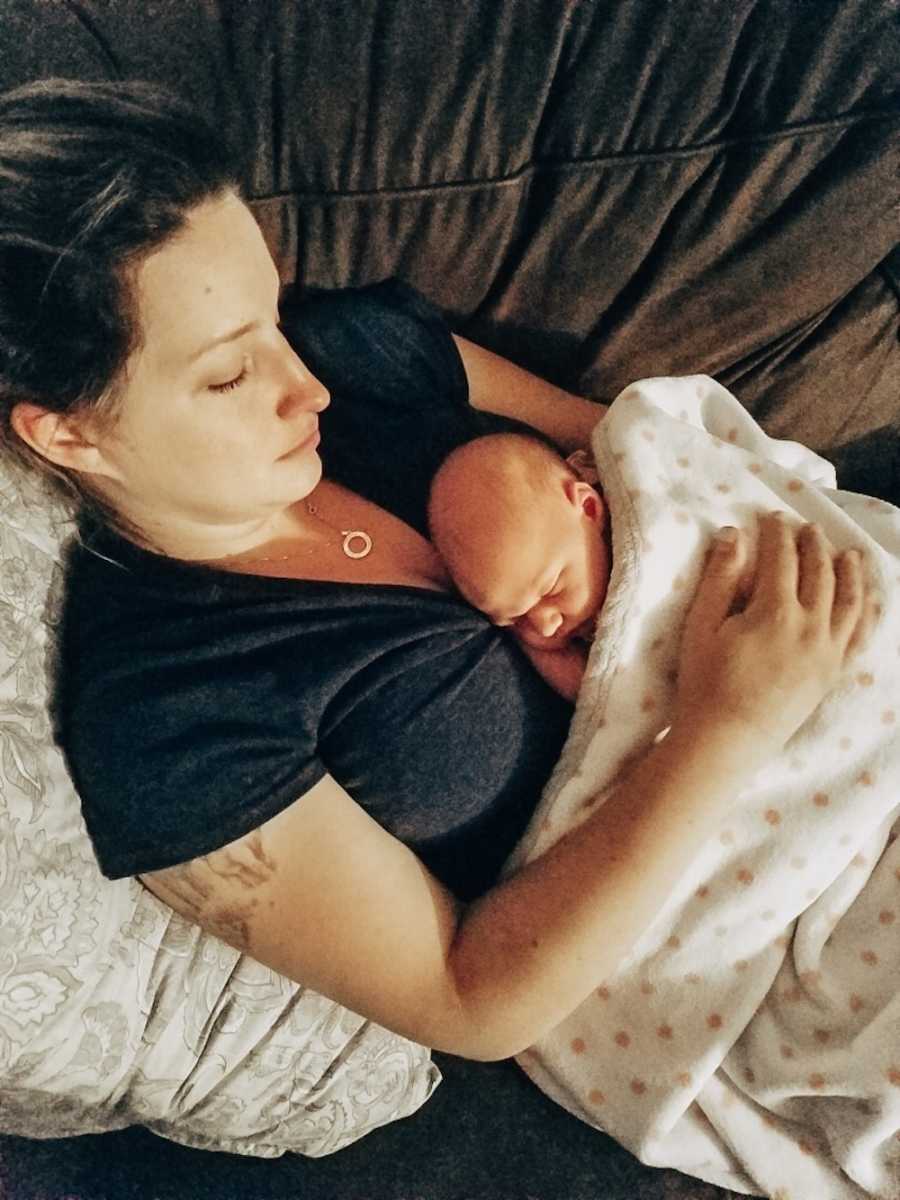 I don't know for sure when it occurred, as the next few weeks all play back in my head in fast forward, seeming to span only a mere handful of days, but one particular day I can recall with complete clarity. Up with the sun came an abrupt halt and that idyllic mom, drenched in love-spiked molasses, vanished.
It was an ordinary morning. I awoke at the sound of my son calling to me from his crib. My eyes flashed open wildly. When I think back to this, I imagine myself like a Frankenstein-like experiment of mad science, coming to life for the first time.
It felt like a possession, like an out-of-body experience. As if at any moment this being inside of me would crawl out, assuming a crouched position, and climb creepily up the wall of the bedroom, glaring horrendously at my body on the bed, cackling over its victory. An electric current forcefully surged through my veins. I shook myself frantically, terrified in a way I never knew.
Something was coming.  Something was happening.  Something was very wrong. I heard my son call to me again. He was hungry for breakfast. The pressures of surviving the day with two children under the age of two were enough to chase away the ugly creature that had taken residence in my body for only a moment.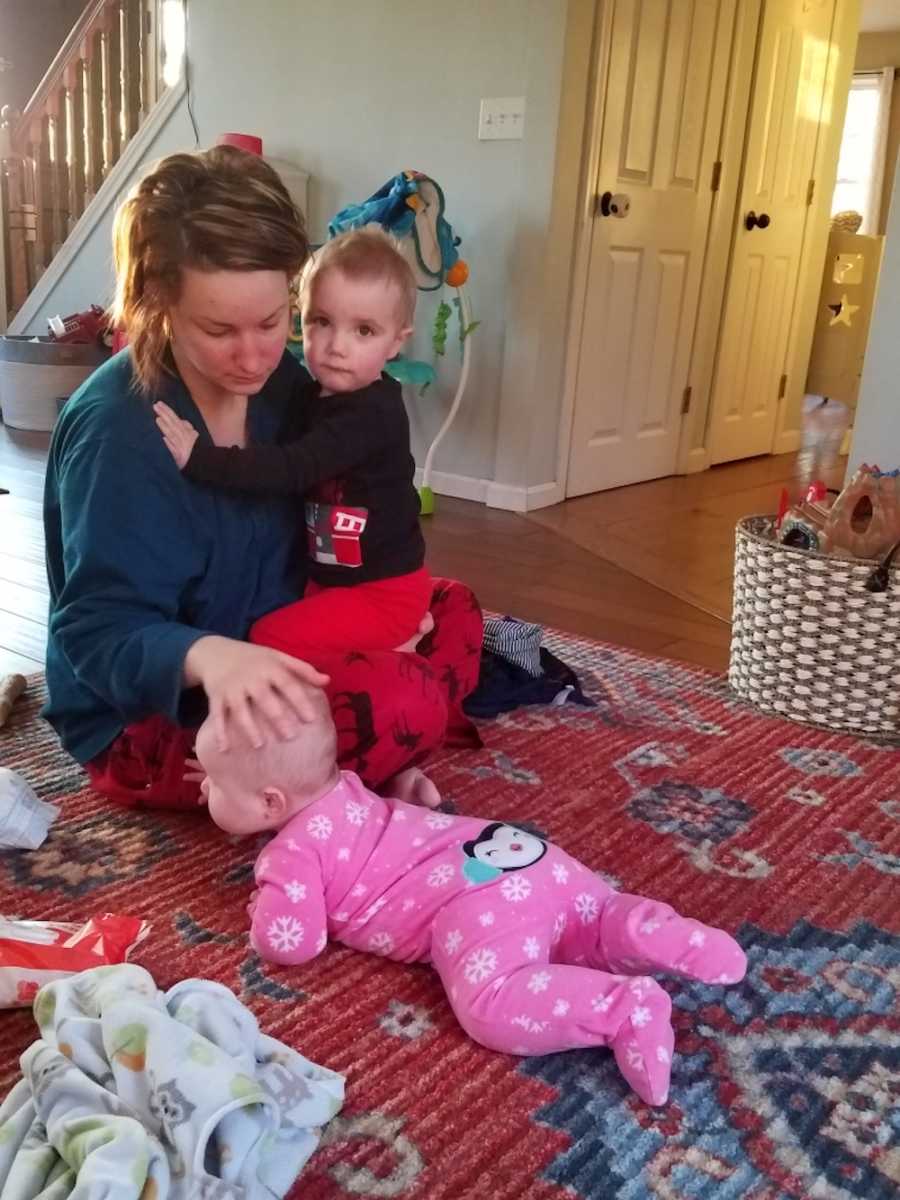 'I'm fine.'
'It's the hormones.'
'I have two children under the age of two. It's not going to be easy.'
'I'm just tired.'
I spoke lies to myself over and over and over, staring in the mirror above my dresser, touching my face, my arms, my chest, to reassure myself that I was just imagining things. That I was okay. I changed my clothes and walked out of my bedroom, convinced that I was so sleep deprived that I was delusional and just needed a nap. Everything was so perfect that the possibility of anything being 'wrong' was just too much of a stretch.
I greeted my beautiful son as I always had, with smiling eyes and an eager heart, ready to take on another day.  The morning was haunting me, lurking in the back of my mind, but I didn't dare entertain the memory. It was of no use to me and I had children to care for. Holding my son on my hip, I sauntered down the stairs, turned on some lively music, and made breakfast for us both. I had no idea that only hours later I would be sitting just there, on the floor, waiting to die.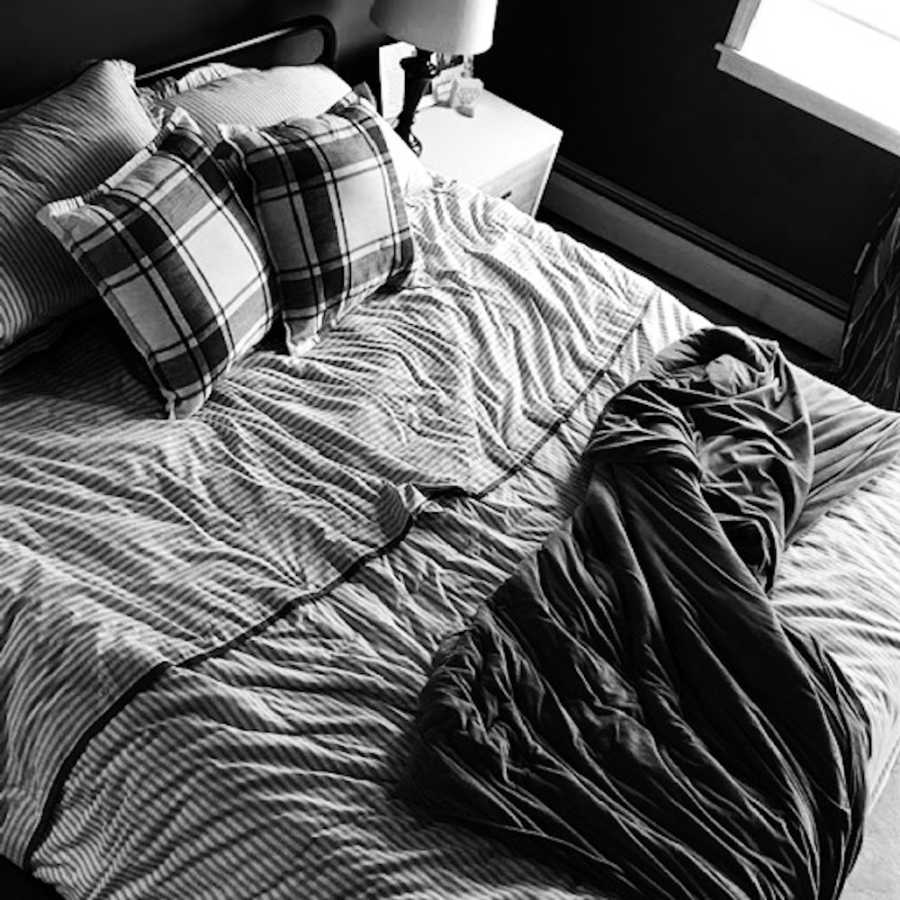 Over and over I stopped writing. Over and over I cried, I panicked, I became depressed all over again. I began receding into my silence. Then I looked to Gilman. What you might not know, even if you're familiar with the story, is that she wrote to give women a voice at a time when there was none. She aimed to uproot the silence imposed on women by blasting what might be the darkest part of womanhood into 'mainstream'. She shattered the silence by giving herself a tangible presence.
So today I break my silence, sharing this first-person narrative for the first time. This is the horror that overcame my life. This is what everyone told me was 'just part of being a new mom' or was 'just lack of sleep.' What the people around me didn't realize is that this was not just a phase. What I share here is a beginning. A snapshot. My suffering goes layers deeper. Weeks deeper. Feeling insane is not a normal experience in motherhood. I will not recede so that society doesn't see it. I cannot spend a significant part of my life revolutionizing how we screen for postpartum mental illness, all the while perpetuating the myth that motherhood should be 'hard' or that as long as you have a healthy baby you should be happy. All the while accepting that the health care system continues to negate our suffering by refusing to document these conditions — postpartum depression, anxiety, bipolar, OCD, PTSD, psychosis—as legitimate diagnoses.
It's time for the real story, the true story of postpartum depression to rise again into the mainstream. And I'm happy to go first.
Amanda is a measurement specialist working toward her PhD in psychometrics — the study of educational and psychological testing. Dissatisfied with the care she received for her postpartum depression, as a result of there being no such clinical diagnosis in existence, Amanda made the decision to turn her suffering into strength for others by openly sharing her experience and by working to develop a new method of screening for postpartum mental illness.  She is a mom of two, the researcher/writer behind Mom Like Me, and co-founder of the Make History Take Action movement."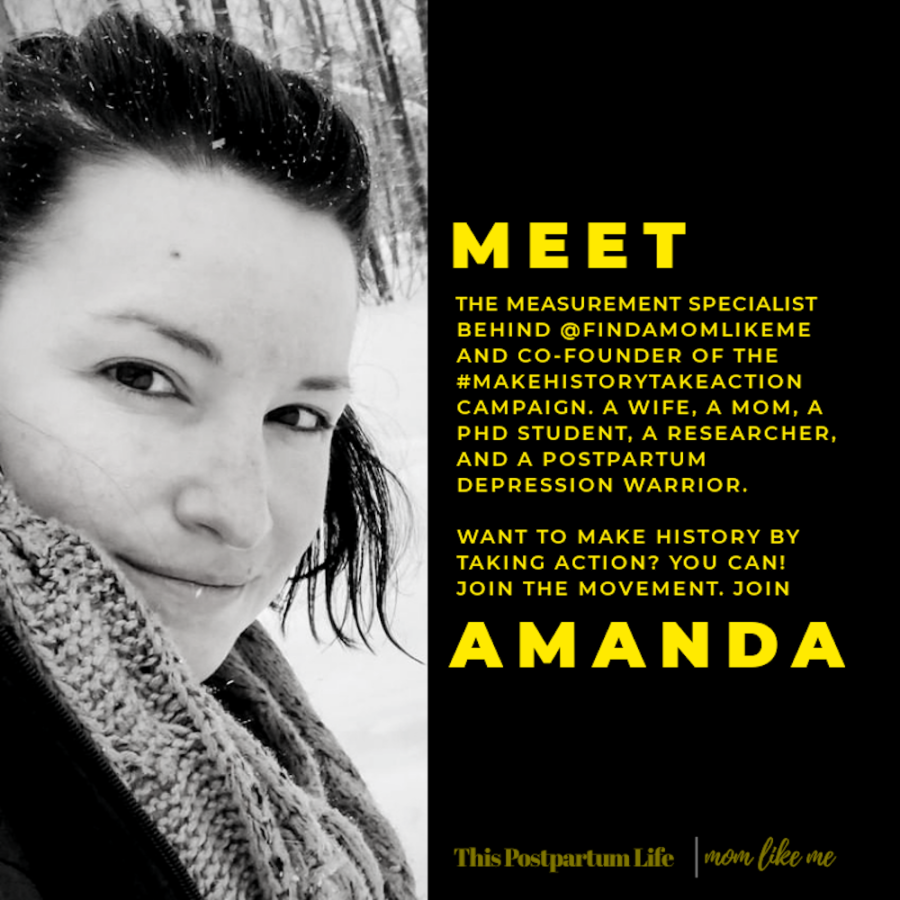 This story was submitted to Love What Matters by Amanda Gorham. You can follow her journey on Instagram here and on her website here. You can also read more stories about PPD here. Do you have a similar experience? We'd like to hear your important journey. Submit your own story here, and be sure to subscribe to our free email newsletter for our best stories.
Read more stories of overcoming postpartum depression here:
'I constantly thought to myself 'Ashley what the f*ck are you doing? You have no business being a mother.' I told my family I was okay. I couldn't let anybody know I wanted to die.'
'My silent struggle with postpartum anxiety'
Provide hope for someone struggling. SHARE this story on Facebook to let them know a community of support is available.