Disclaimer: This story contains details of child loss that may be triggering to some.
 "Elope. To most, that word probably means a couple running off to get married. To an Autism parent, it means to run, to slip away, to disappear. It's the word that keeps us up at night as we fight horrible worst-case scenarios in our mind of what would happen if our child took off, got out of the house.
April 27, 2016. My worst fears became another mother's nightmare. 
I was arriving home from taking my daughter to her guitar lessons. It was 7:30ish, the sun starting to go down. And then we heard it…a loud whirring sound. My husband, Matt, was still inside the house with the kids, so I went outside to investigate. Helicopters were circling our neighborhood. Neighbors were standing in driveways. A patrol car came by slowly, stopped to ask me if I had seen a two-year-old, blond-haired little boy. 
A boy had gone missing in our neighborhood. 
The next hours were filled with a neighborhood search. Kids and parents with flashlights in their hands crowding the sidewalks and streets. Fathers from our neighborhood, including my husband, knee deep in mucky ponds and marshlands through deep woods searching for a boy as if he was their own. Mothers at home, searching our houses under beds, garages, and backyards. People checking under cars and bushes. No stone unturned. Police knocking on doors to houses, but too many to count, four hundred and ninety five in our neighborhood, to be exact…those homes surrounded by several deep retention ponds. 
I was on our neighborhood Facebook page checking to see whose homes had been searched, trying to help the authorities narrow it down…from my home. I couldn't leave to help. I had three children, including my youngest, our newly turned two-year-old, Finn, who was nonverbal…he also required 1 on 1 attention at all times. I felt so helpless. I was helping post details of the boy, what he was wearing, including what they thought, which was only one Spider-Man shoe.
Neighbors were checking their security video footage, one finding the boy walking down his street. As ten o'clock rolled around, he was still missing. It was dark. The men were still in the woods. You could hear now that several helicopters were hovering above us. My husband, who had been staying in touch with me regularly, was telling me something was going on over near the community pool. He said they were instructed to leave the woods. As he made his way back, he knew in his heart what was going on. 
All the helicopters had all made their way to a very large pond on the other side of the neighborhood. A neighbor searching the ponds by foot with a flashlight thought he found a little footprint in the mud leading to the pond's edge. Divers were sent in. And then the call came. 
My husband's voice shaking and cracking…
'They found him.'
'He's gone.'
As I type this now, I remember falling to the floor in my kitchen…telling Lilliana, my then nine year old, that they found him. I was sobbing as I grabbed all my children and held them close. My husband walked in and broke down like I've never seen before. I knew the other grown men who searched for the boy were at home doing the same. Days after, stories and details of him being pulled out of the pond were told by witnesses. It's as awful as you would imagine it.
This came out the next morning from The PASCO County Sheriff:
'It is with deep sadness we report the body of two-year-old Clayton Foskey has been located in the water about 150 yards from his home. We received the call at 7:20 that Clayton had wandered away from his home on Chenwood Avenue in Hudson. Immediate action was taken to locate the child with 60 deputies in the ground searching, marine unit, agriculture unit, multiple k9's, helicopters including assistance from Hernando SO, New Port Richey PD, and Pasco Fire Rescue and the Missing Abducted Child Team. Clayton was found at 10:47 p.m. by a K9 team after spotting a small footprint by the water. He was found in four feet of water, fifteen feet out.'
In the days that followed, the neighborhood pulled together to hold a vigil for the boy and his family. I was a volunteer, helping decorate and buy Spider-Man items…that was his favorite superhero. Hundreds from our neighborhood showed up in red and blue, showing support…gifts and balloons left by the gate closest to the pond where he was lost. Floating candles were lit to the sound of a playlist I had made, for his mother.
As we sat there in the warm night, lit by citronella torches and floating candles, his mother, who I had never met, hugged me, falling into my arms, still clutched tightly in her hand, her baby boy's blanket. I held her as long as she needed me to, squeezing her other empty hand.  She told me little things about her son, tears falling in between sentences… She shared with me how he was non-verbal. She joked with me that he was a Momma's boy who never left her side. She let me know how he was a runner, a climber, adventurous. She shared that most nights she was up all hours of the night because he never slept.  I remember thinking the whole time that it sounded like she was describing my son, Finn. I pictured these two little toddlers playing, we agreed they could have been best friends.
His mother then shared with me some of the details of the night he went missing…
She had come home from a long day of working, fighting sleep deprivation from the nights before when her baby boy wouldn't rest. Her fiancé had left to take the big kids to church. Her son was in the backyard, sitting, playing quietly. She had her back to him sitting on the patio for a moment, trying to catch her breath from a crazy week. She noticed it was quiet and when she looked he wasn't there.  Her boy had slipped through the glass patio door directly behind her and somehow let himself out the front door, closing it behind him.  It happened that fast. Minutes…maybe seconds. No announcement, no noise…just silently slipped away.
Witnessing her go through the loss and devastation, being so near to a situation where you literally watch up close a mother, grief stricken, changes you. But it wasn't just the details, the vigil, attending the funeral, or even the countless nights that I spent with her, alongside with our close friend, Erin, that haunted me…it wasn't just watching her heart be ripped out continuously, with every thought, memory and infinite amount of tears shed.
It was my son's diagnosis for severe autism that came just eight months later and a story that happened eighteen days before Clayton went missing that never leaves me.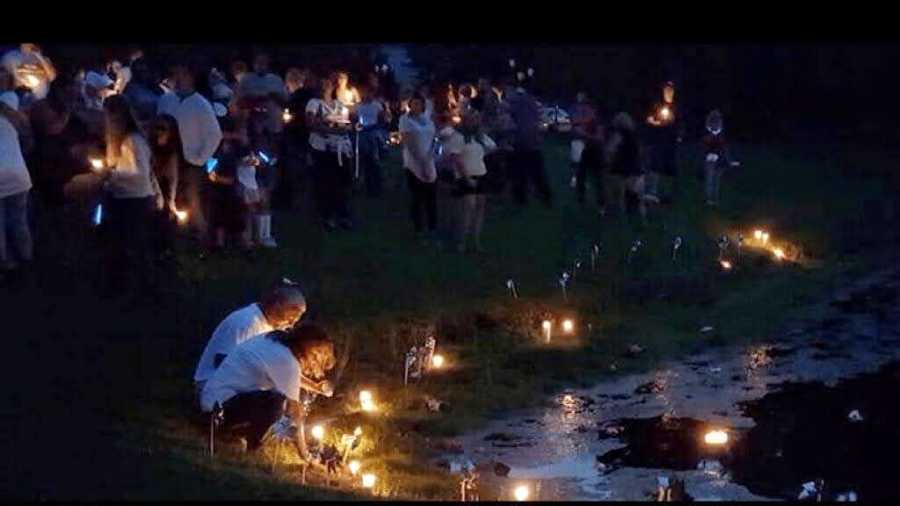 It's April 2016, we are throwing Lilliana a late Birthday party at a large recreational center nearby. Matt arrives with the boys. Finn, now two, is not in his stroller. He is starting to explore his newfound freedom. Forty kids and parents are enjoying themselves, playing games and dancing while I try to be a good hostess. The party is going well. A few hours after the party has started, I hear someone say, 'Where's Finn?' I say, 'He's with Matt.' But then I don't see Matt or Finn. I start searching everywhere, others help. I check the bathrooms and call out Matt's name. He's in there. I shout, 'Do you have Finn?' He says 'No, I thought you had him.' I think he's joking, the way my husband does. I ask him again. He steps out, Finn is not with him.
I am in immediate panic mode. We are searching the little rooms, the janitor's closet, the other bathrooms, at least six minutes have passed. Then I notice the front door is propped open…who did that?? We run outside…the place is surrounded by two busy streets, a park, baseball fields, a parking lot, a playground and ponds. We separate..two more minutes go by and he sees him. Matt calls out, 'I found him!'
Finn is playing on the playground structure thirty feet away from the front door of the rec center. He appears completely oblivious to the fact that anyone could be searching for him. We scoop him up, unbelievably relieved, and take him back inside. Those eight minutes..not knowing…never leave my memory.
Flash forward to sitting in front of Clayton's mom, listening to her story. How do I tell her I have my own…but that my little boy lived? How is that fair? I couldn't make sense of it then, and to be honest, four years later, I can't now. I tried to sort out my thoughts, I even wrote a poem about it. Because for me, it wasn't so far off for me to understand that fear and panic or even imagine the loss. And now, as an autism parent, I hold my breath every time I hear another story of an autistic child gone missing because I know the statistics. And all the stories have the same ring to them… To be honest, when I hear them on the news now, they all sound so eerily similar. Like the most recent one I read about this week:
Body of missing 4-year-old autistic boy found in Scioto River
The city of Kenton, Ohio says the body of four-year-old Quinton Ellcessor was found in the Scioto River Monday evening. According to the details, Ellcessor was last seen on Thursday when he walked away from his grandparents' house. The city of Kenton said he was found two miles east of where he was last seen. Investigators in boats with search canines were in the Scioto River Monday, searching for Ellcessor. His body was found just before 5 p.m. Monday. Police said the little boy was autistic and non-verbal.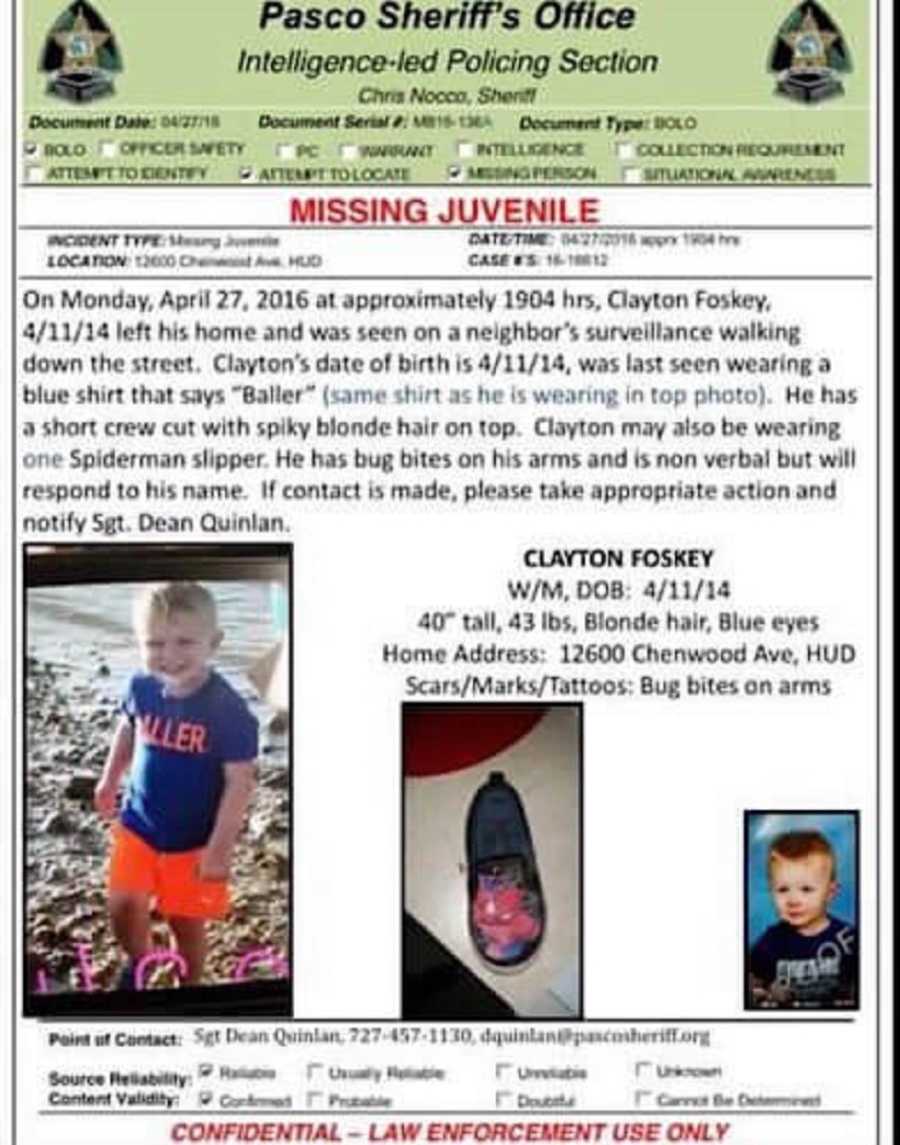 Over the weekend investigators talked to about 100 people and searched 300 homes in the area, said Dennis Musser, Kenton police chief. Musser said he's had help from the Ohio Bureau of Investigations, the FBI, the US Marshals, ODNR, other agencies, and hundreds of volunteers. Anytime I read a story the three details are always the same…
The slipping away in moments. The search parties. The nearby body of water that they find them in. Those are always consistent. But then there's the other ones…the facts that come out that don't change the horrible outcome. Locked doors and windows. Fences. Alarms. Kids that navigate their way past them. Almost always to water, it seems. And in many cases, there are mistakes…human error.
After Clayton's death, something in me switched. I became obsessive about Finn's safety. My husband told me the boy's death was making me go crazy. After Clayton died, I was and still am a paranoid mess. I regularly refuse to let my son play in our backyard because it still doesn't have a fence. In fact, the first time I gave in, he took off running towards our ponds and I tripped chasing him. I shattered my arm and it was a year-long recovery filled with painful physical therapy.
I rarely ever let go of his hand except for him to be a few feet away. I'm constantly worried about everything, unlocked doors especially. All our doors have key locks now, with separate keys including the outside ones and alarms. I won't let him walk by ponds. Period. Swimming, beaches, bodies of water…my anxiety is through the roof.  I find myself constantly reminding my husband about safety procedures..I honestly can't even stand to hear myself talk. 
Matt was right. I would never be the same.
But it wasn't just Clayton's death. It was so much more than that. It wasn't one thing, or even the little boy drowning. It had been a myriad of moments leading up to and following. It was like a snowball…rolling down a hill…picking up more pieces of snow…building…getting bigger and bigger and more out of control. Because I know… All of us are just humans that can look away for one second and our child can disappear, or worse. And that's exactly what happened this past spring to us.
It led to our first terrifying 911 call. And once again, we were so lucky. Our precious boy is still here with us. But I feel like I'm running out of ways to keep him safe and we are using up all our chances. He is getting bigger and older, continuing to outsmart us but his awareness for danger hasn't moved but an inch in years. I still have this fear that burns deep within me, an unwanted visitor…PTSD. The traumatic memories of a little boy's death and our endless close calls with my son clinging on to me like a noose..at times making it hard to breathe. And those words…Autism Spectrum Disorder…that diagnosis put those times he tried to escape into perspective for me.
After finding out Finn had Autism, I knew how lucky I really was and that we had beaten some pretty awful odds. Because the statistics are real.
Clayton.
Quinton.
And so many more.
Every day as autism parents, we see one more headline that comes through our newsfeed, we hear another story on the television. Much like autism itself, we can't escape the fears. We lie awake at night, snuggling our babies, wondering…
Will my child become a statistic?
Will my child beat the odds?"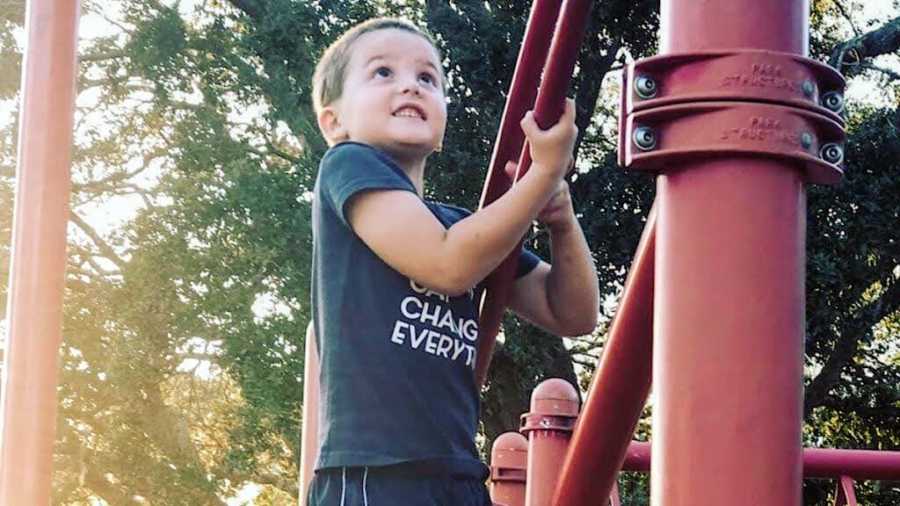 This story was submitted to Love What Matters by Sheryl St. Aubin of Three Little Birds. Submit your own story here, and be sure to subscribe to our free email newsletter for our best stories, and YouTube for our best videos.
Read more stories from Sheryl here:
'Four a.m. Back again huh? I'm still recovering from last night. This is no longer my safe place.': Mom of Autistic children pens letter to sleepless nights, 'I'm not here to welcome you'
'We see you put self-care on the backburner, skipping workouts and coffee with friends for an IEP meeting. You are miracle workers, moving mountains by sheer will.': Husband pens sweet letter to special needs moms, 'You're the epitome of beauty'
'Late-night milk run, huh?' I was standing in front of a tired momma in Target just before closing. 'Go get that precious baby to bed. I got you.': Woman shares act of kindness for stranger
Do you know someone who could benefit from reading this? SHARE with on Facebook with friends and family.