"417 days. That's how long I've been keeping a secret from you.
For over a year, I haven't been able to share the best, most beautiful wonderful, and special kind of secret there is.
WE HAVE A BABY GIRL!
And trust me it killed me not to tell you about our darling Francesca. After all, the last 15 years of my life as a blogger, have been all about sharing my life with you— the ups, the downs, the triumphs, the heartache, the fertile, and the infertile.
So here I am with this wonderful, exciting news I want to shout from the rooftops, I want to write it in the sky, but sadly I could not. So why did I have to hide my precious baby from you for over a year? Here's why…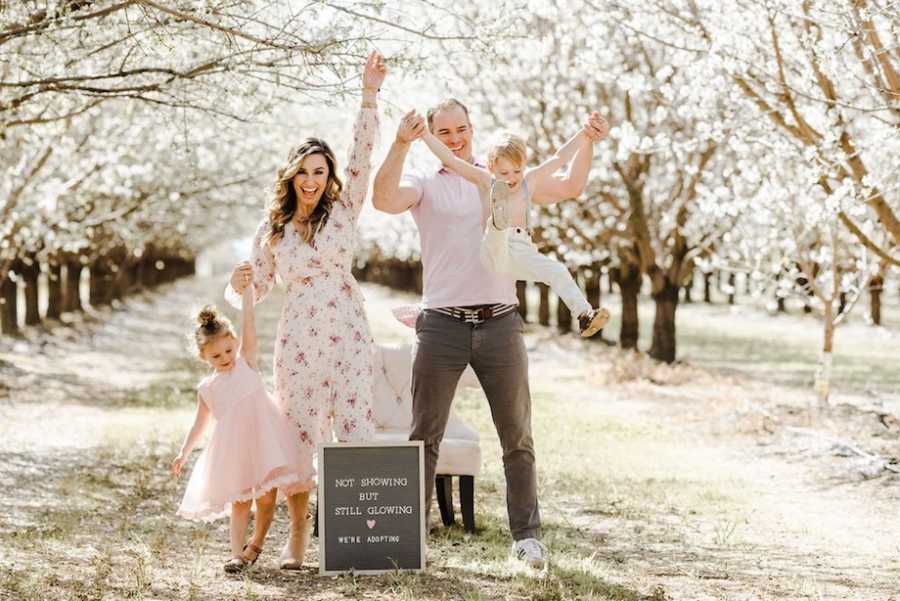 When Francesca was placed in our custody, she was a foster baby, a ward of the state, so we were told from the very beginning we were forbidden from publicly revealing her identity.
I've always understood with foster children you have to be respectful of their privacy to keep them safe. But I had also seen many other foster mamas share info about their babies without totally revealing their identity. For example, haven't you seen a photo of a child posted with a little heart emoji over their face? Or just the back of a head or some little feet? I had, so I thought that was what we would do. Ya know, tell you without actually telling you.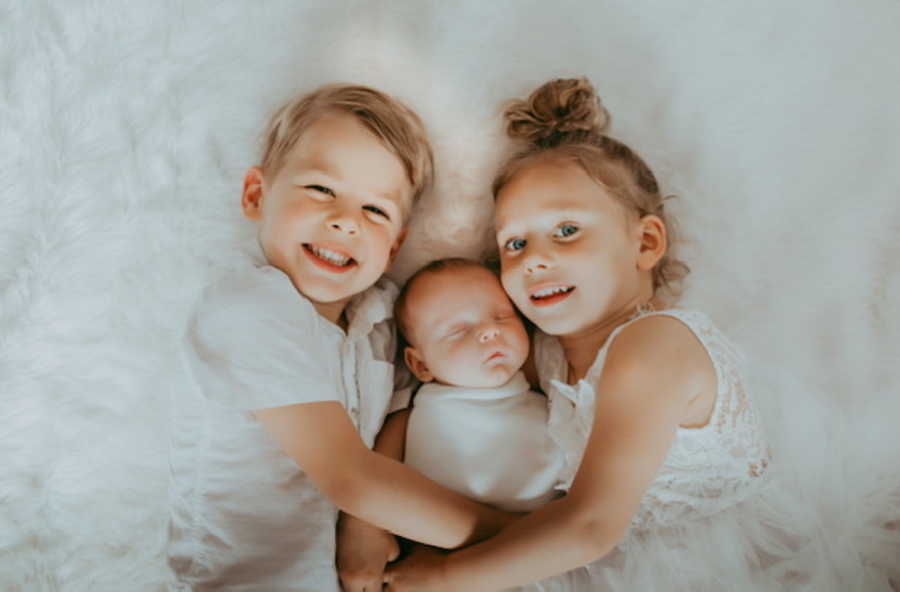 I made peace with the idea I could share a small part of this precious babe until we could officially adopt her, but I then realized that's not how it works. When the state is involved (at least in California) as opposed to a private foster agency, you're forbidden from even revealing there is a foster child living in your home, let alone sharing any sort of photos or information. That was a really tough pill for me to swallow. Of course, that was a huge disappointment, especially as a blogger and adoption advocate, but we stayed the course and are so glad to finally reveal the truth.
I realized someday, however far in the future, I would be able to share our secret and tell our story and introduce you to this perfect angel babe we've been loving on for an entire year. Well, 417 days to be exact.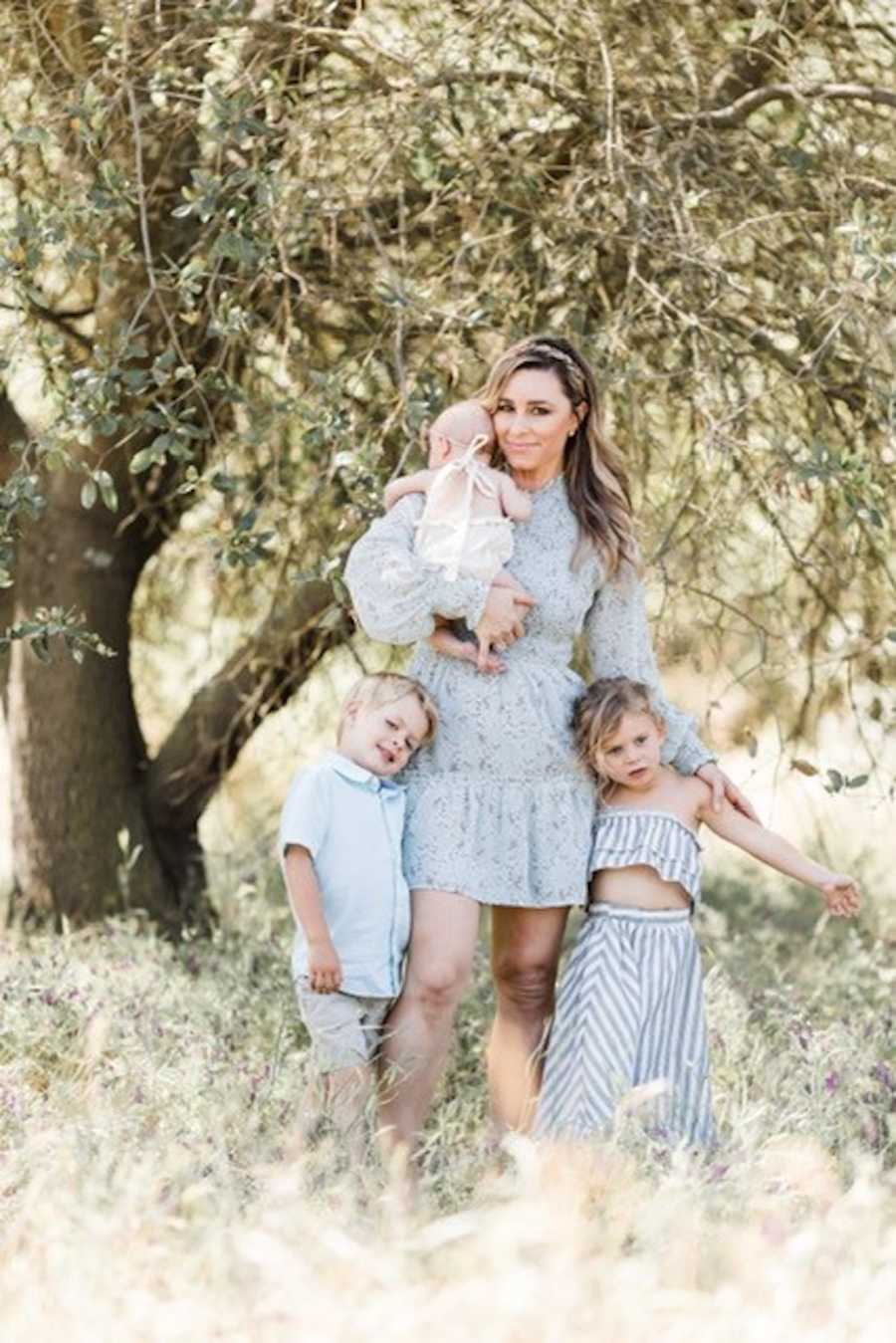 Since Francesca was placed in our arms she has never left our side. Every morning hello at the breakfast table, every walk to the park, every trip to Lake Tahoe, every family movie night, every vacation, every pool day, every birthday party, every front yard hang… EVERY. SINGLE. MOMENT. She was here.
Did you ever catch a glimpse of her? Did you notice a rogue baby bottle or stray diaper? Did you see her high chair or hear a baby babbling in the background?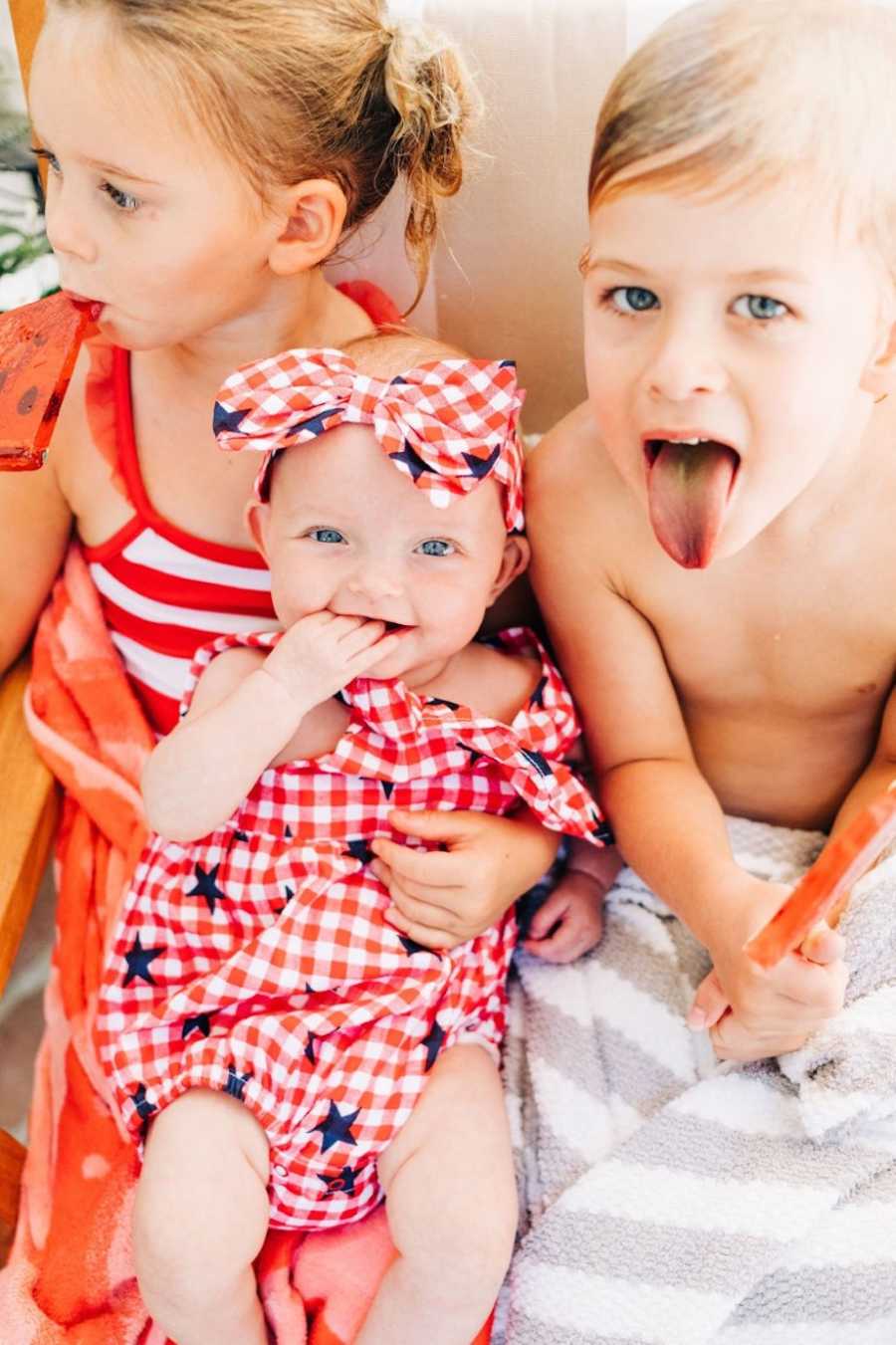 Guys, I'm not gonna lie… it was super hard to hide an actual human being from you. I was constantly editing my content to crop out a little baby foot or mute a crying babe or reshoot a video of the kids talking about Frankie. The conversation went like this…
Me: 'Guys, remember you cannot mention the baby.'
Kids: 'To who?'
Me: 'Well, the people in my phone.'
Kids: 'Wait, there's people in your phone??'
Me: 'Not really, well kinda, but anyway, we just can't talk about Frankie.'
Kids: 'But why?'
Me: 'Because we're not allowed to say we have her until we adopt her.'
Kids: 'Well when's that gonna be?'
Me: 'I don't know, babes, I just don't know.'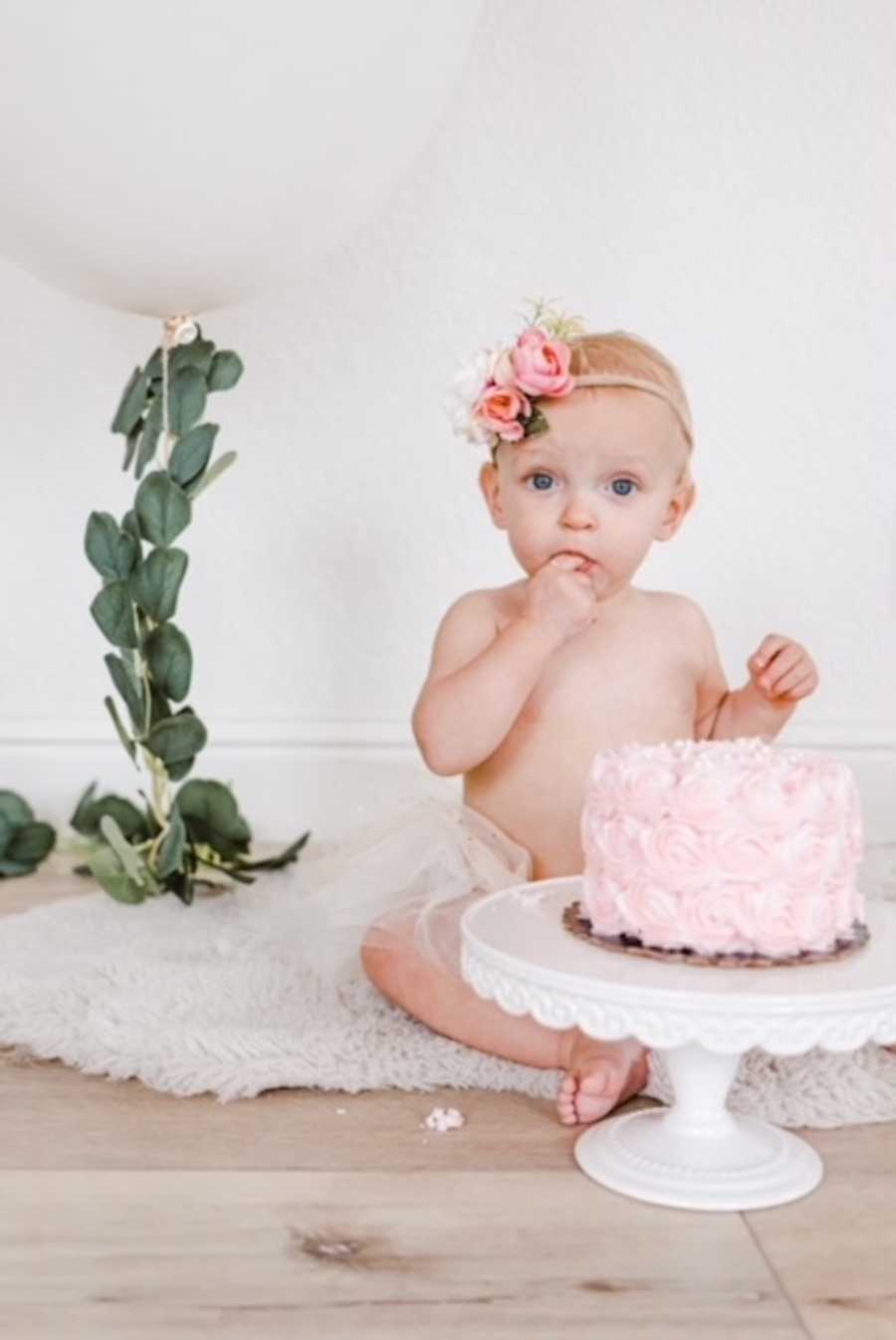 In the last 14 months, our Frankie Jean has changed from a sleepy newborn to a curious 1-year-old with a huge appetite, infectious smile, and the most easy-going demeanor. She's an absolute angel and I can't
wait for you all to fall in love with her like we have.
So now you know we fostered and adopted a baby girl all in secret in the last year. But what I haven't told you is how we found our little girl. Well, I guess, technically, she found us.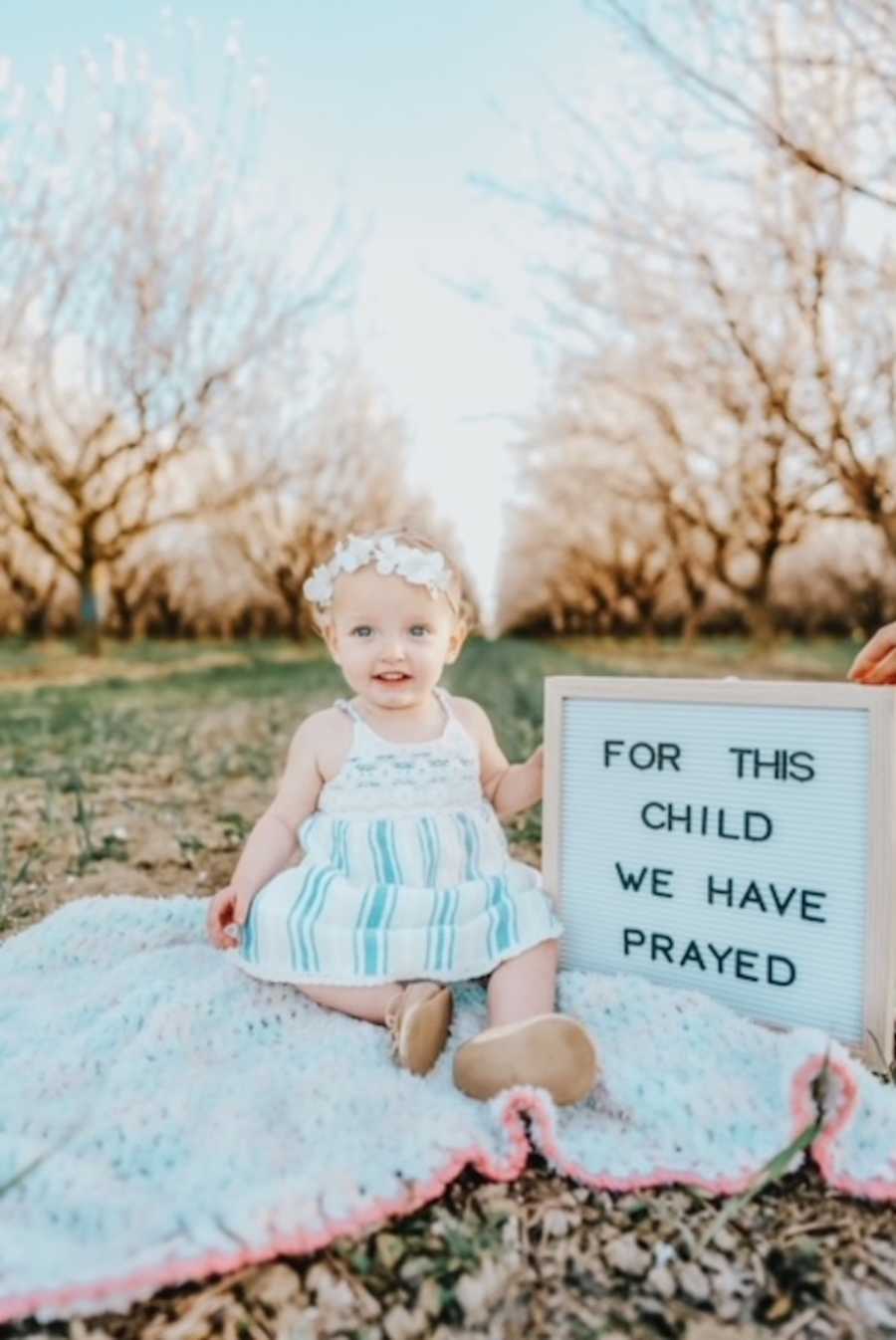 It all began one random Wednesday evening in January 2020 when I received a message on Facebook.
It was strange I even managed to see this particular message because I rarely ever check that Facebook account. I have messages backed up from years ago just waiting to be read. But something made me check my DM's that evening and inside I found a message that changed my life forever.
There, sitting in my inbox like a beautiful, shiny present under the Christmas tree was this message just waiting to be opened.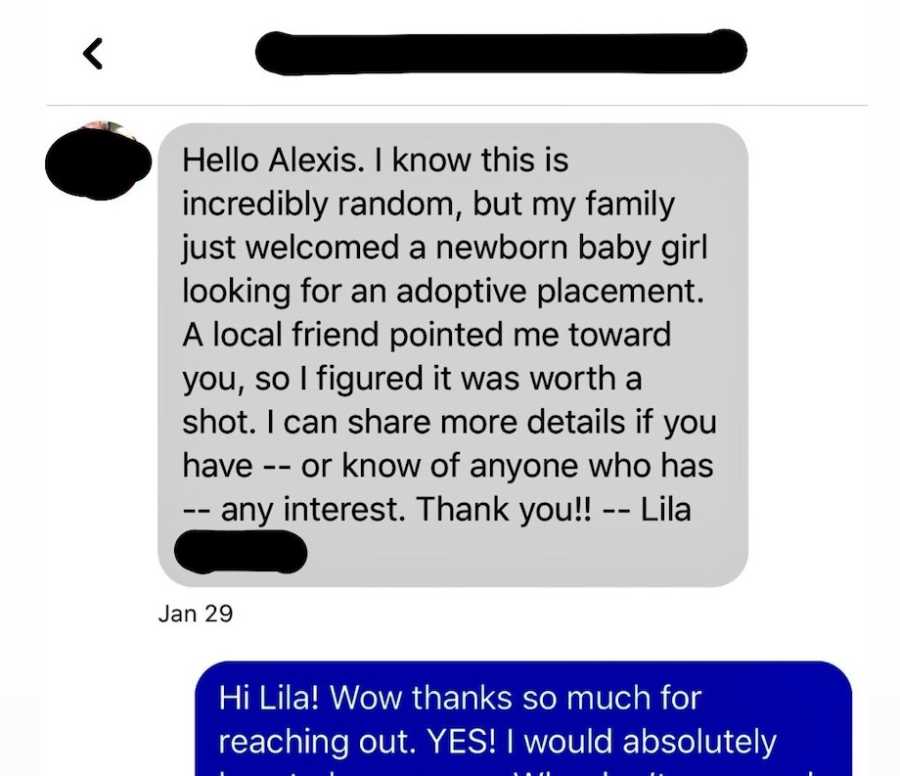 How exciting! A stranger offering us a chance to adopt their newborn baby girl!? I mean, this is truly the answer to a prayer!
I forwarded the message to my husband, Gabe, with a, 'Is it okay to look into this?' sort of mindset. He said yes but of course, we were cautious. We'd been through a failed adoption prior to Grant and understand
just how tricky the whole process can be. Plus, in the past, we've been offered many wonderful gifts from people we do not know… embryos, eggs, sperm… but it's not so simple when you're talking about an actual child that has been born. And we understood that.
The events that happened over the next few days felt like a whirlwind. I connected with Lila, the birth grandma, the next day to discuss the situation in more detail. She was reaching out on behalf of her son
who wasn't ready to be a dad, but also wanted the baby to have a loving home.
And perhaps more than that, this family wanted assurance that they would somehow be involved in this baby's life…an open adoption with updates and visits, and photos. Gabe and I believe wholeheartedly an open adoption is healthier for everyone involved, as evidenced by Grant's adoption, so of course, we were on board with that request.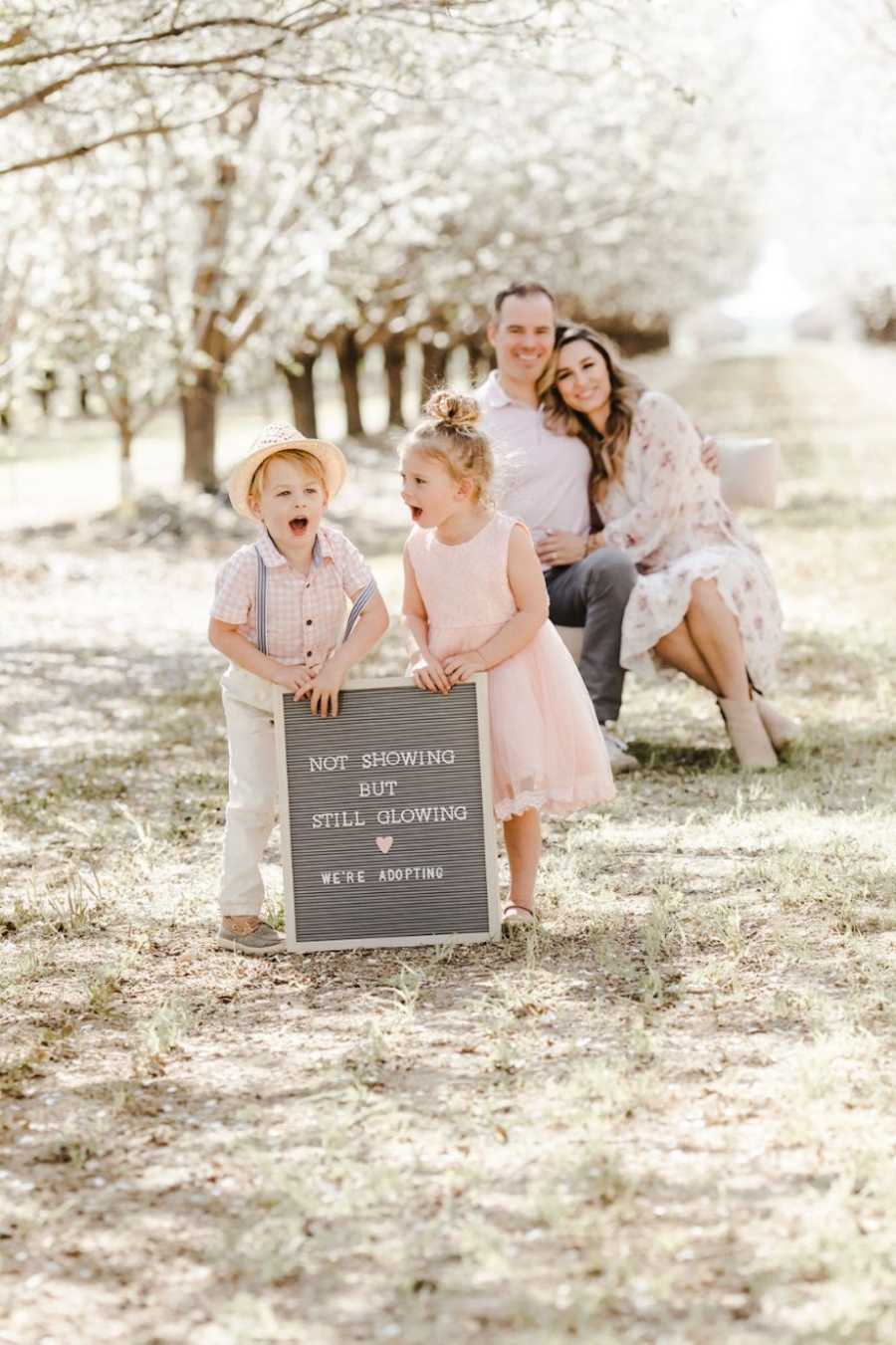 I remember Grant and Gianna were in the middle of a swimming lesson and I ducked out of the building for a moment to have this very surreal conversation. Honestly, it seemed almost too good to be true to. Here was a wonderful, kind, and loving family that wanted us to have their sweet newborn baby girl. We've been praying about this for years and it's actually happening!
Ready to learn what's even more astounding? I asked Lila how she found out about me? Remember, we were total strangers! How did she find me and know we wanted to adopt?
Lila said when she found out her son had a baby, she reached out to a small circle of trusted friends and asked if they might know someone who could take this baby?
A friend of Lila's, named Katie who I do not know, replied with the message below.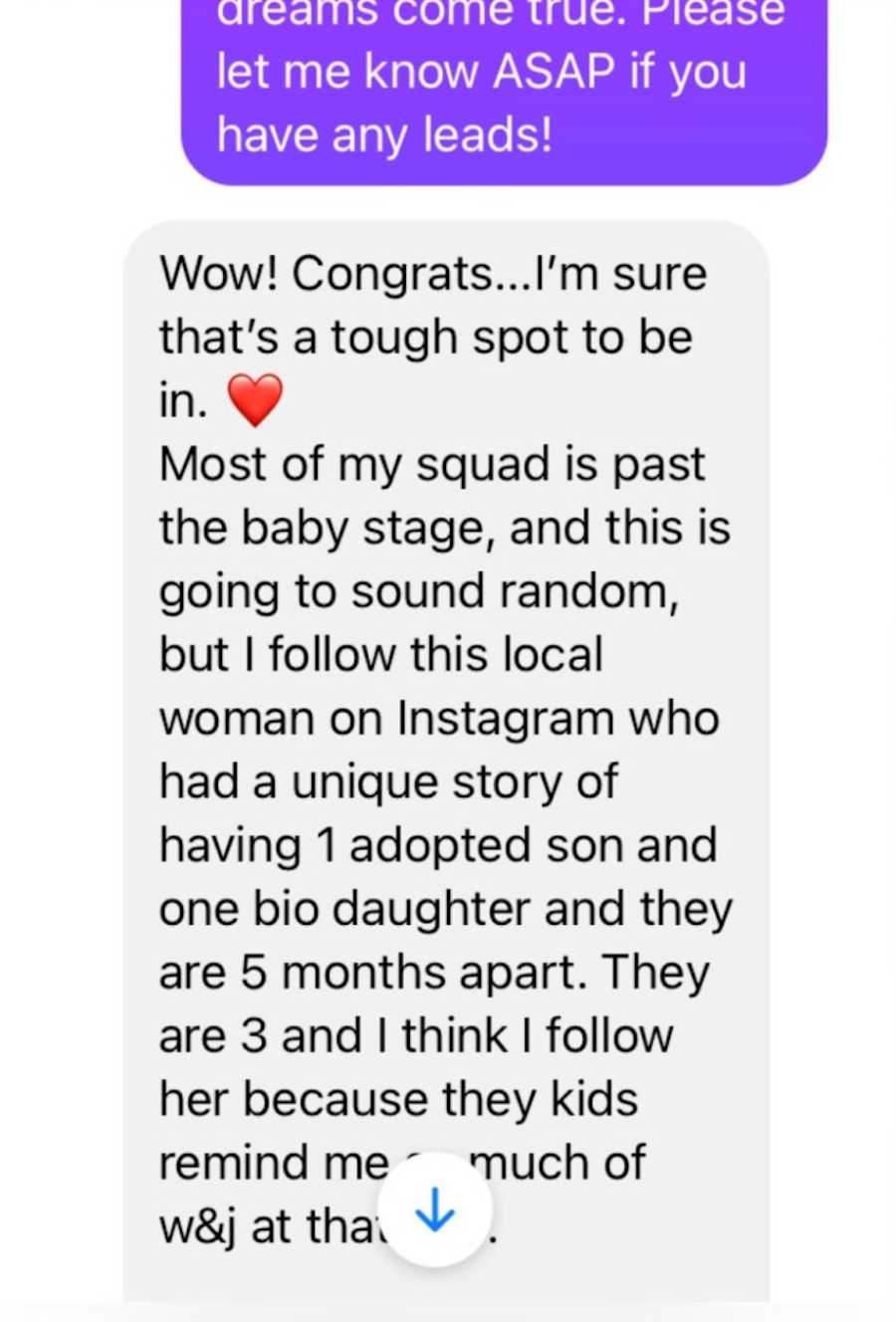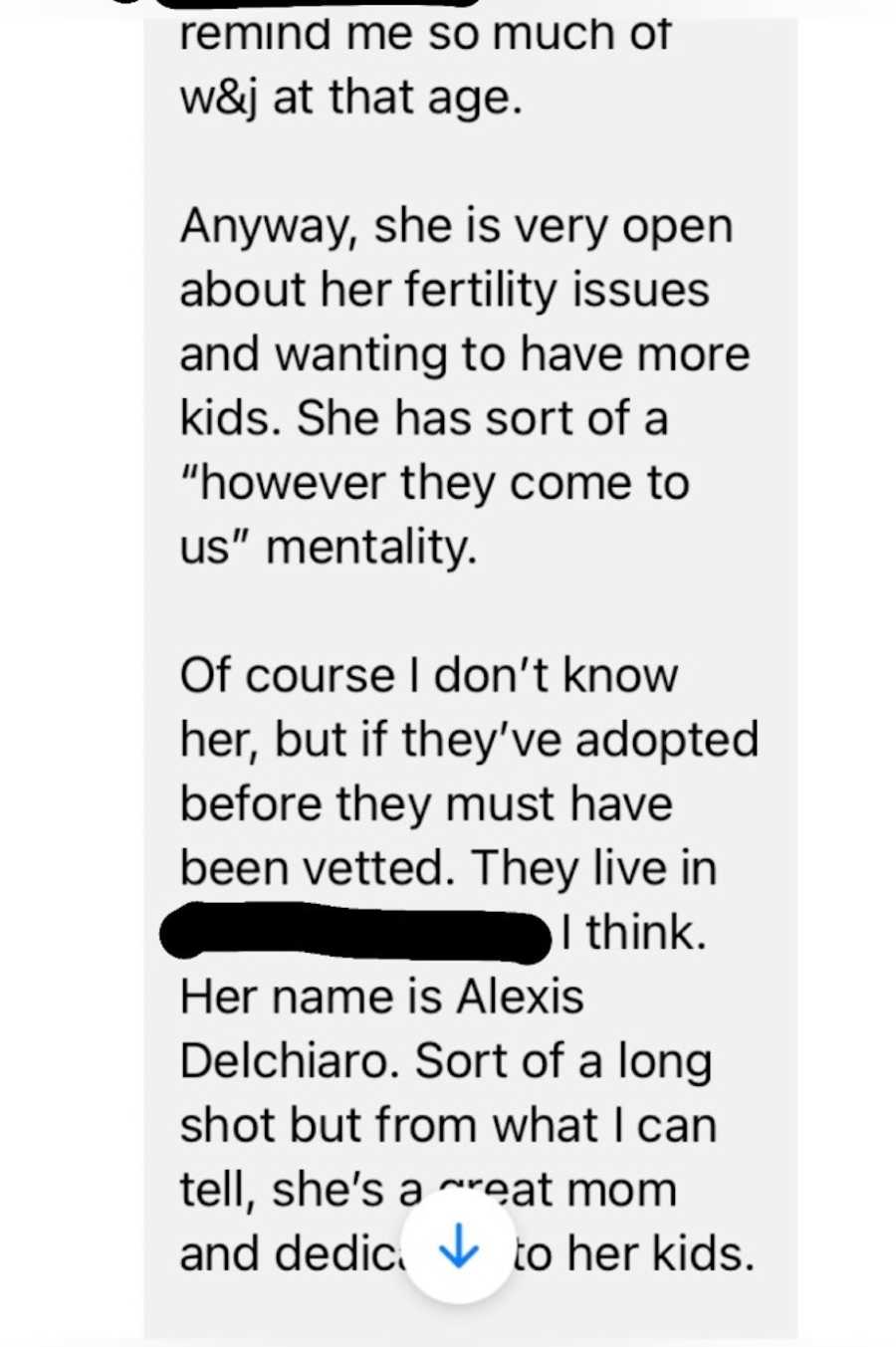 WHOA. A woman I do not know that follows me on Instagram, heard my story, understood my desire for more kids, and passed my info along.
This woman, Katie, is the reason we have our daughter. Literally because of Instagram connecting us, Francesca is in our family.
It's mind-blowing, right?
I haven't had the chance to meet Katie yet to say thank you thank you thank you, but plans are in the works for a lunch date with Lila, Katie, myself, and of course, our Frankie.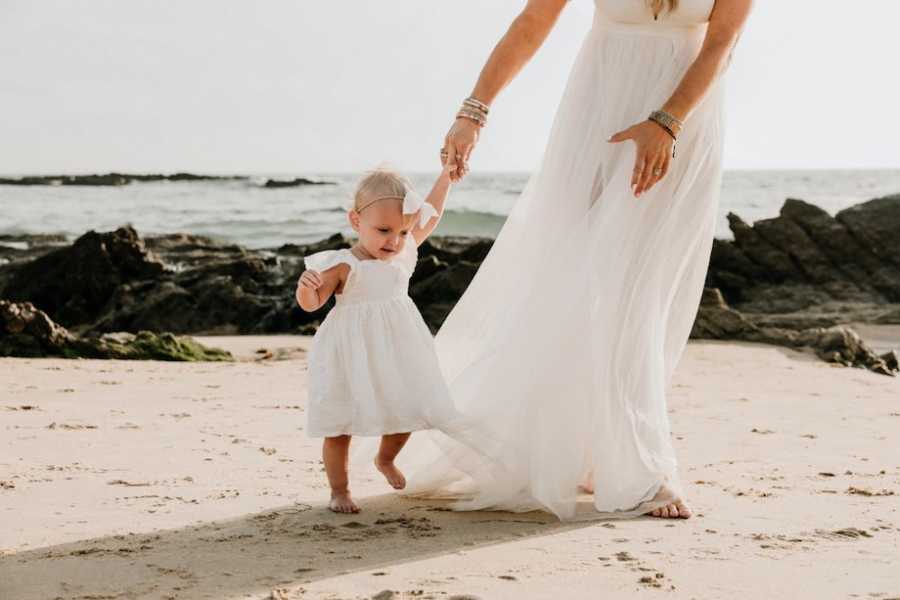 It still blows my mind to think about how this all happened. We quite literally prayed to God to give our family a child and I even made a plea to you guys, my online fam, and look what happened.
A miracle baby.
An Instagram connection.
Prayers answered.
Two families forever linked by this amazing child.
So if you ever wondered what's the point of social media… it's this right here."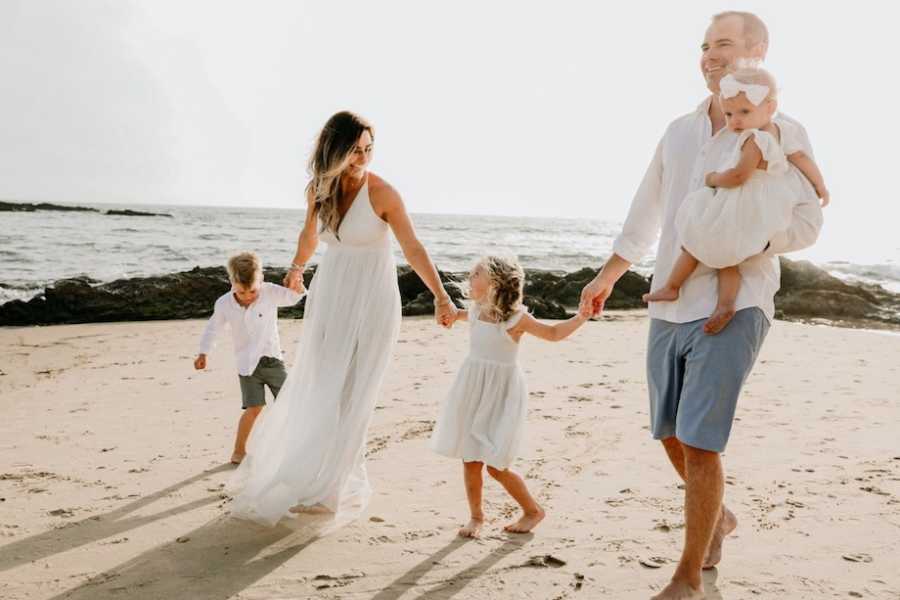 This story was submitted to Love What Matters by Alexis DelChiaro. You can follow their journey on Instagram, Facebook, TikTok, and their website. Do you have a similar experience? We'd like to hear your important journey. Submit your own story here. Be sure to subscribe to our free email newsletter for our best stories, and YouTube for our best videos.
Read more stories about adoption here:
'Stay with me!' My body was septic. I'd never carry our child. 'There's a baby at the hospital. Do you want him?': After losses, couple foster to adopt, 'He's the redemption to our pain'

'I took a big deep breath. 'So she was born yesterday?' We were meant to meet her.': Couple adopts baby born on late daughter's birthday, 'She gave me courage'
'At 11, his adoptive parents abandoned him at a hospital, never to return. 'Mr. Peter, can I call you my Dad?' I began to cry uncontrollably.': Single dad adopts 11-year-old boy from foster care after biological, adoptive family abandon him
'The surgeon ran a plumbing snake through my insides. We were left haggard, anxious. It was our first wedding anniversary.': Woman learns of infertility after infection, chooses adoption instead of IVF, 'Like magic, it all became clear'
Are you or someone you know looking to adopt? Please SHARE on Facebook to make them aware there is a community of support available.