"For just over the first 2 years of my life, we had what most would call a picture-perfect family. My mom, dad, little sister, and I were your typical happy family next door. One day, that all changed when my dad died suddenly in a car accident coming home from a work event. I was 2 years old and my sister was 6 months old. My incredibly strong mother, while grieving, gave my sister and me the absolute best life she could.
We grew up going to church, and I can remember my cheeks feeling flushed and my eyes darting to the floor every time someone brought up the bible verse to 'look after orphans and widows,' because my family fell into that category. I know people meant well, but sometimes it felt like pity, and that is never what someone needs. This Bible verse motivated me to foster or adopt at an early age in life, even though I don't remember having much contact with the foster or adoptive systems at that age. I just knew I wanted to walk alongside someone as their family unit was ripped open, even if the circumstances were different than mine.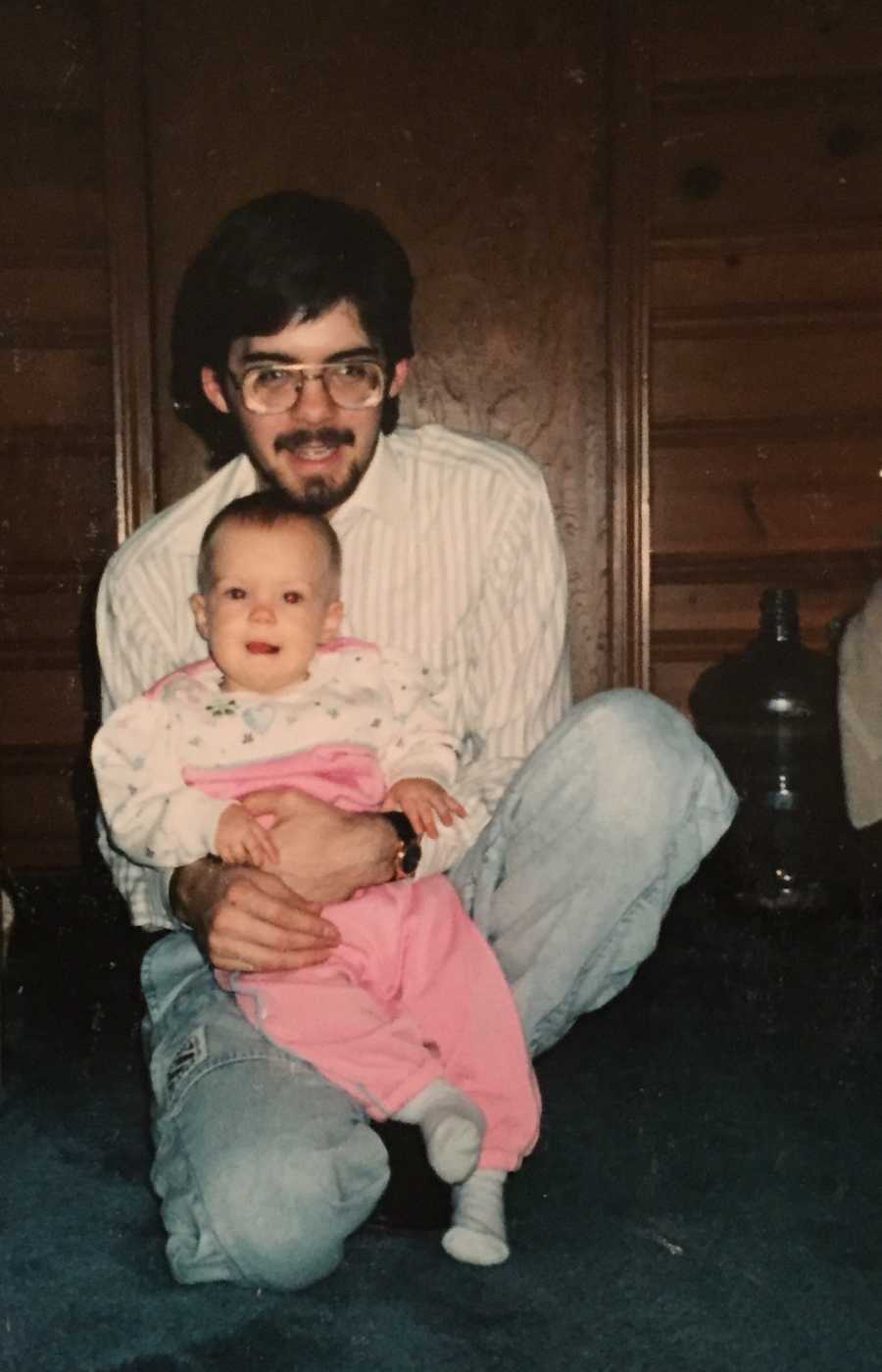 Throughout high school, I would talk to my mom about it and even tried to convince her it was a good idea for me to become a foster parent when I was in college. Thankfully, I listened to her advice and didn't go forward at that point; I wasn't ready. After college, I worked with families who had young children and I saw what kids were going through. I got a real-life, in my face, wake-up call to see what happened when children's services had to remove children from their homes. I remember the pain in parents' voices and eyes as they would tell me what was going on. Working closely with families going through these tragic events ignited that little flame that was inside me.
I started classes to become a foster parent in March of 2017. I walked into my first class nervous, but confident, knowing this is something I had wanted to do for almost my entire life. I had so many fears about becoming a foster parent as a single woman. I was scared of so many things but I was sure of my decision. I finished my classes and moved on to the home study process that summer. As foster parents know, the home study can be so much more invasive than you're prepared for. I was approved as a foster parent on November 30, 2017. I was approved for kids 0-4 and had a room set up with two cribs. I remember sitting on the couch the first night I was officially licensed promising myself I would walk alongside families and fight for the best interest of the child.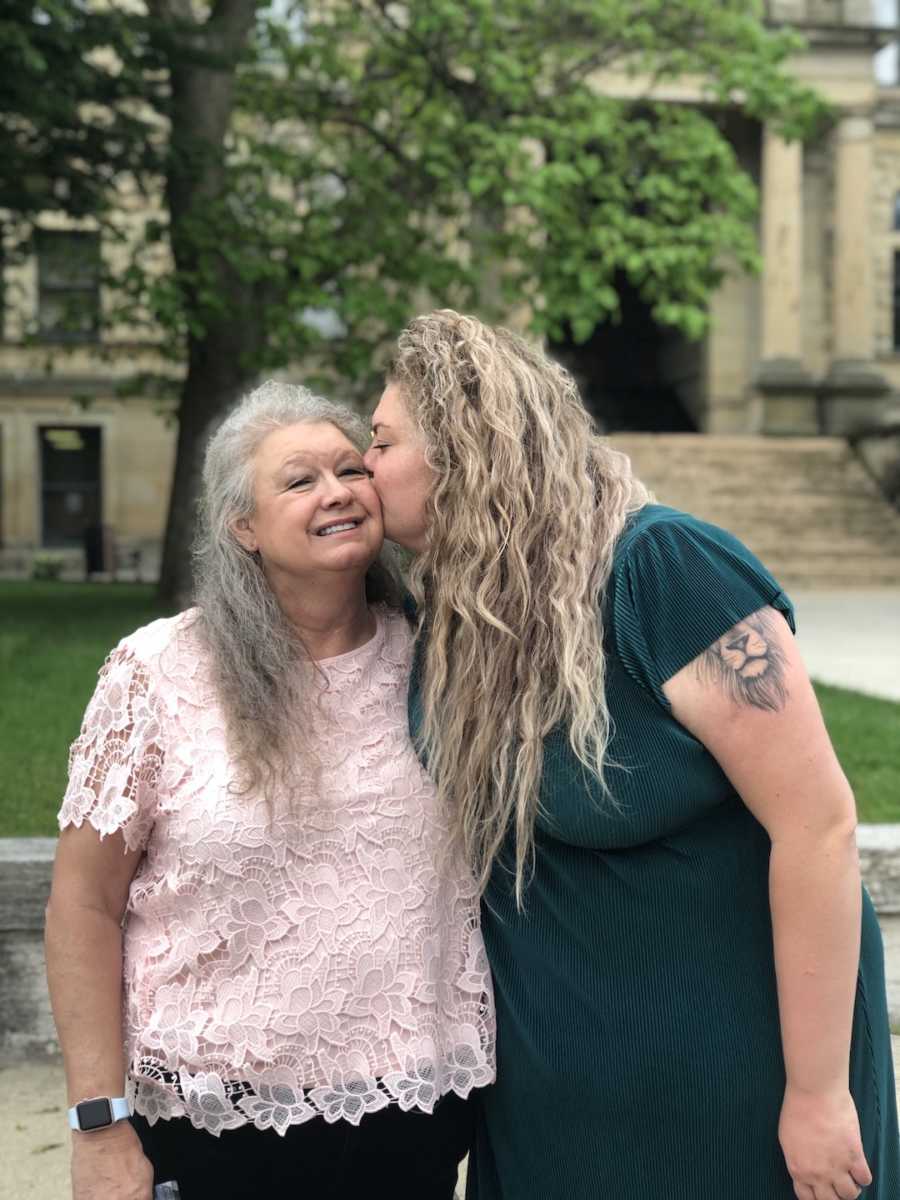 I spent the next few months waiting by my phone. Every time it would ring, I'd fumble trying to see the caller ID, rolling my eyes a tiny bit when it was my mom or sister again. One afternoon in December, I got a call for a 13-year-old boy and I desperately wanted to say yes. I had been waiting for this moment for so many years but I had zero things for a kid that age, including a bed. I stepped back and remembered, 'Being a foster parent is not about me, it's about the kids in care and their families.'
I called the placement worker back to tell him, 'There is a family out there who I am confident is better equipped than I am for this child.' I declined my first placement call. I know I'm not the only one who has declined their first call, but it stung more than I thought it would. At that moment, I doubled down on my promise to myself to give everything I can to the kids that come to my home with the goal of reunifying families.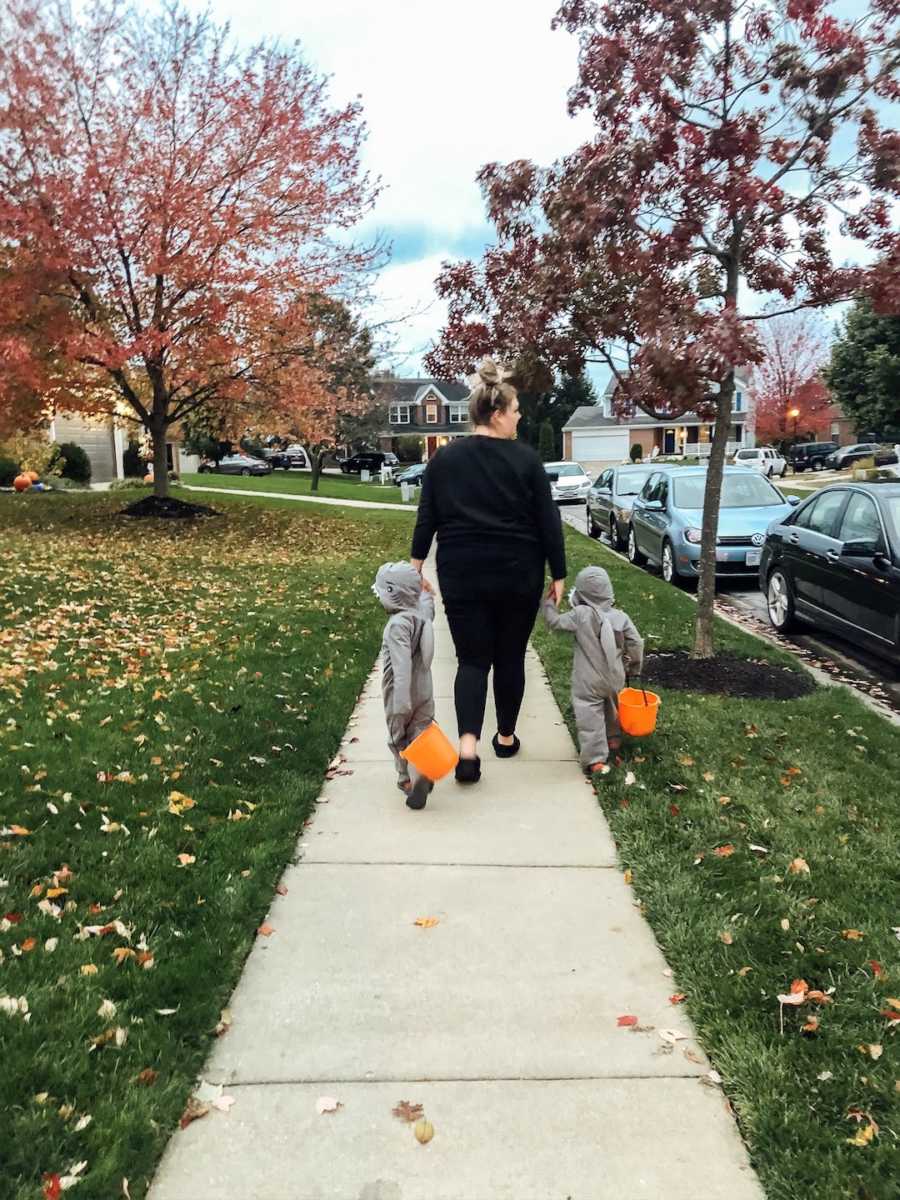 I got a phone call in January of 2018 from a placement worker that they needed a home for a 7-week old girl being discharged from the hospital the next day. I accepted the placement, quickly left work, and went home to organize and get my home prepared for her. That night my sister came over, we washed clothes, bedsheets, installed the car seat, and got everything ready for this sweet girl to come live in my home. The next morning I received a call from the hospital I could come pick her up. I drove to the hospital, feeling the weight of years of build-up that would finally be starting something I had wanted to be a part of for a long time.
I remember walking up to the NICU entrance desk, the kind nurses showed me how to sanitize everything, and we walked back to Baby Girl's room. We walked across the unit to the very back, right corner room. I took a deep breath and walked in, and there she was, swaddled tightly, sleeping. I cautiously asked the nurse if I could hold her. The nurse smiled, picked her up, and put her in my arms. She snuggled in and went right back to sleep. We spent the afternoon at the hospital snuggling, making sure her feeds were good, learning about the medications she took, and watching all kinds of videos about car seats and safe sleep.
Around 7 p.m., the nurse who had spent the most time with Baby Girl walked us out to the car to go home. I closed the back door and got in the car. I now understood every single movie scene where the parents leave the hospital and drive cautiously home. She was so tiny and fragile, I remember thinking I had to drive this way to keep her safe. Years later, it's a funny memory but at the time, I was so nervous driving her for the first time.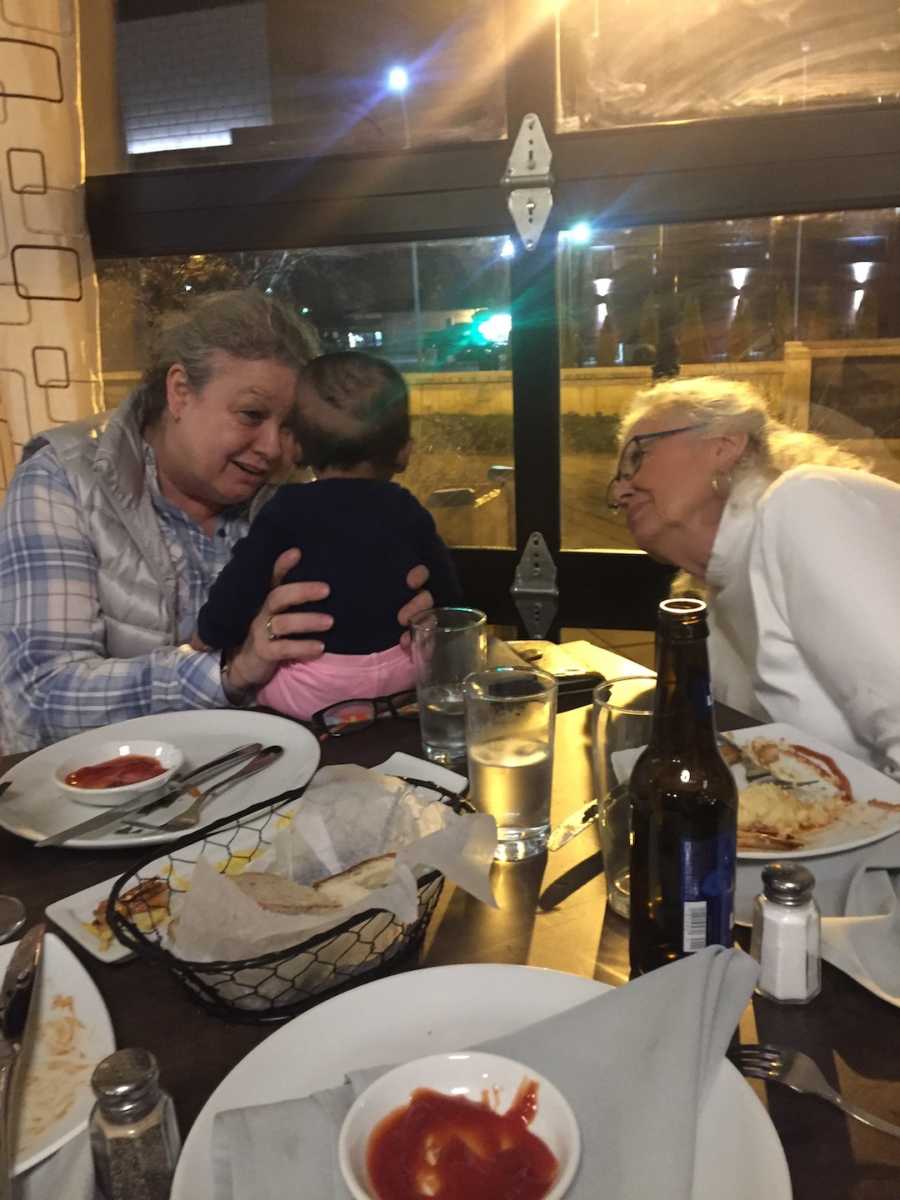 We settled right in, getting to know each other and into a new routine outside of the hospital walls. I got to meet her family pretty quickly after she was placed with me. I started working with her dad— he never missed a visit and always made it to doctor appointments for her. We would text back and forth and I would send him daily updates and pictures. He worked so hard to bring her home and just over 2 months later, he saw that dream come to fruition. I got the privilege of dropping her off to him at their home. I unloaded an entire car full of her things, baby gear, diapers, and toys. When the car was unloaded, he hugged me and thanked me for everything before handing me baby girl for one last hug. I held her, my eyes full of tears, my heart breaking and full of joy all at once. I walked out of their home, hopped in my car, and wept the entire way home. This was the goal of foster care, to unite families safely, I was so proud of him for bringing her home. That joy did not erase the pain of losing the girl I had loved for a few months.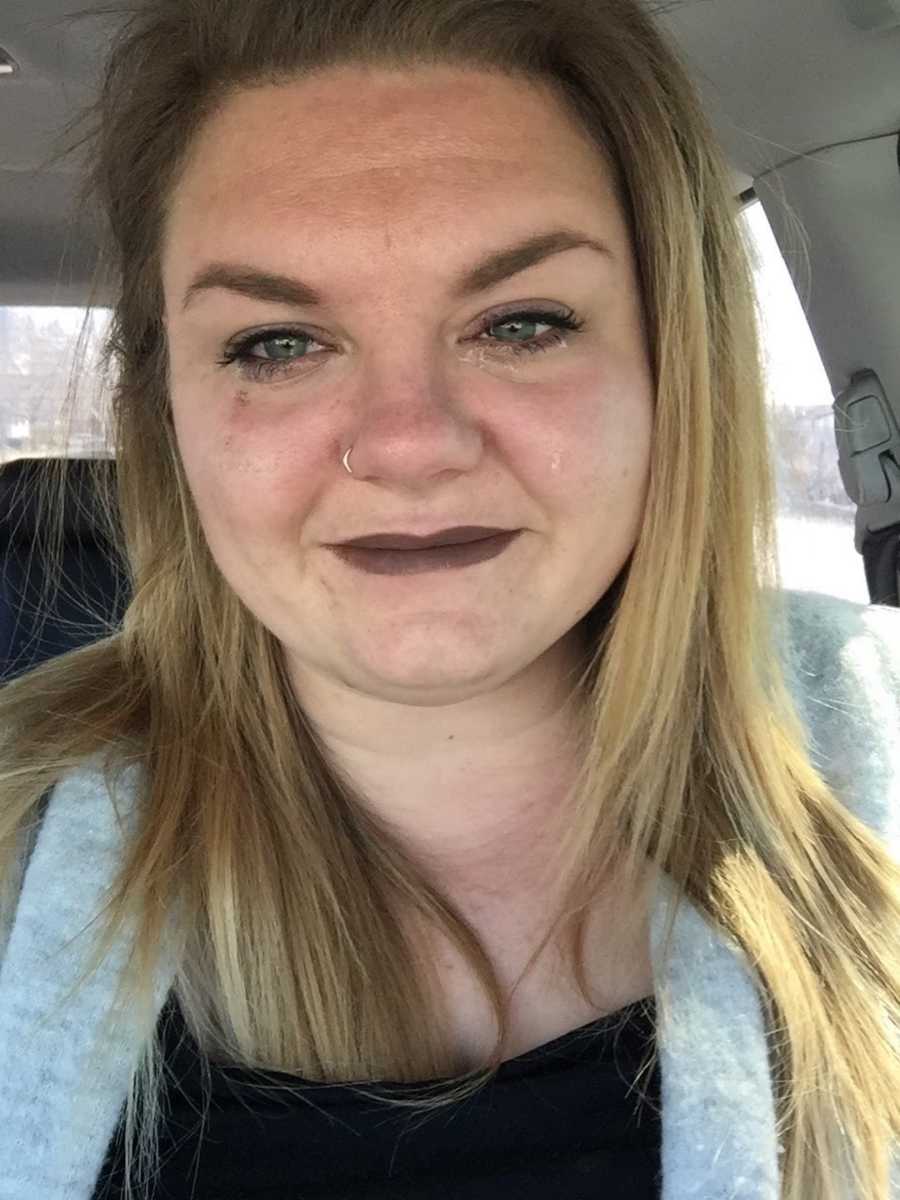 I grieved and cried and told myself I would take a break from fostering. She went home Friday and I spent the weekend cleaning up her room, preparing it for whoever would come next. The following Tuesday, my sister and I were making dinner when my phone rang, I looked at the caller ID in shock; it was a placement worker calling. I answered and she said they had two brothers they were looking to place immediately. I asked for some details and accepted the placement of a one-year-old and two-year-old.
The second I hung up the phone, I jumped up, asked my sister to clean up the house, and ran out of the door to the store. I needed some snacks they would want and at the very least to get them some pajamas to sleep in that night before we could make it to the store for a big haul the next day. I ran around the store quickly, grabbing snacks, juice, sippy cups, guessed their sizes for some clothes, and sprinted up to checkout. By the time, I made it home, the boys were already in the house with my sister and the social worker. I signed the papers I needed to, then got down on the floor with some snacks for the boys. They were confused but also just so excited to have new toys and some snacks. We spent a few hours playing before I put them down for bed.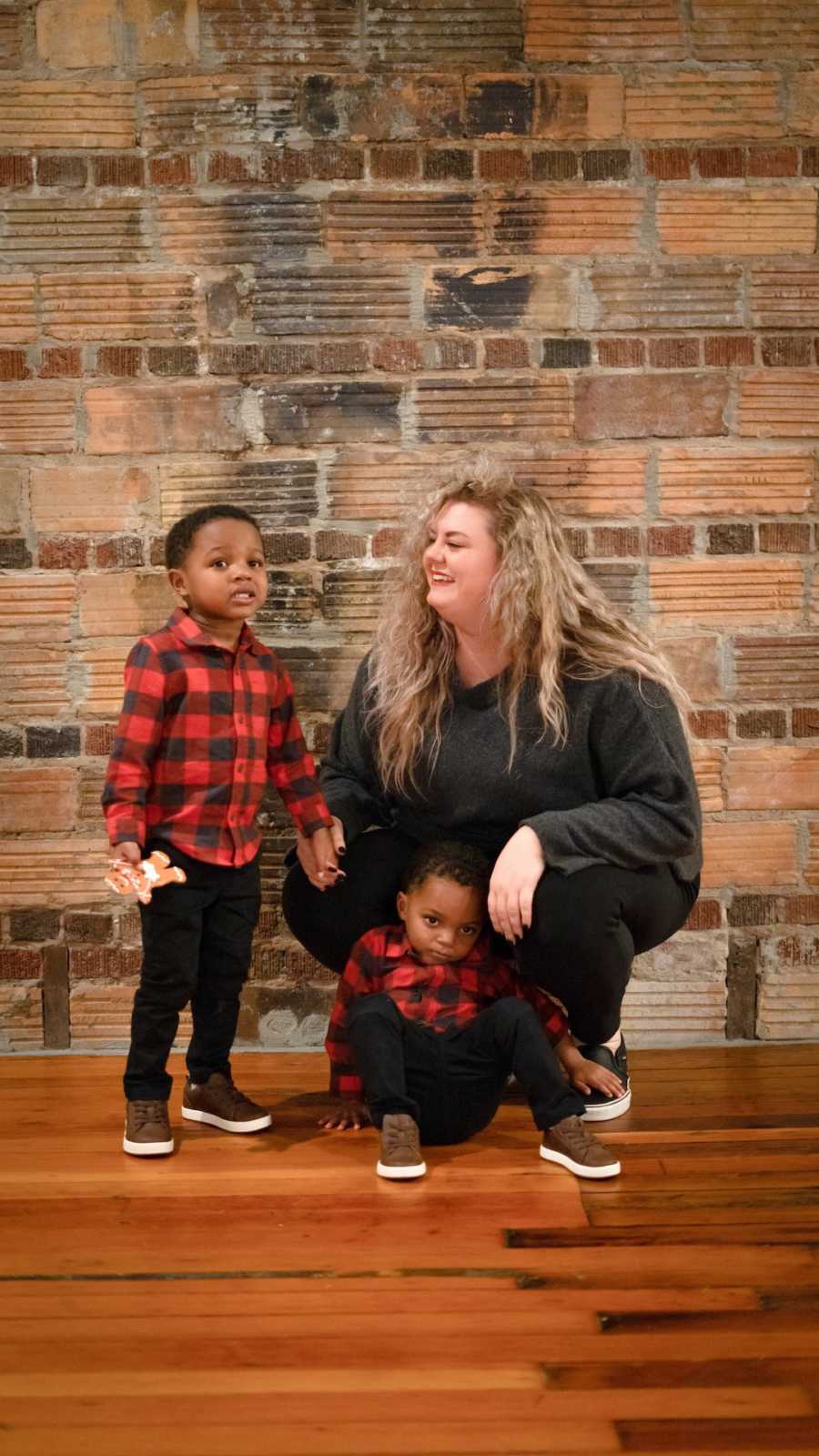 I remember laying down that night thinking, 'Oh my gosh, what have I done?! TWO toddler boys! They have so much energy!' It was quite an adjustment going from one newborn to two toddlers so quickly. We bonded quickly and had so much fun together. There was a lot of trauma to work through, along with medical appointments, social worker visits, and I tried hard to remember the promise I made to myself to always fight for family and for the kids' best interest.
What I didn't realize at the time was I wouldn't get the opportunity to work as closely with their family. We didn't have much contact with them, but one day, about a year into the boys living with me a family member came forward to take them into their home. It broke my heart, but we started doing visits and preparing for the boys to move in with them. Then suddenly, as quickly as this family member came into the picture, they decided they couldn't take the boys for various reasons. Once again my heart was broken for the boys, but we just kept moving forward.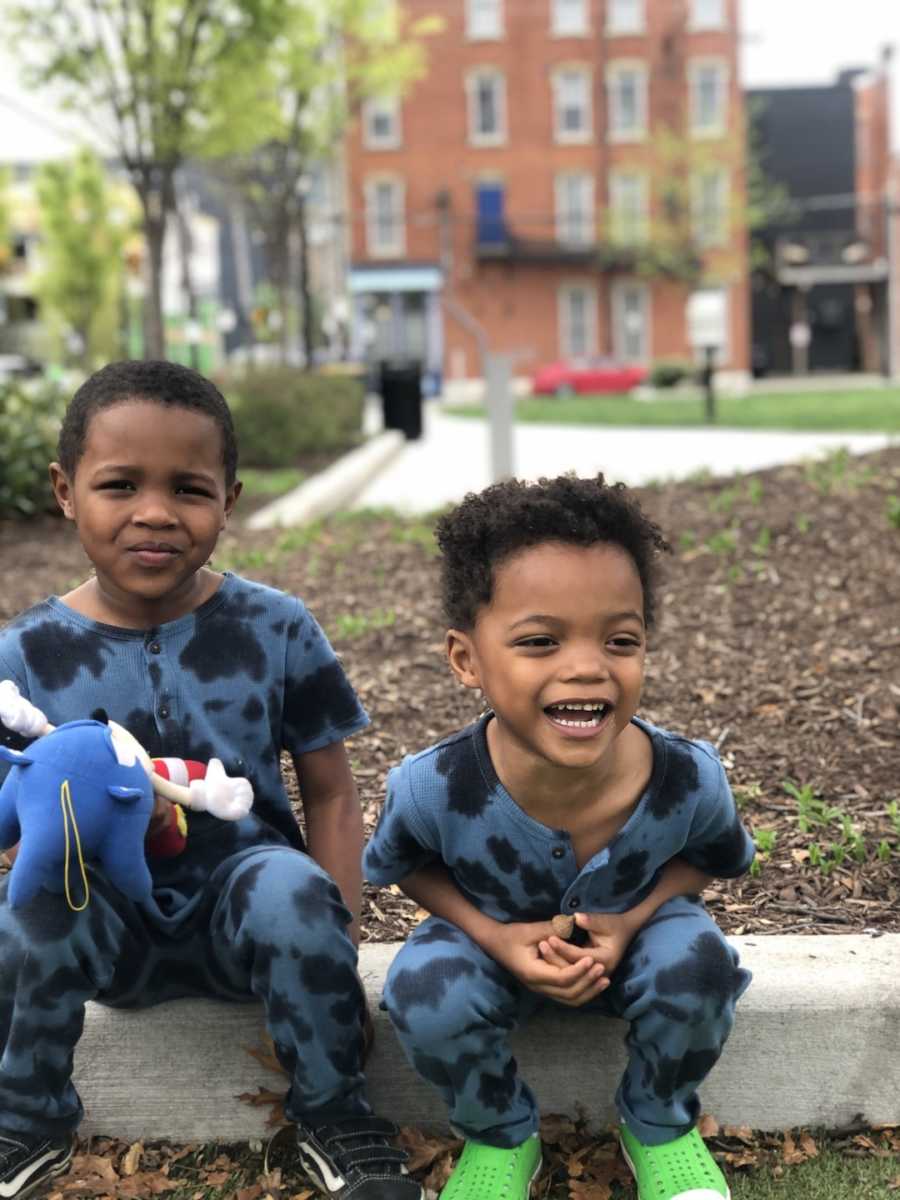 Just shy of 2 years of us living together, I was chosen as their adoptive mother. At this point in their case, I was confident I would be chosen as their adoptive mother, but getting that call changed so much for our family. The feelings of joy and heartbreak flowed through me, the mix of opposite emotions embodies so much of foster care. There are so many things we can celebrate, but almost all of those celebrations are born from trauma and heartbreak. Yes, I was thrilled to be adopting the boys, but it is also soul-crushing that this had to be a part of their story. Being able to hold space for often conflicting feelings is a must-have skill for successful foster parents to possess.
We kept moving forward and in May of 2020, in the middle of a pandemic, I was able to adopt my children and we became a forever family. My family had always accepted the boys and we all celebrated when I got to adopt them. My promise to myself stays the same, 'I will always fight for them to have everything they need in life, including giving them as much of myself as I could.' I knew I would be the best parent to them if we closed our home to other kids. So a few months after adoption, I officially closed my foster care license. We will always have each other and the village of people around us who love and support us.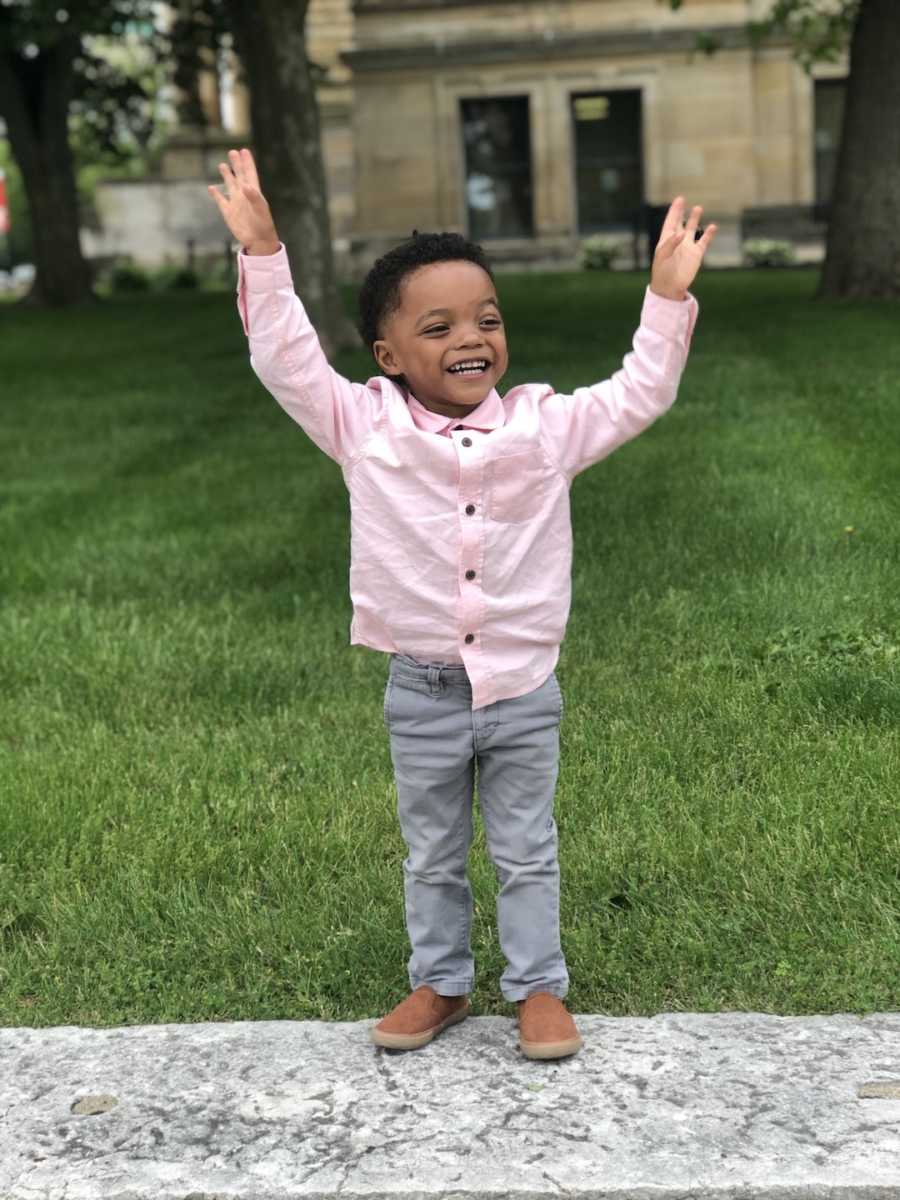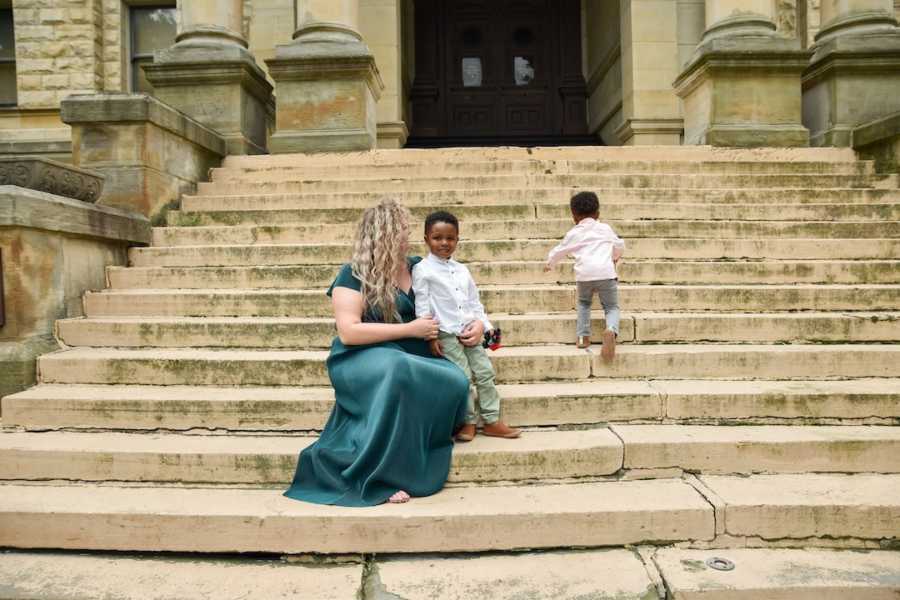 Being a single foster and now adoptive mom has been one of the most eye-opening, exhausting, best experiences of my life. When I was a little girl, I never imagined parenting as a single parent, but I wouldn't change a single bit of it. Our story is wild, beautiful, and unique but the hurt and pain that come with adoption aren't lost on me. I'm committed to unlearning and learning from people who have been adopted and from former foster youth so I can be the best parent I can to my boys."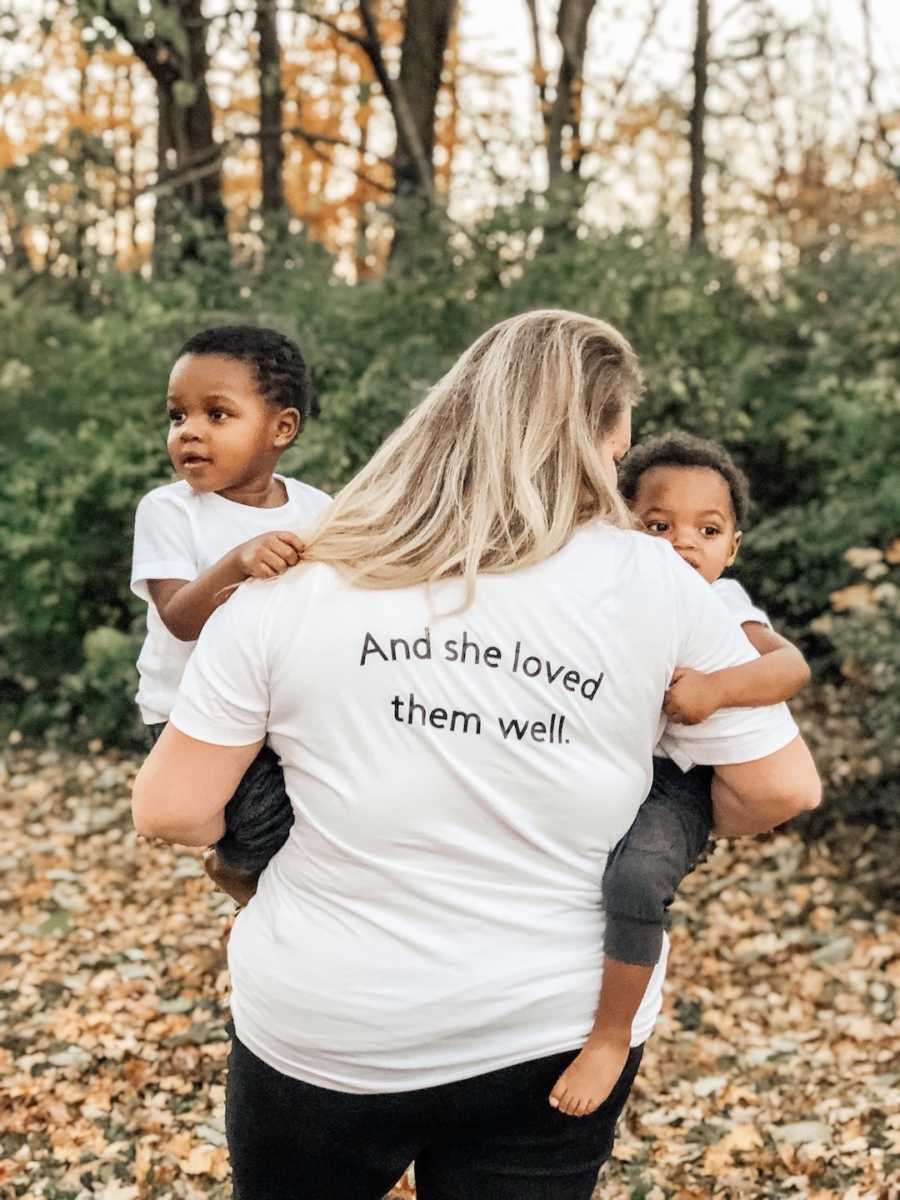 This story was submitted to Love What Matters by Kaely from Cincinnati, Ohio. You can follow her journey on Instagram. Do you have a similar experience? We'd like to hear your important journey. Submit your own story here. Be sure to subscribe to our free email newsletter for our best stories, and YouTube for our best videos.
Read more stories about foster care and adoption here:
'If we don't get approved, it's my fault.' He had to discuss his 'colorful' past. We worried being gay would make it harder.': Dads foster to adopt, 'We can't wait to show him to the world'
'Stay with me!' My body was septic. I'd never carry our child. 'There's a baby at the hospital. Do you want him?': After losses, couple foster to adopt, 'He's the redemption to our pain'
'Did he think we abandoned him?' I was still grieving. He hardly slept day or night. I struggled to feel connection.': Couple foster to adopt, 'If you don't get attached, you're doing it wrong'
'Can you take a pair of siblings?' 45 minutes later, we met our boys. Babies? Easy. Toddlers with trauma and neglect? Not so much.': Couple adopt 'forever sons' from foster care
Are you or someone you know looking to foster or adopt? Please SHARE on Facebook to make them aware there is a community of support available.