"In the beginning of 2018, I read an article about the first baby born to a mother who had undergone a uterus transplant at Baylor University Medical Center in Dallas, Texas. Being in healthcare, I thought it was incredible that we have advanced that far in medicine for something like that to even be possible.
At the time, I was working full time as a nurse in the NICU (Neonatal Intensive Care Unit). I have worked most of my career in NICU and have seen both the positives and negatives of having a baby in NICU.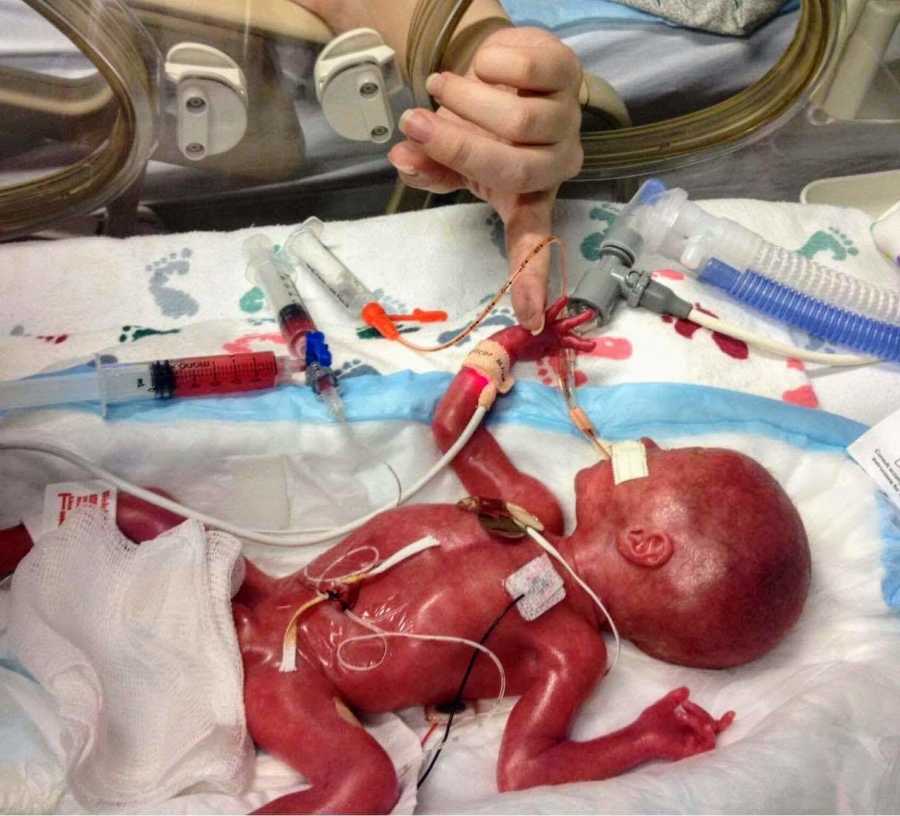 The bonds nurses build with both the babies and the families are unbreakable. You become their voice and learn to listen to your own and the parent's instincts. You really get to know the parents and the struggles they face when they have a newborn fighting for his/her life in the hospital. To complicate things further, sometimes those mothers are told not to get pregnant again due to various health reasons. Or sometimes those mothers need to have an emergency hysterectomy due to complications during delivery. And even worse, sometimes those same mothers who were told not to or cannot get pregnant again end up losing the one thing they had been dreaming of: their baby. It's devastating. And my heart breaks for those families.
Because of working in NICU and seeing what I have seen, I always knew I wanted to help a couple become parents. I have three beautiful children and my husband and I knew we were done having children. We initially looked into surrogacy. I had three wonderful, easy pregnancies and deliveries. I felt the most comfortable in my body when I was pregnant and enjoyed every moment. I just didn't want to go through an agency to become a surrogate because of the high cost to the potential parents. So, I was just waiting for someone that needed me.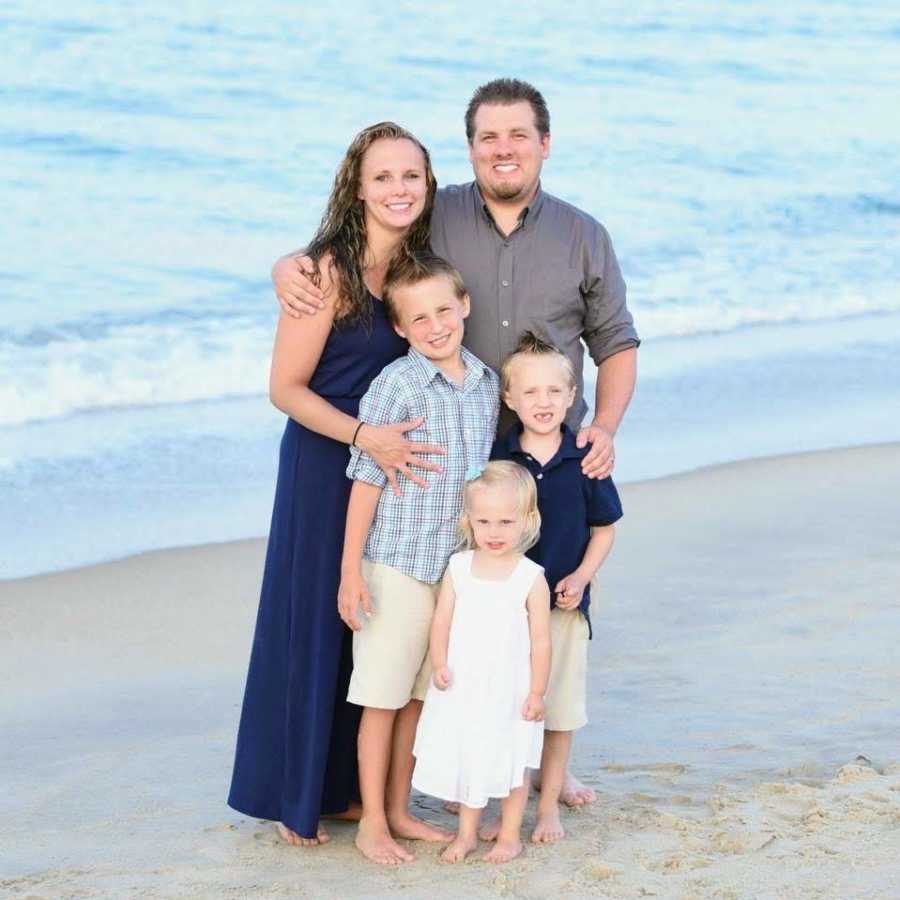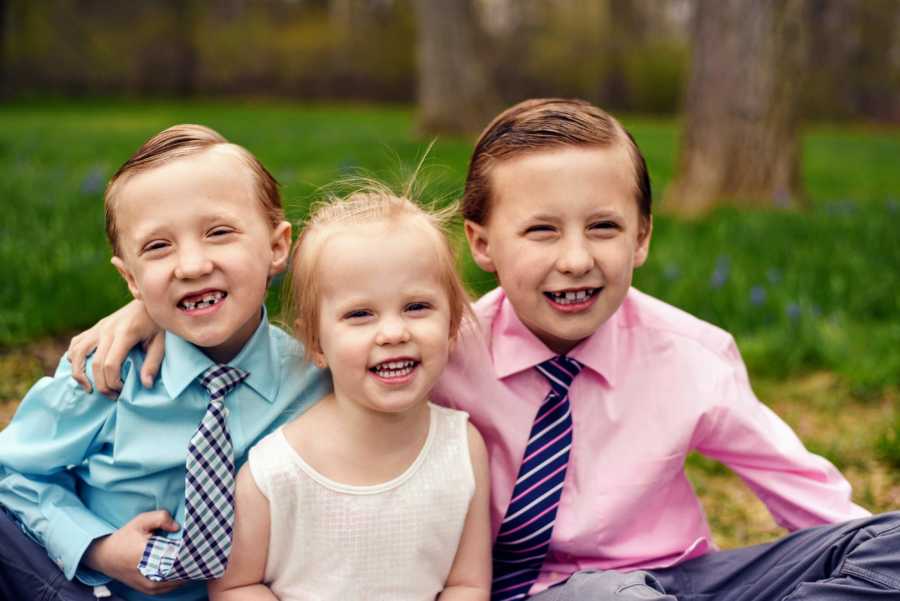 In the meantime, I had looked into the uterine transplant program at Baylor University Medical Center in Dallas. I told my husband I was going to apply to it and see what happens. He has always been really supportive of anything I have ever done and was just as supportive through this. I applied to the program in April of 2018. I, honestly, never really expected to hear back from them since it was so new to the U.S.
Fast forward a couple of months. I took a new job as a transport nurse flying in helicopters, jets, and traveling in ambulances to get medically ill babies and children where they need to be. I decided to take surrogacy off the table since I was already putting my own life at risk. I didn't want to also risk something happening to a baby I would be carrying for someone else. I was content and moving along with my new job as well as still working as a NICU nurse. My heart is still very much in NICU and I didn't want to give it up.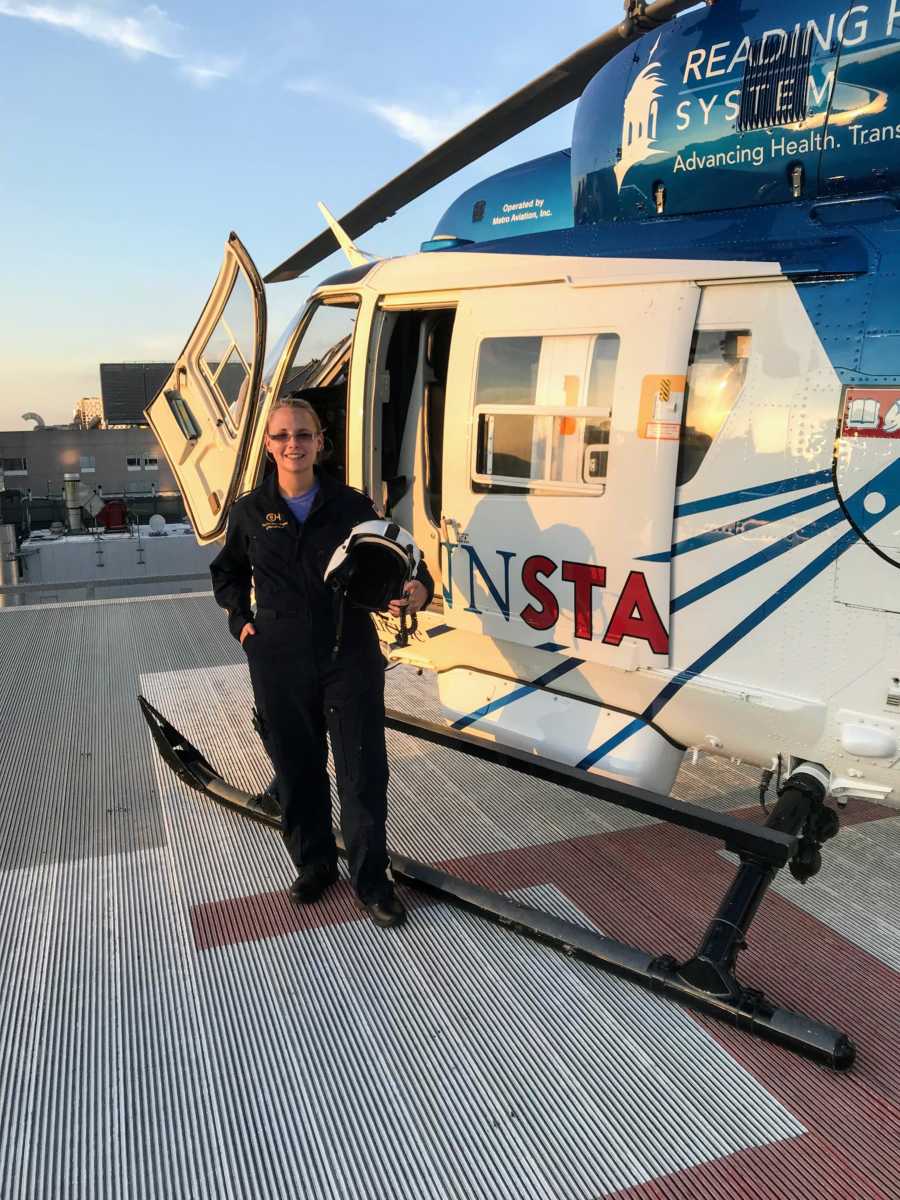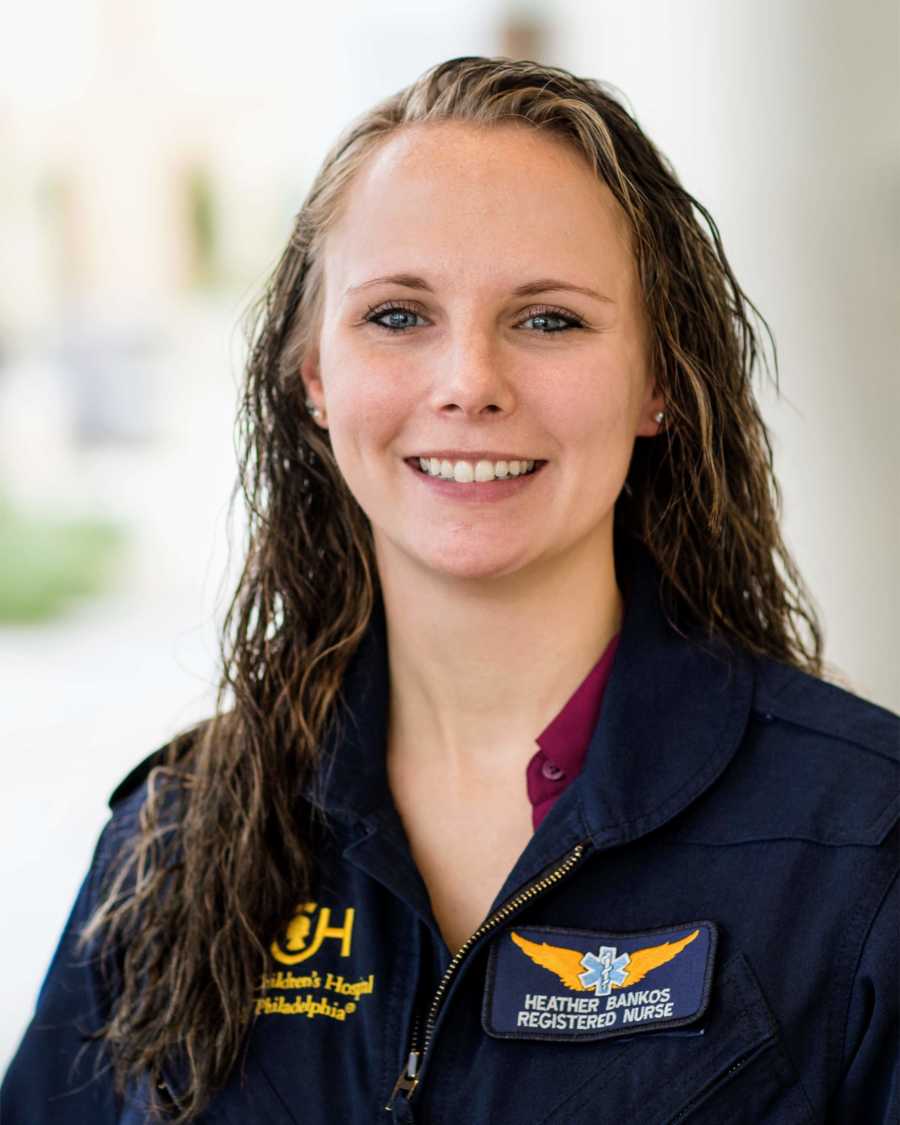 In September 2018, I received a phone call from the nurse coordinator at Baylor University Medical Center in Dallas. I was so excited. Before she was even able to tell me all of the risks associated with the surgery, I knew I was all in. This is how I was going to help someone else become a mom. It was perfect. I told my husband they had called me and he initially thought I was crazy, but he knew how much this meant to me and was willing to help make it work.
We set up a time for me to undergo the medical evaluation. In October of 2018, I hopped on a plane to Texas by myself and on my own dime to meet the uterine transplant team and to complete the medical evaluation. Over the course of two days, I met with each person on the team and underwent several tests including CT, MRI, ultrasound, EKG, x-ray, blood work, and a psychological evaluation. I hoped and prayed I would be a good candidate to donate.
All of my tests came back great, but now we had to wait for a recipient with the same blood type. The holidays came and went. I waited, patiently, to hear from the nurse coordinator again. I focused my time and energy on gaining all of the knowledge I could at my new job and spending time away from work with my family. Finally, in February of 2019, I got the call. They had a recipient that was a match. I couldn't believe it. I was really doing this. I can't tell you how excited I was in that moment. I told my husband immediately. I waited to tell everyone else until the surgery date was closer just in case something didn't work out.
In May of 2019, I flew to Dallas, Texas and underwent an eleven hour robotic surgery to donate my uterus to a complete stranger.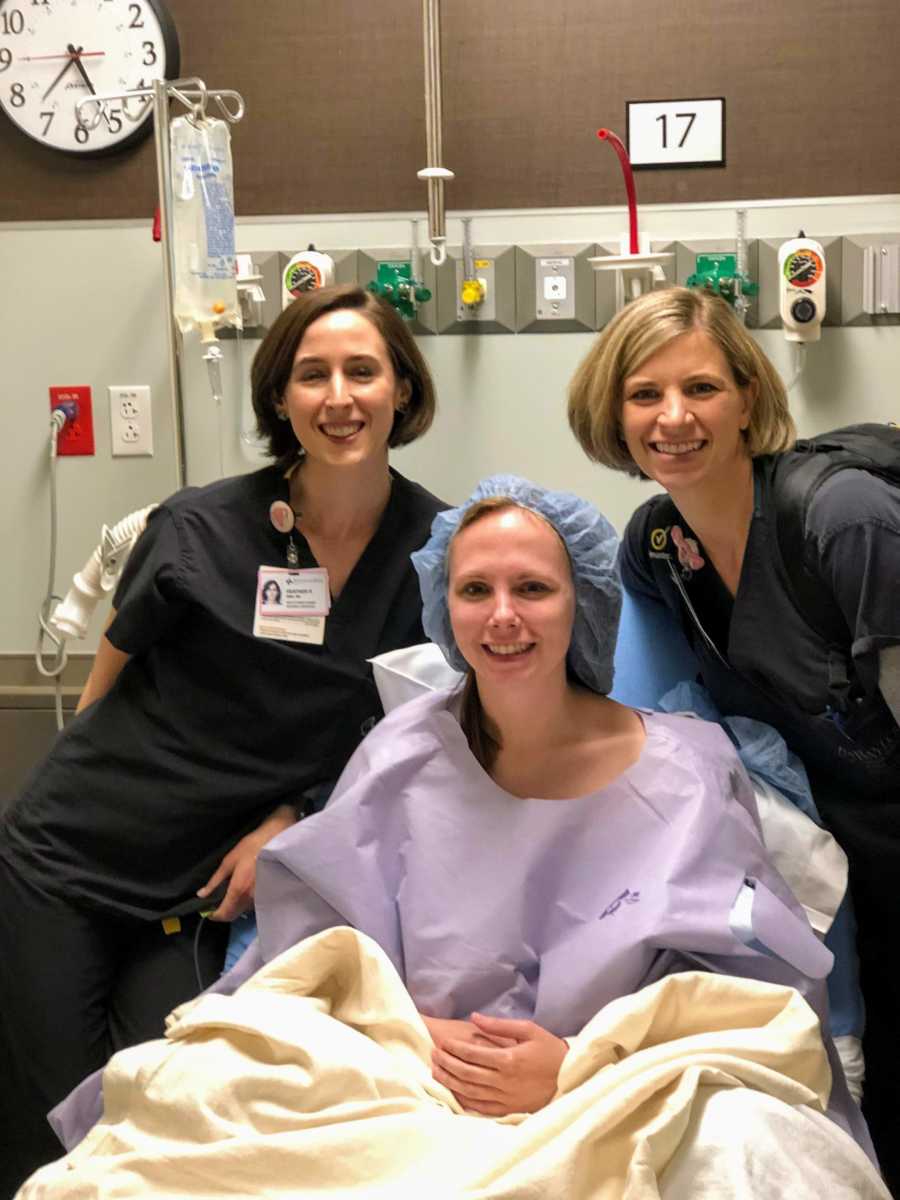 I was the second person at Baylor University Medical Center in Dallas to undergo robotic assisted uterine donation. I had never been so excited sitting on a stretcher in a hospital 1500 miles away from home, getting prepped for surgery, at six o'clock in the morning. I knew I was meant to help someone and this is how I was going to do it. Just the thought of how excited the recipient was, that her dream was becoming a reality, was exactly why I was doing this. I never once questioned my decision.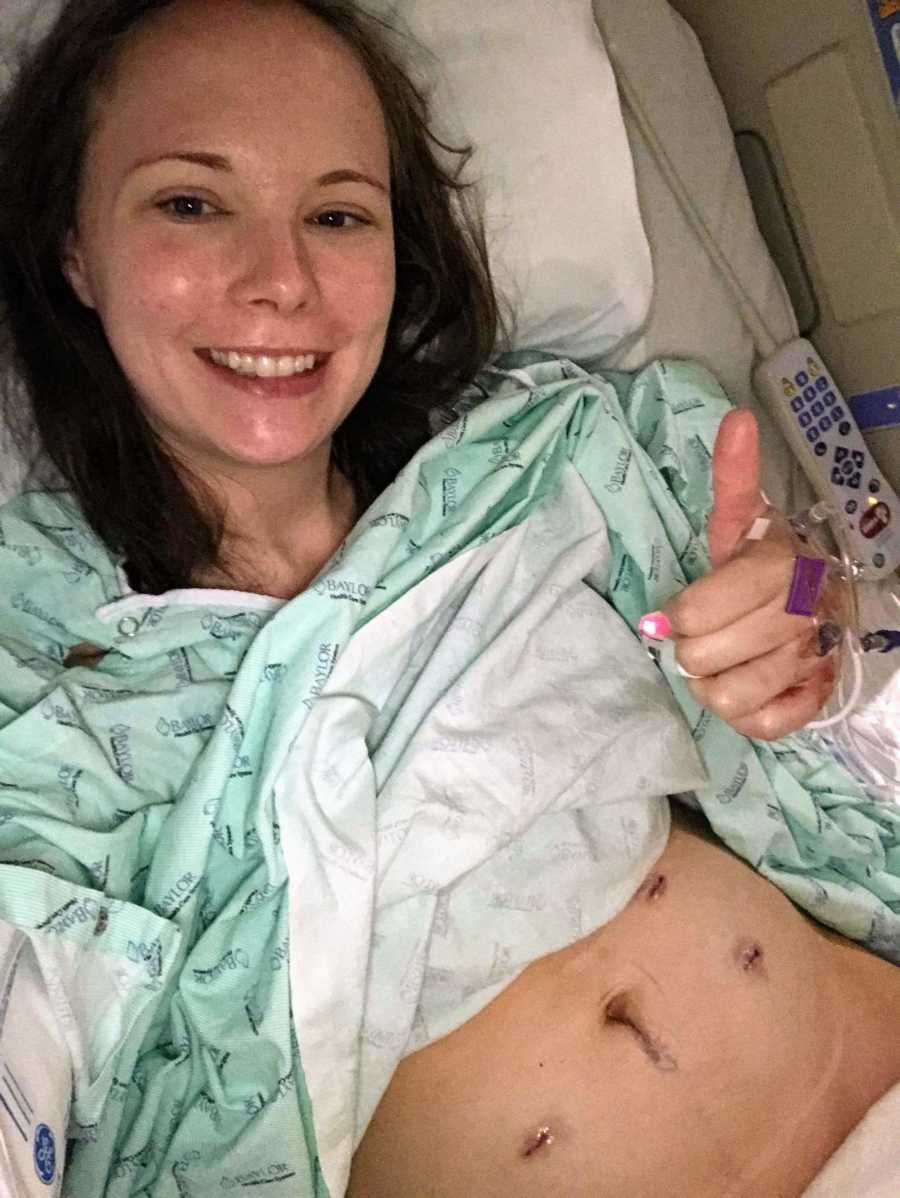 Initial recovery was tough. I was on medication I had never been on before and experienced quite a bit of pain. I had a minor complication of hyrdonephrosis which required an additional procedure to place a stent and an additional day with the foley catheter. By day 5 post operation, I was feeling better and able to move around more. I was able to fly home seven days after surgery. I took twelve weeks off from work, as recommended. In the week I spent in the hospital, I received a couple cards from my recipient stating how thankful she was. It made everything 100% worth it. To know that I have given her hope in a way no one has before is indescribable. I would do it again in a heartbeat if I could, even knowing what I know now. Because this is still in the research phase, I am unable to meet the recipient until she is done having children and only if she wants to meet me.
My hope is that one day this will become a common surgery. That women who were once told there is no chance of ever becoming pregnant will have hope. To be able to make their dreams a reality. To give hope to women who struggle with infertility or loss or cancer. I wish I could help ease the suffering of every woman out there. If I could, I absolutely would. This was my purpose. To help someone else. And I would do it all again."
This story was submitted to Love What Matters by Heather Bankos of Pennsylvania. Submit your own story here and be sure to subscribe to our free email newsletter for our best stories.
Read more stories like this:
'What are you doing in the boy's bathroom? You look like a GIRL!' One parent asked, 'Is that a boy? That is such irresponsible parenting!' His hair was long and angelic. I never understood.'
'My dad told us, 'Make someone's day better.' I watched him take his last breath. 'Just because he couldn't receive my kidney, doesn't mean somebody else shouldn't.' This is for you, dad.'
Spread beauty and strength for others. SHARE this story on Facebook with family and friends.