"I haven't always been this way. My disability came out of nowhere, forcing me to change my entire way of life and rebuild my future. All of the 'plans' we had made for our family were now nonexistent. I could no longer answer the question of 'where do you see yourself in 5 years?' Heck, at that point, I couldn't even tell you where I saw myself in 5 days. This was not the life I envisioned for myself, and it certainly wasn't easy, but every day, I chose to wake up and make the best of my situation.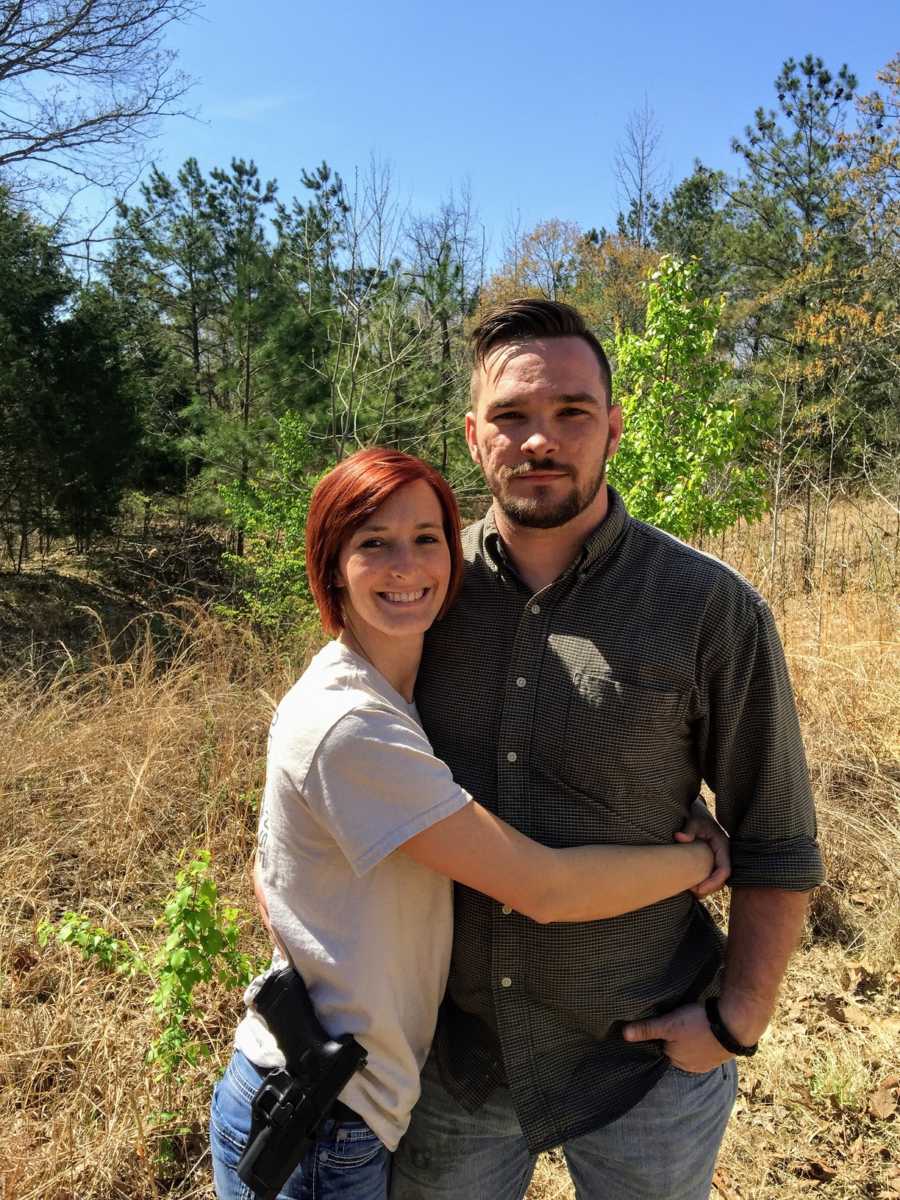 Honestly, this new life I was left with made me feel pissed, angry, and upset. I had to relearn how to wash my hair, brush my hair, brush my teeth, write, and eat food. It made my life difficult emotionally, mentally, and physically.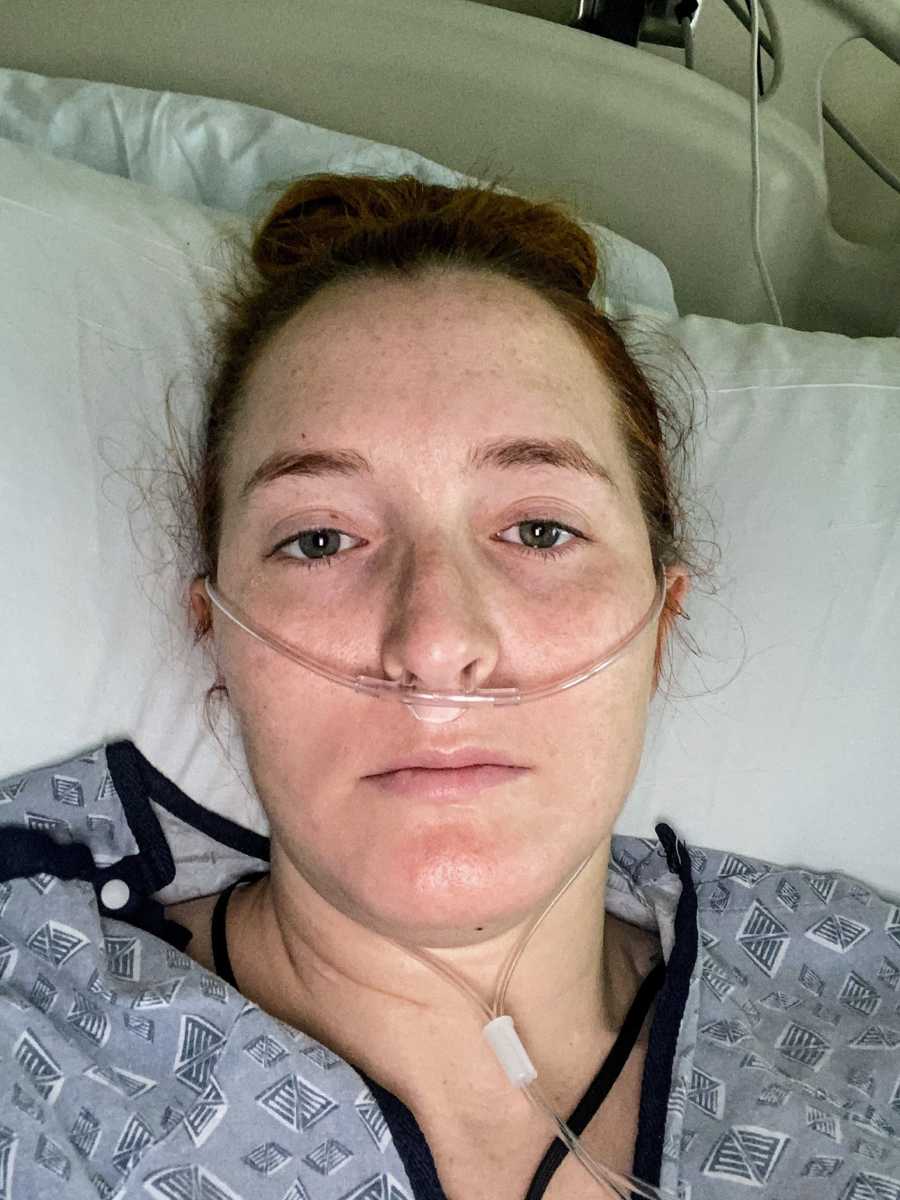 Before my injures, which left me disabled, I was your typical girl next door. I was a mom to one sweet little red-headed boy. I was extremely active, healthy, and fitness was a huge part of my life. I enjoyed being a mother and doing those normal 'boy mom' things with my son.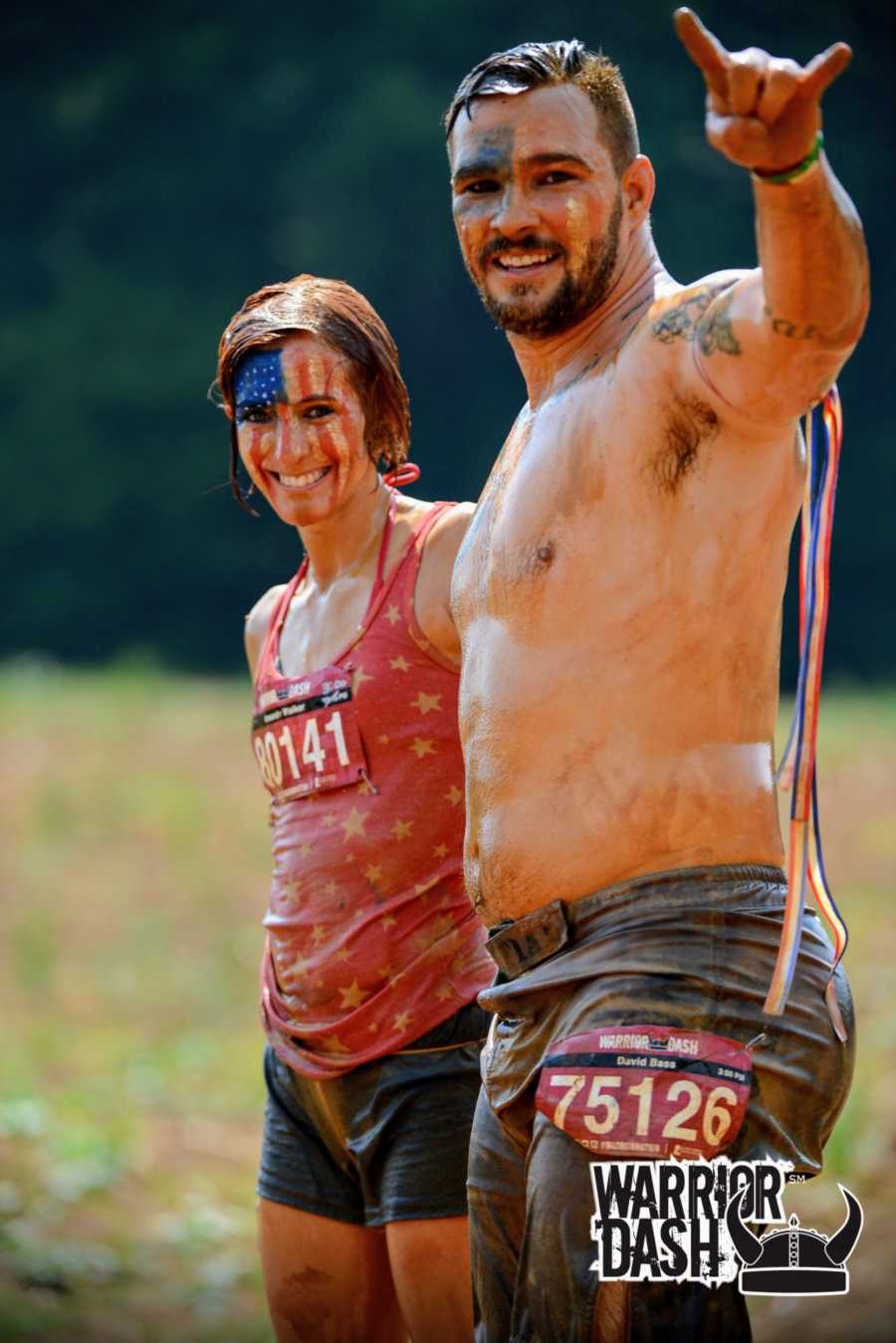 My husband and I dreamed of having more children. He already had a son, who is just as much mine, as I have been raising him his entire life, but we wanted at least 4 more. However, after my injuries, I was told having more children would not be possible. My uterus was too damaged to carry a child. It had already proven this after multiple miscarriages. This news was so devastating to us.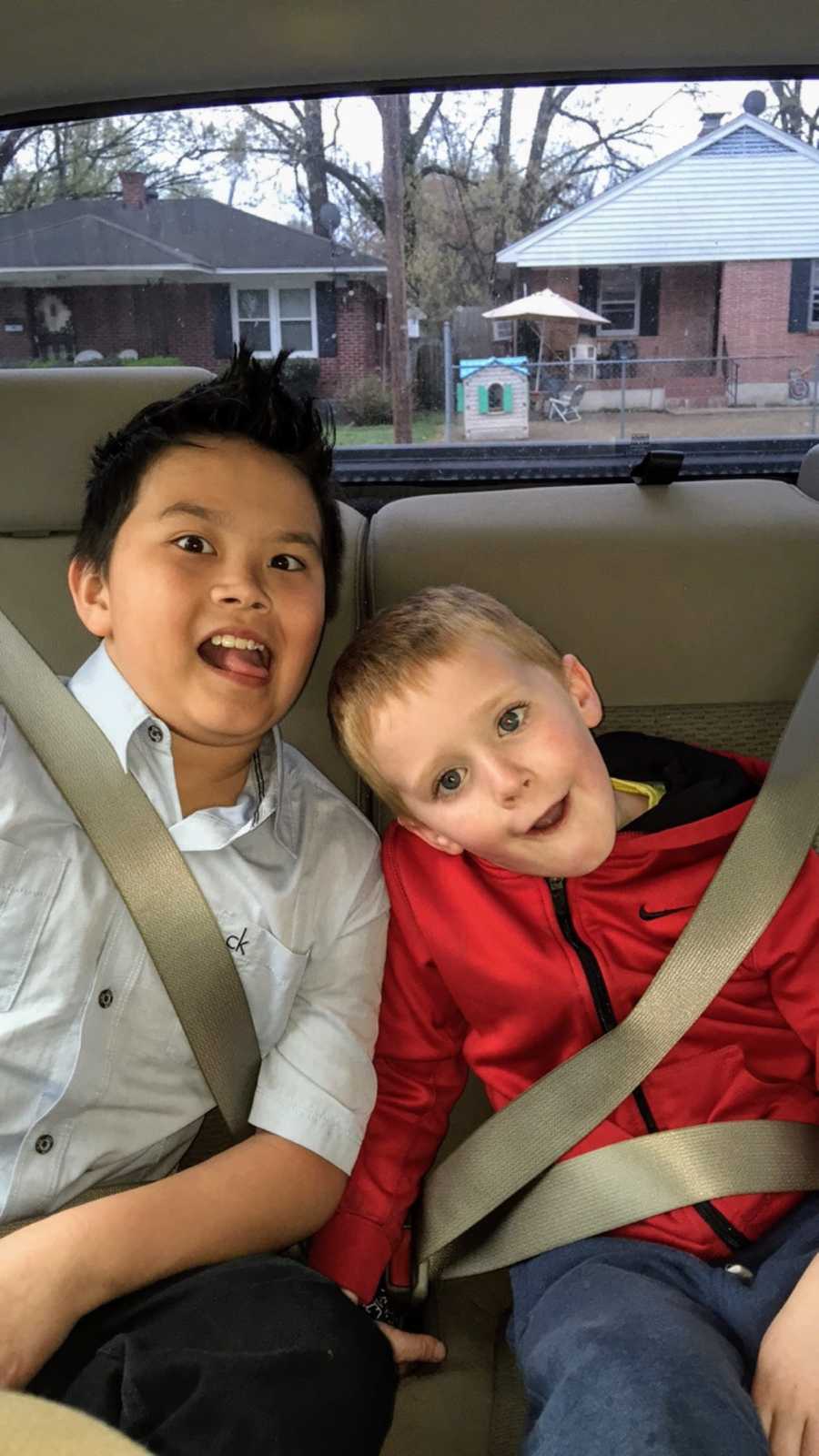 I was not able to be on birth control due to the mound of medical issues that didn't allow me to take hormones. Then, out of nowhere, we found out we were pregnant in 2016. We expected a miscarriage given our past unsuccessful pregnancies. However, this pregnancy proceeded past the point all of the others had. This baby was a fighter. The doctors told me due to my bionic organs, lack of nutrition, medical issues, allergies, and countless other conditions, we were extremely high risk. There was a 75% chance one, if not both of us, would not survive. However, we are believers in God. We believed He put this child here for a reason. This baby was our miracle, and he was fighting. So, despite the 'options' given to us, we decided to fight with him.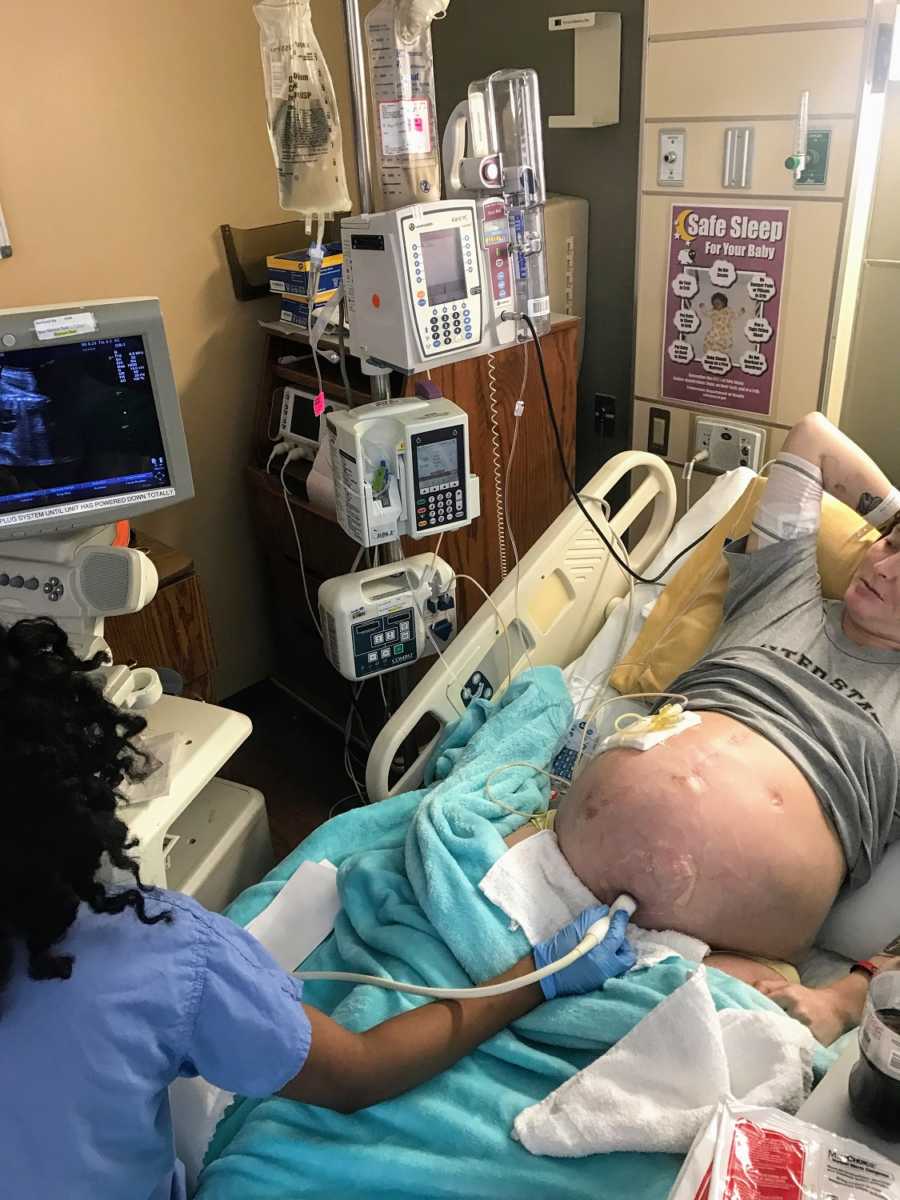 Our medical team was supportive and willing to give it their all. This was uncharted territory for women with these medical conditions. This type of pregnancy has never been successful before. No baby had ever survived this. The implants, bionic organs, scar tissue (which does NOT stretch), and the IV nutrition were a learning case and got us transferred to 'The Med' or 'Regional One the Med,' which is our top trauma center and teaching hospital. And let me tell you, we drew in a lot of attention from medical professionals all over the US. Medical professionals flew in to study and write about my case.
I was hospitalized for the entire pregnancy, and my son was born at 29 weeks via emergency C-section. He was in the NICU while I was in the ICU. We were then discharged 1 week apart from each other after months of fighting for our lives. We both almost died. The staff both in the long stay and on the long-term hospitalization room floor (ICU, CVICU, Step down unit, and the NICU), were absolutely nothing short of amazing.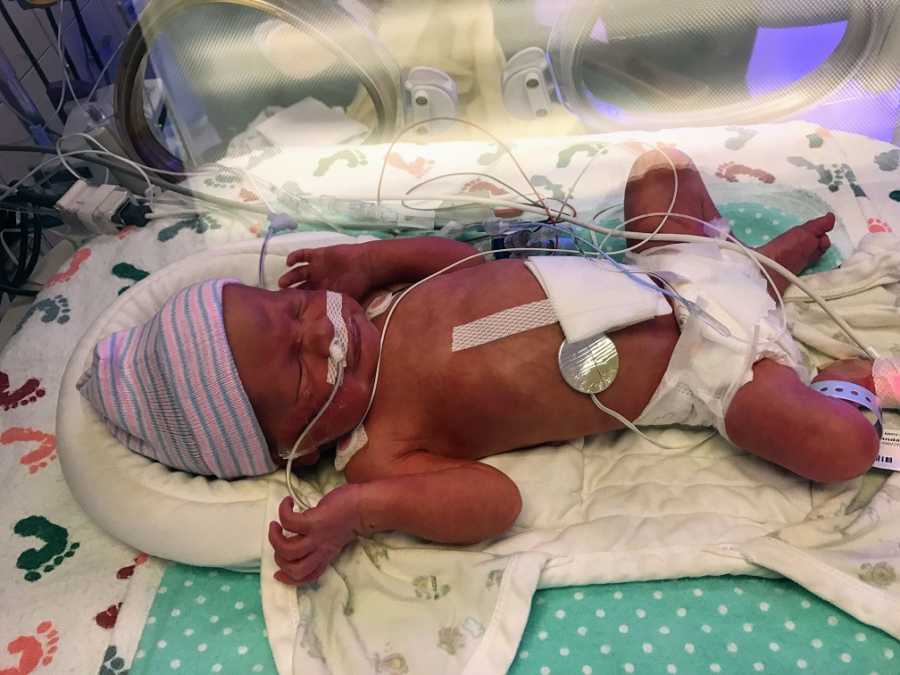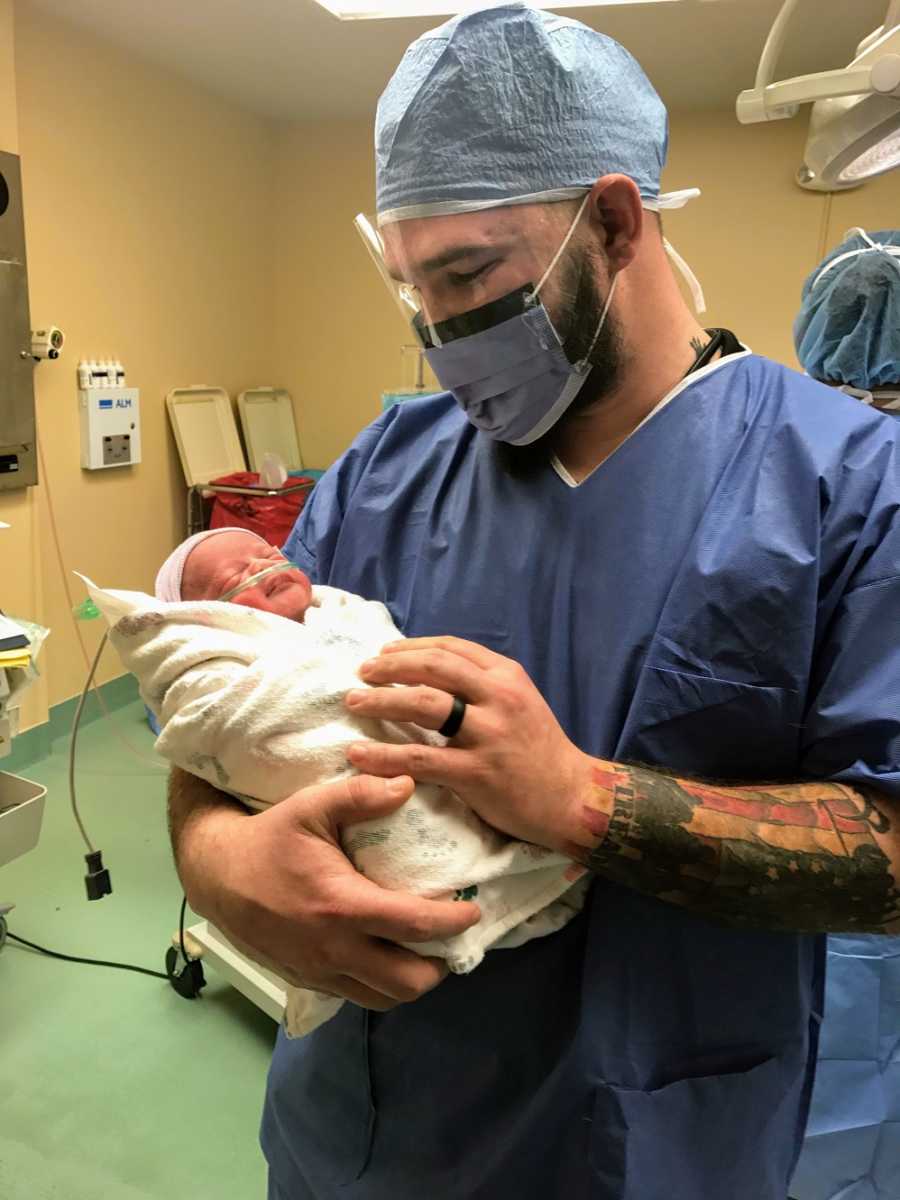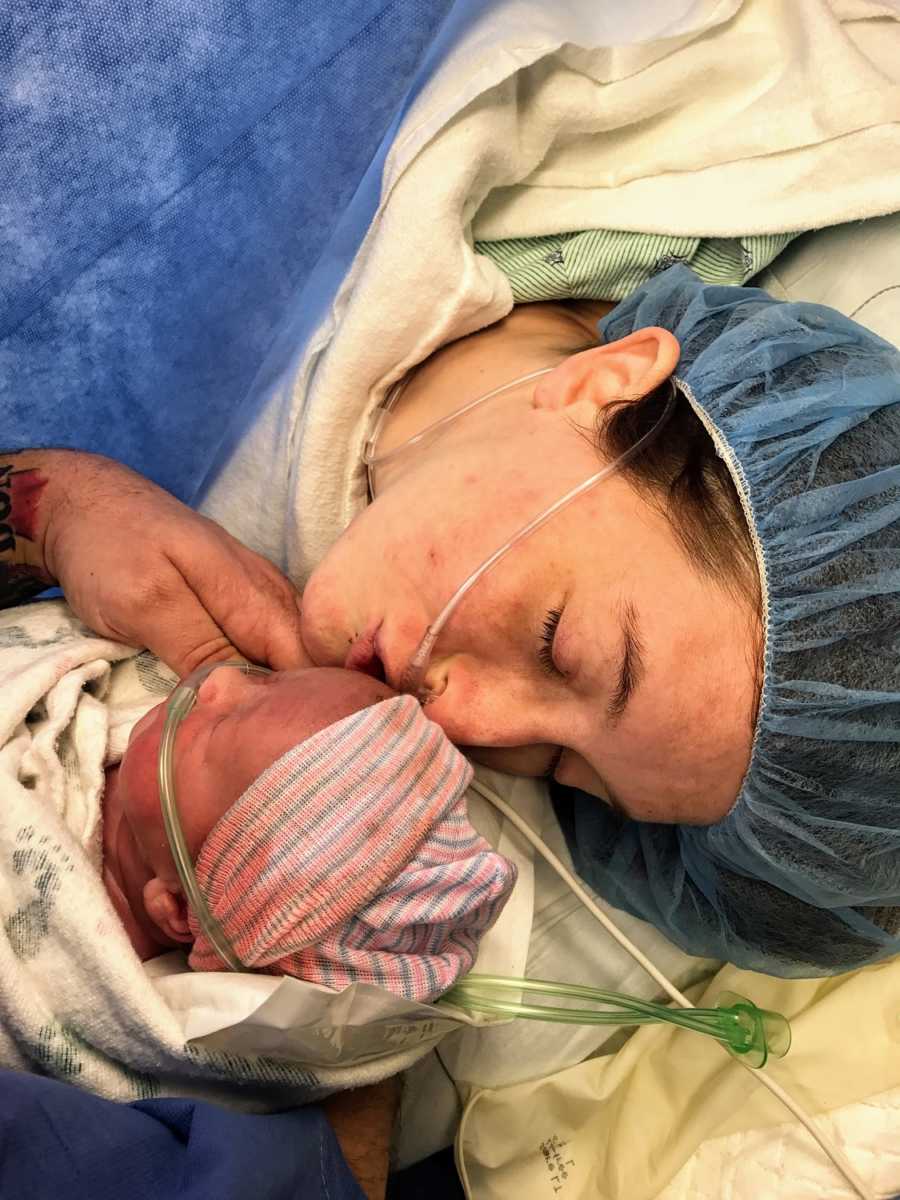 We still have a strong relationship with them. Especially his first nurse, Frankie. She means a lot to us. We personally related to her so much, and she was just so caring and loving. Frankie went the extra mile. I developed a close bond and relationship with a lot of the staff during this time, and they all were genuinely invested in our life and health. We were thankful but nervous and scared, as I was fighting for my life and unable to even hold or see our son. My husband had to do all of his kangaroo care alone. We are the first case like this in the US.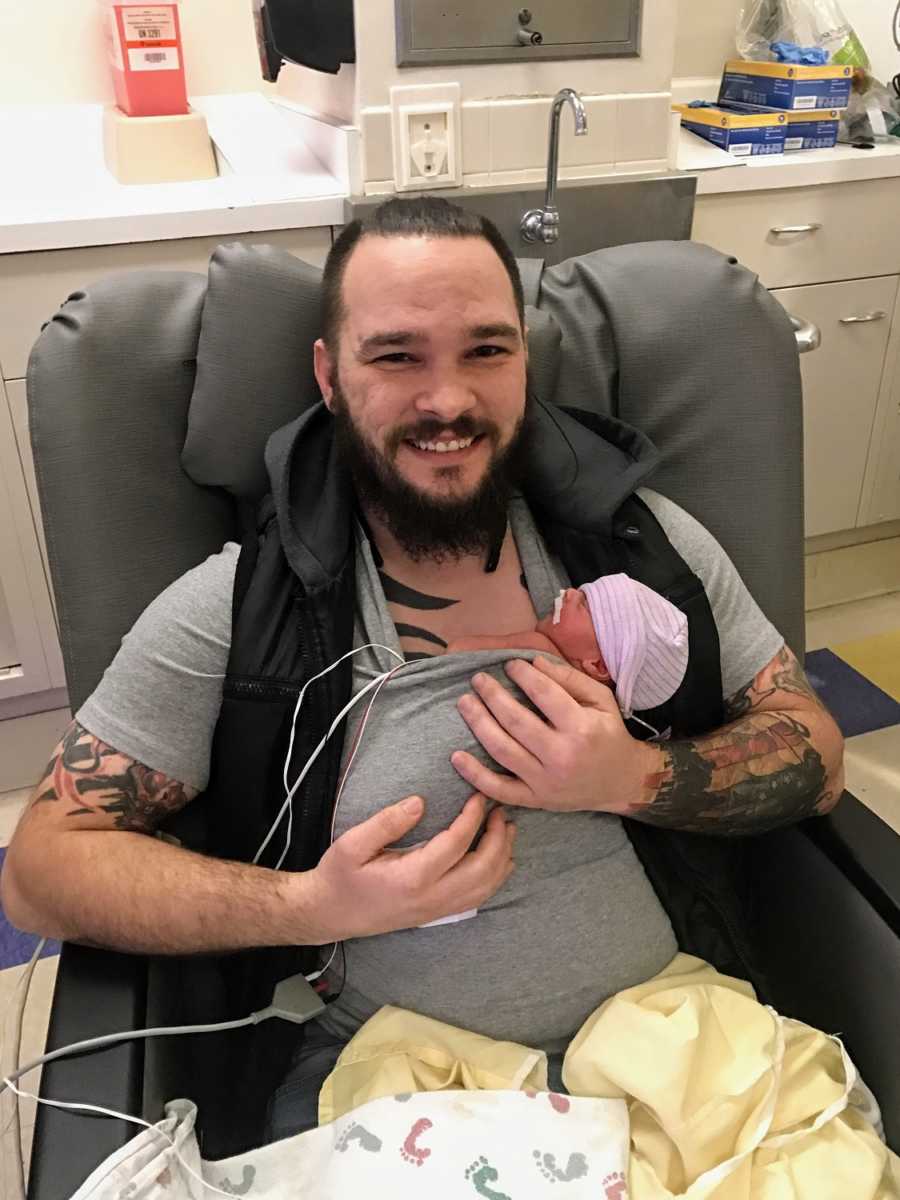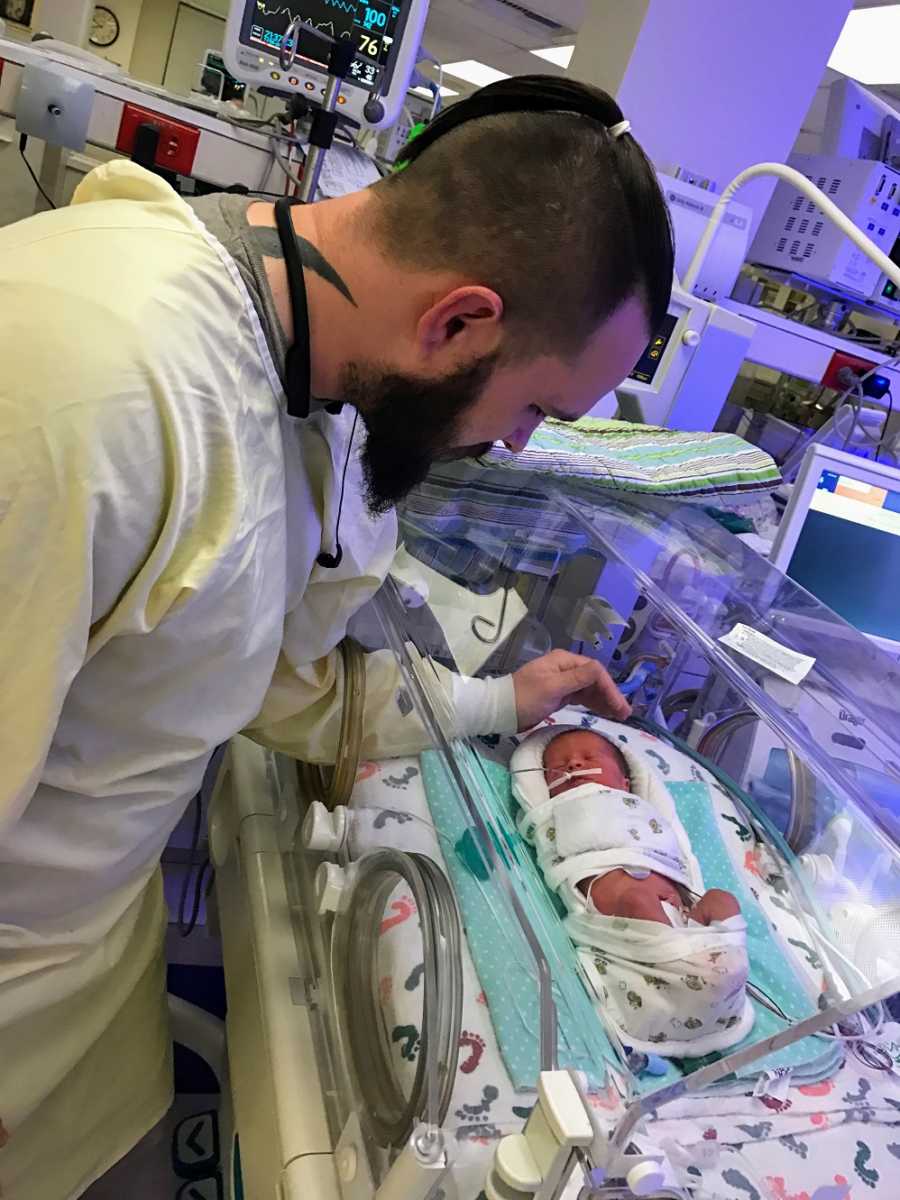 Owen is now 4 years old. He is healthy and wild! My little red-headed boy, Casey, is now 13 years old. He is so intelligent and helpful. My stepson, Isaiah, is now 16. He is so grown, quiet, and caring. They may not be the 6 kids we dreamed of, but they fill our hearts and make us proud daily. I'm not the mother I envisioned myself being. Instead of being able to do all those things I used to do with my children, I now rely heavily on them to help me with even the simplest of everyday tasks.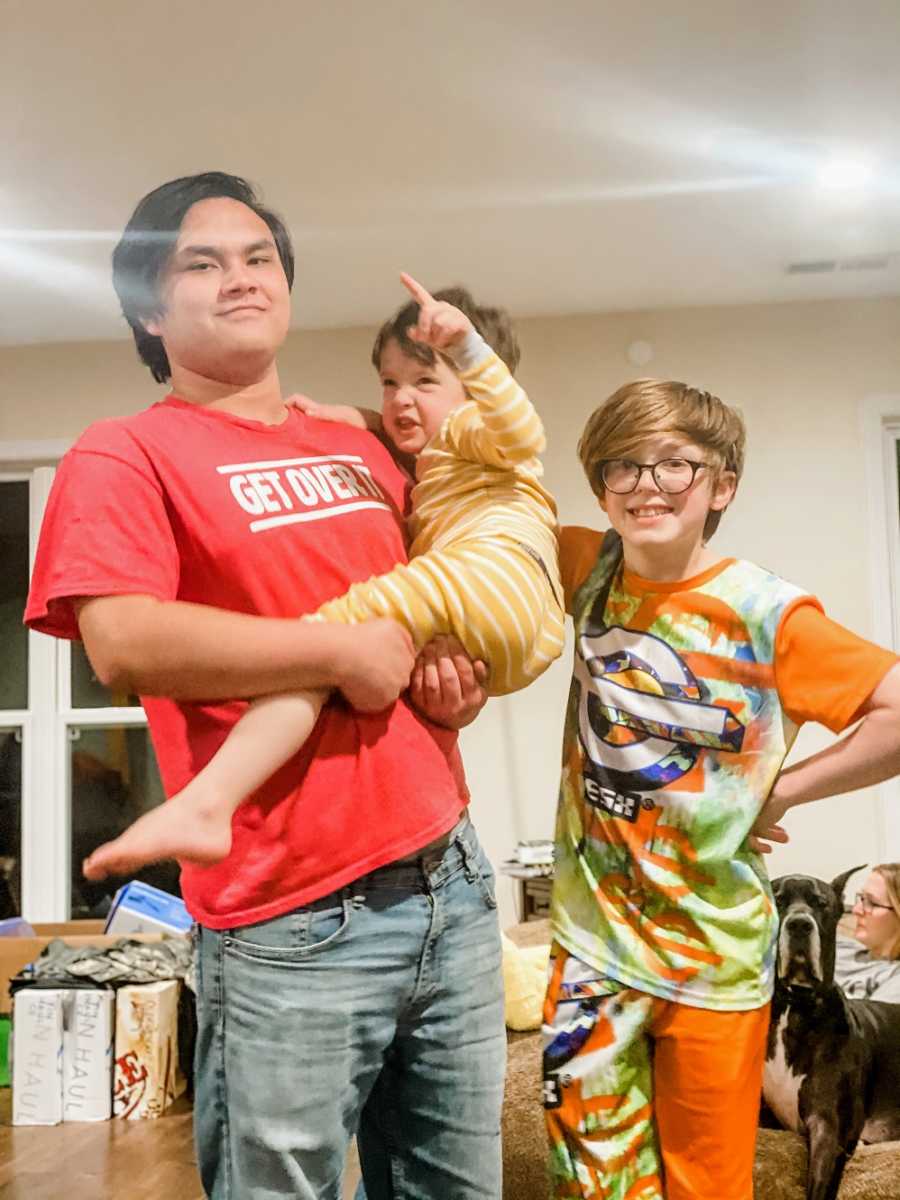 This is something I often struggle with mentally and emotionally. I hate that they carry this weight on their shoulders. I mean, I'm the one who is supposed to be taking care of my kids, right? Not the other way around. This has gone against every maternal instinct I have. I would be lying if I said early on I didn't think they would be better off without me. I had to fight daily to not let those thoughts win the mental battle. My children are my life, and they give me purpose.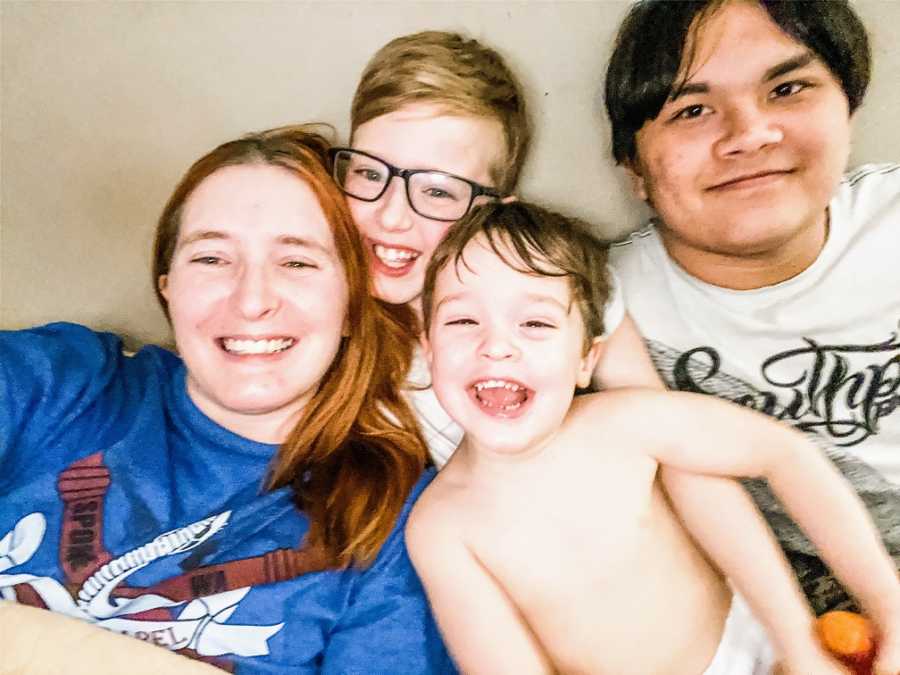 I still deal with PTSD daily. Some days are better than others. It is a constant battle. Sometimes my depression and PTSD win for a day or even for just a few hours, but I always come out on top.
My health is never consistent and will continue to progressively get worse with time. I have terminal Carcinoid Cancer, along with many other issues, like RSD with CRPS. I also have a spinal injury. My body has more implants and bionic body parts/organs than human parts. I have a remote to control certain parts of my cyborg/bionic body. It also helps me charge my organs, monitor voltage, monitor amps, and see my organs' battery life. It also allows me to make adjustments to my organs when needed.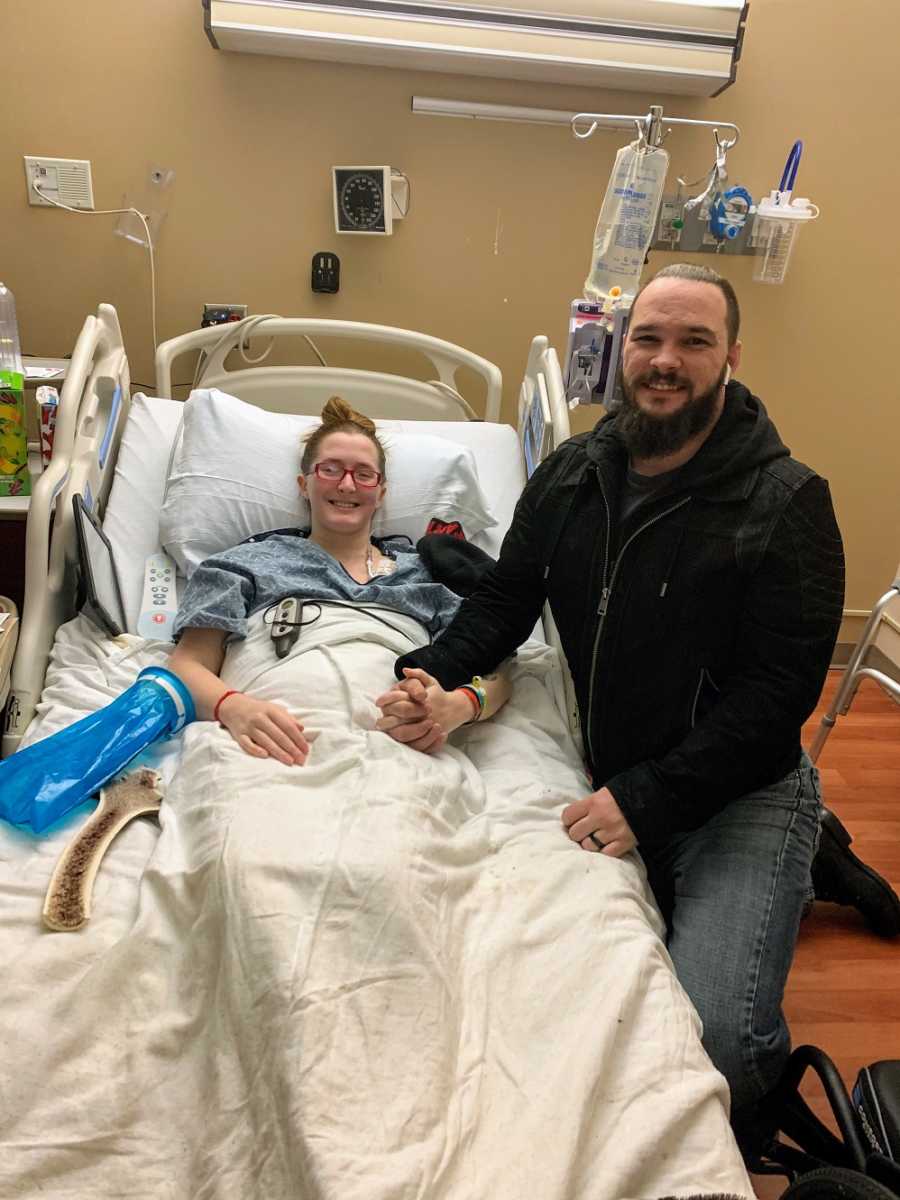 I also get nutrition differently than a normal person because my body does not digest or absorb nutrients any other way. At first, I was using a J-tube. A J-tube is a tube inserted into your abdomen and straight into your intestines. After about 8 J-tubes, doctors realized it was not working to keep my body going, so they ended up putting a port in my chest so I could receive TPN. Unfortunately, I was constantly going septic. Now, we use a Hickman Catheter, which is a tube going into my jugular vein then down into my superior vena cava. I now use it to pump my IV nutrition (TPN) into my system for 12 hours at night. Despite having this, I still have to ingest a small amount of food by mouth daily. It's usually a small amount of bread, noodles, or broth 6 to 12 times a day. I have to do this so I continue to produce stomach acid and can maintain my swallowing ability, which I need to ingest my oral medications.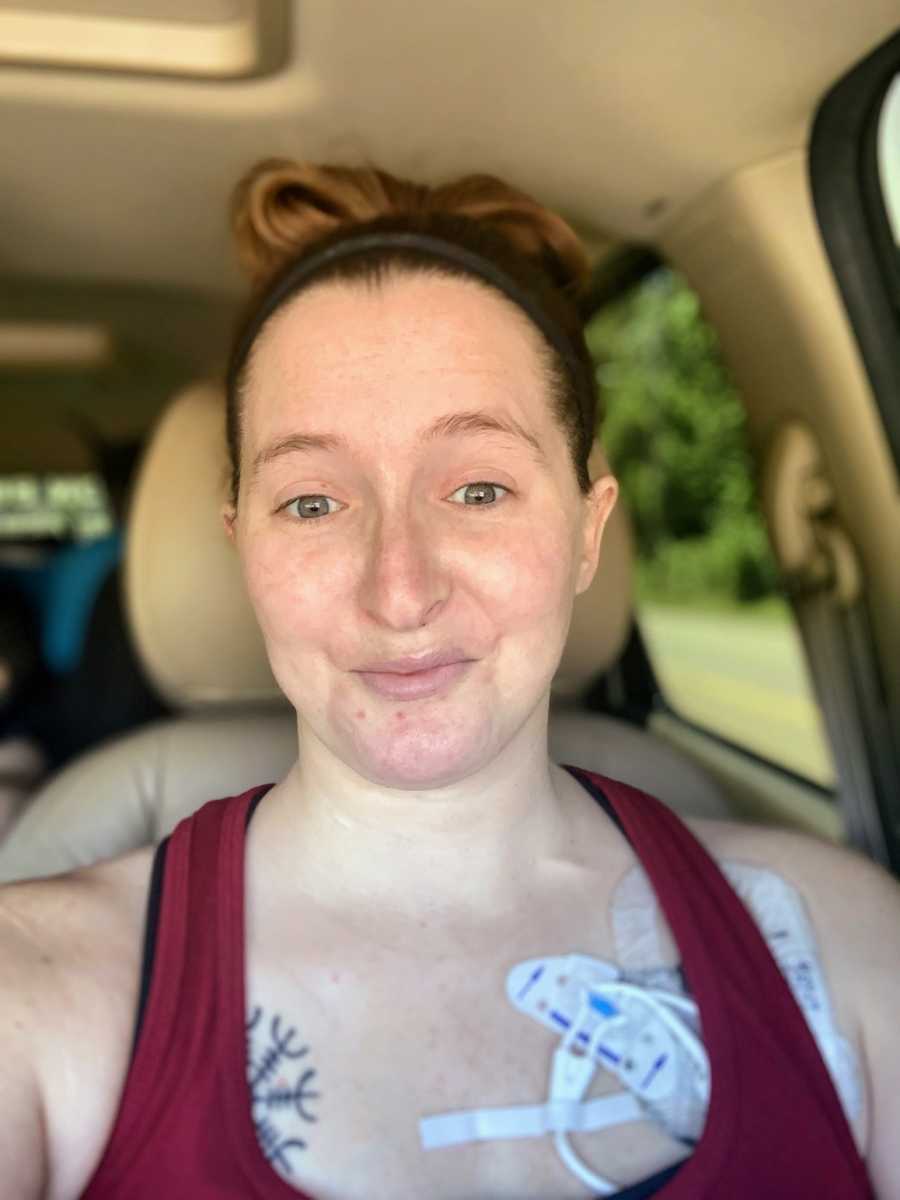 As you can imagine, none of this is comfortable or ideal. I am homebound unless my husband needs to drive me to doctor's appointments. I always have to have access to electricity so I can charge my body when needed. I have difficultly walking and am in a wheelchair most of the time. If I'm not in my wheelchair, I can only walk short distances. I just recently have been working on getting out of my wheelchair for the 3rd time during my almost 11 years of being permanently disabled. It never lasts forever, but that is okay. I will take temporary over nothing at all.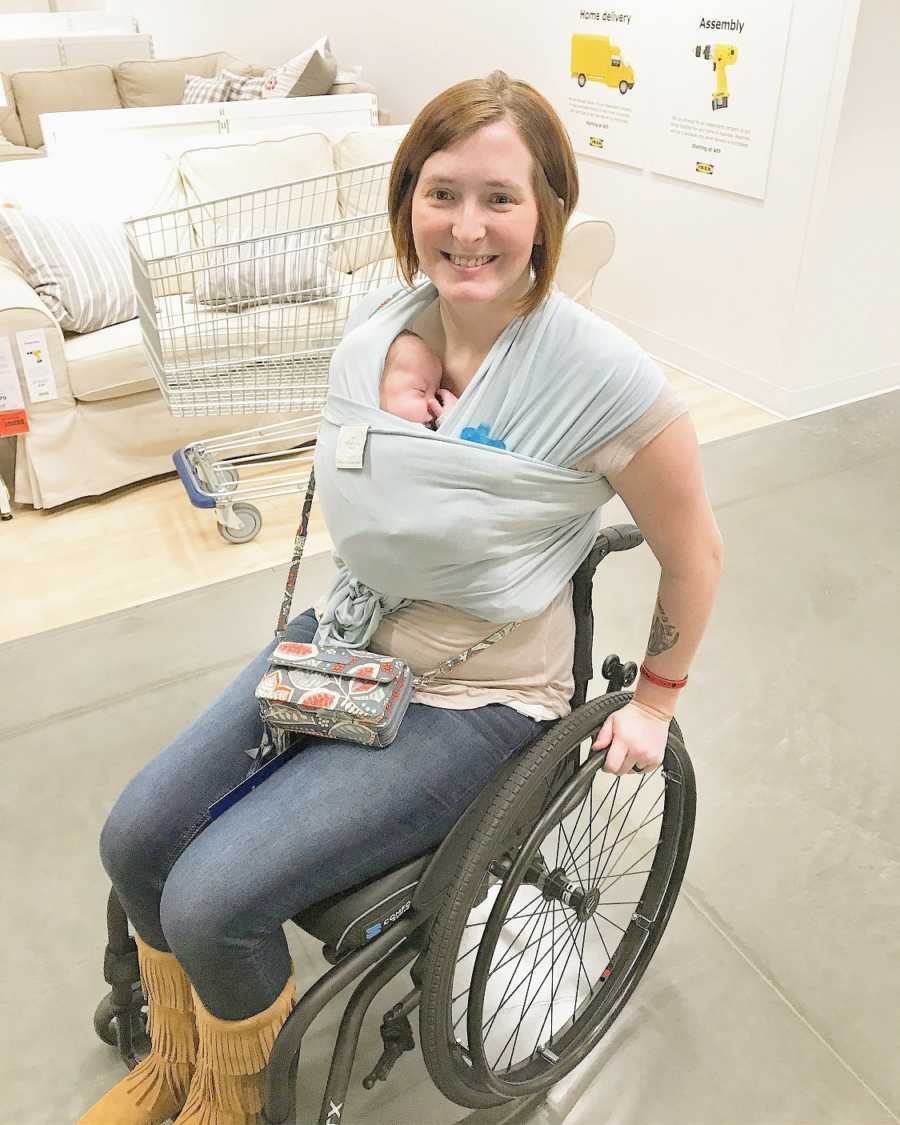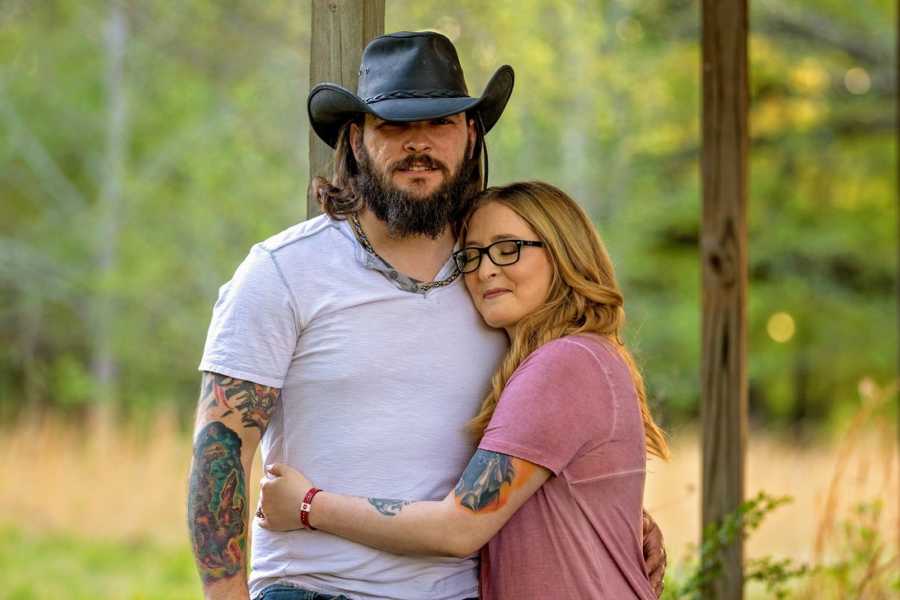 I'm newly diagnosed with legal blindness. We found out afterward it was a hereditary thing. It is called Stargardt's disease. I was just diagnosed with this in September 2020 on top of all my other health issues.
Thankfully, throughout this, I have had a wonderful support system, which primarily consisted of my husband, my grandparents, my dad, and my uncle. Unfortunately, all but my husband and grandmother have now passed.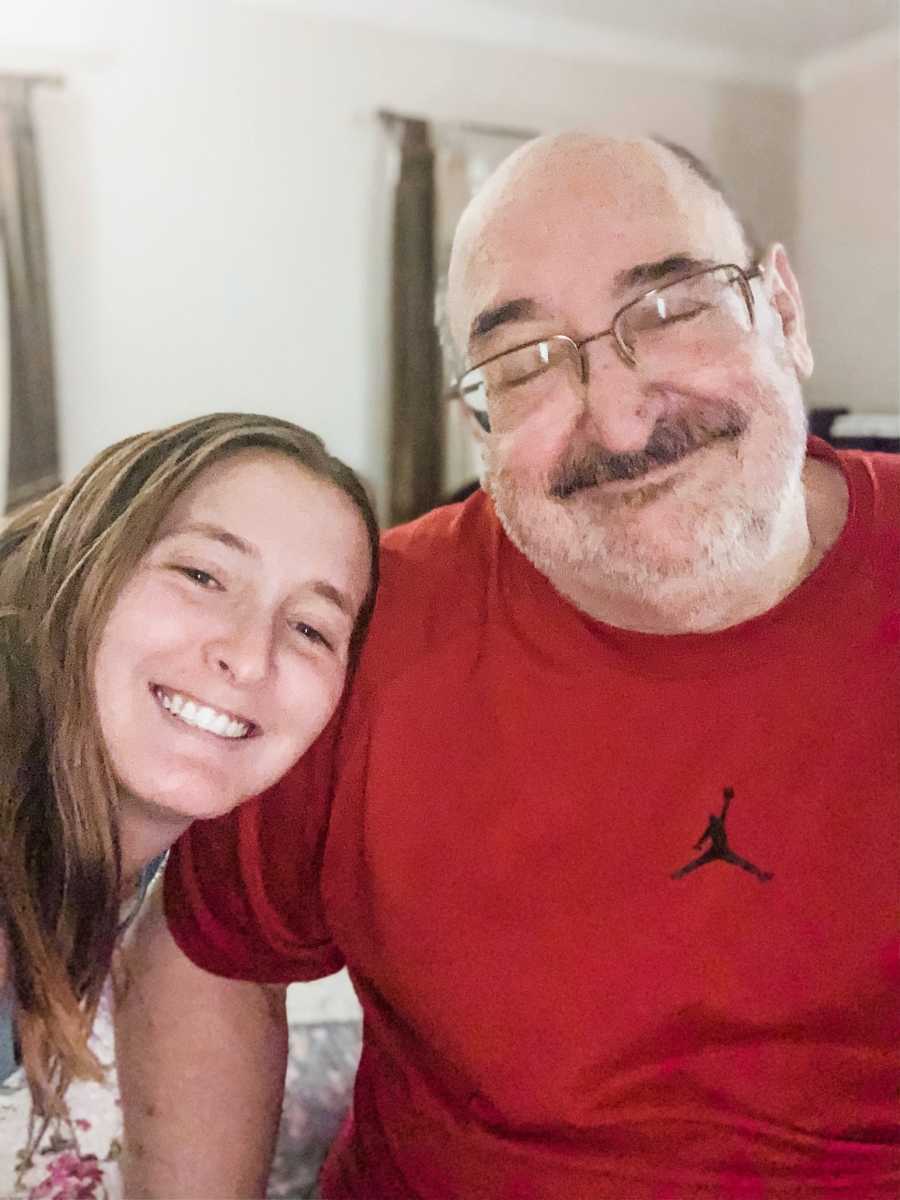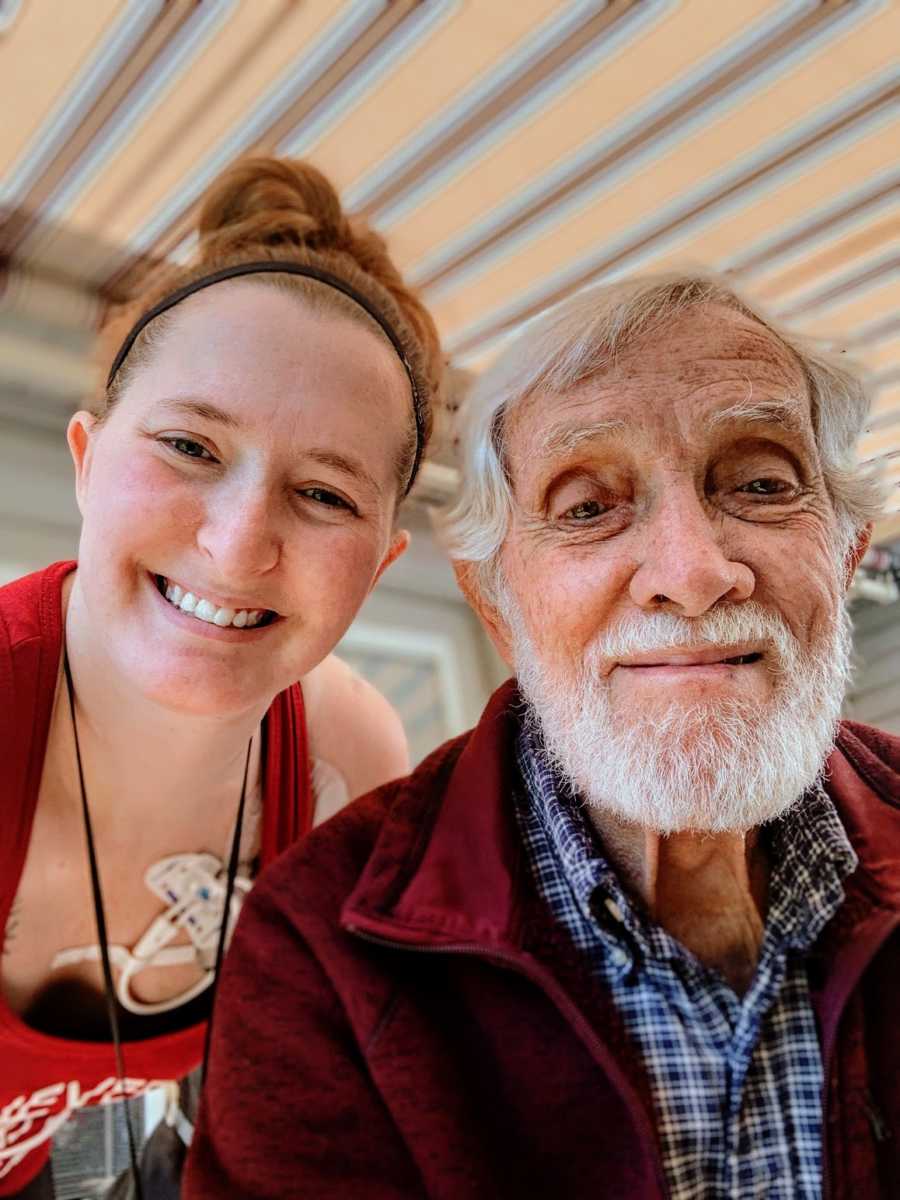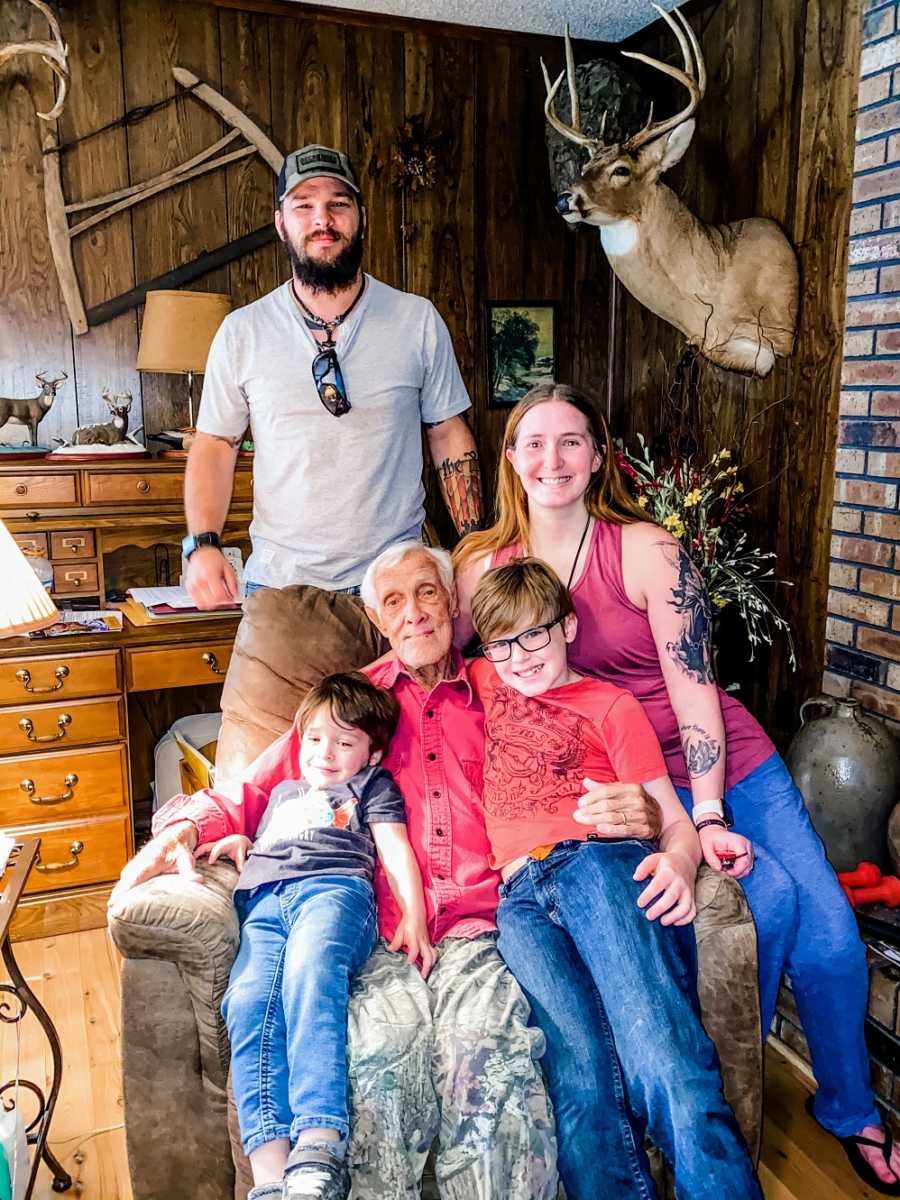 My medical issues do leave me in a lot of physical pain. Some days, I don't feel like getting out of bed, but I do it anyway. I do it for my kids, I do it for my husband, and I do it for myself. I push through it and choose to keep fighting. I want to show my boys you can always adapt and overcome. I want to teach them to focus not on what you can't do but on what you can do.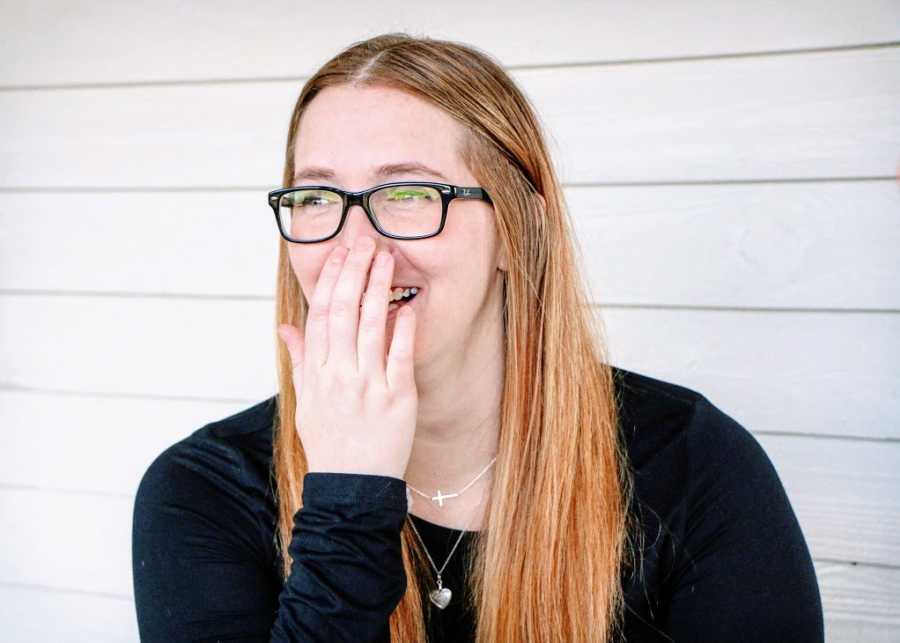 We used to go places when I could drive, travel, and do as much as possible before my injuries. Homeschooling them always allowed us more freedom to do those things. I love homeschooling my boys because I get to teach them and watch them discover the world. However, since I have now lost my vision, it's all about trying to get creative again in order to adapt and overcome the obstacles ahead.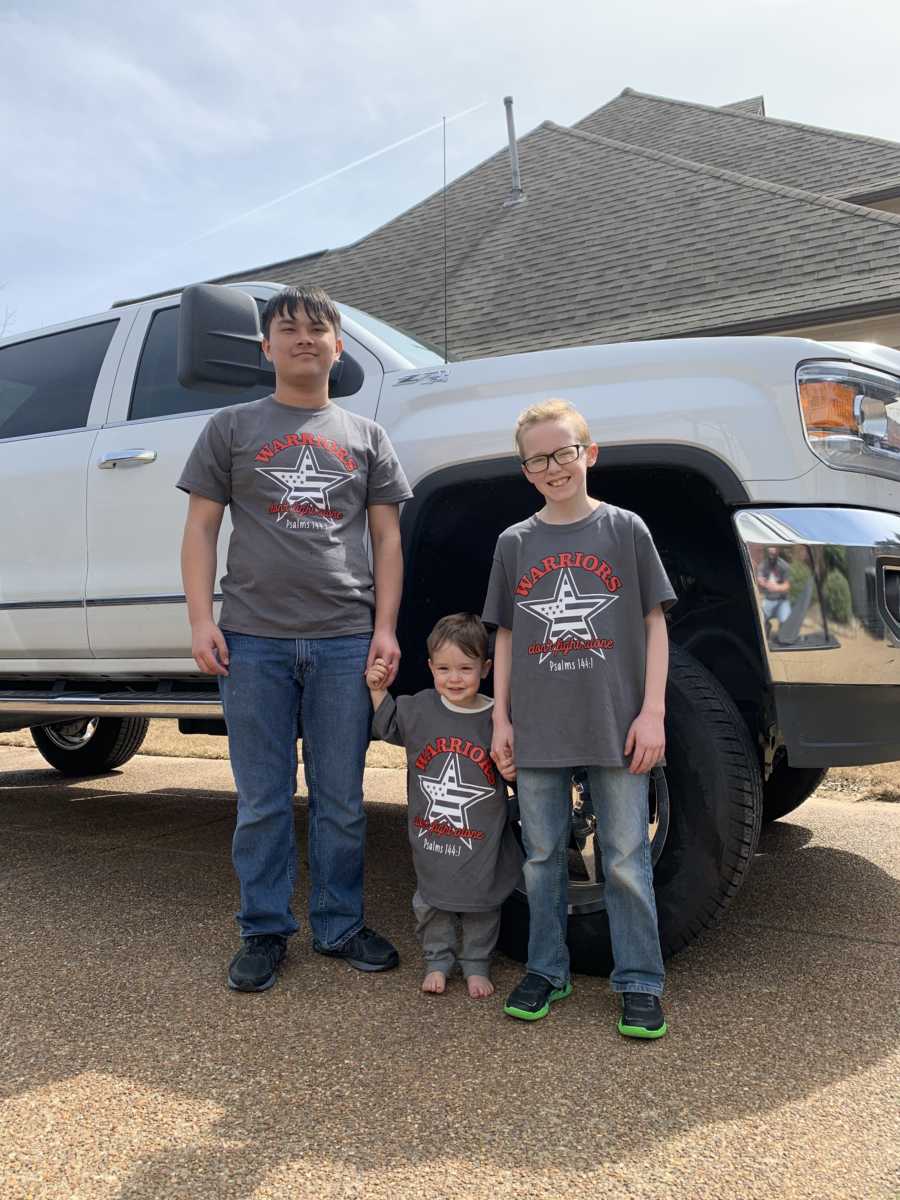 We have a farm, and we have primates. That is a huge part of my coping mechanisms along with my faith, learning, and going back to school. I am currently working on my Master's in Divinity online. I enjoy the work I have done with primates. We have done a lot of primate rehabilitation, and currently have 2 that are permanently ours. I also have my service dog, Hartley, who is my lifeline and my daily companion while my husband is at work. We also recently rescued 4 horses and got some chickens.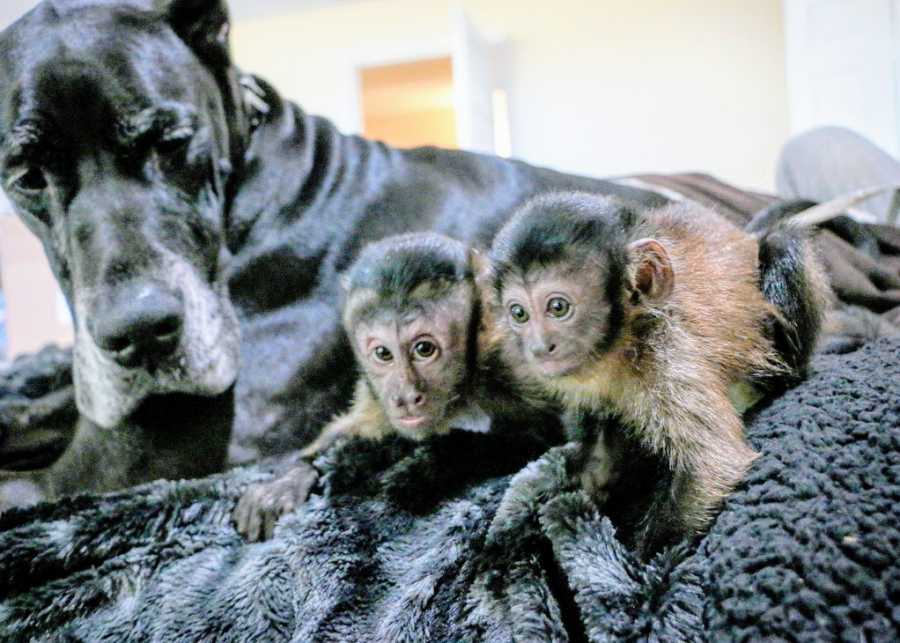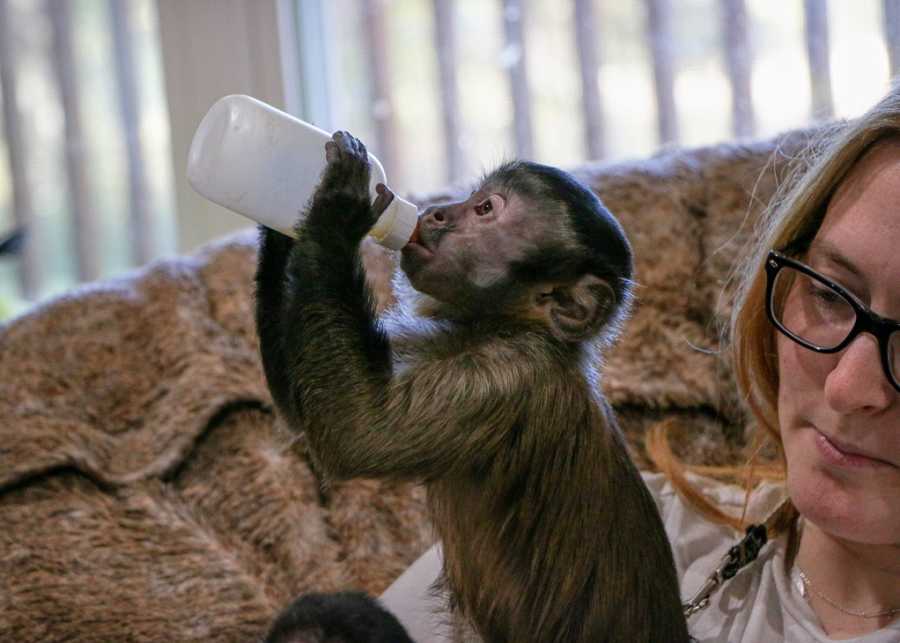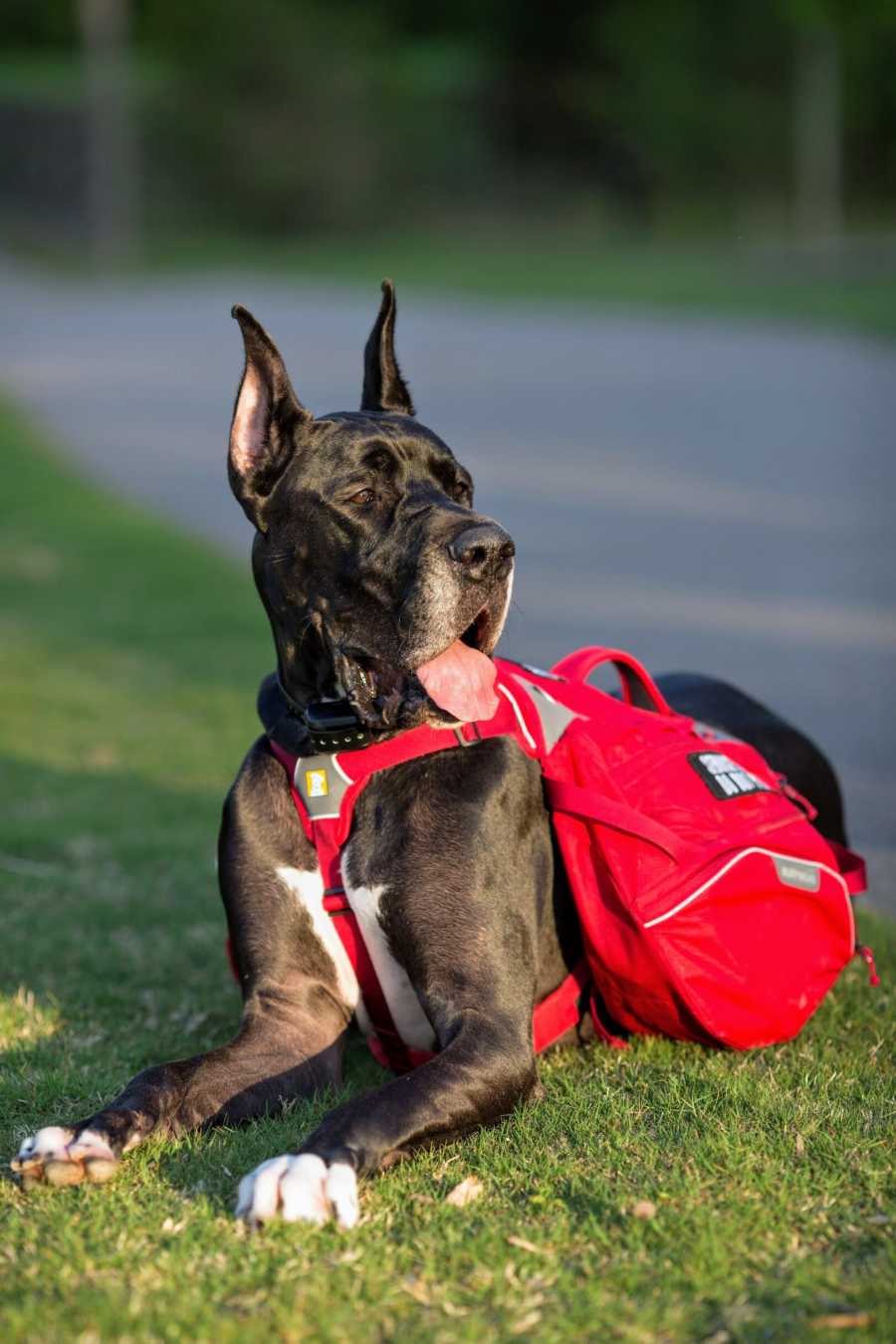 There is nothing like getting on your horse with your service dog in tow and allowing them to be your legs and eyes. My horse, Chanel, and I have ended up with a bond like no other. They have also allowed us the capability to get out and do something as a family. That's something we haven't been able to do in a long time. There is something so therapeutic about animals. I imagine it's the unspoken bond, love, and commitment to each other. They don't care about your capabilities or your weaknesses. They love you regardless.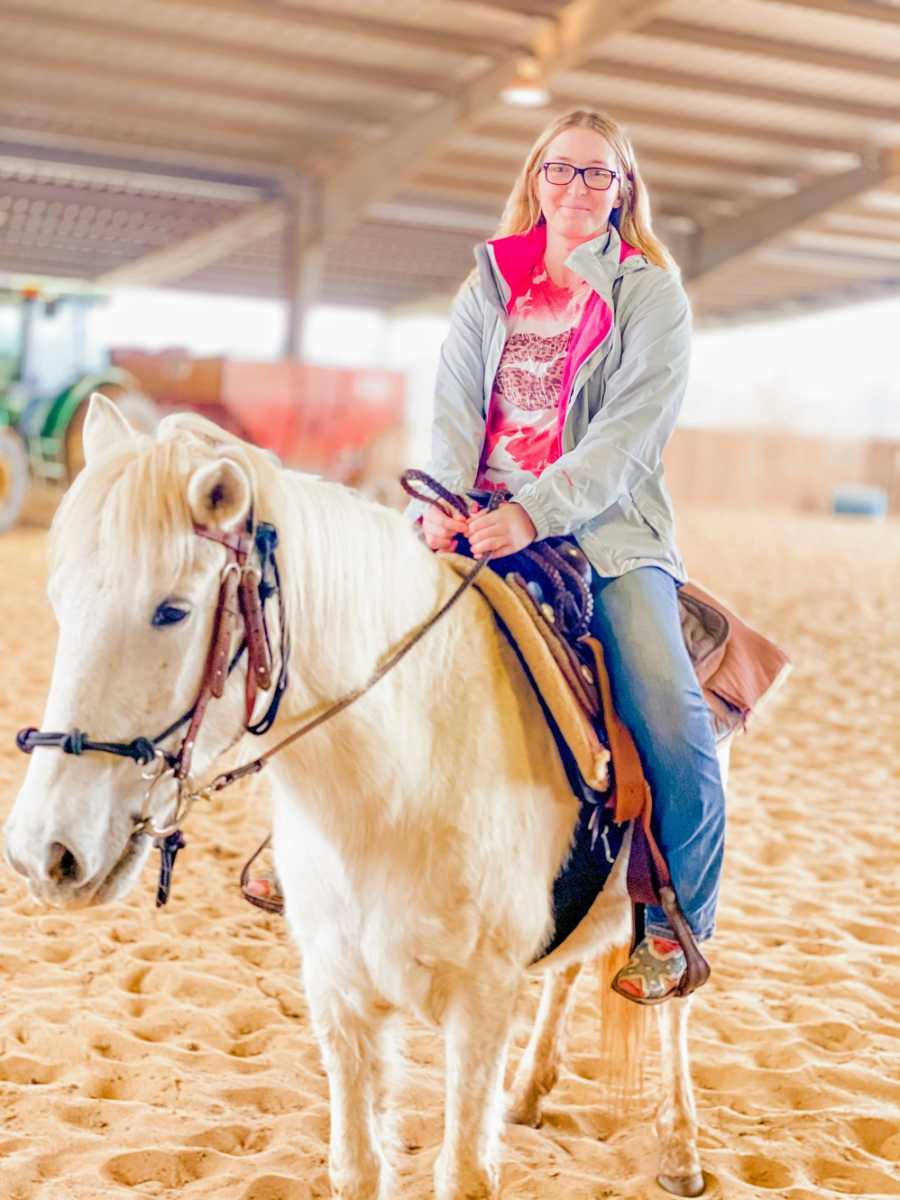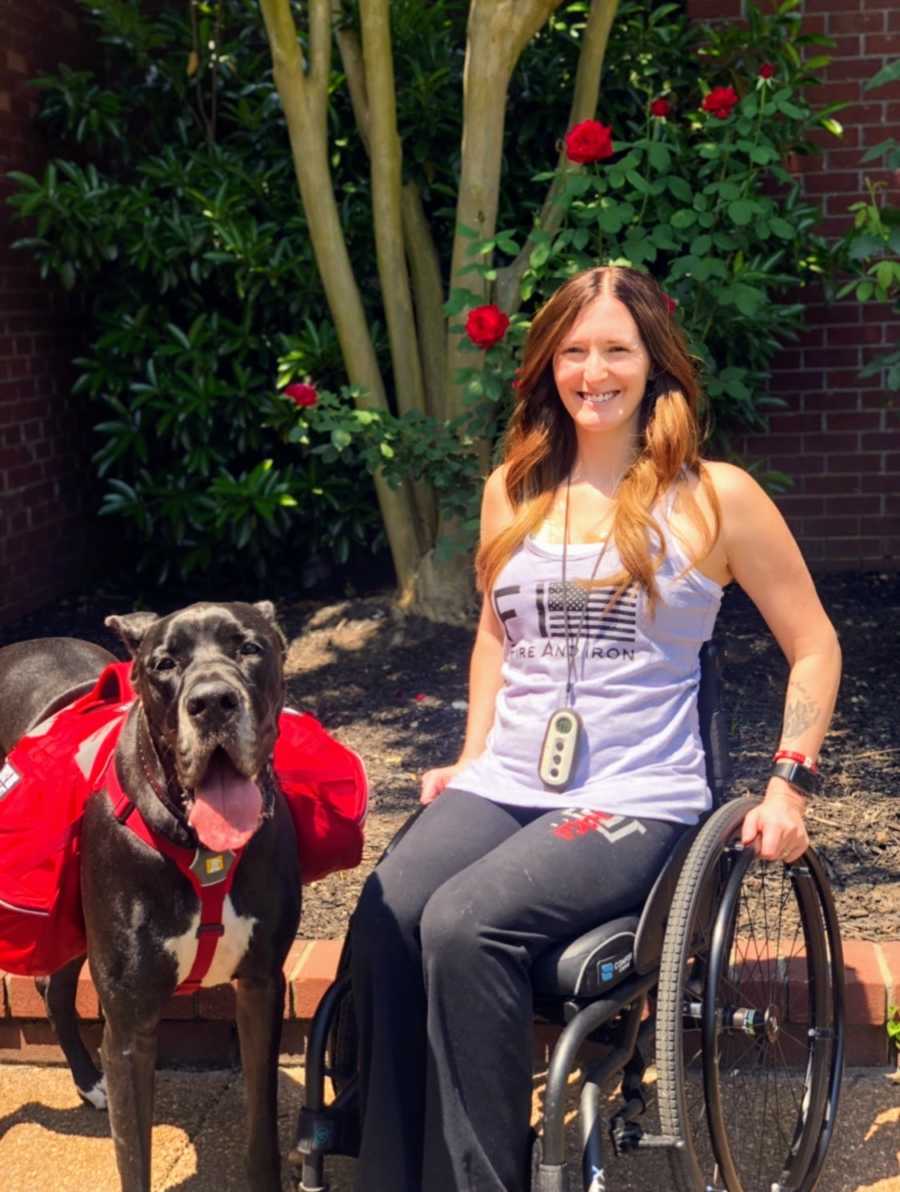 When I'm with my animals, spending time with my husband, on my horse, doing school work, running my business, or teaching my kids, my mind doesn't have time to wonder. My idle mind is a breeding ground for negative thoughts. Keeping my mind busy is how I stay mentally happy and healthy.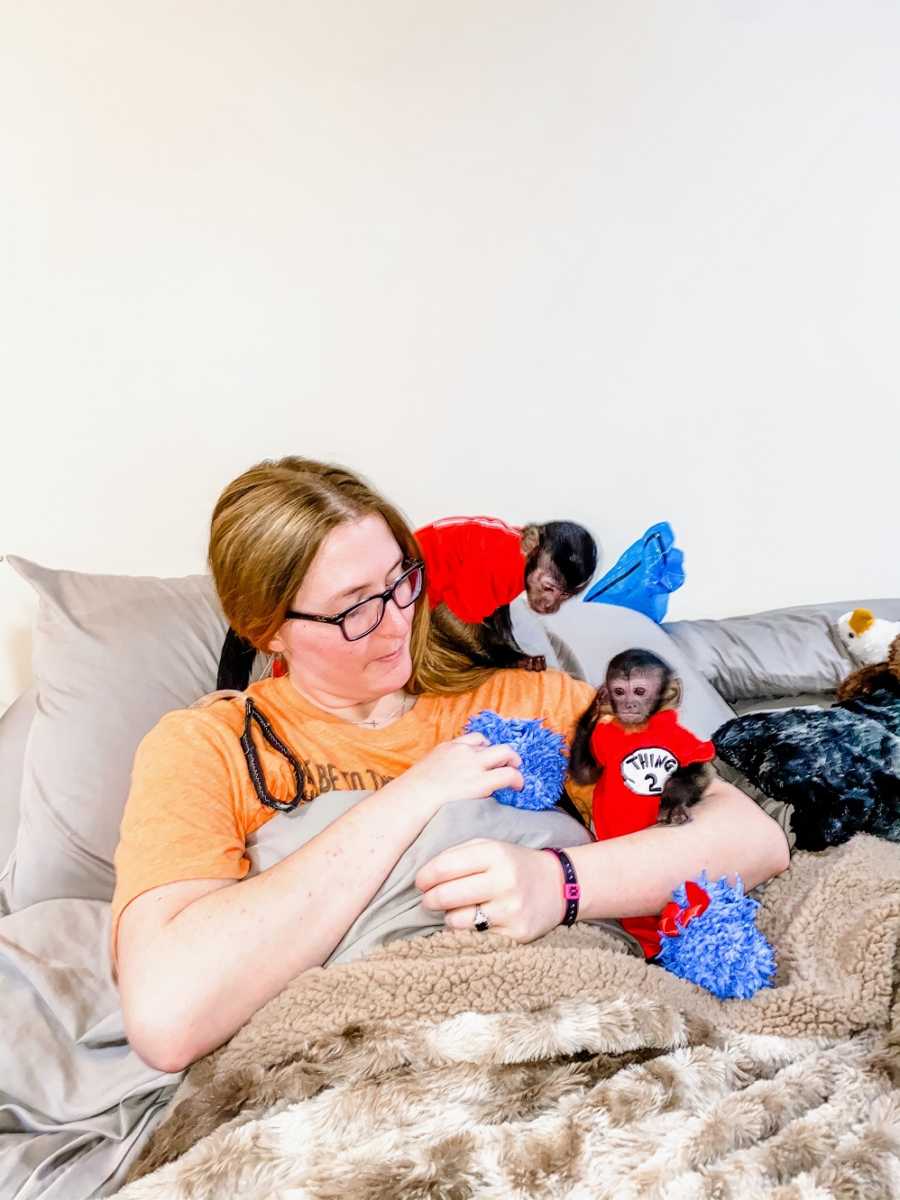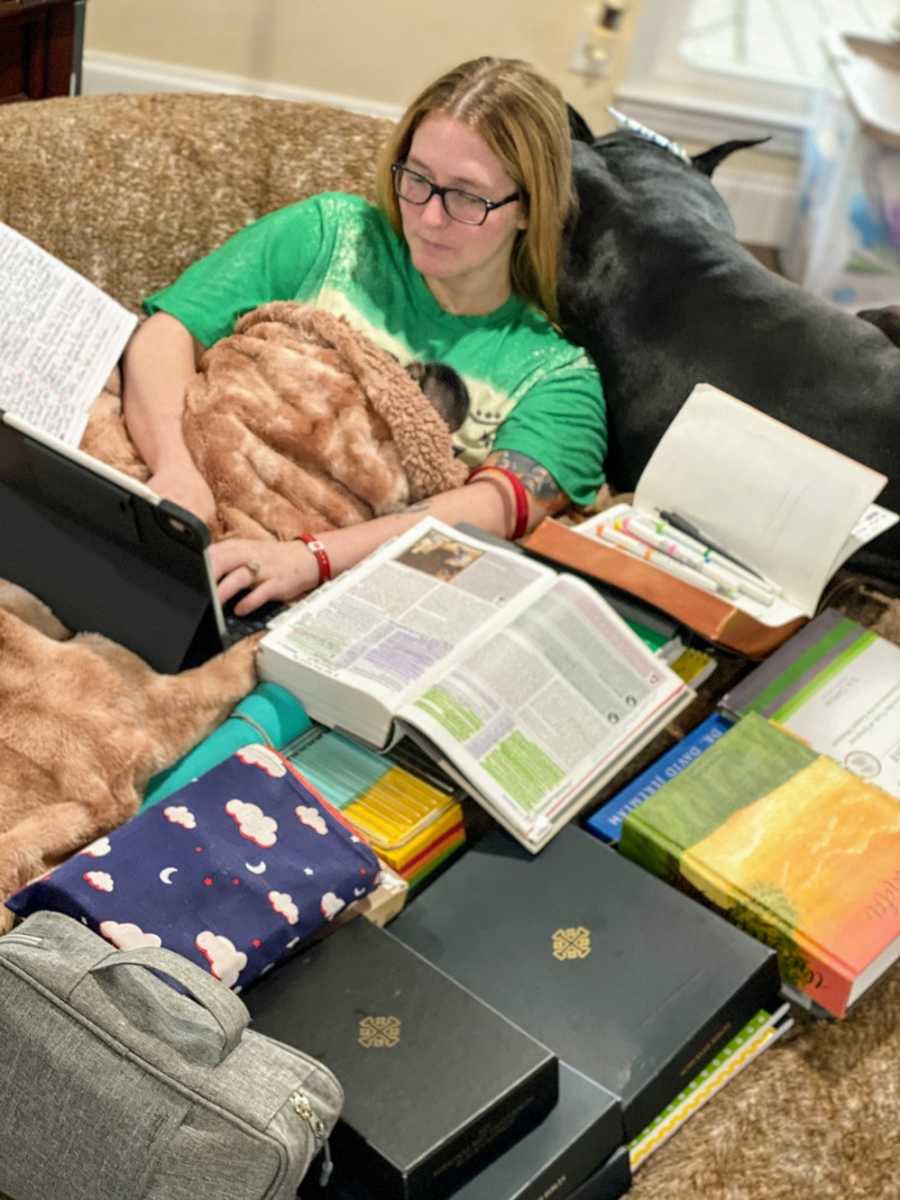 As my health continues to slowly decline, I pray my kids will look back and say, 'Mom never let anything take her down. It was hard constantly, on a daily basis, but she never let it hinder her from enjoying and building a life for us. I want to be that strong.' If that's the thought process I instill in them, then my job is done. We have never sheltered our boys from the truth about my health (obviously age-appropriate responses), and they have learned in turn how to handle curveballs with less panic and more of an out-of-the-box approach.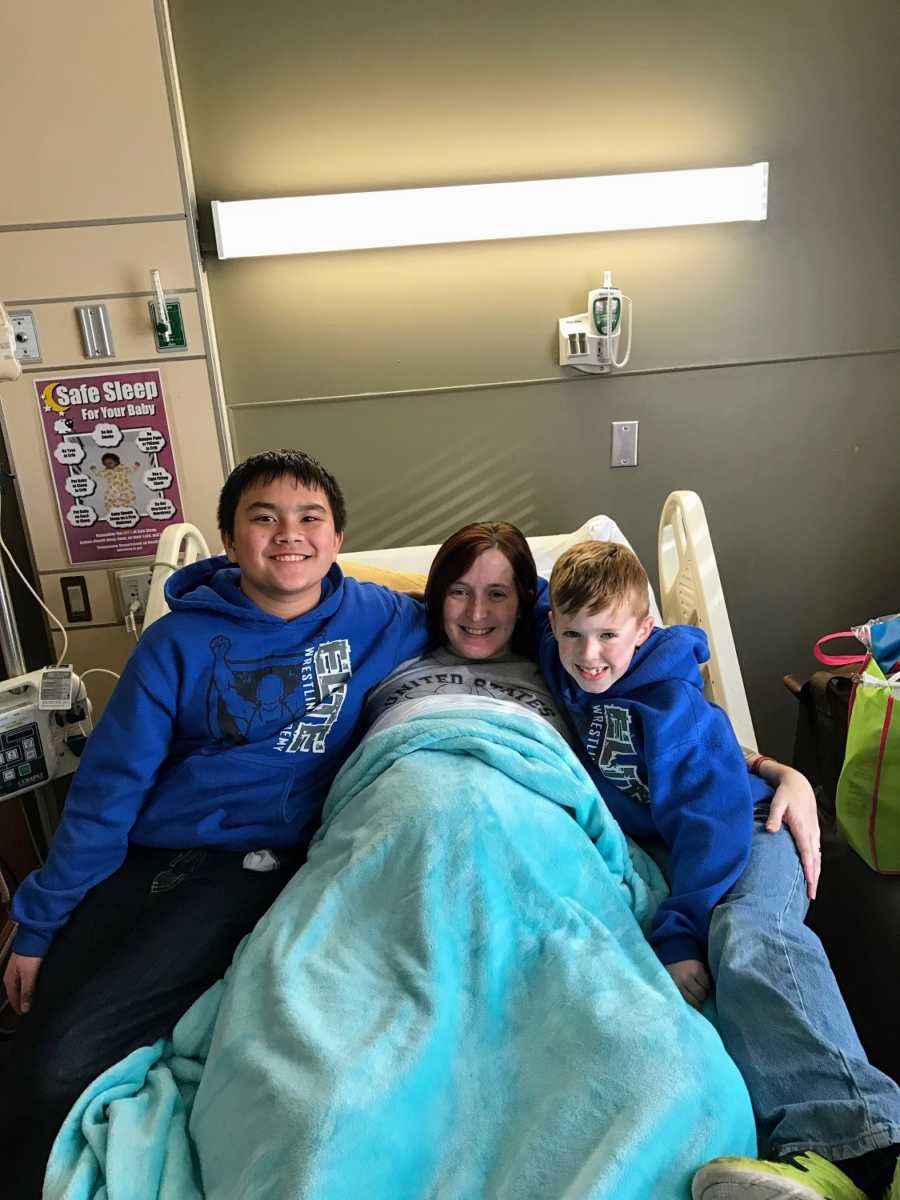 I am in a better mental and emotional place than I was before, but that doesn't mean I don't still have lows. I'm going to let you in on a secret: it is okay to fall apart and have a tough time, day, or week, but you have to eventually pick yourself up and move forward. Do NOT stop. Do NOT give up. It is hard to see and believe. If you told me 9 years ago I would be sitting down to type out an article to hopefully help someone else or show hope and strength, I would have laughed and said I'm not a good person for that, yet here I am.
I live by my trademarked, and copyrighted motto, 'Be Real, Raw and Uncensored.' It is okay to show your pain and hurt, but remember you are someone else's light in the darkness. I pray people will see you can do anything you want to do, but you might have to work harder, longer, and take a detour to get there. You might have to work extra hard and get creative, but do it! Don't let your disability or medical issue consume or define you. I currently run a successful business full-time from my house online, homeschool my 3 boys, raise primates, horses, as well as other farm animals, and I'm getting my master's degree—all while terminally ill and permanently disabled.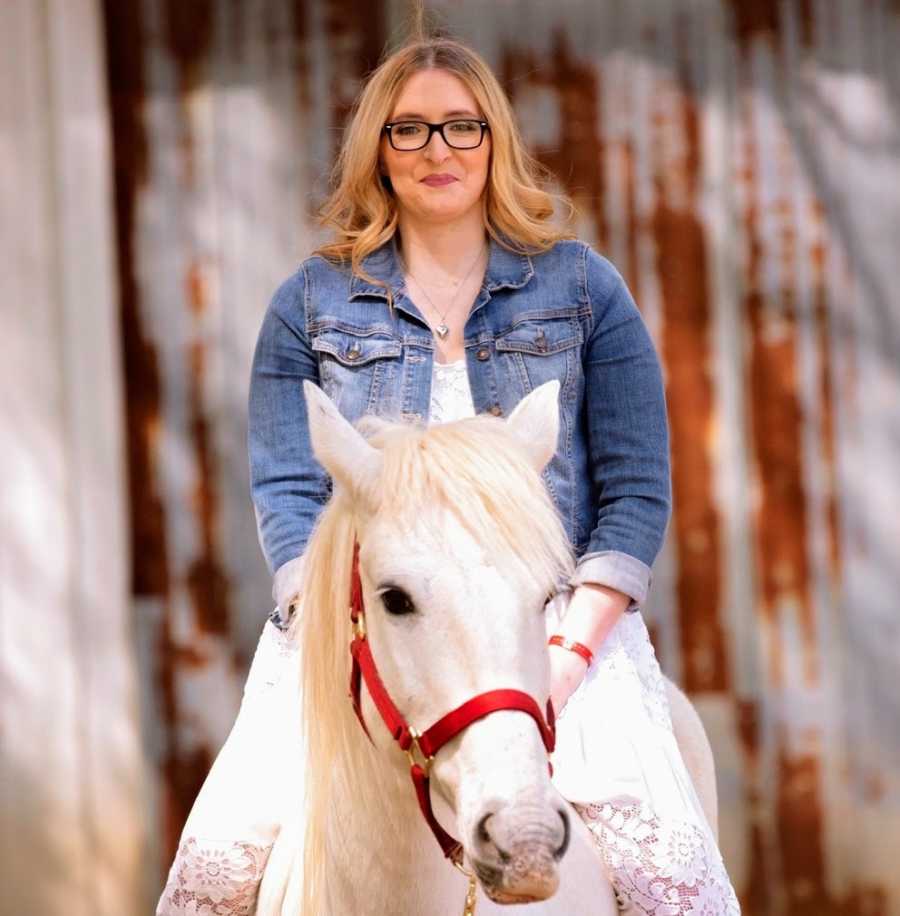 I refuse to let my disabilities stop me or keep me from ANYTHING I want to do, even if I have to do it a little differently than most. I refuse to settle, and I hope you don't settle either. YOU deserve to LIVE your life. Don't just exist or survive. I know what it is like to be stuck in survival mode (and sometimes it still kicks back in), but don't let yourself get stuck in that. Live life! Enjoy it! You CAN find a way to enjoy life if you want to badly enough. Do not allow the messes, flaws, and difficulties life has thrown your way to stop you from being the best version of yourself, even if you have to take a detour along the way. I mean, haven't you had to take an unexpected detour before that ended up being a more beautiful and scenic route than the route you were originally on? I know I sure have!"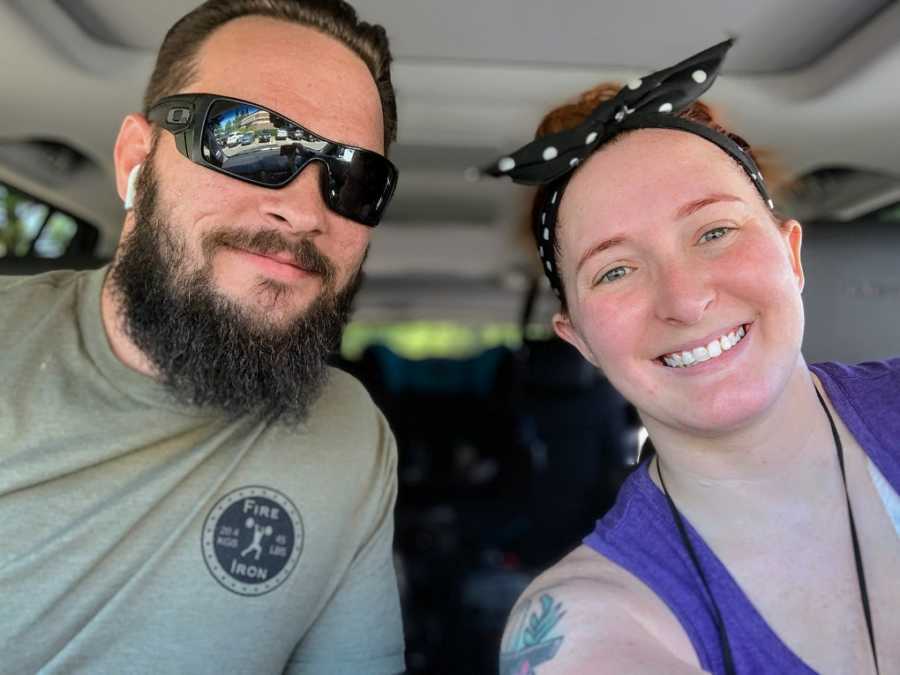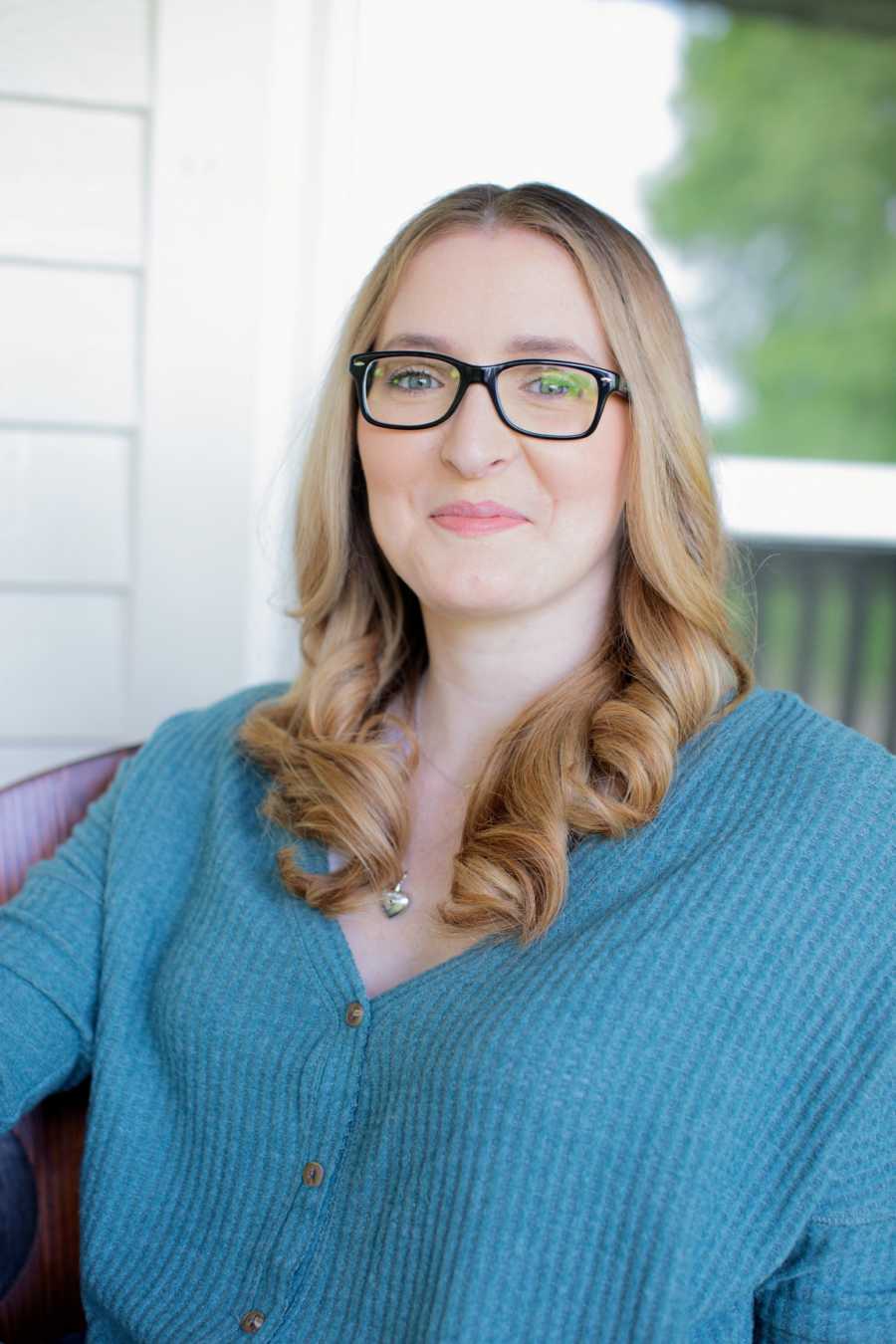 This story was submitted to Love What Matters by Amanda Bass of Memphis, Tennessee. You can follow their journey on Instagram. Be sure to subscribe to our free email newsletter for our best stories.
Read more stories like this:
'I rolled my eyes. 'You're the sickest patient on the whole Labor & Delivery floor.' I was dying right before their eyes.': Woman births miracle baby with limb difference after near-death molar pregnancy
'I went on countless job interviews, but I didn't 'look the part.' The second they saw me, the whole vibe changed.': Woman with Nemaline Rod Myopathy embraces disability, 'I want to be seen for the smart, fun, boss babe that I am'
Provide beauty and strength for others. SHARE this story on Facebook with your friends and family.