"The first thing I asked when my baby was born was, 'Is the baby breathing? Is he okay?'
I had a 12-hour exhausting labor. My vagina out for the world to see. 
While I struggled to get up and cried in pain, a nurse entered my room and asked, 'Are you going to breastfeed?' and latched a painful, angry piranha to my unsuspecting nipples. 
A doctor entered my room and asked, 'How many feeds has he had?,' while I wiped my tears because I was struggling. I couldn't get the damn piranha to latch. She hadn't noticed I had been crying and told me she'd be back later to help me. She never came back. 
I met other new mothers, and our questions were always about our babies. About their sleep and their routines. I didn't even know their names. 
I had 7 appointments. I was asked hundreds of questions. All of them, about my baby. 
I was asked once when I was pregnant, but when that baby left my body, I was no longer asked. Not even I dared to ask myself. 
But if they had asked me how I was, they would have known – I was struggling. If they asked me how I was doing, they would have known – I was scared. If they just asked me if I was okay, they would have known – I wasn't. 
I could have spoken up, but it's not so easy. You have a place in society now. You are a mother now. You're not meant to dry-heave when you see your baby's meconium, let alone complain that you aren't coping. People will tell you you're lucky to have had a baby and you should be grateful because everything goes quick and who wants to seem ungrateful? Who wants to say that when their baby cries it feels like needles to their head? And they just feel SO lonely. 
But now, you listen to me and you listen good; We are not just a body. We are not just a vessel. We are not just an old life that is discarded once we have served our purpose to make another. We aren't just so-so's mom, the invisible woman in the background making everything tick. You are the emotional rock, you are the last kiss goodnight, you are someone's whole world and if you aren't coping, if you aren't happy, no one can be. 
What I've learned after three children and never being asked, 'how are you doing,' I raise my hand and I say, 'I am not okay, I can't do this, and I'm not ashamed.' 
We care less about ourselves and that's evident in the fact that the first question we ever ask after giving birth is, 'Is everything ok?' But we should also be asking, 'Am I okay?' Because when we do that, we give permissions for others to do the same. 
When a baby is born, so is a mother. So, ask us too, and ask us often, 'Is everything okay?' Maybe she will say she's fine, maybe she won't. But don't stop asking, even after her kids have long left the nest."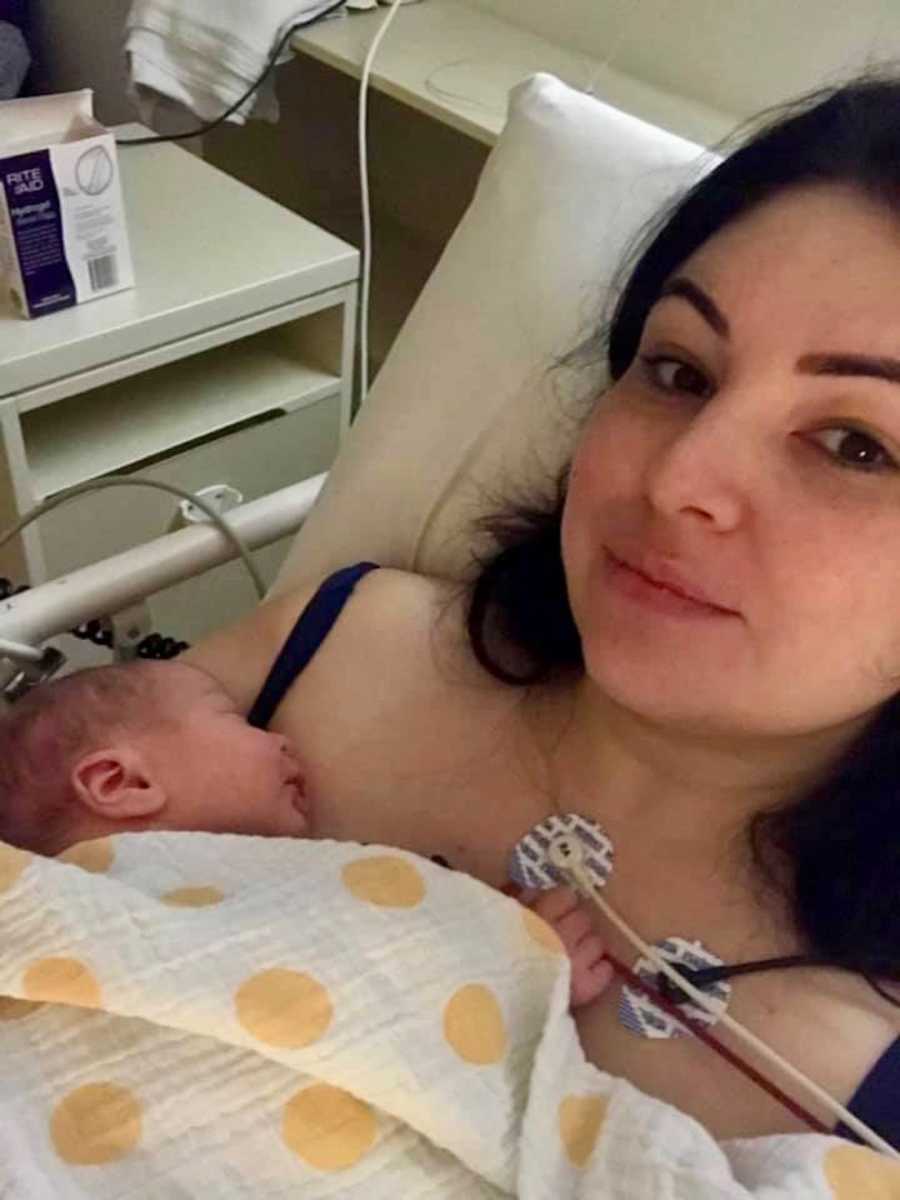 This story was submitted to Love What Matters by Laura Mazza. You can follow her journey on Facebook and Instagram. Be sure to subscribe to our free email newsletter for our best stories.
Read more stories like this:
'I send mind blowing messages that get him going. 'Hey, buy the super absorbent pads, it's raining Niagara Falls over here. And the baby vomited in my mouth, so some mouthwash, too.': Mom hilariously recalls differences in sex life after you have children
'No one is cleaning their house every day. No one is having sex every day. We are ALL losing our crap.': Mom insists 'you're amazing' at motherhood even when it doesn't feel like it, 'To them, you are everything'
Provide beauty and strength for others. SHARE this story on Facebook with your friends and family.