"'Oh so it worked for you! You adopted and then found out you were pregnant. I'm so happy for you.' Her words were confident as she loaded the belt with groceries, one by one, smiling at me. Beaming.
I'm becoming more and more aware there may never be a time when this myth falls away, when this stigma ceases to exist. But a mama can dream, right? A mama can dream that one day her son won't feel like he was some means to his brother?
I'm actually pretty confident he won't feel that way. Because we could have easily stopped our adoption process when we were pregnant again. We talk about how we hoped to grow our family both ways, and we will (Lord willing) adopt again. Therefore, he will know adoption has always been our plan. He was always our plan and never a means to an end.
But that doesn't mean the world won't stop looking at him this way.
Adoption is not what impregnated me. (My husband was…in case you were wondering).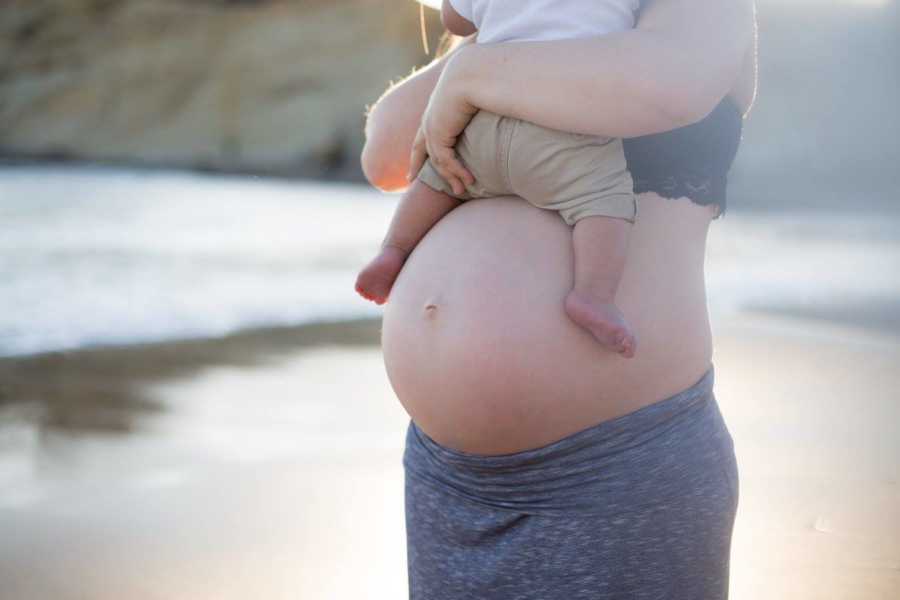 It's pretty often onlookers like to piece our story together into a quick, excited, falsified formula: we couldn't get pregnant, we resorted to adoption, we adopted, then found out we were pregnant and got what we really wanted.
I usually smile and say something to the extent of, 'Oh! That's actually not how it works. Also my bio son isn't some weird reward for adopting; they're both entirely wanted and hoped for.'
One time a lady argued with me: she told me pregnancy and biological babies are always the goal, 'congrats for me.'
In my educated opinion, adoption is not a means to pregnancy.
Maybe you don't consciously see this as a messed up formula to fix a medical diagnosis of infertility. It is possible you have never said the exact words, 'adoption is the way to get pregnant.'
But it is quite possible you have said something implying adoption is a means to pregnancy, and celebrated God for 'blessing [so and so] with pregnancy' after struggling with infertility and then resorting to adoption. Listen, I love God and I am a huge fan of Jesus. But He doesn't reward us with bio kids because we adopted.
Will you think through this with me, and to correct/educate someone if they perpetuate this unhealthy, unhelpful notion?
Will you help make this world a bit better for adoptees already struggling to know they are very, very wanted and not less than?
Can we erase the myth?
Probably not, but for the little time I have on earth, I am determined to make it a little bit better than I found it. It's all I can do as a mama.
Hop on over to Adoption is Not A Means To Pregnancy, read through all the reasons why this notion and its implications are problematic, and why this is 'such a big deal.'
Read further to hear the comments said to other moms of almost twins.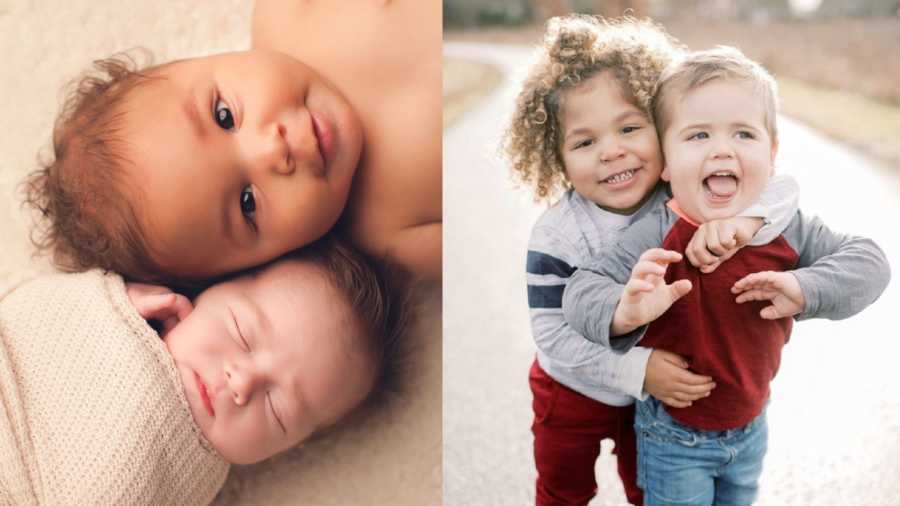 I polled my Almost/Virtual Twin Mamas Facebook Group.
I asked these moms to share the comments or statements said to them, in reference to their pregnancy after (or while) adopting.
Note: not everyone who adopts struggles with infertility, yet many people assume they did/do and continue to perpetuate this myth.
Here are a few of the things they have been told + asked:
'Are you going to give him [son via adoption] back, since you are going to have your own child?'
'See, you adopted because you were impatient; had you waited just a little longer…'
'I was so frustrated every time someone said to me, 'Once you adopt, y'all will get pregnant.''
'You just needed to relax, see?'
'Someone congratulated me for 'finally becoming a real mom.' I had been a mom for three years to two girls I adopted.'
'I didn't want to announce our pregnancy because of this. People always saying, 'That always happens!' about pregnancy after adopting. No, no it doesn't.'
'I often heard, 'God is so good' from people who did NOT think 'God was so good' when we announced our adoption. I despise when Christians only say this when they get things. Our God is not a materialistic God. We are blessed already and He is good simply because of who He is.'
''Are you still adopting?' we were asked countless times, but adoption was our Plan A.'
''That's so crazy that you tried and tried to get pregnant and then when you chose adoption, you got pregnant!' Ummmm nope. Not our story. Thanks for making that up out of thin air and telling me MY story inaccurately, though.'
'My biggest struggle was that I can't control what people think or feel; I feared they would never change and will project these feelings onto my daughter once she is older.'
'As soon as a close family member found out I was pregnant he said, 'Well I guess it's not all bad. At least now you don't have to adopt.''
''See? You just needed to relax so that you could get pregnant.' If I had a dollar for every time someone said that to me after learning that I became pregnant during our adoption journey…well, I'd have a nice college fund started for the Twins.
'The thing people don't seem to understand is the 'relief' of knowing you are growing your family via adoption doesn't mean your uterus magically starts working properly. The adoption process is one of the most stressful things I have ever done. It puts extreme pressure on your marriage, your finances, and your faith. And saying that 'relaxing' was the key to getting pregnant did little more than make me feel like a failure during a time when I was already struggling, as if I just didn't have enough will power or inner strength to put aside my stress. People actually insinuated that stress was the reason I miscarried my first baby as well.'
'My pregnancy, although a huge blessing, actually added to my stress level. When we told our child's birth mother we were expecting, she briefly changed her mind about letting us adopt our daughter. And the thought of the costs of raising two babies kept me up many a night.'
What I wish I would have told people more, was they didn't have all the facts. There was more to our story than simply needing to relax—medical histories, failed pregnancies, dashed dreams—and their comments trivialized what we had endured whether they meant to or not.'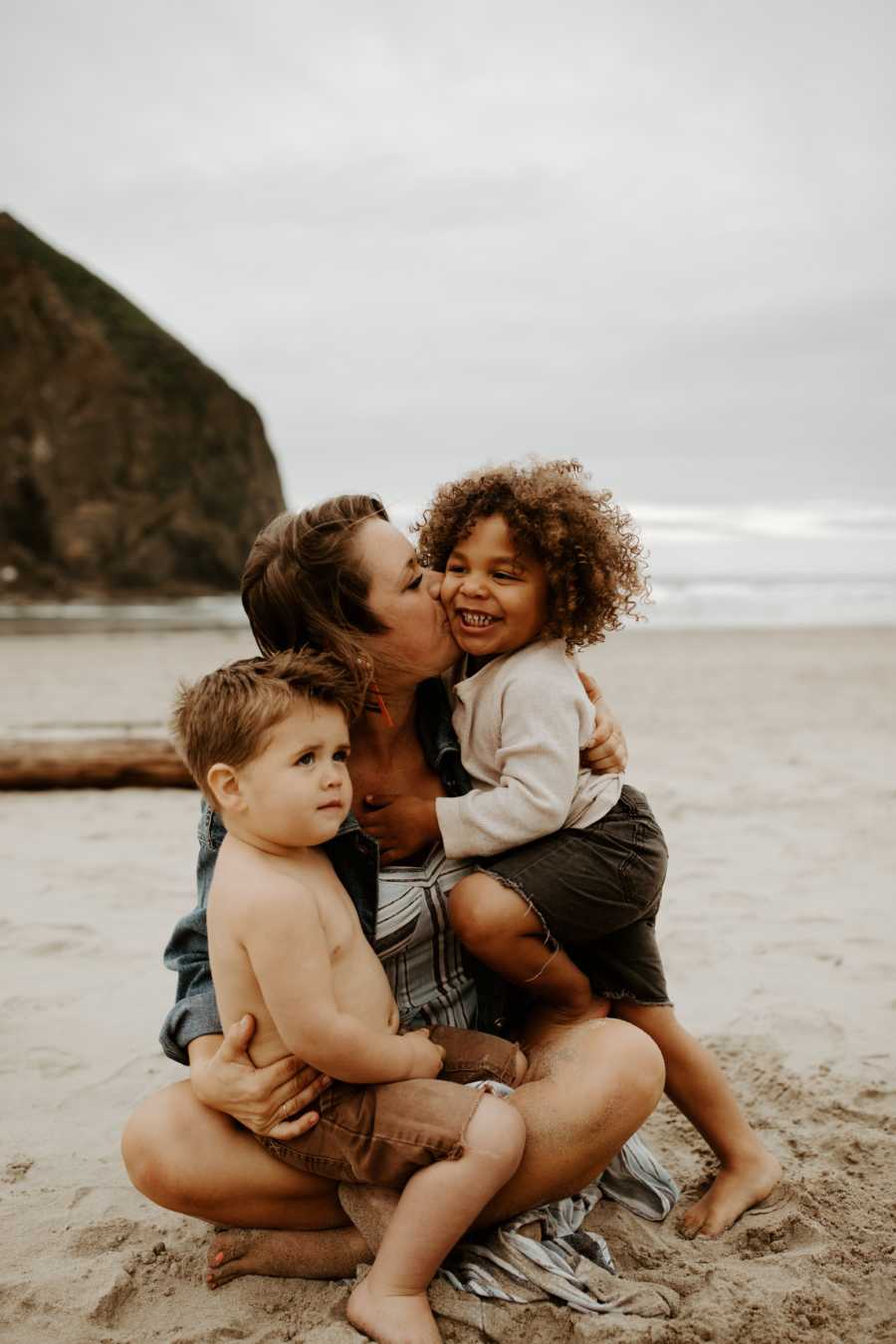 Approximately 1/8 married couples (12% of married women) experience infertility or struggle sustaining a pregnancy.
LESS than 3% of all those that adopt will get pregnant. I don't even know if this is taking into account the fact that not all families who choose adoption are even infertile. Studies reveal the rate for achieving pregnancy after adopting is the same as for those who do not adopt.
When [infertile] people get pregnant after adopting, I assure you it has nothing to do with the fact they adopted. I assure you.
Join us in tackling this myth and giving adoptees the value they deserve."
This story was submitted to Love What Matters by Natalie Brenner of Portland, Oregon. You can follow her journey on Instagram, Facebook and her website. Learn more about her book here. Do you have a similar experience? We'd like to hear your important journey. Submit your own story here. Be sure to subscribe to our free email newsletter for our best stories, and YouTube for our best videos.
Read Natalie's powerful backstory of adoption:
'She said, 'That's them. That's my son's parents. That's who I've been looking for.' And then, I told her you were pregnant.'
'I just have to ask, do you love Sage as much as you love Ira? I know you say you do, but is it true?' We sat on my living room floor when she asked me this. I nodded. 'I absolutely do.'
'Can you please stop talking about it? Why do you keep talking about it?' She slammed her cup of milk down.': Foster mom's emotional realization that 'goodbye is coming'
Help us show compassion is contagious. SHARE this beautiful story on Facebook with your friends and family.