"We found out we were pregnant in the summer of 2018. I had recently turned 29 and my husband (fiancé at the time) was about to turn 31. A few months prior, we had scheduled our wedding for the following summer and we were busy planning and dreaming. At 18 years old, I had been diagnosed with Polycystic Ovarian Syndrome (PCOS) and was told I would likely never have children without medical intervention. Needless to say, those two pink lines came as a shock, but also a very welcome surprise!
I distinctly remember the call where we received our first-trimester screening results. We were in a meeting regarding a college program my husband was considering at the time when my phone started to buzz on the table. I quickly excused myself and one of the first things the nurse on the other line said was we had 'screened negative' for Down syndrome, trisomy 18, and trisomy 13. She confirmed my next routine appointment and asked if I had any questions. As she was preparing to let me go she asked if I would like to know the actual values of the test.
'Sure.' Why not?
I heard some clicking around on the computer followed by: 'Less than 1/10,000 chance for trisomy 18, less than 1/10,000 chance for trisomy 13, less than 1/3,600 chance for trisomy 21.'
I thanked her and headed back into the meeting, gave my husband a quick thumbs-up, and quietly daydreamed about pregnancy announcements and baby names while the woman we were meeting with continued to discuss credits and financial aid.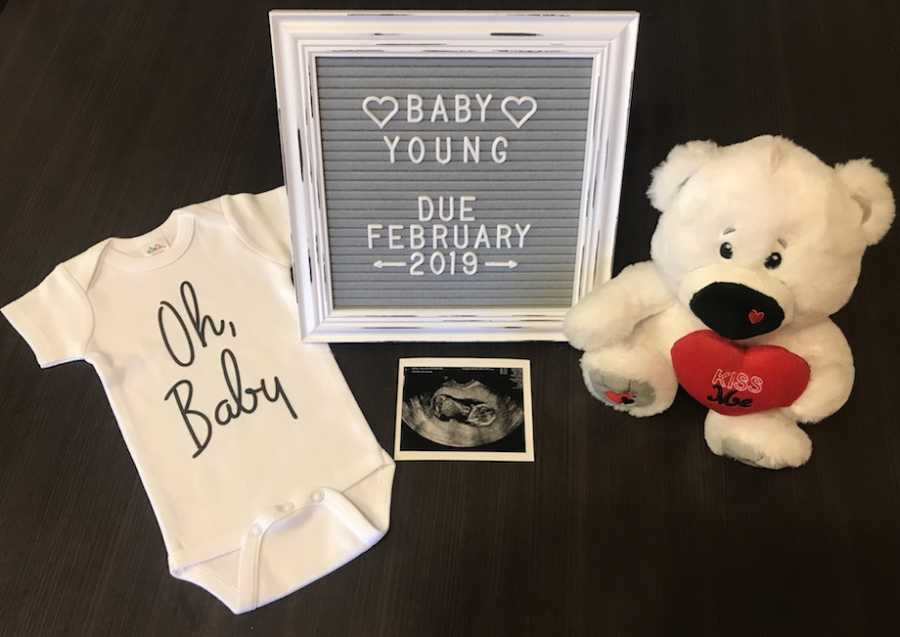 Admittedly, 1/3,600 did give me pause. I did the math quickly on my phone as I made my way back inside: 1/3,600 translated to a 0.02% chance of my baby having Down syndrome. We were young and low risk so I shoved Down syndrome to the very back of my mind for the rest of the pregnancy. It was never mentioned at another prenatal appointment and our pregnancy continued to go smoothly. All ultrasounds and additional routine screenings were passed with flying colors.
Physically, my pregnancy was pretty easy. The most challenging part was the anxiety caused by an inability to shake the feeling something unexpected might happen. I chalked it up to working as a nurse with women experiencing high-risk pregnancies. My work made me acutely aware of the things that can potentially go wrong in a pregnancy.
Norah Anne entered this world at 8:51 p.m. on February 5, 2019, via an emergency c-section. I'm not sure exactly how many s-sections I had witnessed as a labor and delivery nurse prior to my own, but it was enough to know when things weren't going quite as expected or when the feeling in a room was 'off' following a delivery.
They whisked her over to the incubator, barely giving me a glimpse. And then they just kept her over there, quietly talking amongst themselves. I could see her pink arms and legs wiggling and I could hear her strong cries as they huddled over her.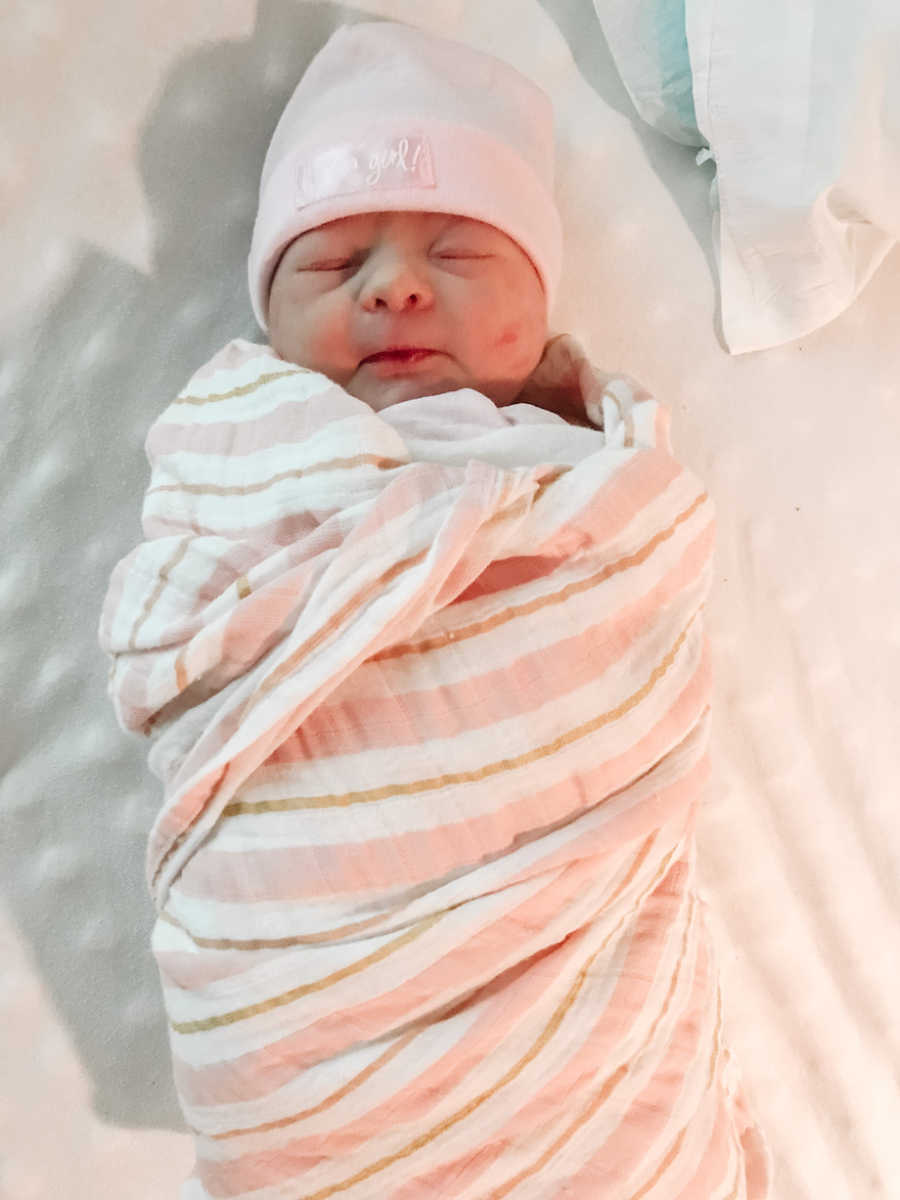 My mind was racing. She clearly wasn't needing resuscitation. Why was she still over there? Why were they whispering? I just wanted my baby. It wasn't adding up and with each passing second, my heart dropped further into the pit of my stomach.
The next few hours are a complete blur, but I remember the exact moment my heart shattered into a million little pieces on that operating room floor.
It was just over 7 minutes between when Norah was born to when I held her for the first time, but it felt like an eternity. I didn't know at the time but my mom filmed every second of her birth, including the moment she was handed to me in the operating room. You can see my hesitation. I knew we were about to receive news we were not prepared for.
I fully laid eyes on our daughter for the first time when a nurse held her up in front of me as my doctor finished the surgery. As I took in how perfect she was, it was quickly pointed out to us everything they saw that was 'wrong' with her. Her beautiful, almond-shaped eyes, the way her tongue rested gently on her bottom lip, and her tiny pinky with the slightest of curves. This was quickly followed by something along the lines of, 'I believe she has Down syndrome, but she is doing well. Do you want me to take her to the NICU to be monitored and have blood drawn for the test?'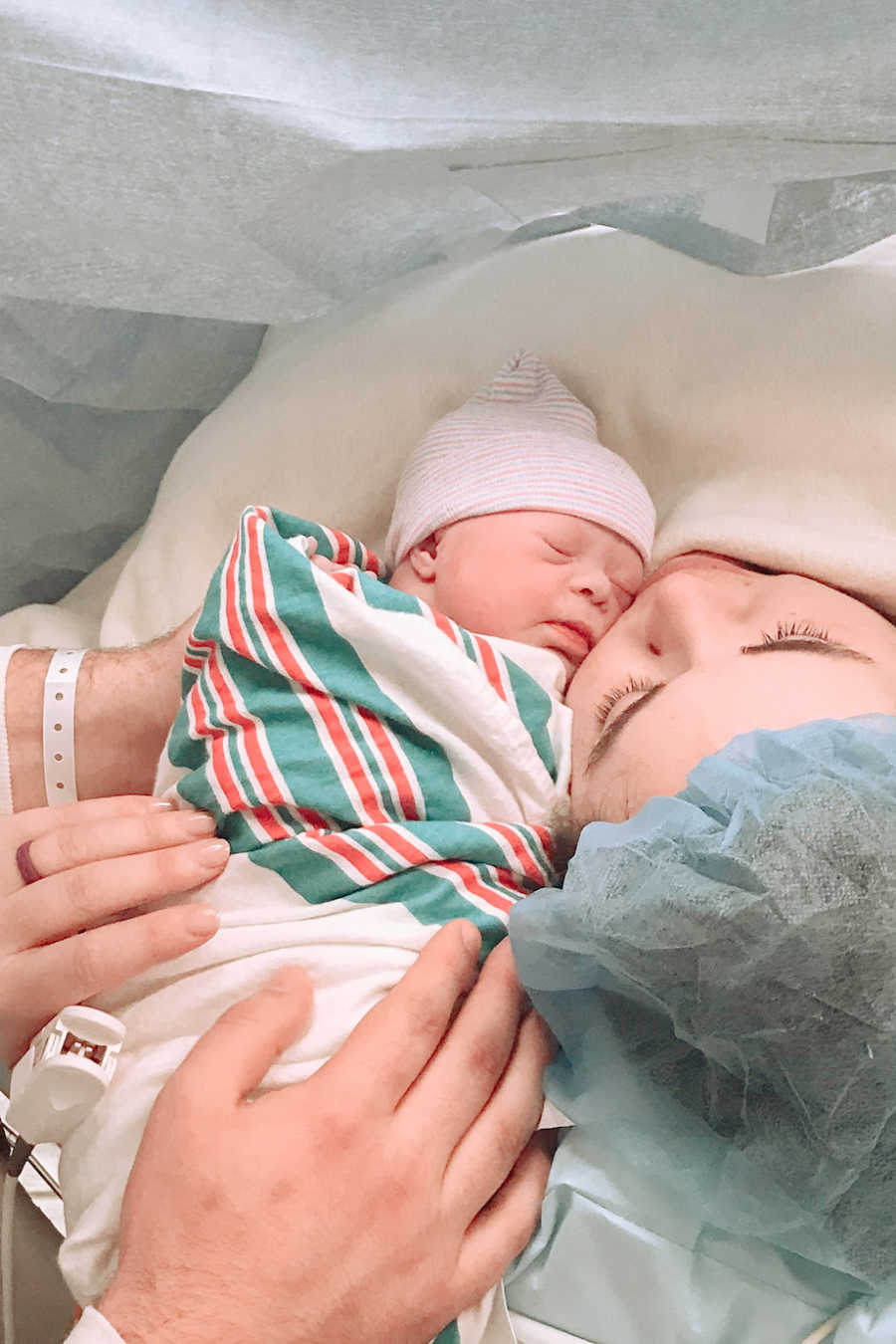 As I laid on the operating table, being asked to process what felt unimaginable at the moment, I had no idea what decisions were right or wrong. I was blindsided and in shock. I remember looking around the room for anyone to make a decision for me. I don't recall who said what, but I am eternally grateful we decided against sending her to the NICU in those first few hours and instead got to know her in the privacy of our room. At the time, I hadn't the slightest idea what a gift to our story that would be or how fortunate we were to have that choice to make.
We spent 36 hours in the hospital together as a family of three. During that time, Norah had a blood draw and a cardiac echo to check for congenital heart defects. At the time, I had no idea how common heart defects were in babies with Down syndrome (over 50%). Thankfully, she only had a small hole in her heart that would go on to close on its own and never cause any symptoms. Otherwise, our time in the hospital was spent just like many other new families: getting to know our baby, learning to breastfeed, and introducing her to our families. The diagnosis was still a 'maybe' based on only physical characteristics while we awaited her karyotype. I spent a lot of time analyzing her beautiful features and trying to convince myself the doctors could be wrong.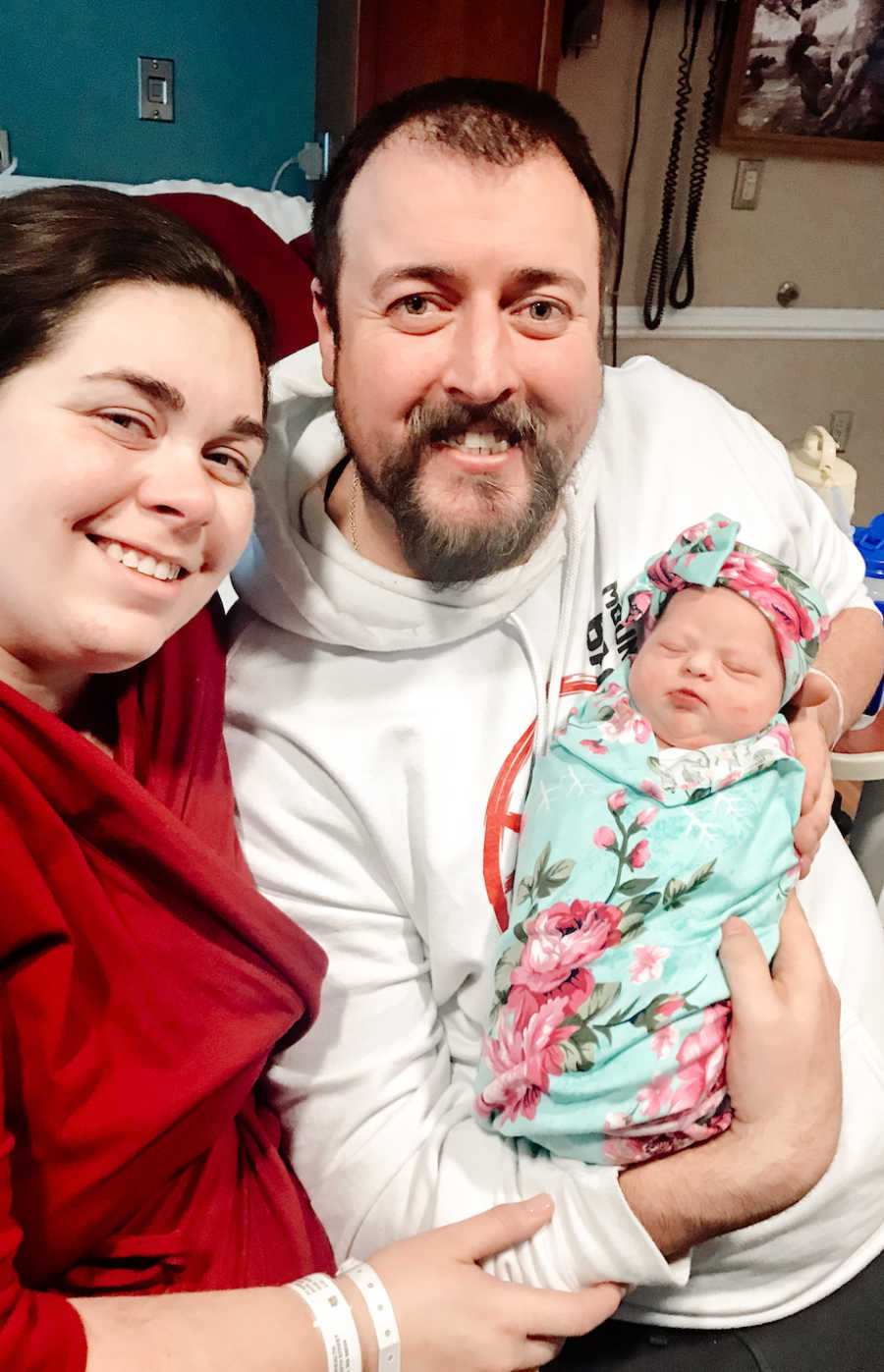 I'm not sure the first time I cried, but there were a lot of tears in the early weeks. Postpartum hormones are hard. Grief is hard. Grieving the child and life you expected while falling madly in love with the baby you brought home in the midst of huge hormone shifts and new parent exhaustion is a whole different level of hard.
But looking back, there are so many bright spots in those first days I struggled to see the beauty of in the midst of my pain.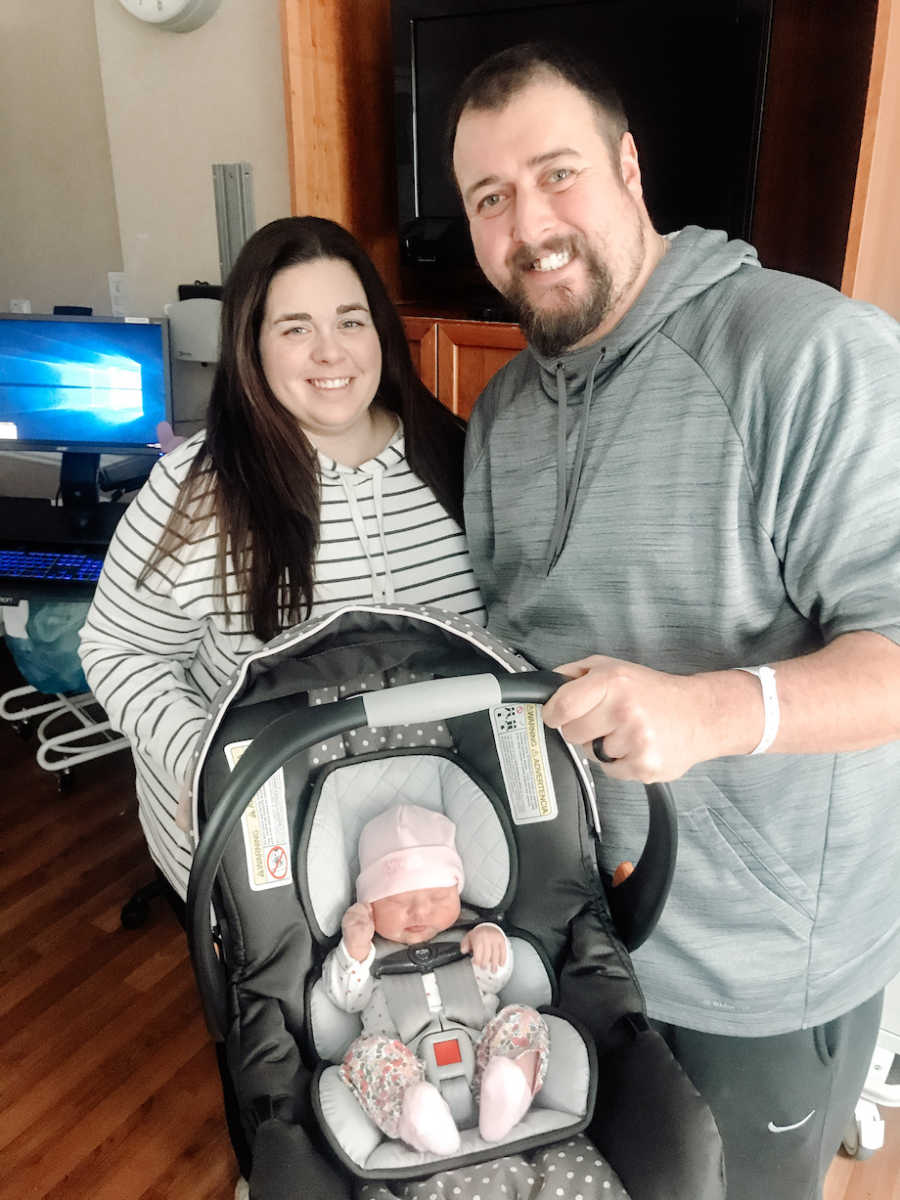 My husband showed me just how strong he could be for the three of us when I was crumbling under the weight of the unknown. I know he was scared and sad too, but he never showed it in front of me. His only focus was holding me up, loving the both of us, and making all of the phone calls and appointments I just could not mentally handle yet. He has continued to be the rock of our family.
One of my closest friends took care of us both nights we were in the hospital and rarely left my side, even taking her breaks in my room so I could safely sleep with Norah skin to skin while also letting my husband get some much-needed rest.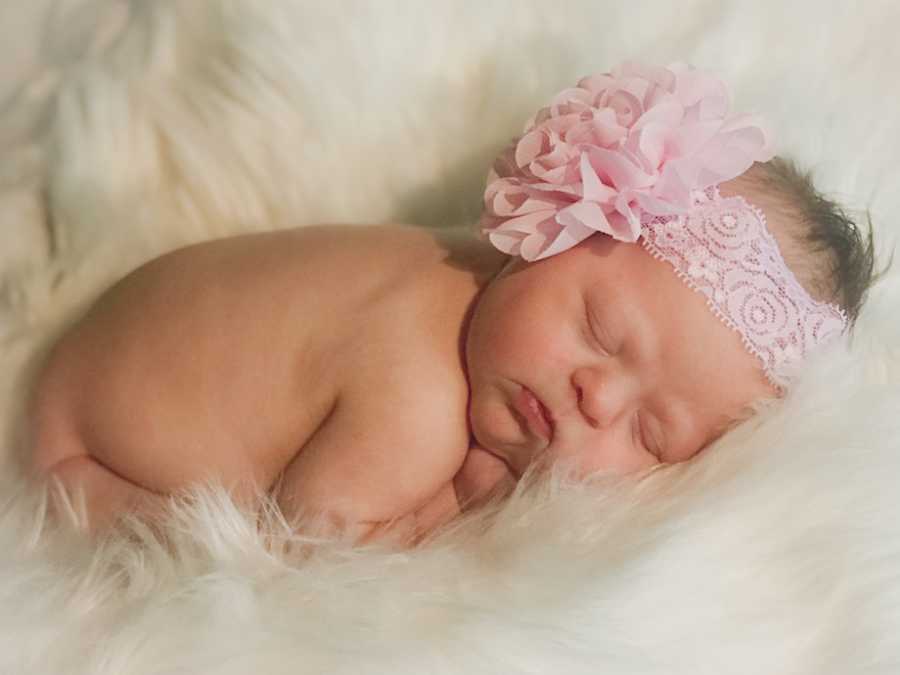 We met our pediatrician bleary-eyed that first morning after the birth. She looked me in the eye and told me regardless of what the final test results were, Norah was healthy, beautiful, and she was going to have an amazing life because we are her parents and she could tell how much love there was surrounding this little girl. I knew she meant every word.
My OBGYN sat down with me in her office at my follow up appointment and let me pour over my ultrasounds and ask all of the questions that had been keeping me up at night. She knew I would forever wonder how we missed it and wanted to give me answers. It turns out there was really nothing to miss. We were just the one.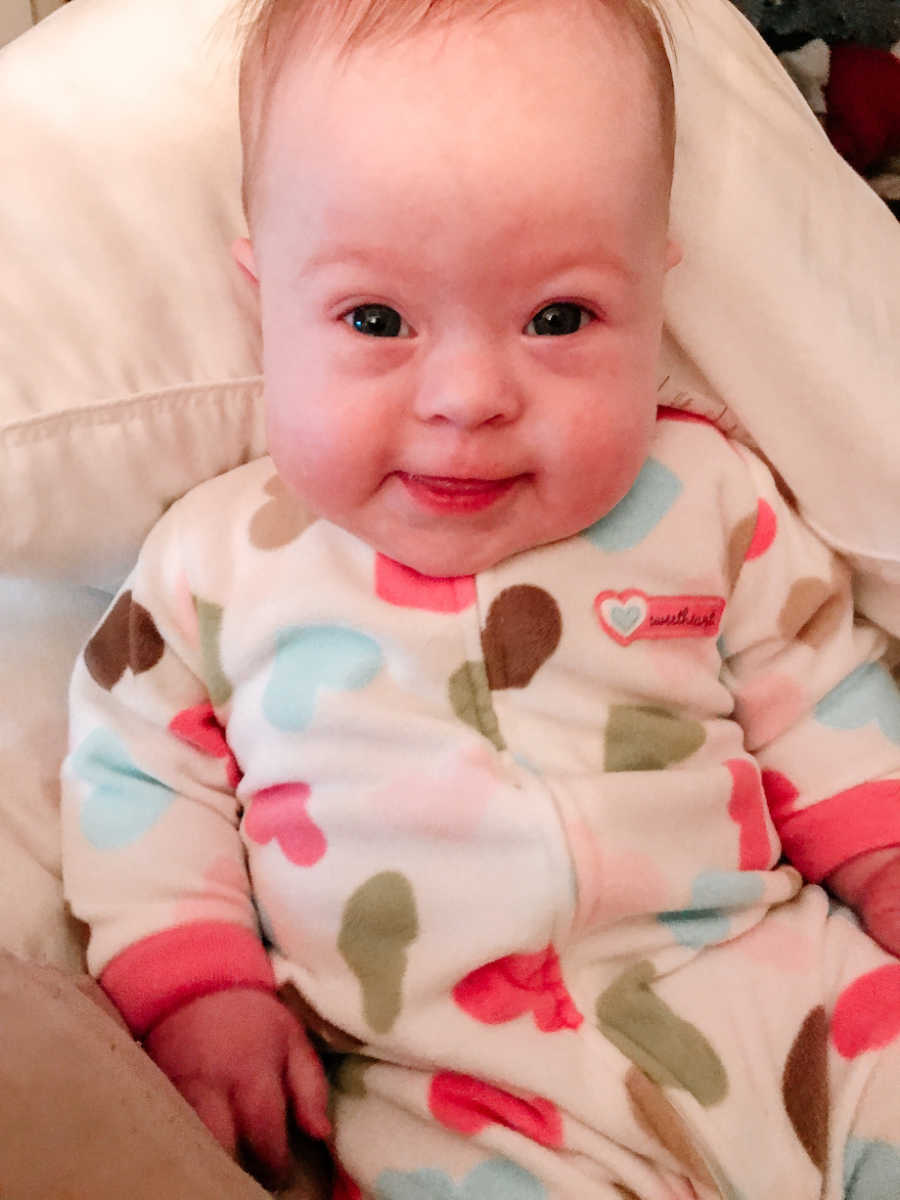 The family and friends rallied around us, because of course little miss was born in the midst of a Pacific Northwest snowstorm, and made sure we had everything we needed and more, should we get snowed in or lose power. (The first kind of happened, the second, thankfully, did not!)
And, of course, this amazing baby girl who stared up at me with nothing but pure love through it all.
Her first year was challenging for me. I battled severe postpartum depression and anxiety. I had to take a hard look at my own biases and misconceptions regarding people with disabilities and reconsider what it really means to live a fulfilling and meaningful life. It was a year of immense personal growth. Growth that has made me a significantly better human being.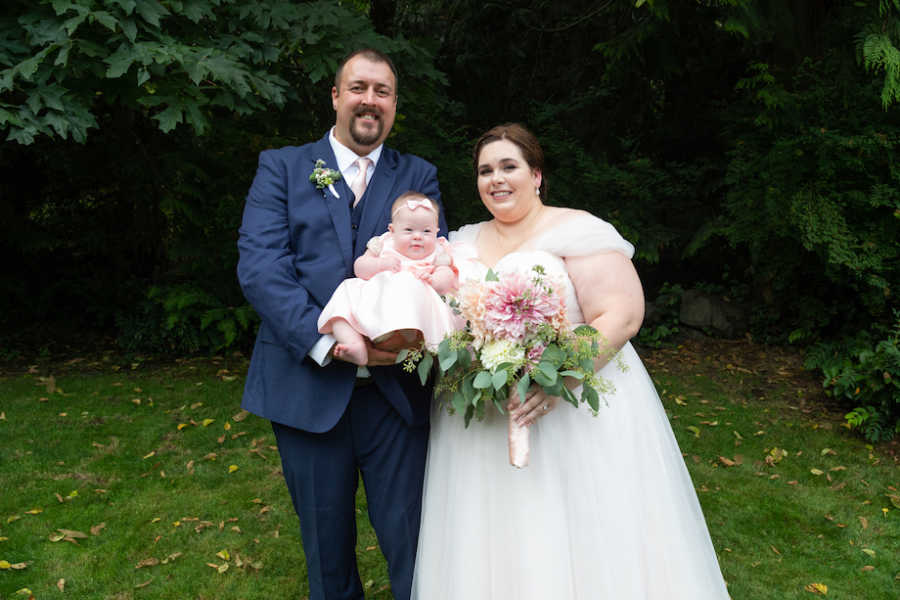 It also took me the majority of this first year before I felt ready to immerse myself in the Down syndrome community, but what I found there was something I didn't know I had been longing for. Friendships I will cherish for a lifetime and a community that stands behind its own fiercely. A community that raises one another up time and time again. We truly are the Lucky Few.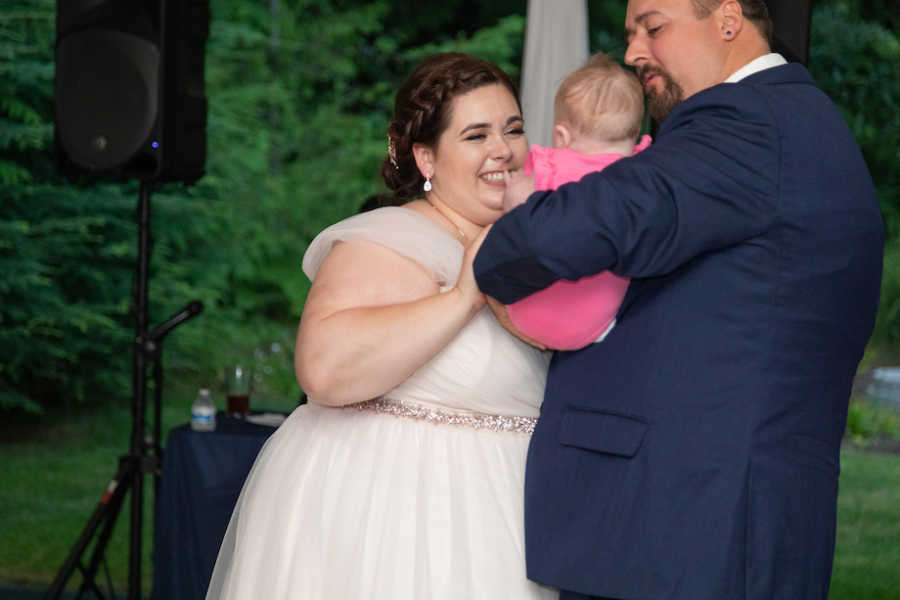 We recently celebrated Norah's second birthday. Her second year was simply incredible — a year full of learning and achievements, a year of celebrating differences and feeling nothing but joy and pride about my daughter having Down syndrome. We could not be more proud of the little girl she is growing into. She is bright, sassy, hilarious, and independent. She loves her family fiercely and makes people smile wherever she goes. Her favorite things are the family dog, car rides, The Wiggles, making silly faces, and snacks! She is everything we dreamed of and more.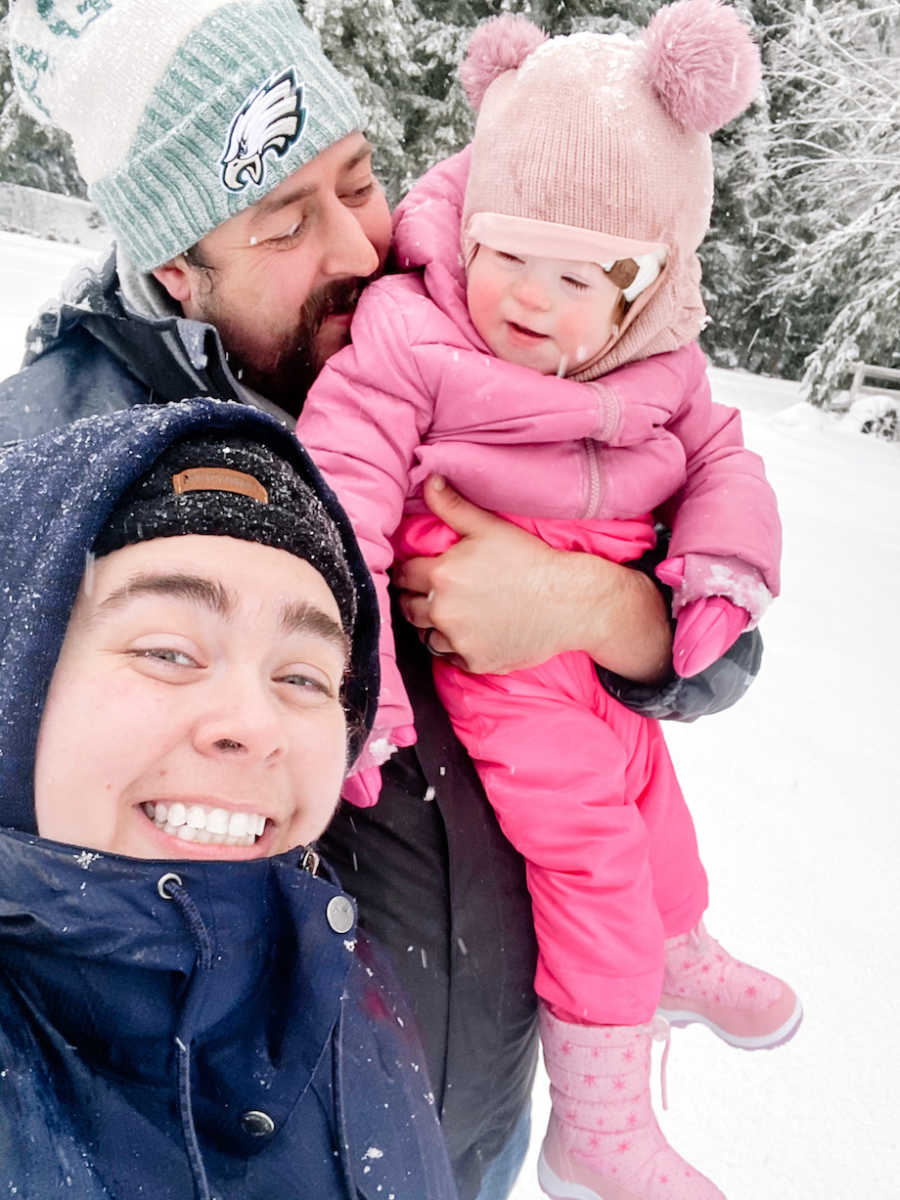 Norah is truly a light in this world and it is my greatest honor to be her parent. Because of this unexpected journey, I have made lifelong friends and found a true sense of purpose and meaning that goes beyond motherhood. I have unveiled newfound confidence and become an advocate for not only my daughter but for anyone who needs someone to stand beside them. I am no longer afraid to be a voice for the oppressed, even if it is unpopular with others.
I am so proud of my daughter, my husband, and myself. I cannot put into words how grateful I am for our little family and for this unexpected journey. It just keeps getting better."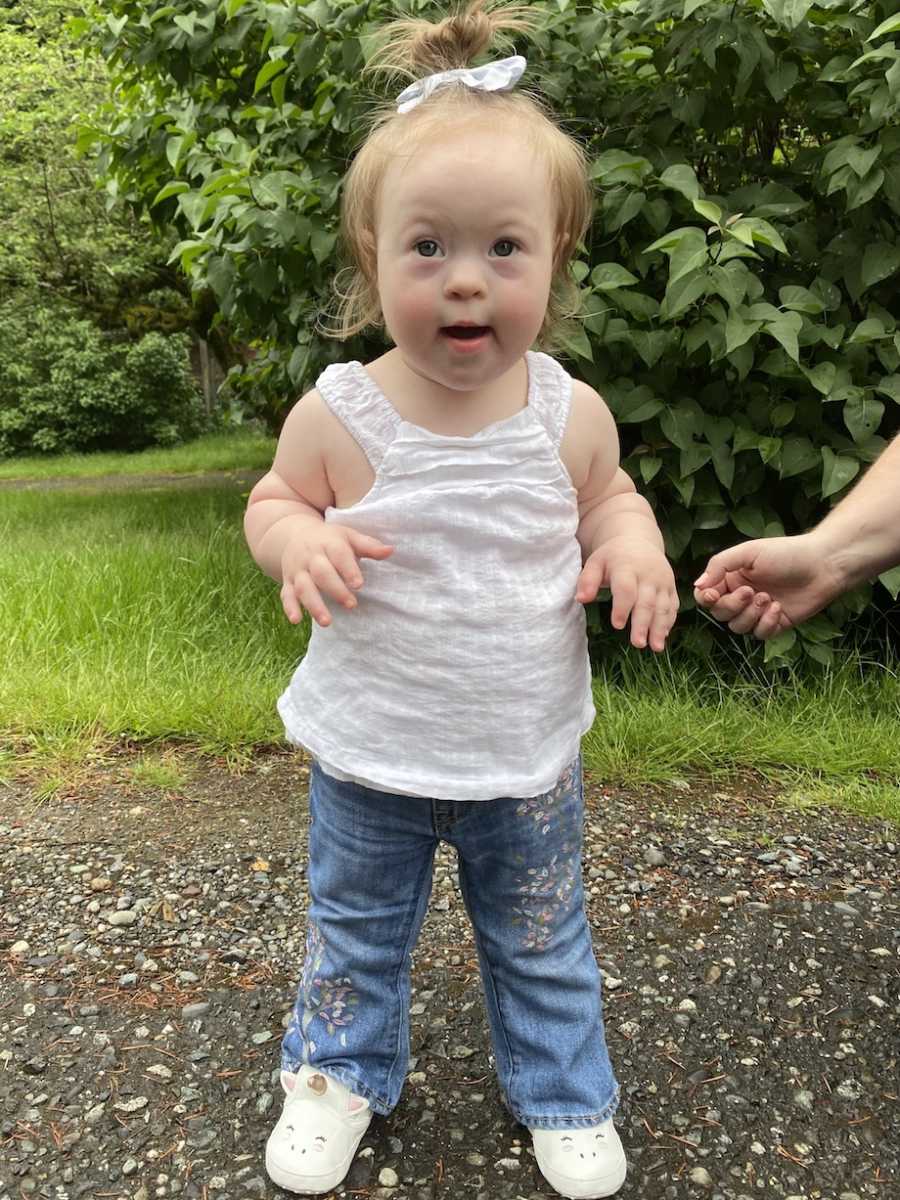 This story was submitted to Love What Matters by Samantha Young from Bothell, Washington. You can follow their journey on Instagram. Do you have a similar experience? We'd like to hear your important journey. Submit your own story here. Be sure to subscribe to our free email newsletter for our best stories, and YouTube for our best videos.
Read more stories about Down Syndrome here:
'The nurse handed my daughter back. I instantly noticed her teeny tiny ears. 'Do you think she has IT?' I looked at my husband in fear.': Mom of 3 births baby with down syndrome, 'She is the most amazing human being I've ever met'
'Is he ok?' I was afraid to say the words. I never told a soul about my feelings, not even my husband.': Mom births son with Down syndrome, 'I am so thankful for his perfect 47 chromosomes'
'My principal said, 'I'm adding a boy to your class. He's from foster care and has Down syndrome.' I felt this tug on my heart. 'I want to take him home.': Single mom, kindergarten teacher adopts down syndrome student
'She's in heart failure.' I'd most likely never get to meet her. We could deliver our stillborn baby.': Woman gives birth to high risk Down syndrome baby, 'She defies all odds'
Do you know someone who could benefit from reading this? SHARE this story on Facebook with family and friends.