"Yesterday morning, I took Elise to horse therapy. Love her therapist. She's salt of the earth. She loves both my kids. I enjoy visiting all the horses in the stables and outside pastures while Joanna works with Elise and whatever horse they are working with that day.
I'm familiar with the barn/arena. I had to go to the bathroom. I sauntered down to the other end of the barn and went into the bathroom. It's also used as a storage area. There is feed in there and it's not super clean, because it's a working horse barn. Dirt and sand get everywhere. I shut the door and proceeded to do my business. I don't know how to say the rest without being a bit graphic. You were warned.
I stood up so I could, uh, wipe my Southern Hemisphere, when I heard a little rustling noise. I'm in a barn with I don't know, maybe 10 horses in stalls, I was in a bathroom with feed in it, there was probably a mouse in there and I started to lift my eyes to scan for one, mid-wipe, when instead my eyes met another pair of eyes. It wasn't a mouse.
While I'm standing there, wiping my backside with my jeans around my ankles, and my bloomers around my knees, I was looking into the eyes of the largest, tallest cowboy with a handlebar mustache I've ever seen. We both were paralyzed. There was about five feet between us. The best I could come up with was to say gregariously, 'HELLO! I'm in here.' The 'hello' might have been something you yelled to your neighbor while you were mowing your lawn. I think he knew I was 'in' there. I just don't think his brain could process what he was seeing. He saw a bodacious woman, full-frontal from the waist down, wiping…her…backside.
He finally stumbled backwards and shut the door after saying, 'So sorry,' and looking down as he realized he'd need therapy for the rest of his life. It was Joanna's husband. Perfect.
I uh, finished what I was doing and tried to process what just happened while redressing and washing my hands. I knew he was out there. There was nowhere for him to go. Elise and Joanna were not in the arena. They were outside in the round pen. I sucked it up and thought of something clever to say when I exited.
I opened the door, that I had not closed properly, because no one else was on the property and why fiddle with the lock that wasn't working, right? I walked out and spoke to him in my wry way… 'That's what I get!' Except, that's not what I said. Instead, I heard myself say…'I got what I wanted!'
*crickets*
I was trying to say, 'That's what I get for not locking the door!' I couldn't even explain what I meant. I stumbled over a few more sentences trying to repair the permanent damage I had done, but it was hopeless.
He said something about how he needs to fix that door, and then he walked into the bathroom, backwards, looking at me, probably to make sure I didn't try to follow him back in.
I exited the barn promptly.
The end.
Is there a way to record over a day of your life so there is no trace of it, like a VHS tape?
Just wondering.
Oh yeah. Good morning."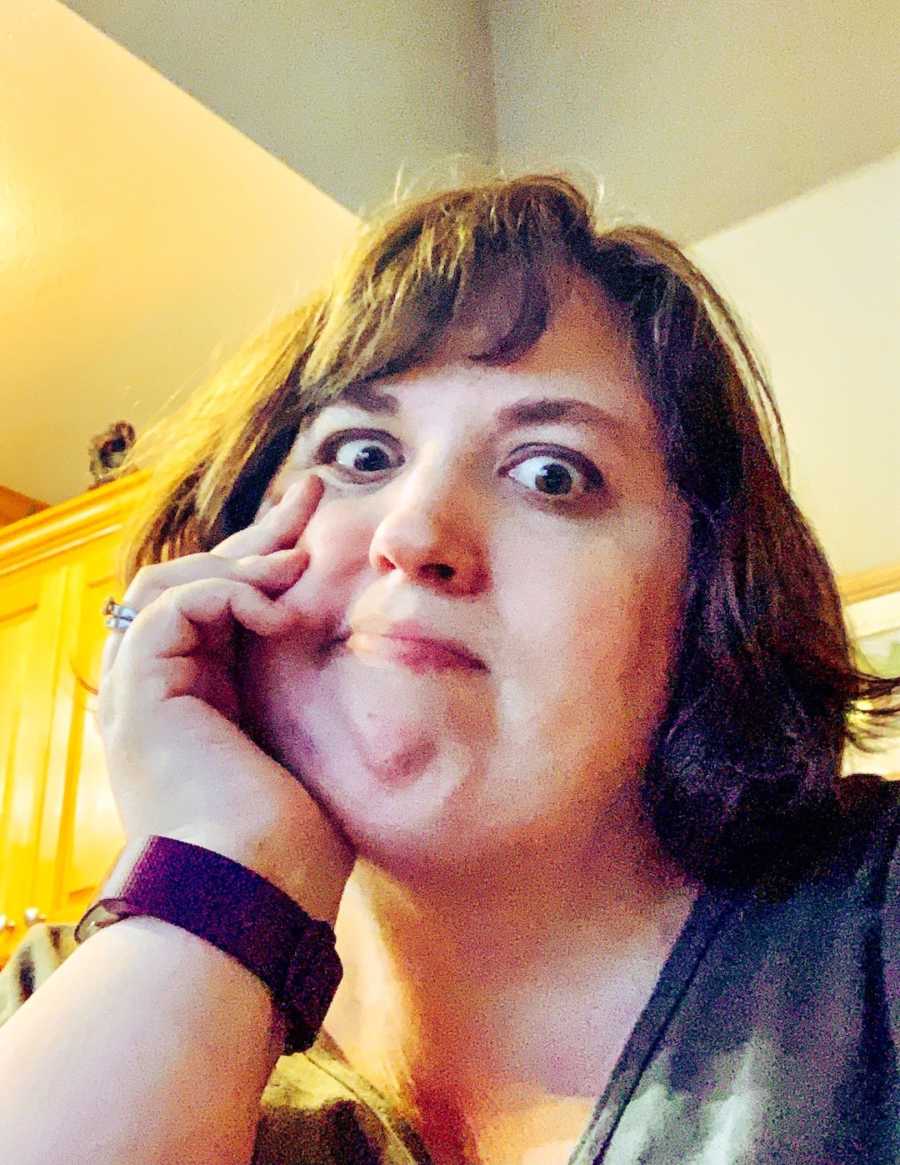 This story was submitted to Love What Matters by Barbra Summerhill. Submit your own story here, and be sure to subscribe to our free email newsletter for our best stories, and YouTube for our best videos.
Read more stories like this:
'What the hell is that? Is it POOP? How did it survive the wash cycle?! Wait, can poop be sanitized?': Mom hilariously recounts 'heart-stopping' moment of confusion, 'Hang in there, y'all'
'The server dropped off the check, and that's when I realized. WHERE IS MY DEBIT CARD?': Mom hilariously recounts 'missing' debit card, 'I am NOT made for adulting'
'OH MAH GAHD SON, don't touch it! HOW LONG HAVE YOU HAD THIS?' I'm ready to bleach everything in sight, including my son.': Mom hilariously recounts Show and Tell gone wrong
Do you know someone who could use a good laugh?  SHARE this story on Facebook with family and friends.