"We found out we were pregnant in July of 2019. We had been trying for this baby for years and experienced a lot of losses. But aside from that anxiety, the pregnancy was normal.
I did have severe hyperemesis gravidarum, which we managed with diclegis, zofran, and the occasional trip to the hospital for IV drop for nutrition/hydration. That overshadowed the whole pregnancy, but we were so surprised and happy to finally be carrying a healthy, living baby, I was willing to take whatever came with that.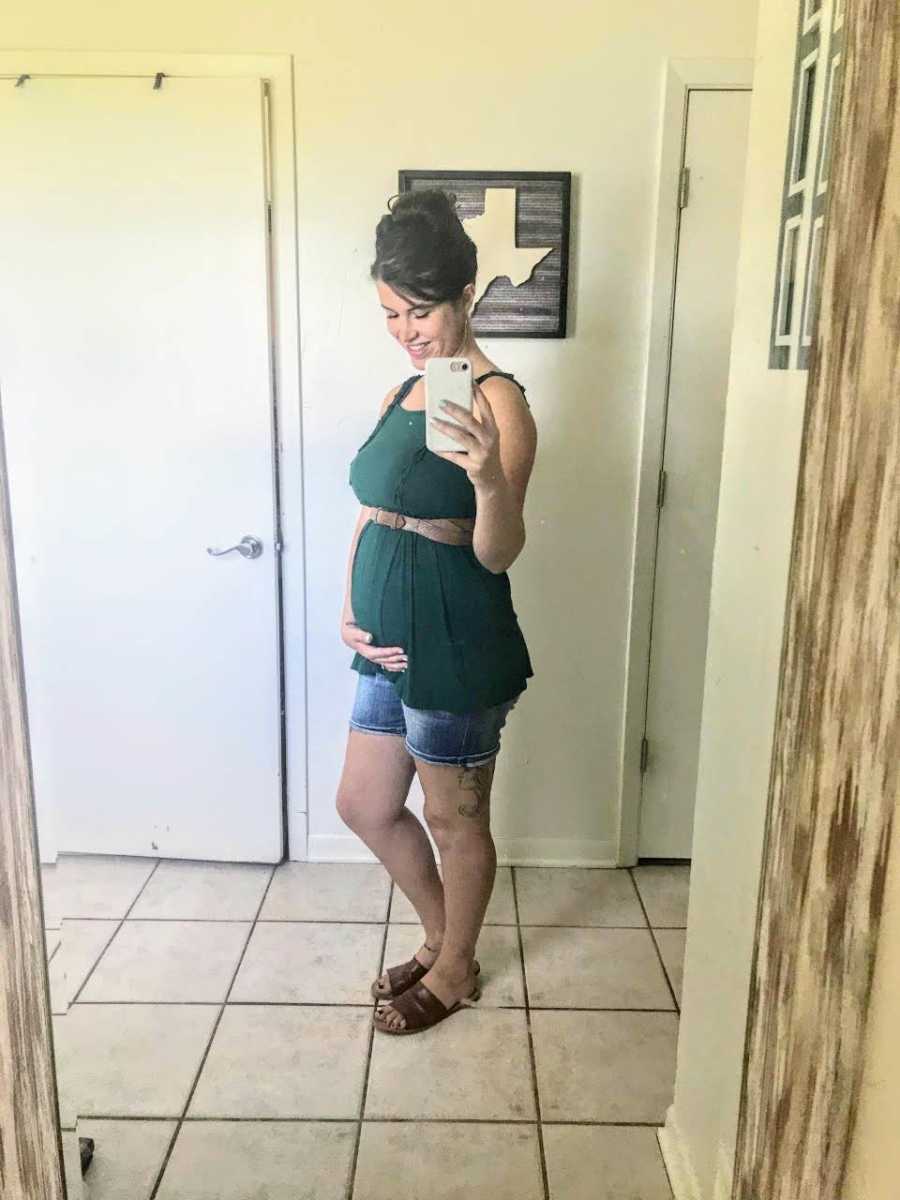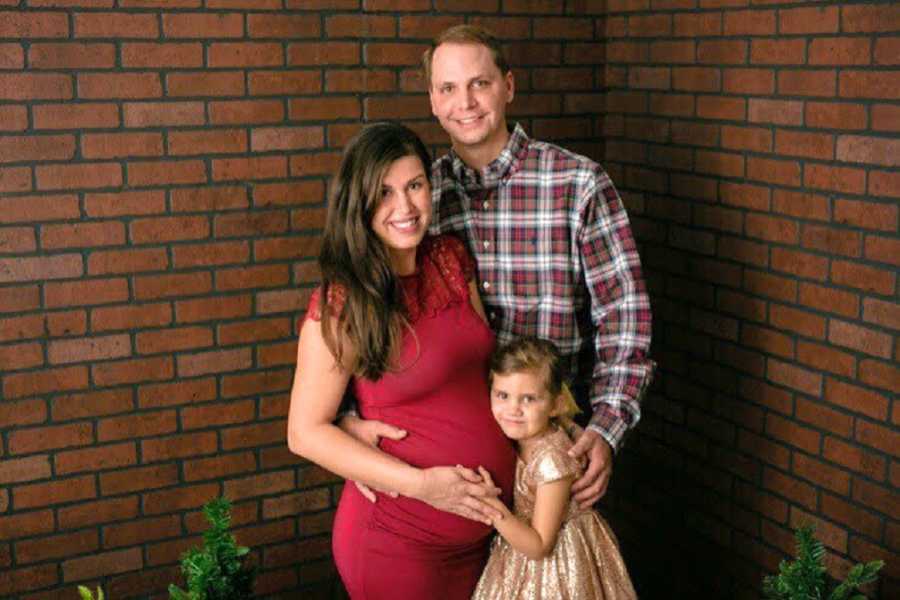 When I first heard about the coronavirus, it was at the very end of my pregnancy, and it was mostly people joking about it. Lots of memes on Facebook. No one was taking it seriously.  I assumed it was another bi-yearly media drama like SARS, swine flu, bird flu, etc. Something that our family would hear about, but never personally have to deal with the implications.
We were taking all the precautions healthwise, but there was no mass panic yet. Our son decided to come a week early at 39 weeks. When we went to the hospital while I was in labor, all the doors were locked. It took us 20 minutes to figure out which entry we could get in, and security had to approve our entry before the doors opened. Still, I was so focused on my baby coming and my labor that I didn't care about much else. It was only after having him while we stayed in the recovery room at the hospital that things began to get weird.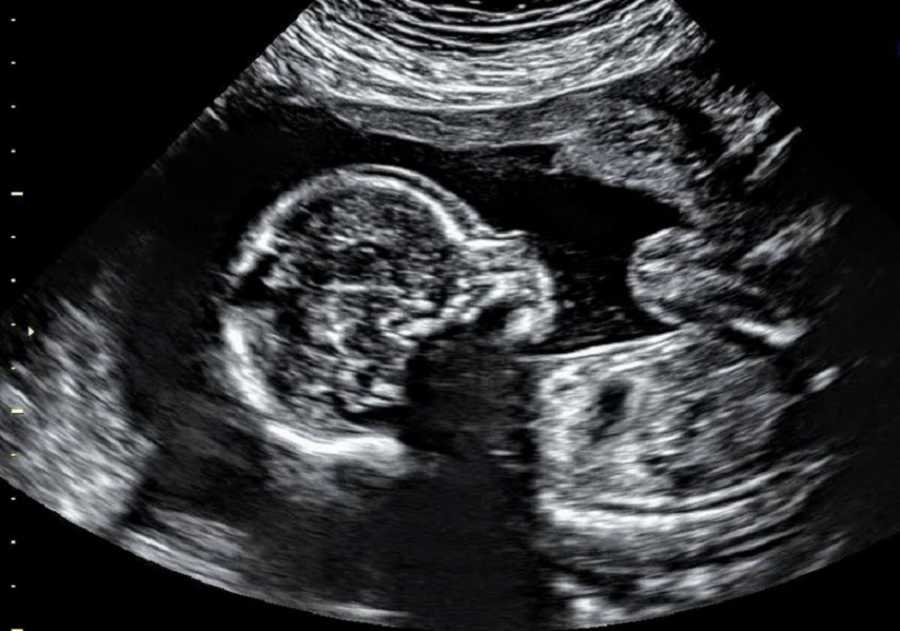 Info and updates about the virus were literally the only thing on the news (we don't have cable at home) and the only thing the nurses were talking about. It was then and when we were discharged that things were starting to get a little scary and I began to get nervous. Everyone was wearing masks and being screened prior to entry. I practically held my breath on the way out.
Within 24 hours of our arrival at home, the L&D ward where we had our sweet boy changed all their restrictions regarding visitors. Had he not decided to come a week early, my 4-year-old daughter wouldn't have been able to come meet her baby brother at the hospital, my doula and birth photographer would not have been able to come, baby's grandparents… no one but my husband. All those special moments would have been put on hold or lost forever…His timing was perfect.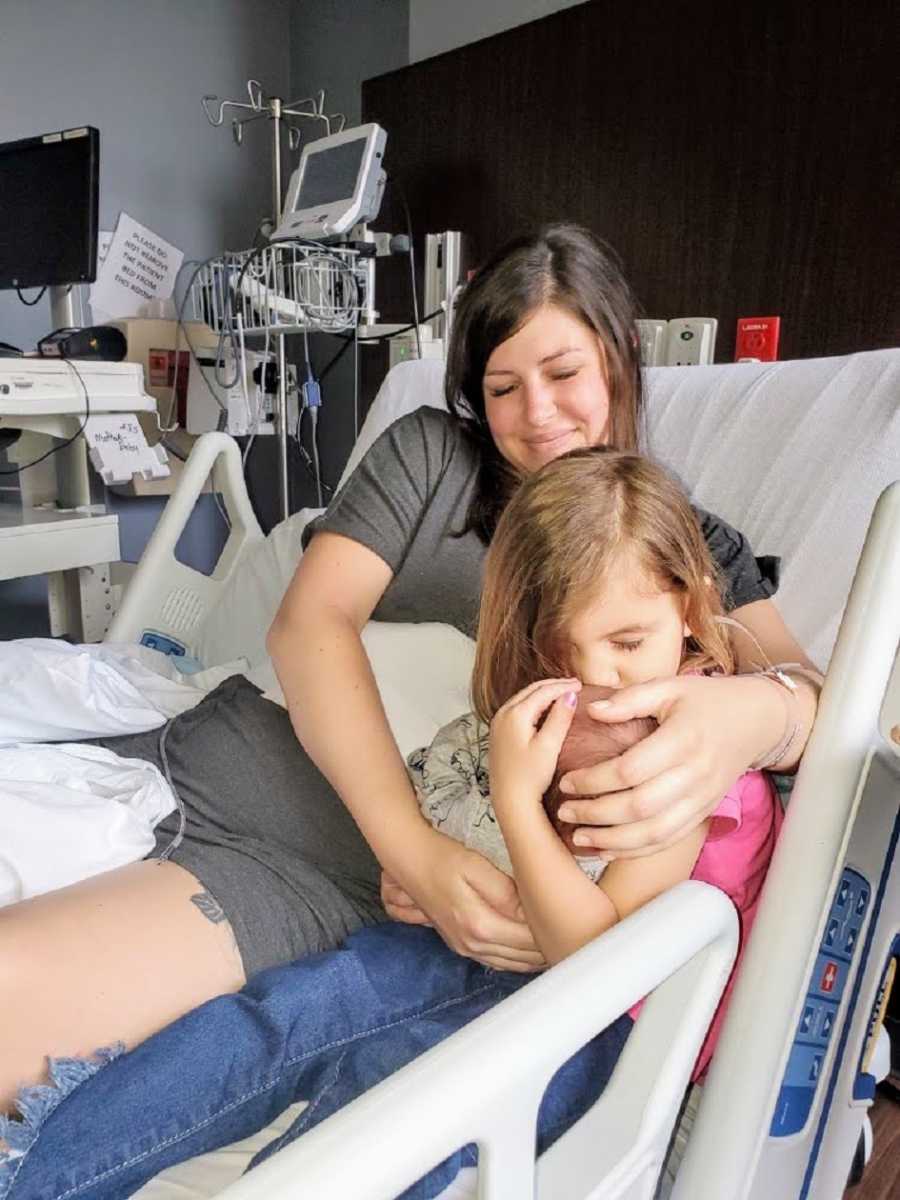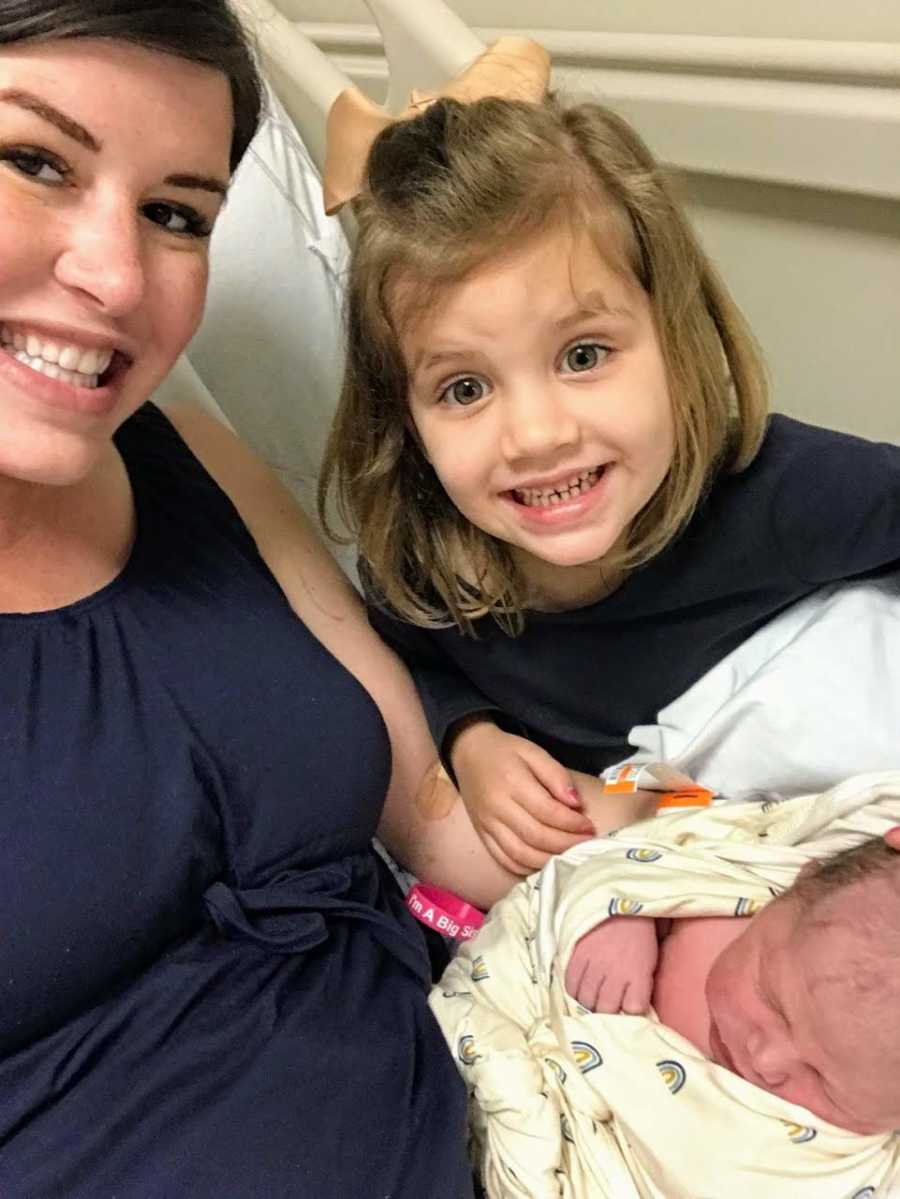 His newborn session was the last newborn shoot our photographer did before shutting down her studio due to shelter in place orders. We thought we would take the opportunity to take a funny, lighthearted picture as a way of documenting the current state of things. It's so important to us to keep a sense of humor during this time and try to share that with others. I hope he'll think it's funny when we show him the pictures and explain things when he is older.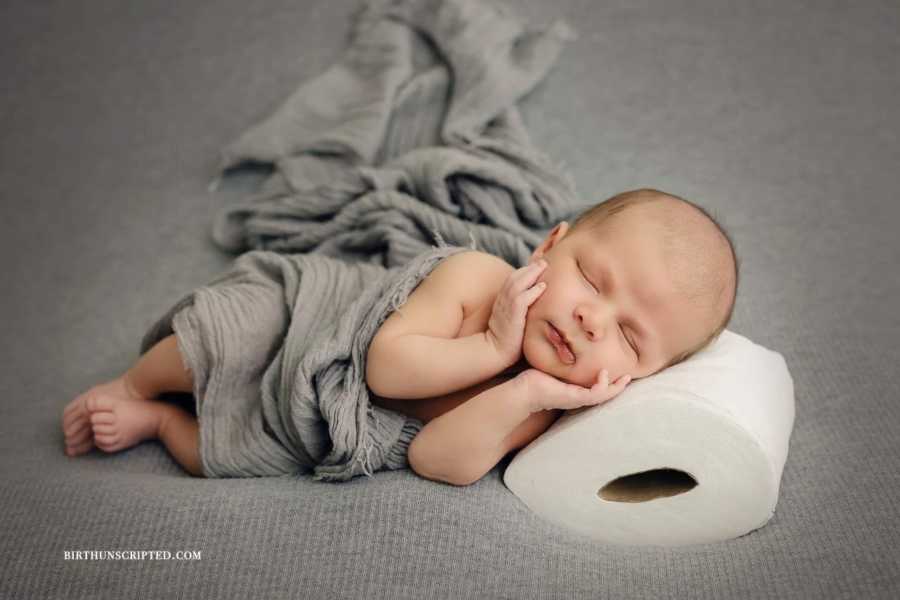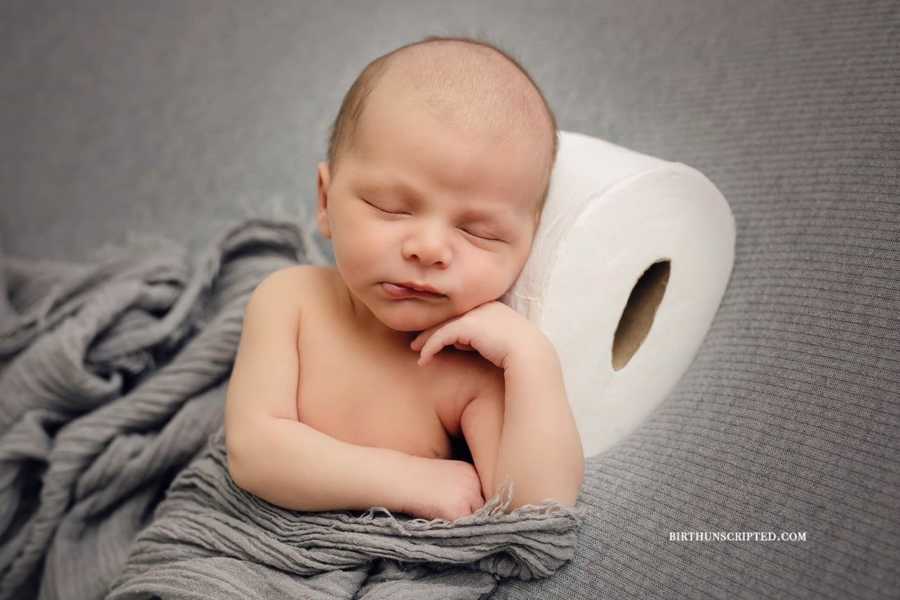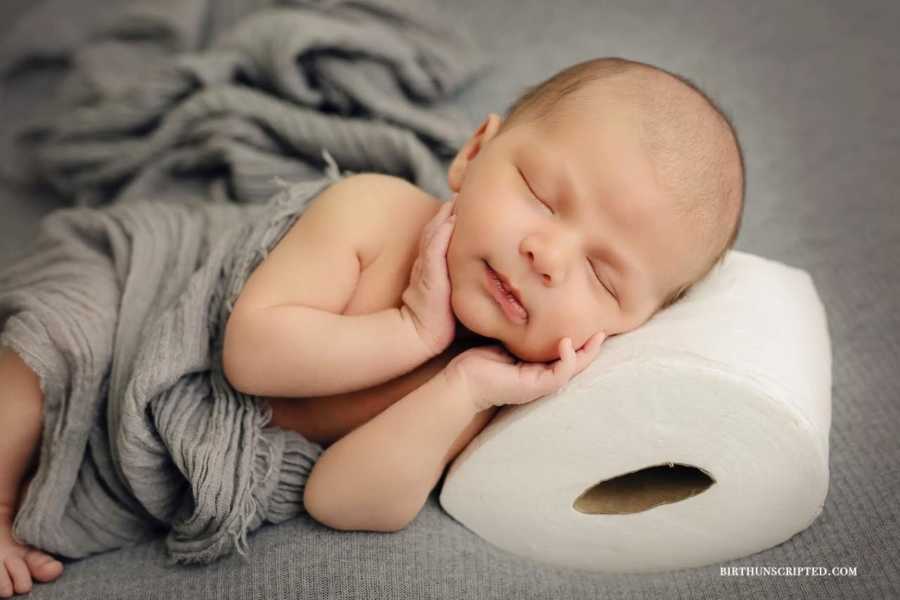 It seemed we hit the curve of timing just right with everything. From his birth, to his newborn pictures, to my maternity leave and my husbands time off. I feel like we escaped with a 'normal' birth experience, untainted by the coronavirus, by the skin of our teeth. We are so grateful.
Now, he's almost 2 weeks old, and I'm sitting at home on maternity leave, safe with my daughter, husband, and brand new son. I'm watching the chaos via Facebook and news updates on the internet, snuggling my sweet boy. Please pray for all the mamas about to give birth as they navigate this scary, unprecedented time. Many are being restricted from the majority of their birth team being present aside from one partner. Some hospitals (in NY, for example) are forcing women to birth alone, with no support person allowed. My heart aches for them, and I feel so lucky and blessed my baby boy showed up a few days early."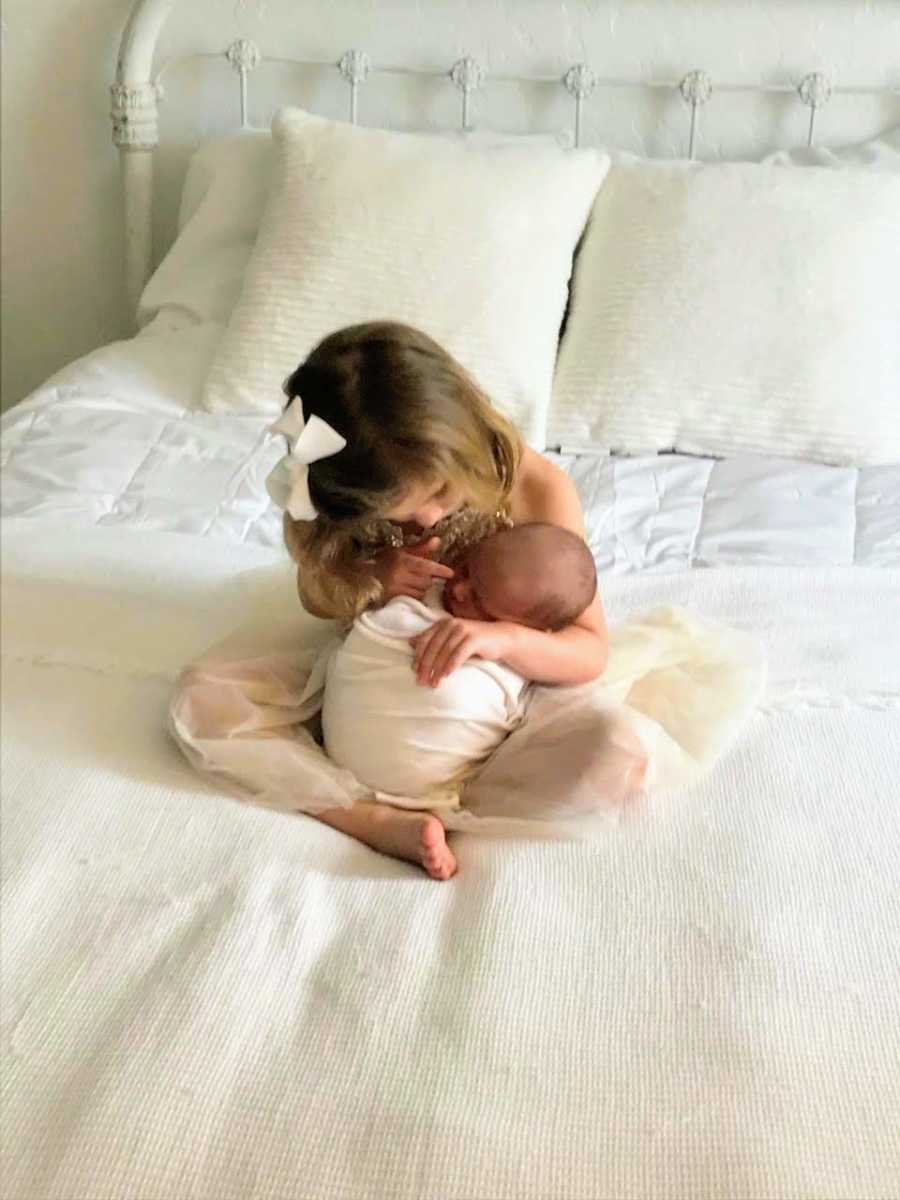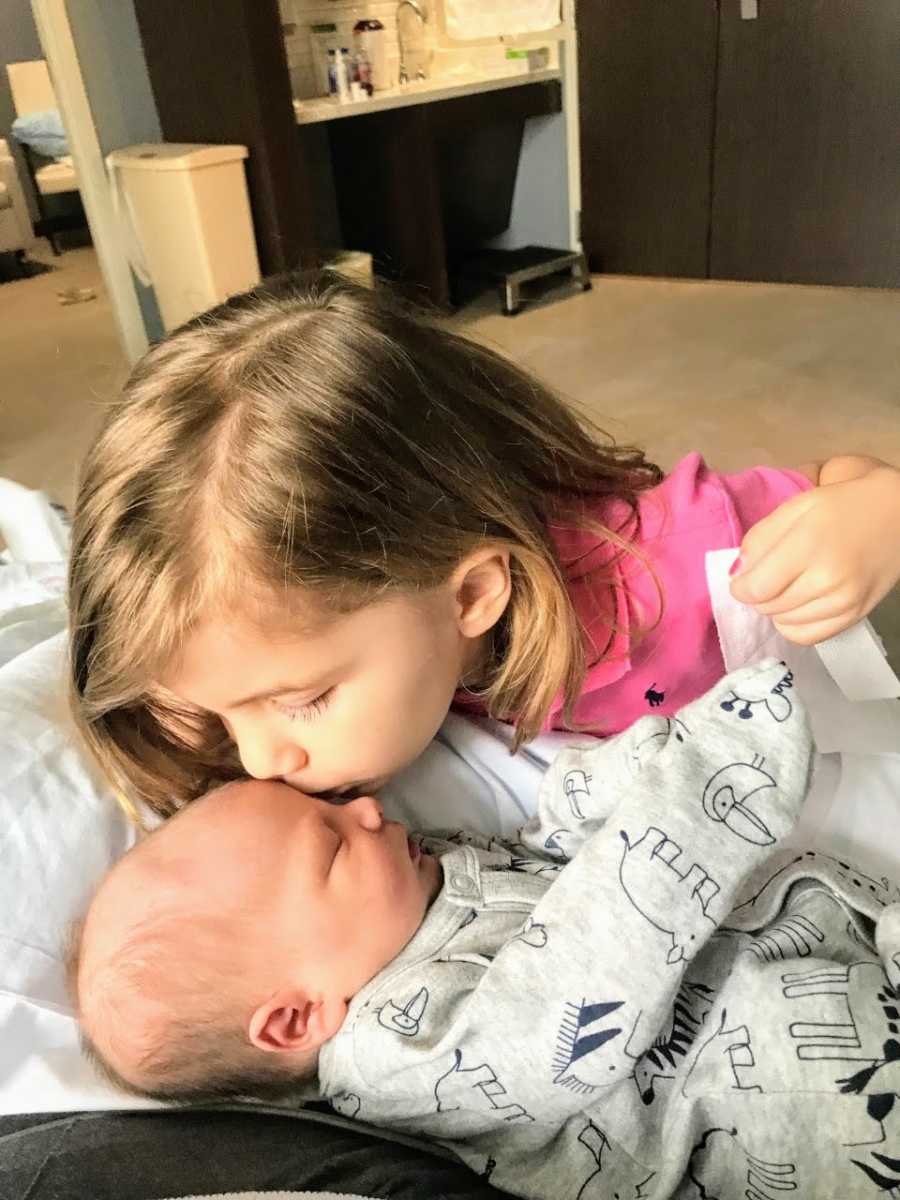 This story was submitted to Love What Matters by Whitney Lott. Submit your own story here and be sure to subscribe to our free email newsletter for our best stories, and YouTube for our best videos.
Read more stories like this:
'They should have been stocking up on diapers and miniature clothing, not toilet paper and hand sanitizer.': Woman reminds us 'don't forget to check on your pregnant friends, they're hurting'
'It's time to check on your pregnant friends, too – because their babies will be born, even if the rest of the world is shutting down.': Birth doula urges to expecting moms 'you are NOT alone, don't let fear win'
'His ribs were poking through. He was struggling to breathe. 'We cannot test him. He doesn't meet the criteria.': Health care provider urges 'stop the birthday parties, stop the play dates' as son battles for his life
Do you know someone who could benefit from reading this? SHARE this story on Facebook with family and friends.