"'I could never punish anyone the way you have punished me,' the mother texted to her 27 year old grieving daughter last year.
But mother, can't you see that I am not the enemy?
That no part of this is easy?
That I am only protecting myself, and the tiny human I am responsible for?
Don't you see that you are poison to me?
And I to you, apparently.
Have you acknowledged that my existence somehow feels like a burden that you couldn't manage to work around, or do you get caught up in picture perfect families and forget that we were never such magic?
These boundaries are a divider to keep your salt out of my wounds, they are not artillery shells directed at your heart.
Don't you see that the distance between us is for valid reasoning, or that I am far from alone in this boat of estrangement?
This page is my healing ground.
My words on paper are the balm that soothes.
I don't expect you to love it.
But can't you be proud that so many broken women have gathered here and started healing with me?
Can't you understand that I turned my life story into something worthwhile?
Don't you see that your legacy started a movement?
It's the one and only good thing I can gather from all of this hurt. I had to help other daughters understand why their mothers couldn't love them enough, and how it had nothing to do with them- and even less to do with you. It's the one thing I can make beautiful, after the destruction of us.
This is how I choose to honor your memory- because the void certainly doesn't feel good, and the absence isn't a party.
I do not hate you, I long for you- or some fairytale version of you that I've never known.
I know that you hurt, and I hurt too.
My plan was never to hurt you, or get revenge.
However, I could not keep accepting your rejection in order to feed your lifelong need for reassurance that my love and loyalty was unconditional. My love for you IS unconditional, but your presence in my life is not.
All I know is that it only hurts less when I am away, as debilitating as that may be.
Don't you know that no one orphans themselves for the fun of it?
Don't you know that you just don't forget the person who brought you into the world, and you can't erase the scars on a soul?
Don't you know that it takes suffering?
And tears?
And anger?
And SO MUCH understanding, to see why you are the way you are?
And then strength to genuinely release you
and all of the hurt?
And perseverance, to undo all of the misguided programming for what a family should be, what a mother should be? What a relationship is supposed to look like… how love is supposed to feel?
You've asked how I feel when you actually die.
Well mother…
I'll grieve for all of the things I wanted from us.
I'll grieve for the finality of a padlocked door.
I'll grieve that you won't be trick or treating with us in October as my boy runs laughing and screaming.
I have grieved you until I couldn't breathe,
and I'm sure I'll grieve you twice on the day you die.
How is that curse fair for any daughter?
You see, I don't wish ill on you.
I wish good things, but I wish for them from afar.
It's the only way I can be safe.
It's the only way I can keep him safe.
I am not sorry for walking away after being walked away from a million times over. I am not sorry for ignoring a text that came up late, and short.
I know that you half-heartedly apologize for failing me, and in the same breath tell anyone who will listen that my truth is a lie… and I'm sorry that you're not actually sorry.
I absolutely am sorry for what we will never be… but I can no longer put in the work for both of us. I can't save you from yourself. I can't be the patsy for your failure to launch.
You are not the only one who hurts… and our biggest downfall is that you could never look past your own pain to see me, the daughter you created.
So I will open my eyes, and see for both of us.
I am sorry for the things that ailed you, the people that failed you, and the things you've suffered through.
That's the difference in you and me.
The other difference is just that I will choose love.
I will always choose gentle, nurturing, love.
Even for you, from a safe distance.
I love you, my long lost almost mother..
But I love him more, more than all of this combined."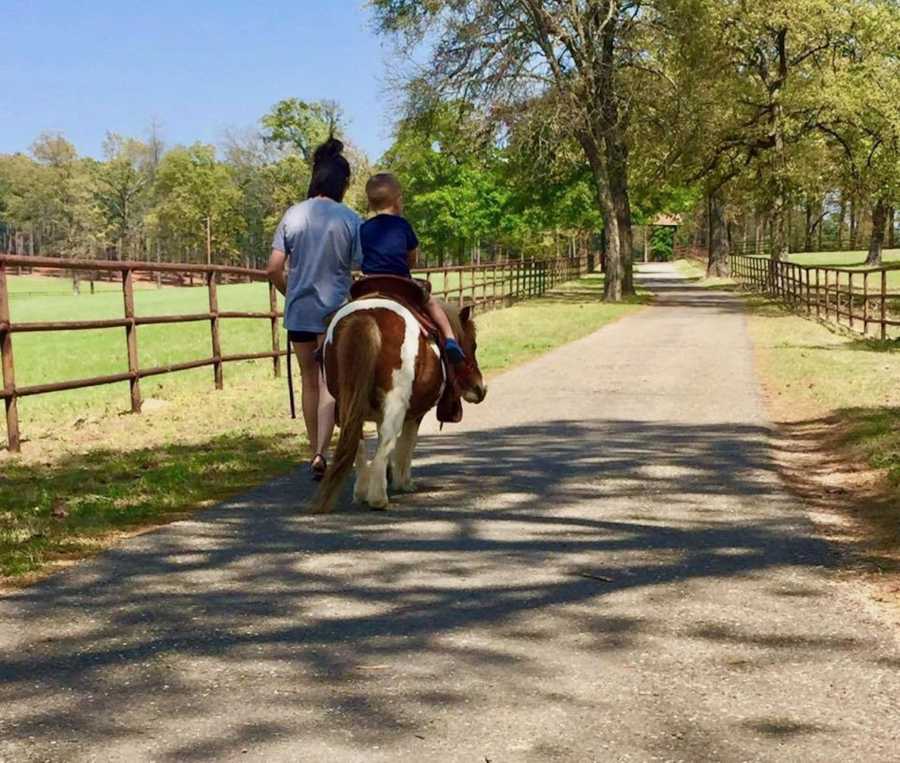 This story was submitted to Love What Matters by Hayley Runnels of The Undone Mama. Join her support group, Daughters Recovering from Toxic Family Relationships with The Undone Mama, here. Follow her on Instagram here. Do you have a similar experience? We'd like to hear your important journey. Submit your own story here. Be sure to subscribe to our free email newsletter for our best stories, and YouTube for our best videos.
Read more from Hayley here:
'This holiday season, I belong to me, before I belong to anyone else. There. Is. No. Winning.': Woman implores self-care over pleasing everyone else, 'It is NOT your job to run yourself ragged'
'I can't believe he left me.' She looked at me funny. 'You'd never do that to me.' I honestly didn't know what to say.': Woman explains to daughter why 'adopted' father was able to adopt her
'Here am I, leaving my house for prom. Yes, MY house I shared with a roommate. I had no one to zip me up. I wrestled with my dress for half an hour, finally getting it zipped with a coat hanger.'
Provide beauty and strength for others. SHARE this story on Facebook with your friends and family.